It's time to show y'all another project I did for the awesome readers over at Infarrantly Creative. I'm a contributor to IC so please come over and and say hello sometime. Ornate wall mirrors can be pricey and grouping several together could break your budget. Today, let me show you how ridiculously easy and inexpensive it is to Turn a Charger into a Mirror!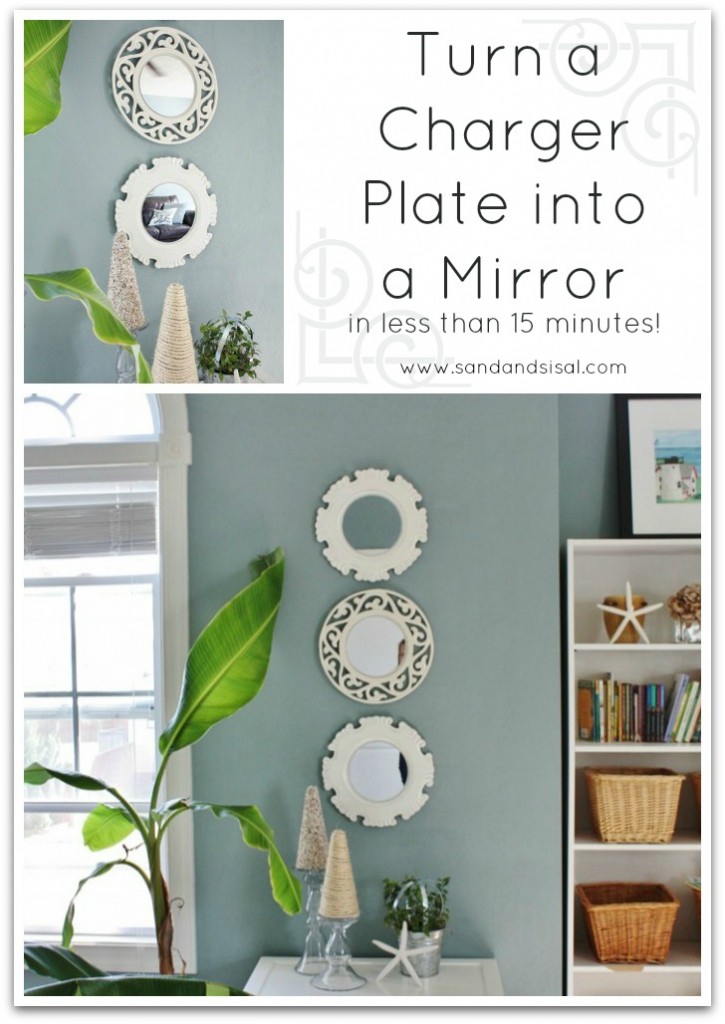 Most of us own some type of chargers, but let's get real here, how often do we actually use them?
For the exception of very special events or holiday meals, our charges rarely see the light of day. I say let's bring them out of hiding and put them to good use…. on your wall!
If you don't own any, I recommend checking out Pier One. They always have a large collection of beautiful chargers to chose from. For this project I wanted a more ornate look. I chose 2 styles I liked. One was a ruffled edge wood charger in white with a bit of distressing. Pretty isn't it? This charger sat on the wall ledge in my daughter's Bead Board Bathroom for months (shhh…they haven't noticed I snagged it from there yet!)
The other charger I chose had a black iron scrolled look. I needed white though, so I spray painted it in Heirloom White. Look for shapes and designs you love then if you need to change the color, simply spray paint it.
Check the diameter of the center of your charger. Most run around 7 inches. Craft stores carry many different sizes of mirrors and they are quite affordable.  These 7 inch mirrors were under $3 each!
Apply adhesive to the back of the mirror and gently press your mirror in the center of the charger. You can use any adhesive you like, hot glue, silicone, E-6000, etc.
Allow your adhesive to set up, then flip your charger mirror over and hot glue on either a saw-tooth hanger or like I used… a soda can tab! I love these things! Think UP-CYCLING people! I've used soda can tabs on other wall light weight art projects like my Ceiling Medallion Wall Art and it has never failed me. Just load up on the hot glue.
And there you have it, a beautiful mirror made out of a charger you were never using in the first place! How easy is that? Use one or group many together for a beautiful mirrored wall display!
You can Turn a Charger into a Mirror in under 15 minutes! If you enjoy décor crafts like this one then you might enjoy the Décor Craft tab up top!
Kim
For the latest in DIY, Décor, & Recipes be sure to join me on
FACEBOOK, TWITTER, PINTEREST, G+ or SUBSCRIBE.
| | | | | | | |
| --- | --- | --- | --- | --- | --- | --- |
|          Linking up to: | Beneath My Heart's April's Best DIY Projects | | | | | |