I'm mad about medallions lately! Ceiling medallions don't have to be reserved just for lighting anymore. Have you ever considered using ceiling medallions for wall art? When placed on a wall they are essentially an ornate round frame that can showcase any object or picture you desire.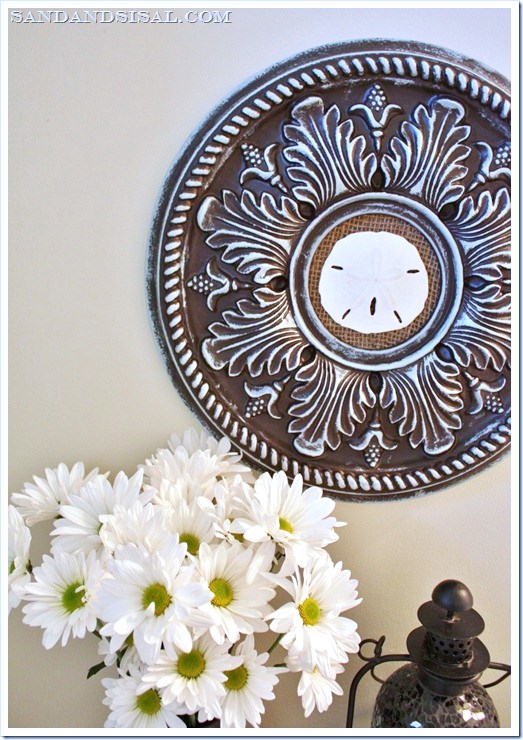 Ceiling medallions come in plain white and are very lightweight. You can simply spray paint them like I did recently for my Pottery Barn knock off chandelier in my dining room.
Look at some unconventional ways to use ceiling medallions
Casa Sugar,  Marie Ricci Collection, Cast Plaster Medallion Wall by Commute Home
To make my Sand Dollar Ceiling Medallion Art I painted a medallion chocolate brown. I used the same paint that I had left over from my painted maple cabinets project in the girls bathroom.
Using a piece of cheesecloth, I dipped it into light blue paint, blotted the excess off, and lightly brushed it across all the raised areas of the medallion. This is the same technique I used for the Painted Mirror Project.
Next I cut 2 pieces of burlap and hot glued it to the back of the mirror.
The last step was hot gluing a sand dollar to the center of the burlap. Voila! In less than an hour I had this beautiful sand dollar ceiling medallion wall art for the girls bathroom!
See the garden medallion I revamped hanging on the wall in the mirror reflection? I told you I'm mad about medallions right now!
I like how the medallion picks up on the same ornate circle motif on the shower curtain. A photograph, painting, or mirror could be all be used inside the medallion. Really the possibilities are endless!
POST AMENDMENT 3/12: I've had many inquires as to how I hung the medallion. Now, don't laugh at me, but this is what I had on hand and it has worked out wonderfully! Yes, that is a soda can tab and hot glue. You could use a saw-tooth hanger along with silicon adhesive or any other strong adhesive if you prefer, but this soda can method works just fine with the feather weight medallions.
Kim
So as not to miss more tutorials like this one, subscribe today!
linking up to: