I'm the pie person. There's one in every family. You know, when holidays come around each year, and the planning for meals starts, and decisions are made on who's going to bring "this" or who's going to bring "that", and who's house are we eating at, etc. Well I'm the designated pie person. Apple, pecan, pumpkin, you name it, I'll make it. But, the number one request I get from the family is to bring my Crunchy Caramel Apple Pie.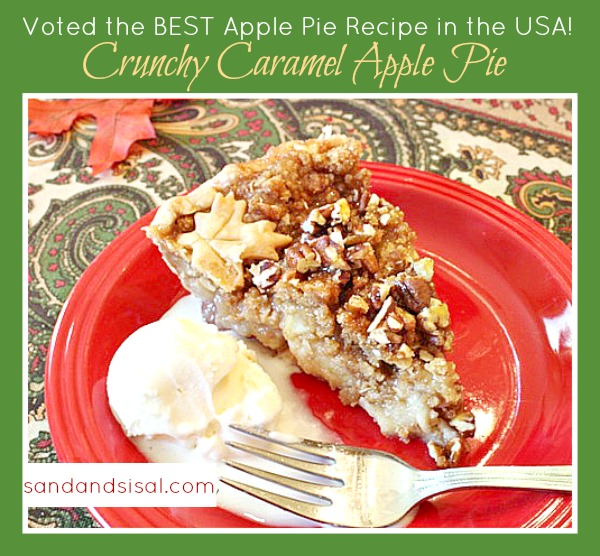 This is the best apple pie in the USA, literally. No, I'm serious! This pie recipe by Marsha Brooks, won a nationwide "Pie of Emeril's Eye" bake-off on Good Morning America in 2001. I've tweaked the recipe a bit over the years to what I've found tastes best. Want to wow you guests? Good! Because today I'm going to show how I make it.
Choose a variety of apples. I always use Granny Smith and McIntosh apples, but also choose a third type, like Rome or Golden Delicious. I prefer the tartness of the Granny Smith and their firm texture, but I also like the floral sweetness of the McIntosh and how they break down during the baking process. The combination of the two textures works really well in pies. Regardless of what apples you choose, always taste them first. Make sure they're fresh, juicy, and tasty! A great pie starts with great ingredients.
The pie calls for 6 –7 cups of sliced apples. That's a lot of slicing! The best gadget I've found was the "apple-peeler-corer-slicer" by Pampered Chef. It's over a decade old and starting to rust in areas, but wow can it cut, peel, and slice up your apples in no time flat! We're talking 30 seconds an apple! The apples have to be firm or the coring part won't work. When it's finished cutting, you're left with this cool little apple spiral and ribbons of apple skins!  The kids love it and I love it because I'm not standing there for an eternity peeling and slicing apples! I just cut sliced apple stacks in half or fourths.
Once you get your 6-7 cups of apples all sliced, give them a squirt of lemon juice, stir and coat well. About a tablespoon of lemon juice is good. The lemon juice keeps the apples from turning brown and also brings out the  fresh and bright taste in the apples.
Set the apples aside and in a large bowl combine 1/2 cup of granulated sugar, 3 tablespoons of flour, 1 teaspoon of cinnamon, and 1/8 teaspoon salt. If your apples are super sweet and juicy you can cut back on the sugar to 1/3 cup. Mix these ingredients well and then stir in your sliced apples. This is why I say make 7 cups of sliced apples…because you'll find yourself snarfing down your family sneaking nibbles from this bowl!!
In a 9 inch glass pie dish, unroll and lay one ready made pie crust across it and crimp the edges. Pour your apple mixture into the prepared pie shell. I've used metal, stone, and ceramic pie dishes and in my opinion nothing works as well as a glass pie dish.
The next step is the crumb topping! In a bowl combine 3/4 cup packed brown sugar, 1/2 cup flour, 1/2 cup quick cook oats. Then cut in 1 stick of cold butter. I just start slicing the butter in the bowl with a knife until the butter is well incorporated and the size of peas. This will take a few minutes. Pour it on top of the pie and press it to the edges of the crust.
This next part is totally optional, but I like to dress up my pies with some pie crust cut outs. The prepared pie crusts come in two rolls, and I use the second roll for this purpose. Little veins on the maple leaves are made by pressing a knife gently into to dough. After the pie is decorated I like to cover the edges of the crust with a pie crust shield or you can do the same with foil. Only cover the edges, not the whole pie.
Place the pie on the center rack of a preheated 375 degree oven for 25 minutes, then remove the pie crust shield or foil edge and bake an additional 35 minutes. I like to place a foil covered cookie sheet on a lower rack in the oven to catch any drips.
Now here's the awesome part!!! When the pie is done, remove from oven, and while still hot, sprinkle 1/2 cup of chopped pecans AND then drizzle with 1/4 cup caramel sundae topping!
Crunchy Caramel Apple Pie decadence!
Crunchy Caramel Apple Pie
Author:
Kim Wilson - sandandsisal.com
This pie was voted the number 1 best pie in the USA by Good Morning America's Pie of Emeril's Eye Apple Pie Contest.
Ingredients
1 prepared 9 inch pie crust - unbaked
Apple filling:
6-7 cups of sliced apples (I use Granny Smith, Rome, Macintosh)
1 tablespoon lemon juice (helps keep apples from browning and brings out fresh flavor)
½ cup sugar
3 tablespoons flour
1 teaspoon cinnamon
⅛ teaspoon salt
Crumb topping:
¾ cup packed brown sugar
½ cup flour
½ cup quick oats
½ cup cold butter
Extra toppings:
½ cup chopped pecans
¼ cup caramel ice cream topping
Instructions
Preheat oven to 375 degrees.
Prepare pie crust in pie plate and set aside.
In a large bowl combine sliced apples, lemon juice, sugar, flour, cinnamon and salt. Stir well to coat and pour into prepared crust.
For Crumb topping:
Mix together brown sugar, flour, and oats, then cut in cold butter until the mixture forms pea like crumbles.
Pour over the top of the apples.
Cover crust edges with foil or a pie shield and place pie on a cookie sheet.
Bake at 375 for 25 minutes then remove shield and bake for an additional 35 minutes.
Remove from oven and top with chopped pecan and drizzle with caramel.
Serve warm or at room temperature with whipped cream or vanilla ice cream. Try this recipe this holiday season and I bet you'll be "the pie person" for years to come!
What pie is your family favorite? Tell me about it in the comments!
Kim
Linking up to:
"Come join Love the Pie with TidyMom "