I was smiling from ear to ear when her message came across my phone. "We are passing through your town on the way up to D.C. and we would love to stop by and see you all!" Yay! We haven't seen our dear, sweet friends, Fred & Renee, since they moved away 13 years ago. Renee is an amazing cook and baker. Back when our kids were tiny tots, we shared many meal times together. There was one appetizer that my hubs would always request Renee to make and everyone would gobble them right up. After a while she finally decided to teach him how to make them, which he does often. So in honor of our reunion, we prepared a yummy taco bar and Renee's Festive Pinwheel Appetizers!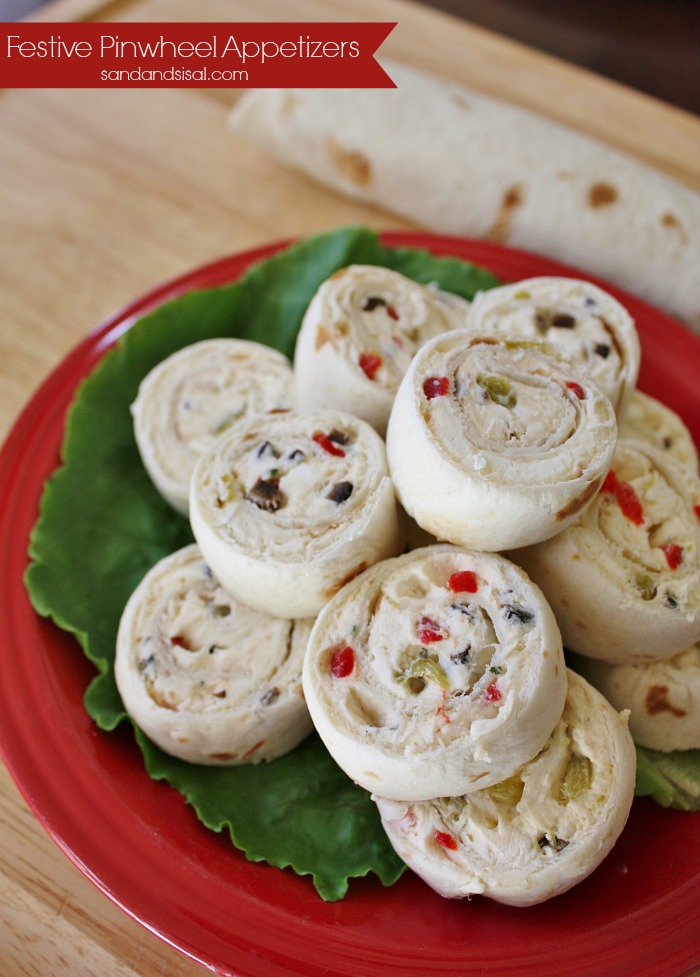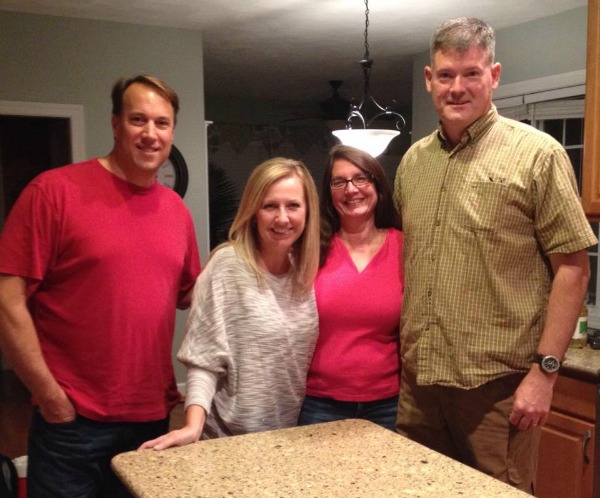 These Festive Pinwheel Appetizers are so simple to make and are always a huge crowd pleaser! All you need is cream cheese, ranch salad dressing mix, chopped green chilies, chopped black olives, and chopped pimentos. (printable recipe is listed below)
1) Start by mixing together 2 packages of softened cream cheese with 1 envelope of Hidden Valley Ranch Salad Dressing Mix. Then fold in 1 small can of chopped green chilies, 1 small can of chopped olives, and a few tablespoons of chopped pimentos.
2) Spread the cream cheese mixture thickly and evenly on 5 soft taco flour tortillas. Gently roll them up and wrap in plastic wrap and then refrigerate for several hours. (Refrigerating helps the flavors develop and allows pin wheels to hold their round shape, but if you are very short on time then you can put them in the freezer for 20 minutes before slicing).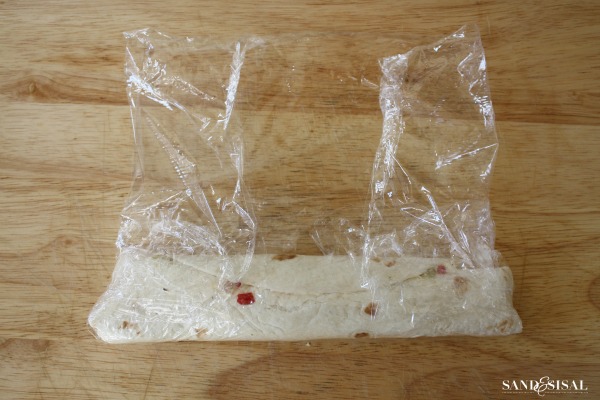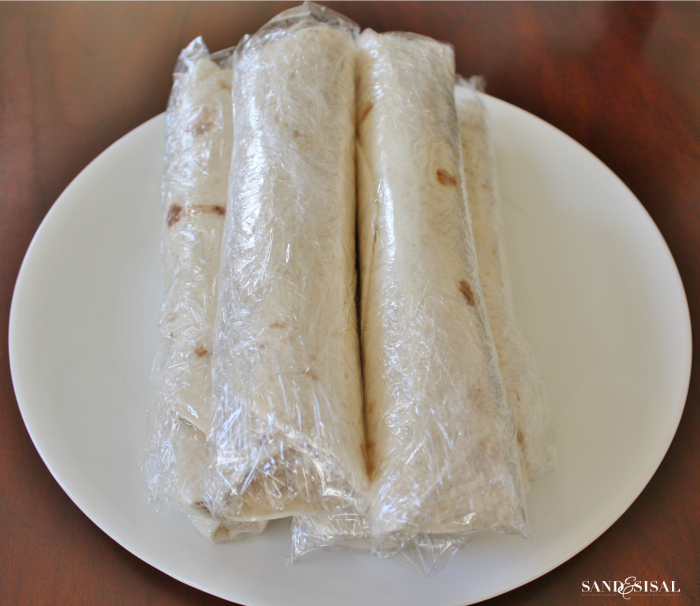 3) Time to slice and serve! You can slice tortilla rolls into pinwheels using a very sharp knife, but I like using dental floss to slice them. I find that it helps maintain the round shape of a pinwheel vs. a squished oval shape that might occur if using a knife. Simply slide the dental floss under the tortilla roll, cross the floss, and quickly pull each end. Slice each roll into approximately 3/4 inch pinwheels.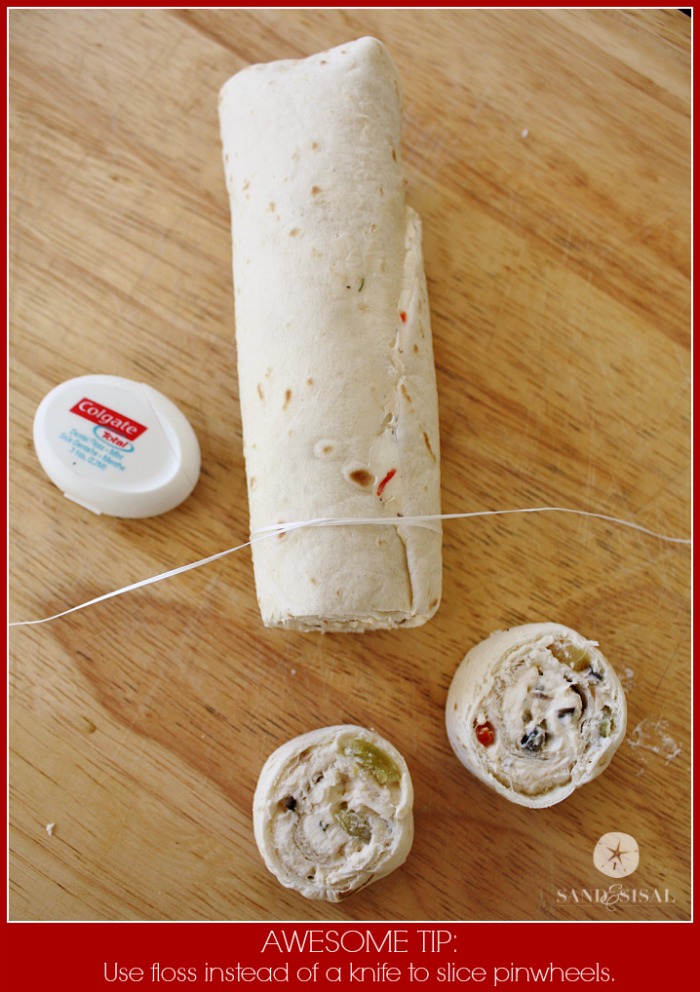 You can prepare Festive Pinwheel Appetizers a day or two ahead of time and slice them right before serving. They are wonderful appetizer for any holiday party, potluck, or tailgate party.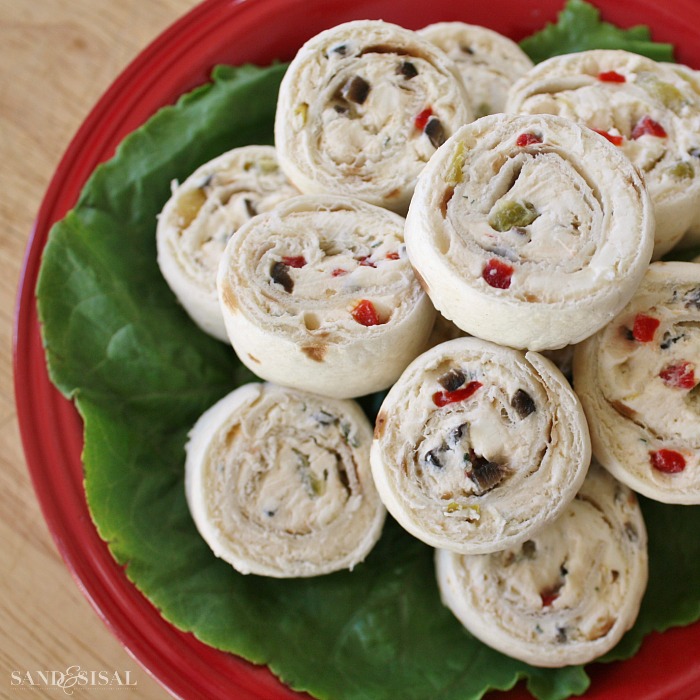 Festive Pinwheel Appetizers
Author:
Kim Wilson - SandAndSisal.com
Ingredients
5 (8 inch) flour tortillas
2 (8 ounce) blocks of cream cheese - softened
1 envelope of Hidden Valley Ranch salad dressing mix
1 (4.2 ounce) can of chopped green chilies
1 small can of chopped black olives
2-3 tablespoons of chopped pimentos.
Instructions
Mix together the cream cheese and ranch dressing mix until well blended.
Fold in the olives, green chilies, and pimentos.
Spread cheese mixture evenly and thickly over each flour tortilla.
Gently roll each tortilla and wrap in plastic wrap.
Refrigerate the rolls for a few hours.
Remove from fridge, remove plastic wrap and slice into approximately ¾ inch slices.
Serve and enjoy!
Thank you Renee for the awesome recipe and let's not allow another 13 years to pass us by before seeing each other again!
For more delicious recipes, be sure to check out my Kim's Kitchen tab at the top of the page.
Kim