Ideals of youthful romanticism are an illusion… and thankfully romanticism is only what we each perceive it to be. Back in the day (my 20's-30's) I depicted the perfect Valentine's date as a night out on the town, with expensive dinner reservations at a swank restaurant, all lit in candlelite, Harry Connick Jr. singing in the background and my husband with a semi-precious-stoned-gift in his hands….  cue: record screech….. nails on a chalkboard…. car breaks screaming  (you get the drift). Wake up girl! Let's get real.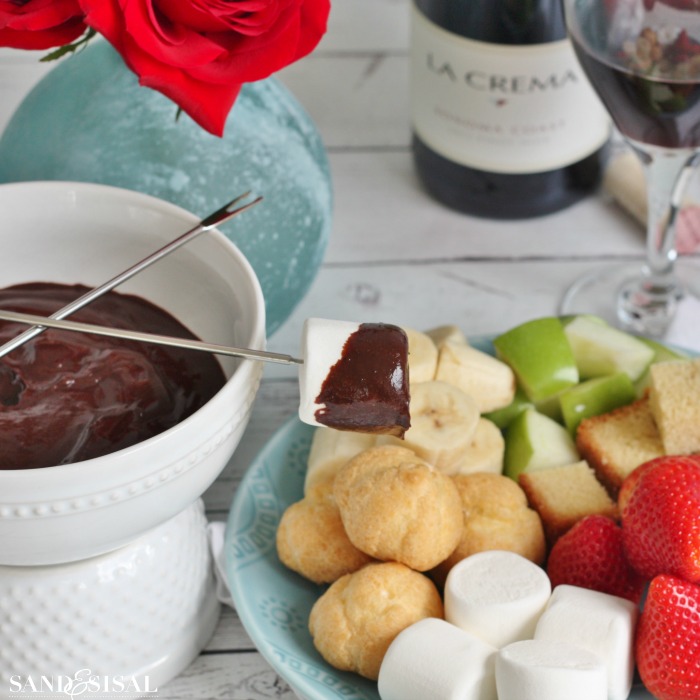 Today, after 23+ years of marriage and 4 children, my perspective of what romance really is has dramatically come into clear and beautiful focus.
Romance is simply and beautifully the small and yet intimate moments of time that you decide to GIVE of yourself to your spouse to make THEM happy and loved.
So this year we decided to forego fighting the crowds on Valentine's night and instead I chose to make him a wonderfully romatic evening at home with a fun and relaxing dinner of hearty cheese fondue and a decadent dessert of Chocolate Fondue for Two! Pair this rich dessert with one of our favorites- La Crema's Sonoma Coast Pinot Noir and you have an extravaganty indulgent evening that will be memorable!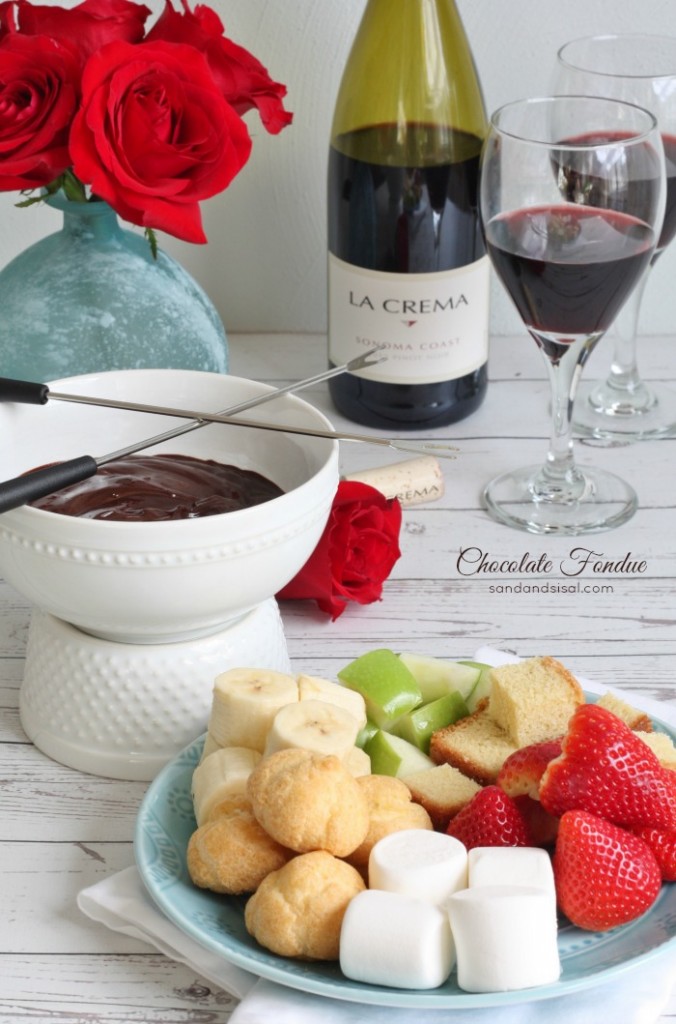 Chocolate fondue is so inexpensive to make on your own vs. buying it at a popular fondue restaurant. Trust me, we know! We have gone to fondue spots each year and as much as we love going out, we always knew we could replicate these meals on our own without too much effort or expense. Heck, we were both children of the 70's in southern California and fondue was simply part of our part of our culture. Ready to make this crazy easy and delicious Two Ingredient Chocolate Fondue?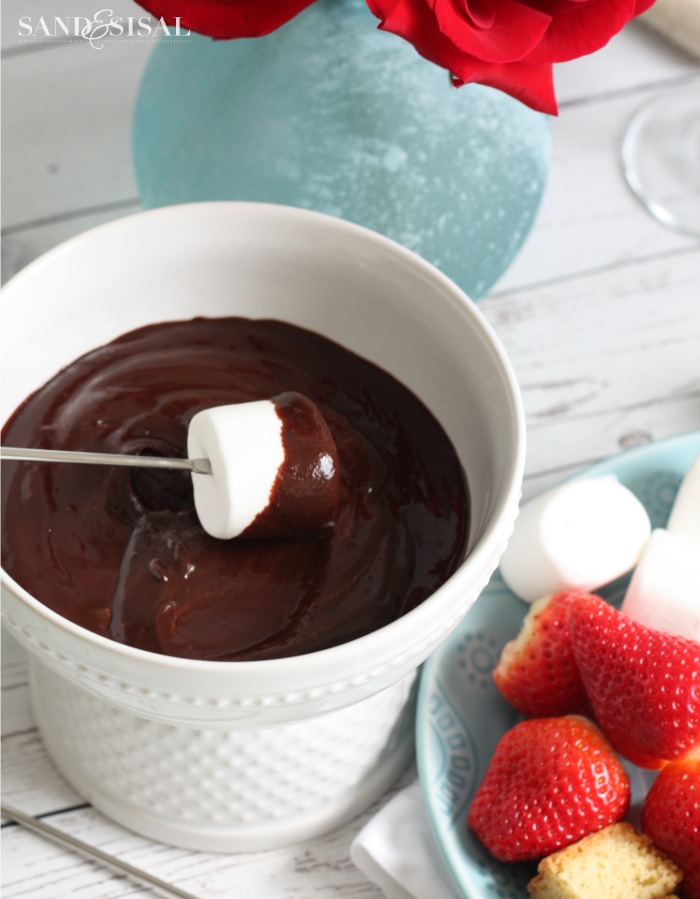 How to make chocolate fondue for two:
All you need are 2 ingredients for the chocolate fondue for two-
8 oz. (high quality) semi-sweet chocolate or bittersweet chocolate chips
1/3 cup heavy cream
oh yes…. and LOVE 
Put the chocolate chips (I prefer the bittersweet) and the cream in a small bowl. Microwave on high temperature for 30 seconds and then stir. Repeat this process of heating and stirring a few more times until the the chocolate is melted, shiny and smooth. Add a bit more cream if you prefer a thinner consistency. This will take less than 2 minutes, tops.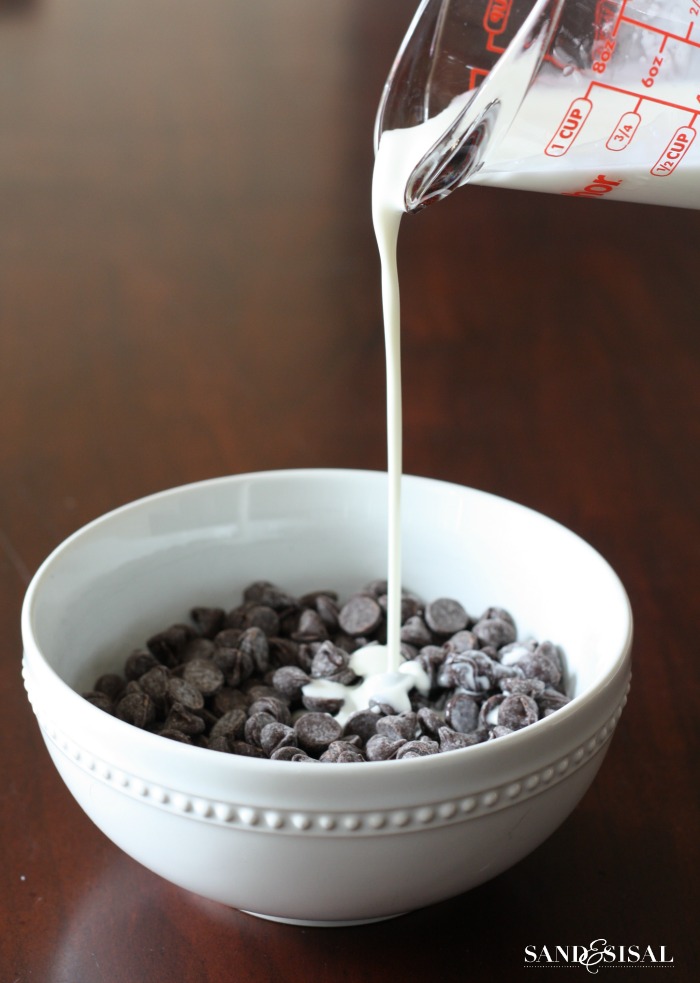 Serve the hot chocolate fondue for two with a variety of items like cream puffs, poundcake, marshmallows, apple chunks, banana slices and strawberries.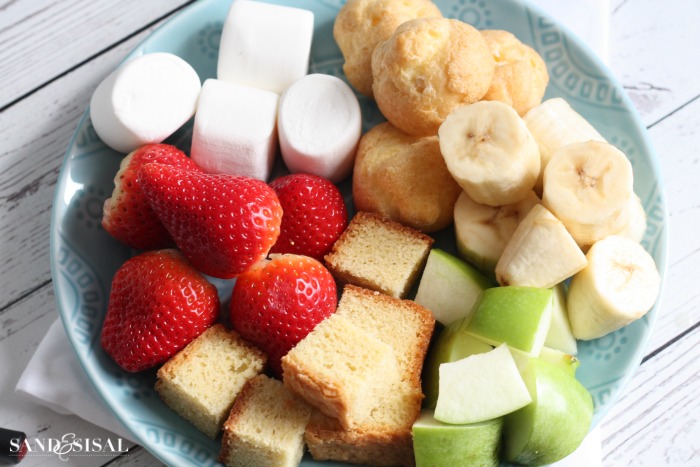 Pour two glasses of pinot, which compliment the chocolate fondue so beautifully. The wine has strong notes of ripe cherries and cocoa, mingled with black tea and livened with orange zest. The pairing helps quell the intensely sweet taste of the chocolate and fruit. Put it this way…  hubs summed it all up as, "Mmmmmm… smoooooth…. this is soooo good".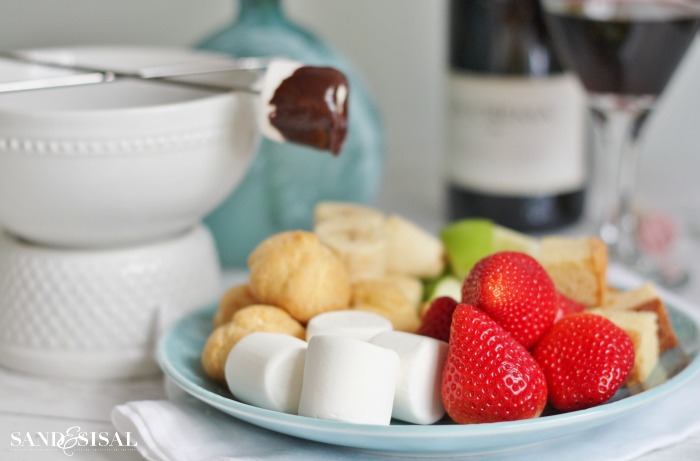 Chocolate Fondue for Two
Author:
Kim Wilson - sandandsisal.com
Create a memorable and romantice evening at home with this rich and decadent Chocolate Fondue for Two recipe. Only two ingredients!
Ingredients
8 oz. semi-sweet or bitter-sweet chocolate chips
⅓ cup heavy cream
Instructions
In a small bowl combine chocolate chips and heavy cream.
Place in microwave on heat on high for 30 seconds, then stir.
Repeat heating and stirring every 30 seconds until totally melted and smooth.
Add a bit more cream to achieve the desired consistency.
Serve immediately with marshmallows, cream puffs, strawberries, bite sized chunks of apple and banana.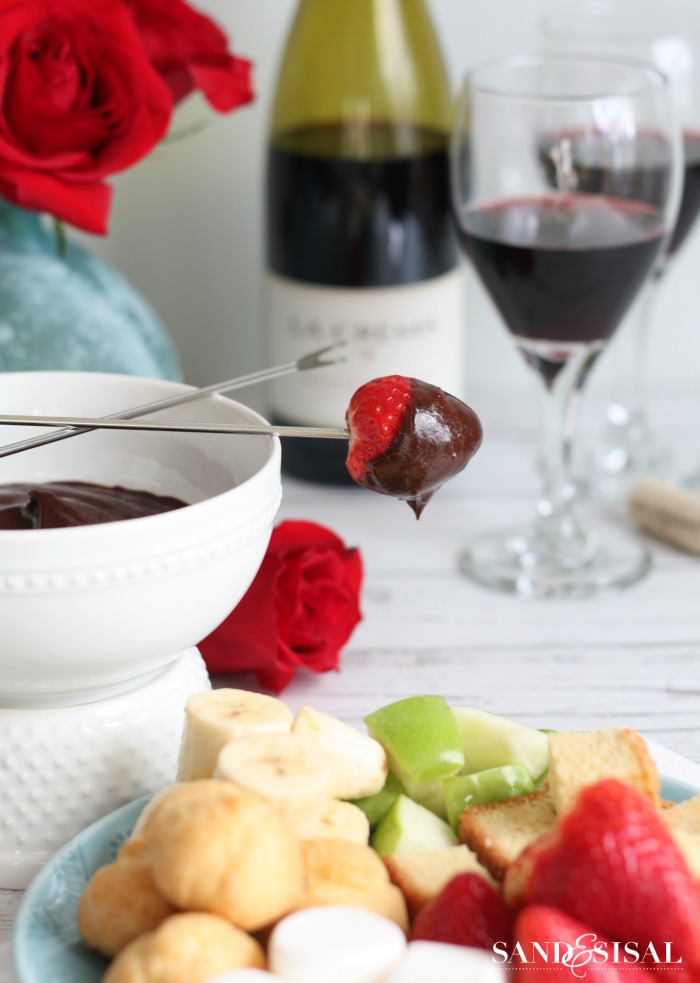 PS: Harry Connick Jr. played in the background and he was one happy Valentine for sure. 🙂
If you want to make the evening a total fondue event then you will want to start off your meal with this Romantic Cheese Fondue for Two! Be sure to check out that amazingly delish recipe! Starting off with cheese and ending with chocolate? Can you ask for a more decadent evening?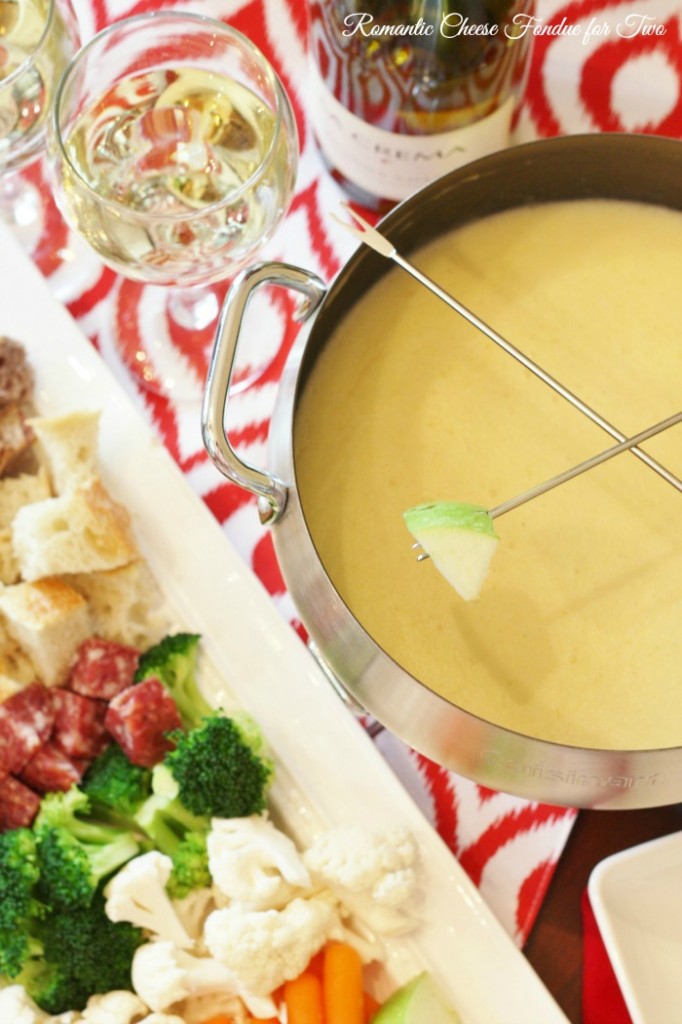 Wishing you all a very love filled & romantic Valentines!
Be sure to PIN your favorite pic too for future reference! 
KIM
Disclosure: Thank you to my wonderful sponsor, La Crema for sponsoring this post and supporting Sand & Sisal! All ideas and thoughts are my own.