This is a sponsored post written by me on behalf of At Home. All opinions are 100% mine.
Seas and Greetings friends! The holiday season is starting and I always feel so rushed and behind in getting our home decorated. With our kitchen renovation happening, life and the house are already a bit chaotic. This year I've decided to get a head start on the decorating in a few rooms, in hopes that we can all relax and enjoy a few pretty spaces in lieu of the drywall dust, contractors, and boxes everywhere. My home office is where I spend a large portion of my time so why not start there? Today I am excited to share with you a beautiful turquoise and lime Coastal Christmas Vignette.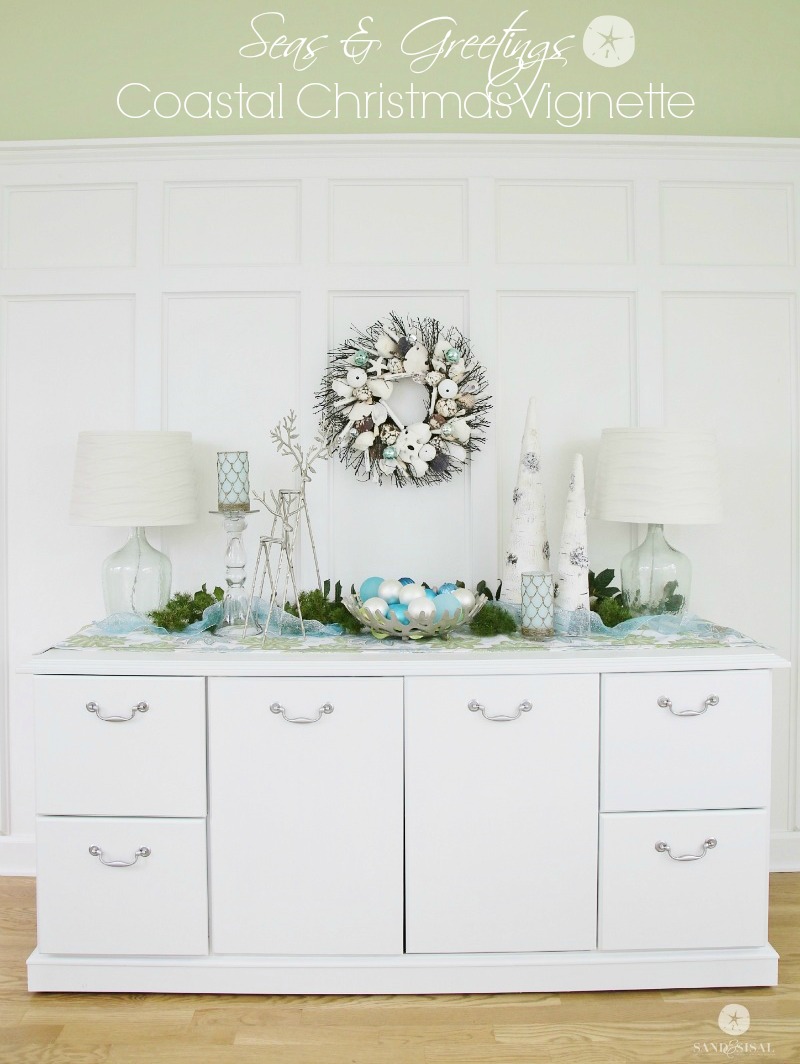 The color palette for this coastal display is a soft and serene collection of watery shades of turquoise, snowy white, silver, with touches of sea glass green. A majority of the lovely items you see are At Home Christmas Decor. If you aren't familiar with At Home, it is a decor superstore! Imagine your large big box stores, but all decor! You can spend all day perusing the aisles, finding fabulous items for your home at everyday low prices. Christmas time is a shopping highlight at At Home. At Home offers a complete holiday solution for every home, including an unmatched assortment of indoor and outdoor décor items for Christmas. It is a one-stop-shop for customers to design each room of their house. At Home features all Christmas décor items, from dining to ornaments, in fifteen decorative themes, which makes decorating for the holidays a breeze. The themes include:
Seas & Greetings
Holiday Hoedown
Lavish and Luxe
Peppermint Jazz
BerryPlatinum
Forest Fairy Tales
Crystal Chateau
Cherished Memories
Heaven and Earth

Midnight

Plume
Regal Renaissance
Snowcapped Scene
Handcrafted from Around the World
Dem Darlings
Handcrafted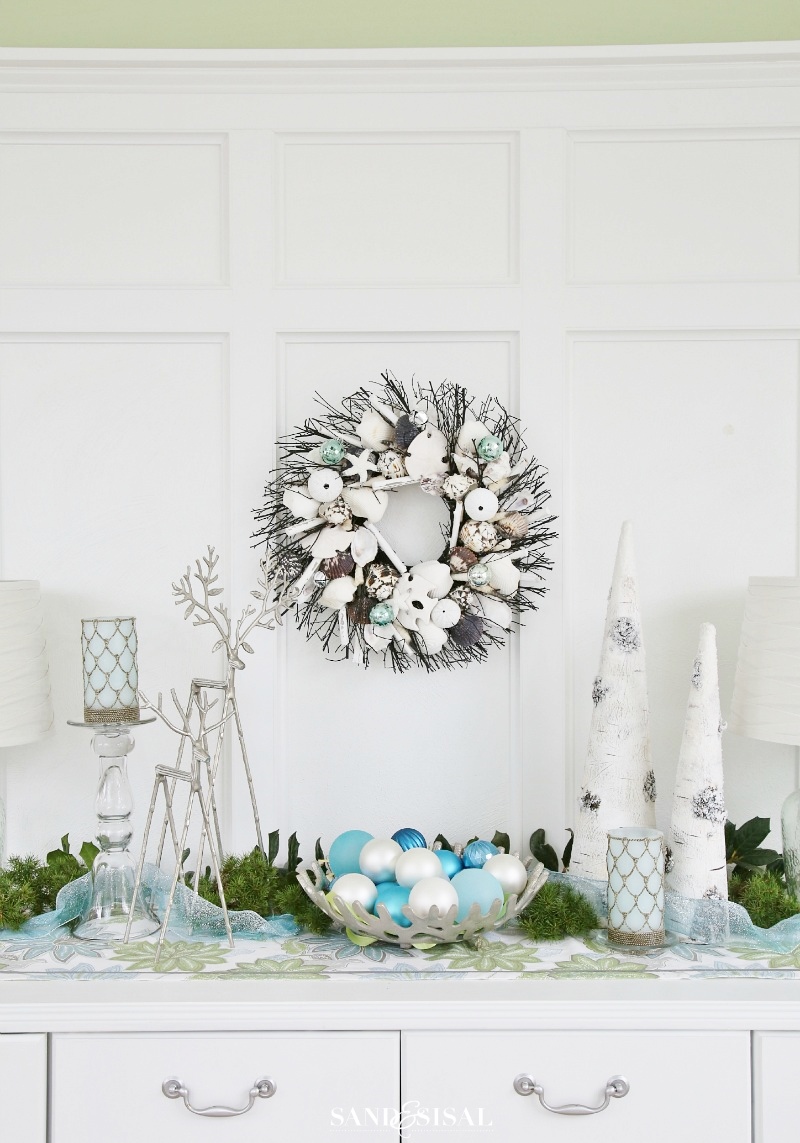 For the coastal vignette in my office, I chose to mix and match a few of the themes. These pretty papery white birch bark tree cones are from the Forest Fairy Tales collection. The coastal wreath was one I already owned, but I gave it a holiday touch by adding a few small glass ball ornaments and jingle bells.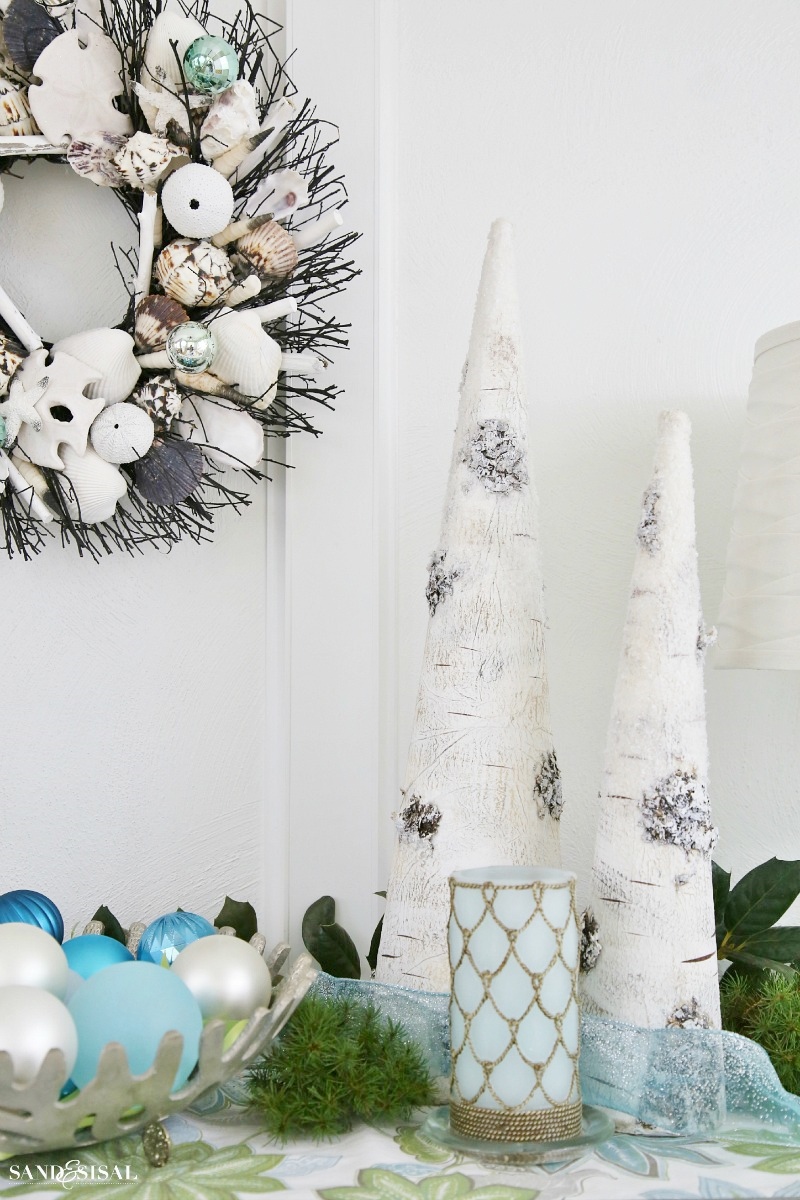 The nautical rope LED candles and shimmery, sheer, tuquoise ombre wired ribbon are from the Seas and Greetings collection. I was excited to find a paint can container filled with tons of silver jingle bells in assorted sizes. I can't wait to use those in more Christmas crafts.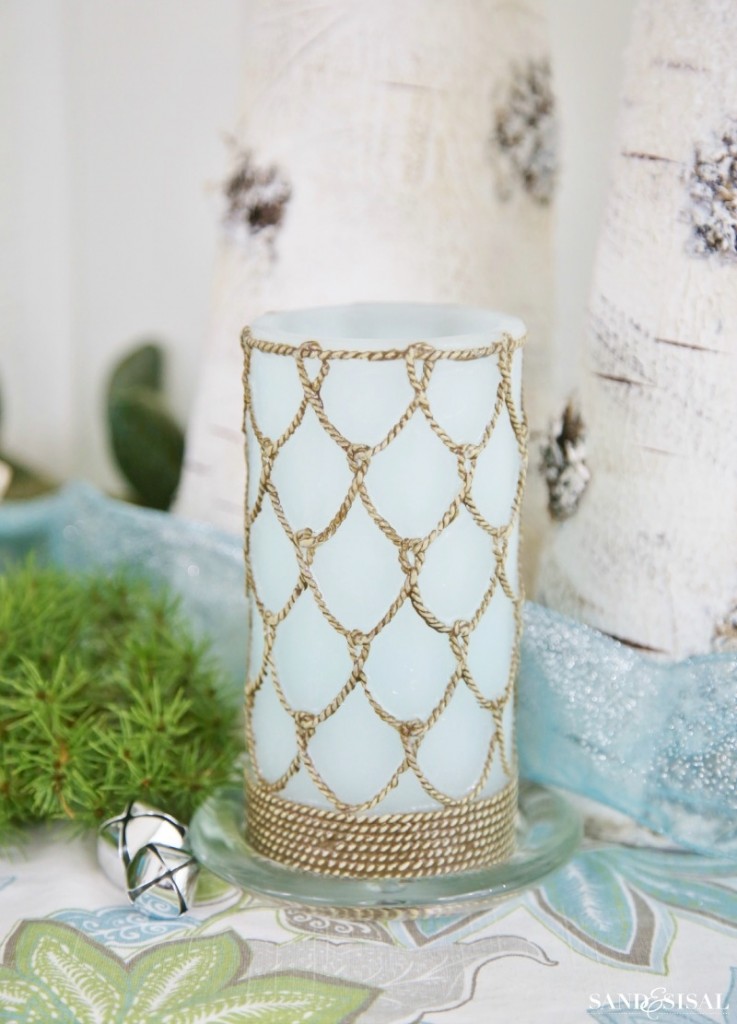 The second I saw these silver reindeer I knew I had to have them! They are part of the stunningly beautiful Snowcapped Scene collection. That aisle was like walking into a wintery white wonderland!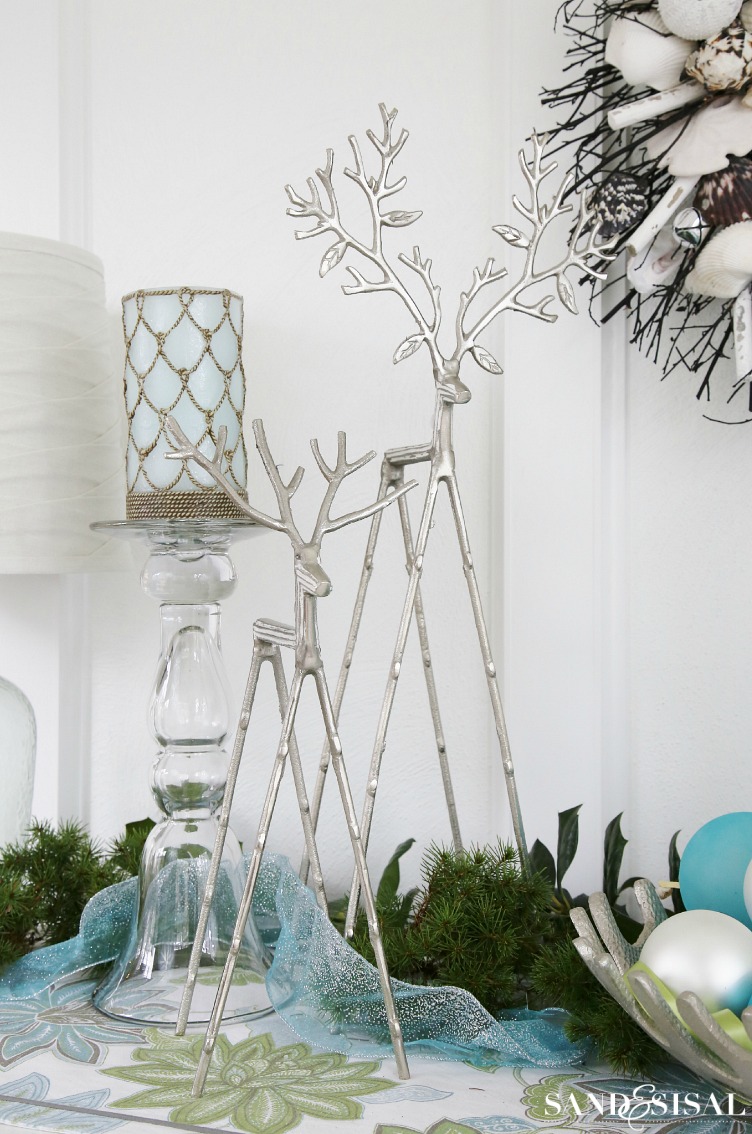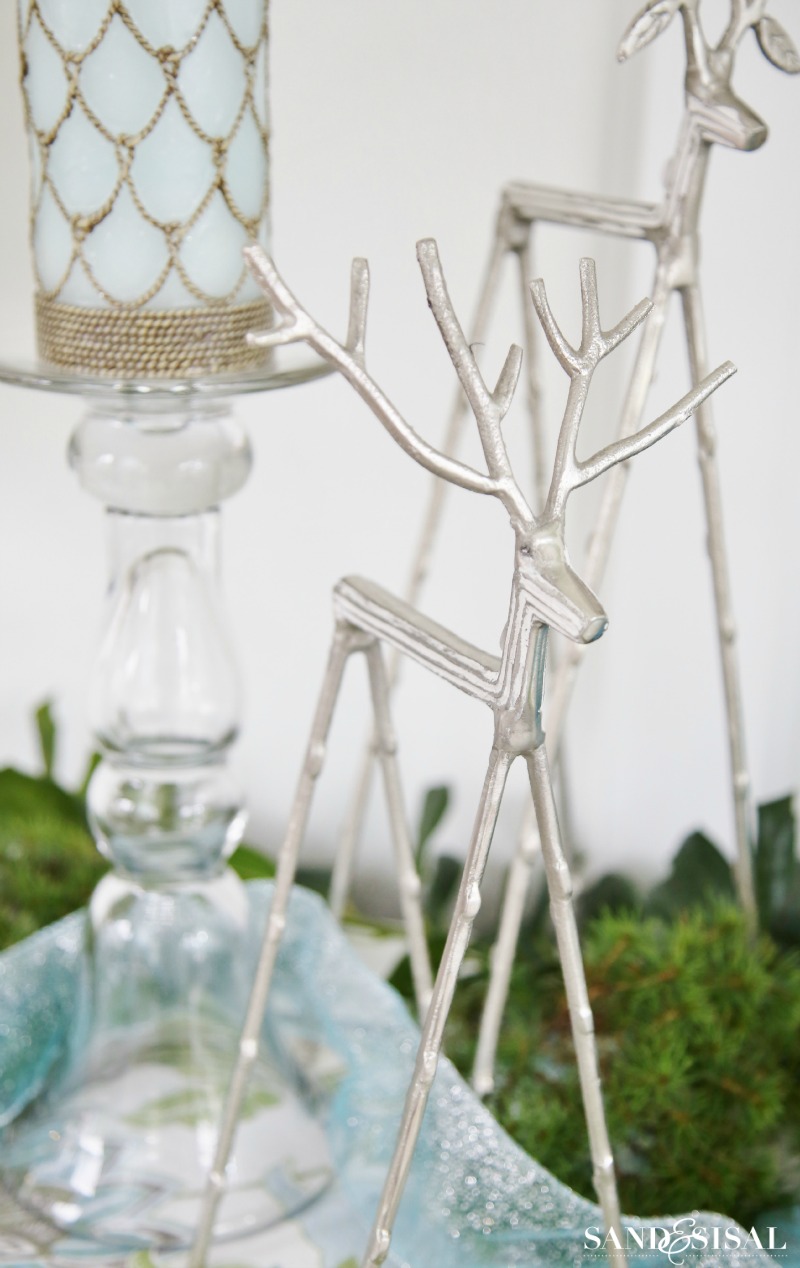 My silver coral bowl was filled with a variety of both glass and shatterproof ornaments from At Home along with a few of my DIY Sea Glass Ornaments too. This is a very quick, easy and beautiful decor idea. It would make a lovely centerpiece too.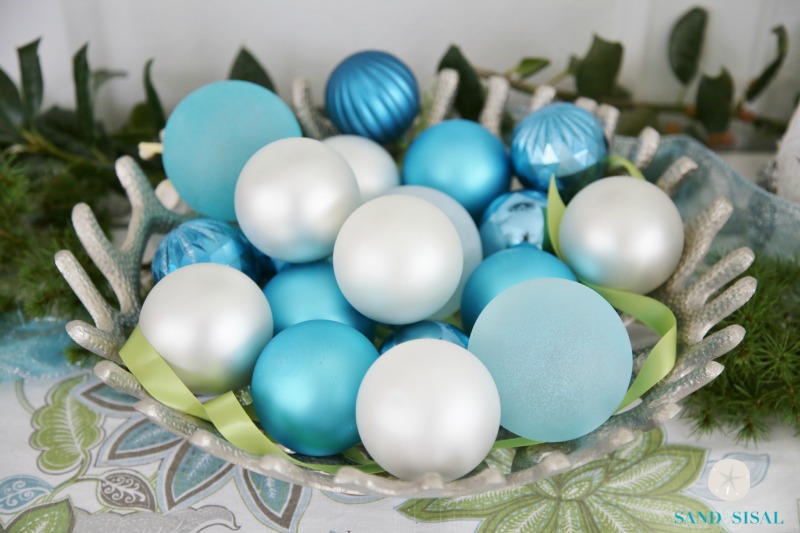 In any vignette, it's important to mix a variety of textures and sheens along with varying heights of items. It helps keep the eye moving and adds interest to your design. I also think that something alive, like greenery clipped from the back yard (or your neighbors yard… shhhh) gives your decor a fresh vibrancy. Holly and spuce clippings will a few weeks indoors without water, which is great!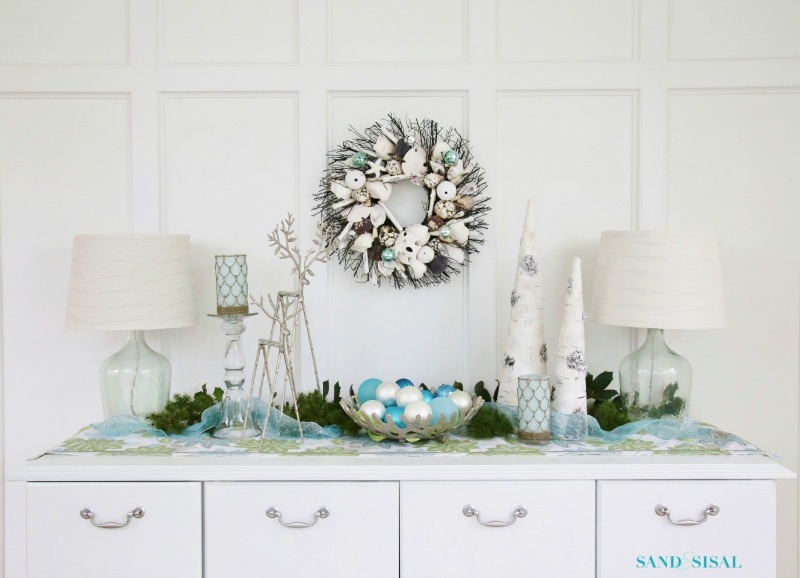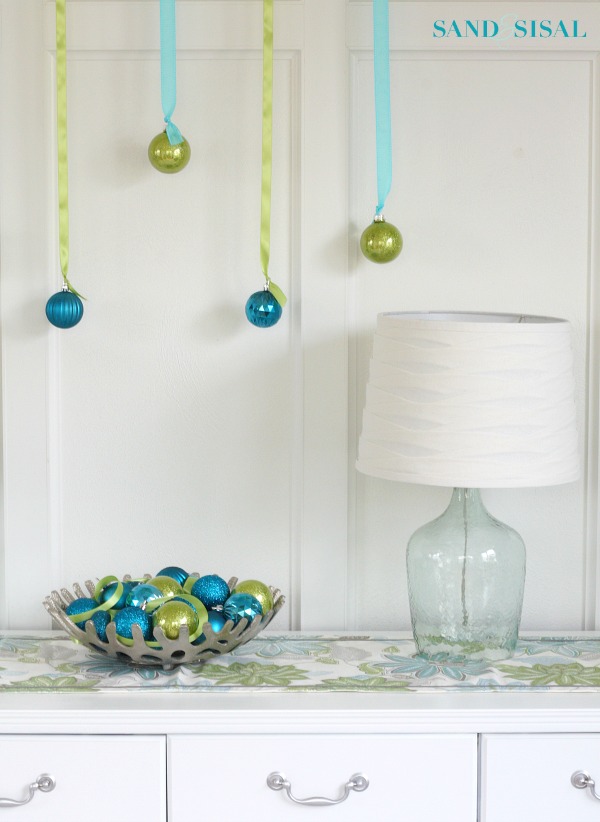 I'll be heading back to At Home next week to pick up more Christmas items which I'll share with you soon. If you are in the market for a new artificial Christmas tree, know that At Home also offers 101 Varieties of Christmas Trees! I hope you enjoyed my little Coastal Christmas Vignette.
Feel free to check out their Tree for Me collection. Let me know which At Home Christmas decorative theme would you choose for your home?