The white foamy waves crashing upon the sands and the salty sea breeze whispering in through the cracked open window break you from your slumber. The seagulls caw and the morning sun rays glisten like spun strands of gold. You wake up from your sleepy bliss and smile because you are raptured in coastal cottage charm! Wait, you mean you don't live in a seaside villa? It was all just a dream? No worries! Let's transform your hum-drum suburbian home into a cozy coastal escape even if you are miles away from the sea. Explore 5 Ways to Capture Coastal Cottage Charm and learn how to create your own coastal cottage style with beautiful decor and design from Kirkland's new Coastal Cottage Collection.
Color Me Coastal
Choosing the right colors for your walls and decor will immediately help transform your home and give it the feeling of a seaside coastal cottage. The ocean, sky, and sand provide the inspiration for a coastal color palette:
Think neutrals like weathered driftwood grays and warm soft sands.
Crisp whites like sailboat canvas and sand dollars.
Muted greens like beach grass, kelp, and sea glass.
Watery sea blues, soft aquas, nautical navy and misty grays like the storm clouds over the seas.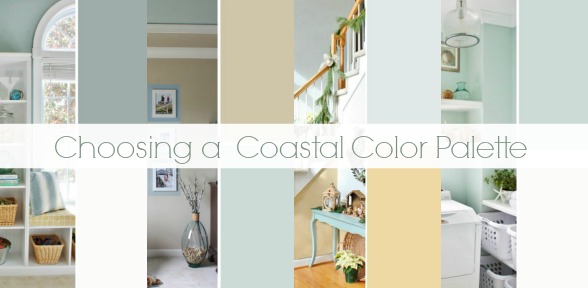 Keep it Casually Chic
Coastal Cottage furnishings are mainly casual and comfortable and yet have a shabby chic flair. Look for weathered woods, distressed finishes and painted pieces in coastal colors. Choose plenty of solid upholsered furnishings along with accents of sealife inspired fabric prints or bold stripes which give a nod to a nautical vibe.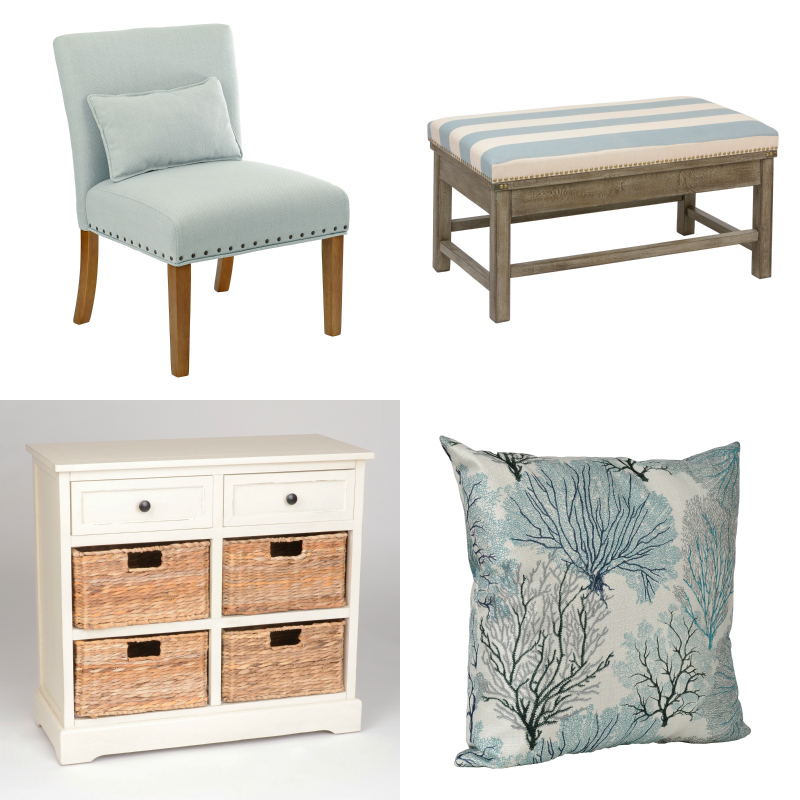 Suggested Items: Parker Blue Slipper Chair, Ivory 6-drawer Storage Chest with Baskets, Blue and White Striped Weathered Ottoman, Aqua Coral Pillow
Maximize Natural Textures
Because coastal cottage decor has a calmer, quiter color palette it is important to add variety and interest by mixing in mulitple natural textures. Accessorize with decor items that have a mix of textures like woven sea grass, sisal or abaca, brushed or aged metals, and colored, seeded or sandblasted glass.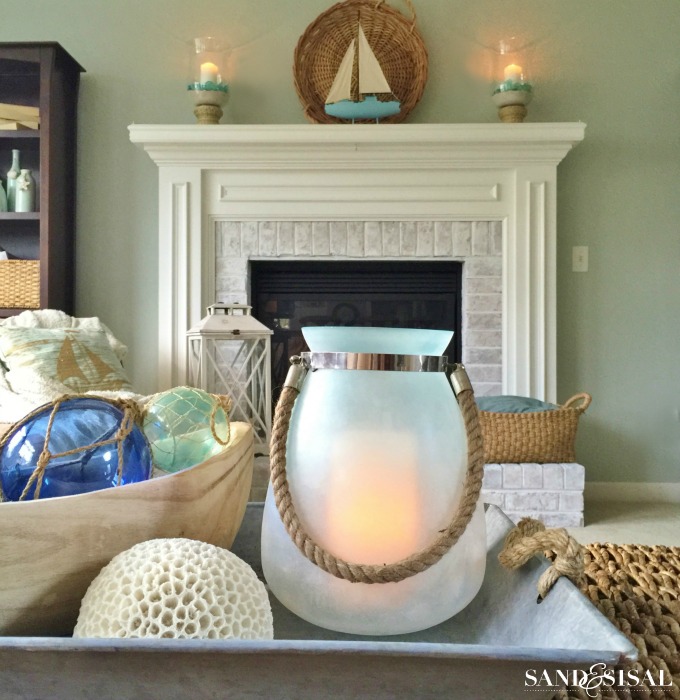 Suggested Items: Driftwood Wreath, Distressed Natural Picture Frame, Savannah White Wicker Side Table, Coastal Charm Glass Vases
Light it Up
Coastal Cottage decor celebrates the sunlight and beautiful beach views. Coastal cottages have a multitude of windows allowing natural light to be the main source of illumination in the home. But if natural light is lacking then be sure to add plenty of table and floor lamps to to illuminate your space. Keep window treatments simple, light, airy and open. Window treatments are rarely ever closed in coastal cottages. Think about it, have you ever walked into a beach cottage that was dark and gloomy?

Suggested Items: Sandy Blue Glass Table Lamp, White Coral Floor Lamp, Rattan Table Lamp, Rope Wrapped Table Lamp, Aquifer Blue Teemu Curtain Panel Set
Sea & Shore Inspired Accessories
A coastal cottage wouldn't be complete without sea and shore inspired art and accessories. Create a wall gallery of sea shell art prints. Add natural items like coral, starfish, or driftwood. Set a cozy and welcoming mood with lanterns and votives. And don't forget to sprinkle in touches of vibrant turquoise, aqua or cobalt around the room to add a cheerful pop of color that immediately draws your eyes to different areas of the space and helps brighten up a neutral color palette.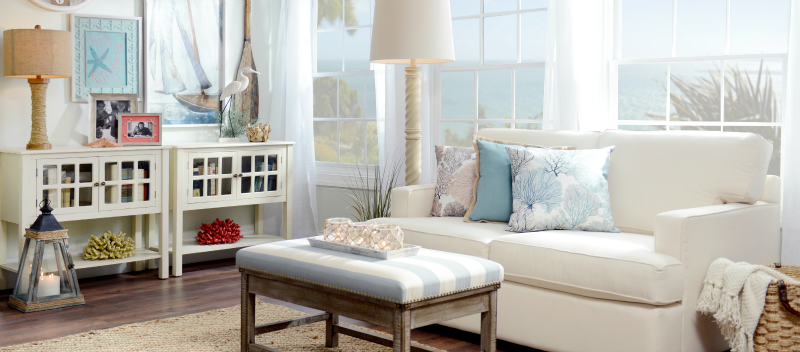 Suggested Items: Chevron Seashell II Framed Art Print, Distressed Turquoise Turned Candlestick, Porthole Round Mirror, Ivory Coral Statue, Coastal Votive Candle Holder Set, Aqua Deipre Lantern with Rope Handle. 
LOVE IT? PIN IT!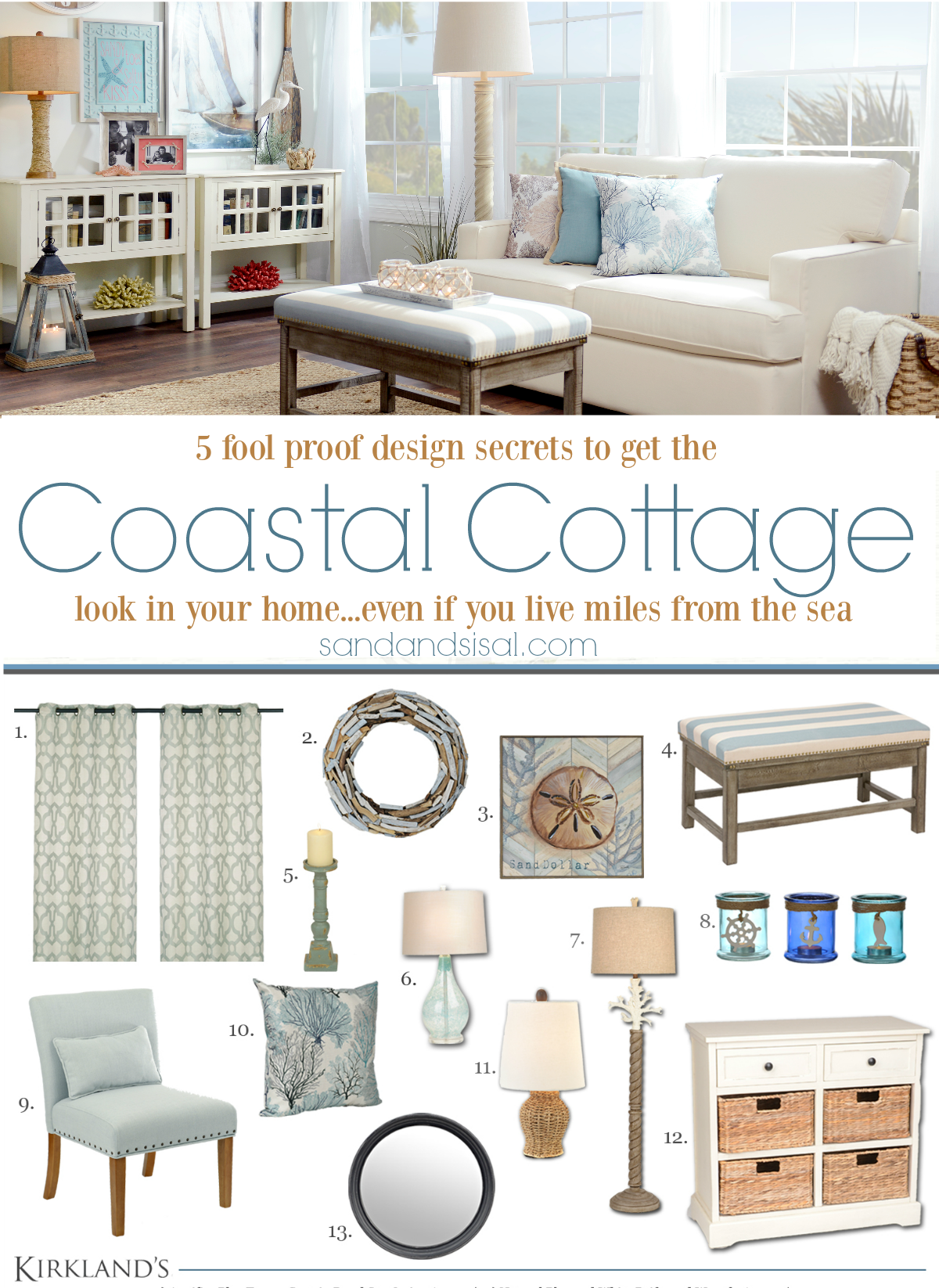 Creating your own coastal cottage style is right at your fingertips! Don't forget to explore the full line of coastal decor items available at Kirklands.
Kim
You might also like:
Create a Seaside Retreat in Your Home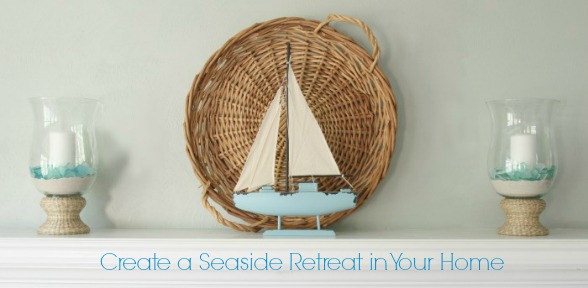 How to Decorate Coastal (without lookin' all Margaritaville)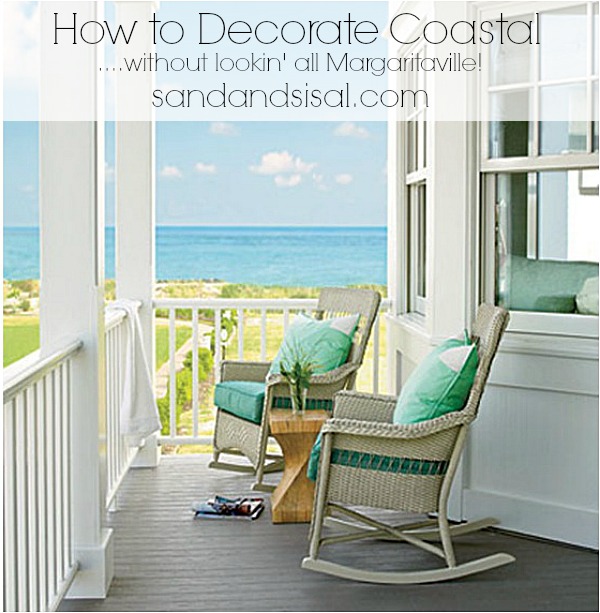 Disclosure: This post has been sponsored by Kirklands, who loves Sand & Sisal and our readers! All opinions and expressions are my own.