One of the top questions I receive by readers is, "Help Kim! How do I decorate coastal when I don't live anywhere near the shore?" Decorating coastal is easier than you might think and we are going to explore a few ways How to Decorate Coastal in your home.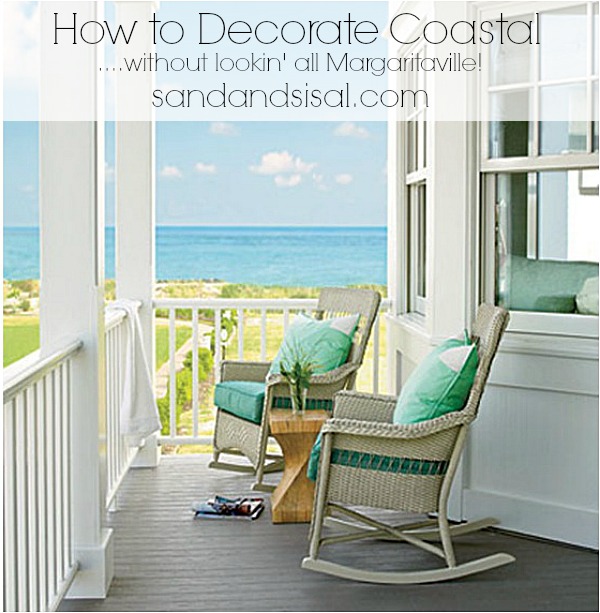 This week, 25 talented bloggers are sharing their tips and tricks in a "How to Decorate" series hosted by Beth from Home Stories AtoZ (a.k.a. my little sister).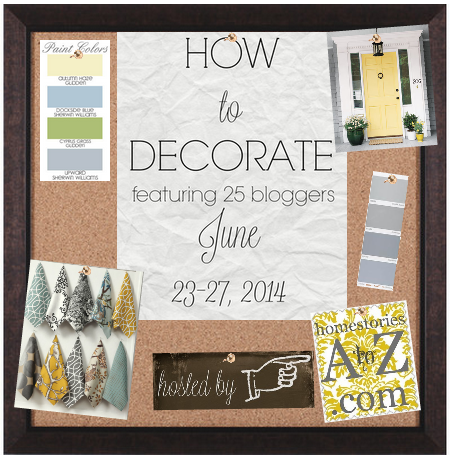 How to Decorate Coastal 
When you hear the word "Coastal Style", many different images and styles might come to mind. Hopefully parrots, bright Hawaiian prints, neon palm tree lights, tiki bars, and pink flamingos are not your first thoughts. I think we all can agree that will want to avoid the whole "Margaritaville" look in our homes, right?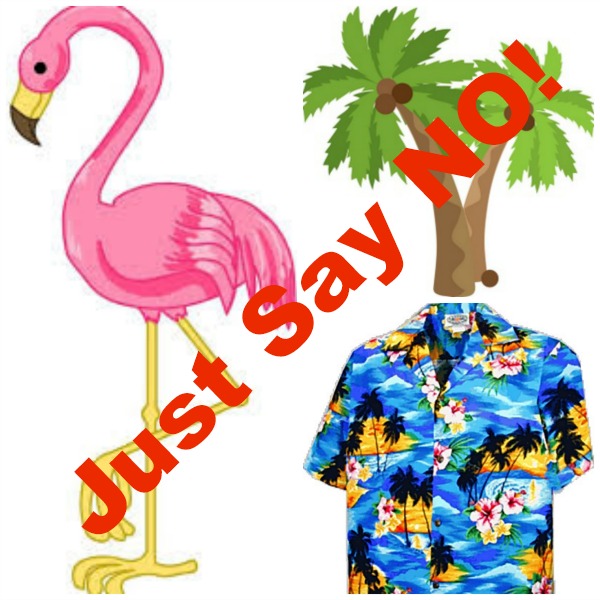 American Coastal Style should evoke a mood or a feeling of casual, breezy, seaside relaxation without bashing you over the head with beachy paraphernalia. American Coastal Style can be broken into subcategories like transitional coastal (my style), coastal cottage, and contemporary coastal. Regardless of which sub-style you prefer, they all have several things in common, tons of natural sunlight, casual furnishings made with natural fibers and textures, ocean inspired color palettes, touches of subtle sparkle from glass and mirrors, and "found", natural elements from the sea or coast as decor accessories.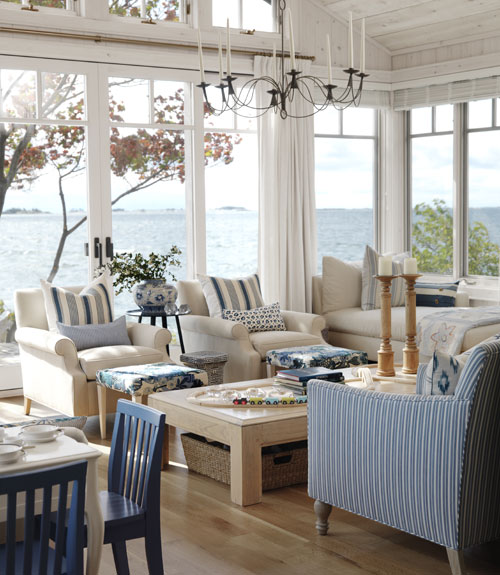 Coastal Color Palettes
Choosing the right colors for your walls and decor will immediately help transform your home and give it the feeling of a relaxed coastal environment. The ocean, sky, and sand provide the inspiration for a coastal color palette.
Think neutrals like weathered driftwood grays and warm soft sands…
 Crisp whites like sailboat canvas and sand dollars…
 Muted greens like beach grass, kelp, and sea glass…
Watery sea blues and aquas and..
Deep navy and steel grays like the storm clouds over the turbulent oceans.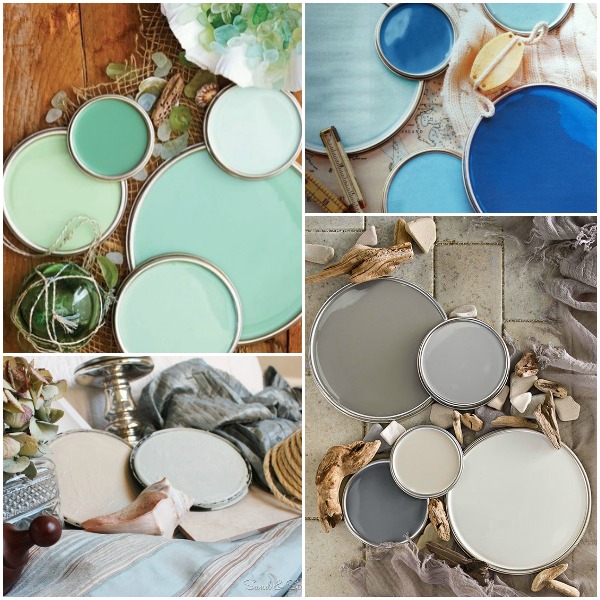 Let the Light Pour In
Coastal Decor celebrates the sunlight and beautiful vistas. Coastal homes have a multitude of windows allowing natural light to be the main source of illumination in the home. Window treatments are kept simple, light, airy and are rarely ever closed. Think about it, have you ever walked into a beach home that was dark and gloomy? I hope not. So even if you live hundreds of miles inland, go ahead and push back those drapes and let that glorious sunlight pour in. Who would want to obscure a gorgeous beach view anyway?
Casual Furnishings & Natural Fibers
The furniture in coastal decor is anything but stuffy and ostentatious. It should be comfortable and casual, but this does not mean you need to sacrifice style and elegance. Choose natural fibers like rattan, cane, or sea grass for chairs, and jute, sisal, sea grass, or knotted wool for floor coverings.  Slip covered sofas dressed in linen or cotton help keep the look casual, but with kids, a durable utrasuede or outdoor fabrics in sandy shades work well and are practical. Keep linens simple, crisp and clean, and light. And bring in hand painted, distressed accent pieces to round out the look.
Woodwork Detail & Wood Flooring
To bring a coastal cottage look to your home, dress the walls with painted white woodwork detail like board and batten, bead board wainscoting, and white washed paneled walls. Try to keep wood flooring and tables in a light finish. Think weathered wood, driftwood tones, whitewashed, natural maples, ash and bamboo. A few darker stained pieces of furniture strategically placed can help anchor a room that is full of lighter tones and palettes and doing so moves you into a more "traditional or transitional coastal style". Transitional coastal style works well and makes sense if you live in the middle of the country, no where near the coast.
Accessorize with Treasures From the Sea & Shore
Accessorizing is my all time favorite part of decorating! I believe implicitly that decor crafting can be as classy and beautiful as you desire. Adding coastal accessories and art is where YOU get to express your family's memories, keepsakes, and treasures. We all have little (or large) bags of shells, stones, sea glass, and driftwood that our children (or we) have found during beach-combing. Pull those simple little treasures out and create memorable art and displays with them.
Coastal Accessories can be sea life, shells, sand, sea fans, coral, driftwood, etc. Look for nautical or coastal prints on throw pillows, dishes, glass ware, or artwork. This is THE area where you can add expressive coastal touches. Go ahead and toss in that sequinned  studded octopus throw pillow! You want to install a starfish chandy dripping in rhinestones? Sure! Why not!  Decorate with what you love, with what evokes amazing memories. THIS IS
YOUR
HOUSE! EXPRESS YOUR INNER COASTAL SELF AND ENJOY!
An easy option for coastal art is to sort out all your shells by color and size and glue them onto matted frames, creating your own DIY Shell Art.
Fill a vase with clean shells and flowers for a simple yet stunning summer centerpiece.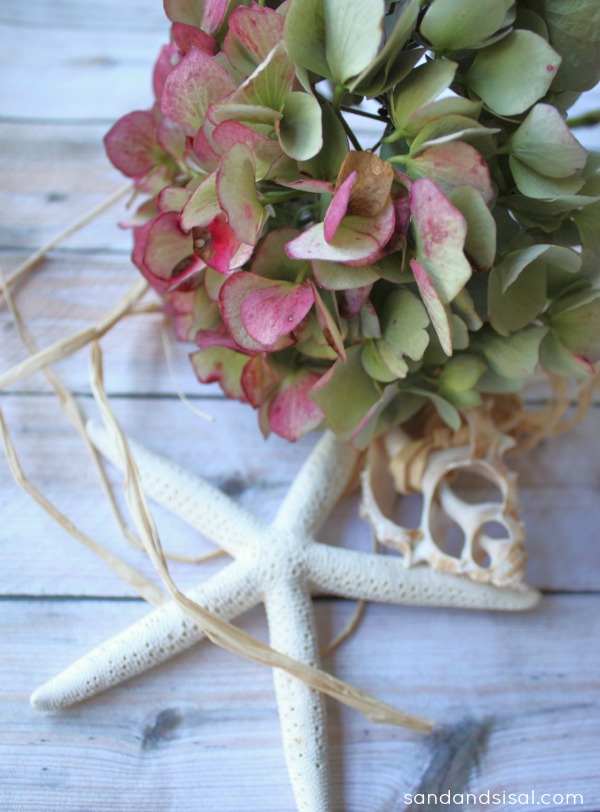 Most of Sand & Sisal is about coastal decorating, so if you are still need a bit more help with how to decorate coastal then please feel free to double click on any of the pics to be taken to fun and informative tutorials on how to replicate the look in your home.
The How-To Decorating Series is the perfect place to get inspired!
Day 1:
1. Beth, Home Stories A to Z: How to Find Your Decorating Style
2. Courtney, A Thoughtful Place: 5 Gallery Wall Styles
3. Stacy, Not Just A Housewife: How to Decorate with Plants
4. Myquillyn, Nesting Place: Turning a House into a Home on a Thrift Store Budget
5. Donna, Funky Junk Interiors: How to Turn Worthless Junk into Home Decorating Must Haves
Day 2:
1. Melissa, The Inspired Room: The Secret Ingredient Every Room Needs
2. Jessica, Four Generations One Roof: How to Decorate with Container Plants
3. Traci, Beneath my Heart: How to Style a Coffee Table
4. Cyndy, The Creativity Exchange: Tricks for How to Zone in on the Perfect Paint Color
5. Laura, Finding Home: 5 Ways to Personalize Your Home
Day 4:
Happy Decorating!
KIM