Over a year ago I fell in total love with big striped curtains. I wrote a post about it  in "Seeing Stripes". That post is full of striped eye candy! That week I even went out and bought white curtains, but for a year they sat  in their bag on the floor. I figured well, I could sew on some gold stripes. One problem though, I don't own a sewing machine. Or I could just use stitch witchery like I used in my no-sew roman shade. I finally kicked myself in the rear this last week and decided to go the easiest and most inexpensive route possible…. DIY Painted Curtains!  We all love easy and inexpensive! I'll show you how you can make your own.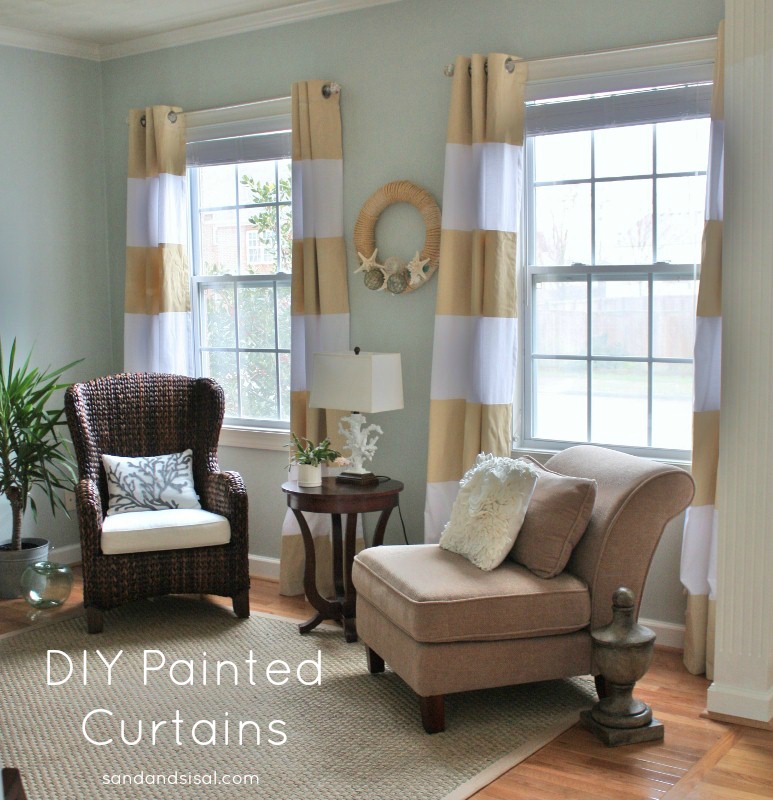 To make DIY Painted Curtains you will need the following items:
Solid curtain panels
Scotch Blue painters tape
Measuring tape & pencil
latex paint (I used Sherwin Williams Ivoire wall paint in egg shell sheen. It was left over from my dining room!)
foam paint roller
drop cloth
The simple grommet topped curtain panels were from Target and they are a cotton linen. They are quite inexpensive and I will admit, thinner than I'd prefer.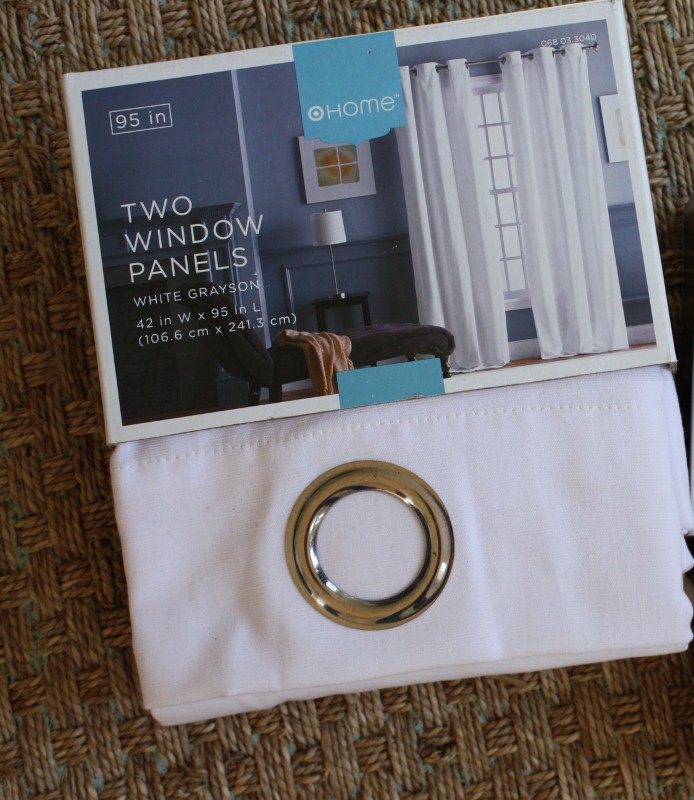 Step 1) Iron your curtains.
Step 2) On a large flat surface lay down your painter's drop cloth. Spread one curtain panel over it.
Step 3) Decide on the width of your stripes and mark that dimension with a tiny pencil dots.
Step 4) Line the Scotch Blue tape along the dots and press the edges well.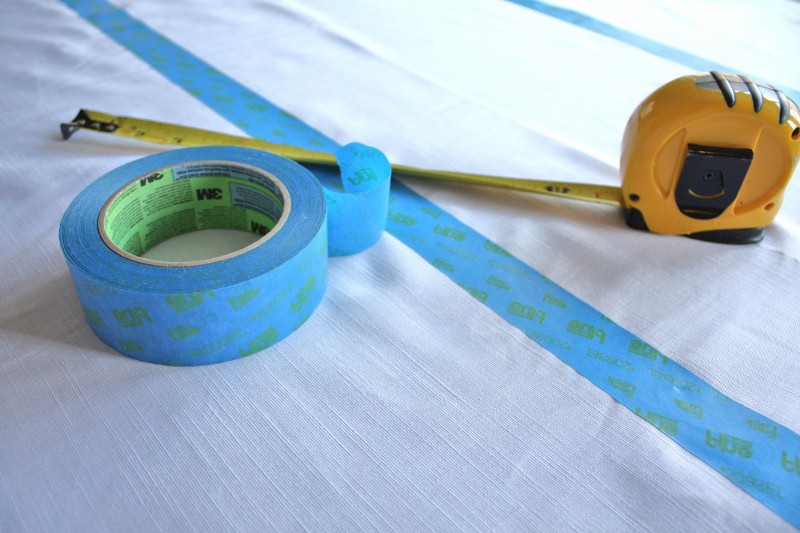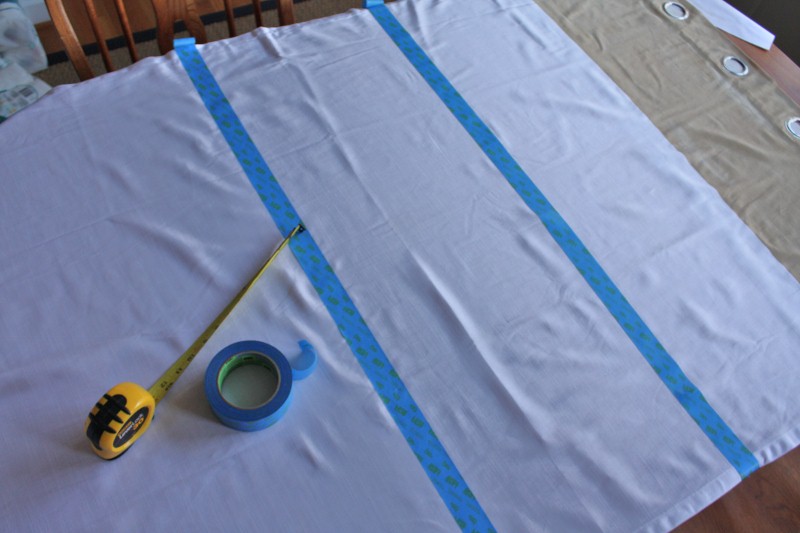 Step 5) Fill in the area between the tape with latex paint using a smooth foam roller. Be sure to cover the surface very well! Allow to dry and remove tape.
That's all there is to it! The latex paint does make the fabric stiff, so if you plan on opening and closing your drapes, I wouldn't recommend using paint. But because my drapes will remain open and are simply for decorative purposes, then painting was a good option.  I found these pretty shell covered silver drapery rods and finials at Lowe's and they are perfect for my coastal decor.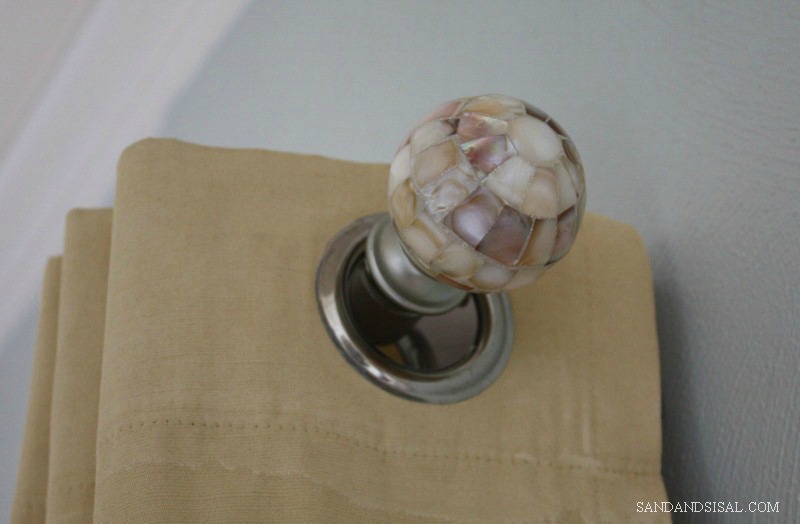 I wasn't planning on putting up the Glass Float Wreath, but wow it goes perfectly, don't you think?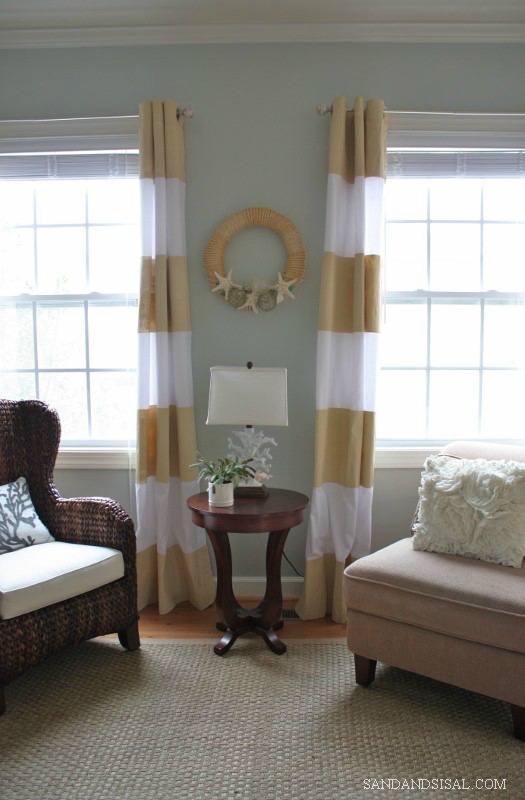 And here is what the entire room looks like. This is our music room, it is the first room people see when they enter my house.  The walls are painted in Sherwin Williams Sea Salt.  I do need to find or paint some large piece of artwork for that back wall. It needs to balance out the Twilight- Tree of Life Painting I made on the left.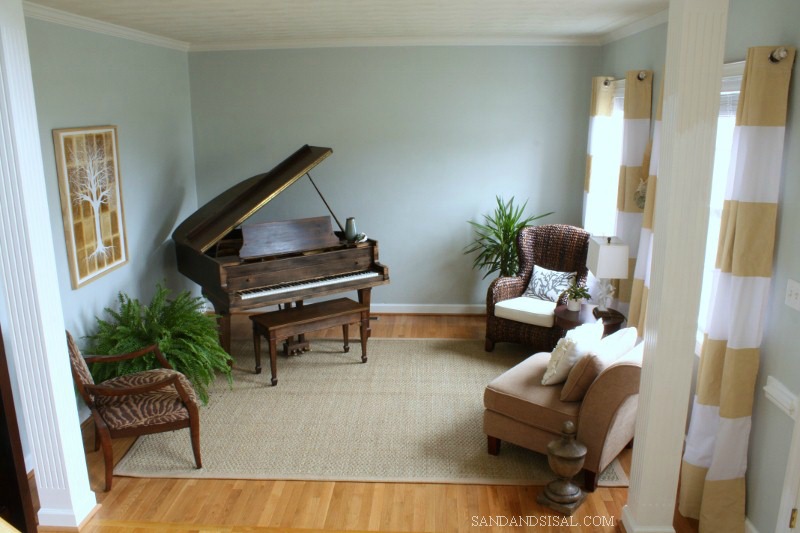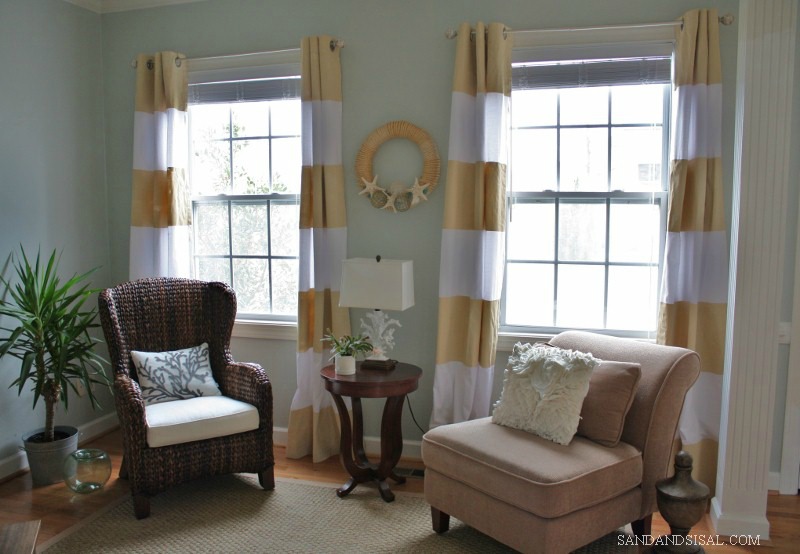 I love how it turned out! What do you think? Ready to give DIY Painted Curtains a try for yourself?
KIM
Linking up to: Serenity Now, Beneath My Heart, Home Stories A to Z