You know you are in love with an idea when you find yourself constantly gravitating towards it without consciously realizing it. For me, my secret love is with stripes, big, bold bands of color. I will confess I've admired these from afar for about a year or two, but I wasn't sure if I was ready for the bold statement they make.   I came across an old issue of Better Homes & Gardens in my magazine basket. This is a southern coastal home which was decorated in blues, golds, and reds, just like mine! Except they have mastered how to blend the three colors beautifully, and I sadly have not. So I thought striped drapes just might be the solution to my color quandary! Let's take a look at some striped drapes that I'm loving today!
Tangerine Tango anyone? These stripes are strutting a shade of Pantone's Color of the Year.
I adore this little girls room! Look closely. Do you see the small green stripe on the drape? If you love bold colors but don't want the drapes to scream the color then adding a small touch of it will keep the color scheme flowing.
The monochromatic master bedroom sings with serenity!
These striped bands are pushed toward the top and bottom, aligning with the door's wood transom window. It draws the eye upward and balances out the large space.
Let's take a look at how other fellow home bloggers have created their own striped drapes.
Whether they be fat or thin, bold or subtle, painted or sewn, it appears the striped drape trend is here to stay for awhile. How do you feel about horizontal stripes? Hate them? Love them? Fear them? Can't get enough of them?
Kim
UPDATE: I painted my own striped curtains! Check out DIY Painted Curtains to learn how!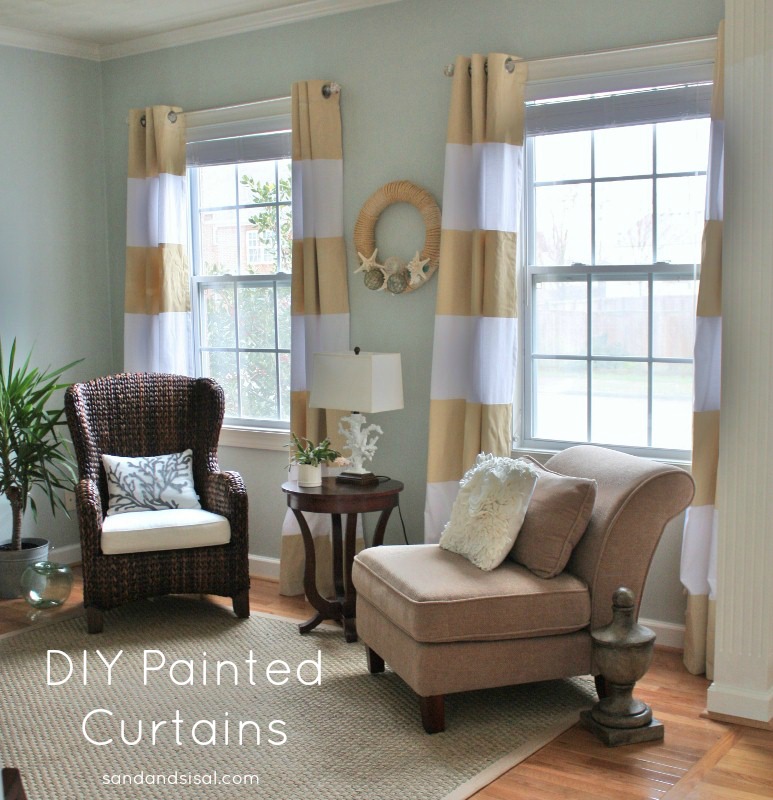 Join me on FACEBOOK, TWITTER, PINTEREST, G+ or SUBSCRIBE.