Ready to head to the beach with me? The shoreline is simply stunning during the fall! Thankfully we are able to enjoy it far into November. I wanted to bring a bit of the beach inside this autumn with some cool Coastal Pumpkins. These were so fun and easy to make and I want to share how I created them.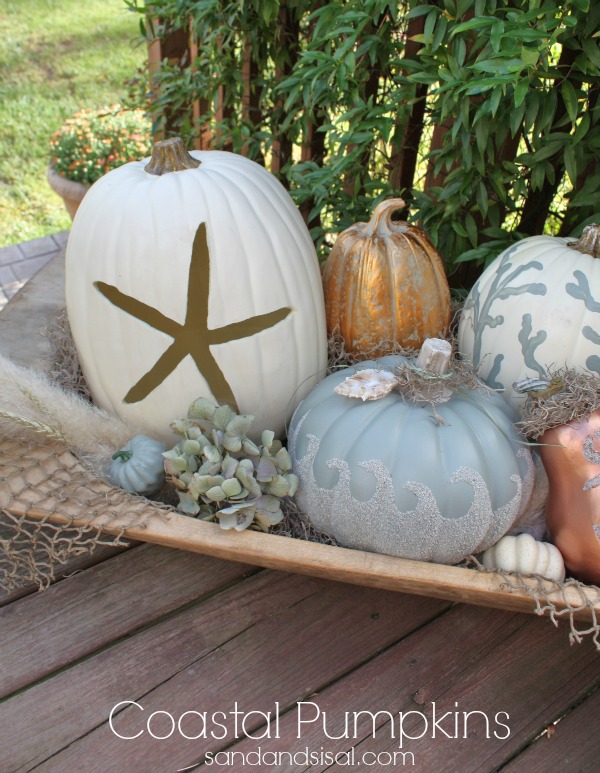 To make Coastal Pumpkins you will need the following items: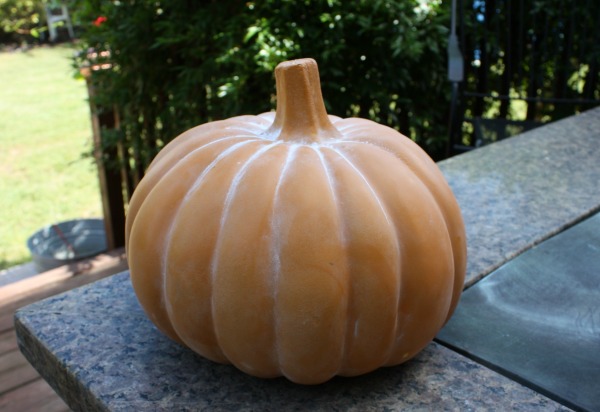 The first thing we will do is to paint the craft pumpkin any color you desire. I chose a custom color I mixed up from some house paint. It matches the color palette in my home. You can see the custom mix here.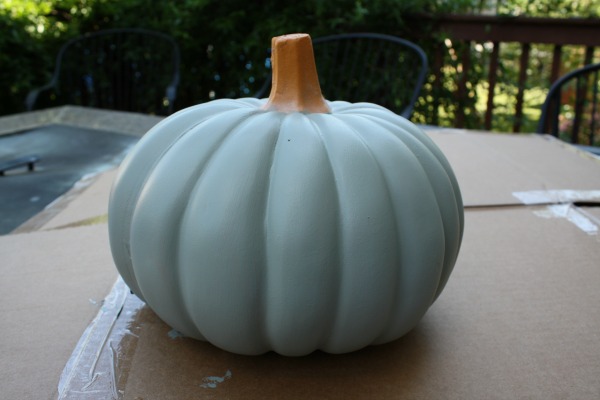 After the paint has dried, dip your paintbrush into matte Mod Podge and paint on some waves. Use a larger brush to quickly paint the Mod Podge on the lower half of the pumpkin. Work in sections. I think I painted waves on about 1/3 of the pumpkin.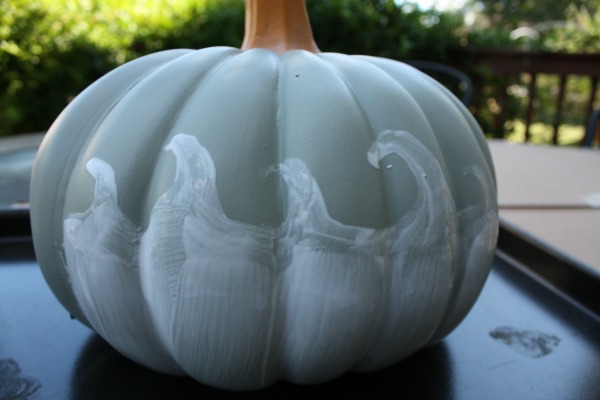 Next, pour your craft sand over the Mod Podged areas. I placed a cookie tray underneath to catch the falling sand.  Repeat the Mod Podge and sanding process all the way around the pumpkin until covered.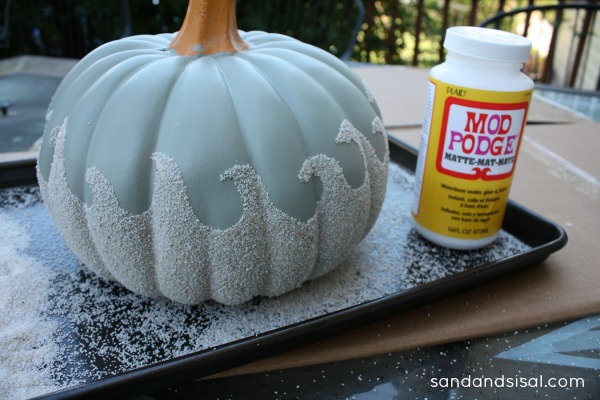 You can paint the pumpkin stem with cream or brown craft paint if desired and finish it off with a few embellishments like twine, sea grass, Spanish moss, or what ever you like. I had this beautiful slice of a shell that reminded me of a leaf, so I added that also.  Isn't that little sandy pumpkin adorable?!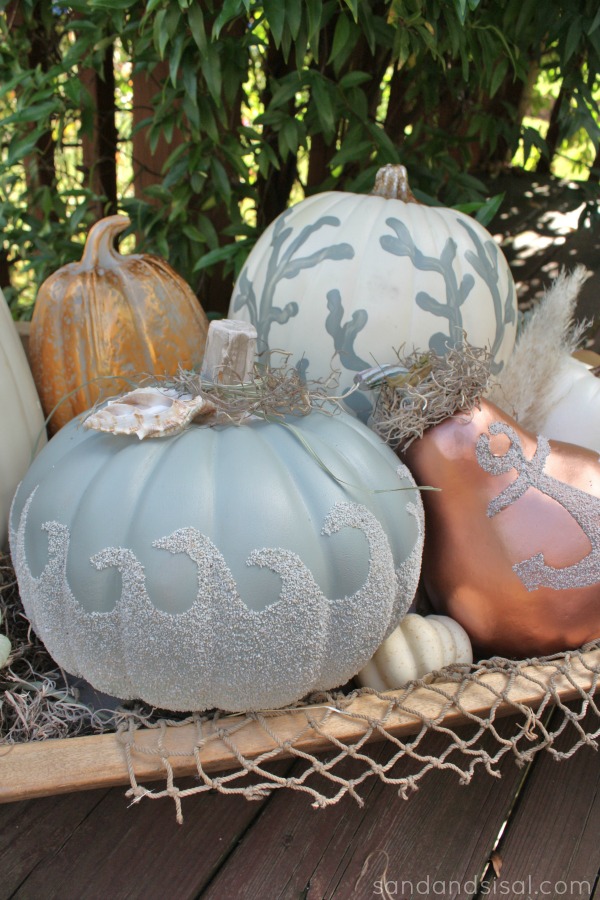 I next decided to decorate a foam gourd. I had an ugly old gourd in the attic and spray painted it copper. The copper trend is hot, hot, hot right now and pairing the metallics with the cool tones of grays and blues is beautiful! I free handed an anchor with a pencil onto the gourd, but feel free to do a Google search for nautical images and simply print them out the trace the image on the gourd.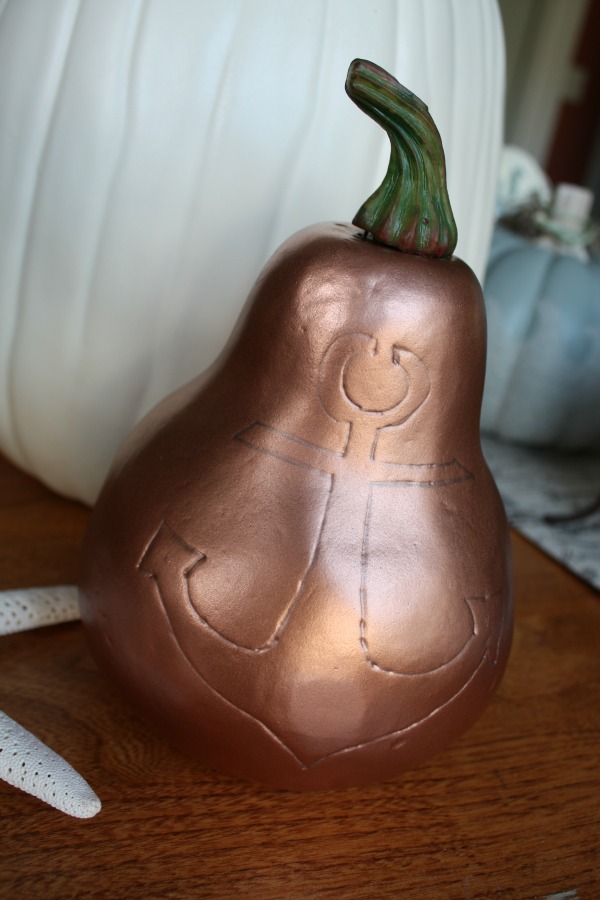 After the tracing was done, I filled in the area with Mod Podge and sand and wrapped a clump of moss around the stem.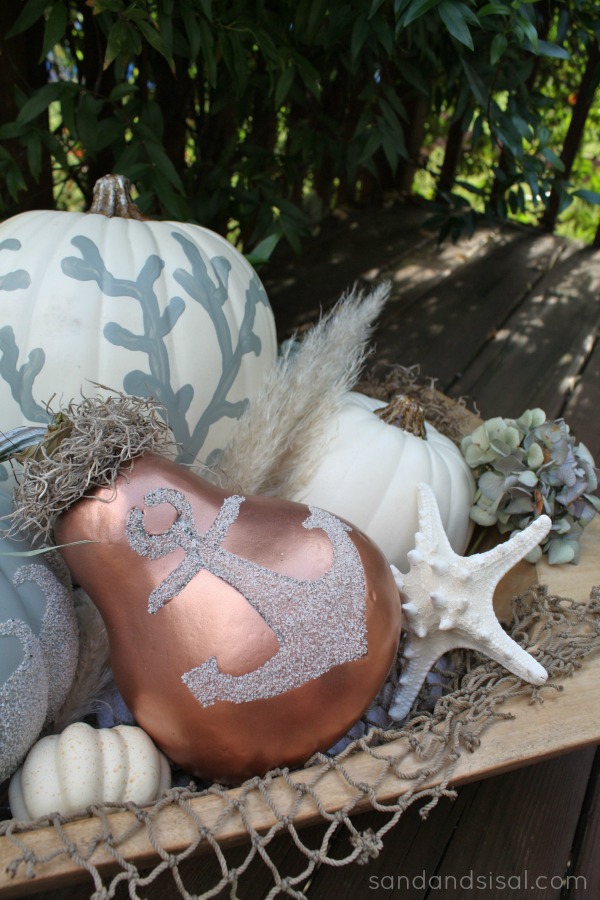 Now to make the starfish coastal pumpkin, you simply need to trace around a starfish with a pencil (or print off one online).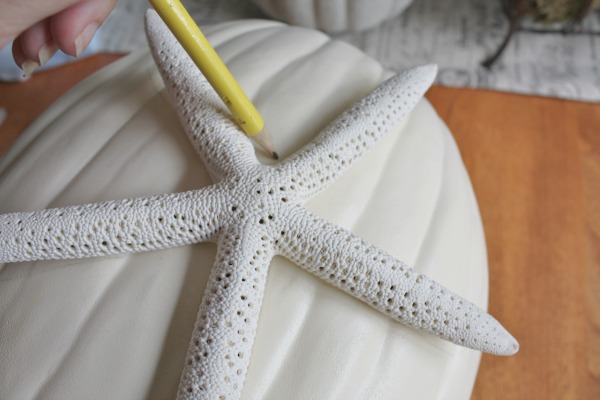 Then carefully cut out the shape with an X-acto knife. Use and up and down sawing motion. These blades are razor sharp so be very careful! Cut a hole in the bottom of the pumpkin also. Make it large enough to fit in an LED votive candle.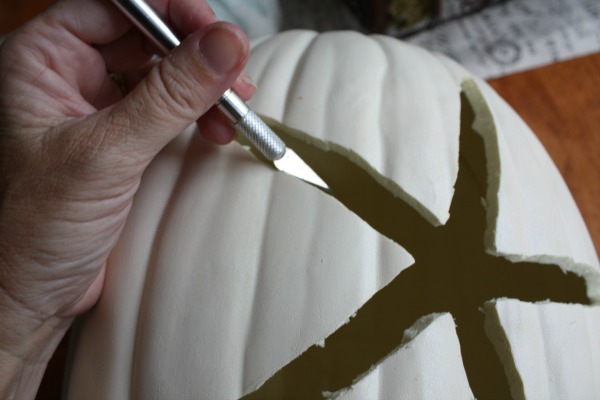 Just think of all the different shapes you could cut out! Get creative!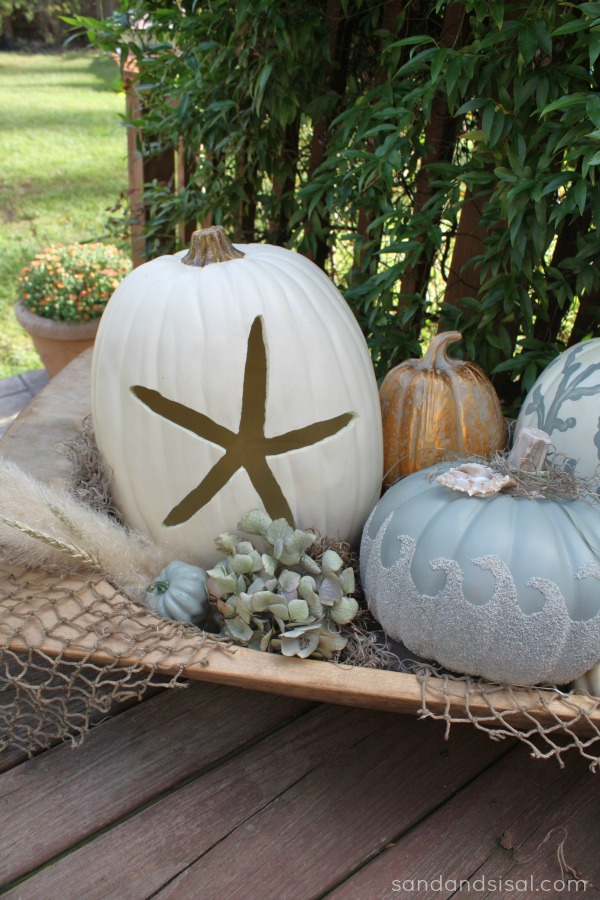 Making the coral pumpkin was easier than I thought it would be. I was nervous to try painting it, but the great thing about coral is that it is completely irregular! Have a shaky hand? Then painting coral is perfect for you! ha! I used a coral pillow as my reference. Feel free to check it out and see the simple graphic lines. I used the same paint as on the wave pumpkin. It literally took me less than 5 minutes. Don't over think it, just paint.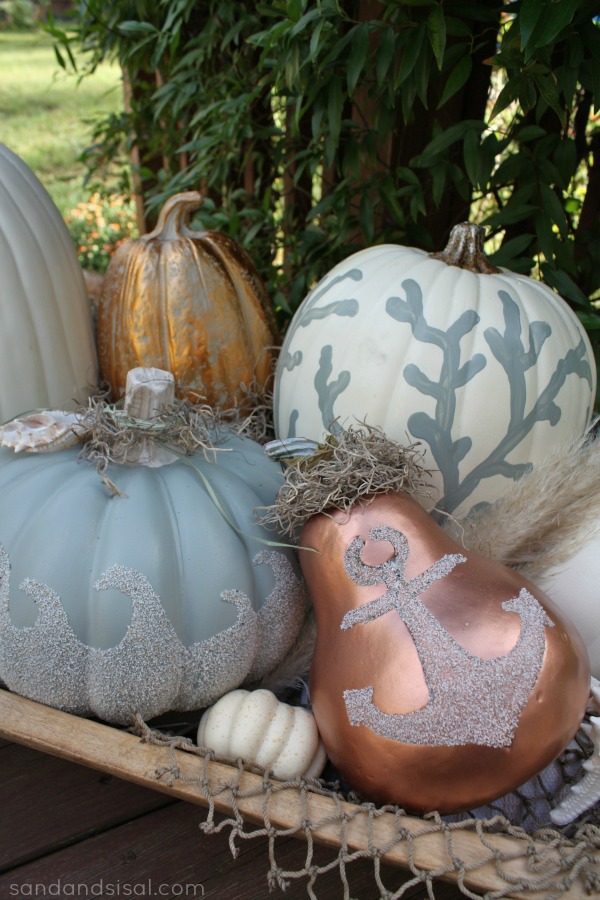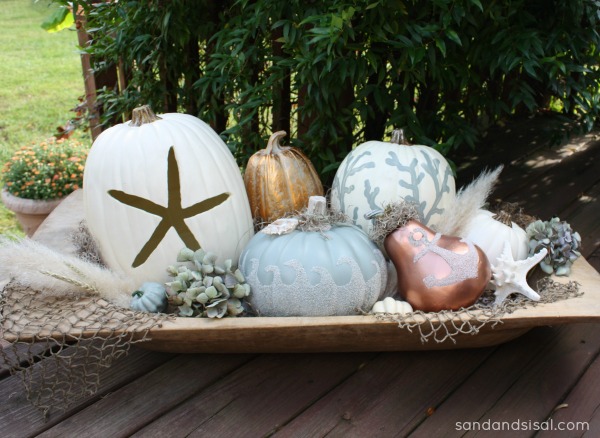 I nestled all of my Coastal Pumpkins in my dough bowl and stuffed in a few dried hydrangeas from the garden, and some left over pampas grass fronds from my fall door swag. Pretty enough to be in Coastal Living, I think! haha! Well, a girl can dream, but I love them!
Kim
You might also like these coastal fall decorating ideas: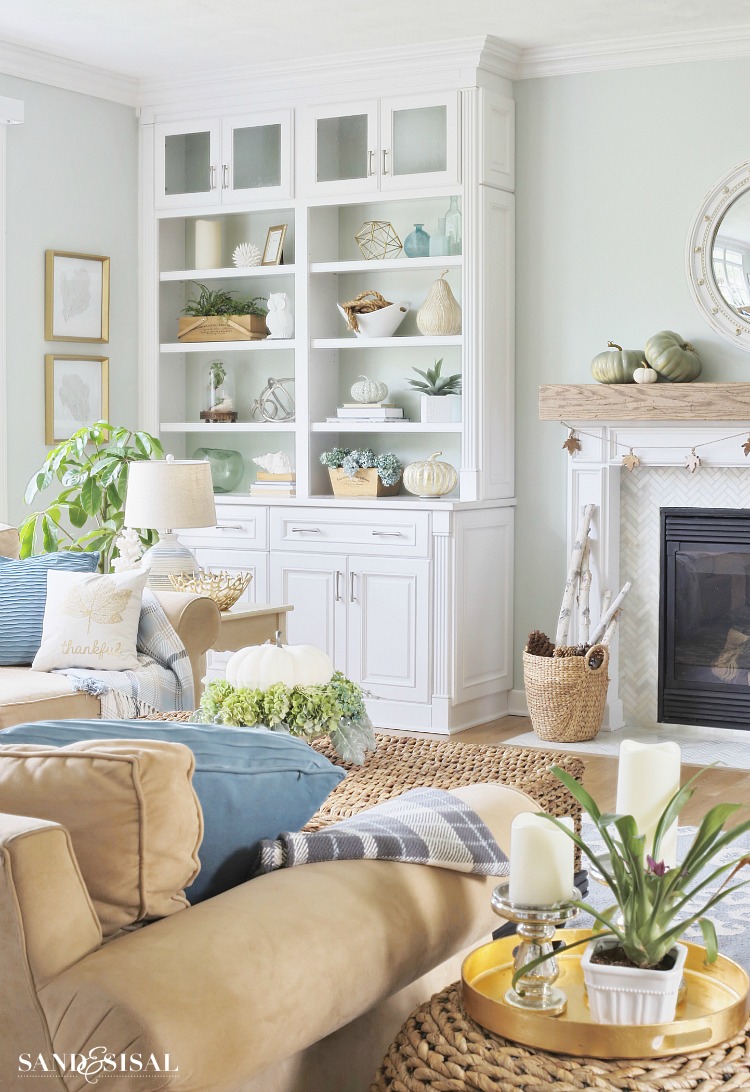 Hydrangea and White Pumpkin Fall Centerpiece