The kids just started back to school yesterday and I can't believe it is fall already! Down here in south east Virginia we like to coast into fall slowly and savor every bit of warm weather possible. Fall is a gorgeous time of the year along our coast and I am so happy to be partnering with HomeGoods and 7 other amazing bloggers this autumn to share my coastal Fall Home Tour! And best of all we each get to give away a $100 HomeGoods gift card to a lucky reader! If you are arriving from Dear Lillie then welcome! I'm so happy to have you! Feel free to start the HomeGoods Fall Home Tour from the beginning with our lovely hostess at Four Generations One Roof.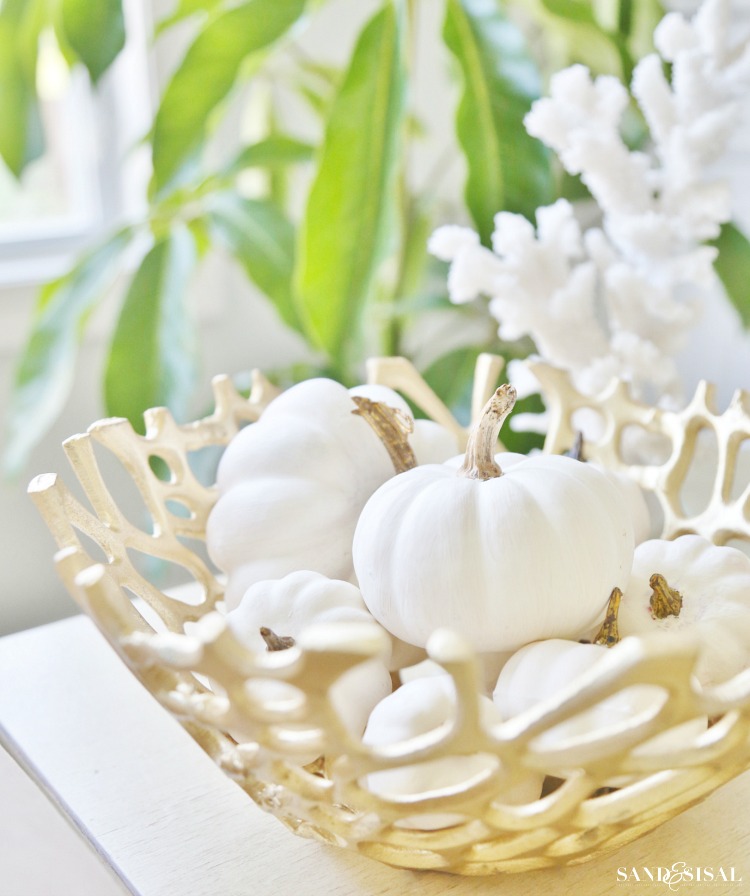 Last fall our home was in complete shambles dealing with our kitchen and family room flood and renovations afterwards. Now it is finished and to be honest, I'm rather giddy with excitement to be able to sit in a clean, sawdust free home and decorating it is simply icing on the cake!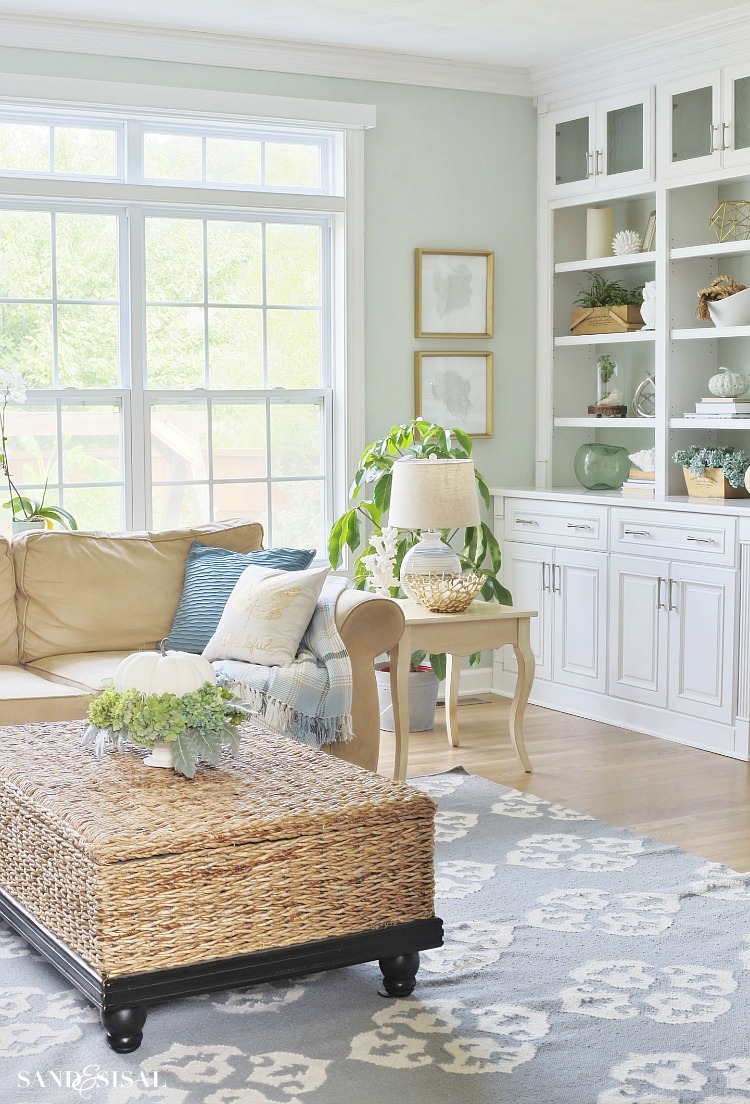 Our home is filled with fab finds from HomeGoods. A new store is opening this October and it is only 10 minutes from my house! Yay! (My husband says, "Oh no!"). The family room is our central gathering place and after a year of chaos I knew our decor needed to exude calm and peacefulness. A soft color palette of blue, gray, greens paired with the warmth of weathered wood, natural elements and gilded metallics help achieve a soothing look that eases into fall quietly.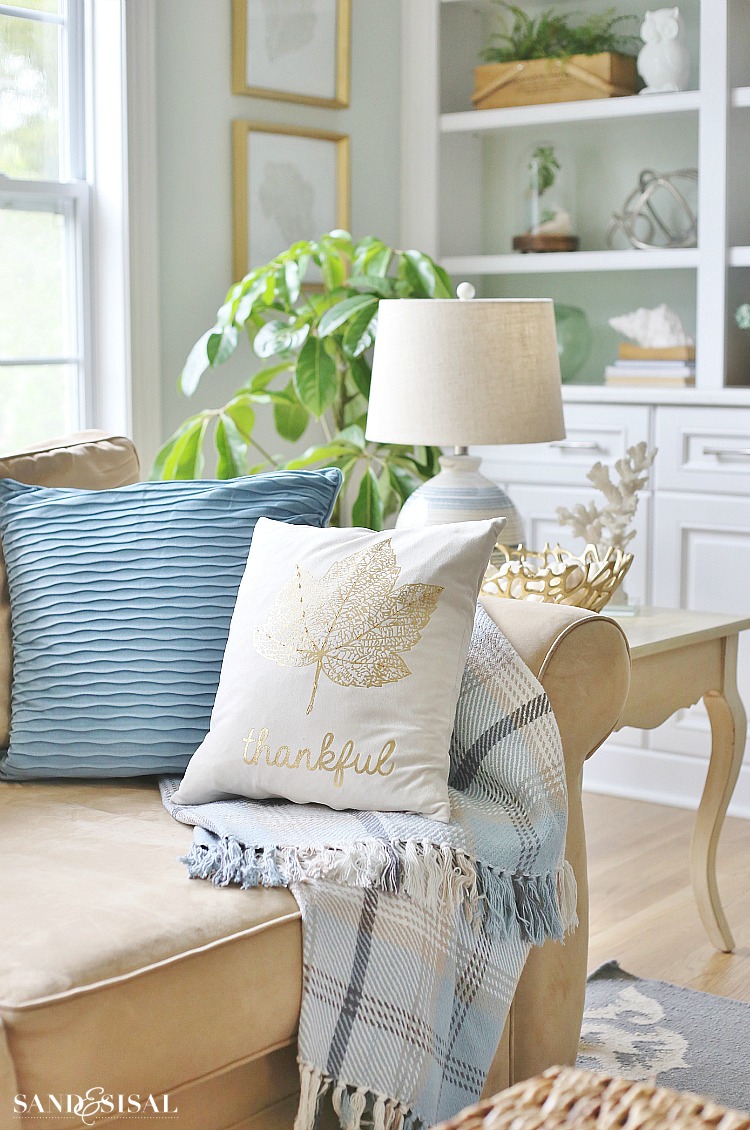 We are thankful for this new family room and kitchen. I can't even say how thankful I am. This sweet gilded leaf pillow reminds me of it each day too.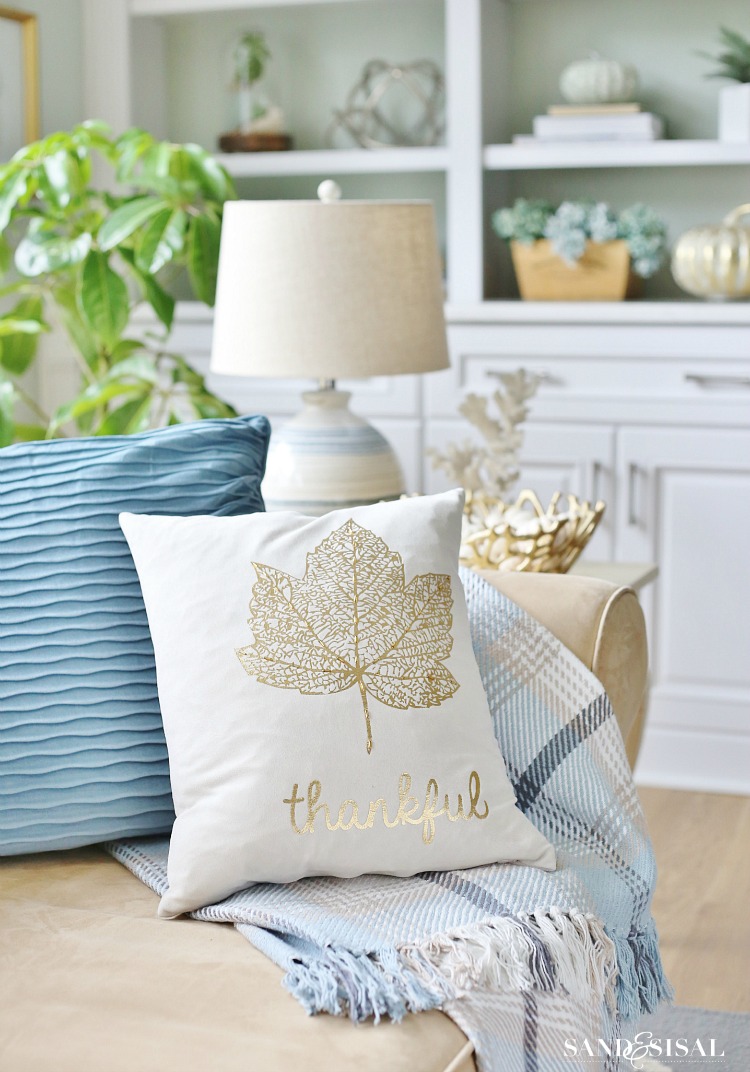 In all things give thanks.
That is not always easy to do. We are so near sighted and can't always see the larger picture. I struggled giving thanks when the flood took a lot of my comfort and security away. Compared to what many of my friends have experienced in Louisiana this past month makes me feel horribly foolish and selfish. The larger picture is complete and I'm bursting with gratitude now.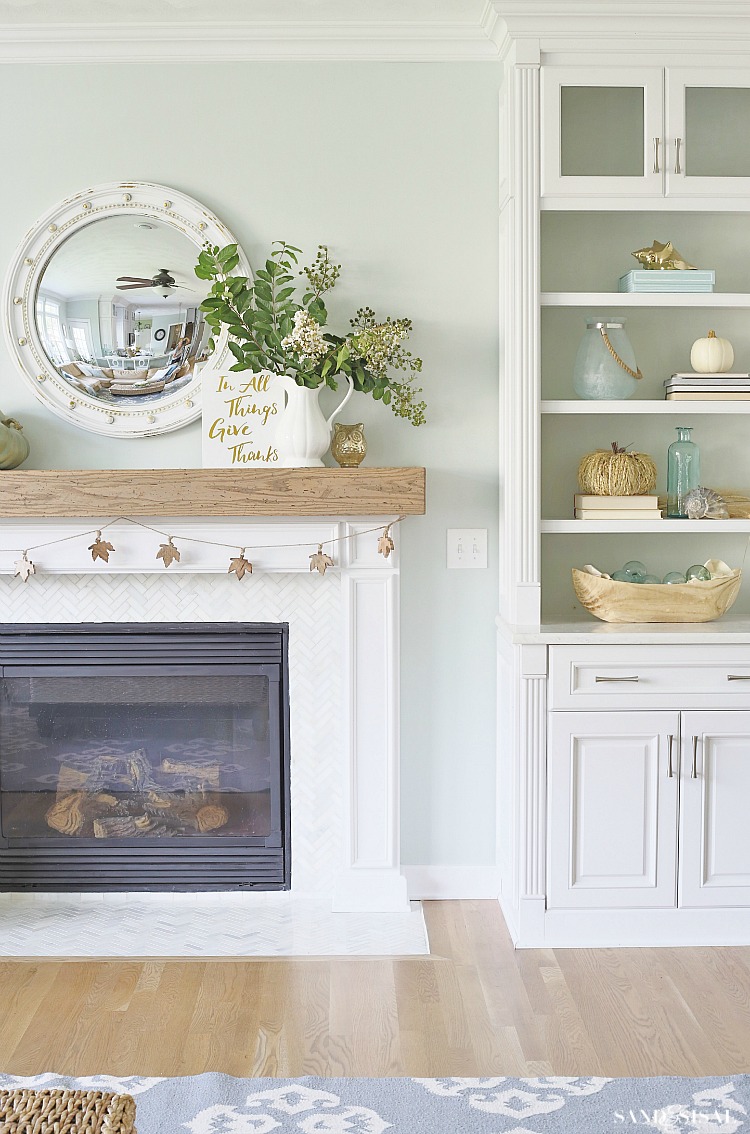 Through this journey we were able to stretch ourselves and discover more of our DIY abilities. I can't tell you how proud I am of the wood beam mantel and fireplace with marble surround that hubs and I built!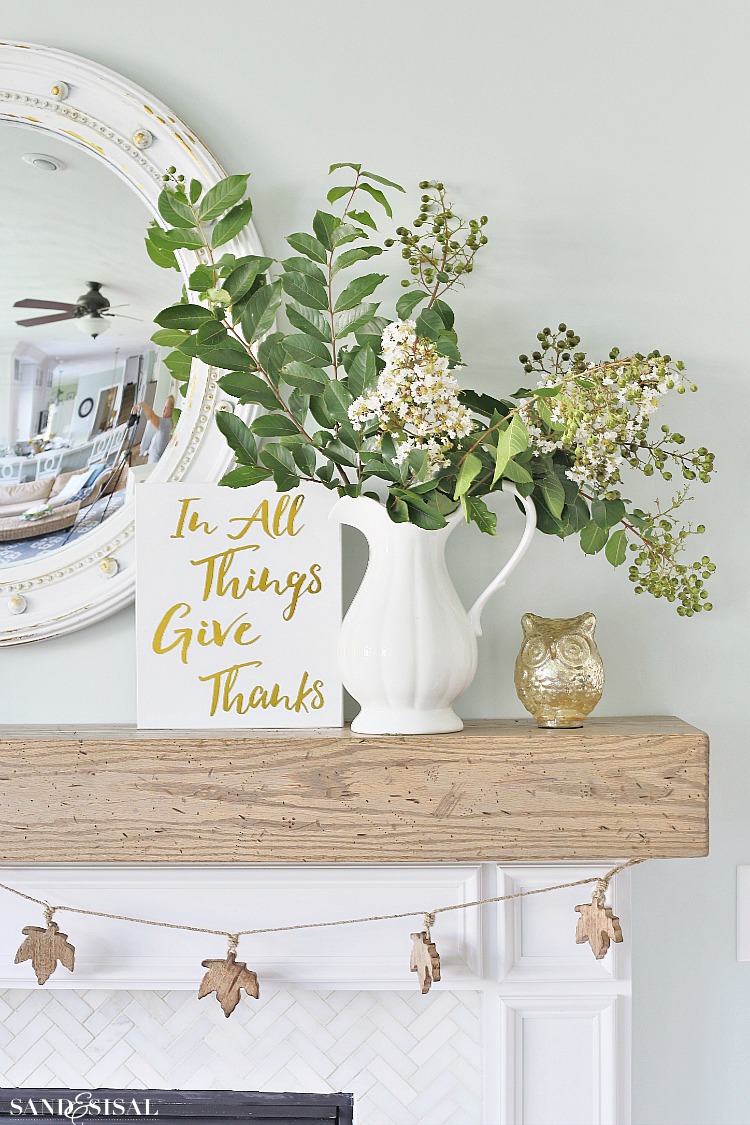 The built-in bookcases are filled with coastal treasures and fun fall finds.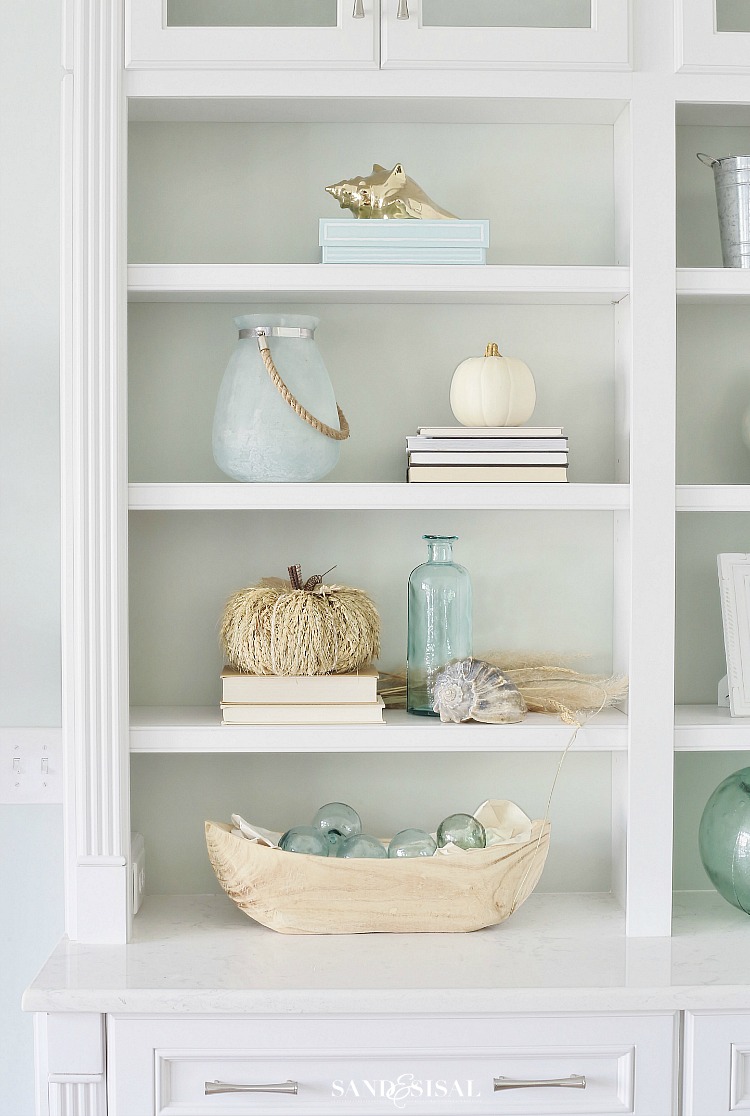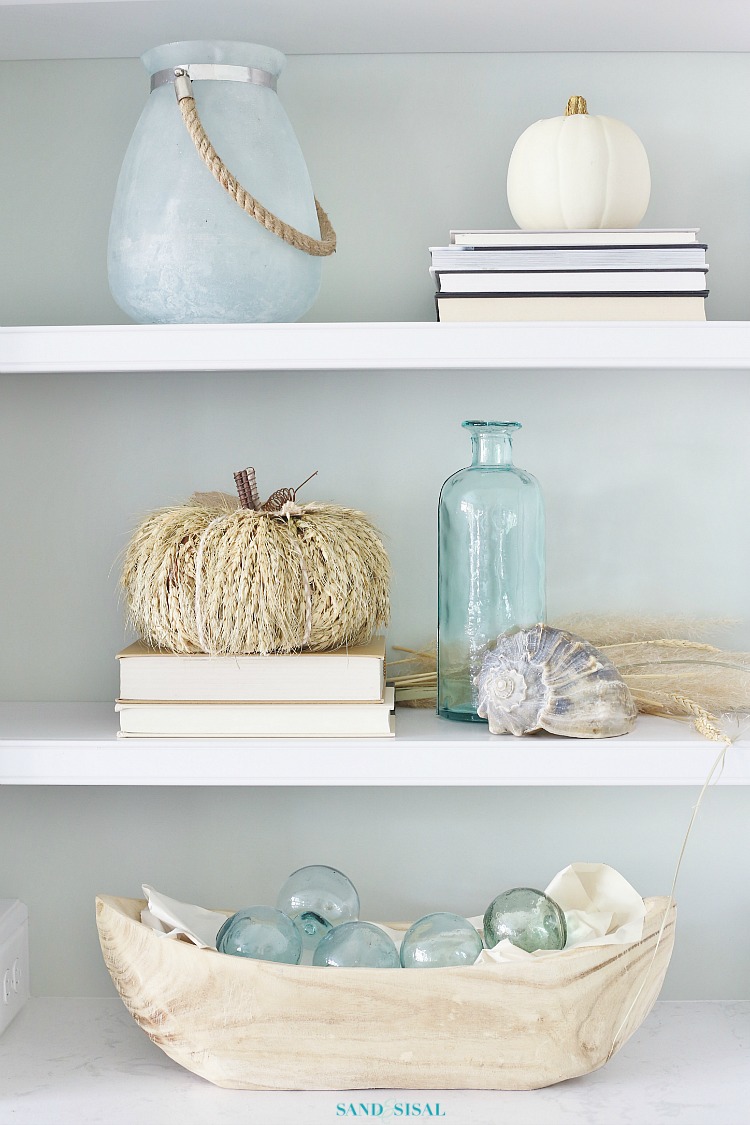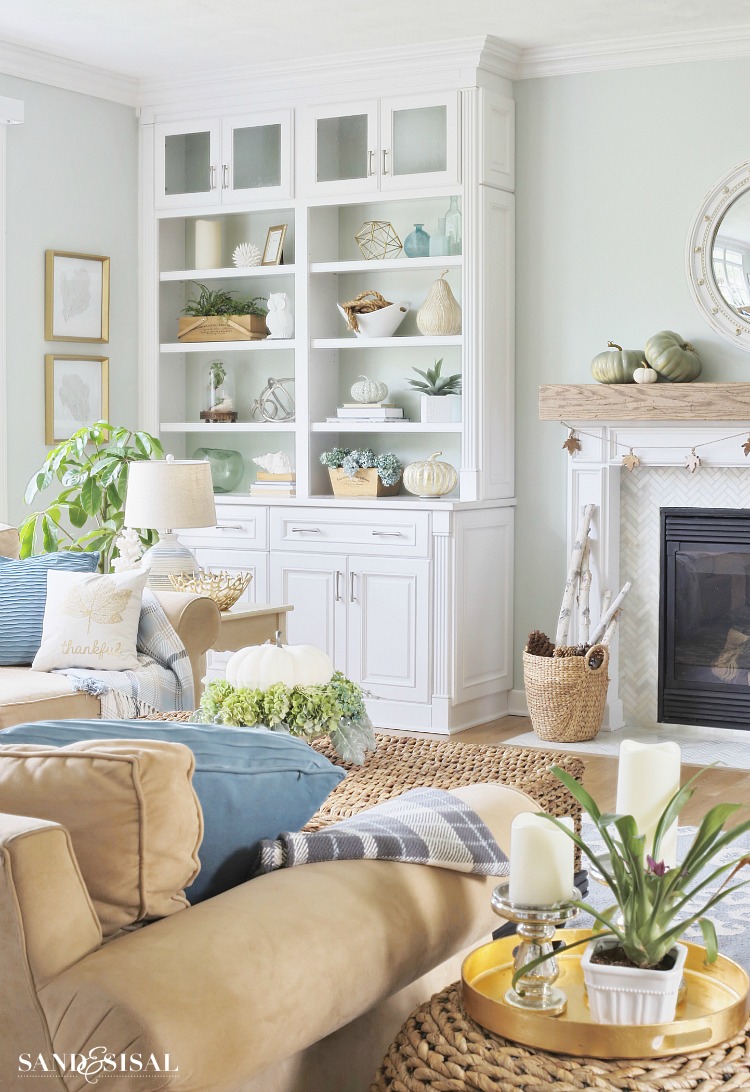 I like adding a bit of glitz and sparkle to every room, like these mirrored and gilded pumpkins. They capture the sunlight and look phenomenal with the twinkle of candlelight.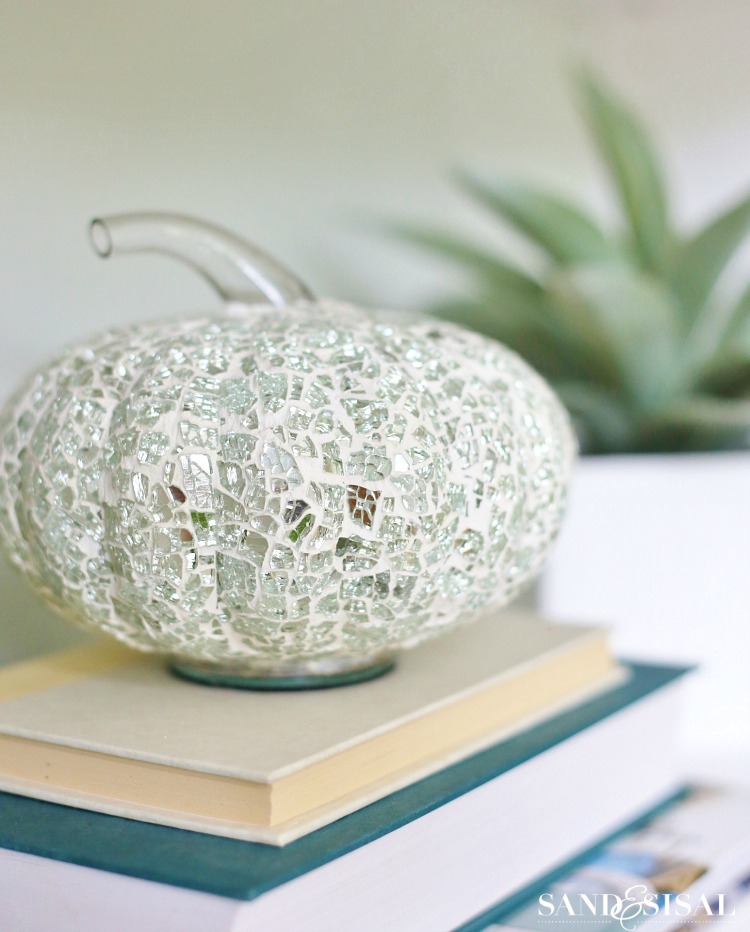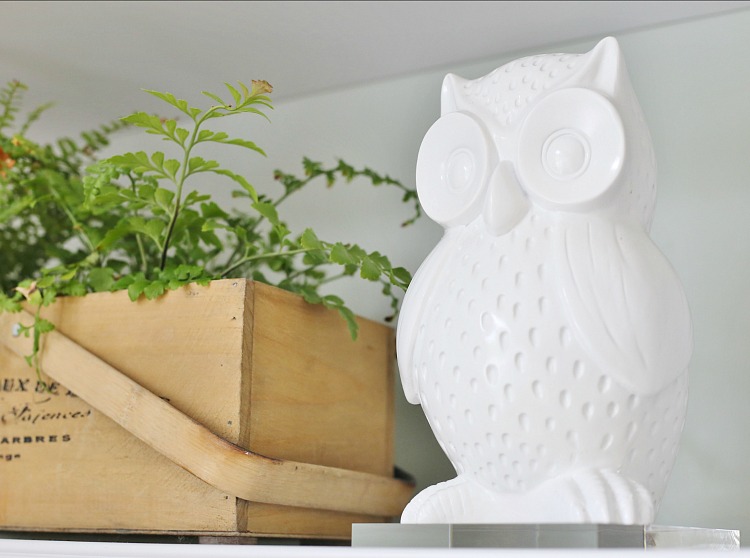 I giggled when I saw this faux bois pear. It reminds me of the DIY Faux Bois Pumpkin I painted a few years ago.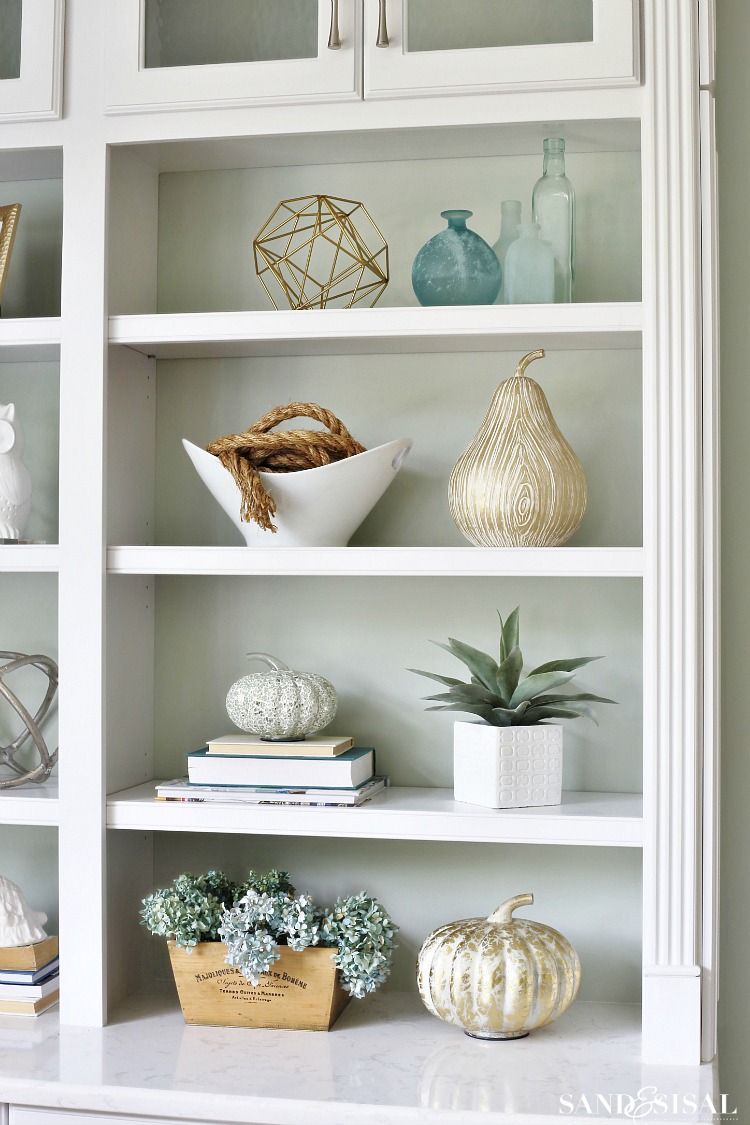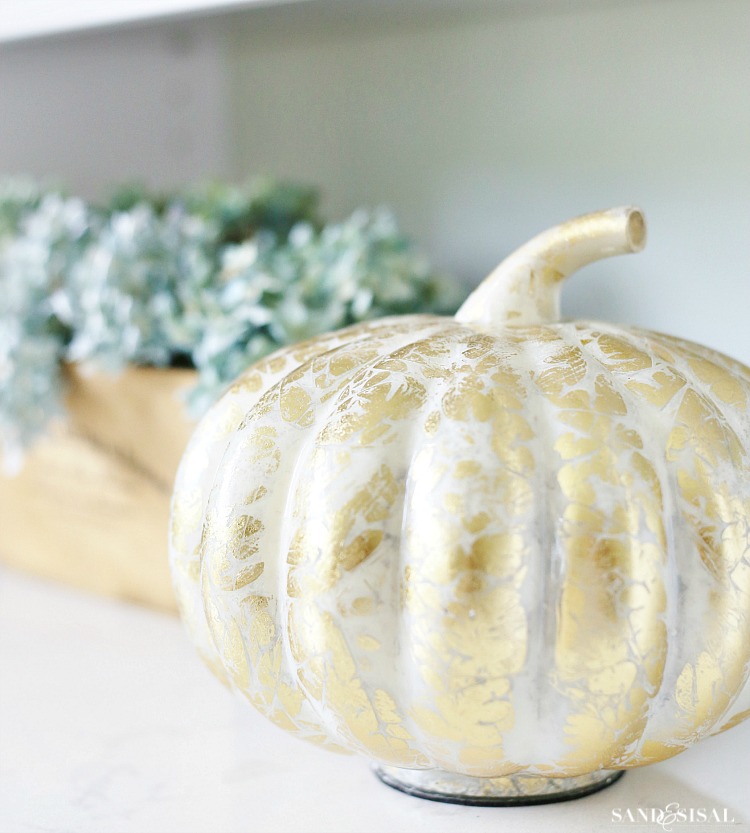 A girl can't have enough pillows…. though my husband will disagree. 😉 Velvet, sweater pillows, pom-poms, and woven leather are just some of the textures that make up our little pillow collection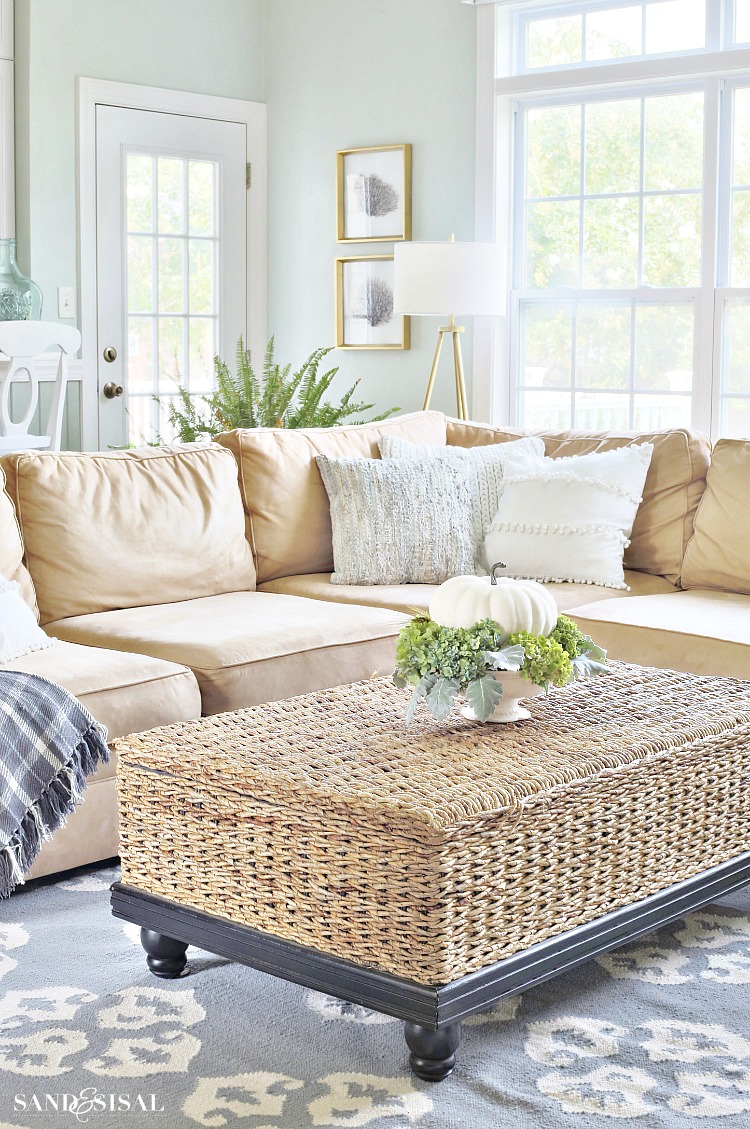 Real pumpkins are no where to be found yet, so out came the white paint for all the faux pumpkins. This pretty white pumpkin centerpiece with hydrangeas is so easy to make. I'll show you how I made it later this week.
Come on into the kitchen and grab a bite to eat! I make an amazing crunchy caramel apple pie.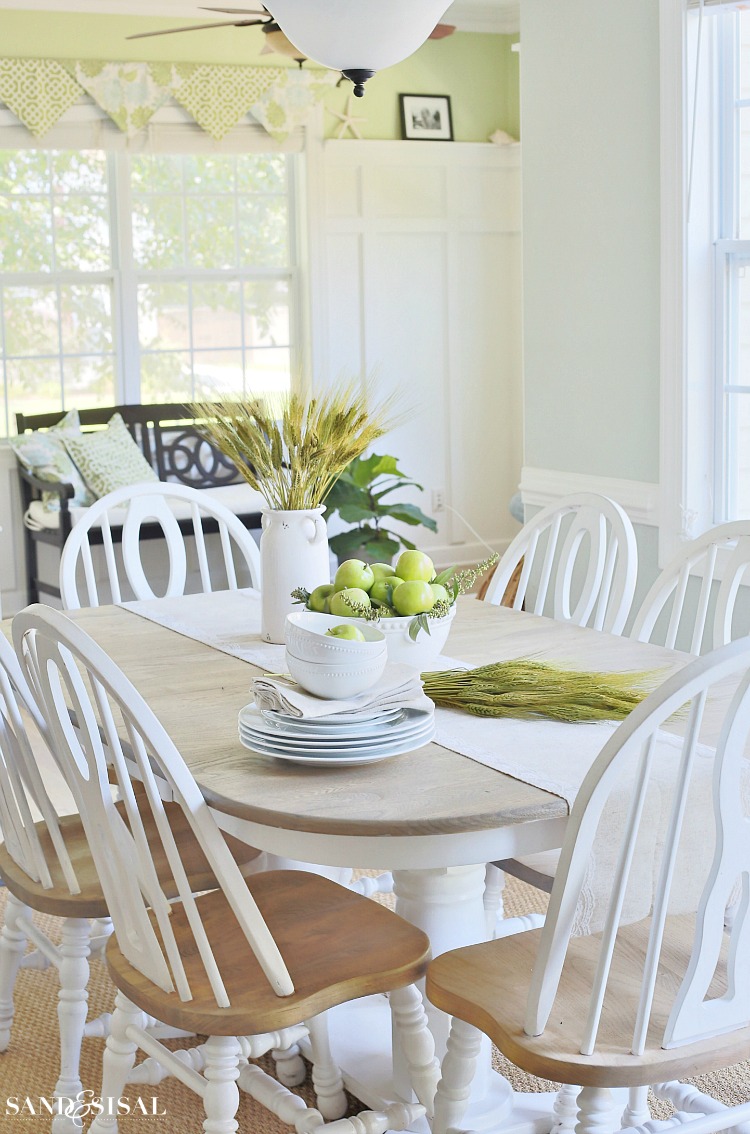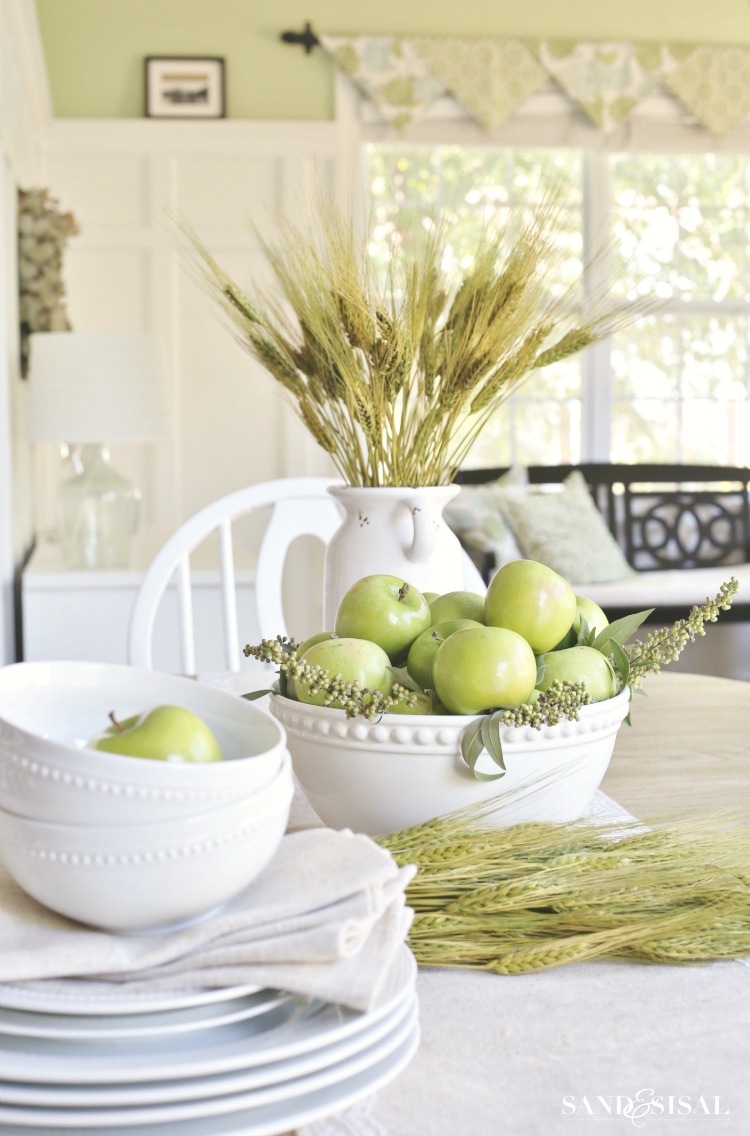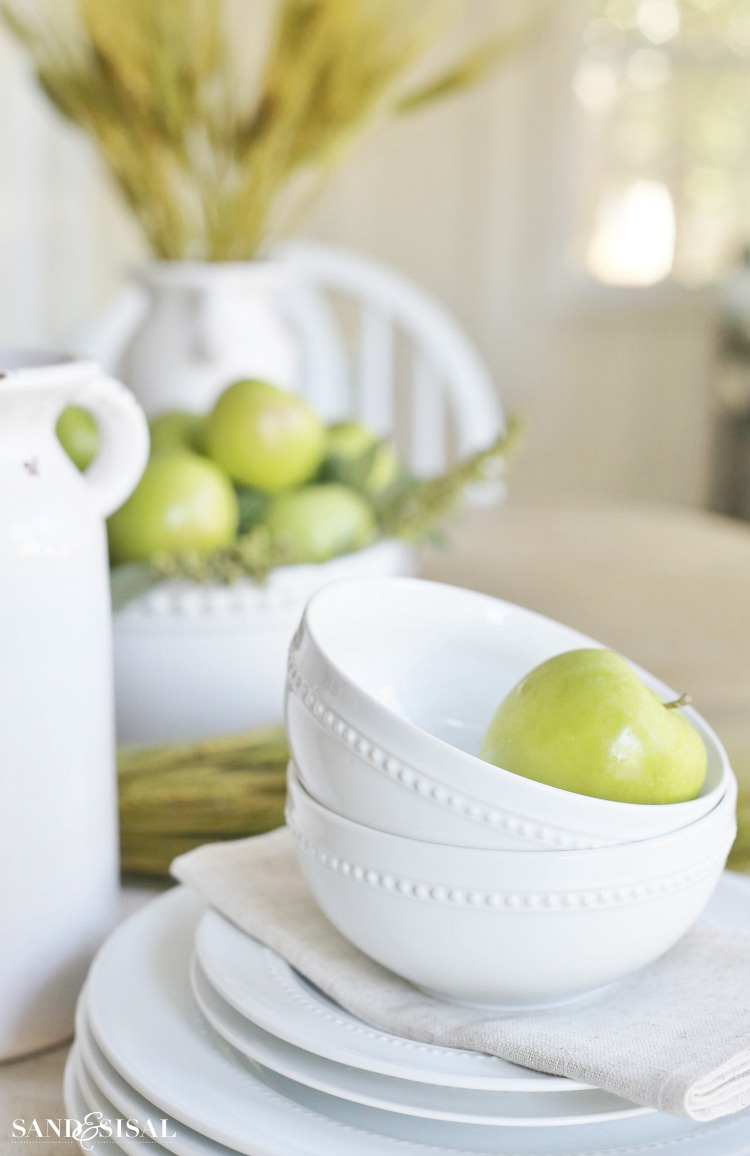 See those bins? One is assigned to each kiddo. I empty the bin before the start of the school year. This is where they can dump their bookbag or shoes. By the end of the week, those bins will be overflowing. Right now I will savor in their clean and barren bliss.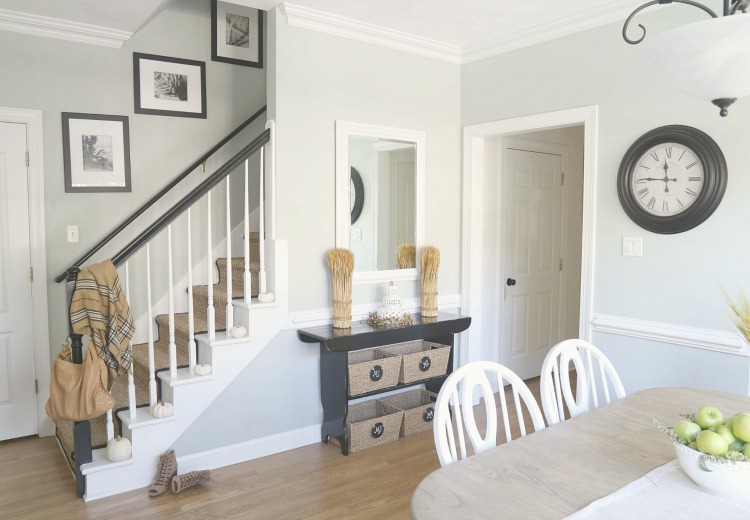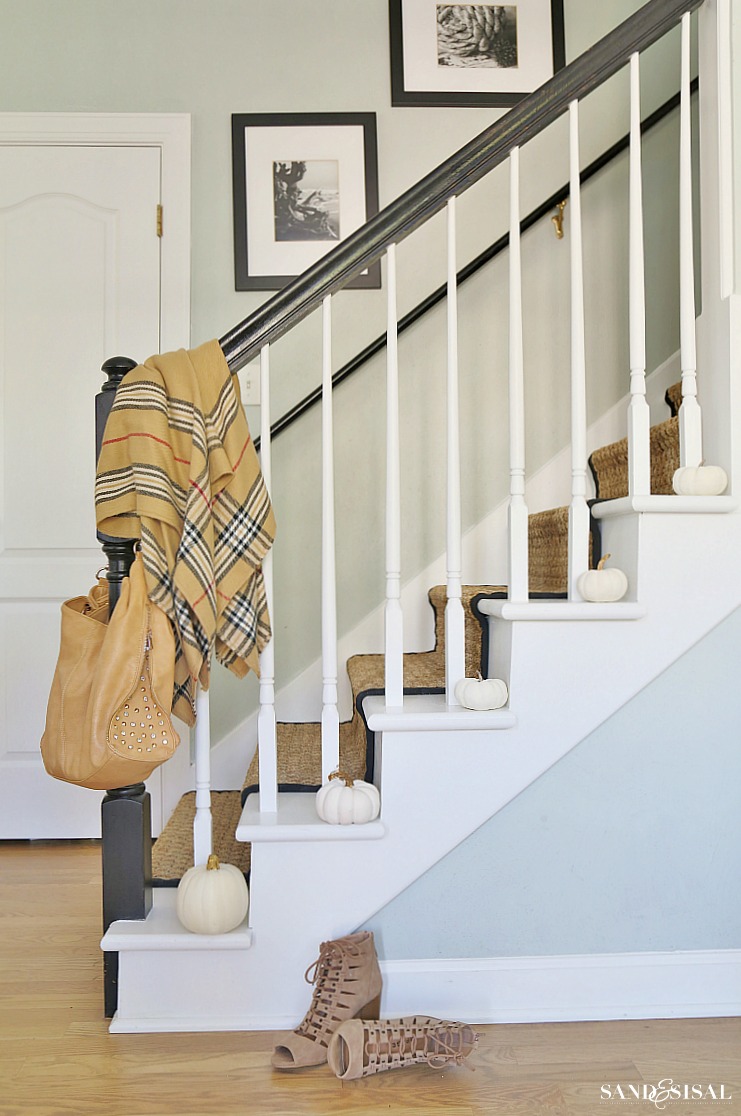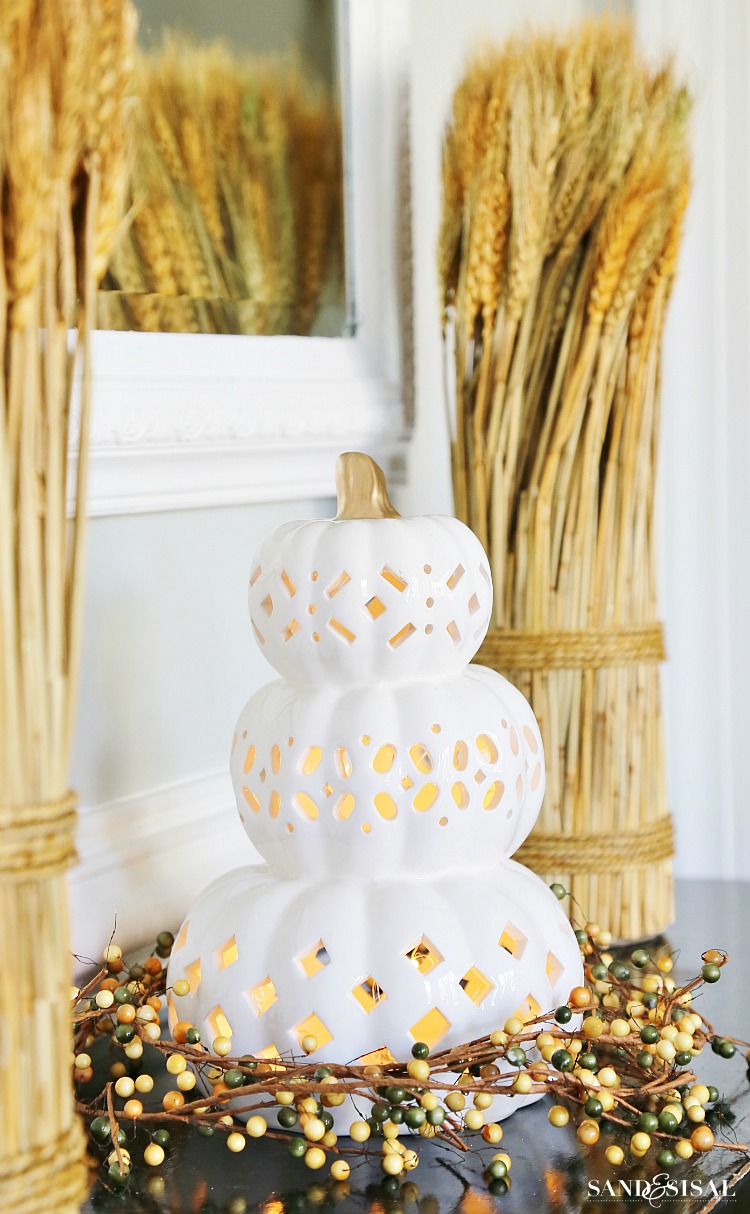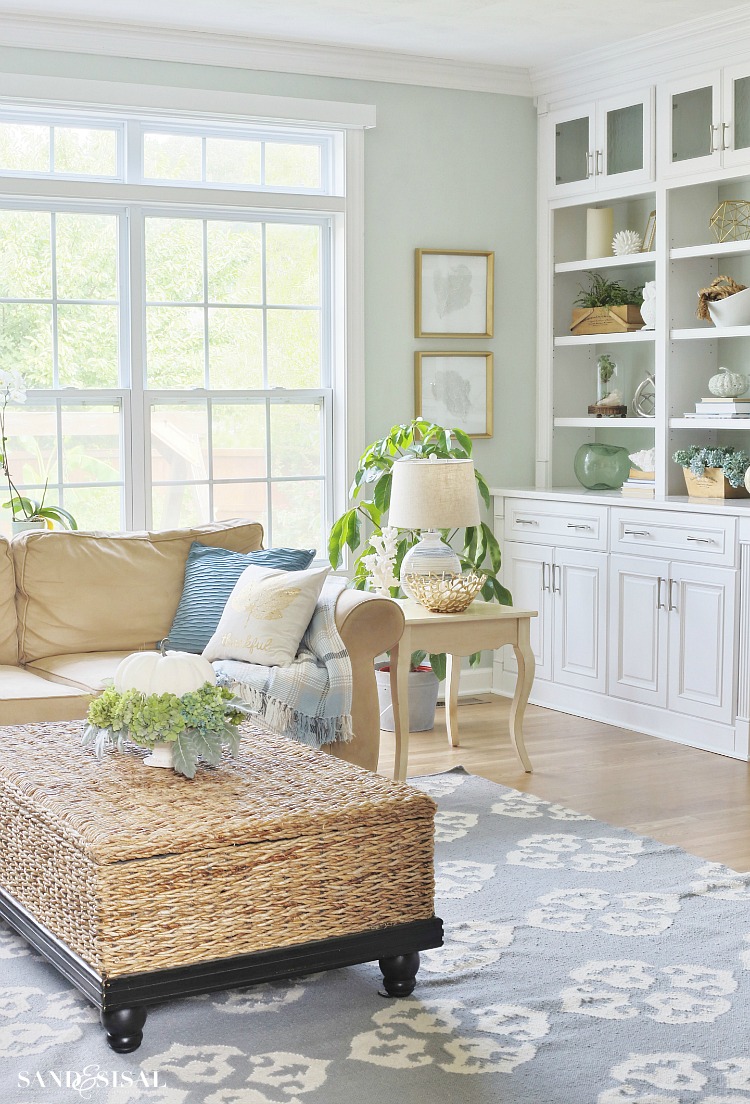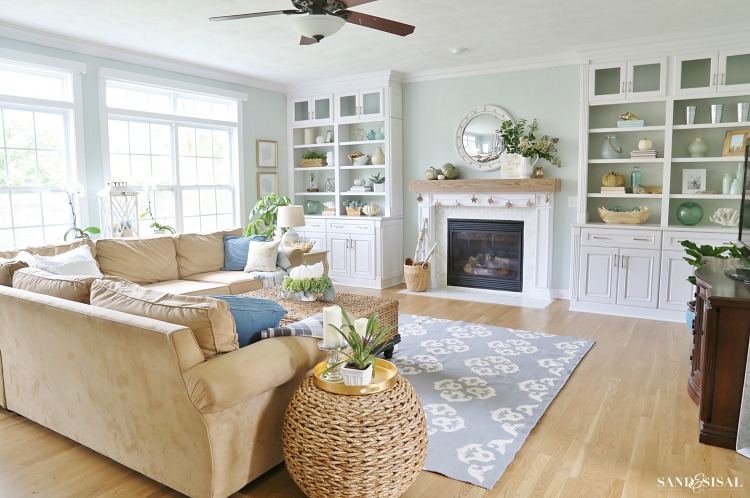 I hope you enjoyed my coastal fall home tour! Did anything catch your eye? Here is a source list of everything from HomeGoods:
All Throw Pillows
All Throw Blankets
Gold Coral Bowl
Table Lamp
Give Thanks Art
Faux White Coral
White Owl Figurine
Mirrored Mosaic Pumpkin
Gold Leaf Pumpkin
White Cut-Out Pumpkin Lantern
Wood Leaf Garland
Wheat Straw Pumpkin
Faux Bois Pear
White Birch Logs
Water Hyacynth Basket
Gold Whelk Shell
Sea Glass Vases
White Pitcher
Linen Upholstered Bench
Tall Glass Bottle with Rope Neck
Natural Wheat Bundles
Green Wheat Vase Filler
White Fruit Bowl
Linen Napkins
Today is your lucky day because I've got a lovely $100 gift card, courtesy of HomeGoods to give away to one fabulous Sand and Sisal reader! Enter the giveaway in the Rafflecopter entry form below. Then make sure to go visit Courtney's (French Country Cottage) gorgeous fall home tour next!
And don't forget to see all of these other amazing tours and give yourself seven more chances to win a $100 Gift Card to HomeGoods:
A special thanks to HomeGoods for sponsoring this post and awesome giveaway! All opinions, photos, and expressions are my own.