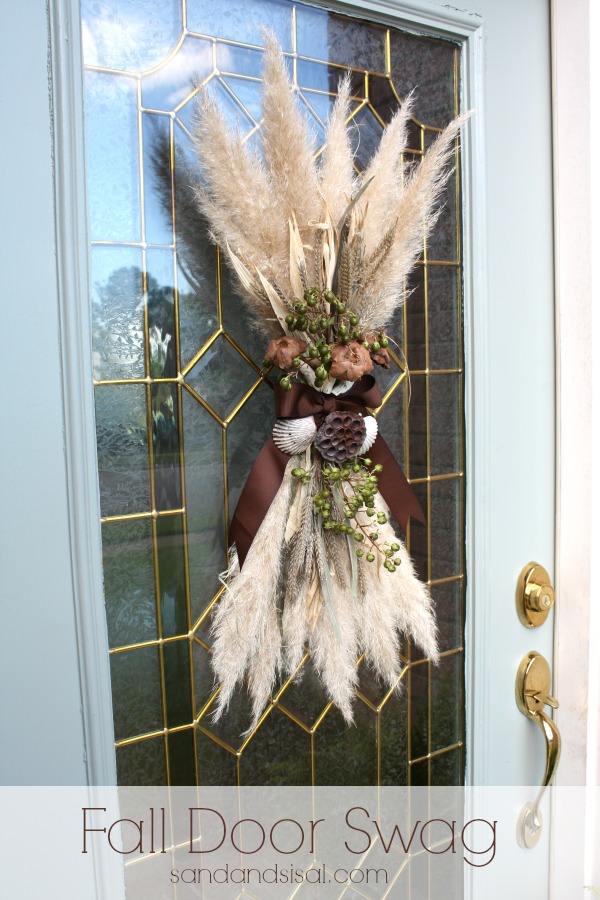 First they were swords,
then became magical fairy wands.
Soon they turned into witches brooms which we flew around the yard on.
After that we swept the sidewalk and dusted the play house with them.
Hours of childhood imagination and enjoyment came from those big, white, soft pampas grass fronds.
Today though, they will pull on their big girl pants, grow up a bit, and grace my entrance in all their fluffy glory as a Fall Door Swag!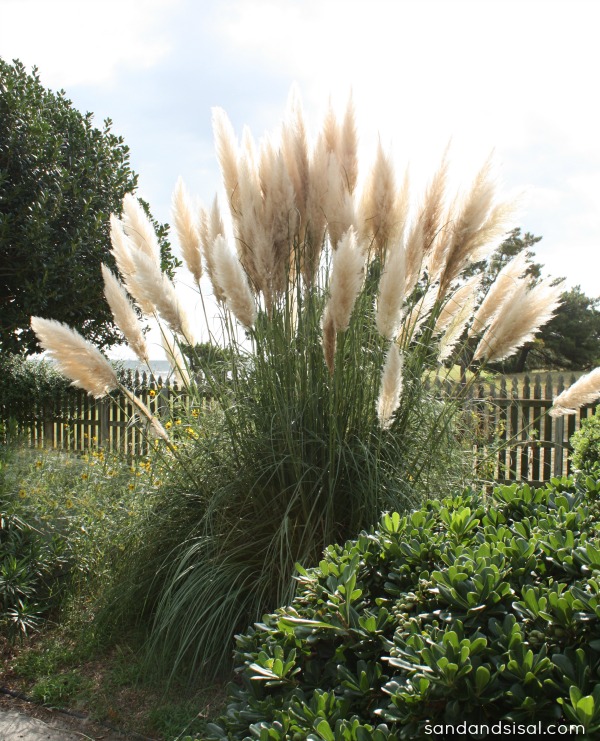 We had planted several pampas grass plants at the first house we ever owned, but currently don't have any. So in lieu of sneaking to a neighbor's yard in the middle of the night and snagging a few fronds, I decided to head to the beach to my mom's house  where she has an abundance. In my last post where I taught y'all How to Dry Hydrangeas, I talked about wanting to ease into fall decorating slowly because it's still very much summer here in coastal Virginia.  A fall door swag decorated with lots of natural and native elements from our area seemed like a perfect idea!
To make a FALL DOOR SWAG you will need the following: (I found all items either outside, in my yard, or at Michaels crafts.)
pampas grass fronds

raffia or twine
2 Wheat bundles (real or fake)
crepe myrtle seed pods (or fake berry floral picks)
Ribbon
dried decorative mushrooms
scallop shells
hot glue
STEP 1) Cut the pampas grass fronds, leaving about a 3-4″ stem on each. Arrange the fronds across from each other, fan them out a bit and tie the stems together with a piece of raffia or twine.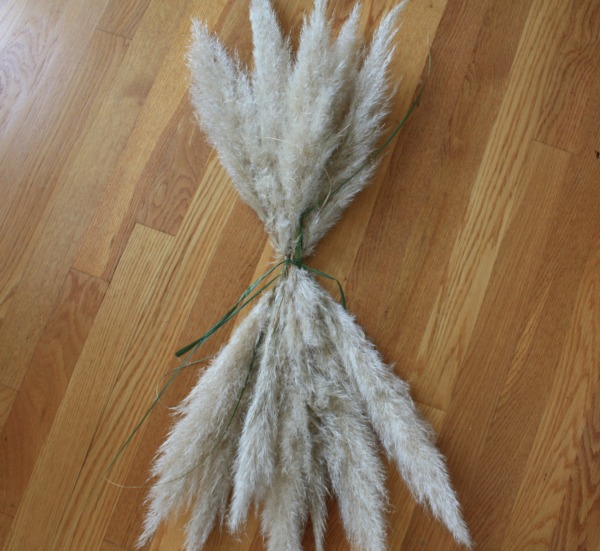 STEP 2) Lay your 2 wheat bundles on top of the fronds, then top with your crepe myrtle or berry sprigs. Tie all together with more raffia.
STEP 3) Spray everything, especially the fronds with hairspray. Yep, I said hair spray. It will help keep the fronds from falling apart and floating all over.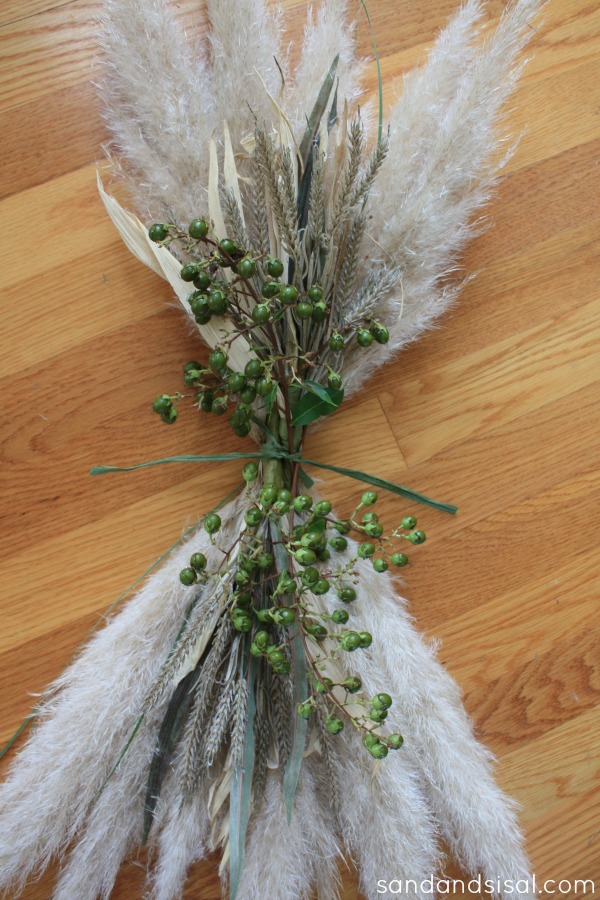 STEP 4) Tie a bow around the middle with ribbon and hot glue on any decorative elements you like. I chose 3 dried mushrooms, a lotus pod, and 2 scallop shells. (I have to have my little touch of coastal somewhere, right?)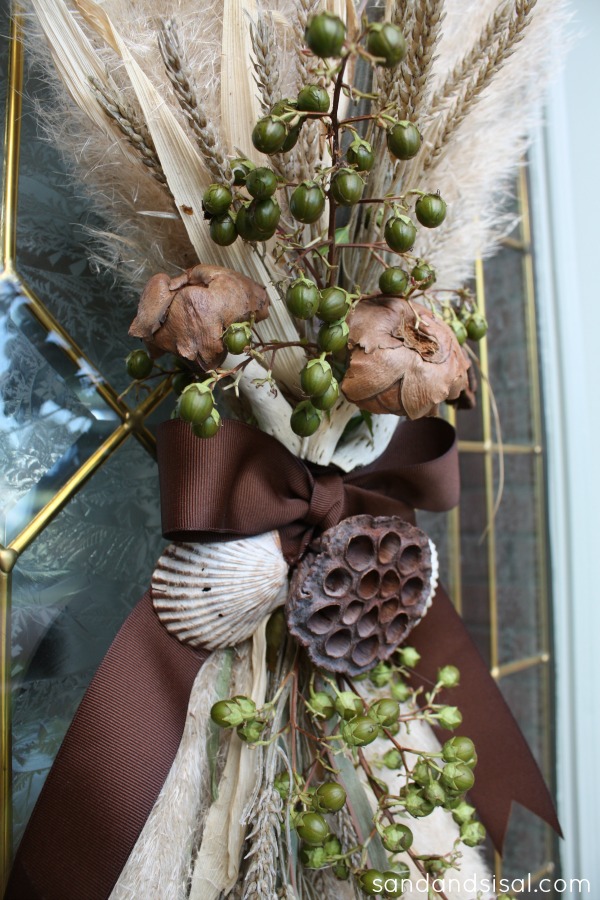 The fall door swag is simply hung to the door with a suction cup hook. You could also use a 3m Command hook.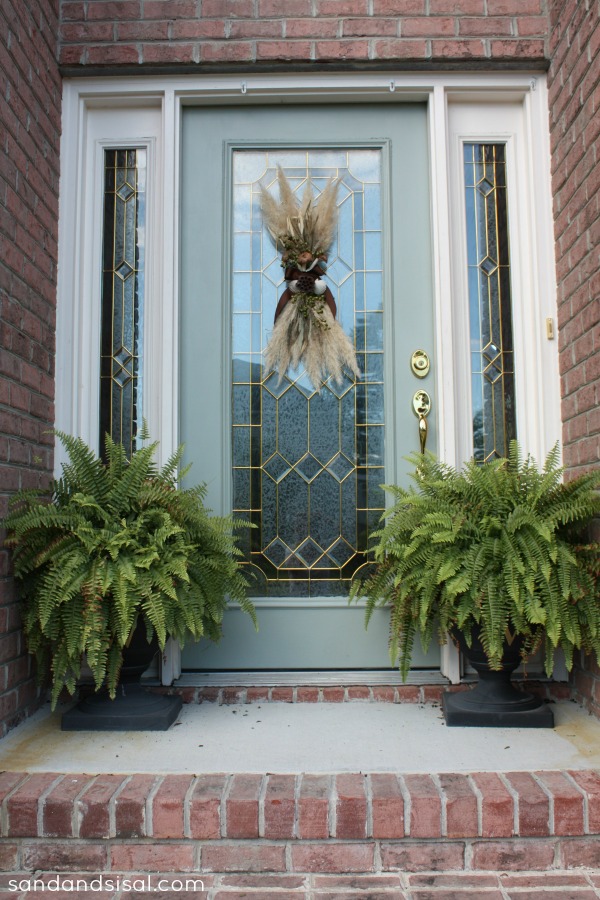 That's all there is to it! Don't you love it? I do! I especially like how it's different than most door decor.
Kim
You might also like this fall door decor idea… DIY Fall Wreath