I would say that fall is in the air, but it has been in the high 90's here for a week now! So needless to say it is kind of hard to pull out the pumpkins, mums and fall decor just yet. I just want to go back to the beach!
Because I live in the coastal south we tend to ease into fall rather softly, but I like to add a few transitional late summer/early fall decor items. Today I want to show you how to make a super easy Early Fall Wreath that you can use either indoors or out.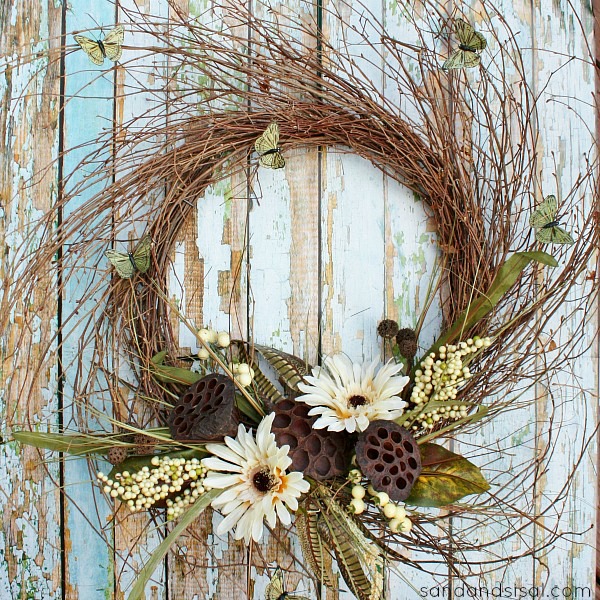 In addition to the wreath tutorial today, I've teamed up with 12 other blog friends to bring you our annual Autumn Abounds Blog Hop and tomorrow we will all be hosting a fall linky party AND a nice CASH GIVEAWAY for all our readers! Don't you want some cash to spend for your fall decorating? Woo hoo!
Ok, let's get to some Early Fall Wreath making!
We're going with greens, buttery creams, and browns for a color palette.
To make this wreath you will need the following items:
1 wispy grape vine wreath
1 cream gerbera daisy floral bunch
1 fall floral bunch with lotus pods
wire cutters
silk butterflies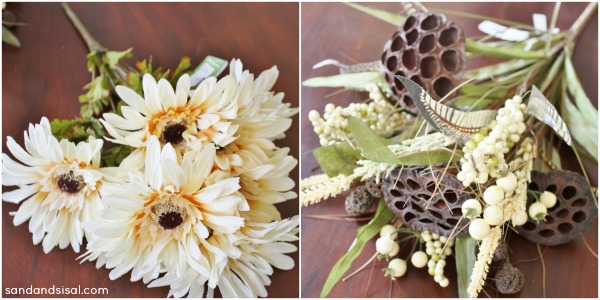 Step 1) Take your 2 floral bunches and use your wire cutters to cut the bunches apart. Separate the bunches into like piles.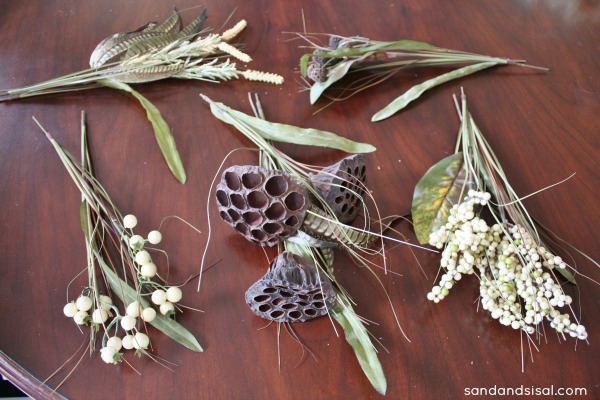 Step 2) I always find that if I hang my wreath on a door (inside… obviously) then decorating it is much easier vs. just laying it on a table.  Follow the directions in the picture below. Trim an excess wires as you find necessary. Feel free to use hot glue to secure if desired. (I personally do not use hot glue because I usually like using the wreath again for another season. But if you need to, then do!)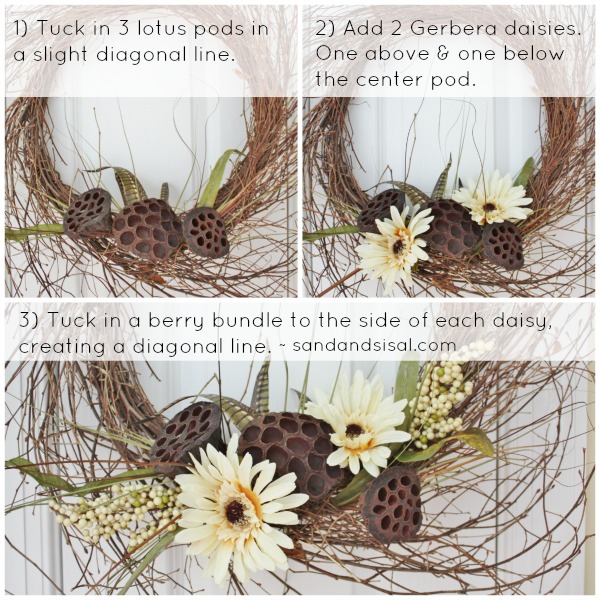 Now add in any extra natural elements from your floral bunch, like these dried seed pods and extra beach grass stems.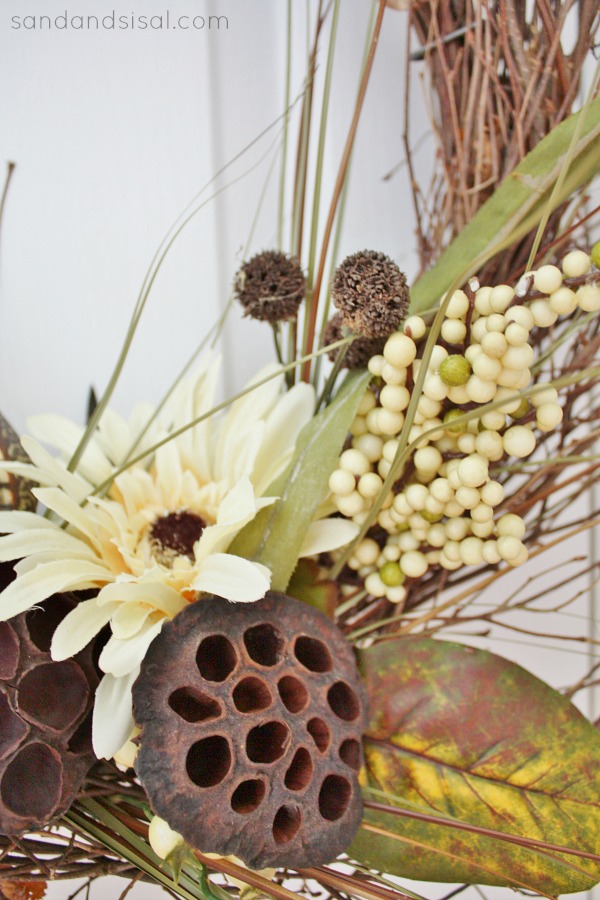 Now comes the fun part! Wire on some tiny silk butterfiles. Place them randomly all around the wreath. They give a fun and carefree special touch. 😉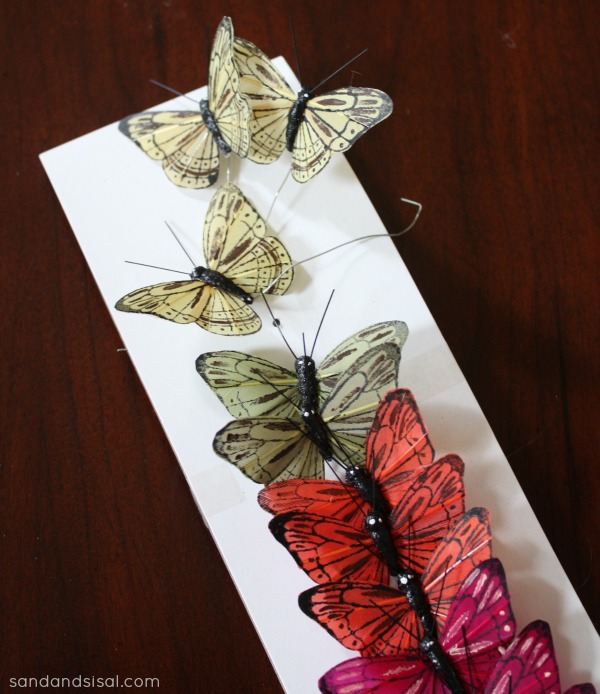 I love how this wreath turned out! It's perfect for our area of the country without screaming pumpkins and orangey fall. Oh trust me… that will be coming soon… just not quite yet. The temps need to at least drop below 80 before I pull out a pumpkin! 😉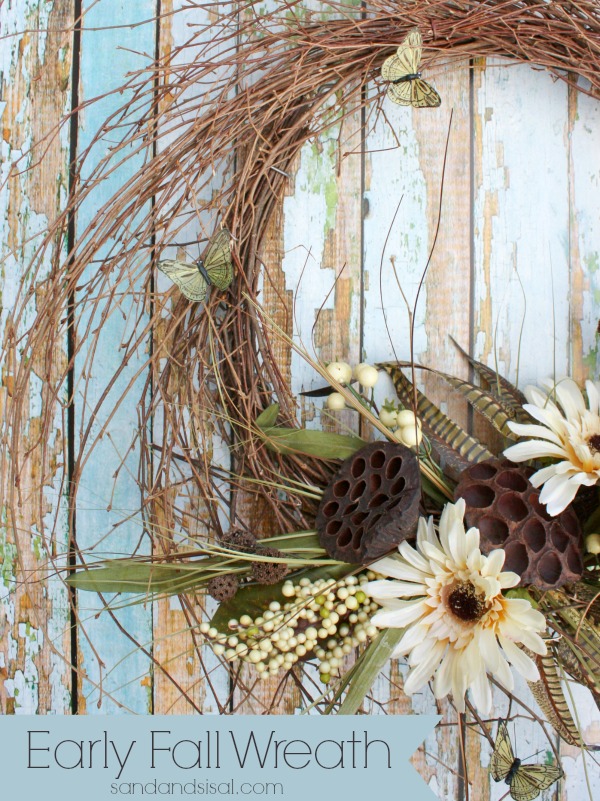 Click on any of the links below to view all the autumn goodness and be sure so come back tomorrow for the fall themed link party and CASH giveaway!
Domestically Speaking
My Uncommon Slice of Suburbia
At the Picket Fence
Setting for Four
Stone Gable
Cupcakes and Crinoline
Town and Country Living
Sand and Sisal
Yesterday on Tuesday
Clean and Scentsible
Debbie Doo's
DIYShowOff
French Country Cottage
Welcome Fall!
KIM
You might want to check out these posts too: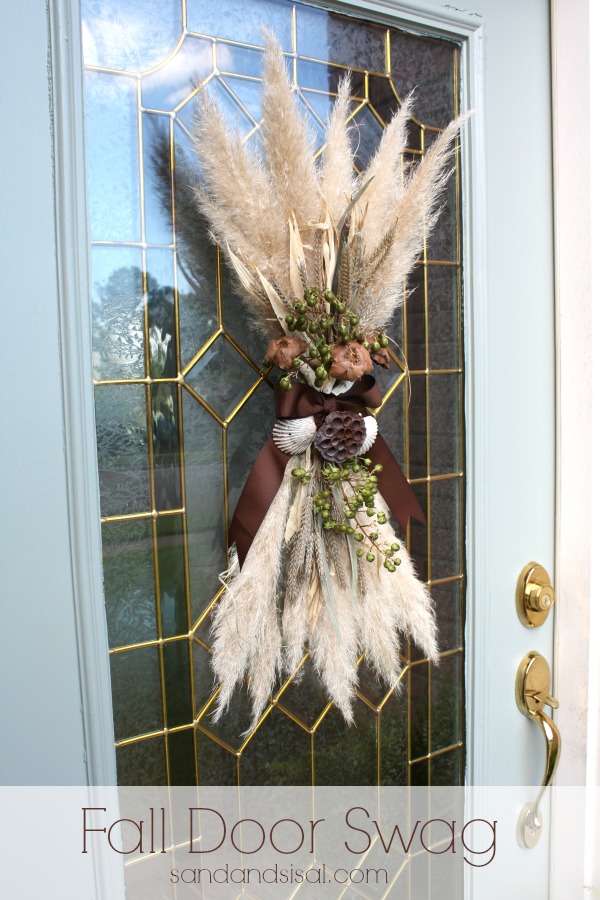 Decorating with Natural Elements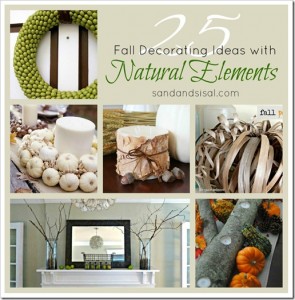 Green & White Fall Centerpiece