The first time we opened the front door to our new home we were in awe of the foyer. It was so open and bright, and tall,
like crazy tall… like how-in-the-world-will-we-ever-paint-that-tall.
Our past home didn't even have a foyer at all, not even a small hallway. It just opened up into the family room.
I saw grandeur.
Hubs saw wasted space, large heating and cooling bills.
Well, to be fair, we were both correct in our assessments. Having a foyer that large with that much glass is has it's positives and negatives. I never thought I'd wish for a little less natural light.
The foyer was just boring builder beige. Thankfully, we can tone down the brightness a bit by adding color to the walls, but those wall are so tall! I'll take on that challenge someday, maybe. For right now though we needed some immediate color.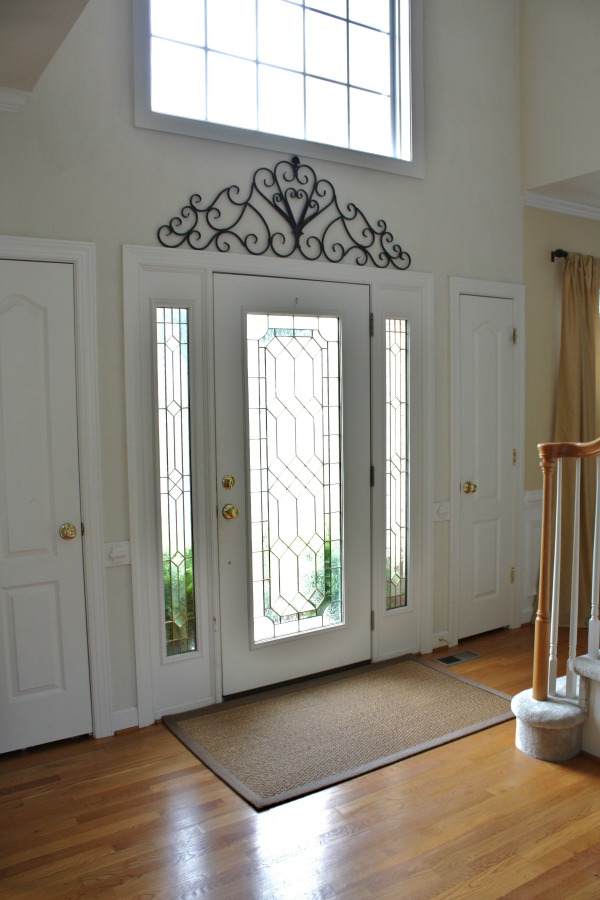 This is one of my go-to paint strips for my home. It is a nice palette of muted blue gray with a touch of green. Most of the lower level is painted in Sherwin Williams Sea Salt or Comfort Gray.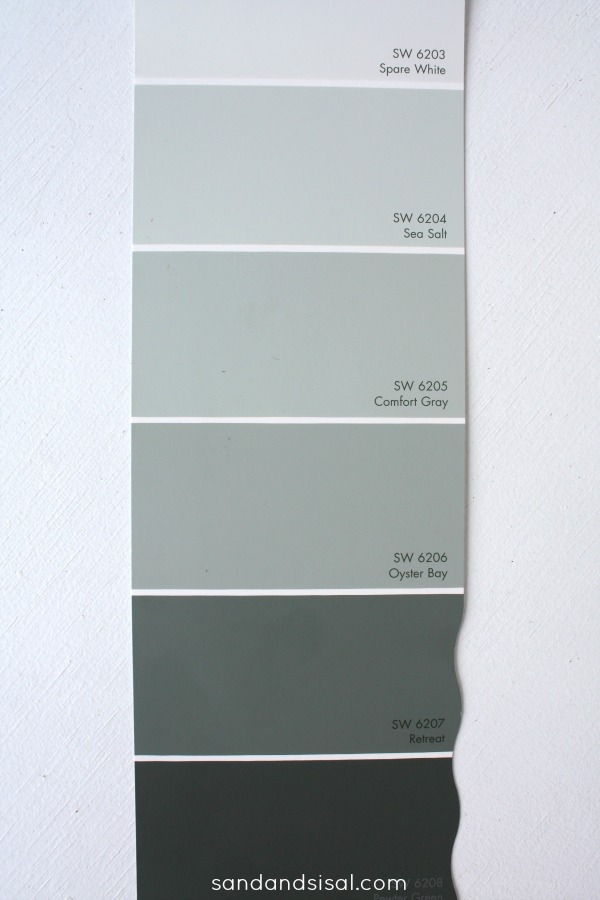 To darken the foyer a bit, the front door needed a deeper color. Oyster Bay was too light and Retreat was way to dark and has quite a bit more green in it.  So I combined the two colors equally to create what I call "Bay Retreat". I think it has a nice ring to it!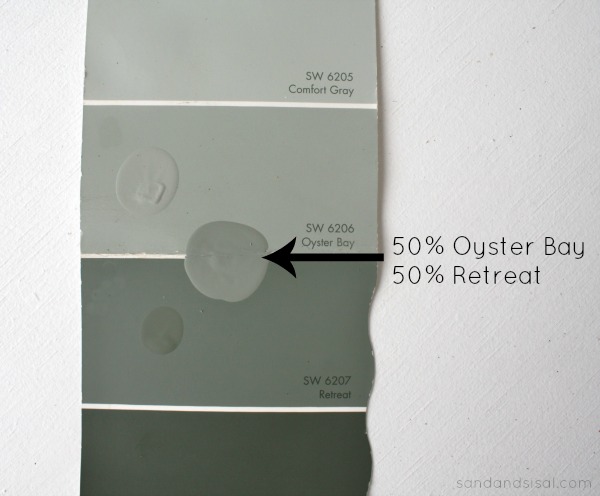 When I was preparing this post I wanted to have all the paint colors lined up in a cool collage, which means pulling the color swatches from the internet. Well, the picture below is why I don't like doing that. Understand that you should never trust colors on a computer screen. Computer monitors all have different color saturation and color temperature variances. The only way to know if you like a color is to get a sample and paint at least a 2×2 foot section on a wall or on a board and live with it for a while. See what it looks like in different lighting situations.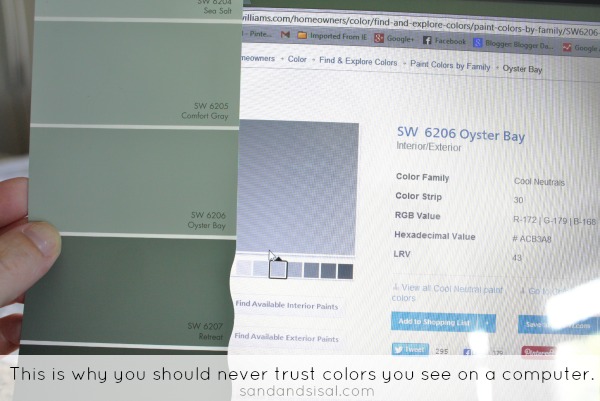 I started out painting only the door but it didn't have enough visual weight, so to balance it out, I painted the side windows also. I'm considering painting the two side closets that flank the door. What do you think?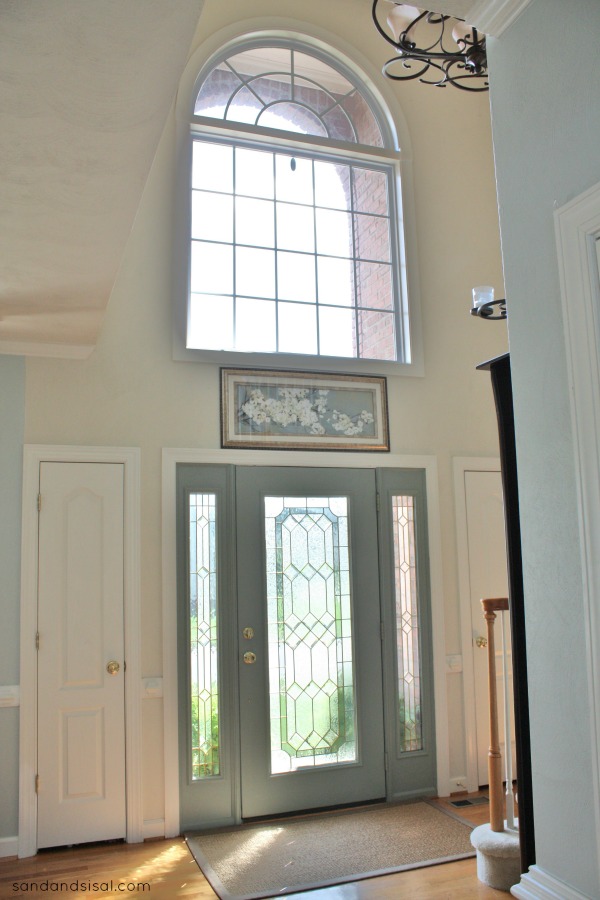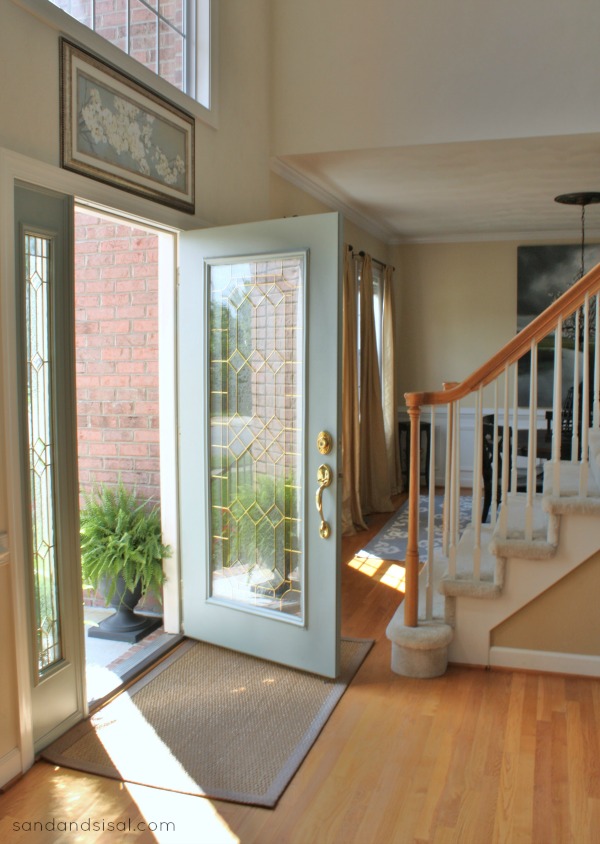 Painting the doors is such a quick project that can make a big impact on the look of your home. Not to mention it's very inexpensive. And if I don't like it then we can easily paint over it again with a new color. Happy painting!
Kim