When you think Coastal Decor what images come to your mind? Please don't tell me pink flamingos and coconuts, or I'll cry. My goal with Sand & Sisal is to share my love for the home and sea, and show how coastal does not mean going all "Margarita-ville". Coastal decor incorporates classic design elements and softens the traditional with nature inspired color pallets, a mix of organic and natural textures, all which are wrapped up in a relaxed, comfortable combination. We still want to sip our fine wine, but be barefoot on the deck, right?
Let's take a look at 3 different coastal decorating style collections for your home that range from muted seashell softness to vibrant tropical sunset hues. Every beautiful item is from one of the most fun home decor sites I've found in ages: Maine Cottage. They specialize in cottage furniture and accessories that you can customize with over 50 color choices, limitless possibilities!

Slip off those sandals and cozy into the soft sofa in this calm and cool Sea Breeze Neutrals themed collection. This Sea Breeze Neutrals collection that I created probably sums up the color scheme in my home. It's a blend of cloudy sky blues, powder sand neutrals, sea foam whites and hues of golden sisal and soft driftwood beige. It also allows for pairing modern prints beside classic and traditional forms. (Sigh… see why I love it all! Aren't you ready to come on over and join me on the deck for some sweet tea and sunshine?)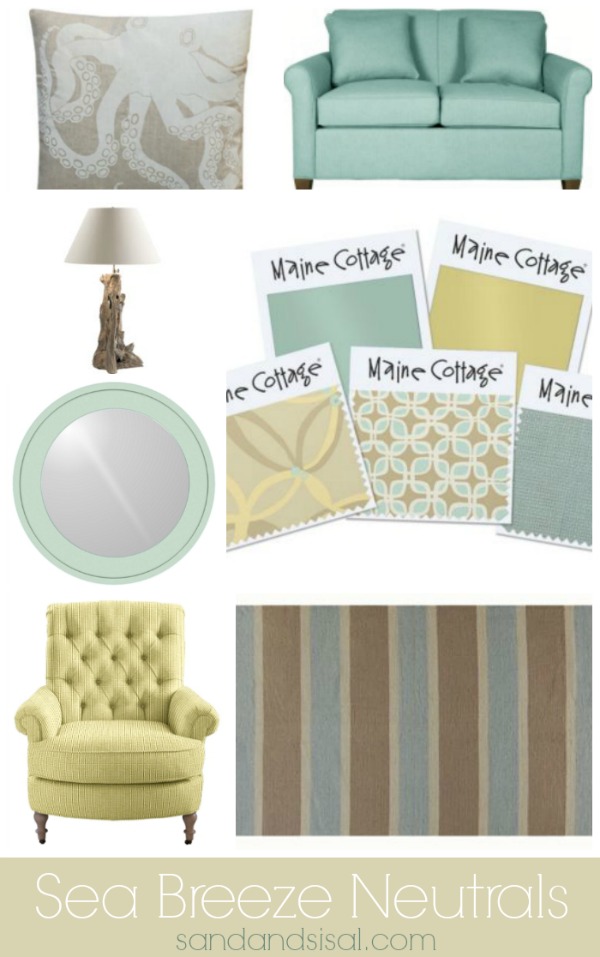 Living along the coast also means living with thick marshes, rivers and waterways leading out to the ocean. This Coastal Marsh Cottage style incorporates the color and relaxed cottage approach to decor. Mossy greens reminiscent of tall sea grasses and cattails are paired with sunny, light filled yellows and touches of watery blues. The shapes are simple and casual with a cozy low country feel.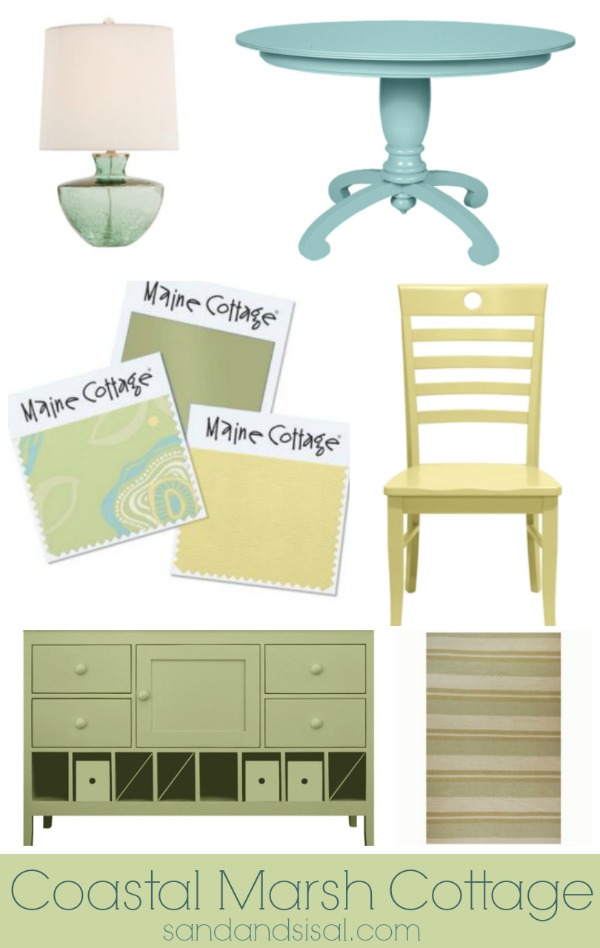 The third coastal look is Ocean Sunset Style. Coastal colors are not exclusively a pallet of soft hues but also include the vibrant, saturated colors of sunrise and sunset and tropical sea glass. Incorporate natural woven grass fixtures and accessories and sea life prints, patterns, and graphics to speak as your coastal expression. Ocean Sunset keeps the pallet light with lots of white, and adds bursts of color to keep the vibe interesting and cheerful. If you currently have a more traditional crimson and gold color theme in your home and want to lean your look more coastal without a ton of change, then this style is an easy transition.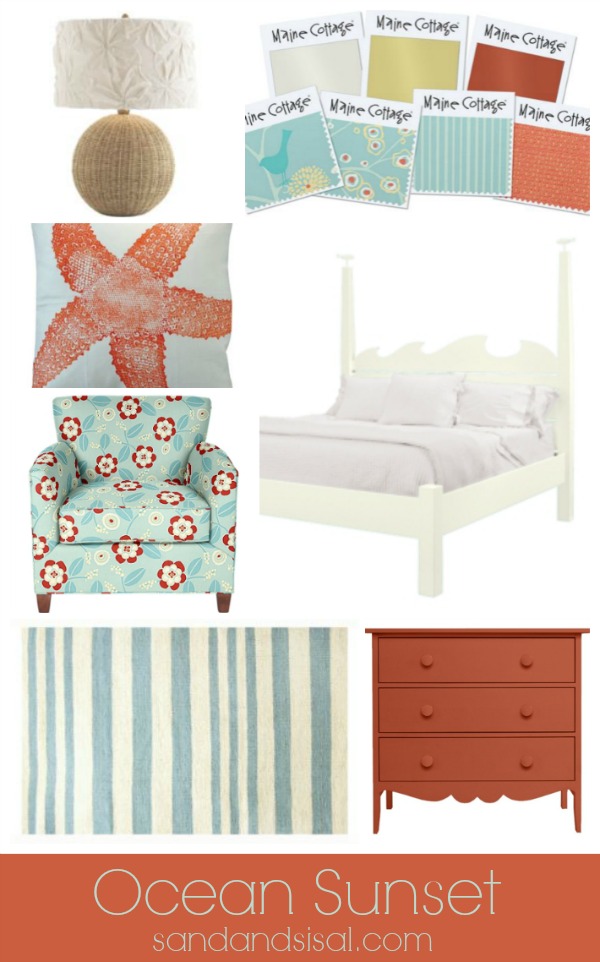 All the items you see in these 3 looks are completely color "customizable"! Maine Cottage has so many color and fabric choices. They make coordinating an entire room effortless, from the furniture to the fabric, to the accessories and art.

Check out Maine Cottage on Facebook, Twitter, Pinterest, Google +, and their blog.
Tell me which style do you like best? 
KIM
This post was brought to you in partnership with Maine Cottage.com. All opinions are my own.