Frosty, sandblasted Sea Glass accessories are hot this season in decor.  I have been a long time fan of sea glass ever since I made the Sea Glass Mosaic Tray and discovered the multitude of Sea Glass Projects that can be made.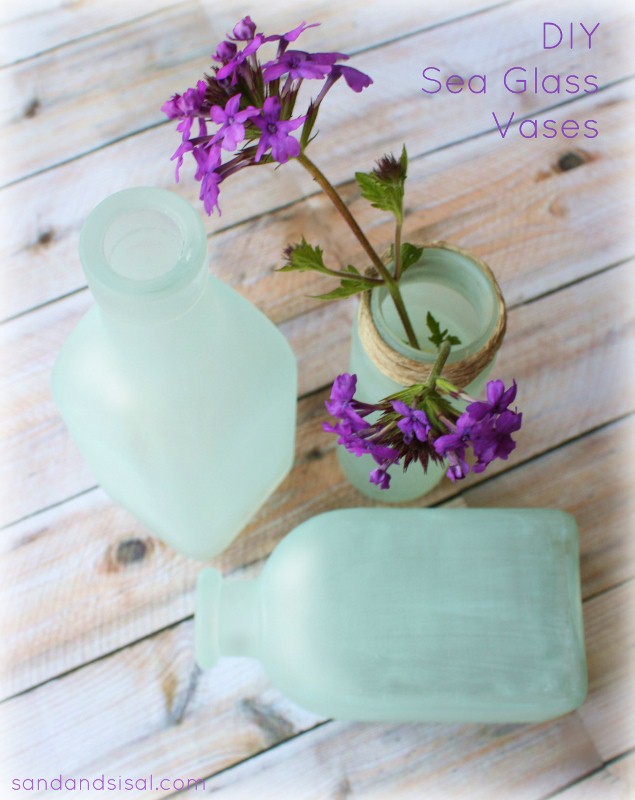 Pottery Barn has sea glass vases this year, for a hefty price $63.50. Of course we all know they aren't authentic sea glass, but have the beautiful appearance of sea glass. I wanted them badly. And what's a DIY girl going to do when she wants the look but can't afford it? She's going to figure out how to recreate the look herself!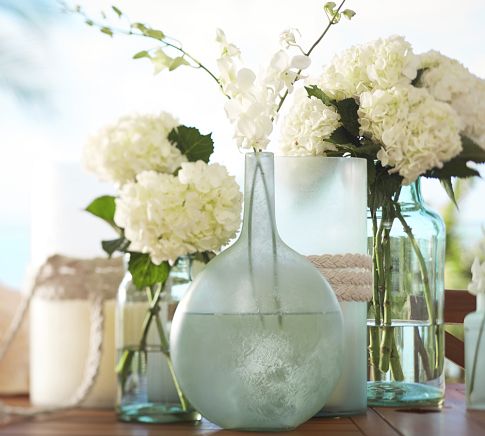 Pottery Barn
I did! You are not going to believe how easy this is!
DIY SEA GLASS VASES
You will need the following:
glass vases, bottles, jars, votives ( whatever you like)
rubbing alcohol
a flat tipped, soft paint brush
Martha Stewart Crafts® Frost Translucent Glass Paint.  I recommend using the color "Sea Lavender", which I used or the color "Beach Glass". You can find these colors at most craft stores, like Michaels, but make sure you buy the GLASS PAINT, which is usually kept in a separate area of the store with other glass paints.
Here are 2 links to where you can purchase the paint online:
Martha Stewart Paint Set, 2-Ounce, Frost Translucent Glass Paints

(Amazon affiliate)
Martha Stewart Frost Translucent Glass Paint Set of 8 colors
Directions:
Clean the glass with soap and water. Dry it. Then clean it again with rubbing alcohol. This removes an residual oil or residue.
Put a dollop of paint on your brush an start painting your vase in ONE direction. I started my strokes going VERTICALLY from top to bottom. Add more paint to your brush as needed. Continue until covered. TIP: to hold your bottle or vases, place your hand or fingers inside the bottle neck.
Allow to dry 15 minutes then REPAINT but this time paint in the opposite direction- Horizontally. I found that a second coat covered the glass better and eliminated most brushstrokes. The paint is dishwasher safe if air cured for 21 days or you can follow the baking directions the manufacturer recommends.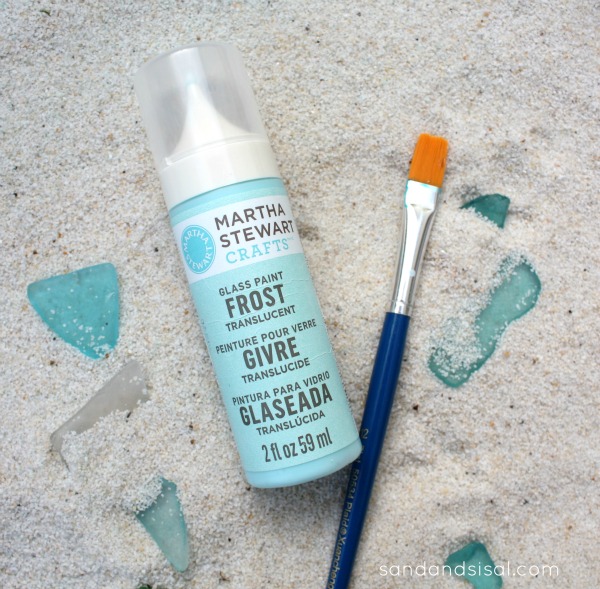 That's all there is to it.  I was shocked at how easy and fast it was to achieve a sea glass look just like Pottery Barns! And all it cost me was a bottle of the Martha Stewart Glass paint!
I like to save all my glass spice jars and glass jars that scented candles come in. I've found them very useful for bud vases and crafts.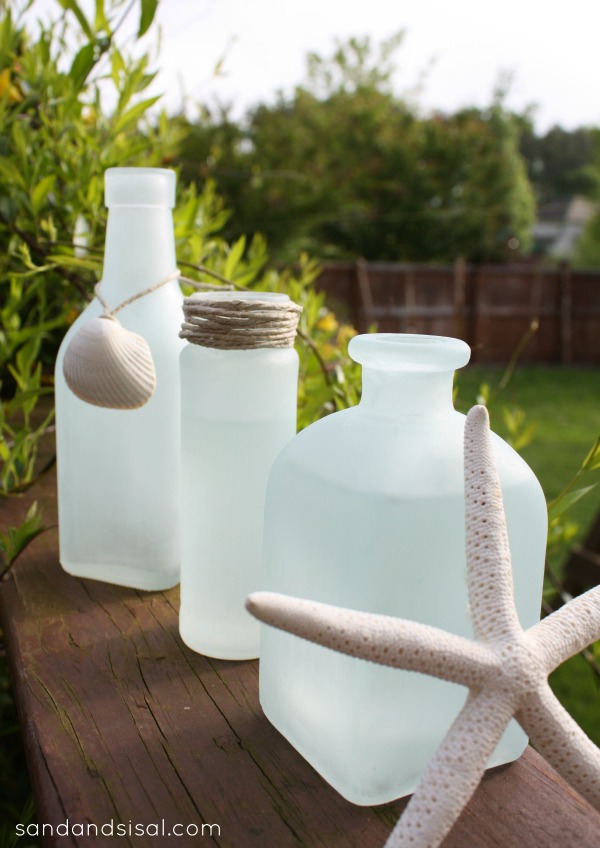 You can easily embellish the vases with sisal twine and shells if desired.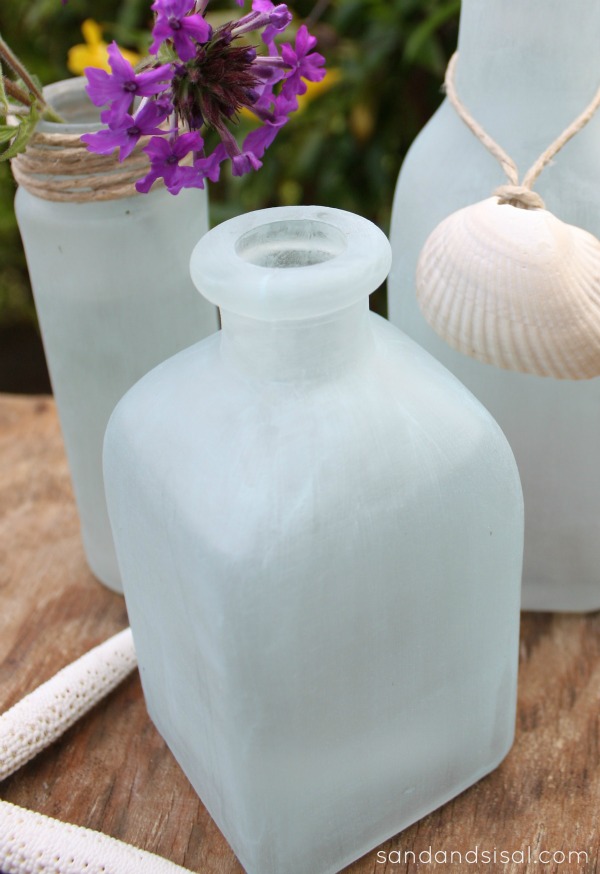 Wouldn't a few of these make a nice Mother's Day Gift?
Be sure to pin your favorite photo above for future reference and follow me on Pinterest if you like.
 You might also enjoy: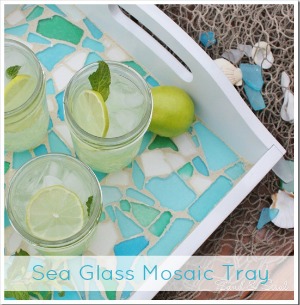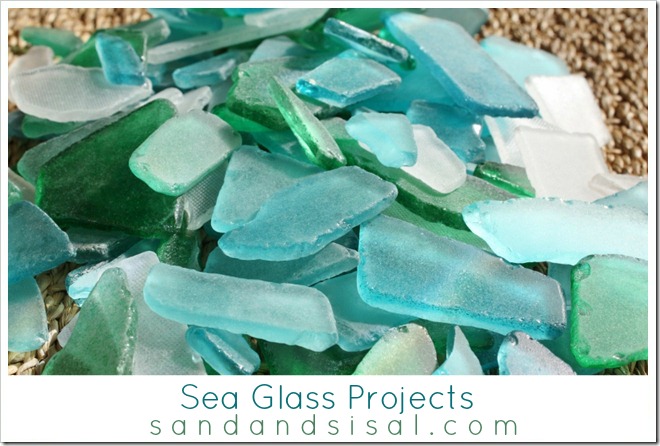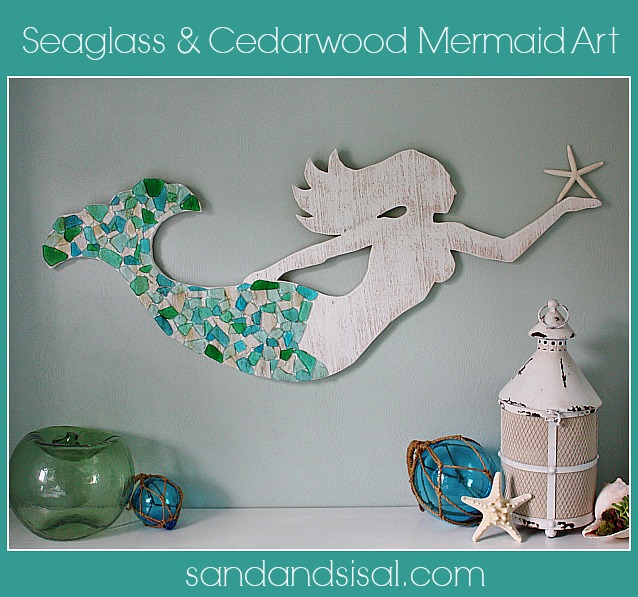 Kim