Move over June Cleaver… Sand & Sisal's serving up drinks in a sassy, modern Sea Glass Mosaic Tray! I was blessed to grow up in a "Beaver-esque" home, complete with parsley garnishes on our dinner plates. My mom has always been an amazing hostess and has a huge collection of beautiful serving trays.  The more meals my family eats outside, the more I realize the sheer practicality of trays, not to mention "Betty Draper" charm trays posses. Any Mad Men fans out there?
`
Sadly, I don't own a single tray. (gasp!) When I came across this colonial pictured tray in my favorite thrift store for less than $1, I knew I could transform it into something beautiful! I'm going to show you how to make your own Sea Glass Mosaic Tray.
How to Make a Sea Glass Mosaic Tray
The first step is to lightly sand the tray with 100 grit sand paper. You want to remove any shiny lacquer. Next, give the tray a few coats of spray paint which is suitable for wood.
Now it's time for the beautiful sea glass. I adore sea glass! I love the color, the soft, dusty texture and the way the light hits it! Our beaches here in Virginia Beach/ Norfolk are groomed each and every morning by big machines that comb the sand. This grooming makes more beautiful clean beaches, which tourists love, but it also removes all the gorgeous gems of the sea! I think I might have to look into some dumpster diving from these beach combing vehicles! Have you seen how much drift wood is going for online?!! Crazy!
I do have a little collection of sea glass found while beachcombing, but for this purpose where you need a lot, you can purchase bags of sea glass at Pier One or you can find  Sea Glass on Amazon. Each bag has slightly different colors.
The supplies you will need to make a sea glass tray are:
wood tray
spray paint
1-2 bags of sea glass
ready-to-use tile adhesive
premixed grout
a toothed trowel
pallet knife
a rubber tile float
sponge
With a toothed trowel, apply a thin coat of adhesive to a small part of the tray base and comb the teeth through the adhesive.
If your trowel is large (like mine.. not to mention rusty), try using a pallet knife to spread the adhesive and work into the corners and edges, then comb it with the trowel.
Work in small sections. It is imperative that you apply the adhesive in a thin layer. You don't want the adhesive so thick that it oozes over the tile. Start pressing in pieces of sea glass into the adhesive. The tile should sit half way in the adhesive. Follow the adhesive manufacturer's directions for the amount of time for set-up. If you find you have too much adhesive in areas, then remove it with a toothpick.
Time to add the grout. Put some grout on your rubber float and start pressing and smearing it into the sea glass.
Be sure to get the grout into all the edges.
Once your entire tray is covered in grout, take the edge of your rubber float and scrape off any excess grout.
This is the time that you want to clean off all the messy edges where you got grout on the sides of the tray. Use a wet sponge to clean up your edges. I also suggest taking a clean, damp sponge and gently removing the thicker layer of grout from the top of the sea glass. Once it looks "mostly clean", allow it to dry. There will be a dusty glaze to the glass. This is when you take a clean damp sponge and buff off all that dusty glaze and make that sea glass shine!
You are left with a beautiful Sea Glass Tray to serve your guests!
LOVE IT? DON'T FORGET TO PIN IT!
Kim
You might also like these Sea Glass Projects & Posts: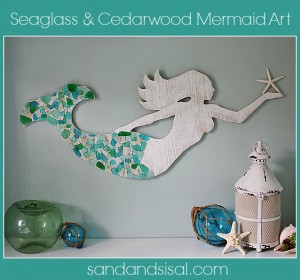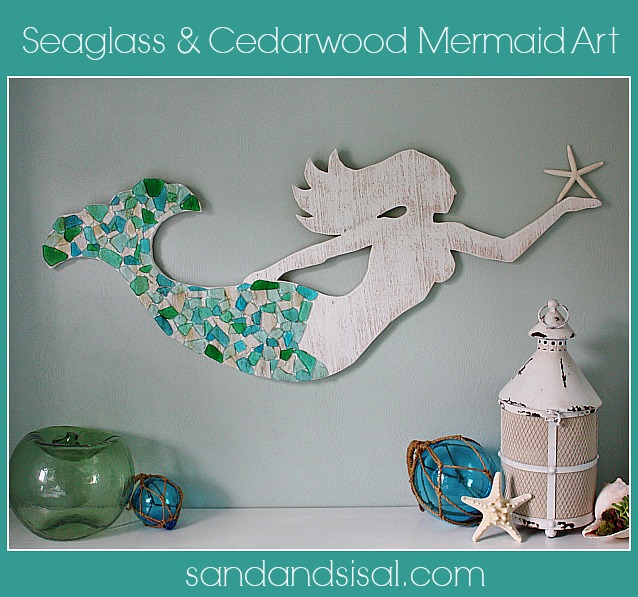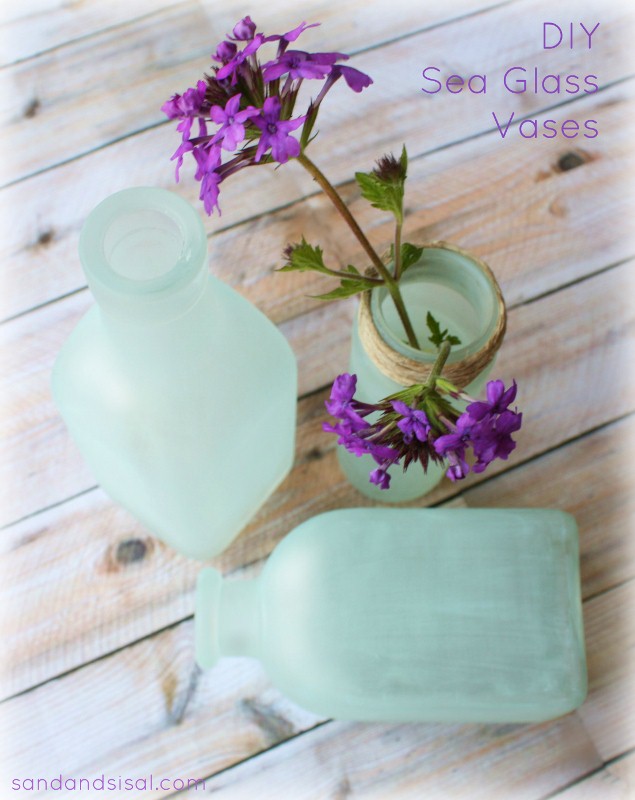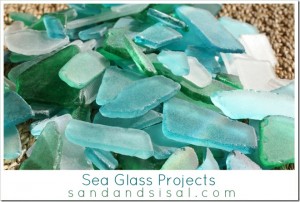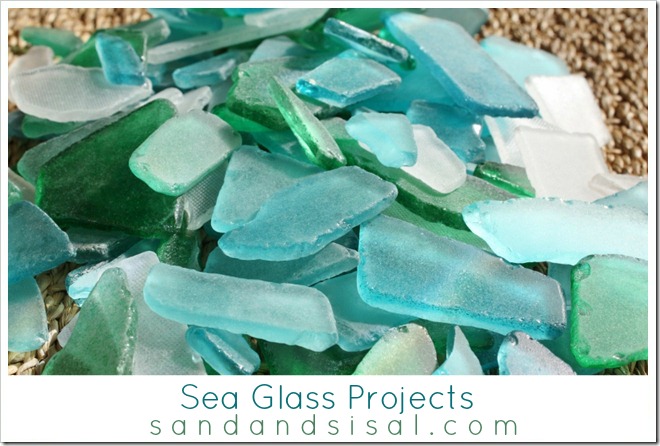 Linking up to: