This post brought to you by Elmer's ProBond Advanced. All opinions, expressions and design are 100% owned by Sand and Sisal. Tutorial and design allowed for personal use only.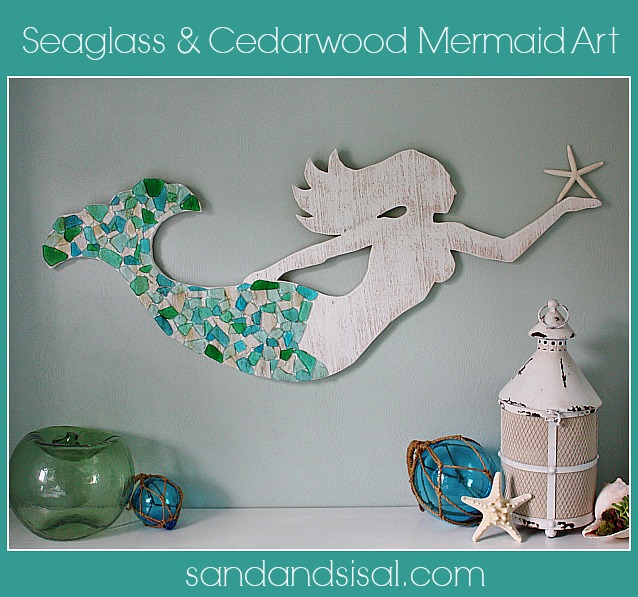 We used to live 30 minutes away, in Norfolk, VA, home of the world's largest naval base. My sister and mother still live there. The city's mascot is a mermaid. Mermaids are everywhere! Do you remember back in the 90's when Chicago had the "Cows on Parade"? Well, we have the "Mermaids on Parade". Hundreds of creative mermaid sculptures are everywhere. These beautiful mermaids were the inspiration for my Seaglass & Cedarwood Mermaid.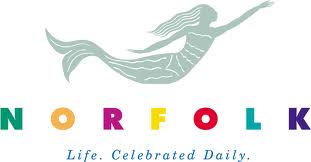 I passionately enjoy woodworking with pallet wood and wood in general to create fun and unique pieces of art. Here are some past tutorials of mine.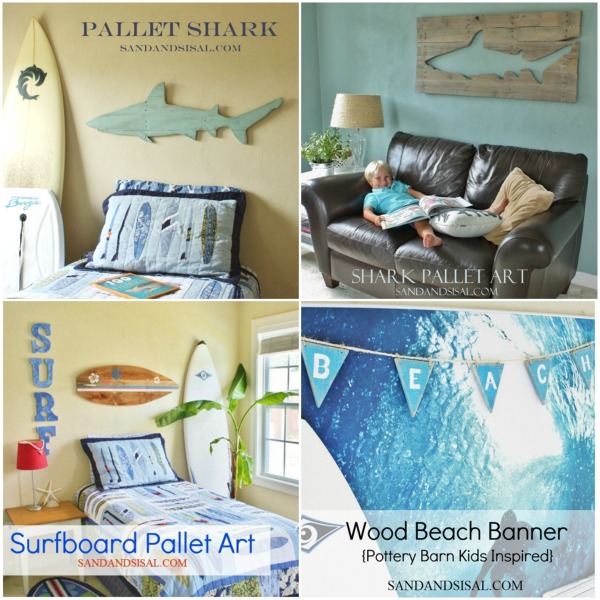 To Make a Seaglass & Cedar Mermaid you will need the following supplies:
To begin, I started with a mermaid design, which I hand drew on paper then copied and printed onto a transparency. I used to paint wall murals back in the day, and I found using an overhead projector very useful. I projected my mermaid drawing on a wall and then traced it on wrapping paper taped to the wall. 😉 This mermaid art is appx. 43 inches long.
Note: If you don't have an overhead projector then you can take your print out to a copy shop where they can print a 24×36″ engineer print for you, which is very inexpensive (appx. $5).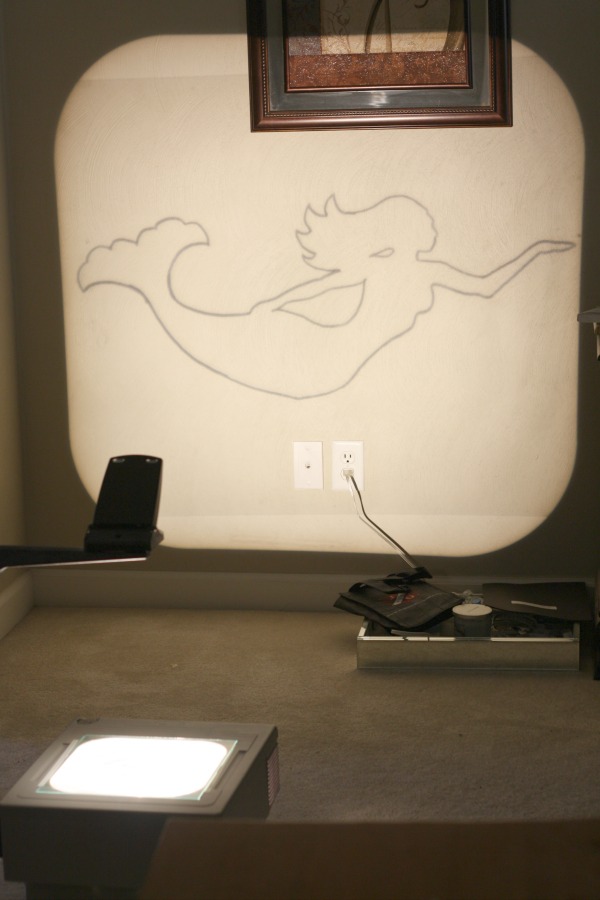 The next step was to take it out to the driveway, lay a cedar board on the ground and determine the lengths that would be needed, starting at the tallest point of the drawing.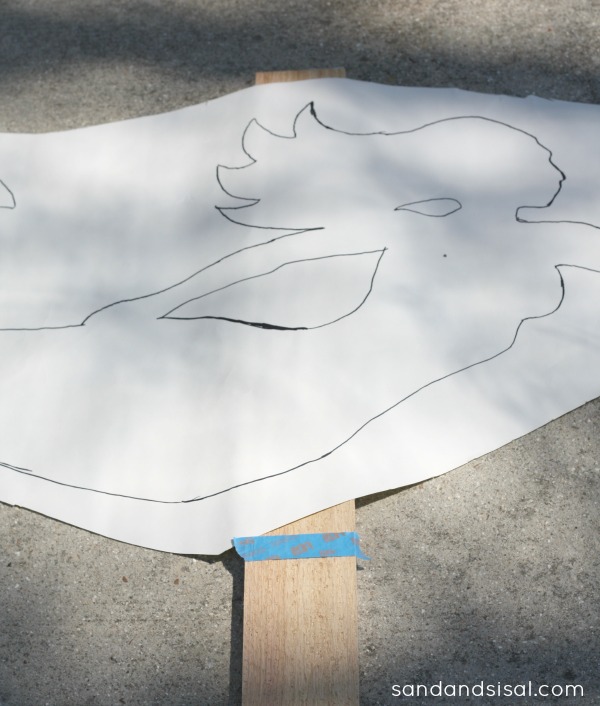 I cut the lengths of cedar wood and laid them along the driveway. I only used 2- 8ft cedar boards.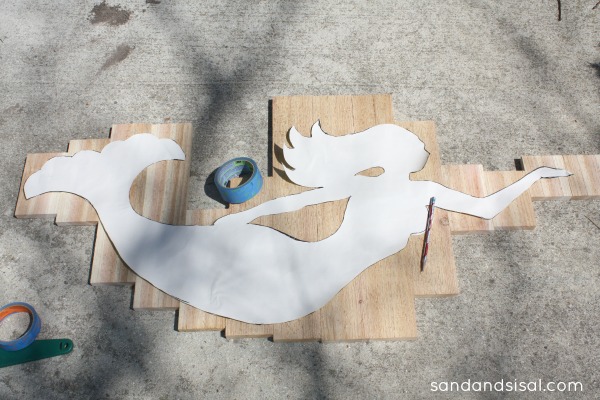 I traced around the mermaid cut out with a sharpie pen.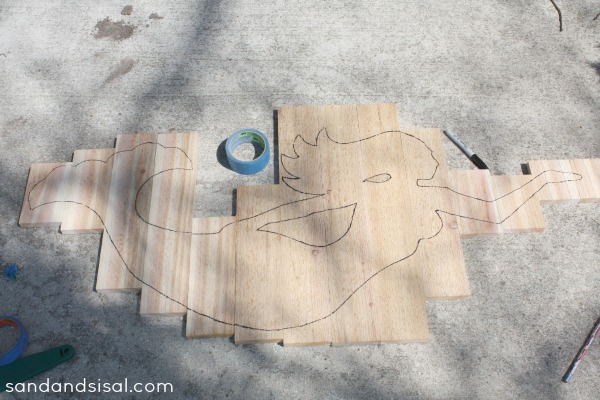 Now comes the fun part…. using my band saw to cut out each board. I'll be totally honest, this can be scary. Using a band saw takes complete concentration. Like using any saw, one wrong move can result in loss of a finger or serious injury. Always, always, always follow the manufacturers recommendations for all power tools and wear protective eye and ear wear.  A band saw cuts like butter! I love it. You can also use a hand held jig saw if you have one.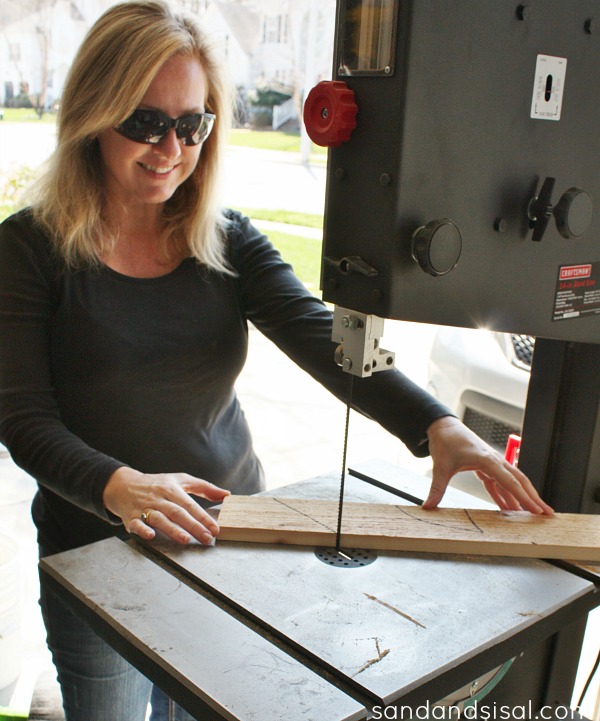 Assemble & Glue: Each piece was glued together with Elmer's Wood Glue Max. It makes a bond stronger that the wood, is sandable and paintable and cleans up nicely with water.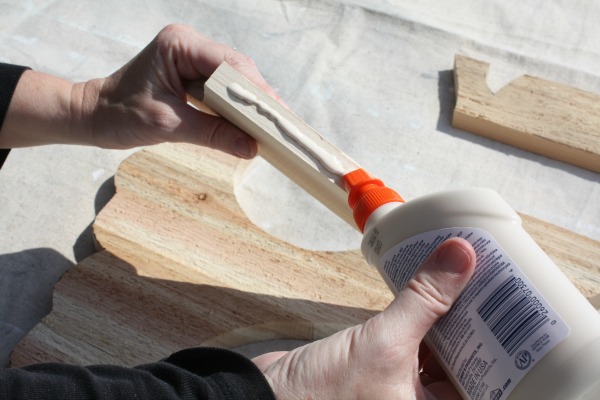 The mermaid was allowed to dry for about an hour before I handled her and brought her indoors. Sand the edges and surface as desired. The cedar boards are rough on one side and super smooth on the other. I wanted a rustic look, so I chose to keep the rough side forward.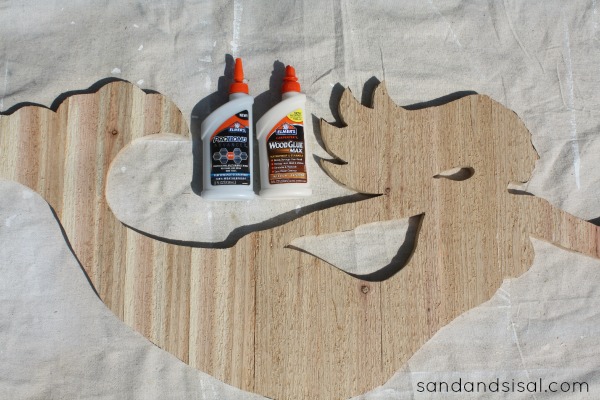 Paint: The mermaid was given a light dry brush with white acrylic paint. I chose to do apply the paint using a dry brush method because I wanted the rough cedar board texture to show.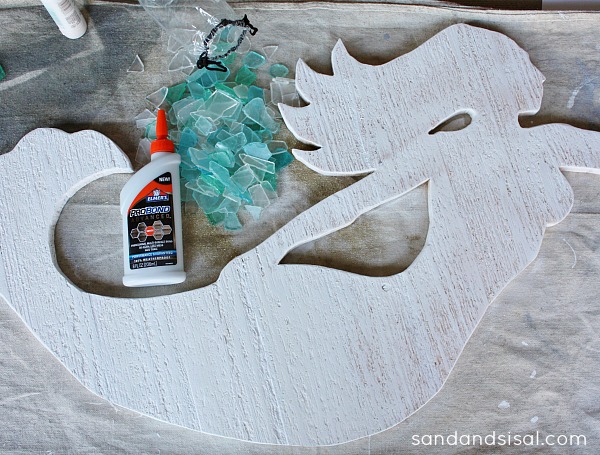 Now it's time to decorate with seaglass!
Arrange the Seaglass: Place your seaglass on the mermaid tail and arrange it so that the seaglass mosaic will fit the way you want it to. This is a dry lay.
Glue the Seaglass: Next pull out your Elmer's ProBond Advanced glue! ProBond is an amazing multi-surface, non toxic glue that allows you to adhere porous to non-porous materials together, like wood to metal, glass, or ceramic to drywall, etc. All without messy foaming.

ProBond is 100% waterproof too!

I placed one dot of ProBond under each piece of seaglass, and lightly pressed to distribute the glue. It set up very quickly and dried to a clear finish. Be sure to follow the manufacturer's directions on the back of the bottle.
Tips: Now, be aware that cedar wood has a lot of tannin in it. In any area that I did not seal with paint and the cedar was visible, the tannins did turn the glue a tad yellow. Next time, if I am using cedar, I will prime the wood well, to prevent that from happening.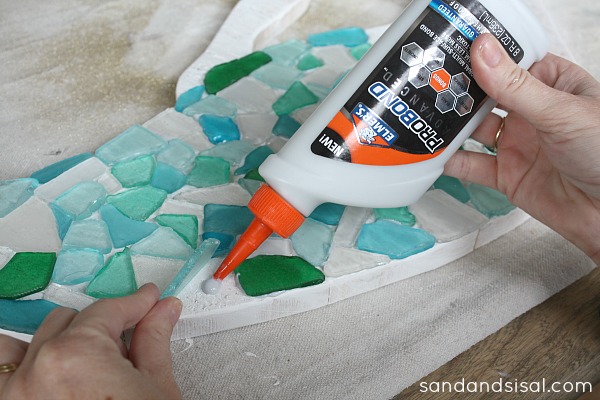 I couldn't be more please with how the Seaglass and Cedar Mermaid Art turned out! It is currently hanging in my laundry room, but because this is cedar and glass, and the ProBond is 100% waterproof, this Mermaid Art could totally be displayed outdoors too!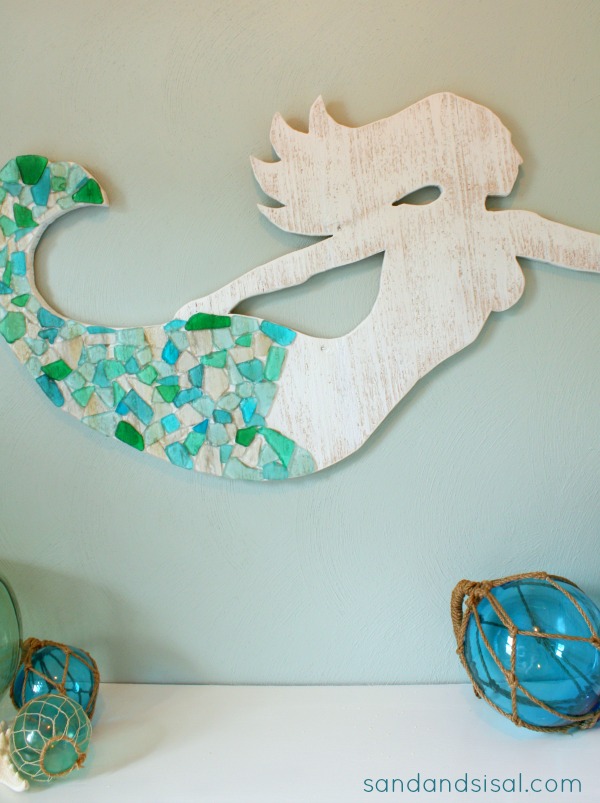 Hope you love my mermaid as much as I do! To see all the other Mixed Materials you can bond together with ProBond and other amazing projects, click that link!
Linking up to: All Things Heart & Home