My sister recently returned from a Hawaii and her photos make me long to escape to that beautiful tropical paradise! I was a teenager last time I toured the islands. Besides the jaw dropping vistas, the amazing food we had is what made such an impression on me. Capturing a taste of the islands is easy! Let me show you how simple it is to make sweet and spicy 3-Ingredient Succulent Slow Cooker Kalua Pork!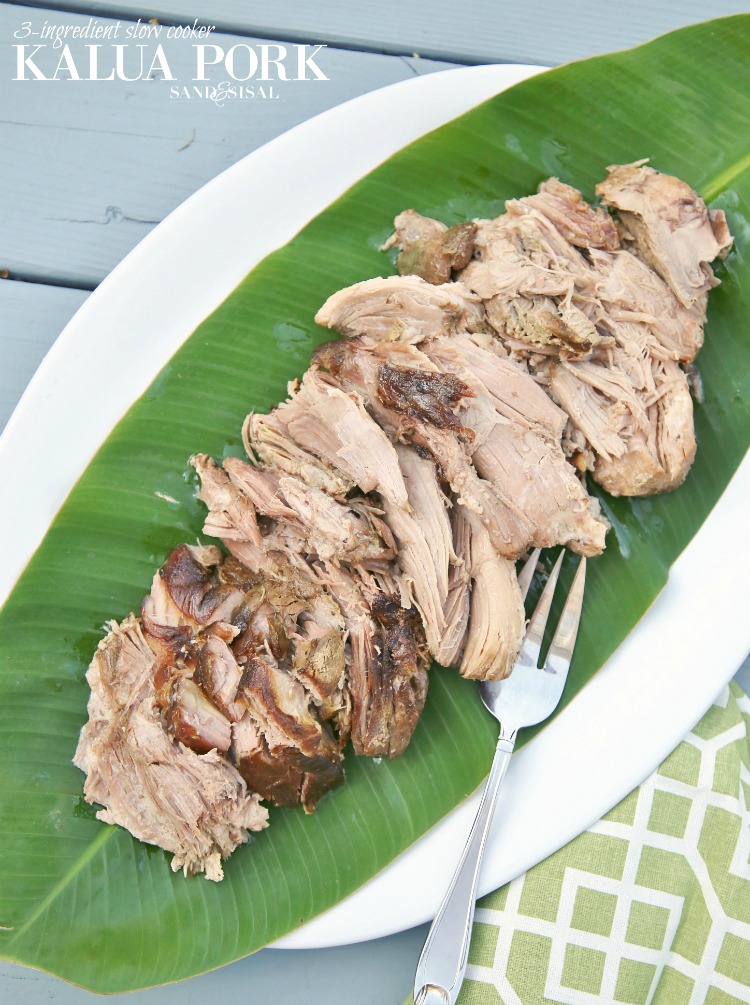 When I told my kids I was making Kalua Pork, they looked at me wide eyed and said, "Eww! You mean that coffee stuff you have on the top shelf?". Ha! Kalua is not to be confused with Kahlua… there is no coffee liquor in the recipe, though to be honest, I might need to try that sometime. 😉 Kalua Pig is what is traditionally served at luaus. It is a pig that is seasoned, wrapped in banana leaves, buried in a pit in the ground called an imu, covered with hot coals and cooked for hours until tender.  We aren't tackling a whole pig, but only a pork shoulder today.
We have grown banana trees in our yard for the past 8 years. They are so easy to grow and we live in Virginia! Click here to read about how we grow bananas. The smaller leaves are nice to use for decorating but I haven't tried using banana leaves in cooking, which is silly because most of the world has used banana leaves in cooking for centuries. One medium sized banana leaf worked great for the slow cooker Kalua pork.
NOTE: YOU DO NOT NEED BANANA LEAVES FOR THIS RECIPE! They simply add a slightly sweet and more authentic Hawaiian flavor to the pork. Banana leaves can be found at Asian markets.
Slow Cooker Kalua Pork
Let's get cooking! This slow cooker recipe calls for only a few ingredients and will feed a crowd! The first thing to do is rinse and pat dry a pork shoulder. I usually buy a 7-8 pound pork shoulder for our large family. We always have plenty of leftovers.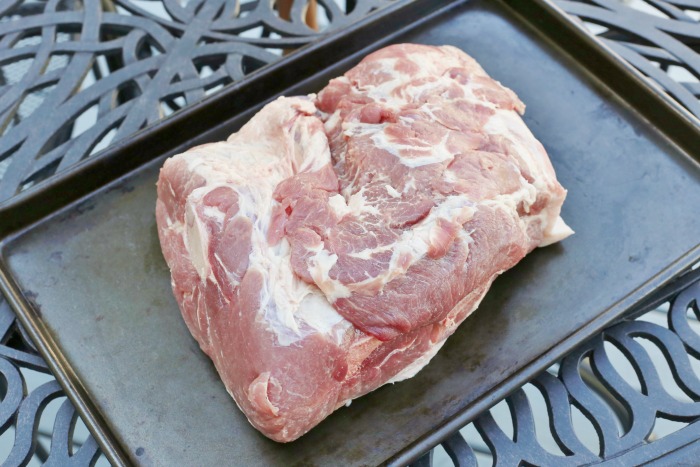 Turn the pork over so that the fat side is facing up. Trim the fat if it is excessive. I find that cooking the pork with the fat side up keeps the pork jucier and it is easier to remove before serving. Pierce the pork all over with a knife. (Feel free to take our any pent up anger on the pork). 😉
Sprinkle Hawaiian Salt all over the pork and rub in. Hawaiian Salt can be found at most specialty grocery stores. Sea Salt or any other pink salt can be substituted. Next pour several tablespoons of liquid smoke over the pork. This will give the Kalua Pork a wonderful smokey fire pit flavor.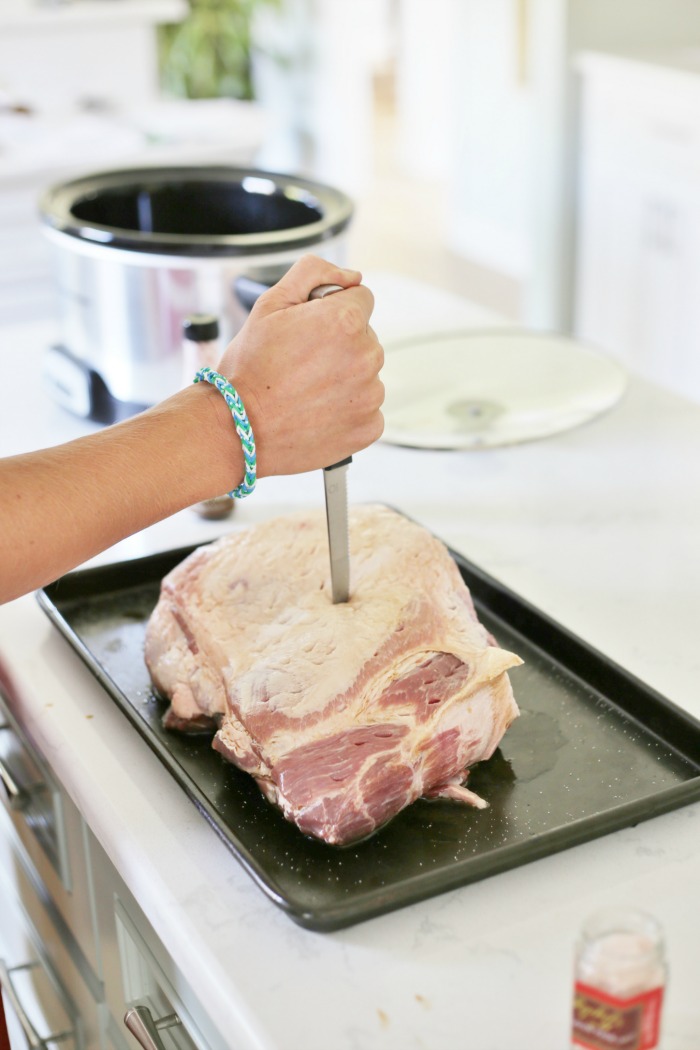 After you have seasoned the pork with the salt and the liquid smoke then you can wrap the pork shoulder in a banana leaf. Wrap it just as you would a present. Secure it with baking twine if you find necessary.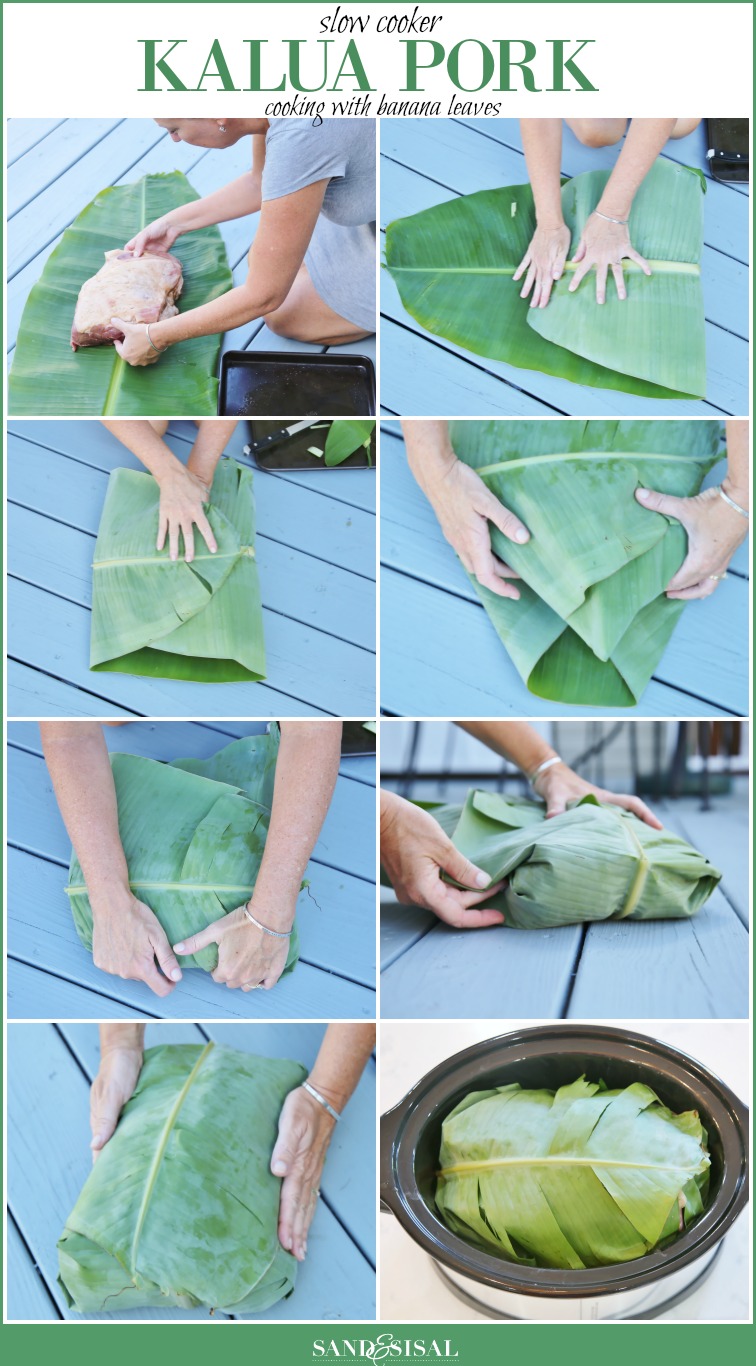 Place the pork in a slow cooker and sprinkle with red pepper flakes. Put the lid on and cook for 10 hours on LOW. You can reduce the time to 8.5 hours if your pork shoulder is much smaller.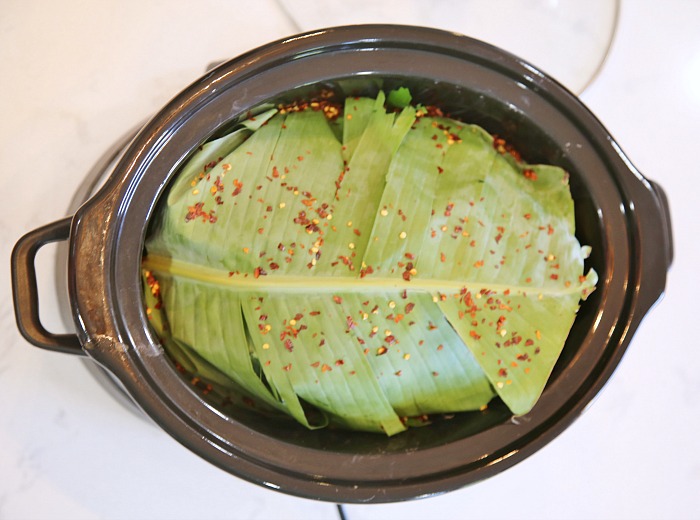 This is how it will look after the cooking time is done. Gently pull out the banana leaf. I remove the top fat layer and the shoulder bone and then carefully scoop out the meat and shred it into chunks.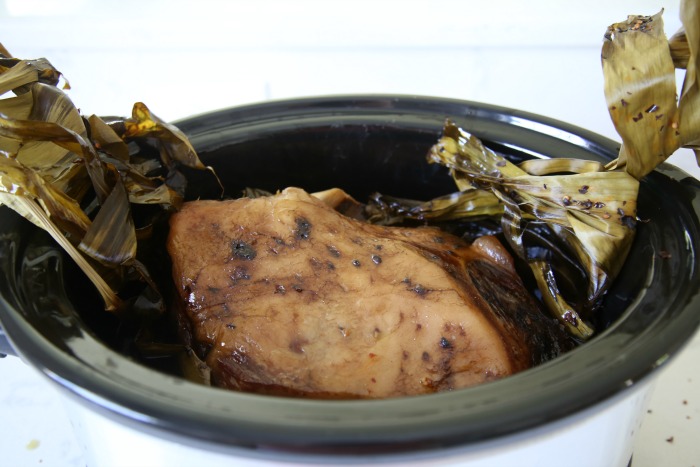 The pork comes out sweet and slighty spicy and oh so succulently tender! Serve Slow Cooker Kalua Pork with a side of rice and beans, or on buns with crisp coleslaw, or in tacos. The pork is quite versatile for a variety of dishes.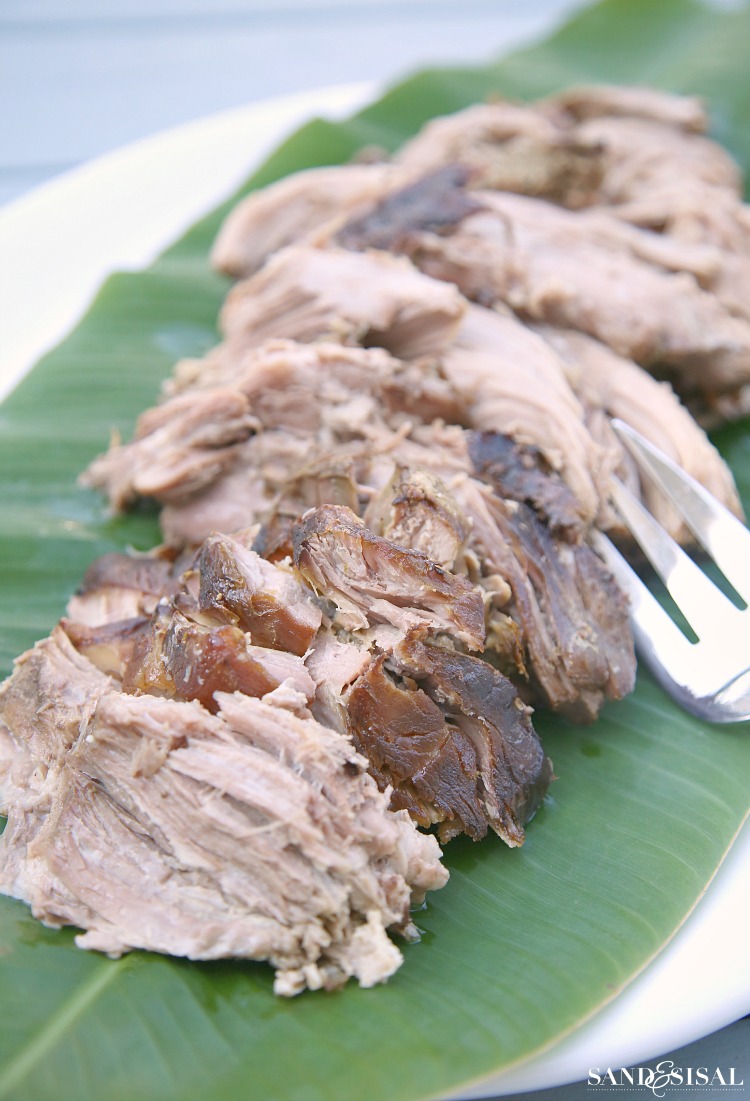 Succulent Slow Cooker Kalua Pork
Author:
Kim Wilson - c4a.bc9.myftpupload.com
Prep time:
Cook time:
Total time:
This recipe feeds a crowd! Only 3 ingredients and you'll have succulent sweet and spicy pork that you can use in a variety of dishes. It does NOT require using banana leaves. They just give the pork a more authentic Hawaiian taste.
Ingredients
7-8 pound pork shoulder
1 teaspoon Hawaiian Salt (or sea salt)
3 tablespoons liquid smoke
1 large banana leaf (either fresh from your banana tree or can be found in Asian markets)
1.5 teaspoons red pepper flakes
Instructions
Rinse and pat dry the pork shoulder.
Pierce the pork shoulder all over with a knife.
Sprinkle with salt.
Pour liquid smoke over the pork.
Wrap tightly in a large banana leaf (think wrapping a present).
Sprinkle with red pepper flakes.
Place in slowcooker and cook for 10 hours on LOW.
Remove banana leaf, drain juices, debone and shred the pork.
Serve on buns or in tacos or a variety of other dishes.
I hope you give it a try!
Want to try it? PIN IT!