It is interesting, growing older has made me discover how I crave simplicity. That has translated into my design style. Don't be surprised that as you mature, your style might evolve and change. As much as I used to love to fill my home with trinkets, items, and frilly, ornate flower arrangements, I realized that the style wasn't quite me. One of the best things I have done in my home these past few years is to simplify and embrace what surrounds me in nature. Design inspiration comes from what is in the yard, neighborhood, community. Today we are going to talk about long lasting, easy decorating with greenery that will give your home that extra special designer look and will last weeks longer than flowers. The best part is that is that decorating with greenery is usually free or cost less!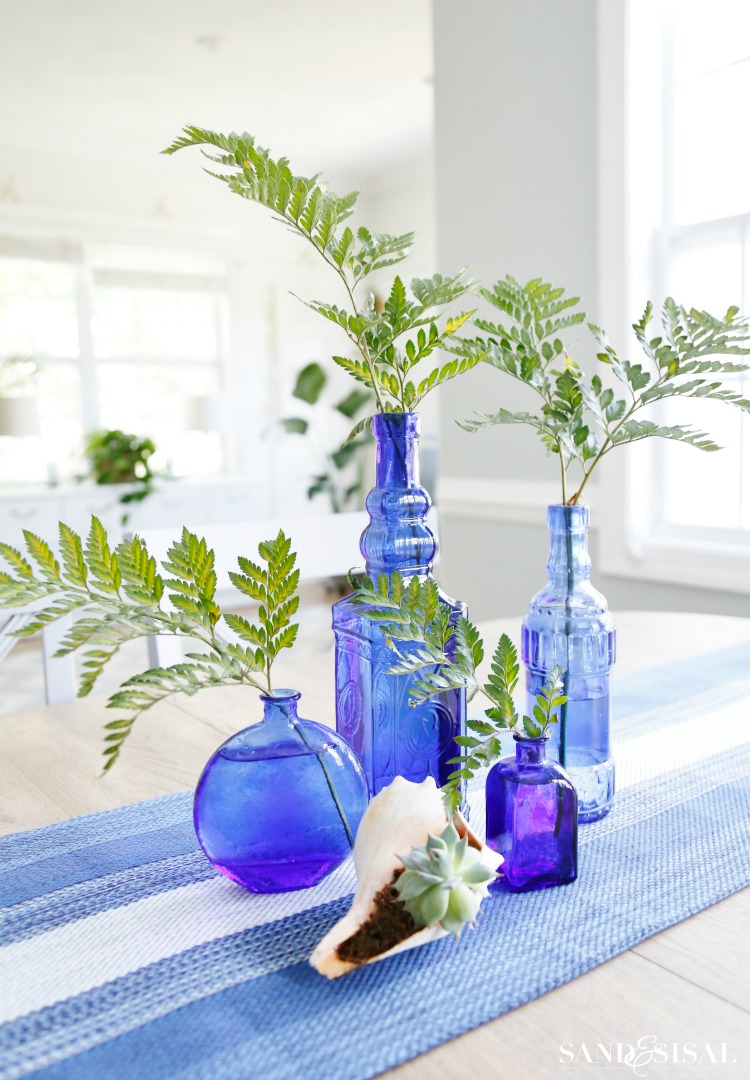 Decorating with Palm Fronds
Decorating with palm fronds and/or tropical fronds is one my favorite and easiest ways to bring a bit of the tropics and coastal flair into your home. There are so many tropical house plants that can be used for year round decorating. If you live in southern or tropical climates than many of these plants will be readily available outside. Let's take a peek at a few of my favs.
How gorgeous is this elegant entryway? Two frilly philodendron fronds command attention set against a soft, creamy white color palette.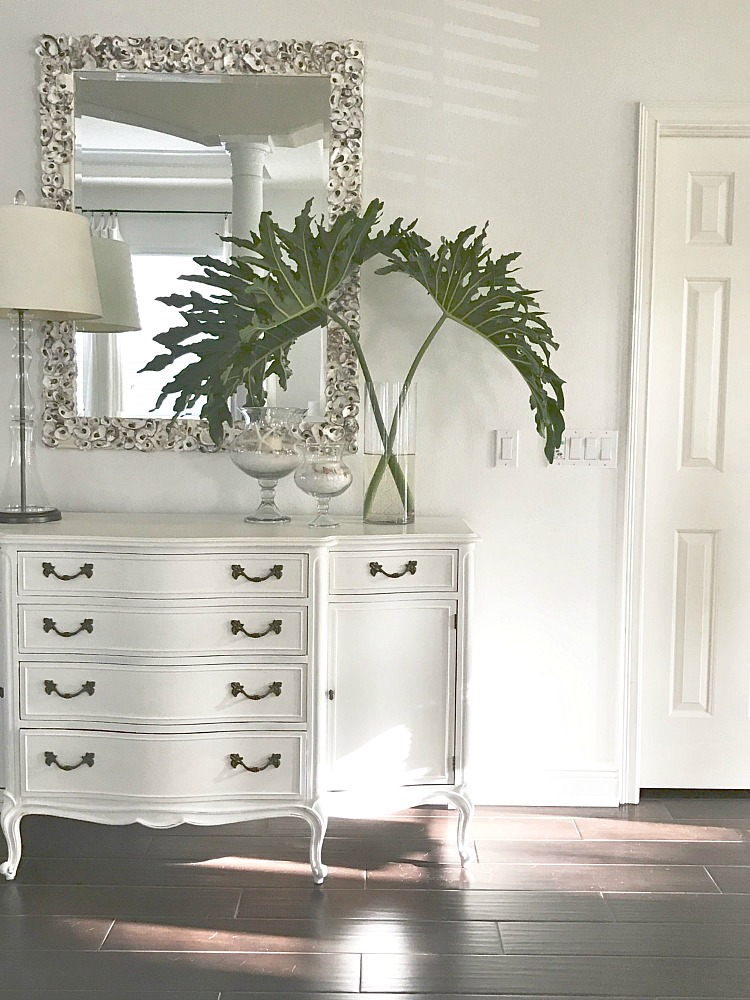 Beautiful and bold palmetto branches make such a graphic statement. One singular, simple frond in a beautiful vase is all you need to instantly add fabuous texture, pattern and color to a corner.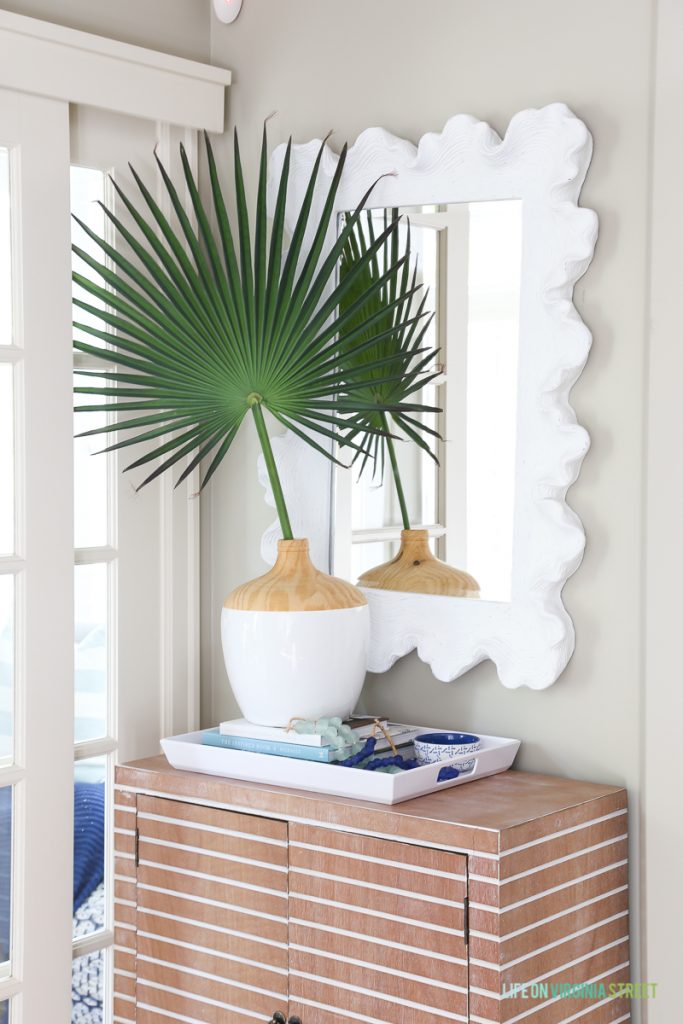 Snip a few bird of paradise leaves from your house plants and arrange them in a jug or vase. Decorating with greenery is so easy because these leaves will last 6 weeks at least! They suck up water faster than you'd think, so don't forget to check on the water level! The beauty of decorating with house plants is that they thrive to produce! New shoots will come up quickly (don't feel guilty clipping them).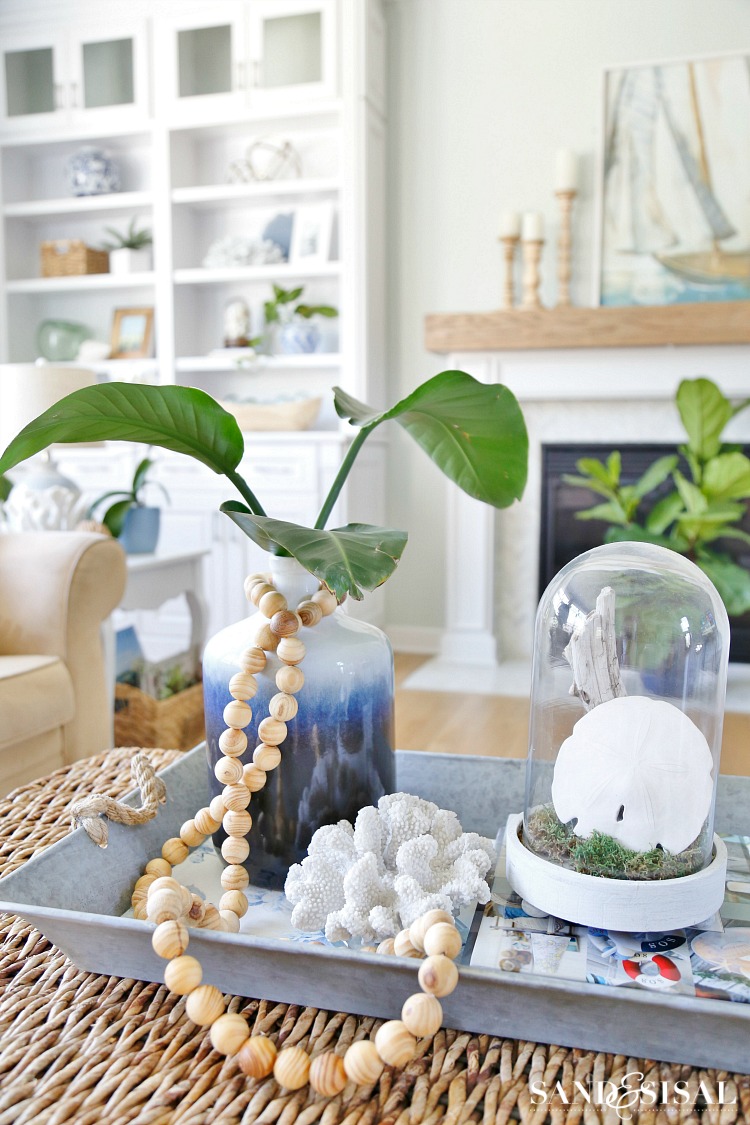 If you live in the south, gulf, or west coast, then palm fronds should be plentiful. I love how one singular branch in a slender white ceramic vase along the threshold instantly brings life and says "welcome to our home". You instantly know that this home has a relaxed yet chic coastal vibe.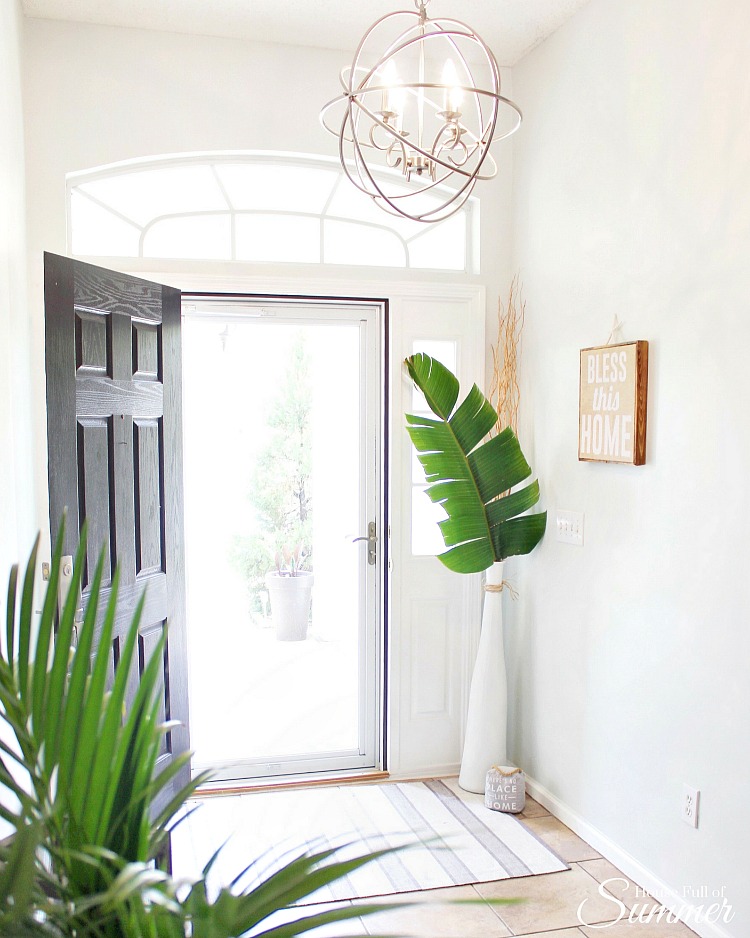 One glance at this space and I couldn't stop staring at the seaglass and glass float tray to the 2 fronds in a glass bottle with a glass of rose …. sigh….. Santa Barbara coastal perfection. Can you just imagine the misty, salty sea air blowing in as it climbs up the hillside, hair wisping around your face? I have a sweet spot in in my heart for SB. It is where I went to college and met my hubby. 😉
Banana leaves grow as far north as Virginia! Did you know that? I have had over 35 banana trees growing in my backyard over the years. They are FABULOUS for decorating or for cooking and grilling with. This little baby branch was wintering over in our garage but he brought a bit of summer warmth to our dining room in February.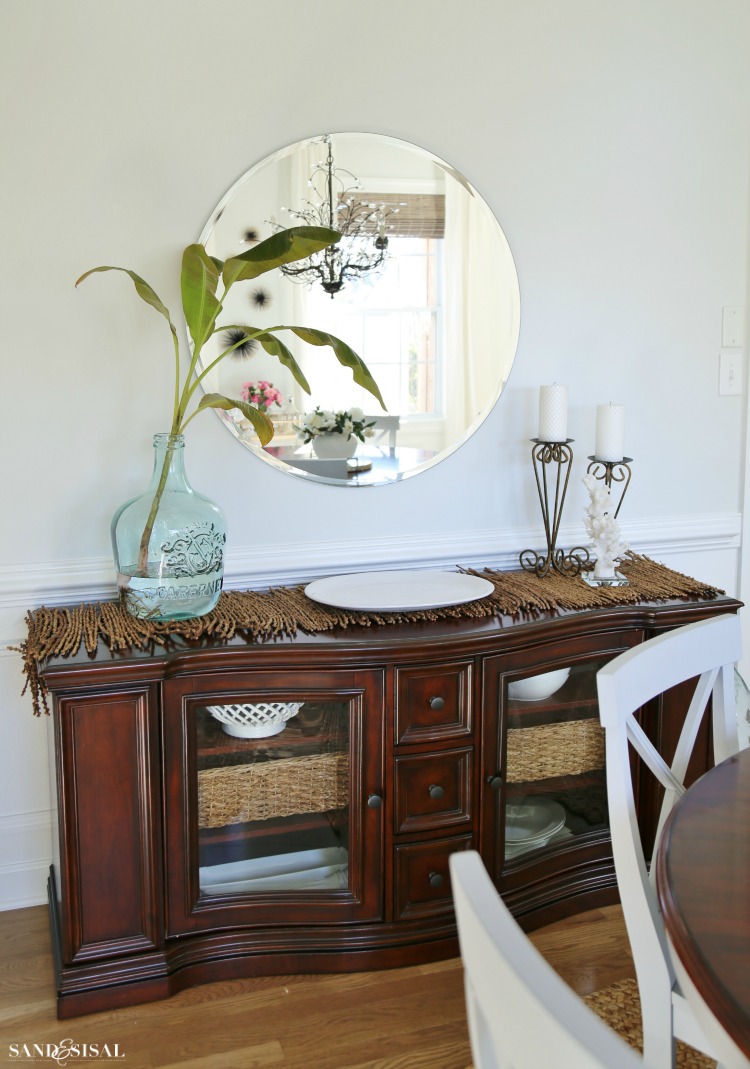 More than likely you might have a magestic palm in you home. Start clipping! These palms are easily found inexpensivly at HD or Lowes and even most grocery stores during the months of April-June. They make the most lovely arrangements and last for weeks! Decorating with greenery doesn't get much easier than this!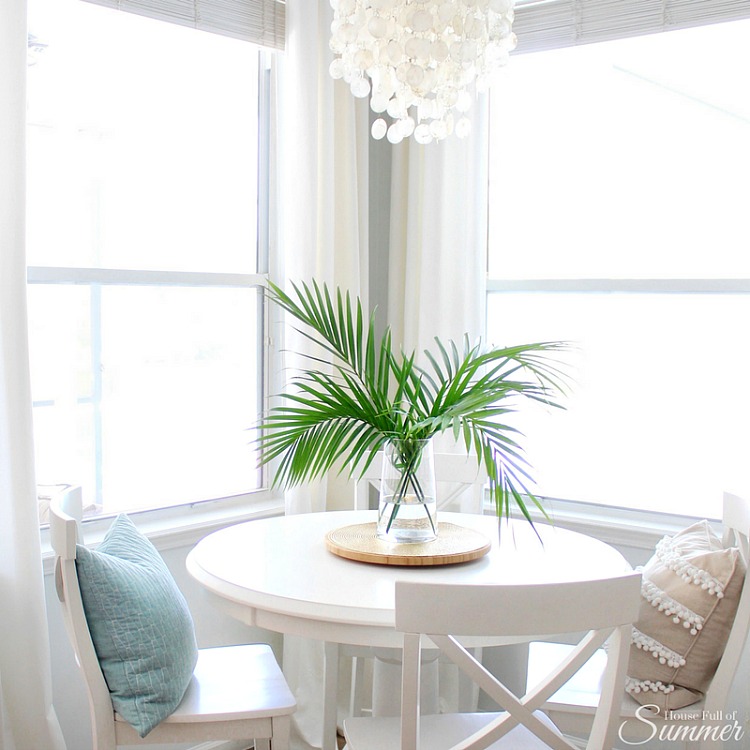 Beautiful coastal home via ~House full of Summer
Decorating with Greenery from the Yard
Decorating with greenery from the yard is the most economical way to decorate. My yard is filled with a variety of trees (crepe myrtles, birch, oak, maple, holly). That isn't too many varieties, but whatever you have, you need to look at and see what you can use. Think… does this tree/bush need trimming? If it does than when you trim it use it! My favorite fall decorating idea is using crepe myrtle branches. Their flowers and seed pods are always so interesting and add an abundance of texture and softness to any vignette. Be aware that crepe myrtles will drop their delicate blossoms within 48 hours of clipping, but their lovely, vibrant green seed pods will last for weeks.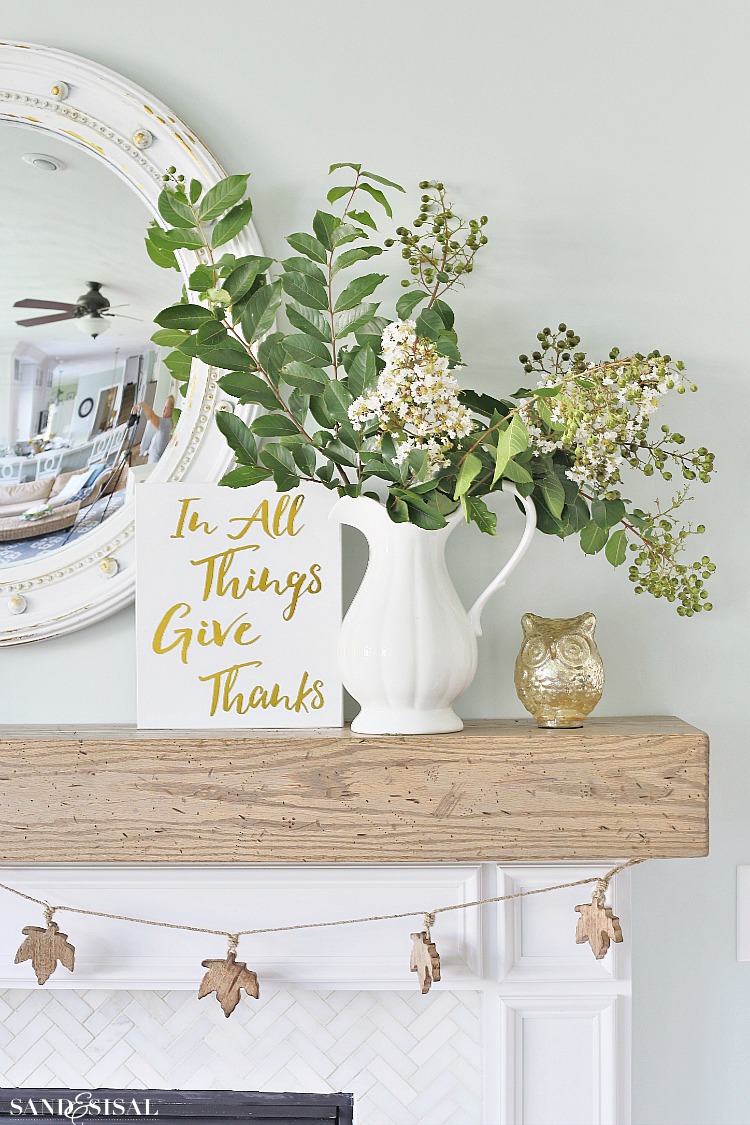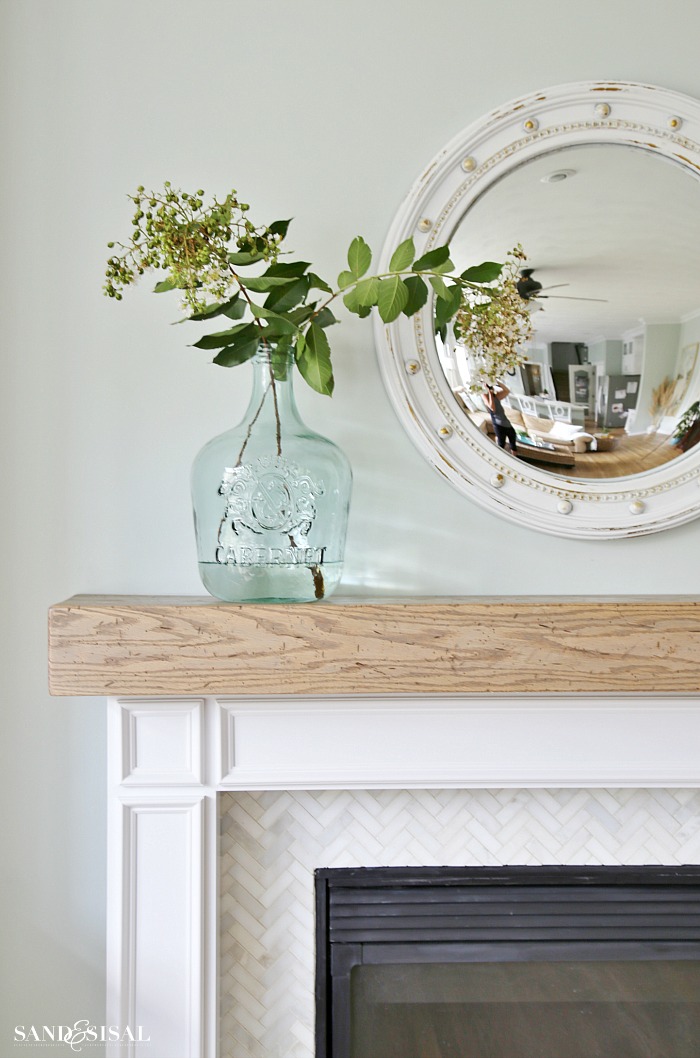 Another easy and widely available option for decorating with greenery is taking clippings from willow trees, birch, maple, oak, magnolia trees or whatever you have readily available.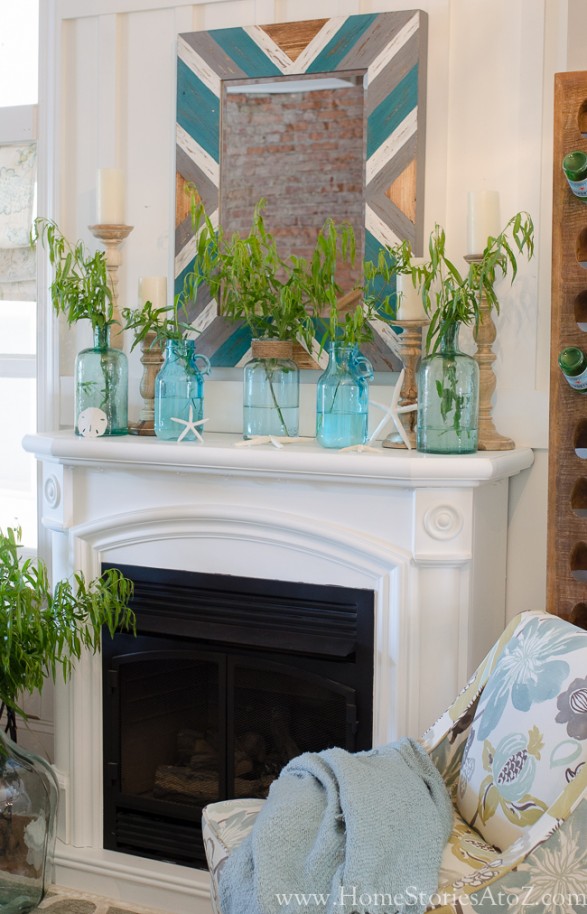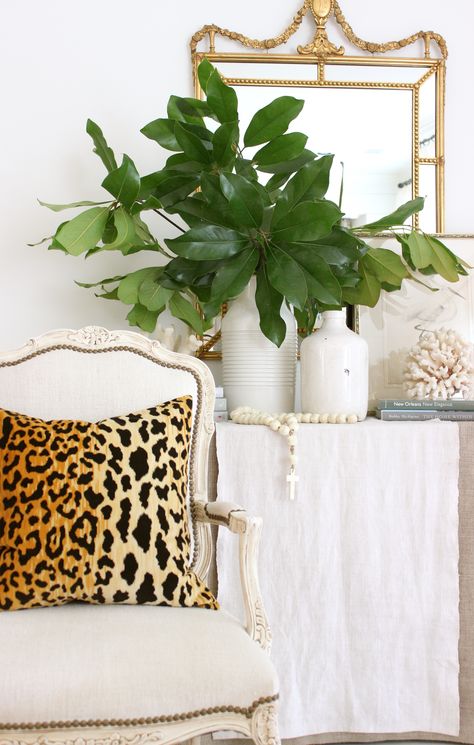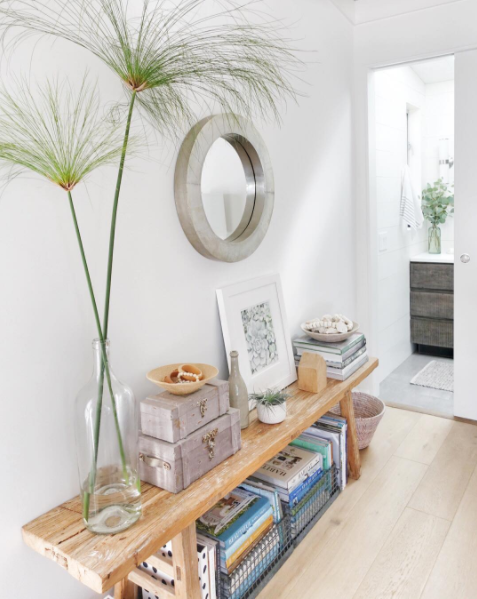 Don't forget that some of the best ways to decorate with greenery are with clippings from evergreen shubs like boxwoods, holly and gardenia.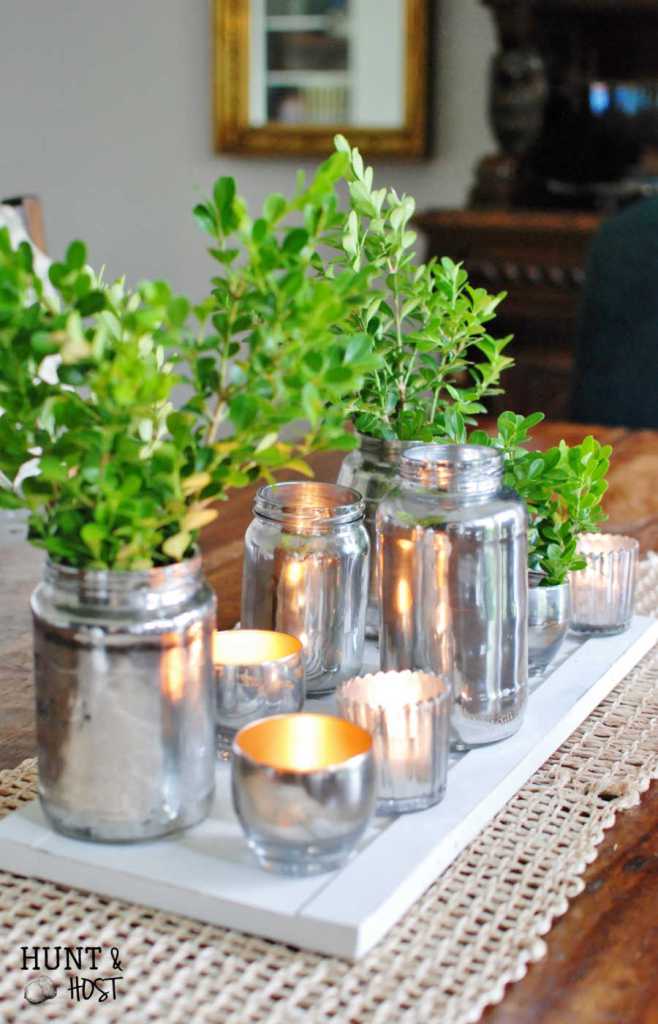 And an unexpected way to decorate with greenery is to create kokedamas (Japanese Moss Ball Planters). Click HERE to follow the easy tutorial on how to make these whimsical and decorative living additions to your home!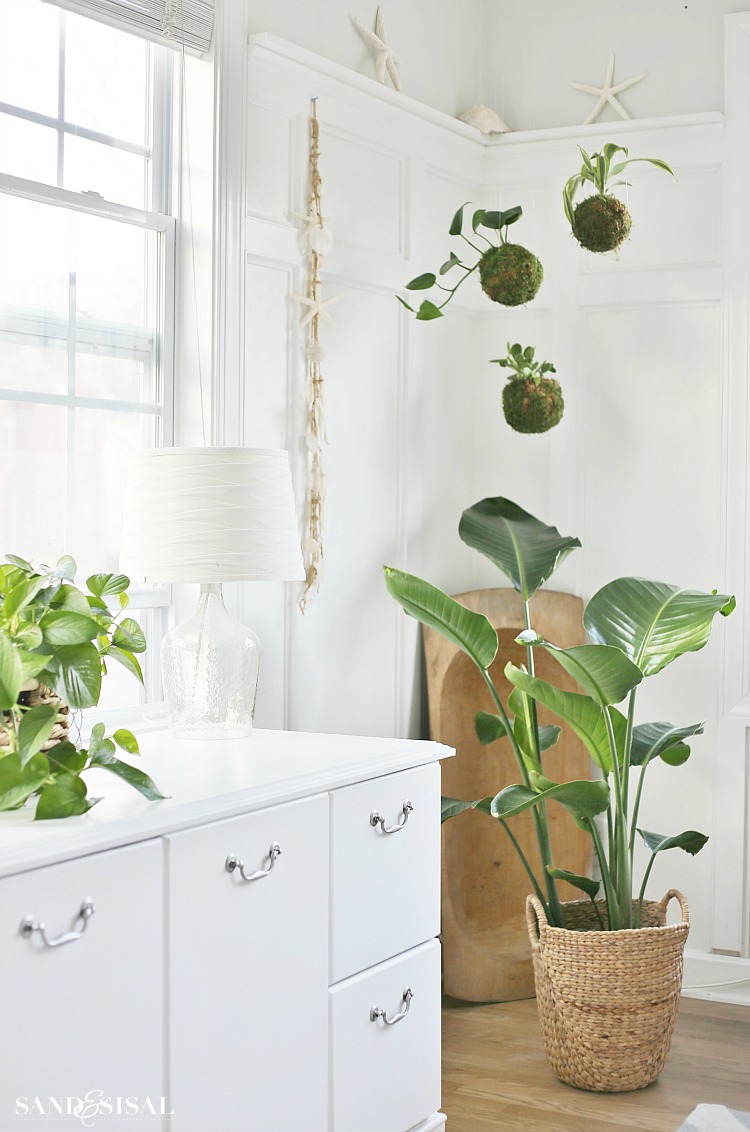 Decorating with greenery is not only economical, long lasting, and beautiful, but also implements natural elements that can express you and your personal style.
Shop this post! Click on any of the items below get the look. (affiliate links provided for your shopping convenience)
Happy Decorating!
KIM