This week marks my 6th blogiversary! In all my 6 years of blogging can you believe I've never shown my entire master bedroom? To be honest, I'm a rather private person and keeping one room in my house completely unrevealed over the years helped me feel less vunerable and exposed to the world. Guess that's about to change. Walk up stairs and come take a Classic Coastal Christmas Bedroom Tour with me!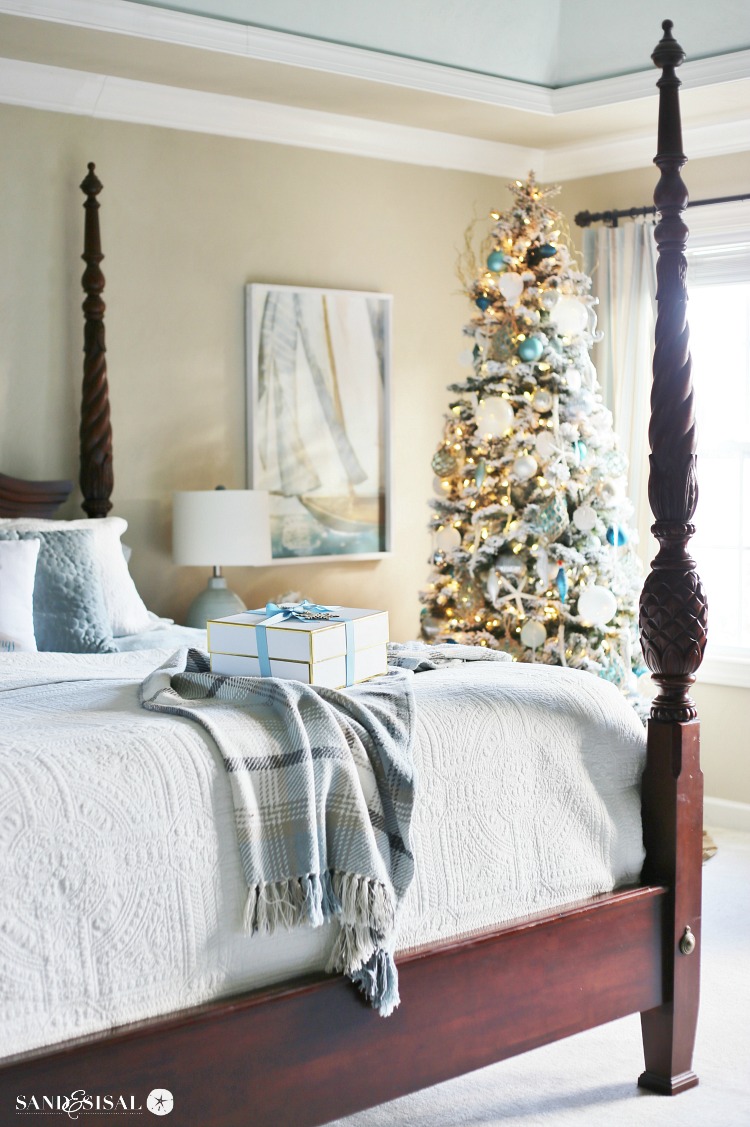 Our master bedroom is  one room in our home that is very traditional compare to the rest of the house. In 24 years of marriage I've learned how to coexist with a husband who has a different style than I do. He loves dark wood and classic furniture. My design influence is slowly rubbing off on him so this room will most likely get updated eventually…. heehee. In the meantime, I'd like to stay married so I won't push it and promised that I wouldn't paint all the furniture white…. yet.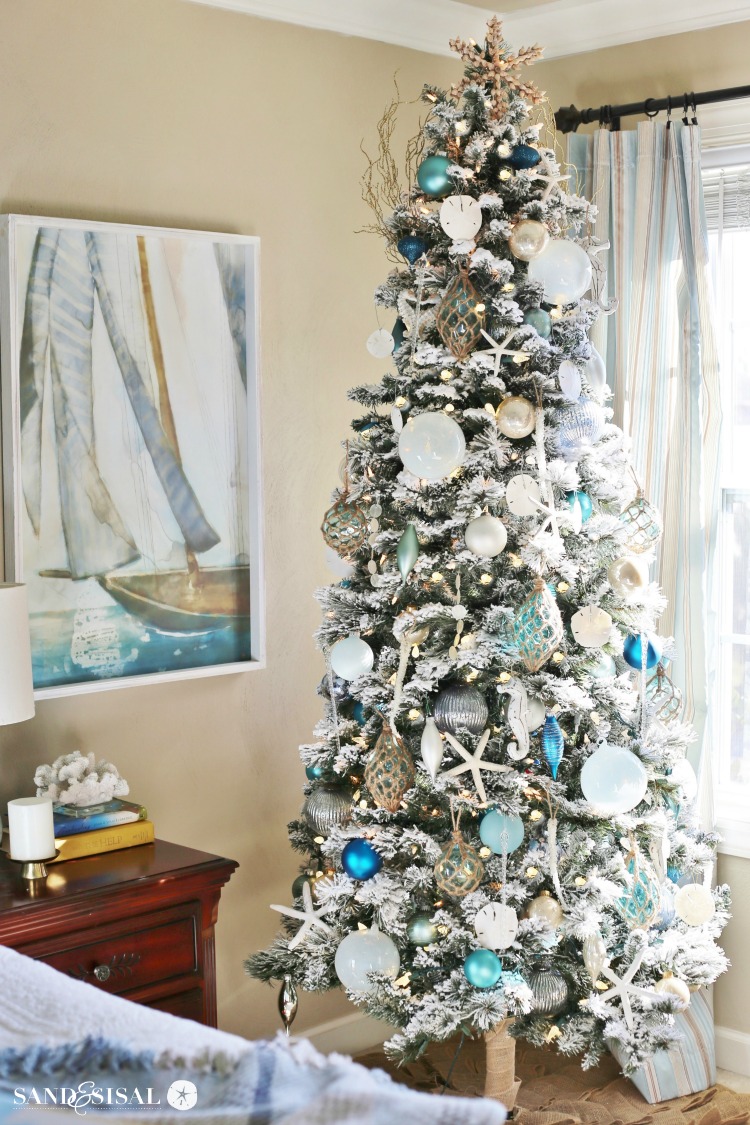 We have 2 family themed Christmas trees downstairs, all decked out in red and white, so this year the coastal Christmas tree headed to our bedroom! I've never had a tree in my bedroom so this is special!
This tree was an old prelit tree that was in not the greatest shape. Half the lights didn't work and I considered tossing it. Instead I thought, why not flock it? If you have never flocked a tree you have got to try it! So easy! The process is messy but easy and it looks AMAZING now! You can purchased the snow flock (affliliate link) HERE.
All of the sea glass ornaments and glass float ornaments look so beautiful nestled in the snowy branches.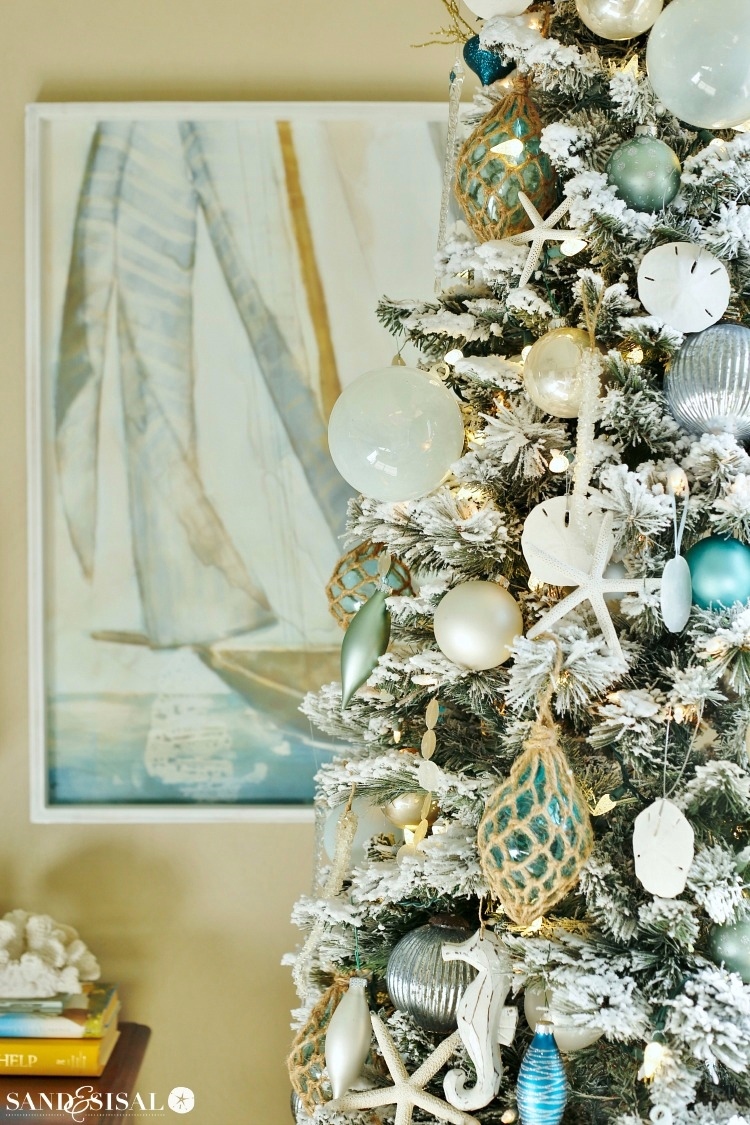 Years ago we painted our walls Urban Putty and the tray ceiling in Rainwashed (both by Sherwin Williams). These colors were the first of the coastal color palette in our home. They remind me of sand and sky. Rainwashed is what we used in our laundry room too.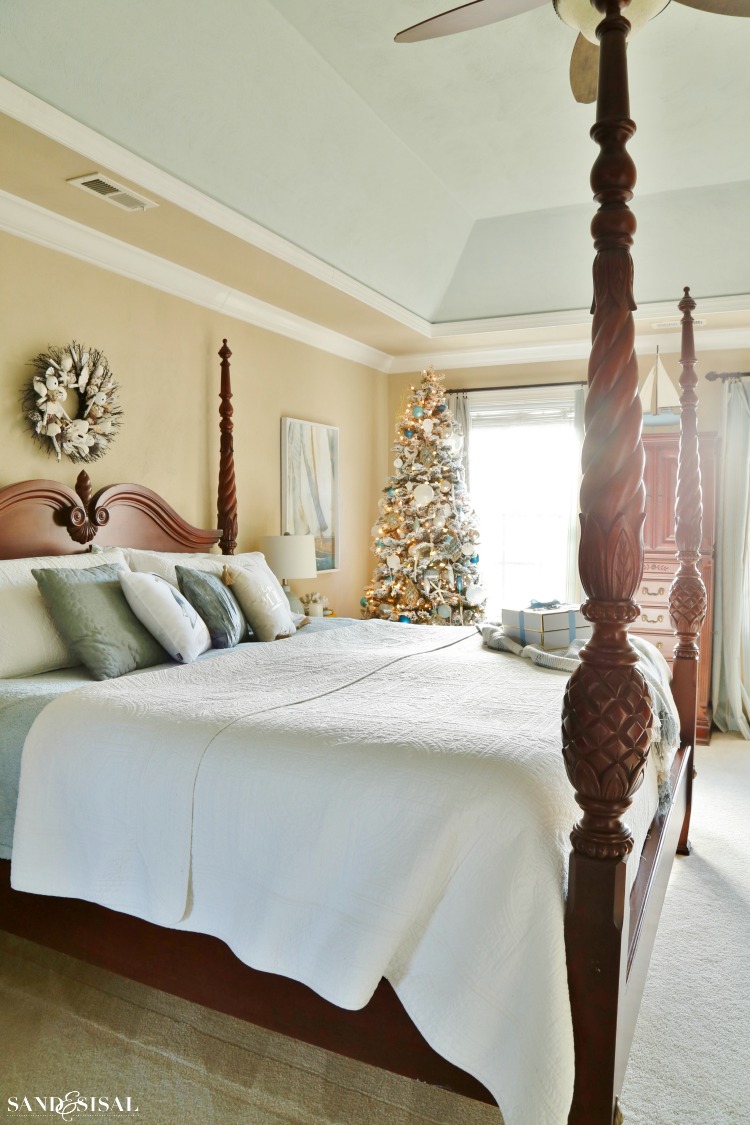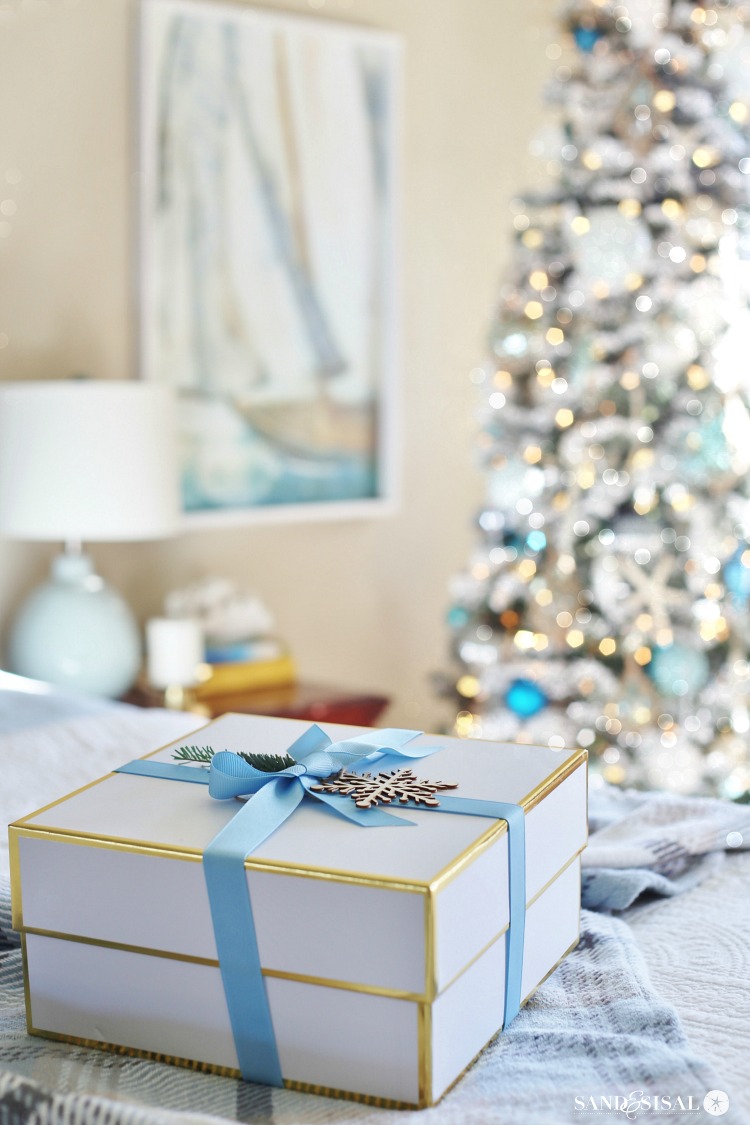 Simple touches like a twig and sea shell wreath above the bed and a variety of coastal Christmas pillows dress up the space.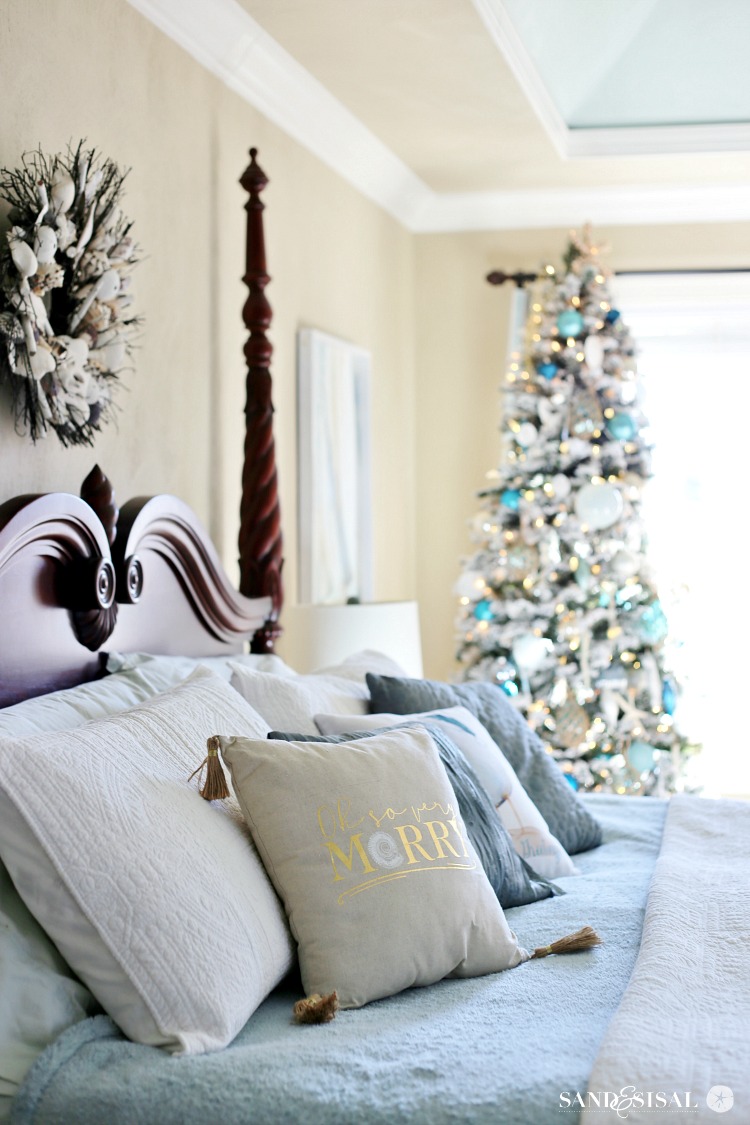 I love the linen and gold coastal pillows with tassels. They are available online or instore at OC Local Fare, a cute shop in my hubby's hometown Huntington Beach, CA.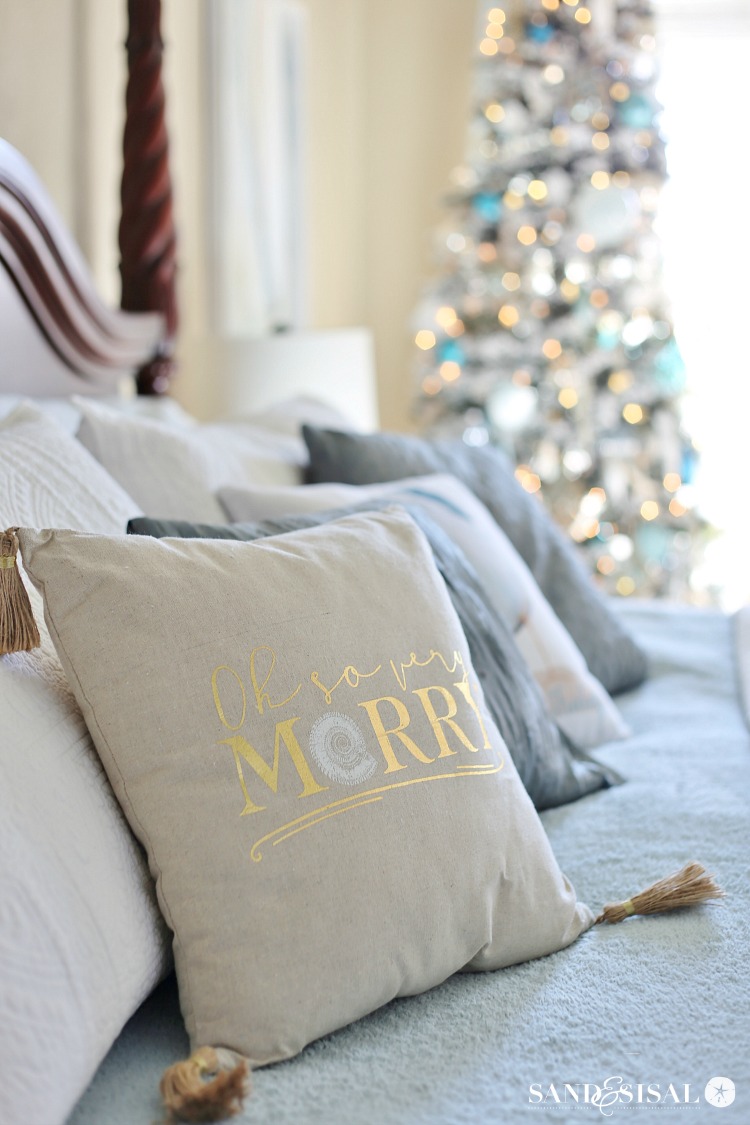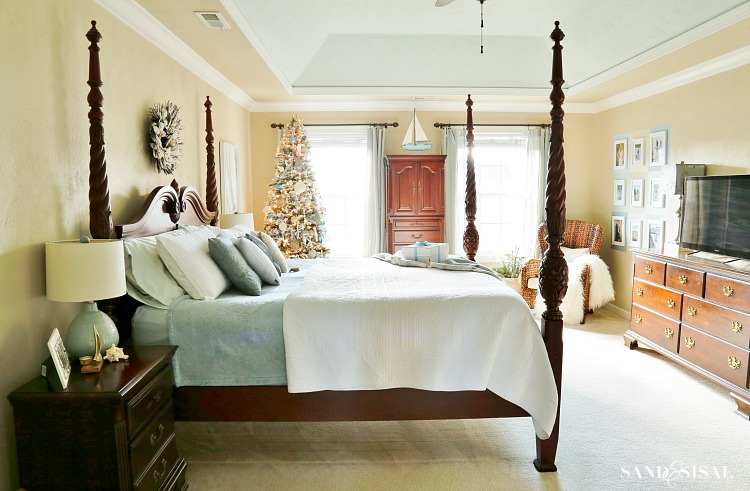 The woven abaca chair is my favorite place to curl up with a good book or spend some quiet time.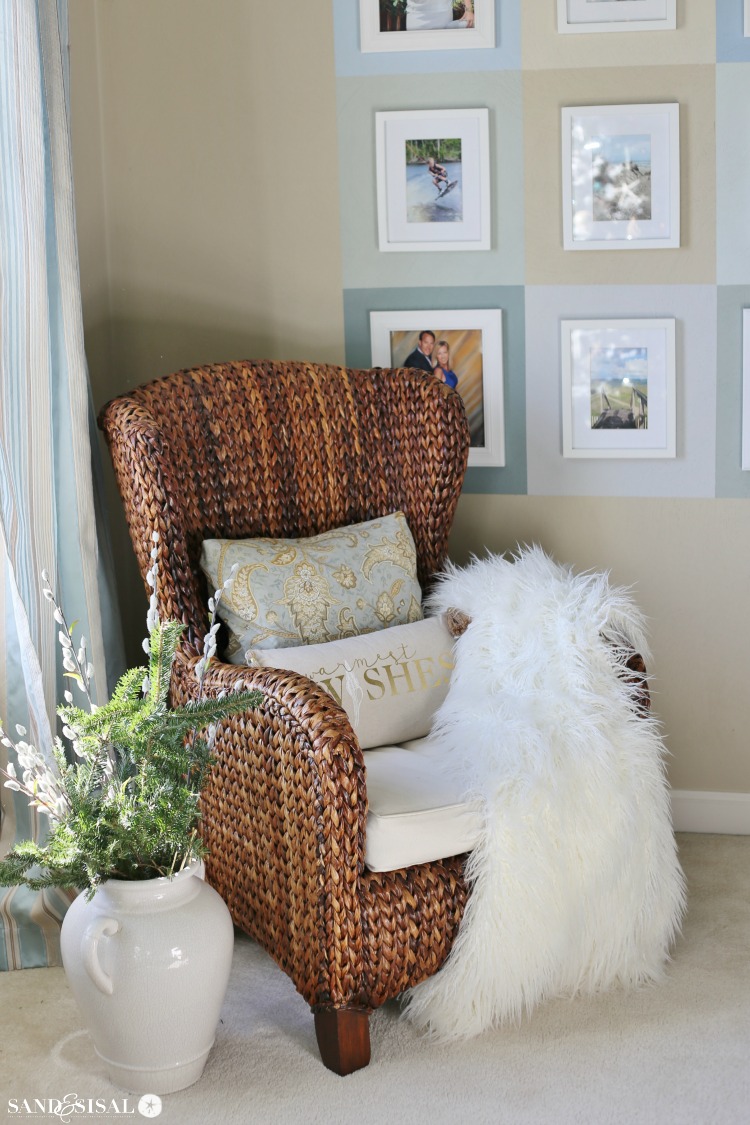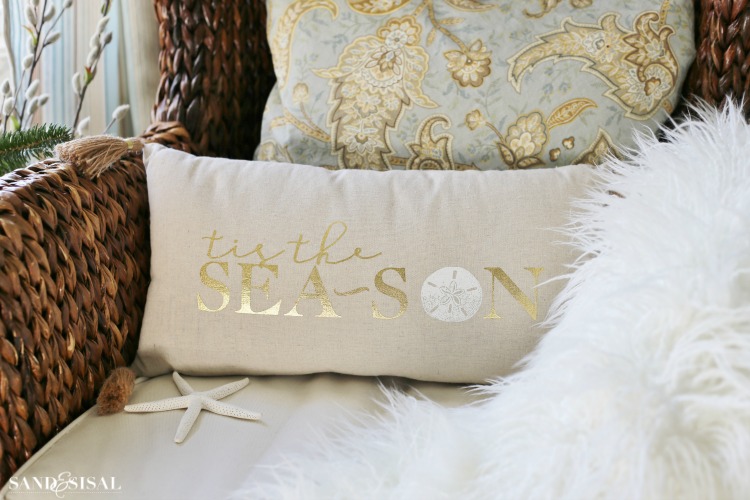 Here is a view of the other side of our bedroom and a little peek into the bathroom, which is a total wreck at the moment so I won't be show that today!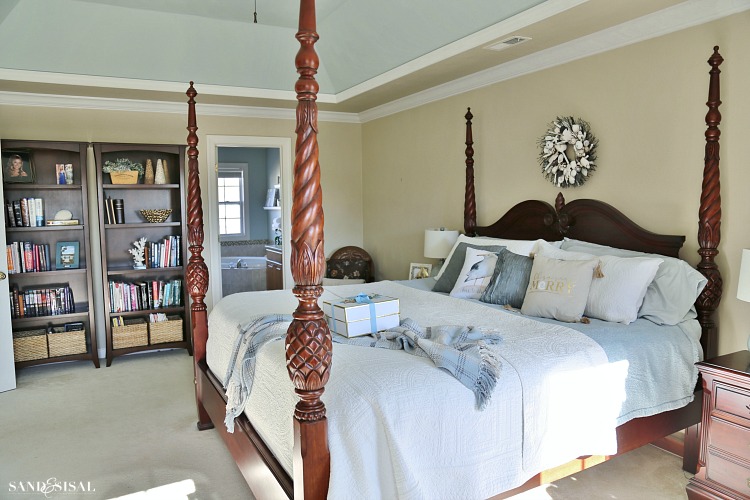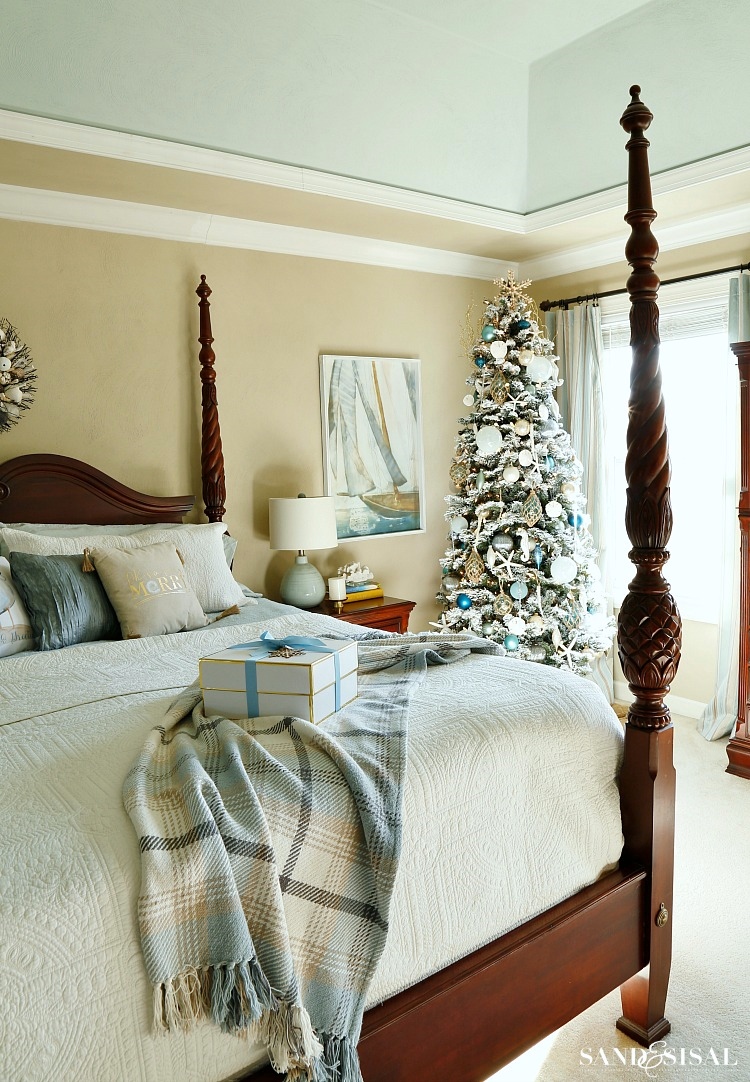 So there it is! Nothing to hide anymore in this house, except maybe the kids' laundry! I hope you liked our classic coastal Christmas bedroom. Tonight I'm going to try to take photos of the tree. It is absolutely magical at nighttime!
Have a very merry coastal Christmas!
KIM