I hope your holidays have been fabulous! New Year's Eve is upon us and I have a delicious and easy appetizer that will be a guaranteed crowd pleaser! I made these sweet and spicy Cranberry Orange Meatballs for a cranberry cocktail party and a Christmas party. The meatballs were a huge hit. The next day I had several texts asking for the recipe. The best thing about this hearty appetizer is that you can make it in one pan or in a slow cooker and it requires just a few ingredients.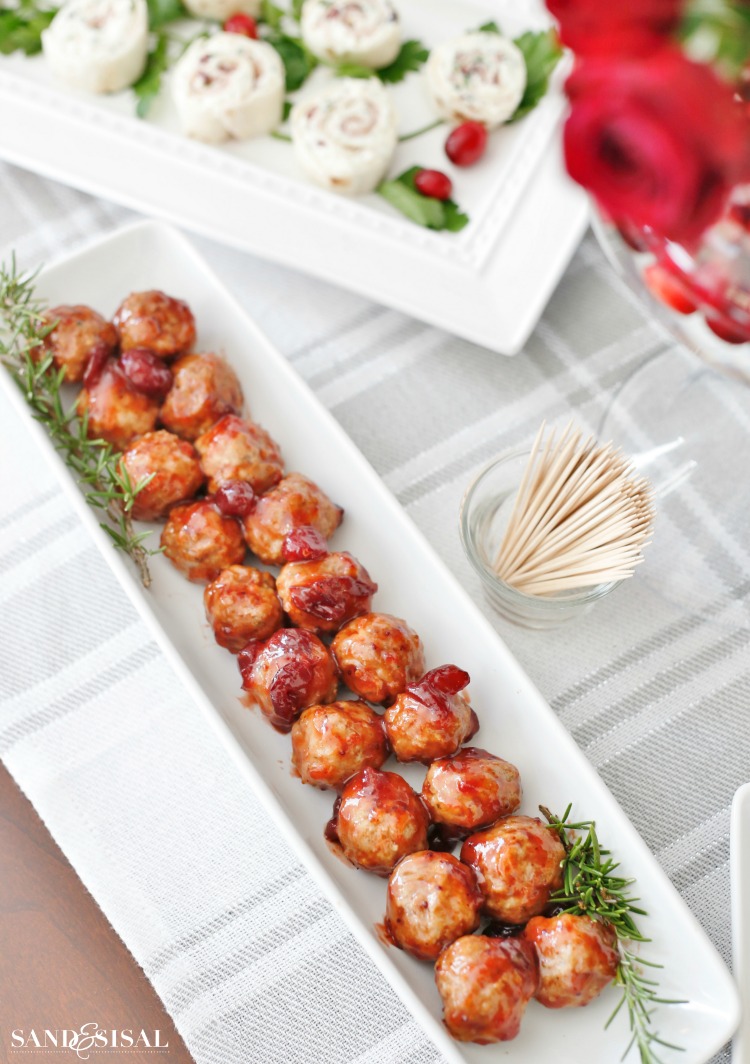 The most important thing when making Cranberry Orange Meatballs is to use a quality meatball. I like to use Target's Market Pantry Fully Cooked Meatballs.  They are located in the frozen food section. They offer a few varieties of meatballs. For this recipe the plain beef meatballs or even the plain turkey meatballs are the ones you want to choose. I do not recommend using Italian style or Italian spiced meatballs.  One bag has approximately 50 meatballs.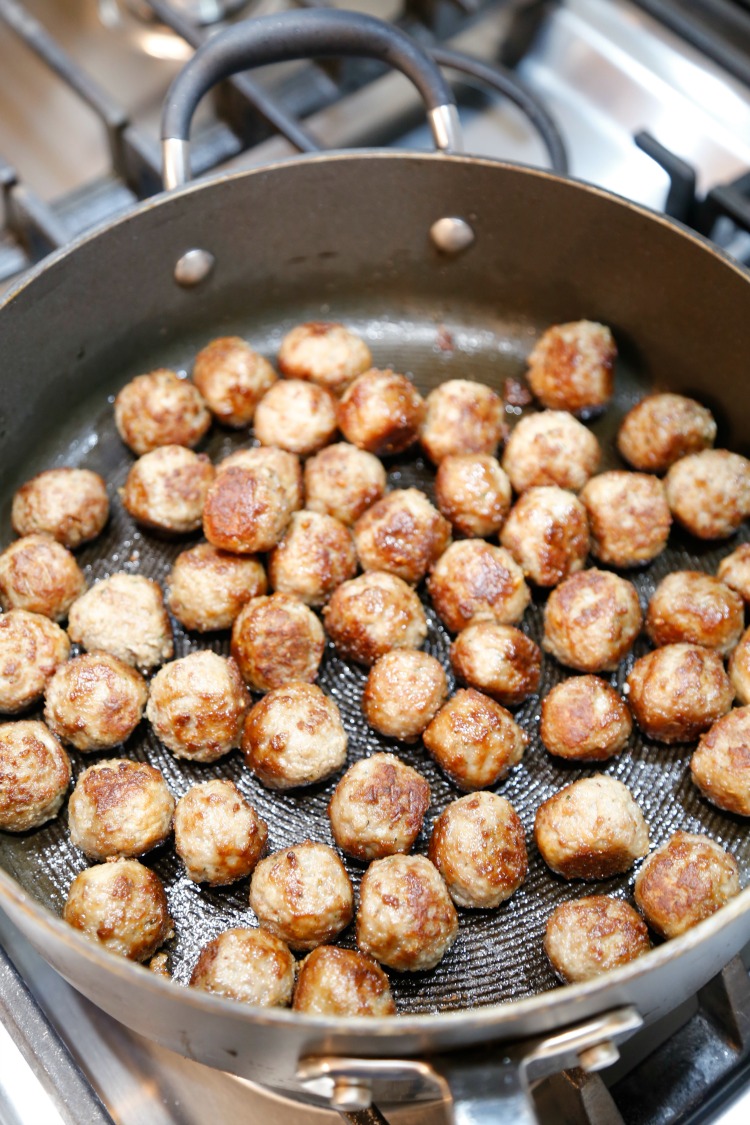 These meatballs can be made in a pan or you can put all the ingredients in a slow cooker. My personal preference is to make them in a pan. The first step is to heat 2 tablespoons in a large pan over medium high heat. Add the frozen meat balls to the hot pan in an even layer and stir. Allow the meatballs to brown on all sides. Browning is not necessary but I like the extra flavor it gives.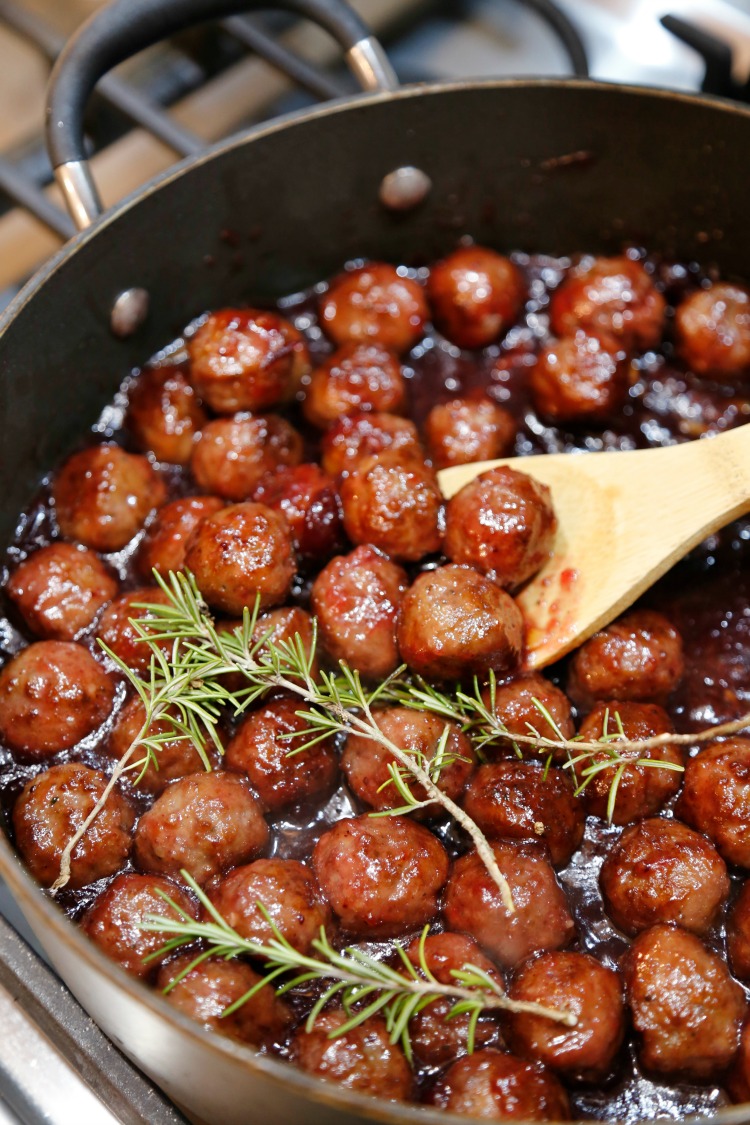 Turn the heat down to medium low. Stir in 1 can of whole cranberry sauce, 1/4 cup orange marmalade, 1/4 cup of your favorite spicy barbeque sauce. Stir until well combined. Add in 1 tablespoon of grated orange zest and 2 or 3 sprigs of fresh rosemary (or 4 if you are a rosemary lover like me!). You can substitute 1 teaspoon of dried rosemary if fresh isn't available. 
Heat until bubbly and the meatballs are heated all the way through. Remove the woody rosemary stems before serving. Serve directly out of a slow cooker or tranfer to bowl or line up on a decorative plate. 
These cranberry orange bbq meatballs are sweet and tangy with just a little smokey heat and herby goodness! They are perfect for a cocktail party, Christmas gathering or New Year Eve party. I hope you try them for your next special occasion! 

Sweet & Spicy Cranberry Orange BBQ Meatballs
These sweet and tangy meatballs are the perfect appetizer for a crowd. They can be made in a pan or in a slow cooker. They will be the hit of the party!
Ingredients
1 bag fully cooked plain beef meatballs (I recommend Target Market Pantry brand)
1 can whole cranberry sauce
¼ cup orange marmalade
¼ cup spicy barbeque sauce
1 tablespoon fresh orange zest
2-3 fresh rosemary sprigs (or 1 teaspoon dried rosemary)
Instructions
Heat a large pan on medium high heat.
Add 2 tablespoons of oil to the hot pan.
Add the fully cooked package of frozen meatballs to the pan in an even layer and brown the meatballs on all sides.
After browning, turn the heat down to medium low.
Add in the whole cranberry sauce, marmalade and barbeque sauce.
Stir to combine well.
Sprinkle in orange zest an rosemary.
Heat unitl bubbly and meatballs are heated through.
Remove rosemary stems before serving.
Don't forget to PIN IT!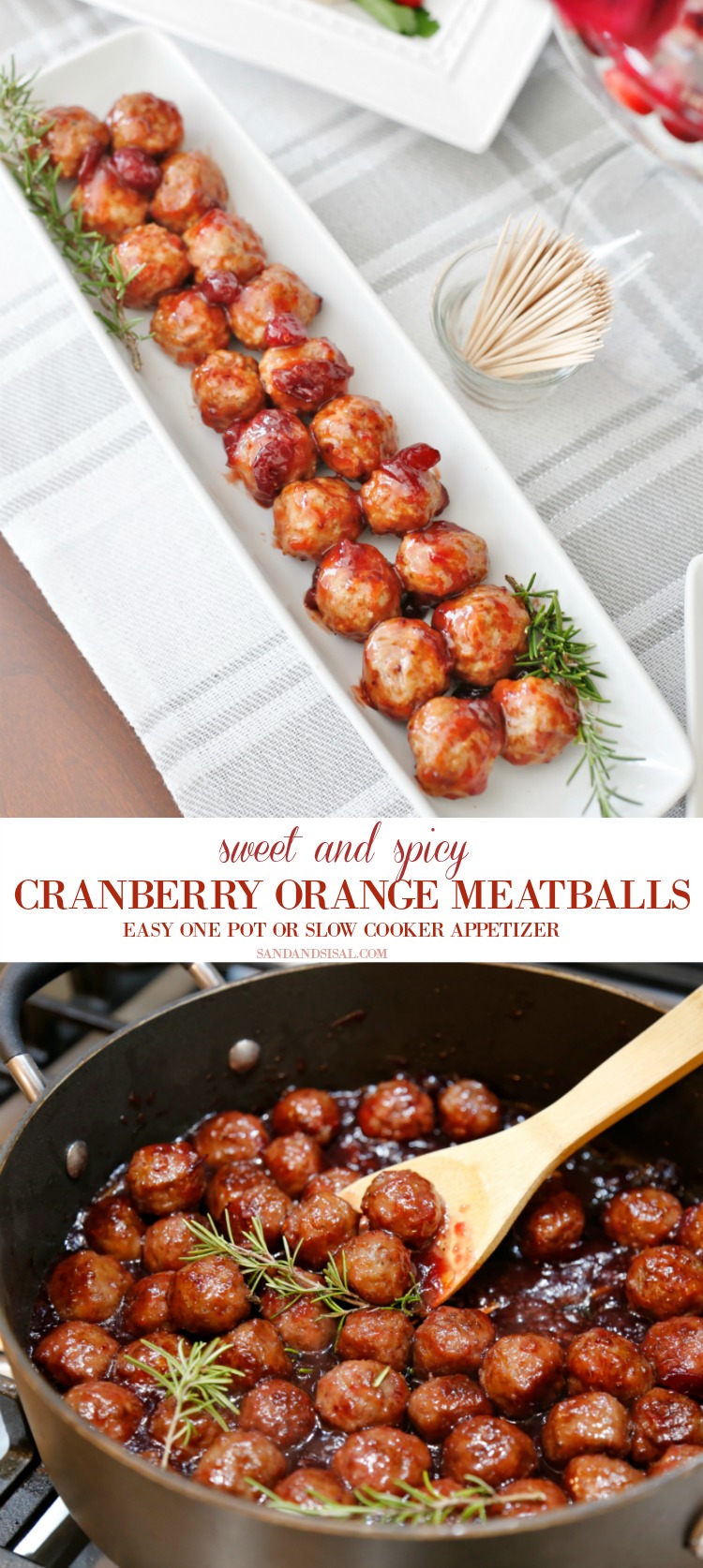 You might also like these posts!
Host a Crantastic Cocktail Party – Cranberry Drinks & Appetizers