Today is all about celebrating the cranberry! I am so excited to show you how to Host a 'Crantastic' Cocktail Party. We will be sampling some of my favorite sweet, tart, and savory cranberry drinks and appetizers. The ultimate cranberry cocktail party is a must-do this holiday season!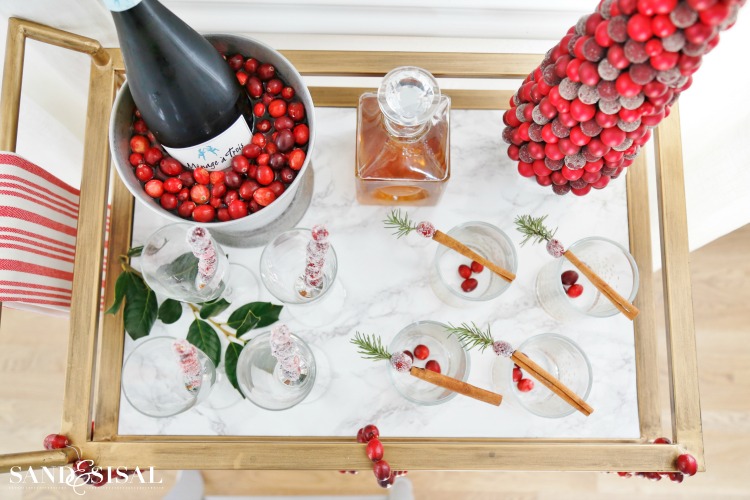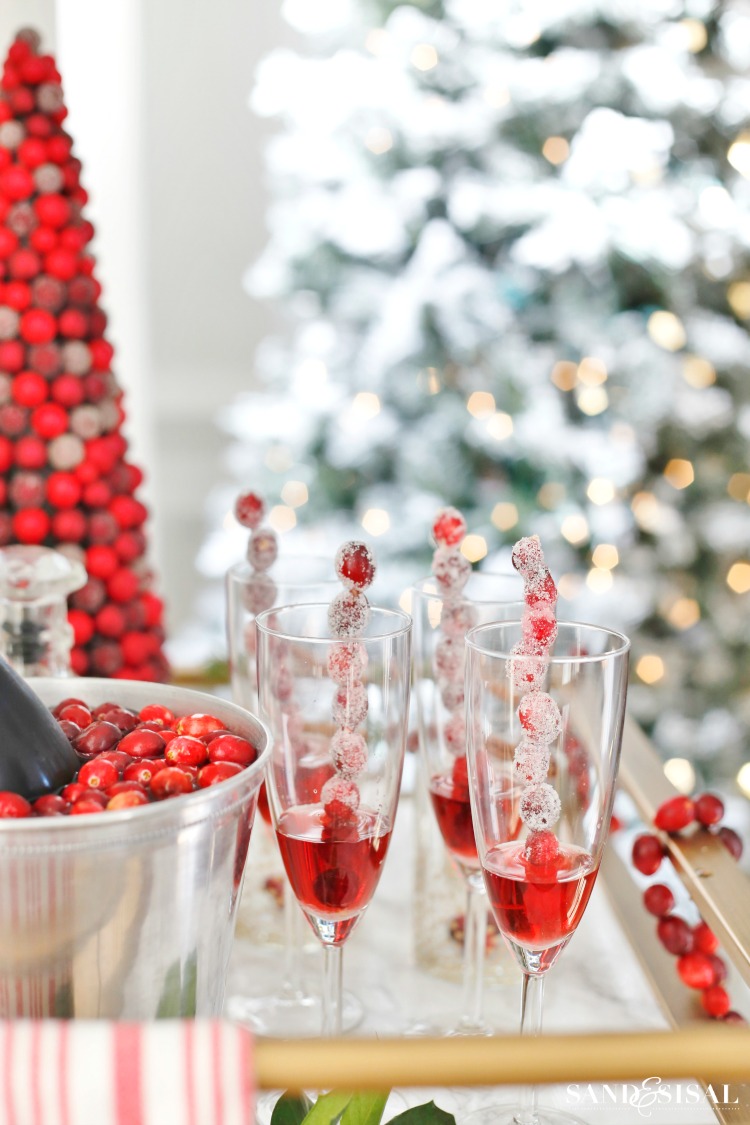 The first drink on the menu is a super simple one that is hands down, a winner! Let's make some sparkly Sugared Cranberry Spritzers. Pour 1 ounce of 100% cranberry juice into a champagne flute. Pour in blubbly Prosecco and garnish with a sugared cranberry stir stick.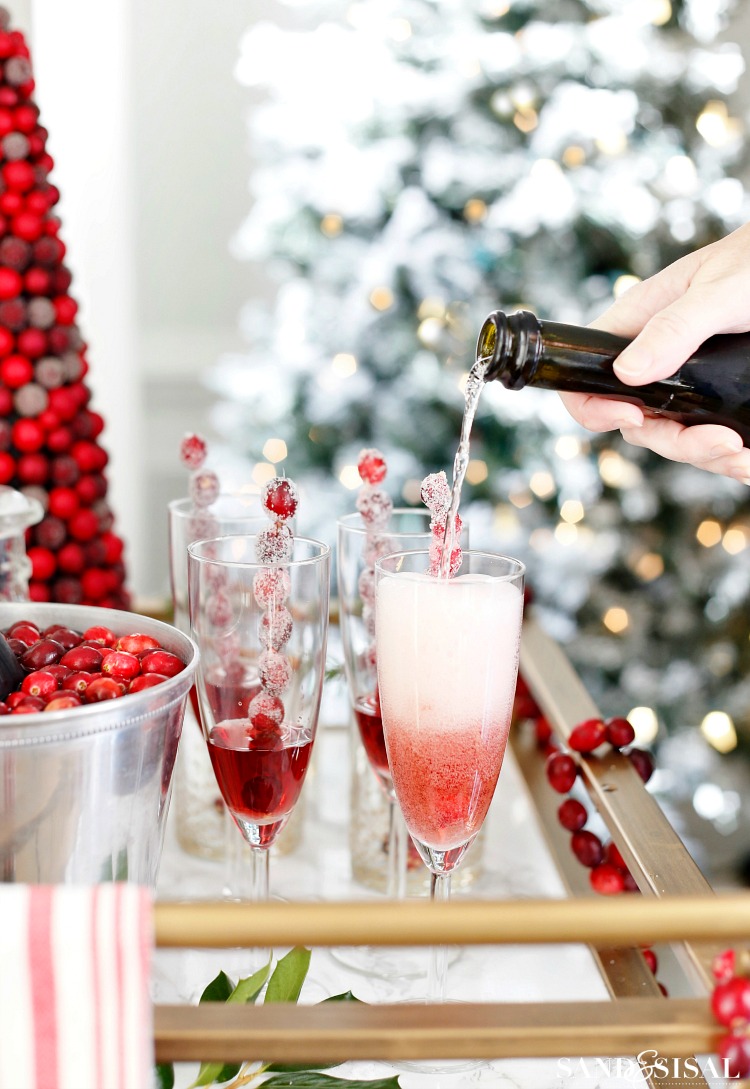 This drink gives you all the effervescence with just a touch of sweet-tart cranberry natural flavor and pretty pink blush. It's not to sour and not too sweet. The sugared cranberries are edible and so delicious!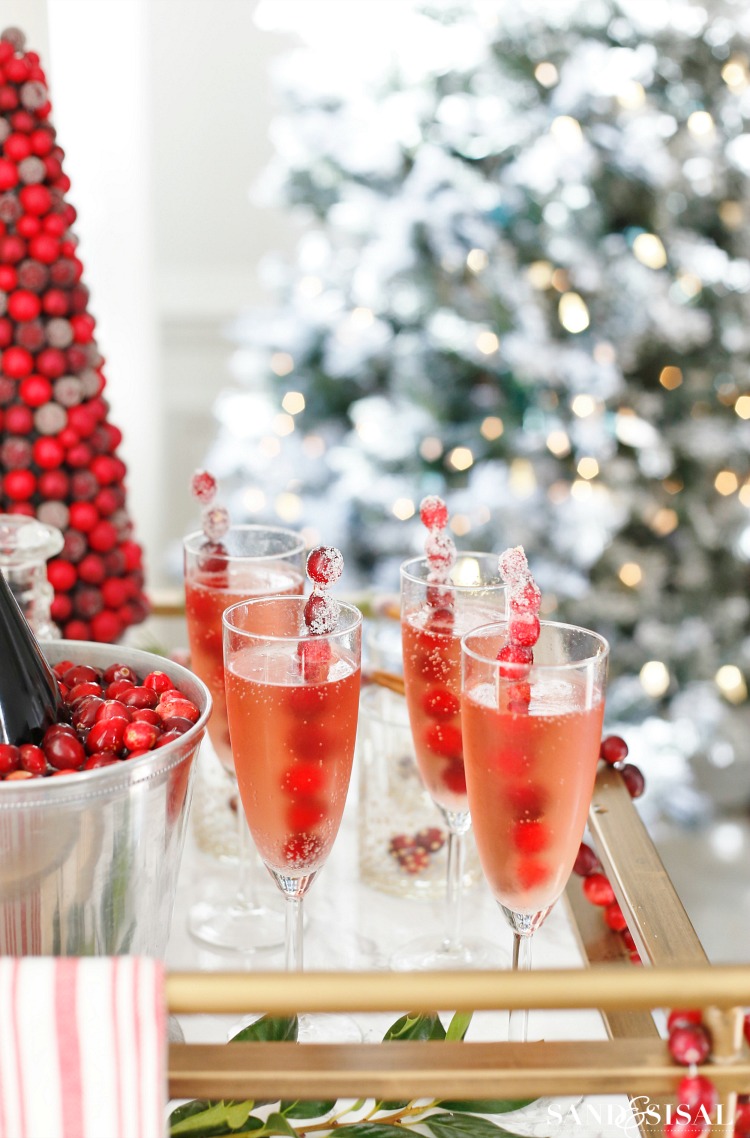 Keep a bottle of Prosecco chilling on the bar cart in a cranberry, water, and ice filled ice bucket. Isn't it the cutest cranberry idea ever?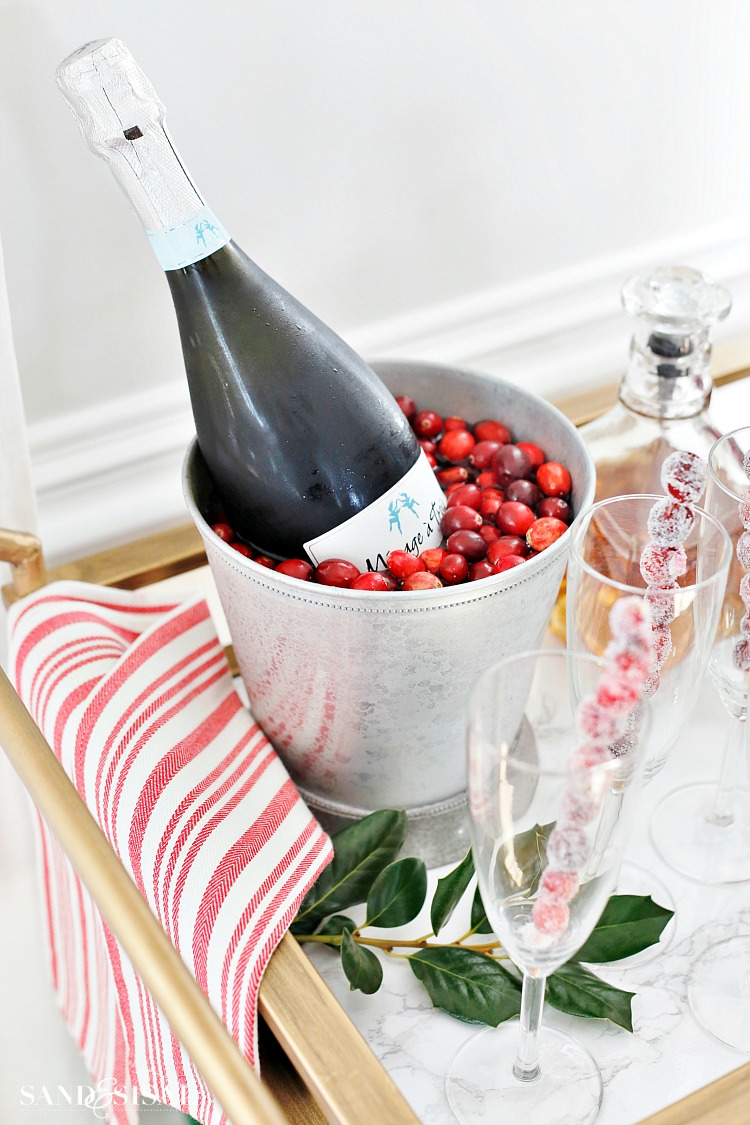 When hosting a cranberry cocktail party, don't forget to deck the bar cart out in cranberry splendor. I strung fresh cranberries to create a festive garland. This cranberry garland is so easy to make. My secret is to use dental floss! Yes, I use dental floss and a large needle to make a strong and beautiful cranberry garland strand. I remember as a child making cranberry and popcorn garland for our Christmas tree. It is such a fun and easy project and it will last for weeks.
Next up is our second drink for our crantastic cranberry cocktail party, Cranberry Apple Cider Punch. This drink can be served as a non-alcoholic holiday drink and is so refreshing and gorgeous! Start off with puting a few cranberries in the bottom of each glass. The stir sticks are made from cinnamon sticks and a rosemary sprig skewered through a sugared cranberry.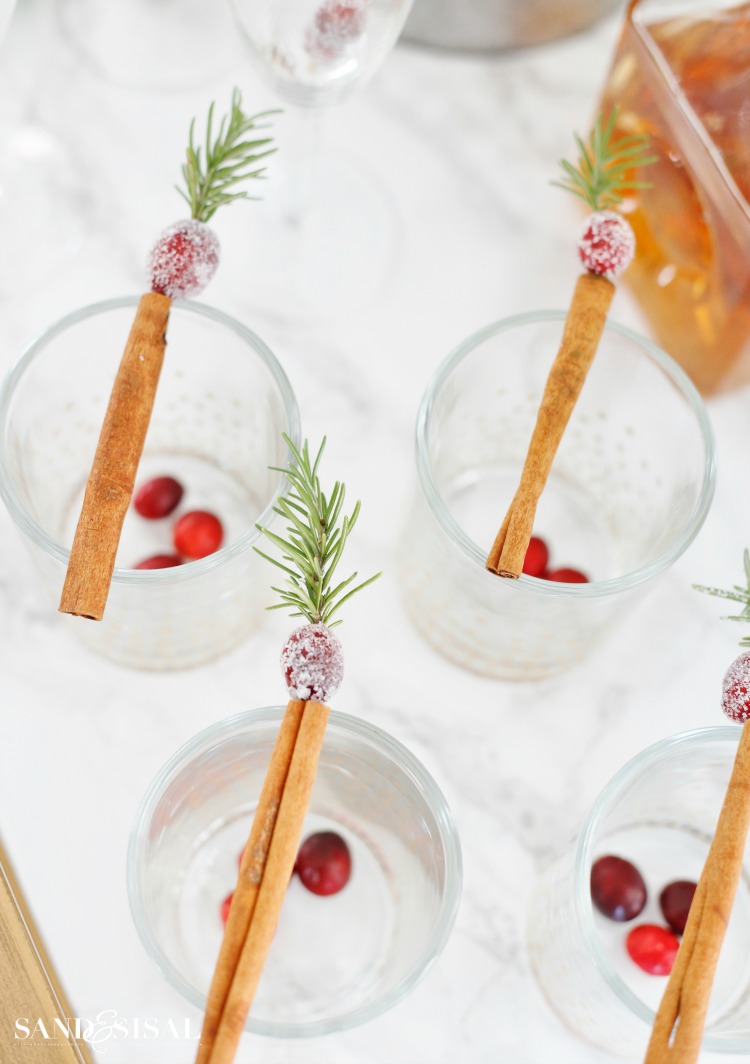 Fill each glass with icecubes and pour in apple cider 1/2 way. Top the glass off with Cranberry Apple Sparkling Cider. Pour it slowly so that the cranberry sparkling cider sits on top and creates a beautiful layered look. Pour in 1 ounce of spiced rum if desired and stir with cinnamon stick.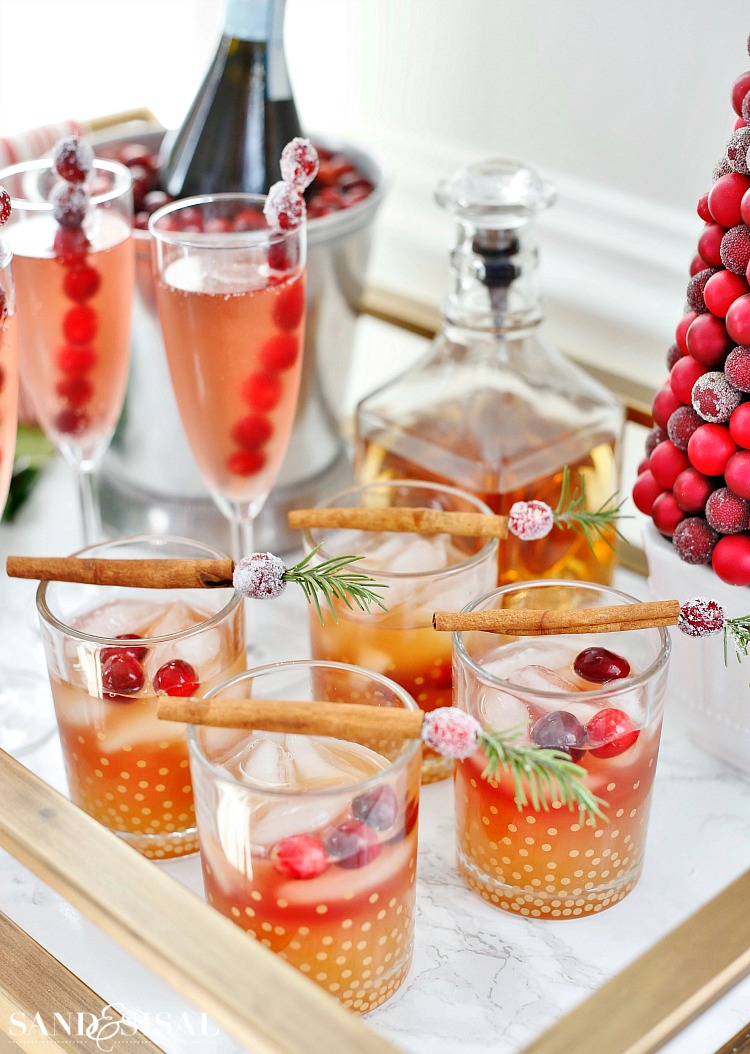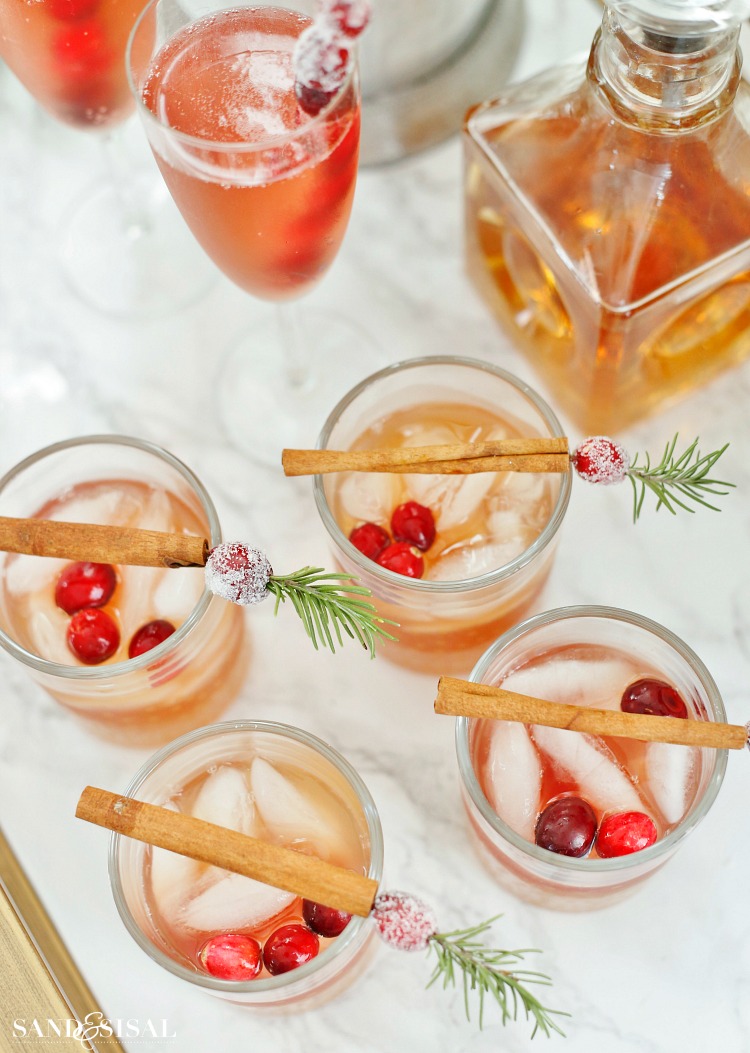 Every cranberry cocktail party needs a beautiful buffet filled with delicious cranberry appetizers and pretty cranberry decorations.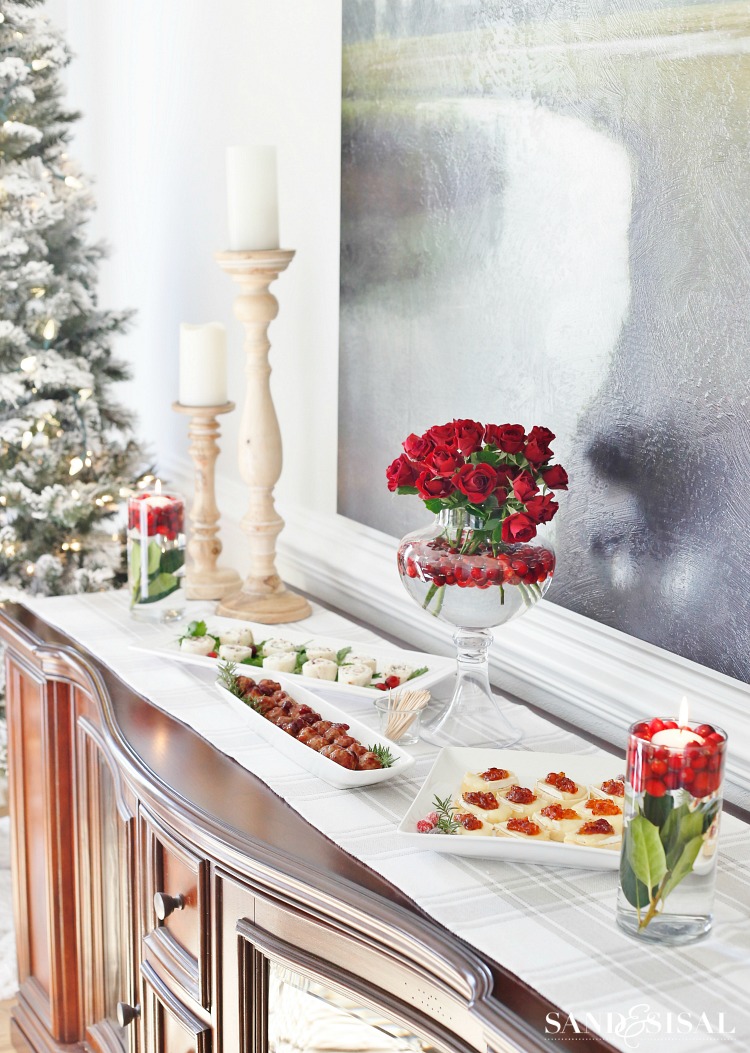 One of my favorite arrangements to make during the holidays is this gorgeous rose and cranberry centerpiece. It is so simple to create and looks stunning.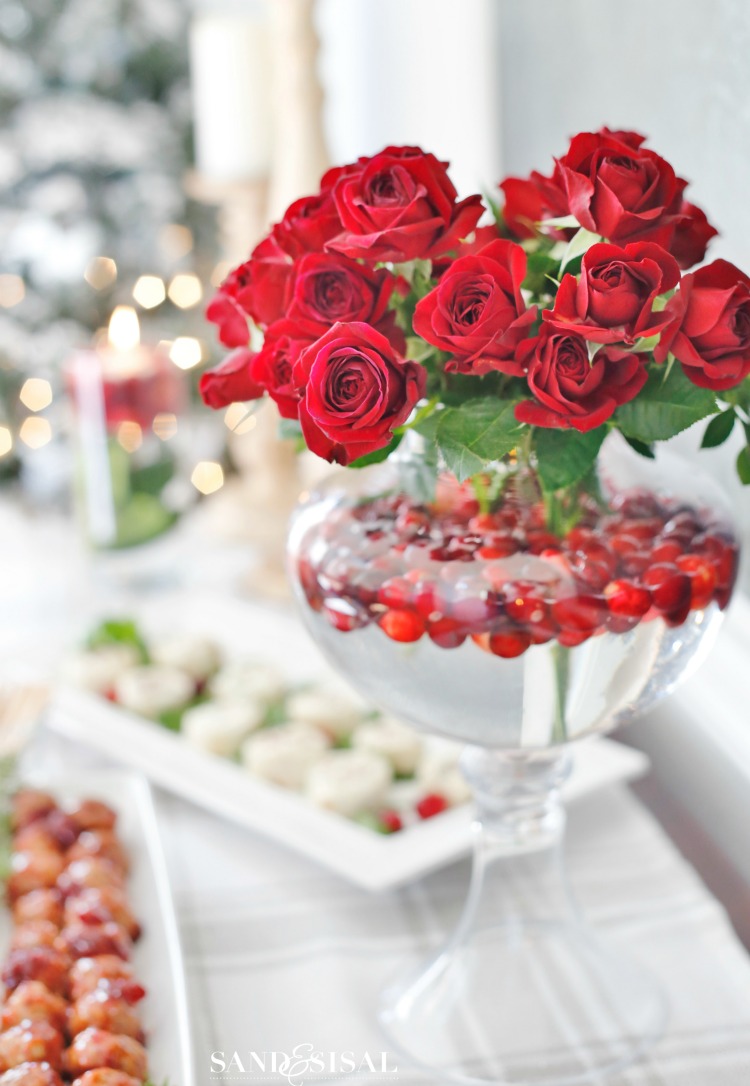 Illuminate the party with a few cranberry luminaries. Fill a clear glass vase 3/4 full of water, add in a sprig of holly and top with a few inches of cranberries and a floating candle. Simply beautiful and so easy!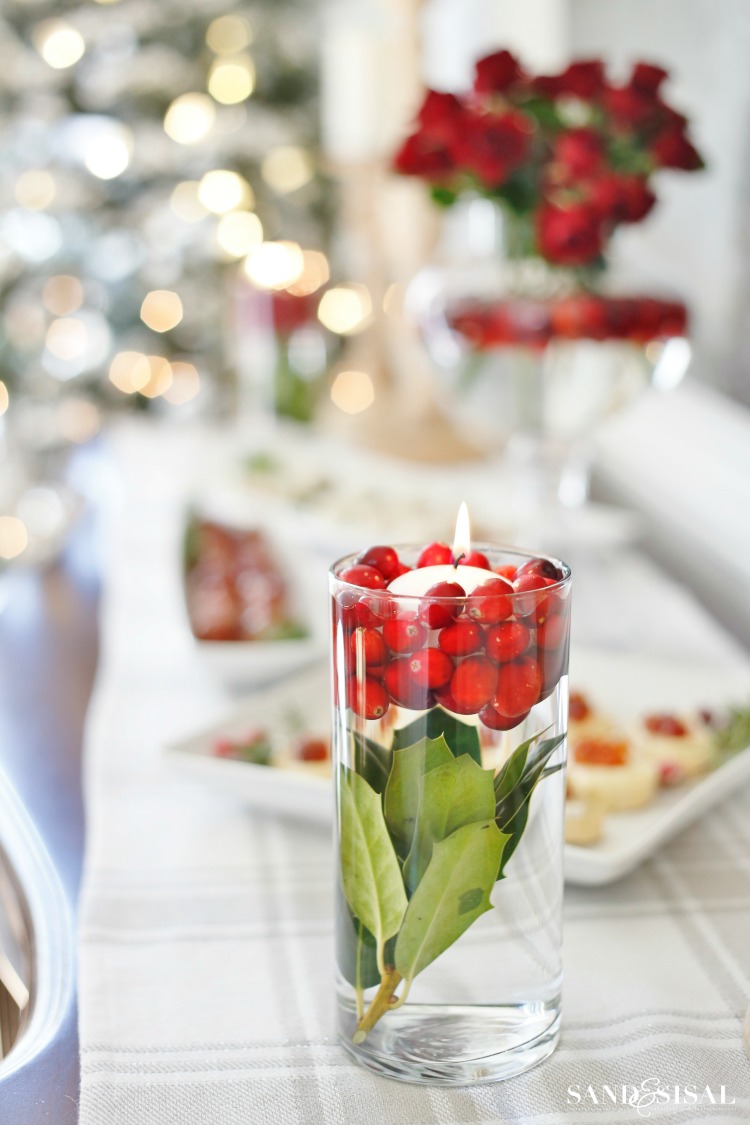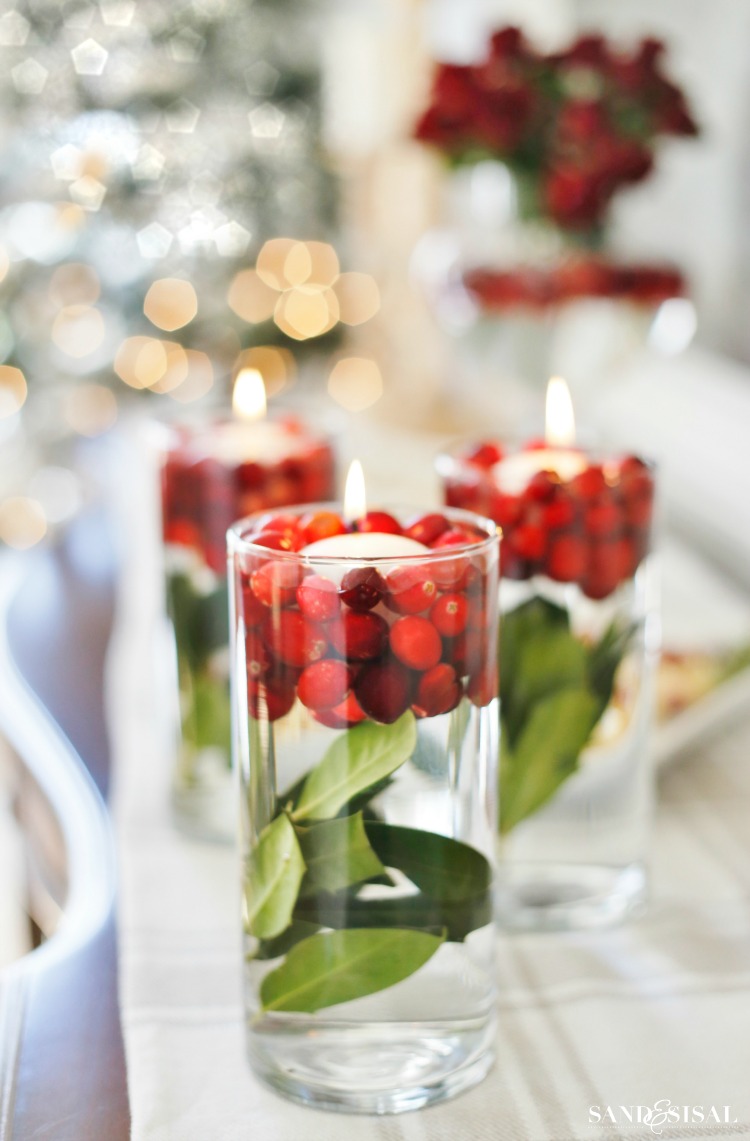 Getting hungry? How about some spicy cranberry glazed meatballs? Click here for the EASY CRANBERRY MEATBALL RECIPE! These are a serious crowd pleaser! I brought them to a few holiday parties and everyone was asking for the recipe!
Another easy holiday appetizer is Brie Crostini with Cranberry Pepper Jelly. These two cranberry appetizers are sweet, savory, spicy and delish!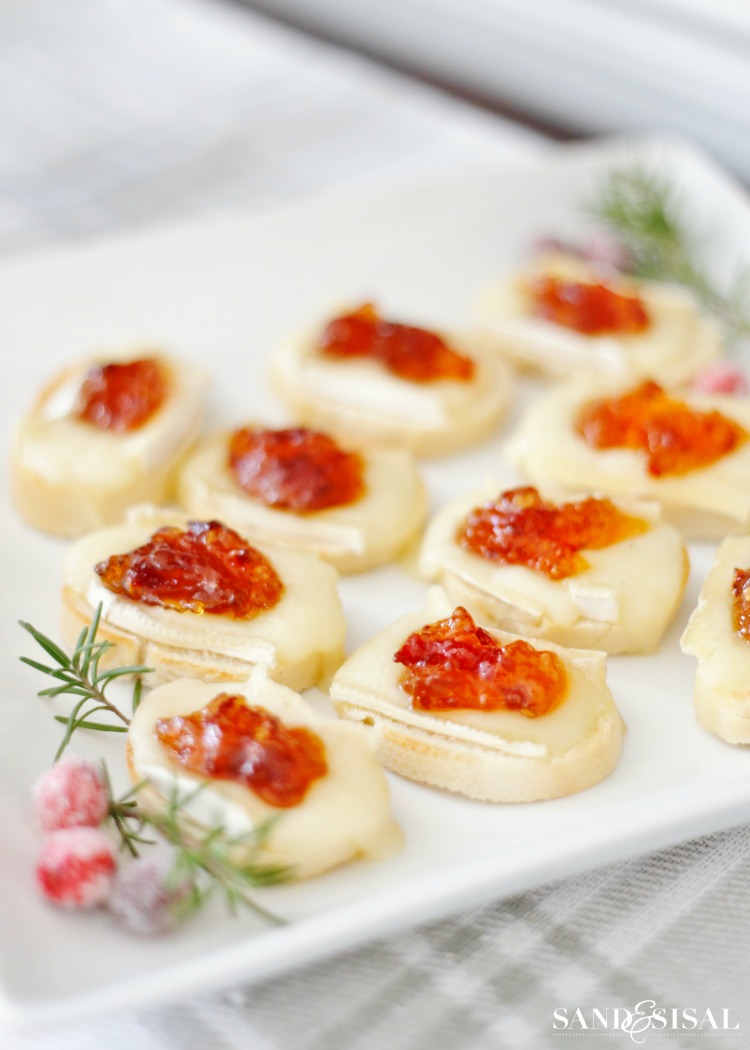 The last little cranberry recipe is Cranberry Turkey Pinwheels. Cream cheese, feta, turkey, and green onion and parsley fill these soft tortillas to make a satisfyingly simple appetizer. Full recipe coming this week!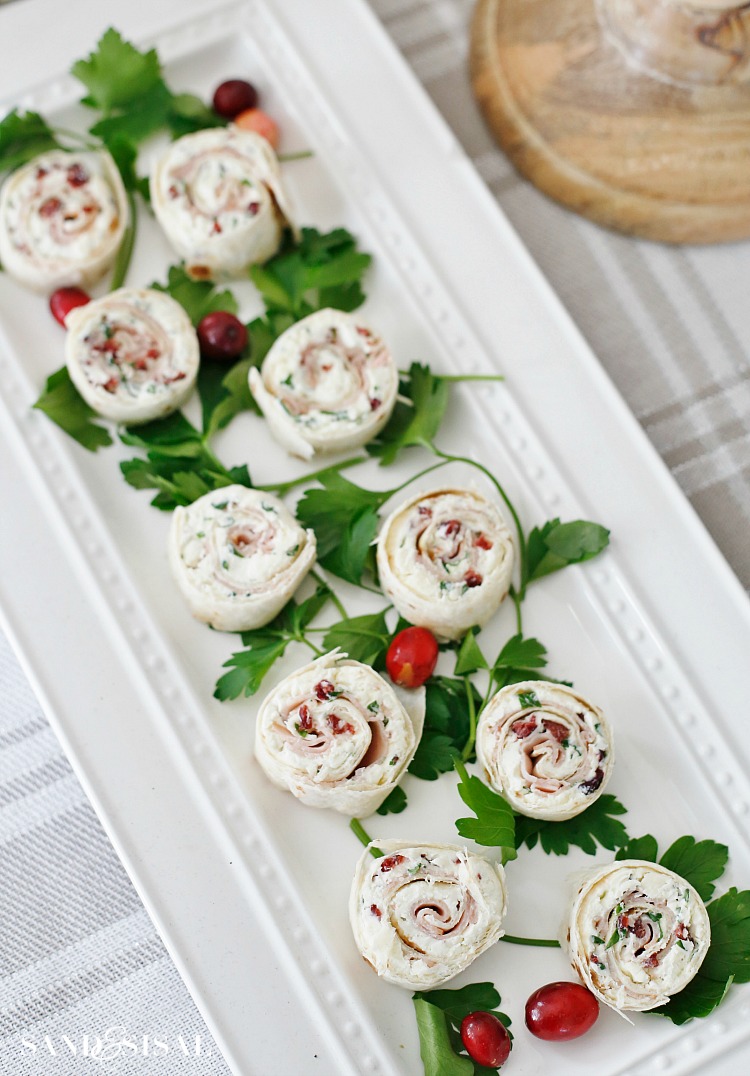 I hope you try some of these recipes for Friendsgiving, Thanksgiving, Christmas, and New Years! They are all so good!
If you have a cranberry recipe or decorating idea that you love then you need to enter the #FriendsgivingCranberryContest! The Cranberry Marketing Committee is launching its 3rd Cranberry Friendsgiving photo contest, giving entrants a chance to win $4000 in prizes for the most innovative cranberry drinks and decor.
1. Upload your photo on CranberryFriendsgiving.com to enter
2. Share your cranberry creation on Twitter, Facebook, Instagram or Pinterest with #FriendsgivingCranberryContest for a chance to win.
Special thanks to the Cranberry Marketing Committee for sponsoring this post!
Have a Crantastic Cranberry Cocktail Party!
KIM