This is a sponsored conversation written by me on behalf of Folgers® . The opinions and text are all mine.
The kitchen has always been the heart of the home. A multitude of memories were created in the kitchen, baking with my mom and sisters when we were young. Some of the most precious times and conversations I've had with my 4 children is when we get bake or cook together. My oldest, Morgan, is 21 and she has always loved baking with me, especially during the holidays. The beauty of having adult children is discovering the joy of having a friendship with your child. I have found 3 things that help people connect and in my family they are chocolate chip scones, coffee, and conversation!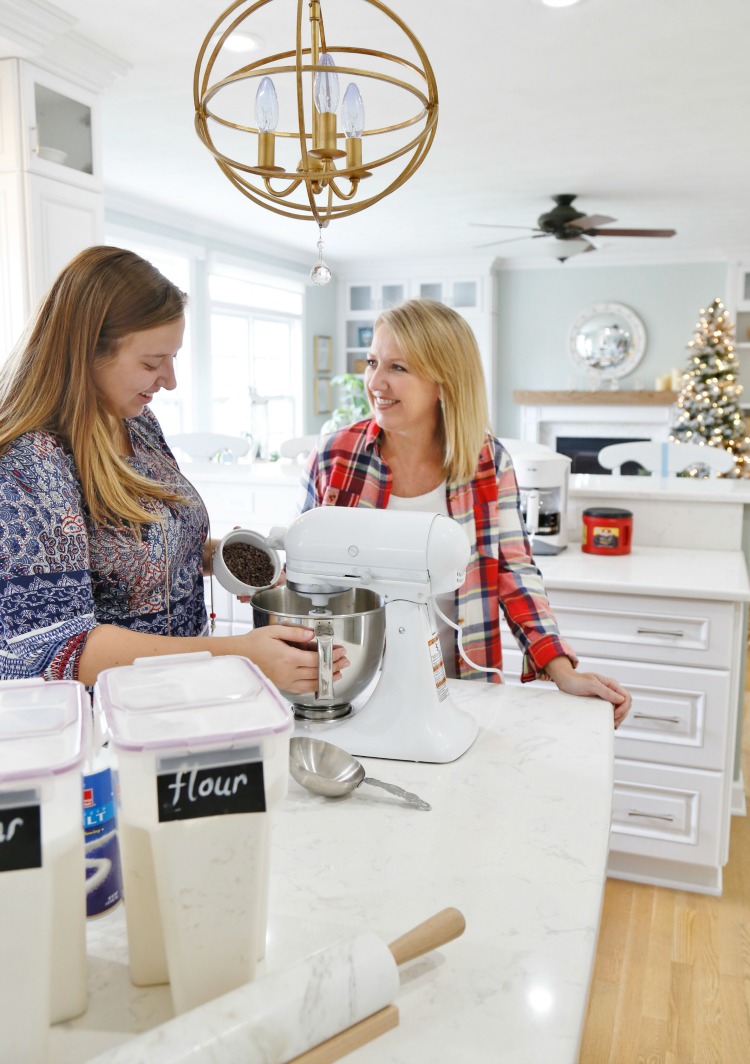 My mom is a master of scone making and she has passed down several easy scone recipes. I shared my mom's Cranberry Orange Scone Recipe and her beautiful beach house kitchen a few years ago. That recipe is crazy popular and one to try. Passing down traditions to my children is important, especially holiday family recipes. Morgan and I had the opportunity to share an afternoon together, just her and me. We poured a cup of Folgers© Black Silk coffee and made the most delicious and amazingly easy chocolate chip scones ever! This holiday season, one of my lovely partners, Folgers©, is teaming up with StoryCorps and the Great Thanksgiving Listen Program, encouraging families to share memories, traditions, and reconnect over a cup of coffee. They are offering all Sand & Sisal readers an opportunity to share your memories or traditions and the chance to win a real-life reunion with someone you want to connect with once again! I'll provide the link at the bottom of this post if you want to participate.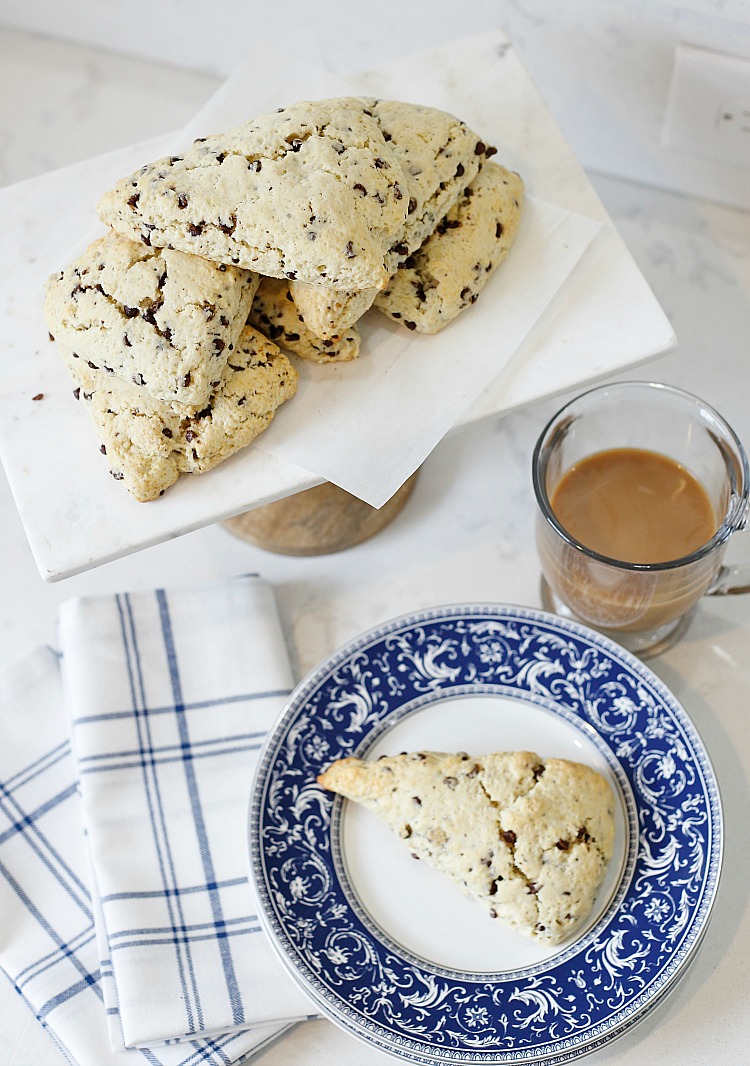 Let's get baking and making memories! Warm, delicious, tender chocolate chip scones are quite simple and can be ready in less than 30 minutes. Start brewing a pot of coffee to enjoy while baking and set your oven 425°. Gather your ingredients:
2 cups all-purpose flour
1/4 cup granulated sugar
1 tablespoon baking powder
1/2 teaspoon salt
1/2 cup mini semi-sweet chocolate chips
1 1/3 cup cold whipping cream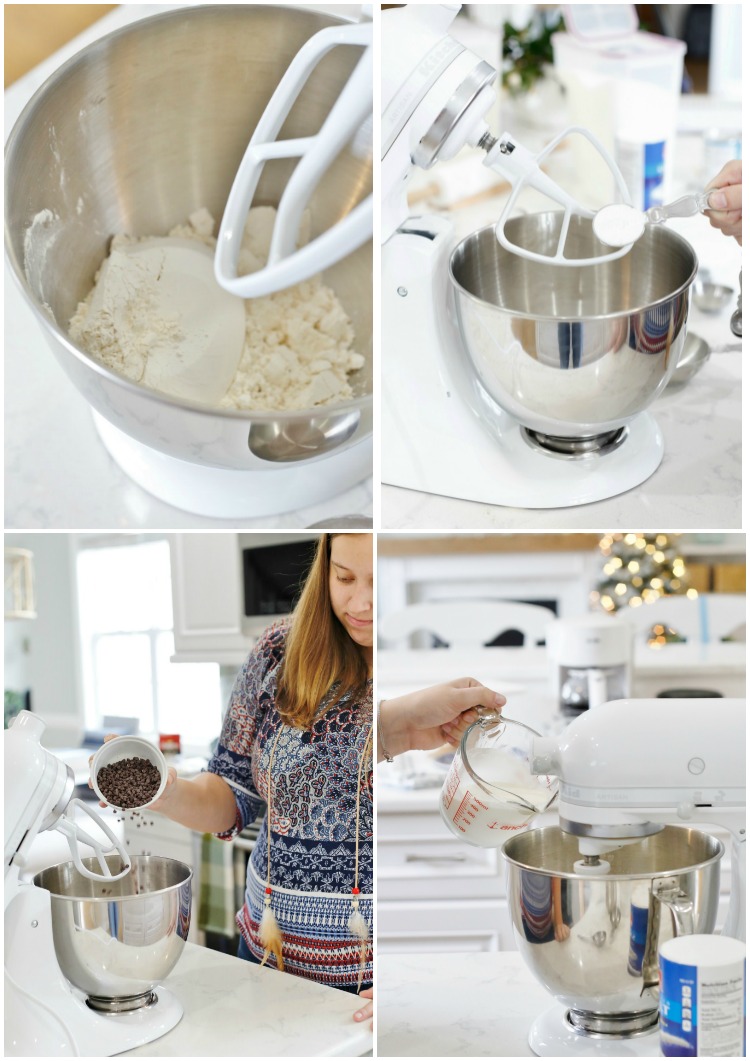 Measure and add all the dry ingredients into a mixing bowl. Sprinkle in the chocolate chips. Mix the dry ingredients for a few seconds. If you don't have a mixer just use a wooden spoon or spatula to combine. Slowly pour in the whipping cream and mix only until combined. Do not over mix.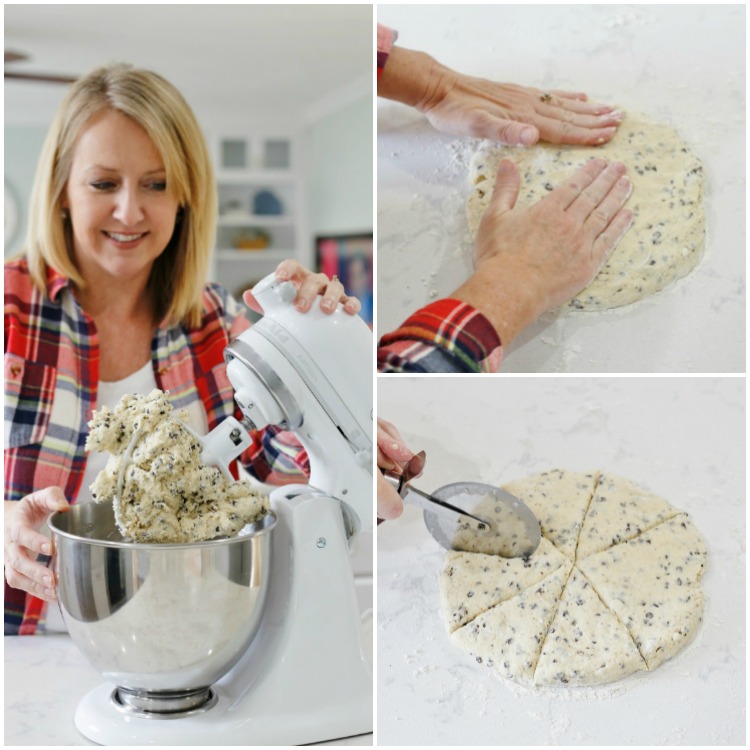 Place the chocolate chip scone dough onto a lightly floured surface and form into a ball. With your hands, press the dough ball into 10 inch circle. Cut the dough into 8 pieces with a pizza cutter. Place the cut scones onto a parchment paper lined baking sheet. Bake in a preheated oven at 425° for 13-15 minutes.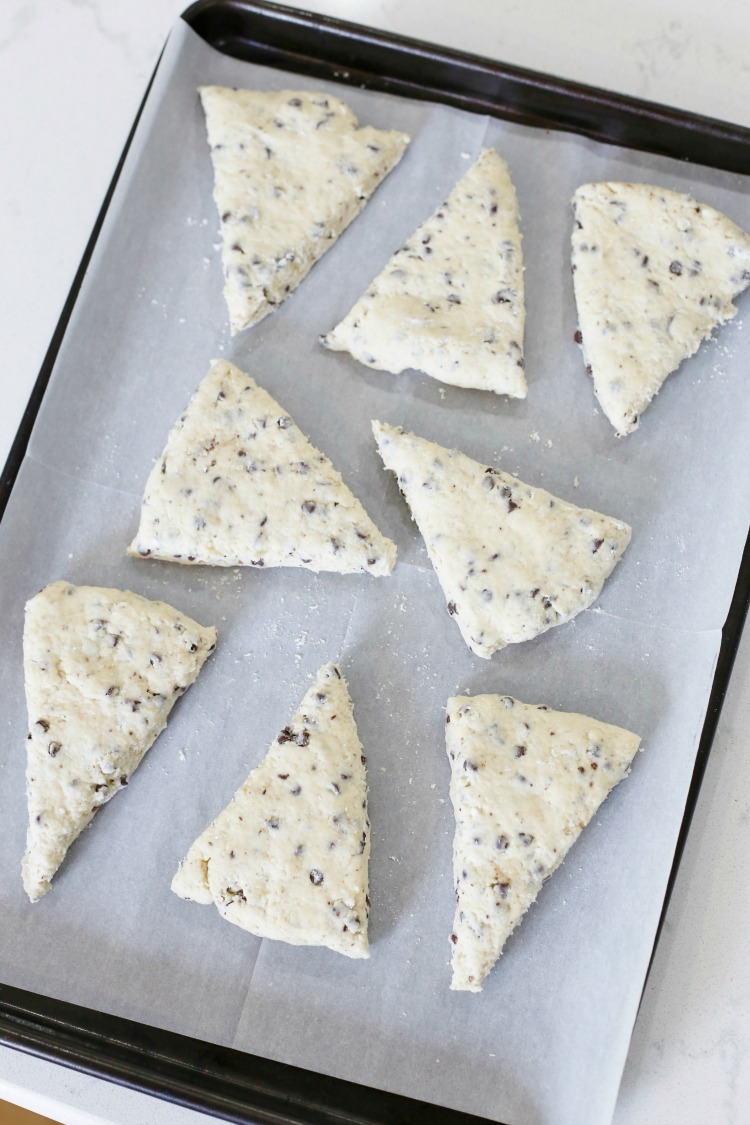 Get ready for your kitchen to smell amazing! Morgan and I sipped our coffee, chatted about everything happening in her life, and I was able to share a family favorite that she will one day pass down to her kids.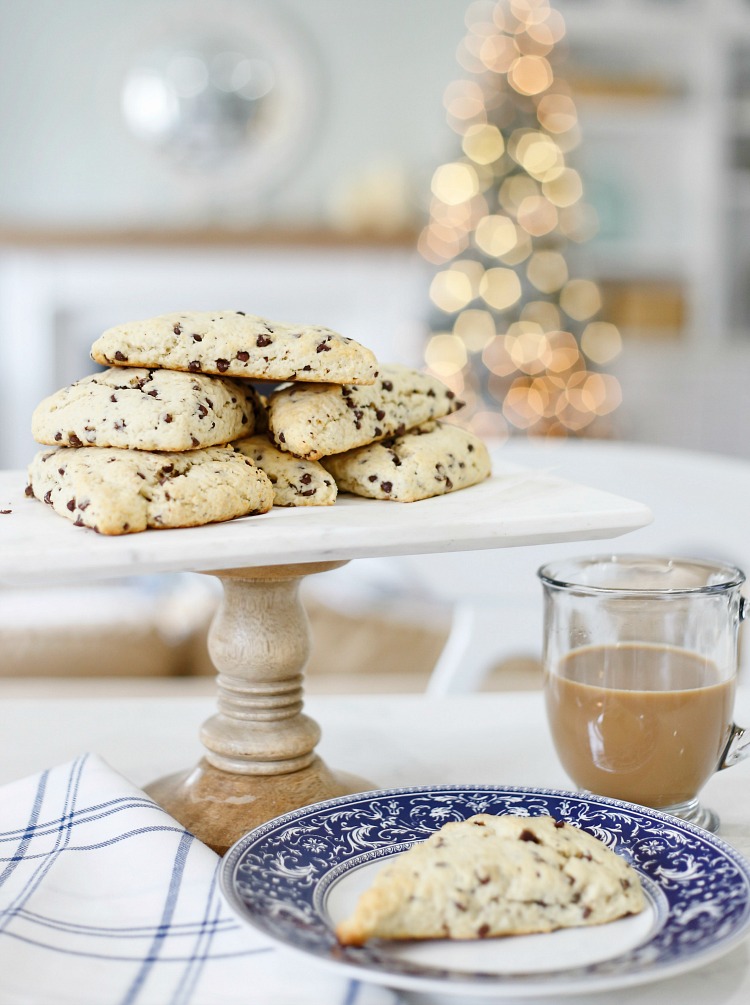 Ok, we laughed like two crazy ladies too! I love that girl so much! Isn't it amazing how the easiest activities like sharing a cup of coffee and baking together can bring so much joy? I've learned over the years, especially now with teenagers and adult children, to take the time to listen instead of dominating the conversation. It's hard sometimes, because I'm a bit of a dominator. Ha! But when I ask open ended questions in a relaxing and engaging setting then family and friends feel comfortable and that when the fabulous conversations and memory making happens!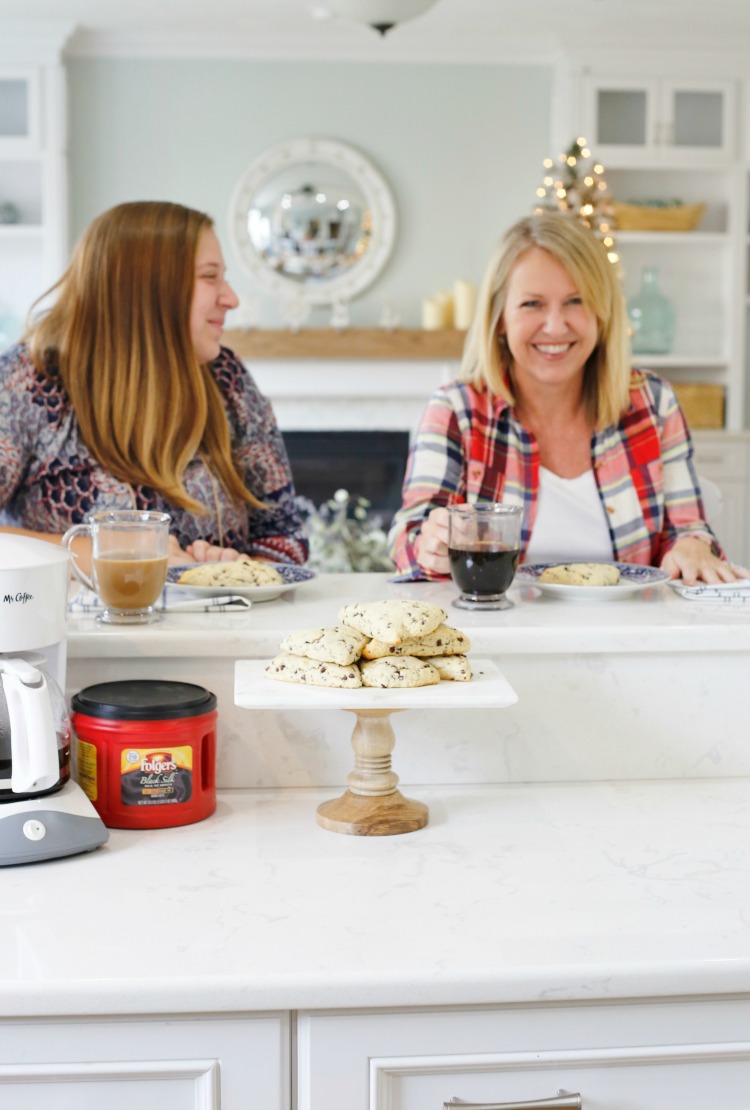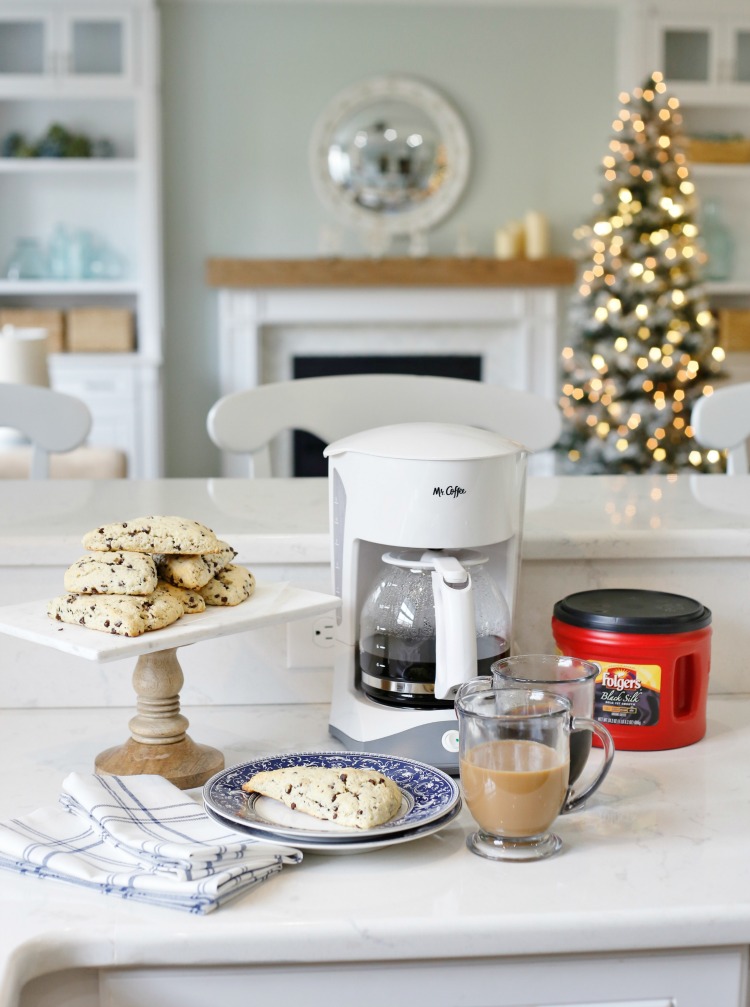 I hope you have the opportunity this Thanksgiving and holiday season to make a few memories yourself and try this recipe out! Here is your chance to connect with a loved one over a cup of Folgers© coffee! Click for a chance to win a real-life reunion with a loved one, learn more about Folgers© and see contest official rules.
Chocolate Chip Scones
Author:
Kim Wilson - sandandsisal.com
Prep time:
Cook time:
Total time:
Ingredients
2 cups all-purpose flour
¼ cup granulated sugar
1 tablespoon baking powder
½ teaspoon salt
½ cup mini semi-sweet chocolate chips
1⅓ cup cold whipping cream
Instructions
Preheat oven to 425 degrees
Measure and combine all dry ingredients, including chocolate chips in a large mixing bowl.
Mix for a few seconds to combine well.
Slowly pour in cold whipping cream and stir until just combined.
Do not over stir.
Pour scone dough out onto a lightly floured surface and press into a 10" round circle.
Use a pizza cutter to cut dough into 8 trianges.
Place on a parchment paper lined baking sheet . Leave space between each scone.
Bake for 13-15 minutes.