Storm upon storm, and inches of rain that won't stop for days are probably the most interior project motivators that might exist! I mean what else are you going to do when the water starts rising and you expect Noah to pull up in his ark any moment? You get stir crazy and decide to paint and redecorate! Well, at least that's what I do. Put a paint brush in my hand and all the world is sunshine and rainbows once again. My rainy day project was working on some Coastal Kitchen Dining Area Summer Updates.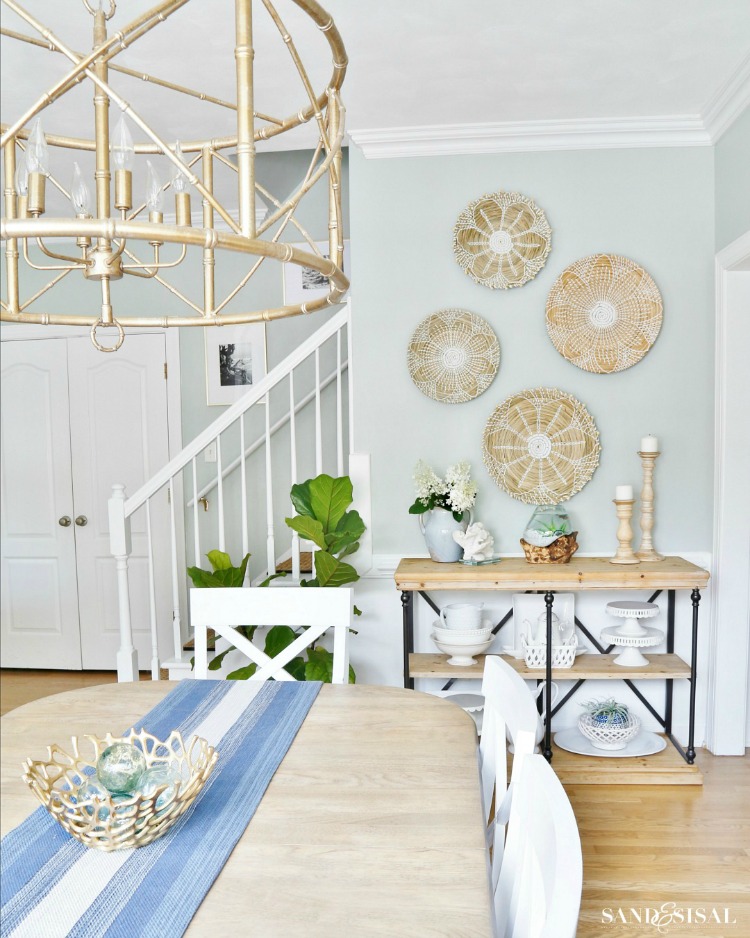 This area has been gnawing at me for over a year. I know many of you will say I should have left it as is but this dining area of my kitchen and staircase is the only place in the house where black is prominent. In single photos it all looks fine but when you back up and see the downstairs as a whole, this little area was feeling way to heavy in comparison. So I asked a question on my Instagram page if I should paint the railings white and wow, people had opinions! I decided to go for it and just paint it. I mean it's just paint. I'll probably change it next year anyhow.
Here is an older photo from our Painted Staircase with Seagrass Runner Makeover. (Click that link to learn how to install a seagrass runner).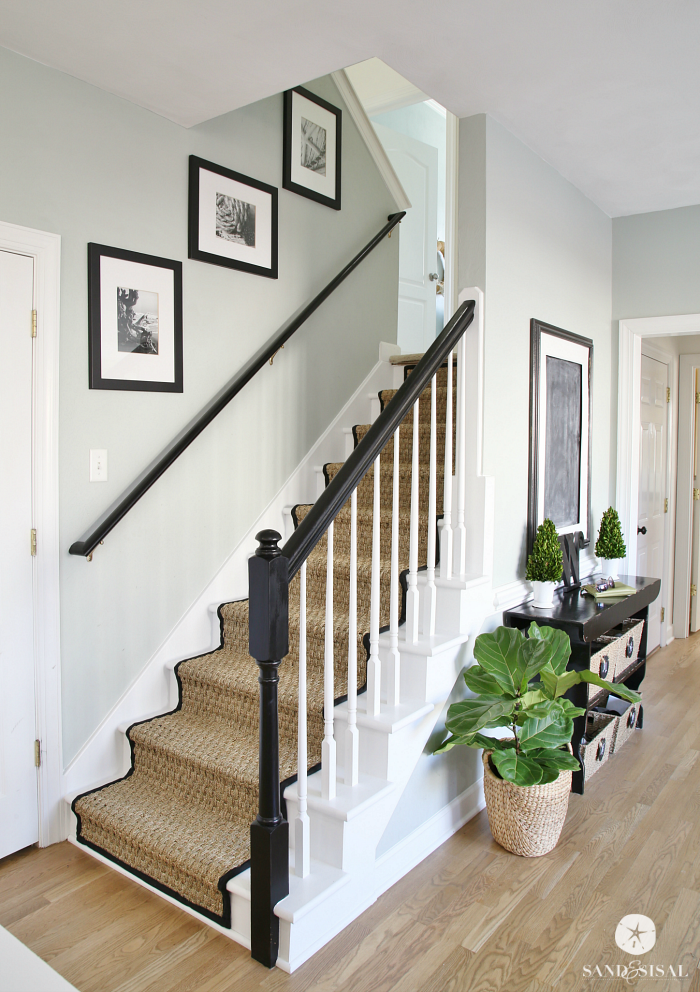 Ta-da! Welcome to a lighter and brighter coastal kitchen dining area! I didn't eliminate all the black accents, instead just toned them down.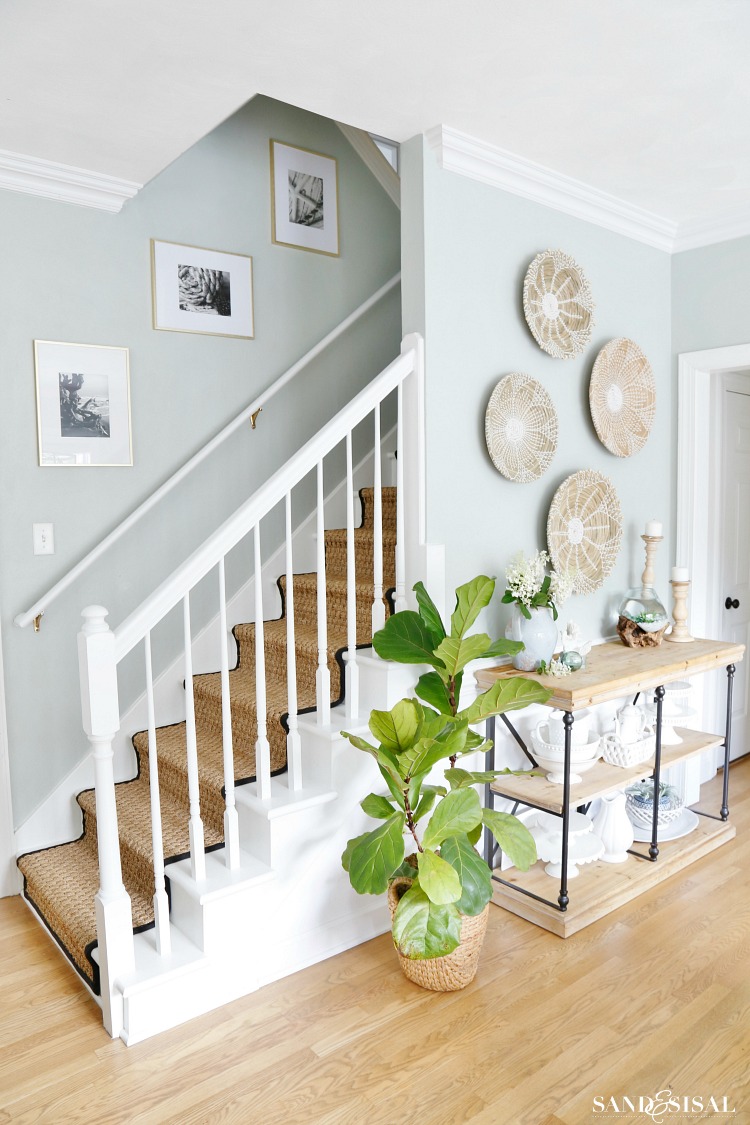 These beautiful boho baskets were found at HomeGoods and I went back twice to buy more. One little nail in the middle holds them up. The boho basket wall decor trend is speaking to me right now.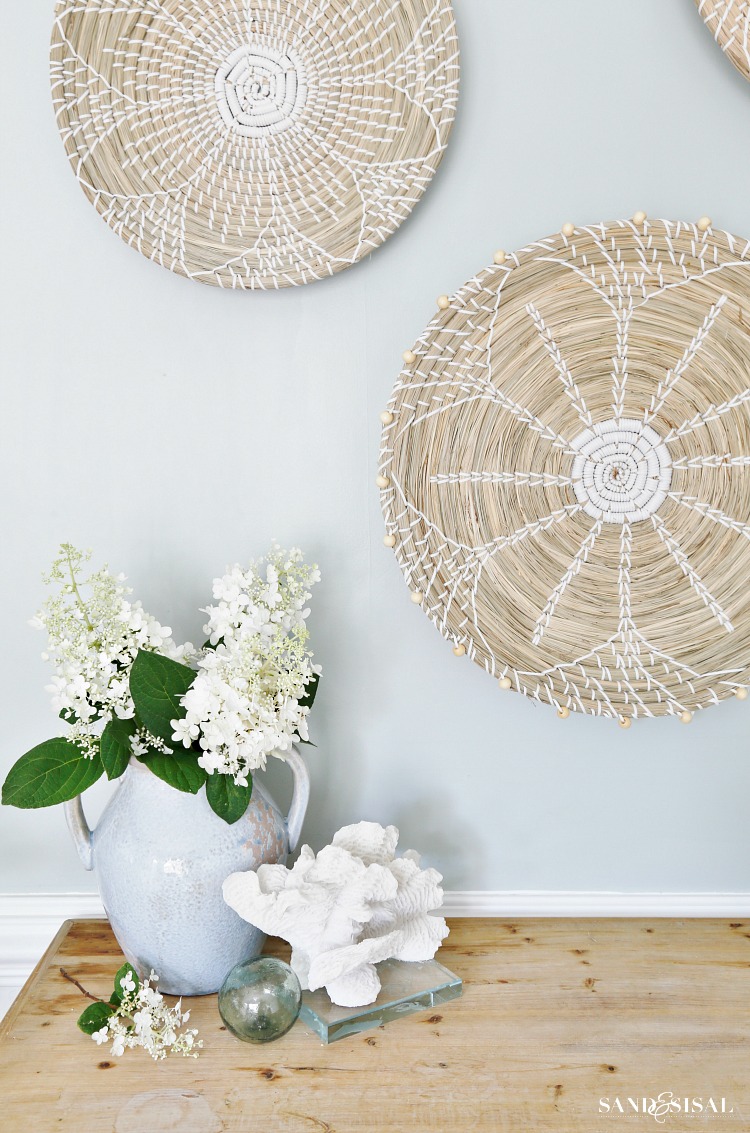 My white panicle hydrangeas decided to bloom and thrive during all these storms so I ventured outside and gathered several of the beautiful fluffy blossoms.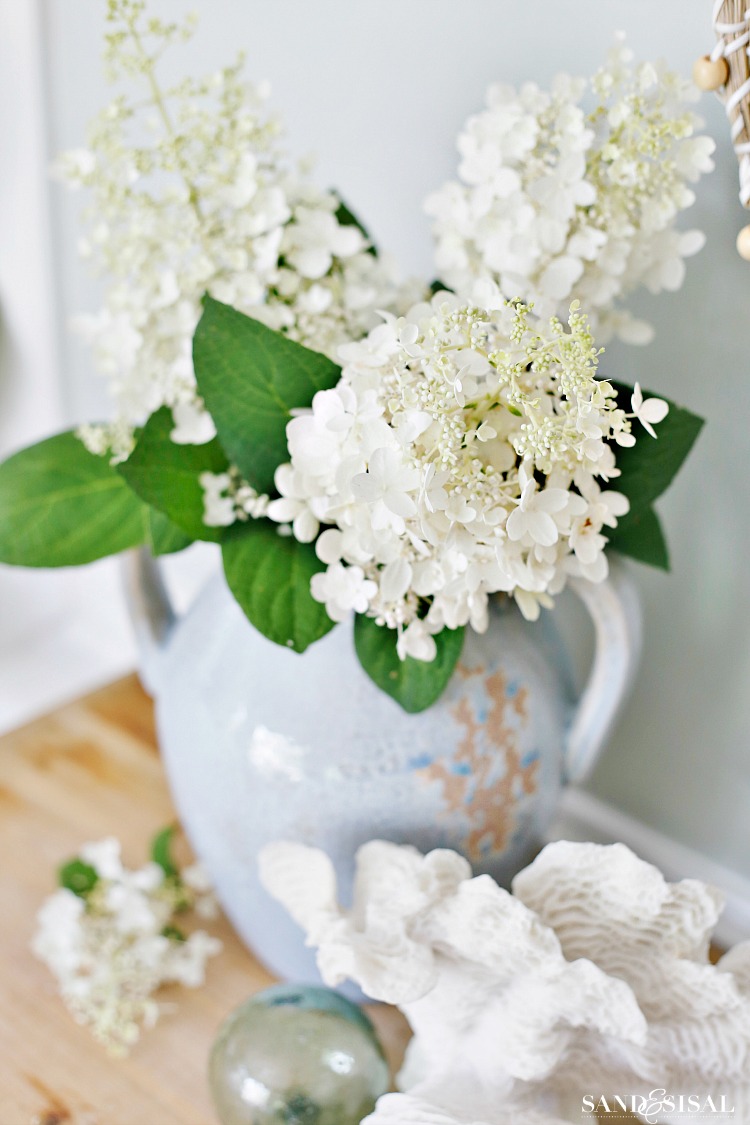 I found this awesome wood stump and hand blown glass bowl at a local imports store. It could be a terrarium but my kiddos quickly claimed it as a fish bowl for "Marcello", our new Beta fish. Isn't is fabulous? The glass is hand blown and then while still hot they lay it upon the stumps to then burn, form and cool around the nooks and crevases of the wood. Each piece is unique!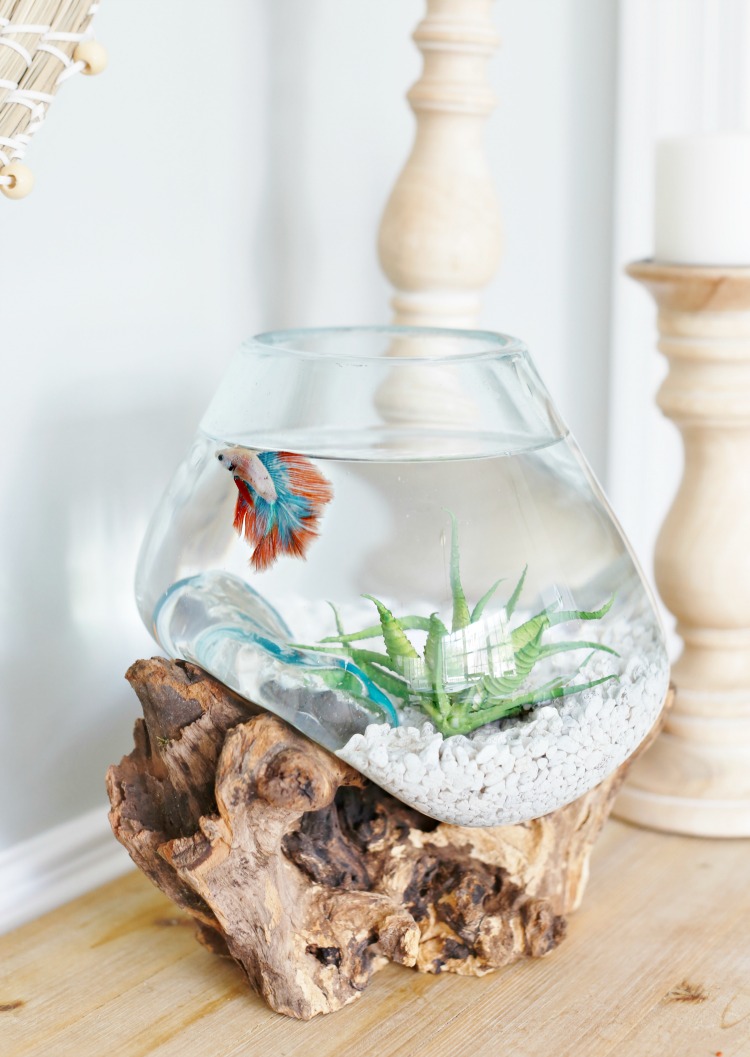 The biggest and easiest change was priming and painting the railings white. I washed the black stained railings really well, then lightly rubbed them with a fine grit sand paper to scuff the shine up a tad. Next I used my all time favorite and most trusted primer of all time. After a coat of primer, I gave the railings two coats of semi-gloss Extra White by SW. That is the white I use for all the trim in my house.
The heavy black frames were switched out to these pretty gold frames. The black and white coastal prints are ones I've owned for about 10 years and dearly love. They were taken by my friend Layla & Kevin from The Lettered Cottage. Here's a little Sand & Sisal trivia tid-bit…. Layla graciously reached out to this new little blogger and designed the brand logo for Sand & Sisal back in 2010! (My original logo that I designed must have really sucked! lol… thanks Layla! I appreciated it!)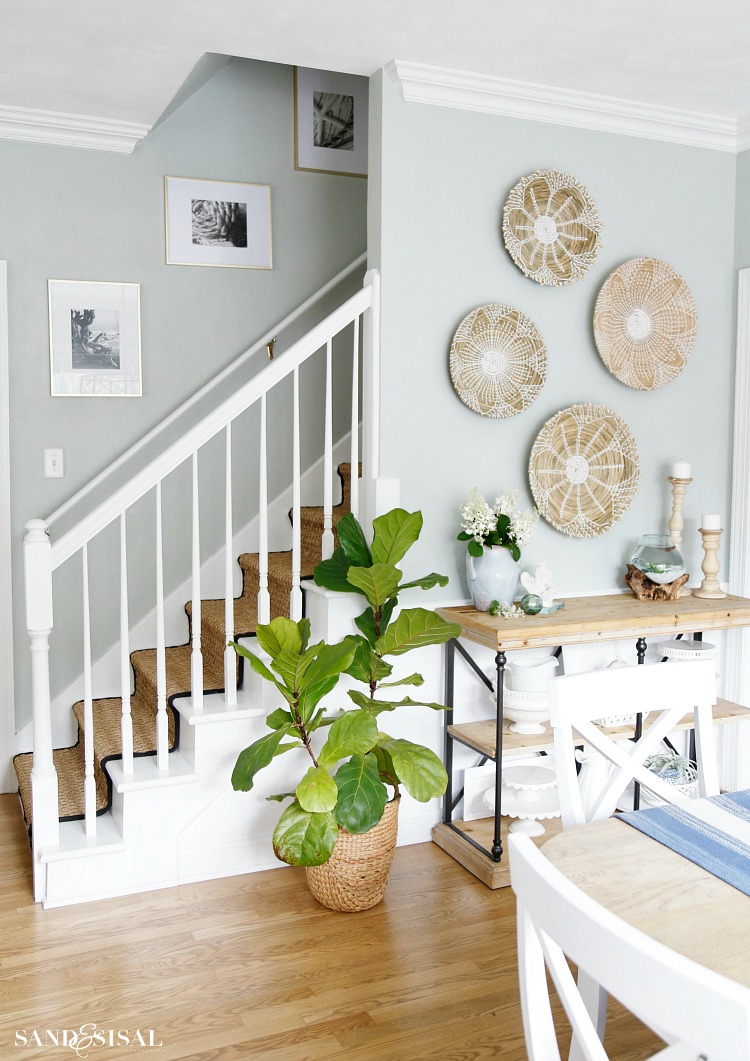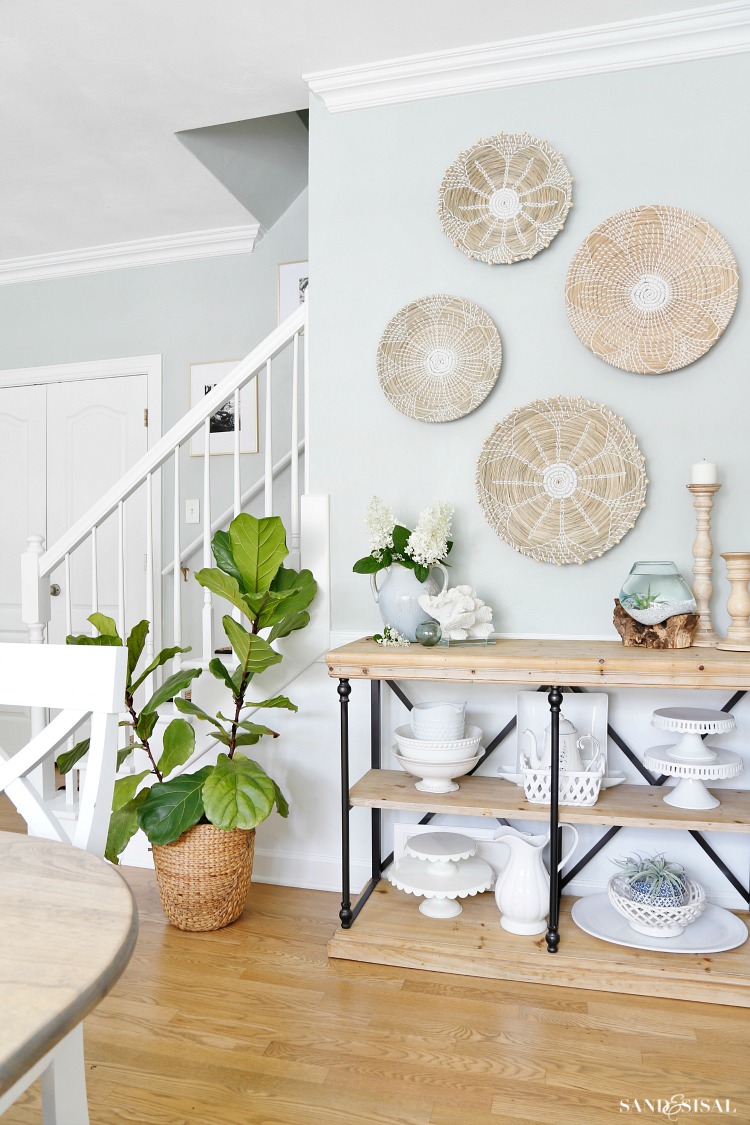 Get the Look
Affiliate links provided for your shopping experience. Click on the pics in the slide show below to shop.

Products not in slideshow-
Gold Bamboo Chandelier – Ballard Designs
Wall baskets – HomeGoods
blue pottery vase – HomeGoods
fishbowl – local find
Wall Paint Color – Comfort Gray by Sherwin Williams
Wall Trim Color – Extra White by Sherwin Williams
Table Runner – Target
Things feel more balanced now in our home. Who knew a week and a half of rain could pull out a desire to recreate and renew! I hope you like our new coastal kitchen dining area summer updates!
Have a fabulous day friends!
KIM