Are you planning a last of summer celebration? The Labor Day holiday signals the end of summer and the beginning of fall in the US. It is also the turning point for lawn care. Temperatures generally begin to lessen and days start to shorten, reducing the amount of stress on our lawns. It is also a great opportunity to get outside, entertain and enjoy the final days of summer and the temperate evenings as fall ushers in. Let's look at a few simple tips for Preparing the Lawn For Fall Outdoor Entertaining + My Easy Entertaining Tips.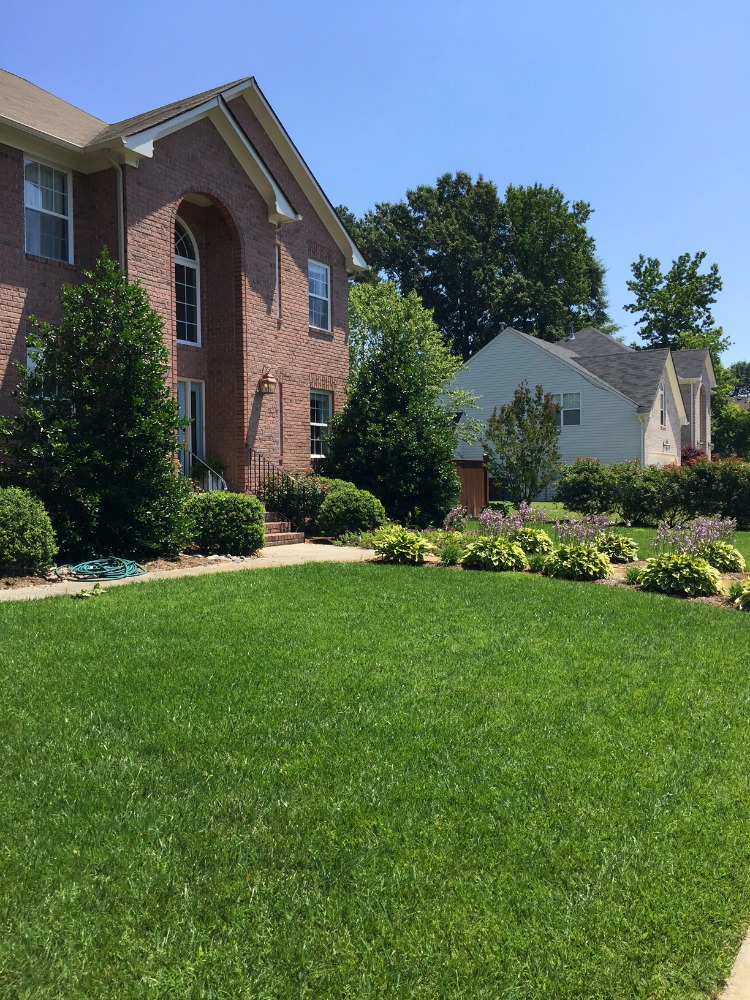 Address Late Summer – Early Fall Lawn Care Needs
No one wants to invite the neighborhs over if the lawn looks embarrassing. This is normal, don't fret! Late summer lawns will likely show signs of distress, overwatering, under watering, fungus, weeds, or drought issues. Don't give up! Identify where your lawn might have issues and apply these 6 simple tips to get your backyard ready for fall entertaining.
Raise the lawn mower blades to the highest setting. As lawns struggle in the hot late summer temps, raising the blades helps with preserving moisture in the soil and allows the grass to focus on root growth for the seasons ahead.
Always use a mulching blade in your mower. This allows micro shavings of the grass and nutrients to be redistributed into the soil and enrich it.
Reduce watering amounts. Water in the early dawn hours if possible to reduce possibilities of fungus from growing.
Sharpen the lawn mower blades. One of the most apparent indicators of a poorly kept lawn might just be from the sharpness of the lawnmower blades. The sharper the blades, the cleaner the cut, and the better your lawn will look.
Plan for seeding. This is KEY! Aerating, seeding or reseeding can repair seasonal wear and tear while giving the lawn an 8-9 month jumpstart on root growth. The key is, grow strong grass roots early and reap the disease resistant benefits for years after.
Find out which grass seed is best for your yard. I will be posting detailed fall seeding how-to's and info very soon so stay tuned!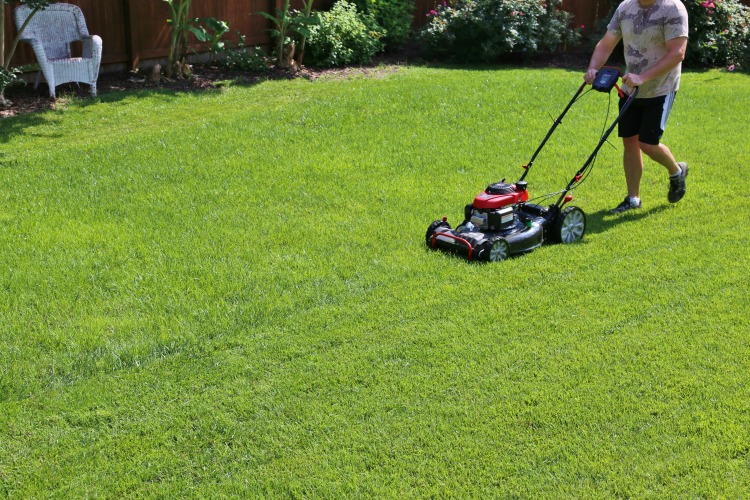 Do you have plans for the holiday weekend? Now that you have a plan to get your lawn on its way to a future gorgeous status, how about we celebrate the progress and the last days of summer with an outdoor party (regardless of how the yard looks)! Here are some of my easy outdoor entertaining tips.
Easy Outdoor Entertaining Tips
Outdoor Dining on the Lawn
Don't be afraid to move your outdoor dining table off the deck or patio and into the yard. Nestle the table and chairs next to an enchanting space in the garden. Look at whatever corner is blooming or looks lush, and create an intimate and yet relaxed environment by a simple table placement. You might be surprised at how a simple thing as moving a table could change the entire vibe of an event!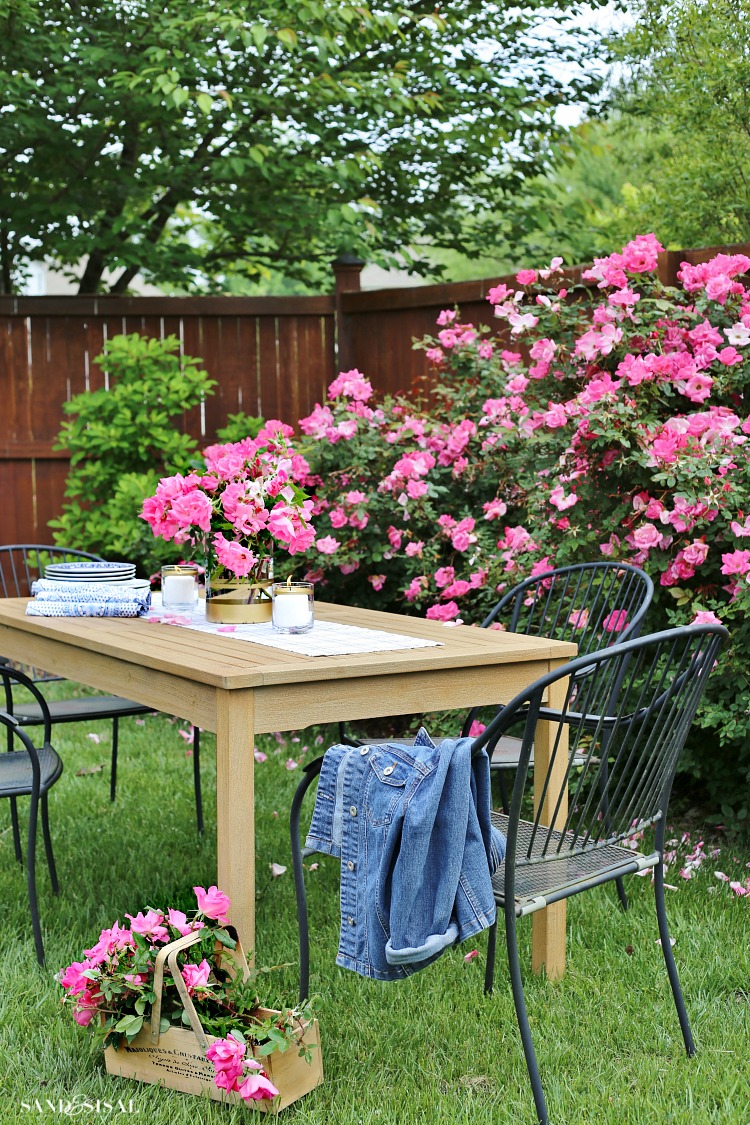 Simple Outdoor Entertaining Decor
Let your landscape and yard be the shining star of your party. Centerpieces can be simple clippings from bushes or trees. Keep them low on a table to allow for easy conversation across the table. For this table setting a few rose bundles gathered in a glass vase with gilded candle votives was all that was needed. I seriously believe that understated beauty reigns supreme.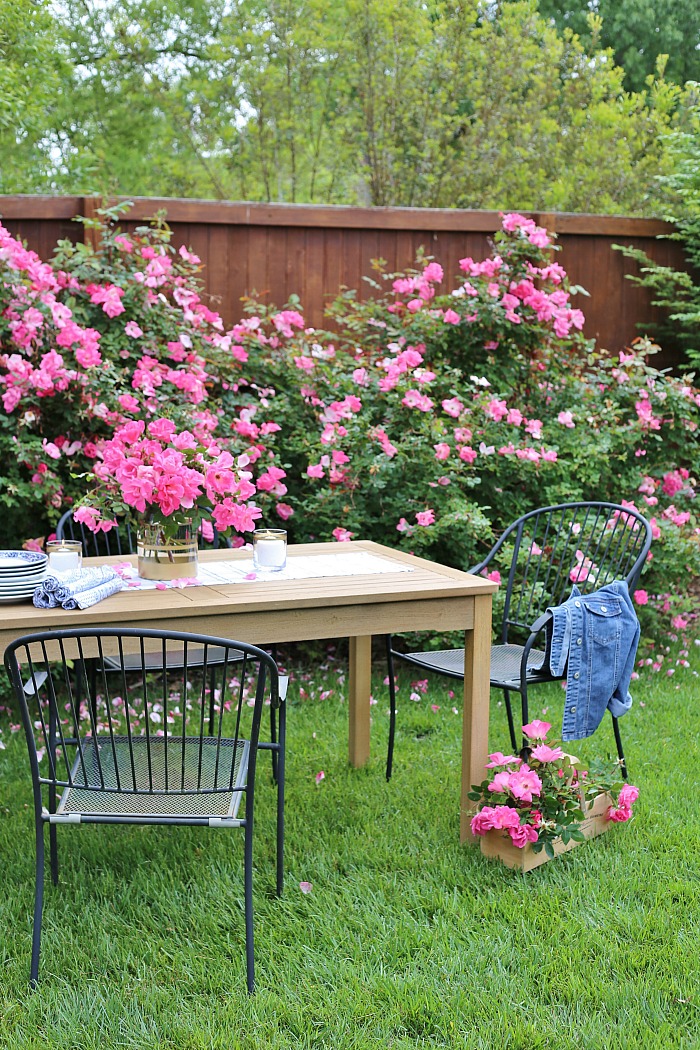 Create Comfortable Outdoor Seating Areas
A guest who feels comfortable will stay longer. So bring out the cushions and pillows galore! Make your guests and family feel like they are lounging in your family room. Provide plenty of seating, pillows, and blankets, especially during colder fall nights. Gather the seating around a warm and inviting fire pit.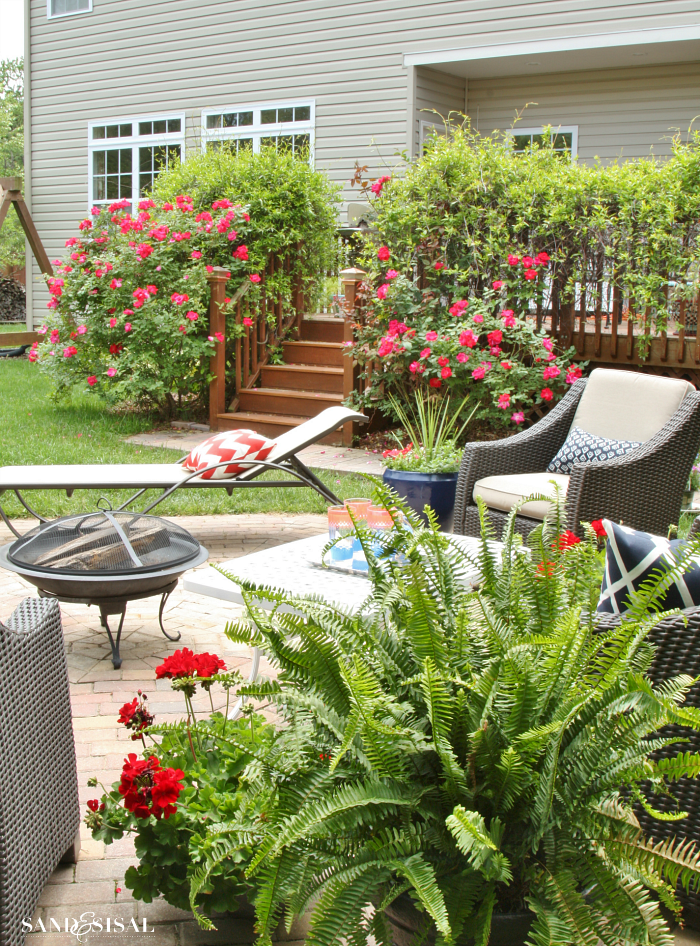 A fun outdoor entertaining activity is to create a s'mores bar for both kids and adults to join in the fun! It is always a win-win at our house with any yard party for sure!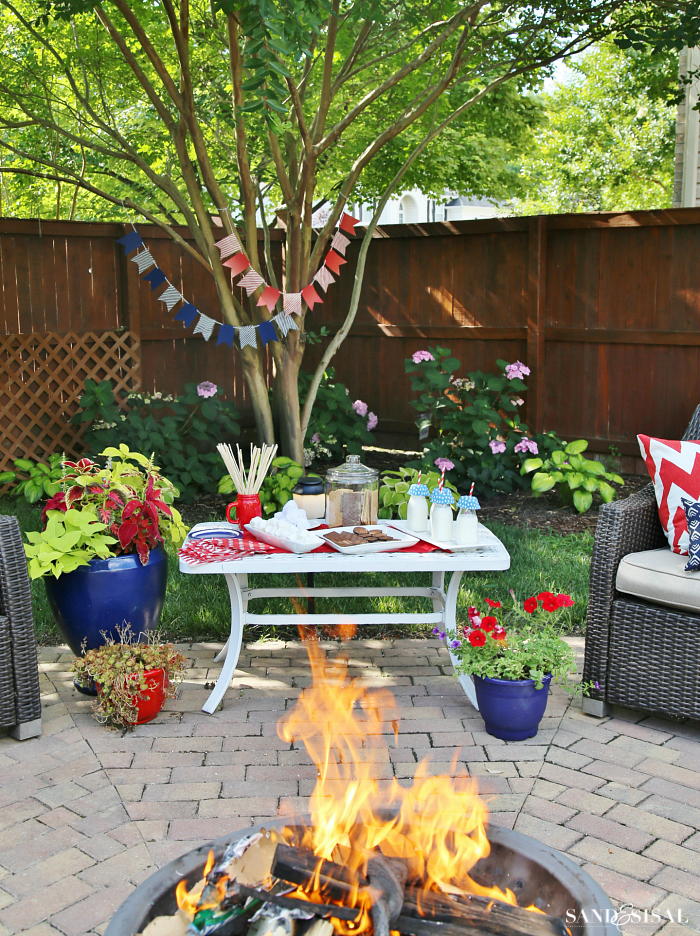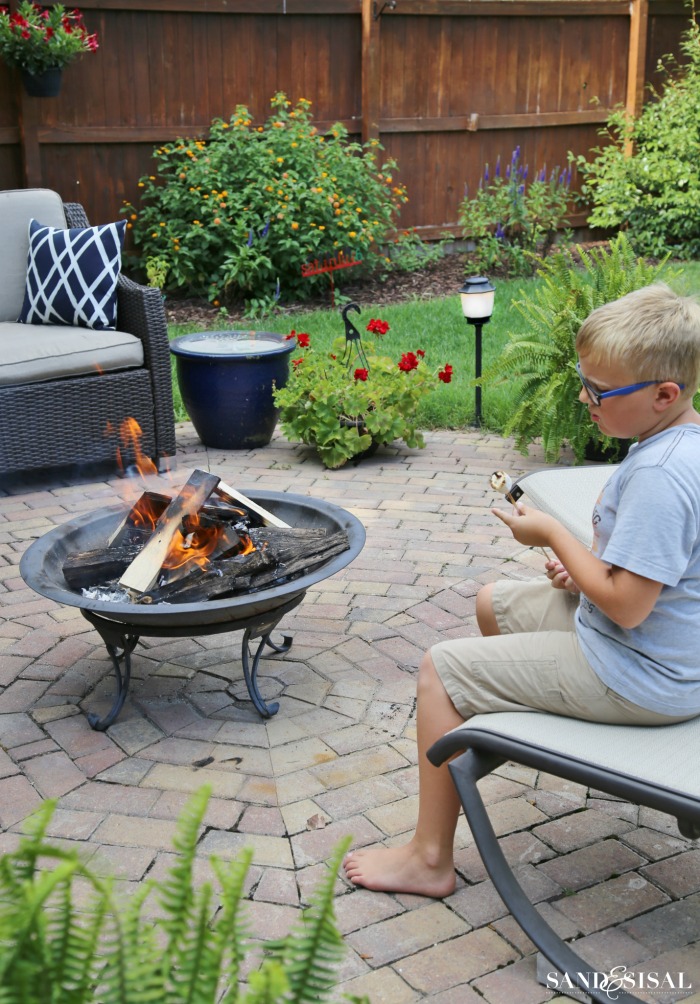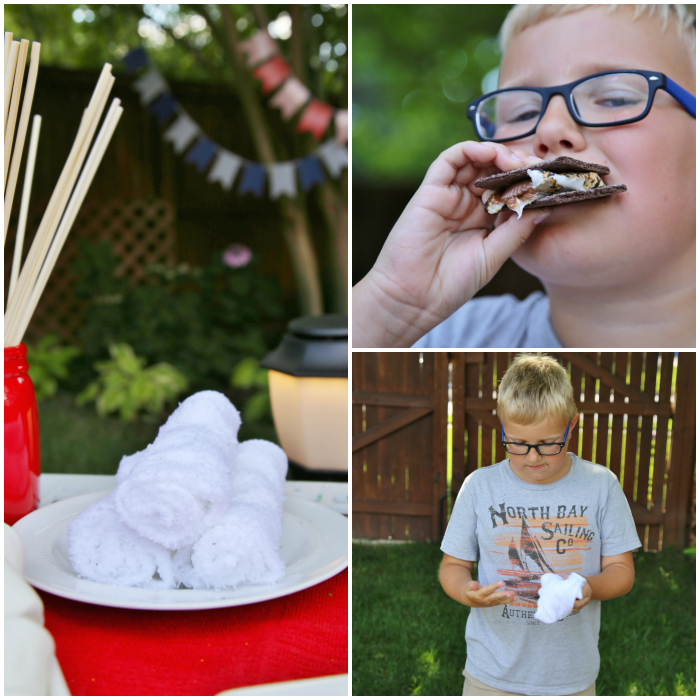 Pesky Outdoor Pest Control
And as always, if you are hosting any outdoor gathering, keep the pesky party crashers in mind! Fill a basket with mosquito repellent for your family and guests to use as needed.
Ready to do some late summer – early fall outdoor entertaining? I think so! If you need any more yard tips and expert advice, don't hesitate to visit: www.weseedamerica.com or follow @weseedamerica on Facebook, Twitter, or Pinterest.
KIM
This has been a sponsored post in partnership with Grass Seed USA. All opinions and expressions are my own.