Some weeks are just simply harder than others and this has been one of those weeks. I have learned over the years that when life is stressful I need to try focusing on things that bring others or myself joy. Being creative and creating beauty is the largest personal joy producer, and if I can make it fast, simple and beautiful then all the better! Don't you agree? These fun, affordable, easy and elegant DIY Gilded Vases will bring happiness to you and your loved ones! They make for a gorgeous, heartfelt and handmade Mother's Day gift or hostess gift filled with flowers or candles, and the best thing is that they can be used over and over for any season and with any decor style!
DIY Gilded Vase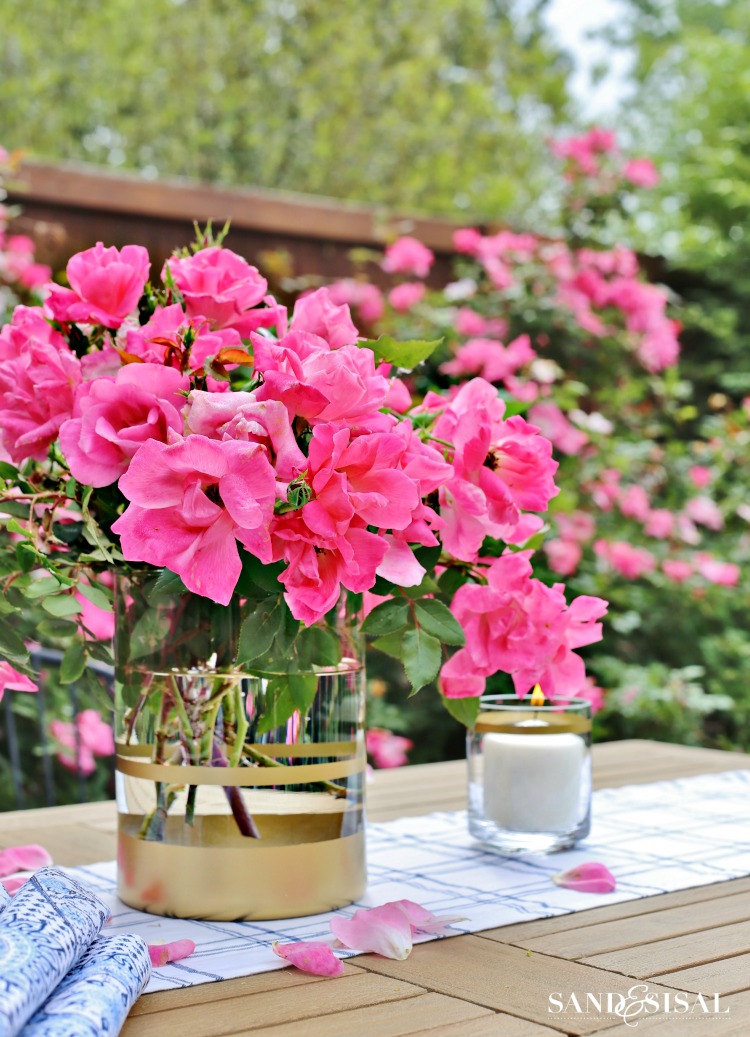 DIY Gilded Vase Supply List
Affliliate links provided for your shopping convenience.
Rubbing alcohol
3M Painters Tape or washi tape
Wax Paper or Plastic Bags
I love using glass hurricanes because they easily convert to vases. The versatility is fabulous. Purchase glass hurricanes at dollar stores or any discount shopping store like Target or Walmart. I purchased all of mine from Target. (direct links provided above). You will need just a few items for this decor craft and it can be accomplished in one hour tops!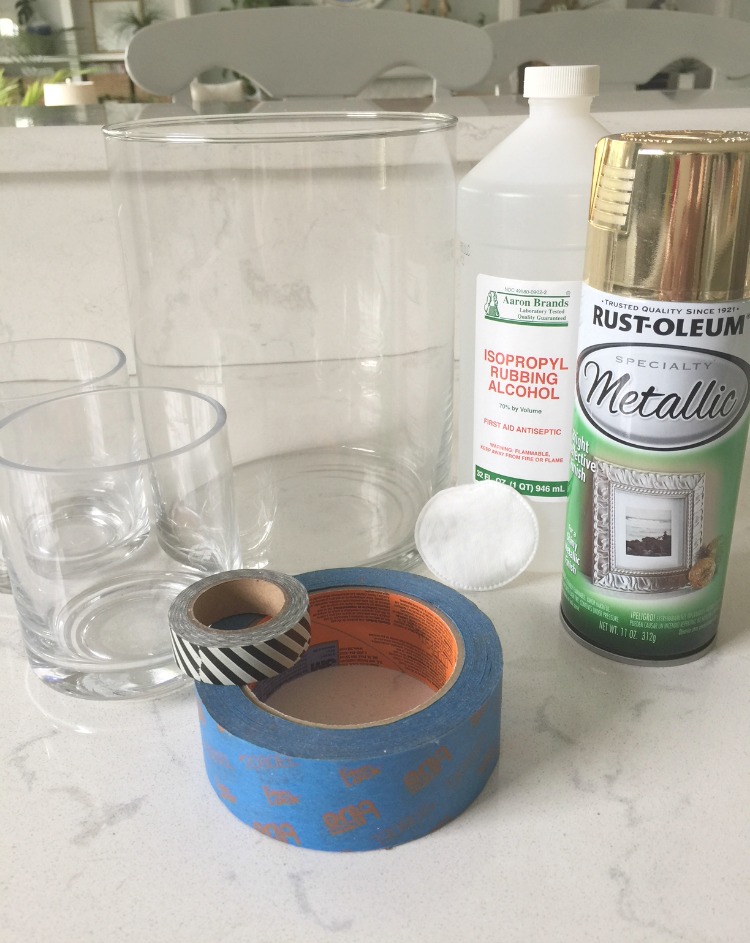 Step 1: The first step is to clean the outside of the glass vases or hurricanes with a cotton pad and rubbing alcohol. This removes any oil, soap, yucky gunk residue left by our hands or whatever. It is an important step to ensure that the paint will adhere to the glass surface. It takes all of 15 seconds so please don't skip it.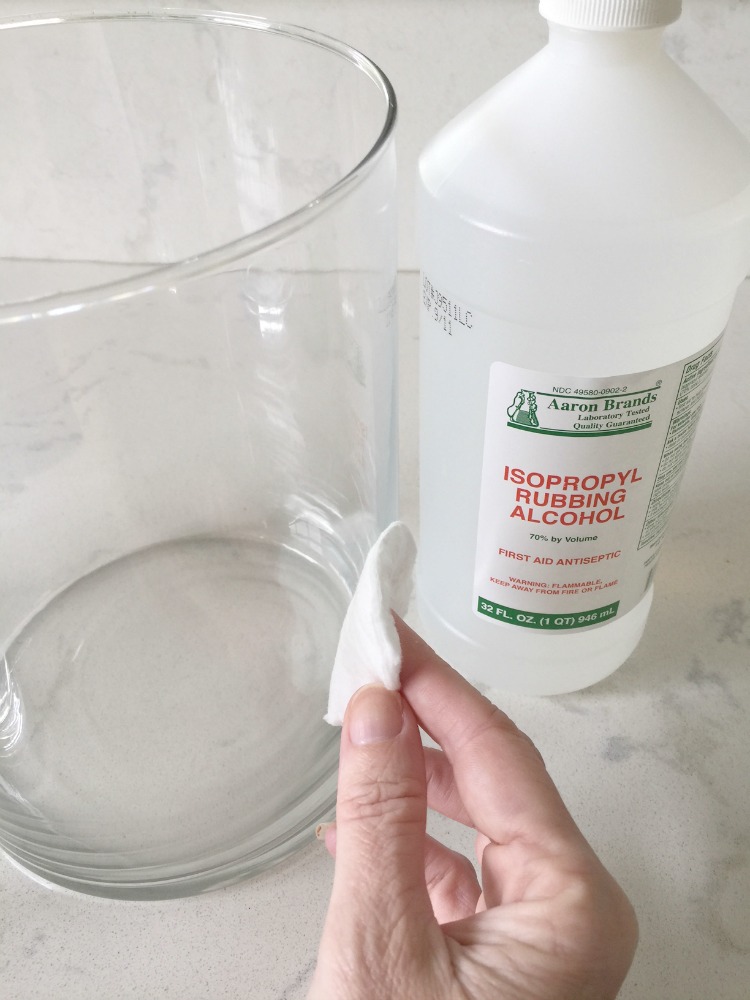 Step 2: This is the fun part! This is where your design inspiration comes into play. Be as conservative or as experimental as you desire! I wrapped painter's tape around the vase to make simple, classic stripes. You can use a variety of widths of tapes. Skinny washi tapes are a fun option to try also. Remember that anything exposed will be covered in paint so cover any areas with either tape or waxed paper, which I used to cover the majority of the vase.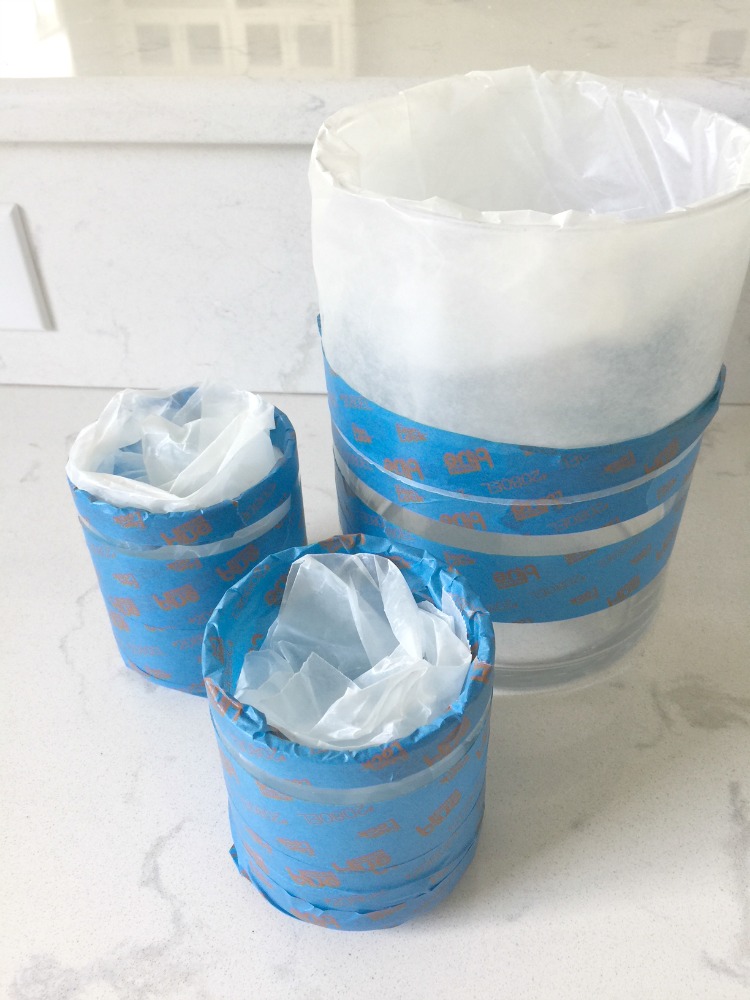 Step 3: Go outside and shake up that beautiful can of gorgeous shiny gold spray paint! Keep 8-10″ away and start spraying in smooth sweeps from left to right. Go slow and don't try to coat everything at once. Walk away (it's hard I know… ) Come back in 5 or 10 minutes and spray again to make sure every part you want coated is complete. I wanted the bottom of my vase/hurricane gold so I flipped it upside down for spray painting. This is totally optional.
Step 4: After the paint is dry then carefully peel off the tape. Allow your DIY gilded vases to dry overnight or in the sun before using them (if at all possible). Hand wash these gilded vases. Do not put them in the dishwasher.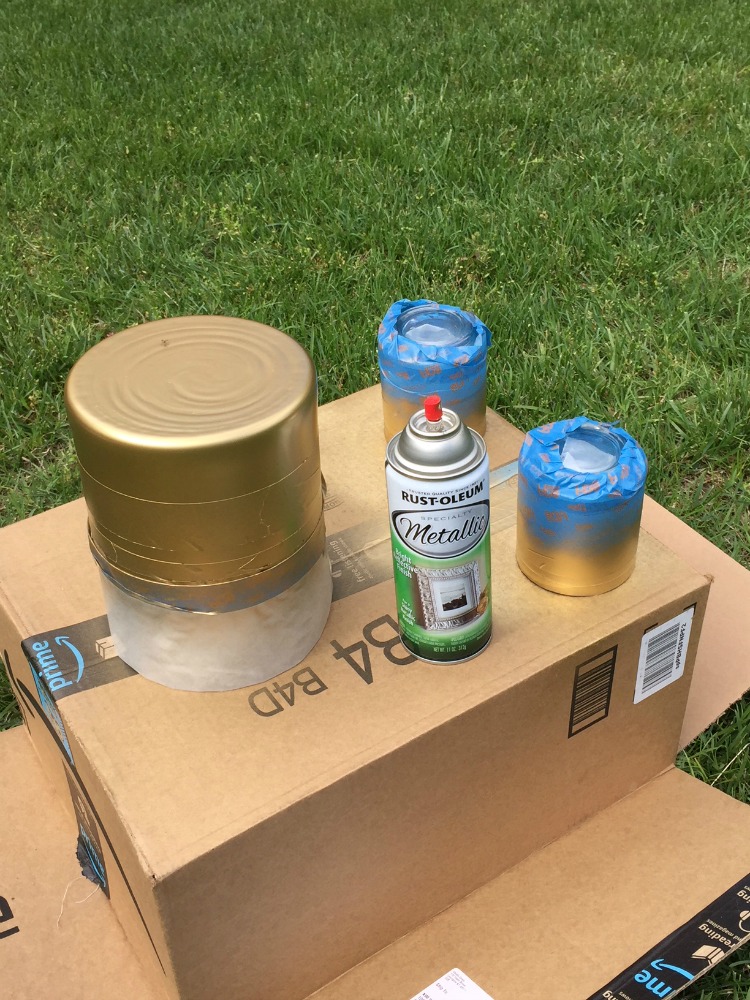 These DIY gilded vases and hurricanes are so simple and elegant that you can use them all year round! Imagine taking that big vase and instead placing a large pillar candle in it and then surrounding it with shells, sand, pinecones, moss, any vase filler you can think of! The possiblilies are endless and you will be seeing these pop up in my decor throughout the year, spring, summer, fall or winter.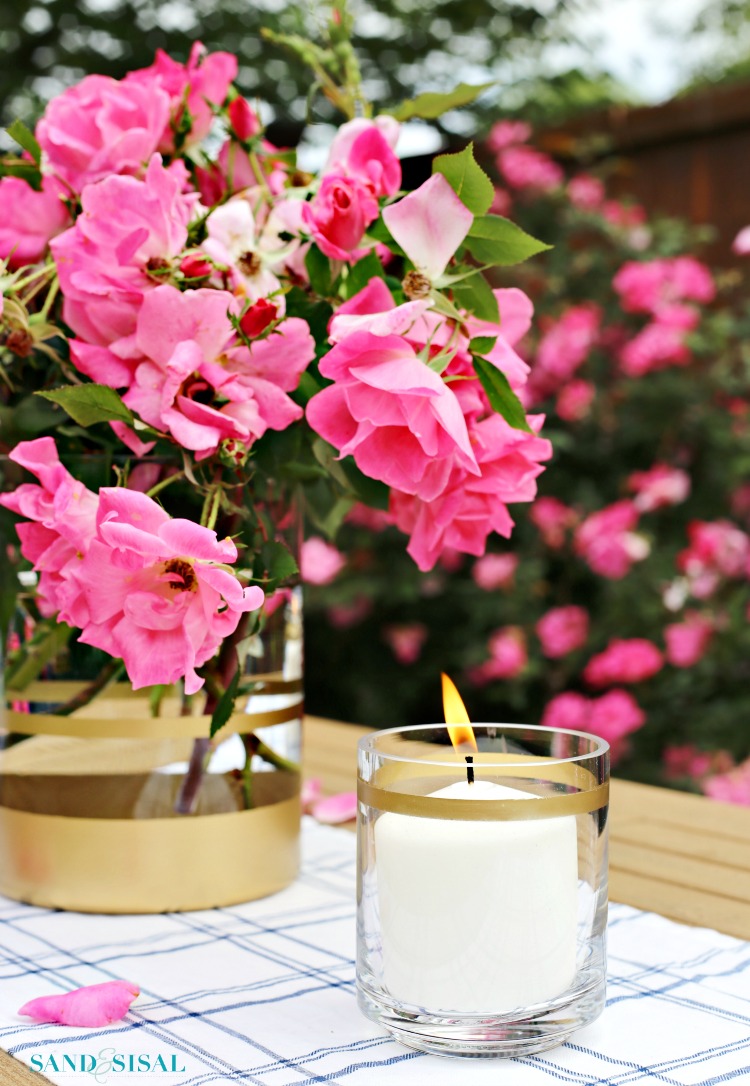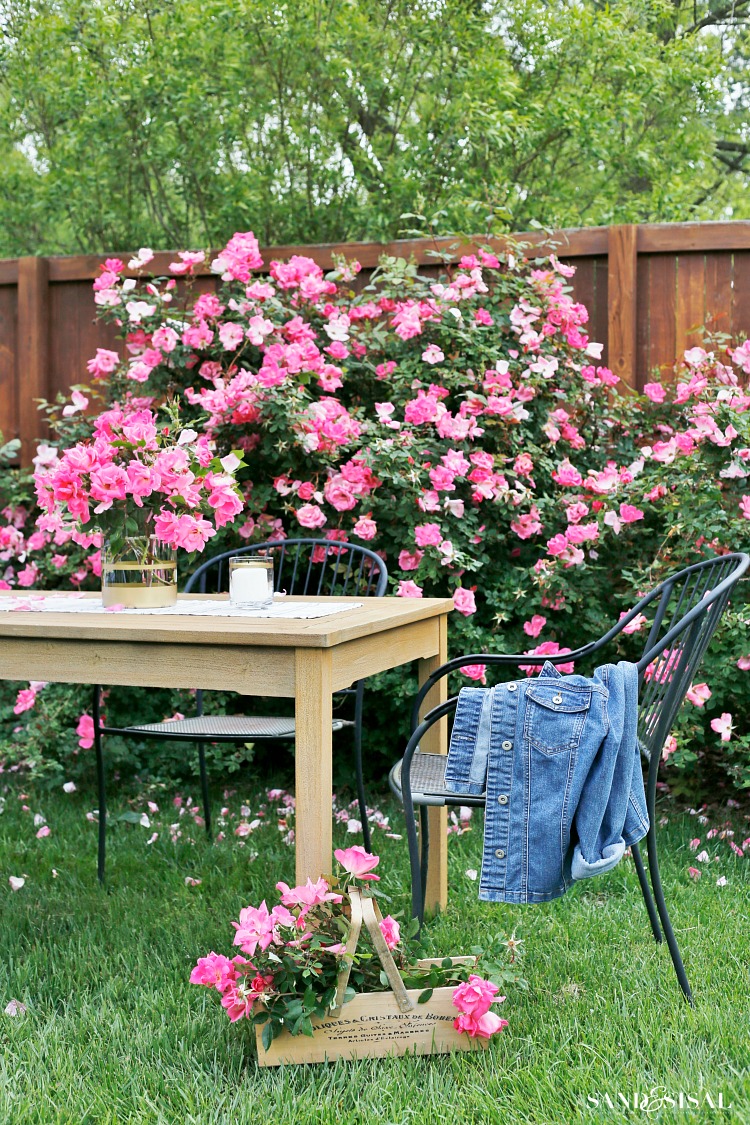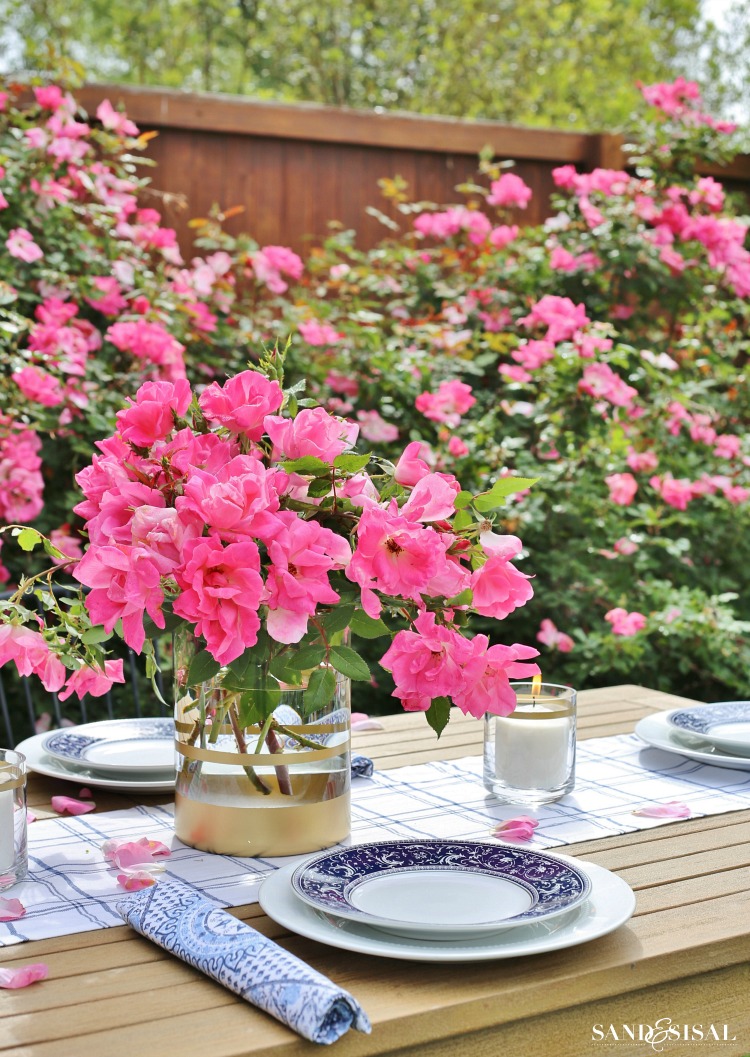 Are you excited to make your own DIY Gilded Vases? I hope so! Get ready for a beautiful rose garden tablescape coming in the next few days. Our family loves eating alfresco and who could resist this gorgeous vista?
Happy Crafting!
Kim
You might like these posts too!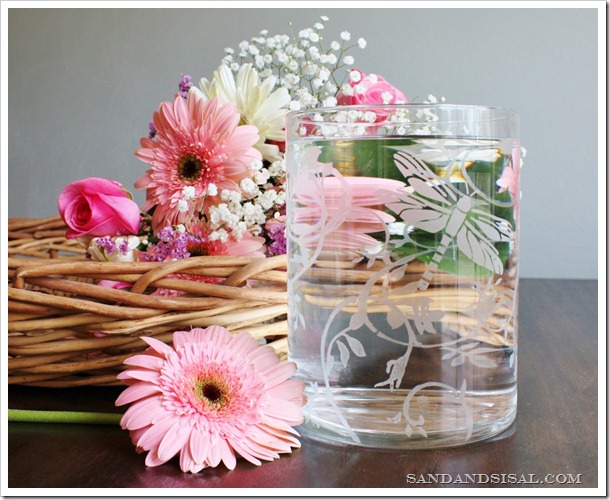 The Brown Thumb Gardener's Guide to Growing Knockout Roses