I've grown roses for years….
tea roses, climbing roses, gradiflora, etc… etc… but I must confess something,
when it comes to roses,
I've killed more roses than I'd like to admit.
GASP!!! Hey, no one is perfect!
Yes, my thumbs aren't always green…. their usually covered in blackspot…
dang blackspot… you are the thorn in my side…errr…rose!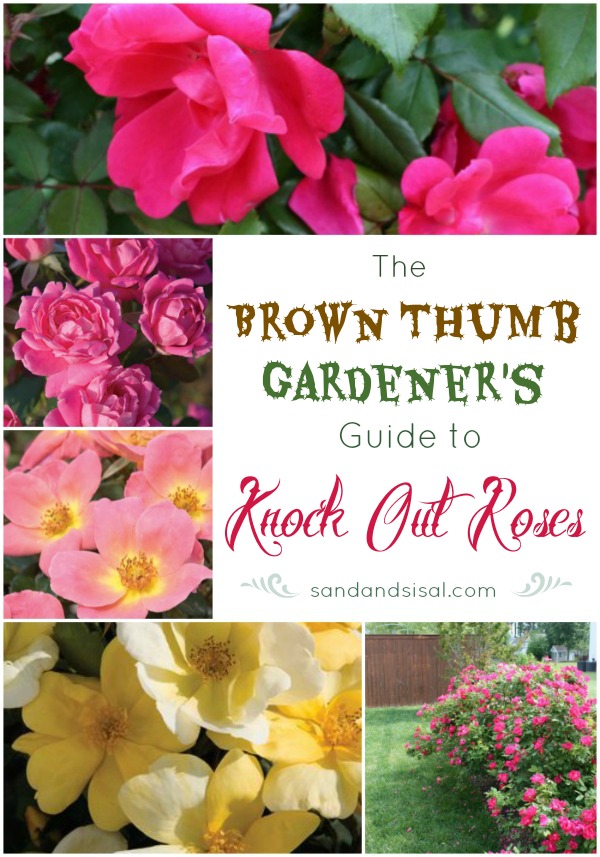 Because I live in the south where the sun is hot, hot, hot, and humidity is thick as a men's steam room…. (yuck, sorry for that visual),
I want roses, what girl doesn't love roses?
…but roses that aren't high maintenance!
No DIVA ROSES ALLOWED in my yard!
I want roses that any brown thumb gardener can grow.
I want EASY ROSES!
And I'm happy to tell you that I have found them! They are Knock Out Roses. They are almost indestructible. Woo-hoo!
Look at this gorgeous hedge of roses dividing my yard from my neighbors. I planted them 3 years ago. Our soil sucks. I'm talking clay soil. So much clay you could sculpt a clay pot with them! All I did was dig a hole 2x the size of the pot they came in, set the plant in the hole, backfilled with good quality top soil and then added 1/2 cup of rose food to the surrounding soil. That is it!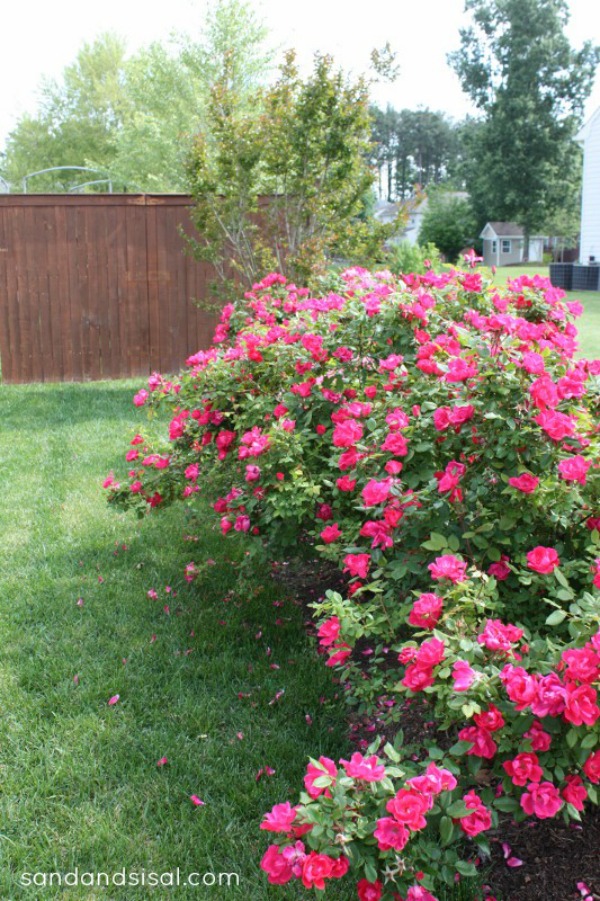 Knock Out Roses will quickly grow to 4ft x 4ft. They resist blackspot (yay), do not need dead-heading (unless you desire it), and the best part….
THEY BLOOM FROM SPRING UNTIL THE FIRST FROST!
What else do you have in your garden that can say that?
The picture below is year 2 of Knockout Roses planted on either side of my entrance. (Basically they double in size each year).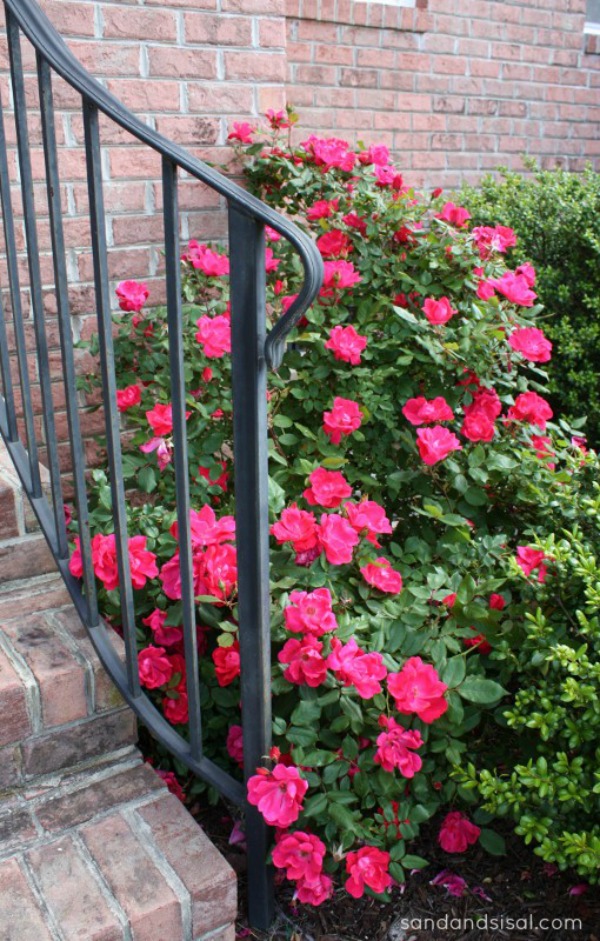 This variety is the original Knockout Rose in red.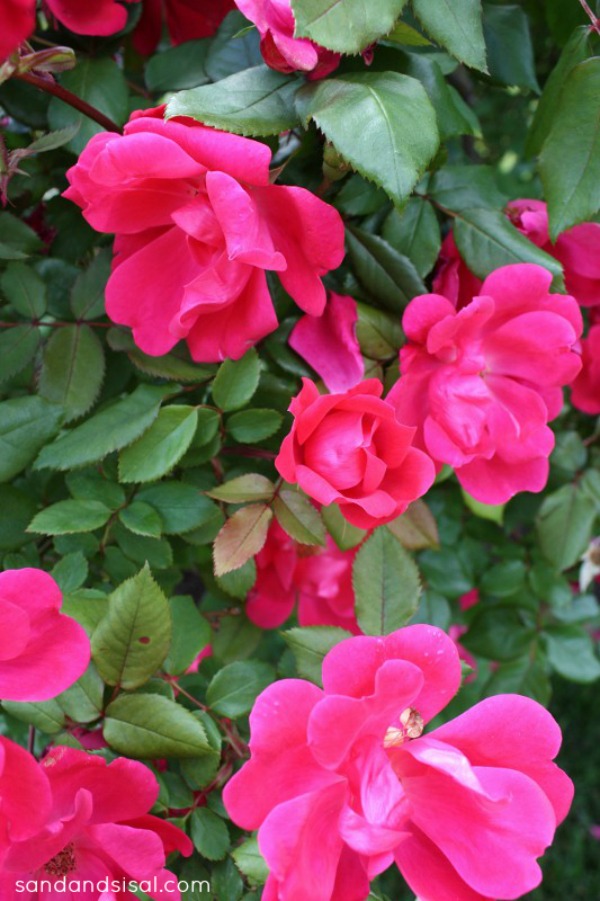 The fun option is to have DOUBLE KnockOut Roses. This variety produced very full flowers and mimics the look of an open tea rose, which is very appealing.
Features:
drought tolerant
disease/pest/blackspot resistant
double blooms
darkgreen/purple foliage
blooms spring-1st frost
zones 5-11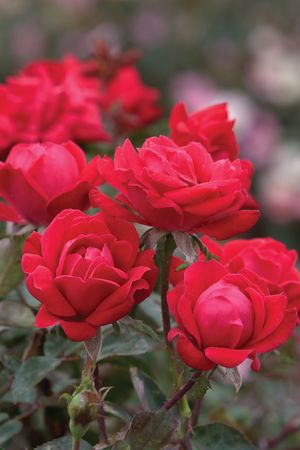 This lovely variety below is  The Pink Double Knockout Rose.
Features:
low maintenance
tons of flowers/ repeat bloomer
drought tolerant
disease/pest/ black spot resistant
3-4′ tall/wide
double blooms- spring -1st frost
Zones 5-11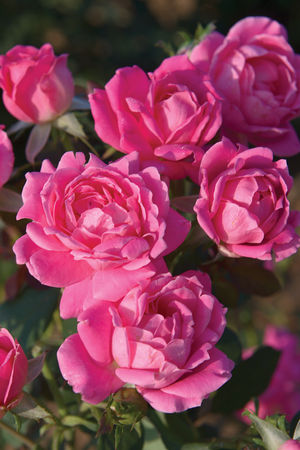 I would love to add this beauty to my garden. This is the Rainbow Knockout Rose.
It boasts coral pink blooms with bright yellow centers and is more compact than the other varieties. It rarely ever has any issues with blackspot which is a must-have if you live in humid regions.
Features:
Very Blackspot resistant
drought tolerant
tons of flowers
3-4 feet
foliage- deep burgundy aging to deep green.
Zones 5-11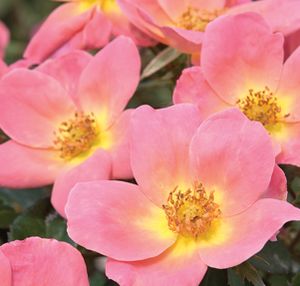 Add a touch of sunshine to your garden with the Sunny Knockout Rose.
This rose is the newest in the Knockout collection. It is the one variety that has a strong fragrance. It is more upright and compact than the other varieties. The blooms start off as bright yellow then quickly fade to a pale, creamy yellow. During cooler times of the year, the blossoms will be more vibrant in color. If you've ever tried to grow yellow roses in the south, then you KNOW how difficult they can be! This plant provides worry free blooms all season!
Features:
3-5 feet tall (largest of the group)
low maintenance
drought/ blackspot/disease/pest resistant
Repeat bloomer
tons of flowers
slight-strong fragrance
zone 5-11
last 4 pics via Conrad-Pyle
If you consider yourself a brown thumb gardener then PLEASE buy these Knockout Roses.
Now look, EVERY plant needs water. These are not cacti! You do need to water them once a week if you are in hot climates like mine (I'm in zone 8). And these roses do need at LEAST 6 hours of sunshine each day. I have Knockouts on the very hot and sunny south side of my home and on the shadier north side of my home. They both are doing well, but the sunnier south side have grown fuller and bloom better. They all have thorns but you will have a house FILLED with rose bloom cuttings all spring, summer, and fall!
I only fertilize each rose bush one time a year in spring with 1/2 cup of granulated rose food. That's it.
These babies are love 'em & leave 'em!
If you are even capable of killing Knockouts then you deserve some type of brown thumb award, because I'm telling you,
YOU CAN'T GO WRONG WITH KNOCKOUT ROSES!
Let me know if you have any questions and I'll try to answer them asap.
Happy Gardening!
For more gardening tips & tricks, check out my GARDENING tab up at the top of the blog.
Kim