It has been awhile since I've shared a home tour. The last update was in spring when I decided to add more color to our family room; that color being navy. Navy is nautical, navy is coastal, navy is CLASSIC! For this autumn I didn't want to overthink or over stylize our home. I told myself not spend money on fall decor, and simply re-work what I already have, to create a relaxed, cozy, coastal fall home. Let me welcome you to my Navy and Neutral Fall Living Room + Kitchen Tour!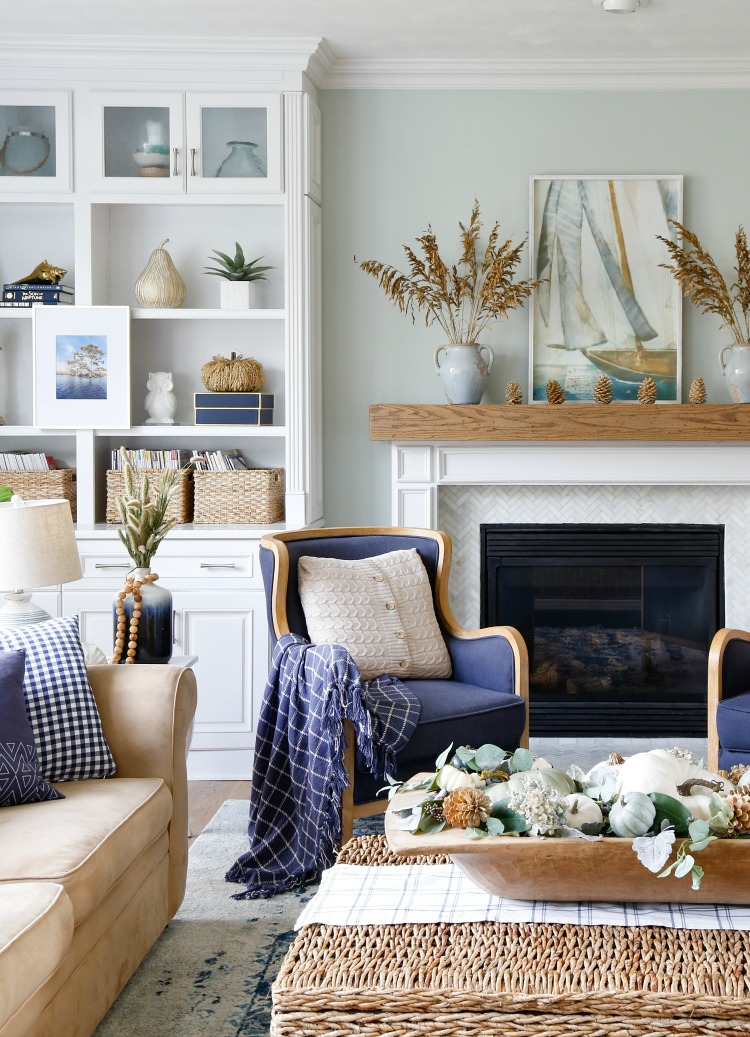 And not to just toot my fall cornucopia horn, I'm so happy to share some of my favorite girlfriends' fall home tours too! Special thanks to Sheila of Maison de Cinq for hosting Autumn's In The Air Blog Hop. If you are hopping over from the very talented Kim Savvy Southern Style, then let me give you a big welcome! The full list of amazing bloggers on this fall home tour is listed below.
My fall storage bins are stored in the attic and I went up there and took inventory of what I had. We all collect and horde items and after awhile the "things" collected and accumulated can became practically obnoxious. This year I said, let's use what we have and casually switch over the space.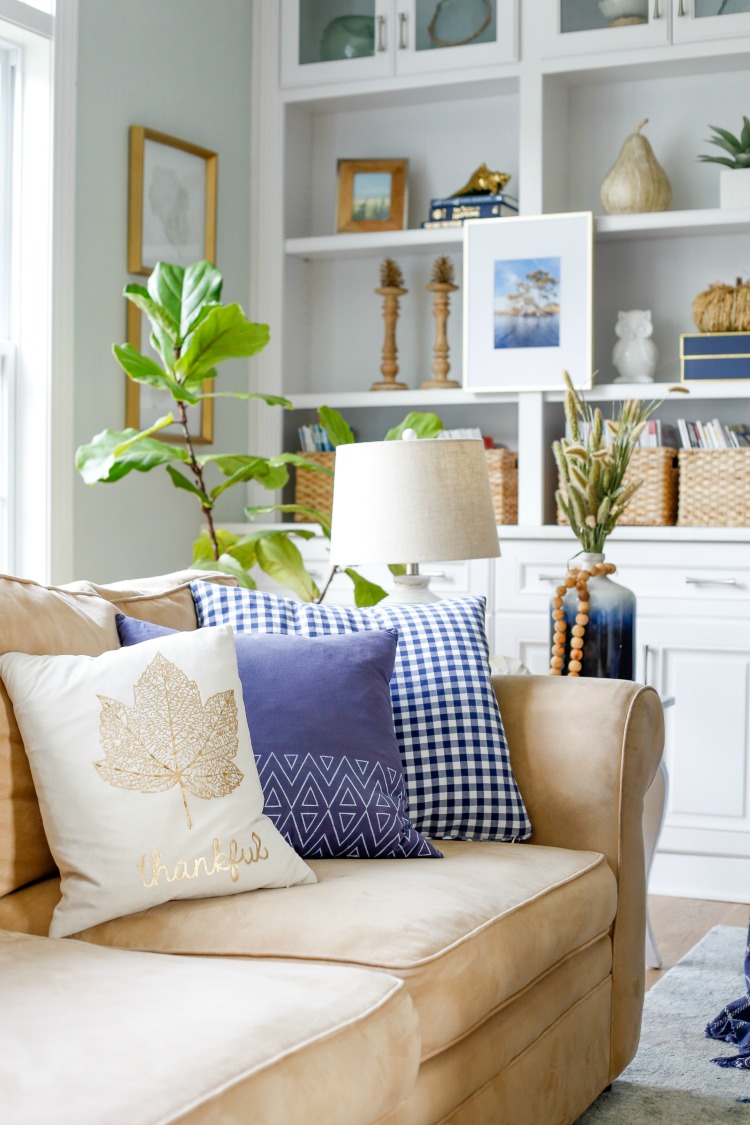 Navy and neutral was my theme. The book shelves were kept simple, emphasizing a color palette of natural wood, gilded accessories, rich navy textiles and fresh and live greenery. Decorating our bookshelves is always a fun challenge each season.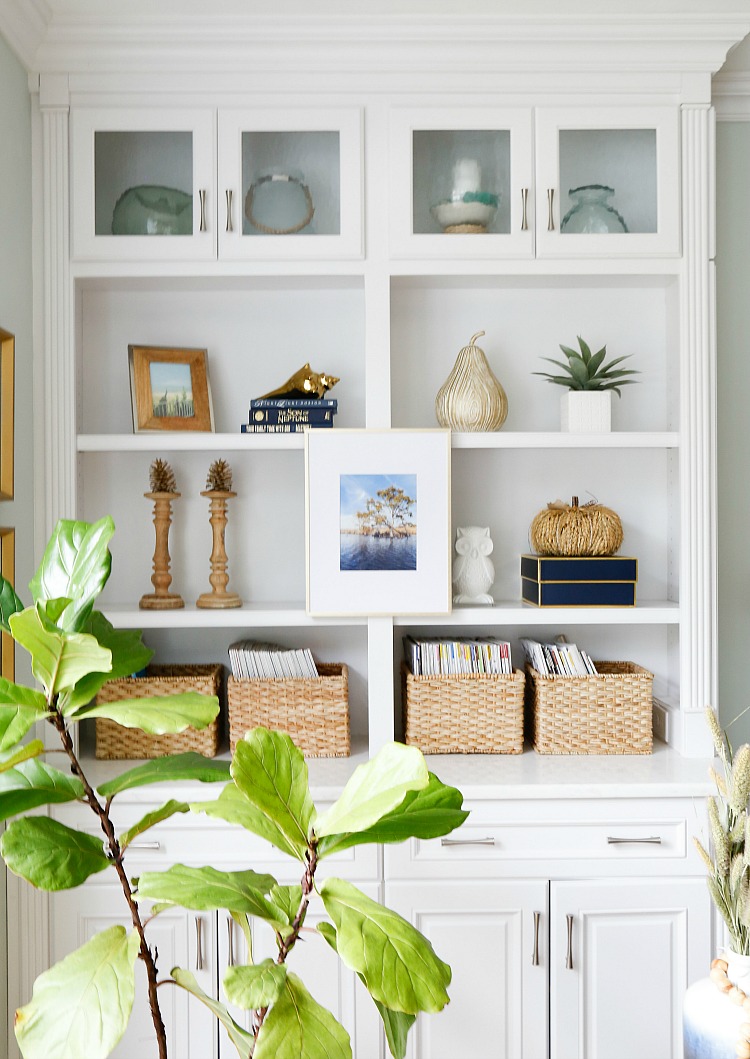 Adding a floating framed picture was a fun addition to our built-ins. This photo was taken on one of our weekend fall boating trips on the river. This picture frame is mounted by a 3M Command hook. Don't be shy to showcase your photos and frame them for quick and easy art!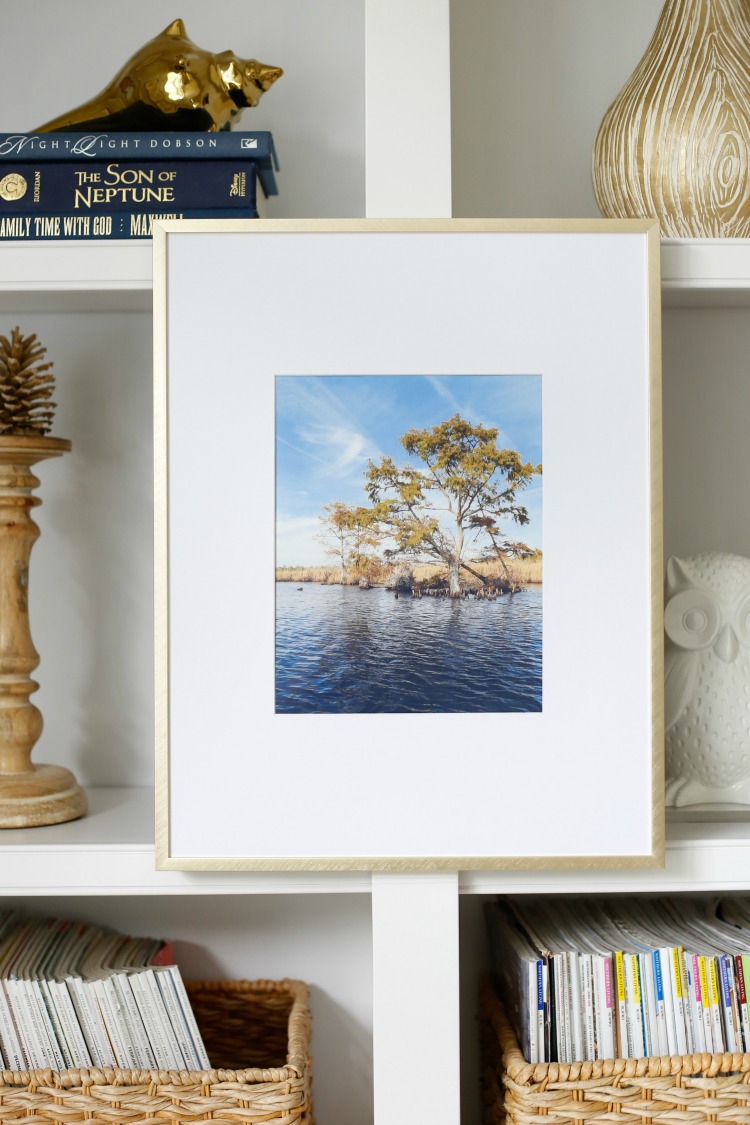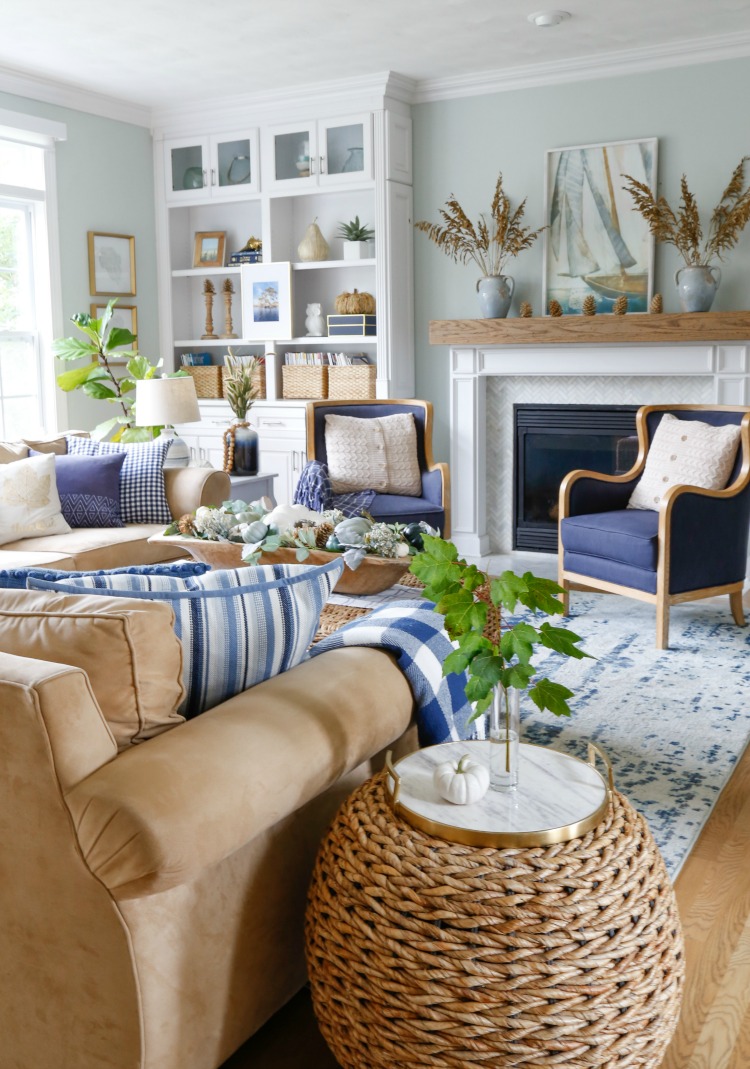 All my neighbors have beautiful maple trees, but we sadly don't. I was so excited when I spied a little maple tree randomly growing in my yard behind my hydrangeas. I adore white baby boo pumpkins but none could be found this early in the season, so I painted a little orange pumpkin white with craft paint! Simple and free decor is the best way to go though, don't you think?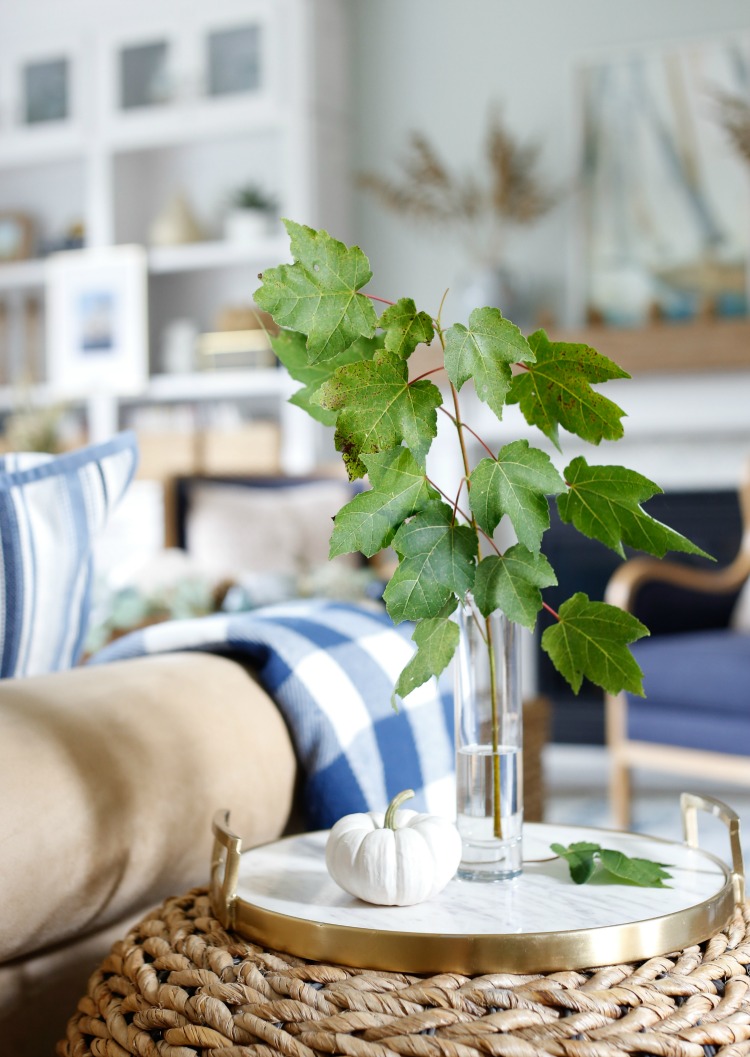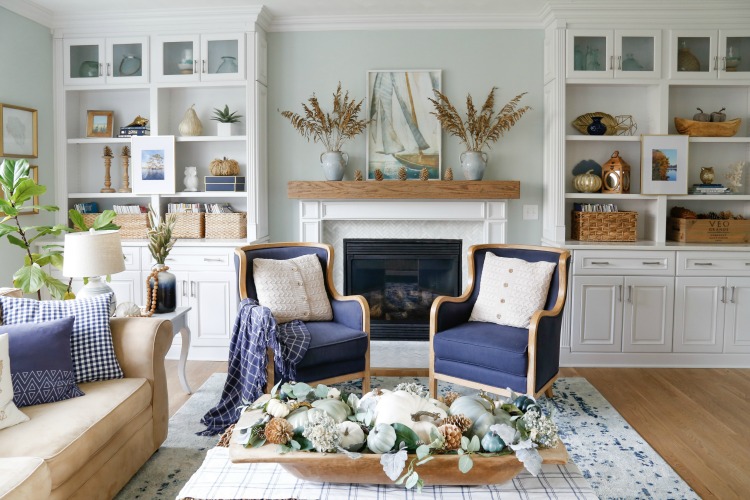 Here is the other side of our living room built-in bookshelves. I posted another photo from our fall ventures upon the river.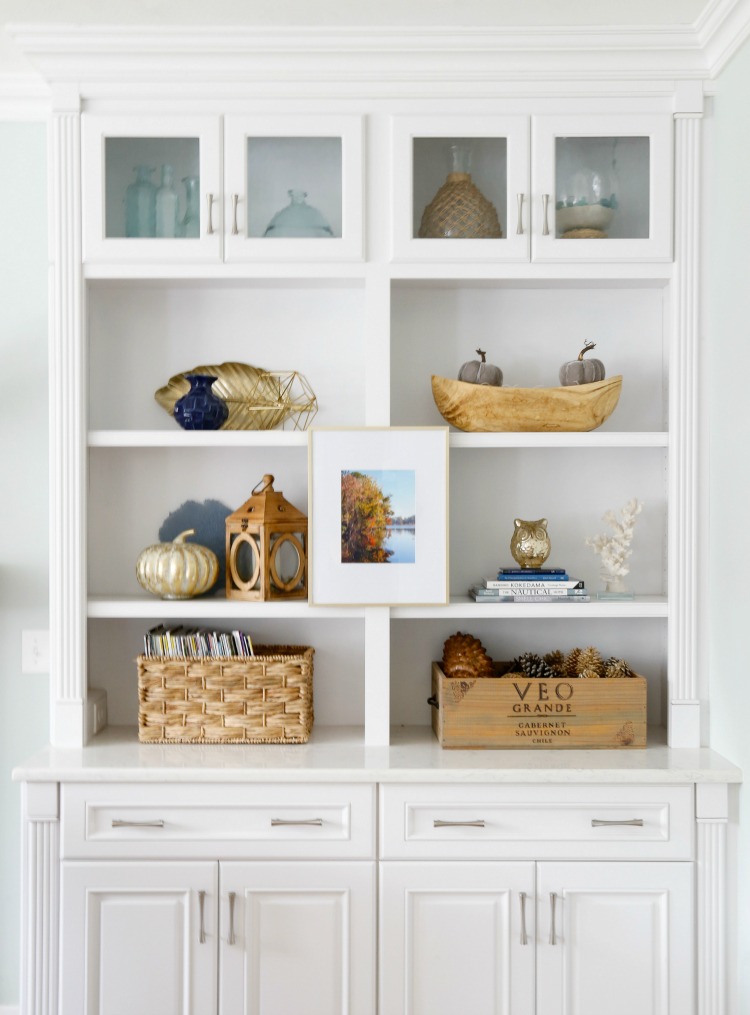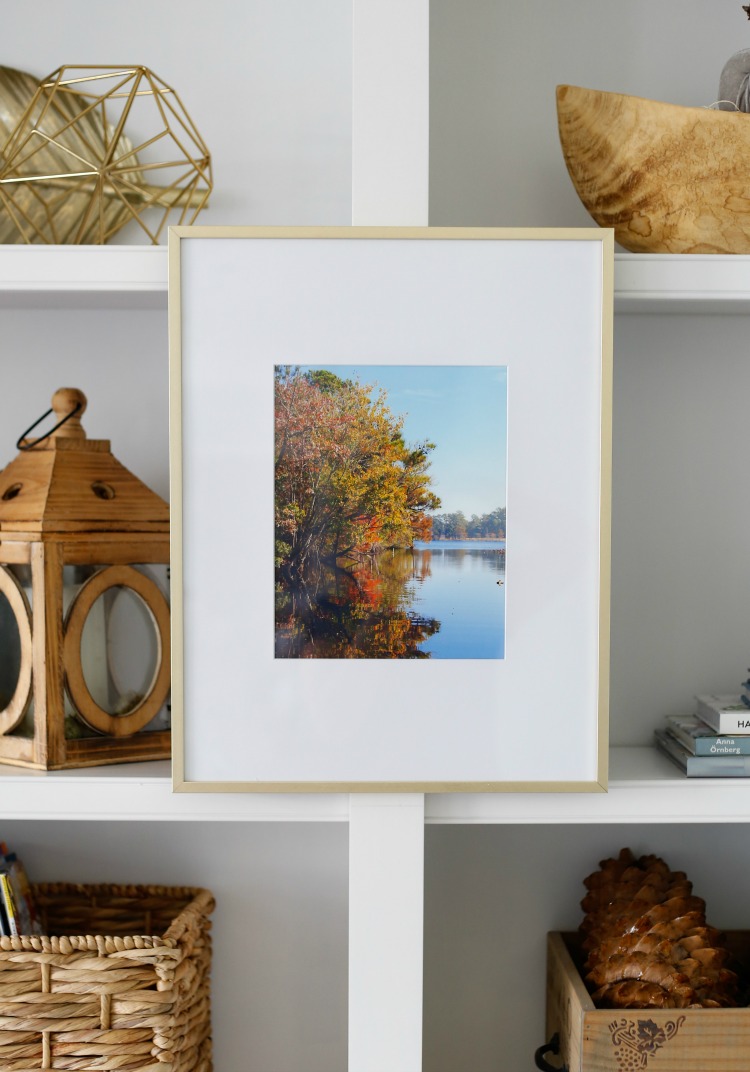 And who can resist a dough bowl filled with pumpkins? This was seriously a 5 minute centerpiece.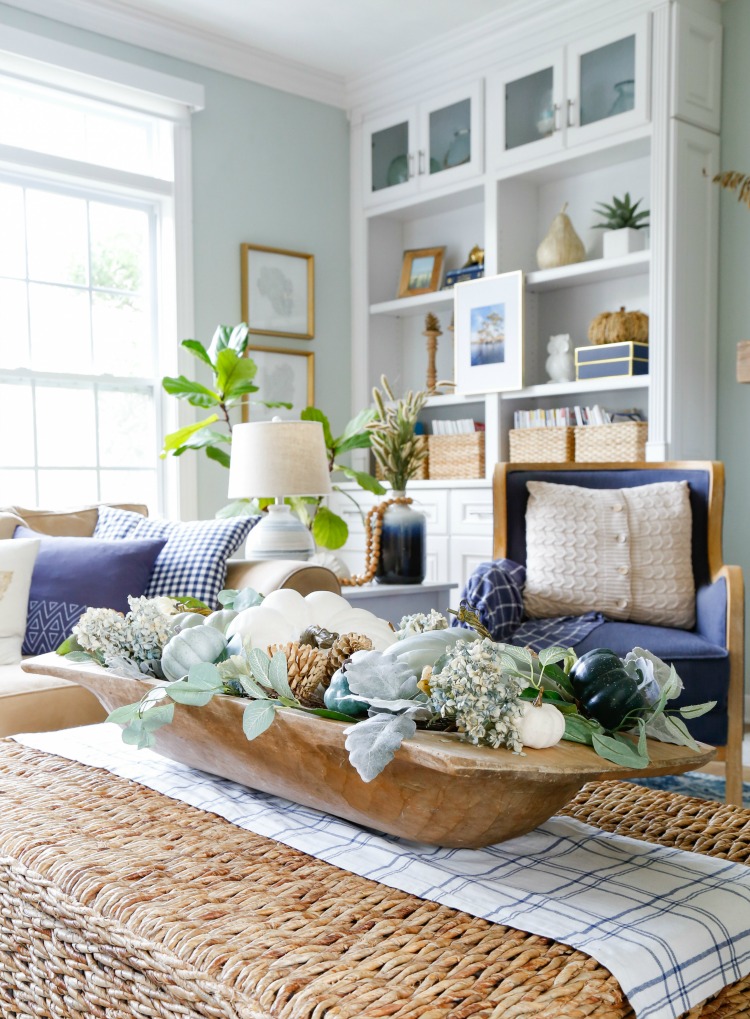 The pumpkin filled dough bowl centerpiece is simply a dough bowl with a towel laid upon the bottom. Then I put 3 faux cinderella pumpkins upon the towel. The towel elevates them! Next I wrapped the pumpkin trio with a fall garland from Michaels and then tucked in a few faux white baby boo pumpkins, bleached pinecones, and dried hydrangeas.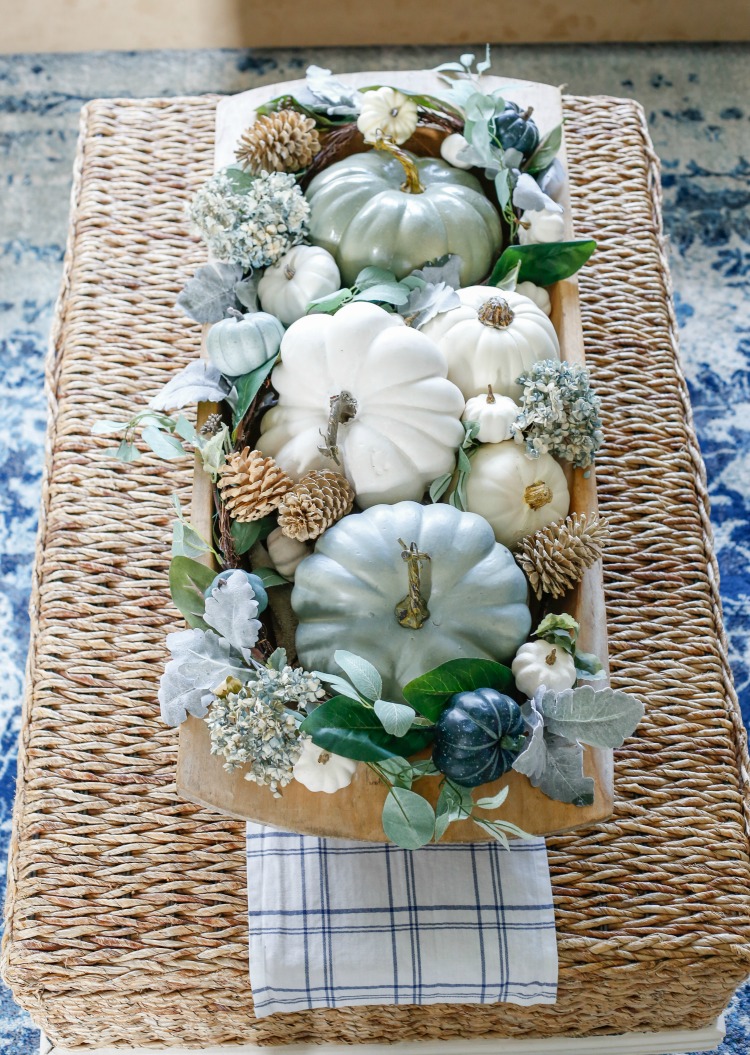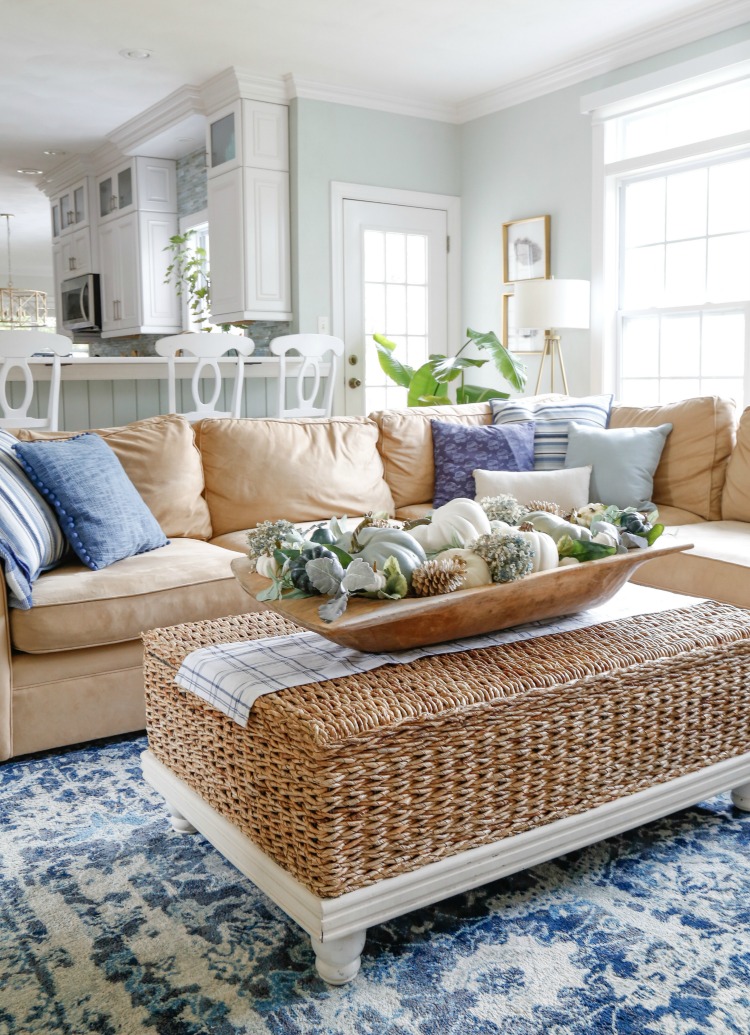 Let's take a look at into the kitchen, shall we?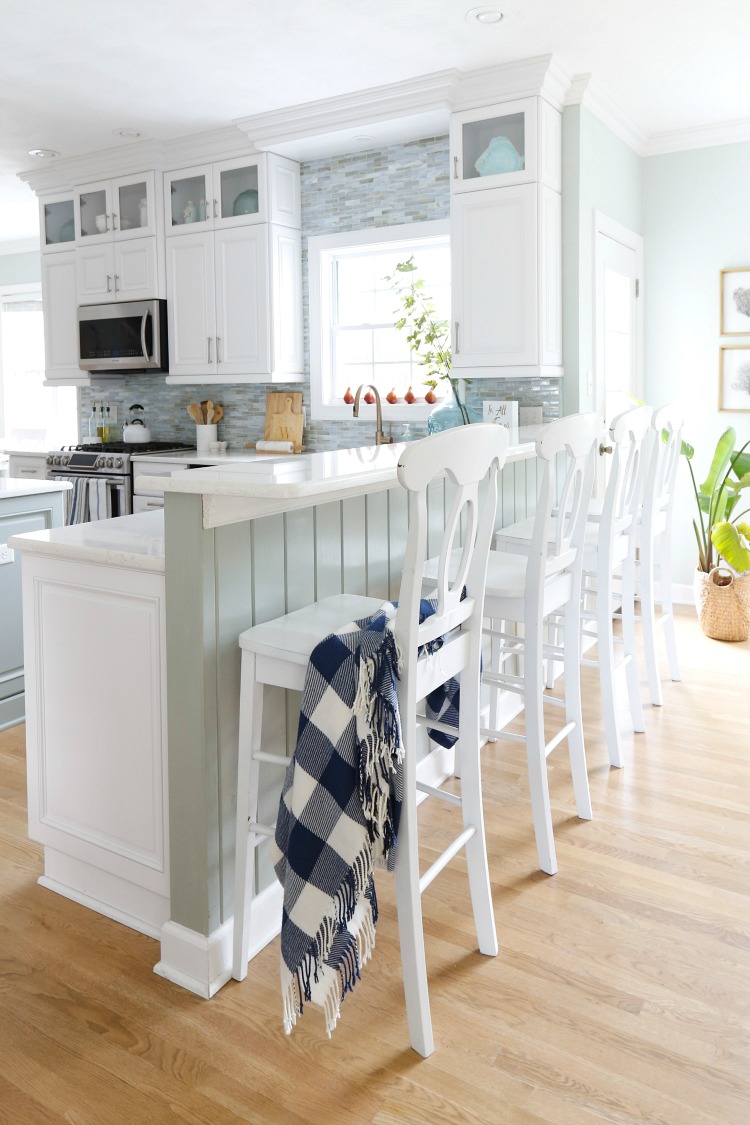 Pretty pears ripening on the window sill, a bowl of honey crisp apples, and maple branches are enough to say "hello fall"!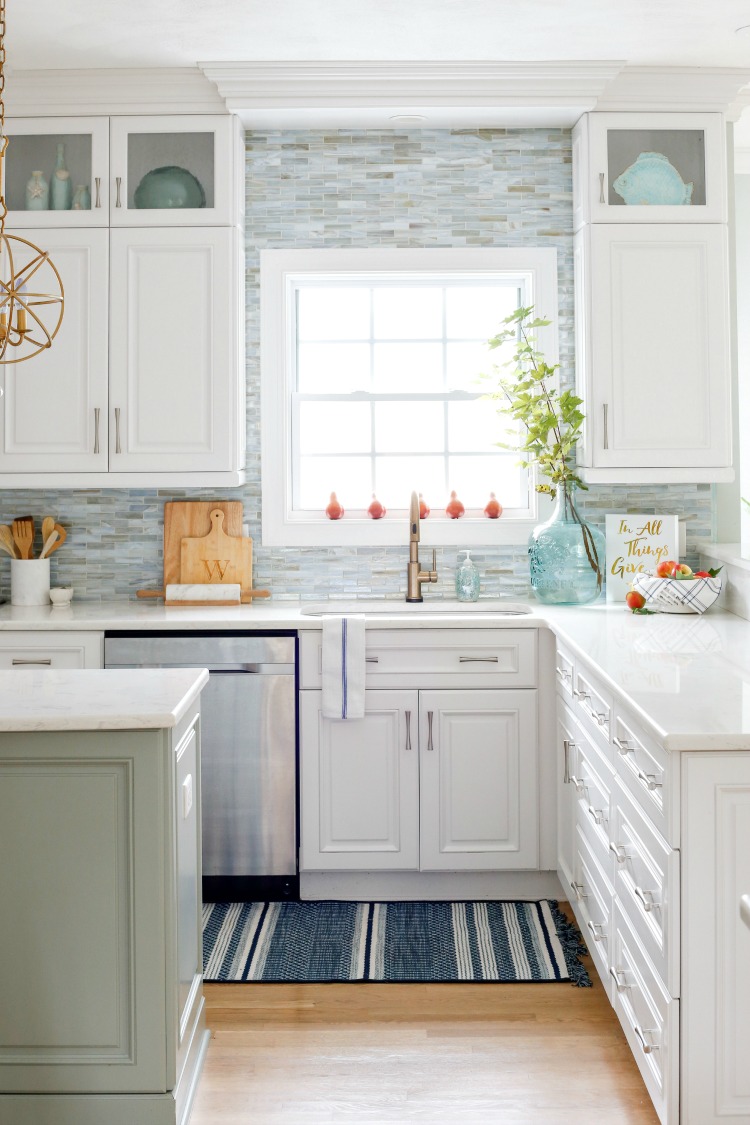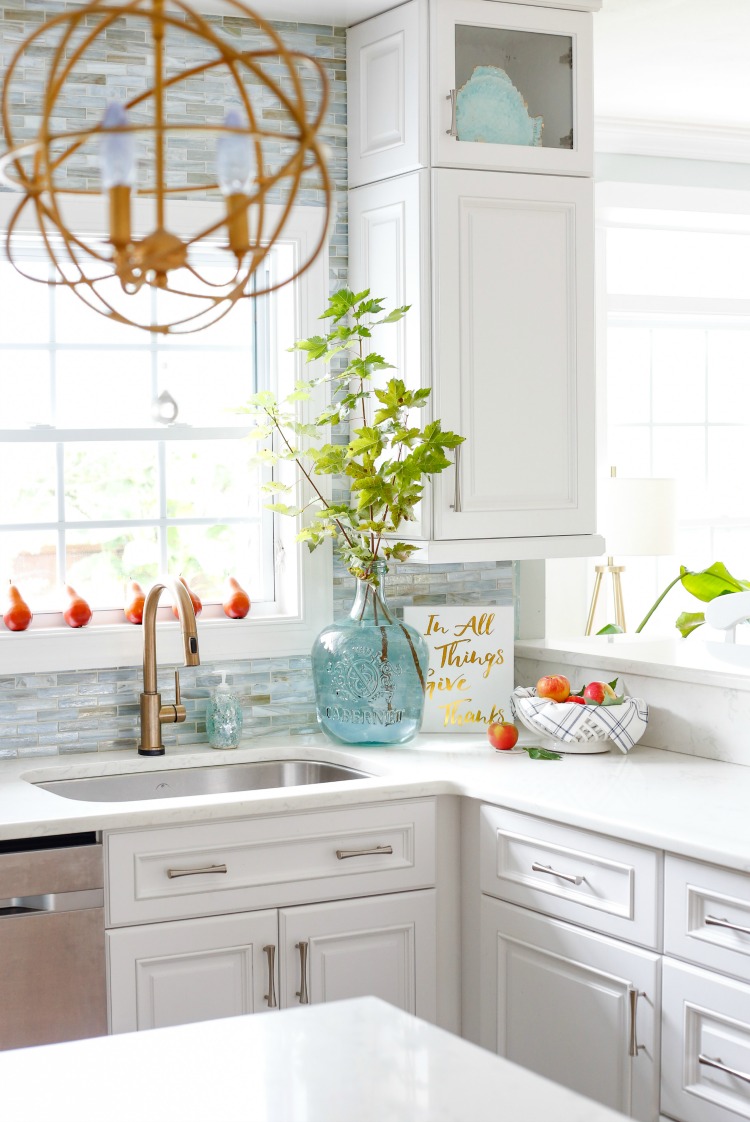 After our recent Hurricane Florence, I am far more aware of everything to be thankful for. This little sign is always a good reminder to have a mindset that "In all Things Give Thanks!".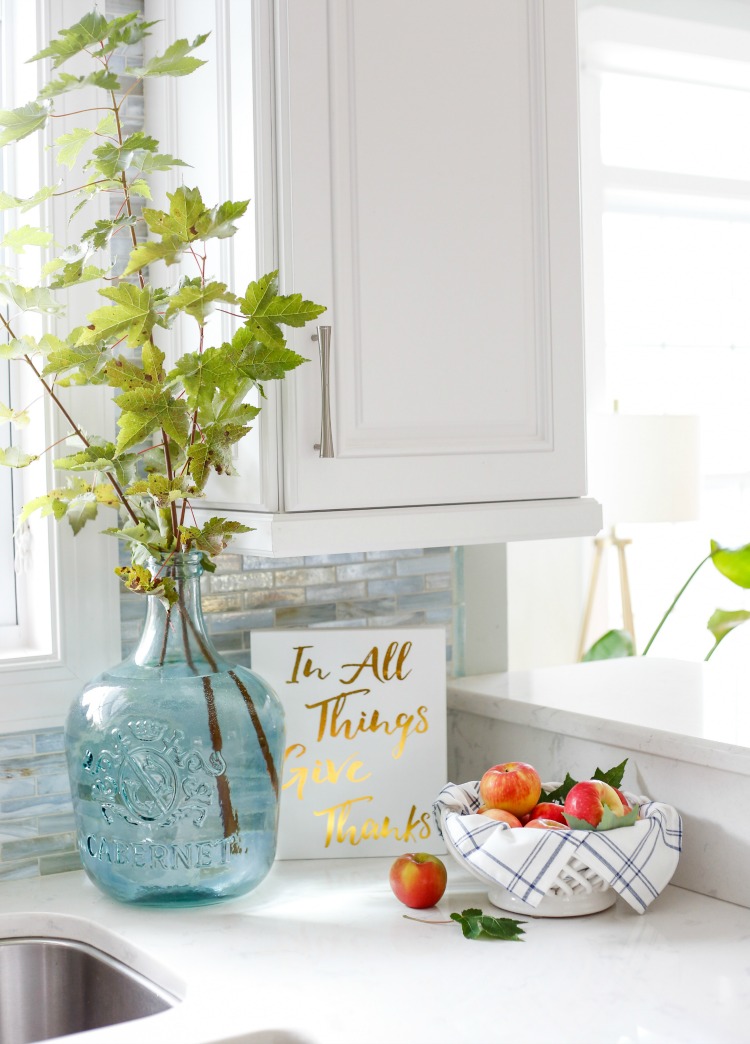 In lieu of flowers, who can resist the beauty of fall produce? Juicy pears and tart concord grapes are some of my favorite snacks. I remember as a small child, my little group of friends would run to the back fence of our elementary school where concord grapes grew wild, and we would snack upon them at recess…. and then get yelled at by the recess monitor for being so far away and causing mischief! Ha! It's so odd how I feel sneaky every time I eat concord grapes now. 😉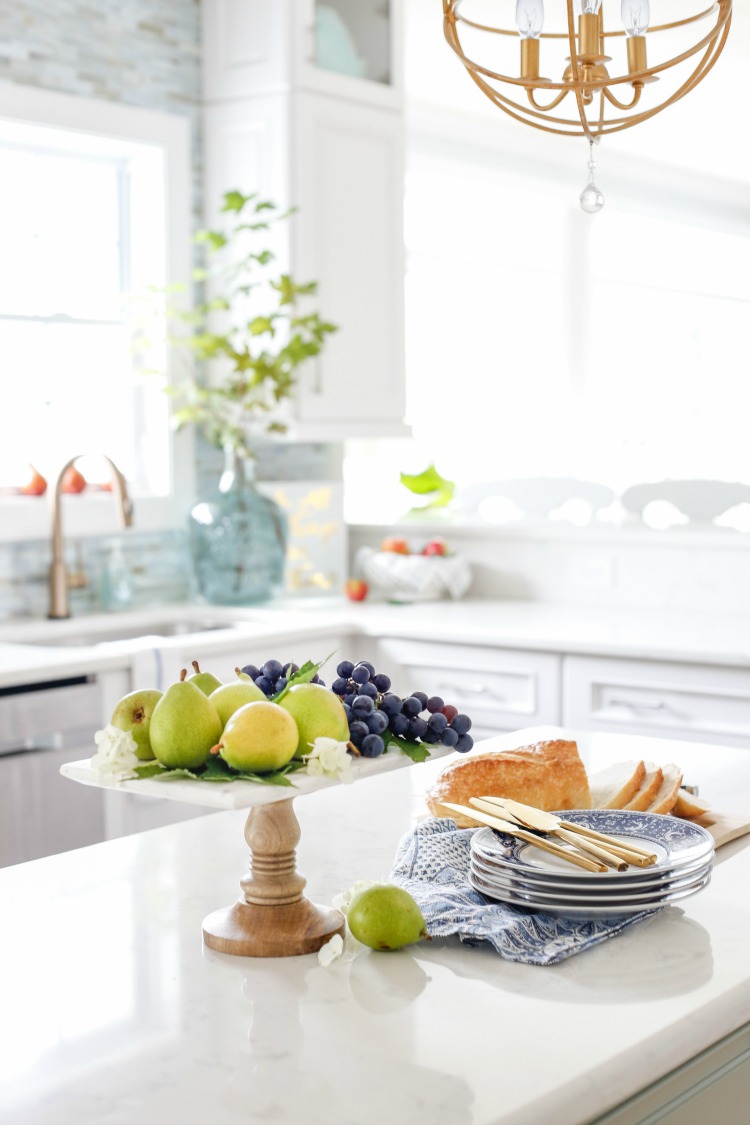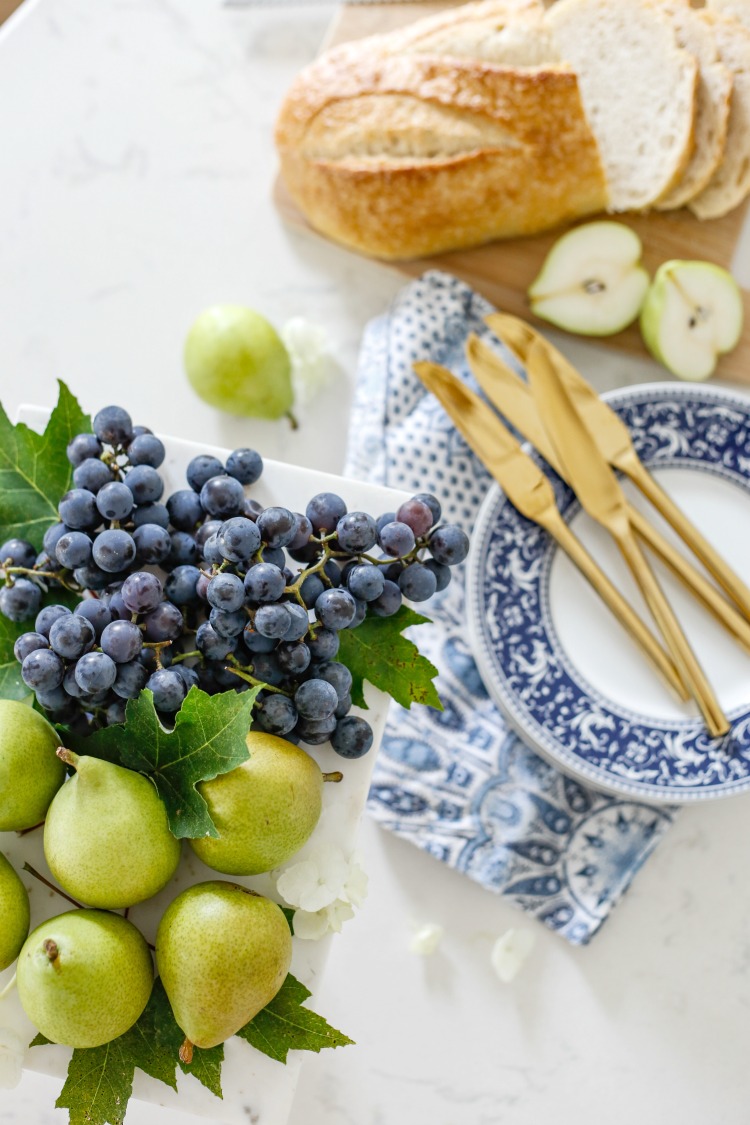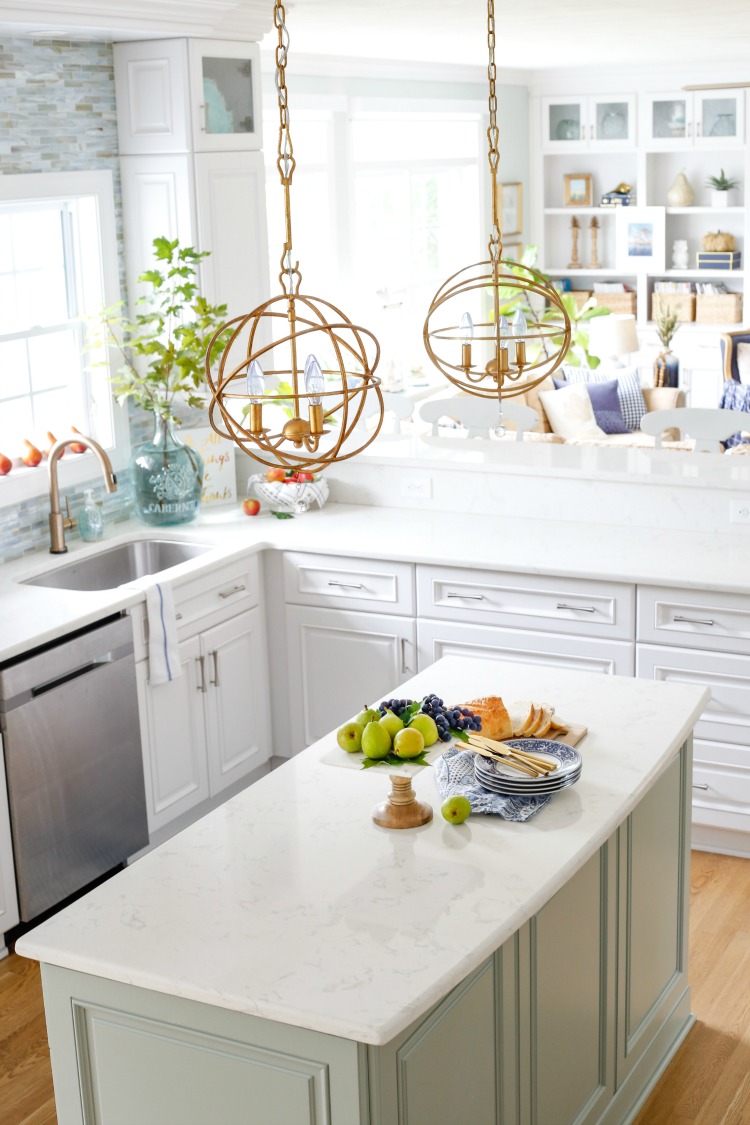 Decorating for fall is simply adding a few touches of what you love most about the season. For me, it is white pumpkins, natural grasses, beautiful leafy branches and the bounty of fall produce. I hope you enjoyed my Navy and Neutral Fall Living Room + Kitchen Tour!
GET THE LOOK:
Listed below are all the sources for the items in the room. Affiliate links provided for your shopping convenience.
LIVING ROOM:
Wall Color- Sea Salt by SW
Cabinetry Color – a custom color- closest would be Extra White by SW
Baskets + Book shelf decor – HomeGoods
White Oak Hardwood Floors- Weathered Oak Stain by Duraseal
KITCHEN
Cabinetry – Custom
Backsplash – "Agate Lucca Pearl" by Lunada Bay Tile
Gold Pendants- Ballard Designs
Counters – "Torquay" by Cambria Quartz
Island + Peninsula Color – Oyster Bay by SW
Marble/Wood Pedestal – Target
Marble Utensil Holder- Target
Marble salt & pepper cellars – Target
Blue/White Striped Rug – Target
Large Glass Bottle – HomeGoods
Want more amazing fall inspiration? Please check out all the other amazing bloggers for AUTUMN'S IN THE AIR FALL BLOG TOUR hosted by Maison de Cinq! Next up is the beautiful home of Shabbyfufu !
TODAY'S POSTS: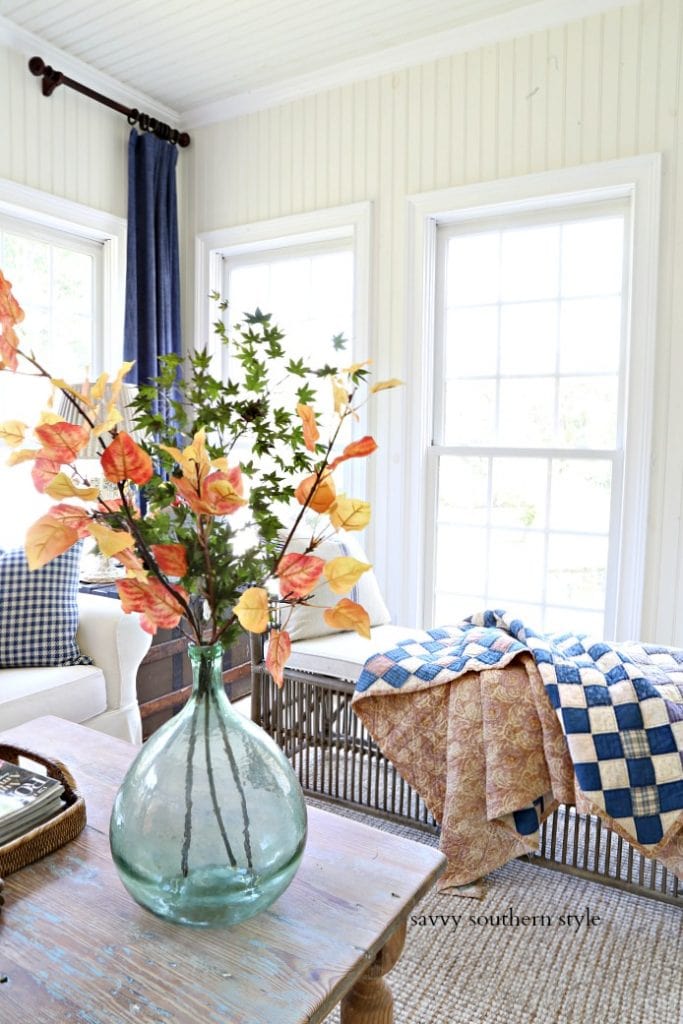 Savvy Southern Style
Sand & Sisal
Shabbyfufu
Zevy Joy
Ella Claire
MONDAY'S POSTS
Savvy Southern Style | Sand & Sisal | Shabbyfufu | Zevy Joy | Ella Claire
TUESDAY'S POSTS:
Maison de Cinq | Designthusiasm | On Sutton Place | Edith & Evelyn Vintage | Life on Virginia Street | Styled with Lace