This post has been sponsored by the J.M. Smucker Company. I received product and compensation, but all opinions are my own. 
Spring is just around the corner and I want to share my favorite breakfast dish that is perfect for an Easter or spring brunch. We'll be making a Lemon-Berry Dutch Baby Pancake and pairing it with a piping hot pot of rich Colombian Folgers® coffee! A Dutch baby pancake are also known as a German pancake. It is like a big, golden, puffy, fluffy, eggy rich crepe that you can top with essentially anything! For this recipe we'll be using tangy lemon curd topped with fresh sweet blueberries and raspberries.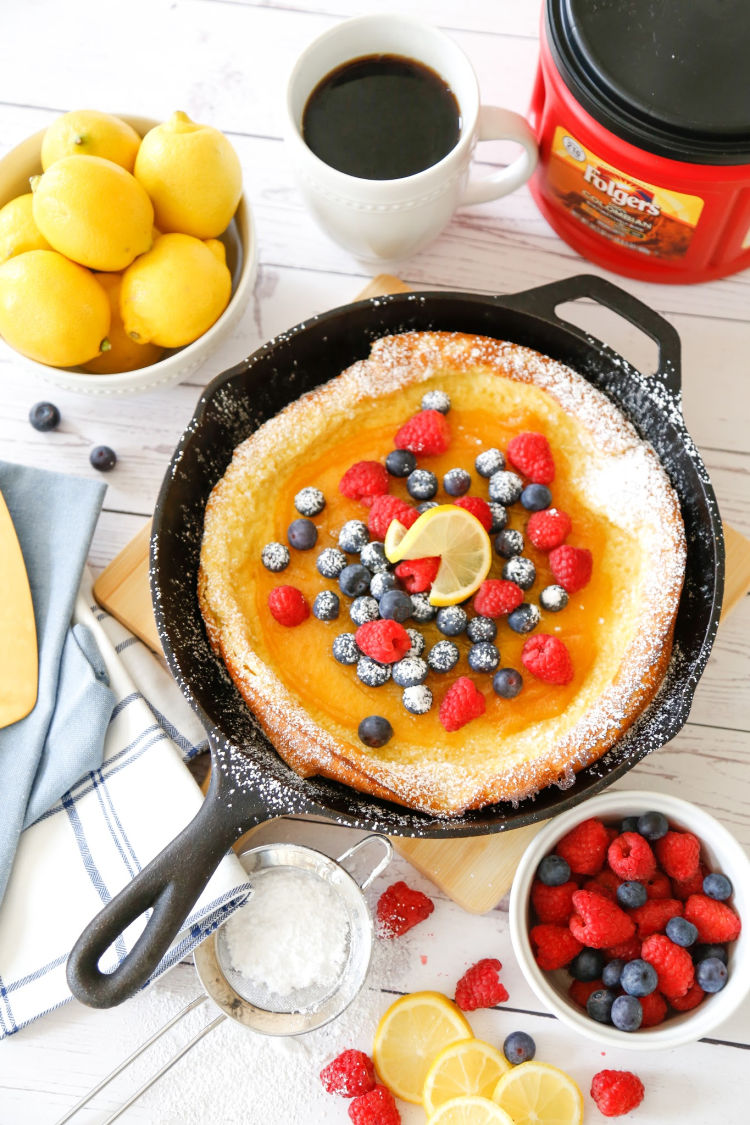 If you're making brunch then you need coffee to go with it of course! You all know how much I love my coffee! As a brand ambassador for Folgers® I have had to delicious opportunity to try all 17 roasts (yes, 17) which range from mild to dark to decaf. I have a few favorites like their Colombian, Coffeehouse Blend, and Gourmet Supreme Coffee. The Colombian coffee pairs beautifully with the Lemon-Berry Dutch Baby Pancake. It is a rich and full bodied medium to medium-dark roast with caramel and nutty under notes, which makes it a very versatile coffee to serve. The Colombian roast helps to balance out the sweet tartness of the lemon and berries topping the pancake. 
If you aren't sure which coffee is best suited for your personal tastes and flavor preferences, you can take a fun little interactive Perfect Pairings Quiz on the Folger's site! I took the quiz and it revealed that my favorite pairings were Black Silk, Colombian and Gourmet Supreme blends! If you all haven't tried these amazing blends then I highly recommend you do! Below is also a little simple guideline for coffee roasts:
Below is also a little simple guideline for coffee roasts:
Light Roasts- for those who enjoy fruity acidic, and floral flavors.
Medium to Medium Dark Roasts- for those who prefer nutty or caramel flavors.
Dark Roasts- for those who love full-bodied bittersweet or chocolate flavors.
Now let's put on a pot of Colombian coffee and bake up our Lemon-Berry Dutch Baby Pancake!
Lemon-Berry Dutch Baby Pancake
This recipe only uses a few ingredients and prep time is only 5 minutes! These Dutch Baby Pancakes have a similar taste to crepes or popovers with golden, crispy edges. The key is baking it in a piping hot cast iron pan. I use a 10″ cast iron pan.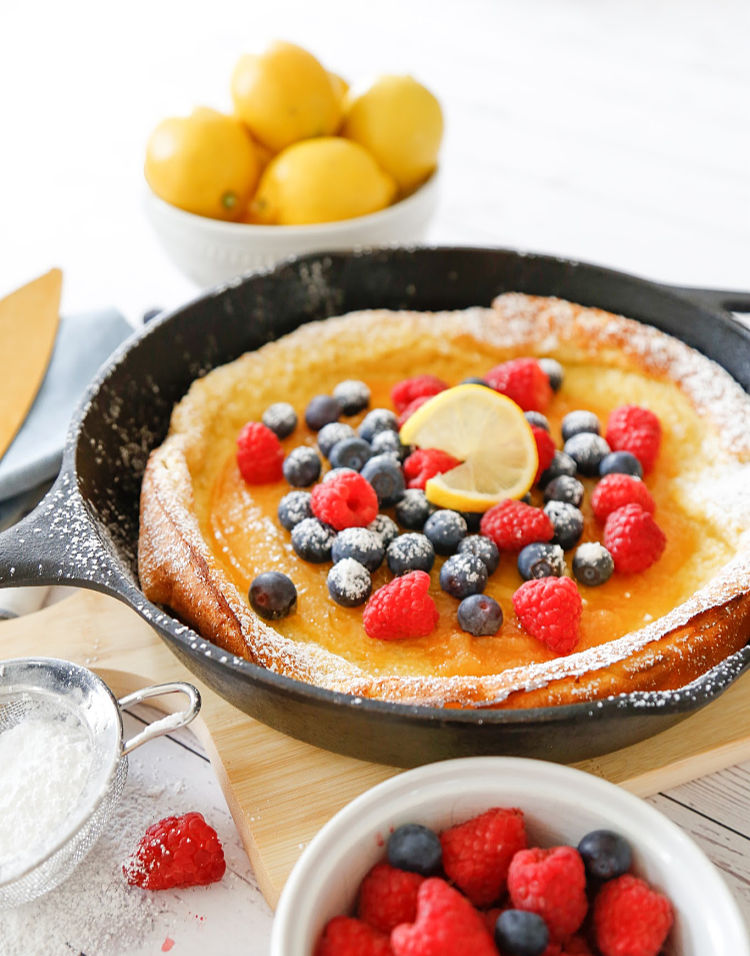 Instructions (printable recipe below):
You first start by putting your cast iron pan into the oven and then pre-heating it to 450°F degrees. Next beat 4 eggs well in a large bowl. Add in 2 tablespoons of sugar, 1/8 teaspoon of salt, 1 cup of flour and 1 cup of whole milk. If you don't have whole milk, you can add half-n-half mixed with 2% or skim milk. Whisk the mixture well with a whisk until smooth. Feel free to use a blender or food processor if desired. Melt 2 tablespoons of butter and stir that into the batter. The batter will be quite runny. 
Carefully remove the hot cast iron pan from the oven and add in 2 more tablespoons of butter and allow it to melt. Swirl the butter in the pan to coat the bottom and then pour in the batter. Bake the pancake in the oven on the middle rack for 15 minutes. The batter will puff up quite large along the edges and get golden brown.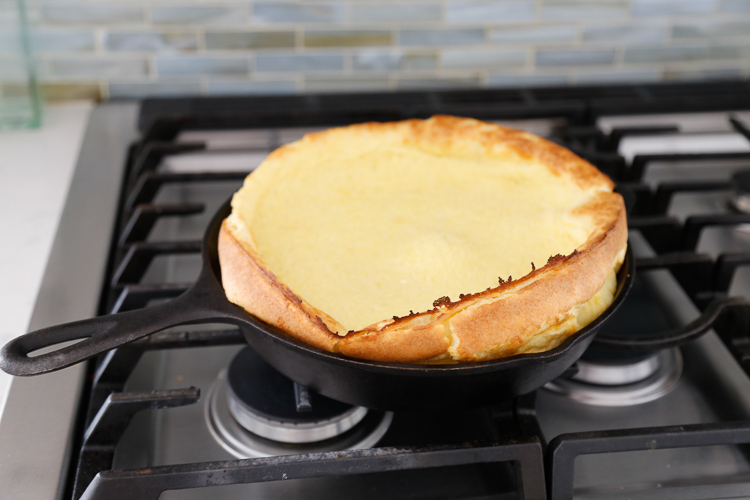 Remove from oven after 15 minutes and allow to cool in pan for a few minutes before spreading lemon curd on the pancake.The pancake will deflate a bit once it starts cooling. I chose to use Dickenson's lemon curd (which is owned by Smuckers) and topped it with fresh raspberries and blueberries. Dust powdered sugar over the entire pancake. Cut the pancake into 4 wedges and serve with the rich and delicious Folgers Colombian coffee!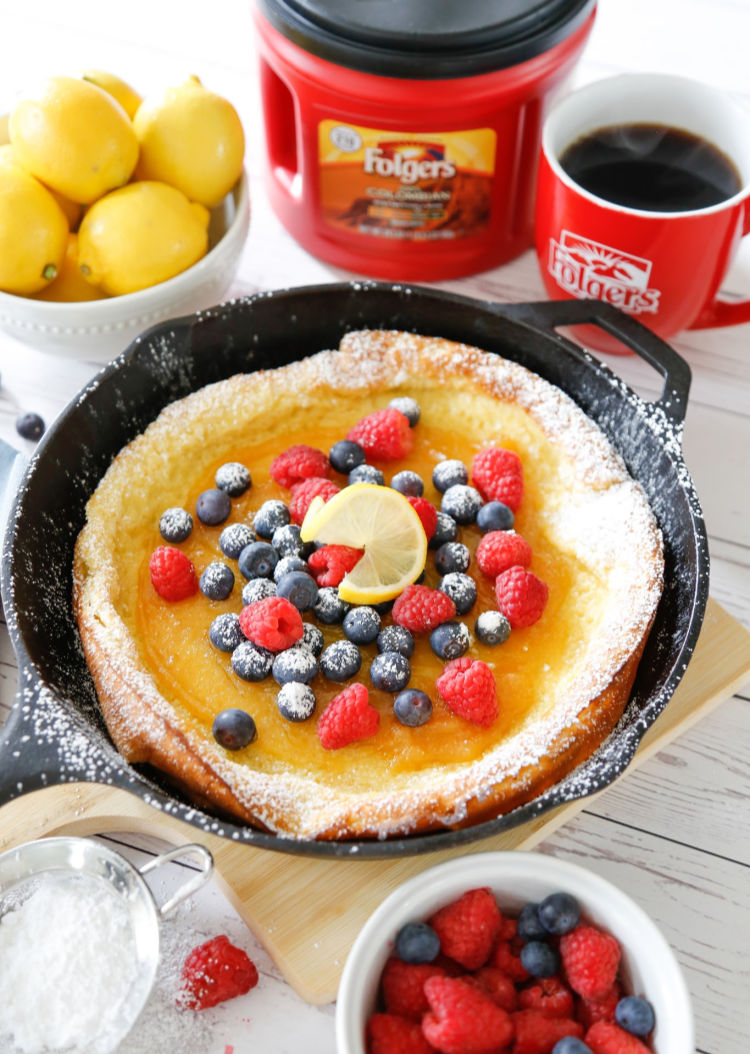 Lemon Berry Dutch Baby Pancake
Author:
Kim Wilson - sandandsisal.com
Recipe type:
breakfast or brunch
Prep time:
Cook time:
Total time:
Ingredients
1 cup all-purpose flour
1 cup whole milk
4 eggs
2 tablespoons granulated sugar
⅛ teaspoon salt
4 tablespoons butter
¼ cup lemon curd
fresh raspberries
fresh blueberries
powdered sugar
Instructions
Place a 10 inch cast iron skillet into the cold oven.
Turn on oven to 450 F and allow to preheat.
Beat 4 eggs well with a wire whisk in a large bowl.
Add sugar and salt to the beaten eggs.
Pour in flour and milk and whisk until smooth.
Melt 2 tablespoons of butter and add to the mixture.
Carefully pull hot skillet out of the oven and add 2 tablespoons to the hot pan. Swirl until melted.
Pour the egg mixture into the hot skillet and bake for 15 minutes.
After baking, allow to cool a bit and top with lemon curd and berries and garnish with a dusting of powdered sugar. Cut into 4 wedges and enjoy!
I hope you try out Lemon-Berry Dutch Baby Pancake with coffee for Easter or for any spring brunch! Don't forget to go and take the fun
perfect pairing coffee quiz !
KIM