This blog post is sponsored by Twenty & Oak. All opinions are my own. Oh my goodness y'all the floors are done! Today I'm giving you a little master bedroom sneak peek of the new hardwood floors from Twenty & Oak! Next week will be the big reveal of the entire upstairs. The family could not be more excited and happy to say buh-bye to the old carpet and see these gorgeous Nola floors go in from the Palmetto Road Tuscany collection. The new hardwood floors are French oak. They are smoked, antiqued, and wire brushed with an ultra low gloss finish and a 50 yr home warranty. They are perfect for an active family with kids and dogs. Needless to say, this mama is thrilled!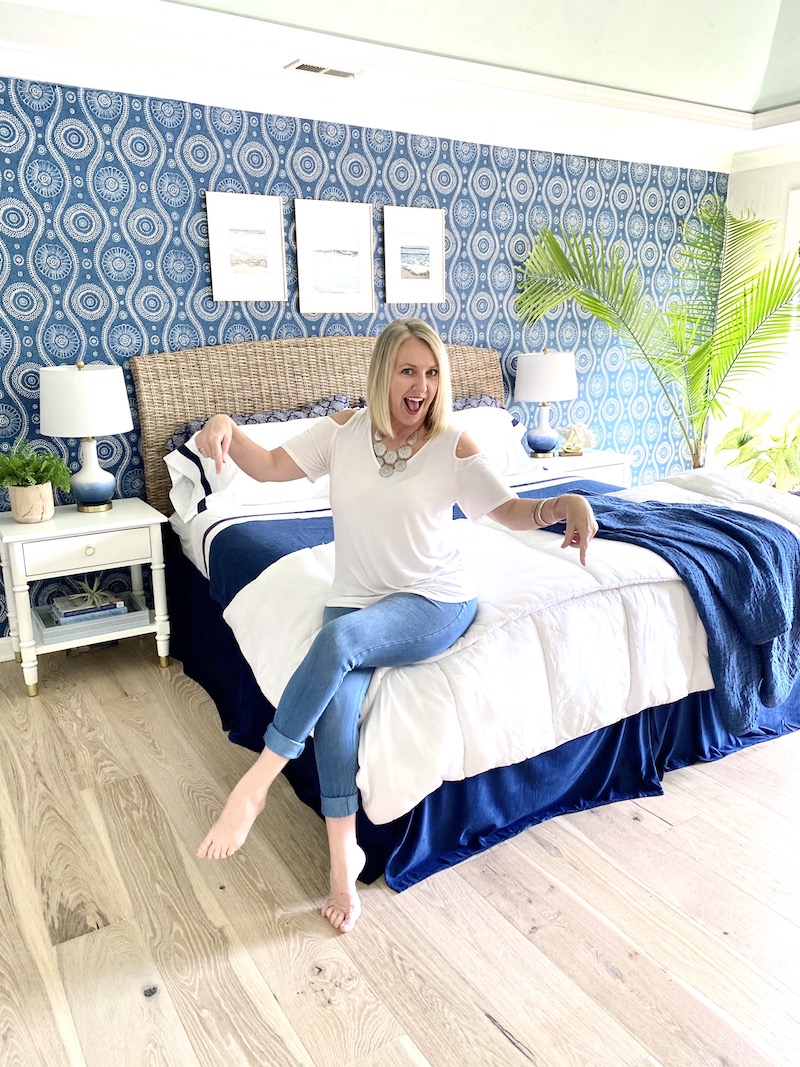 We couldn't have been more happy with our local Twenty & Oak retailer, Esprit Decor. Choosing the right flooring retailer is imperative. Refer to my previous post to see my tips for choosing one and what you need to look for. Esprit Decor has been a prominent design house in my area, Hampton Roads, for over 40 years. Their reputation is stellar and their service is next to none.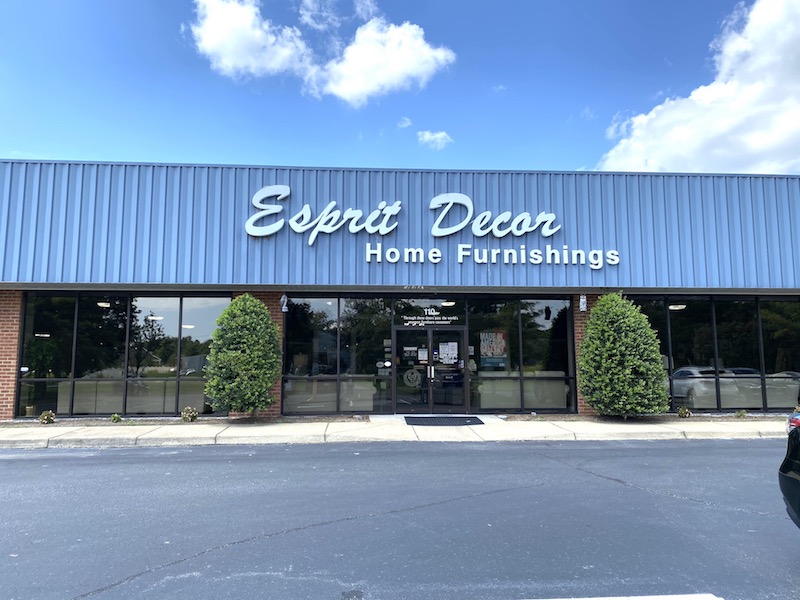 After visiting the Esprit Decor flooring showroom, I chose a few large sample boards to bring home and decided upon Nola. Esprit scheduled their top notch installer, Tim, to come and take measurements and place our order.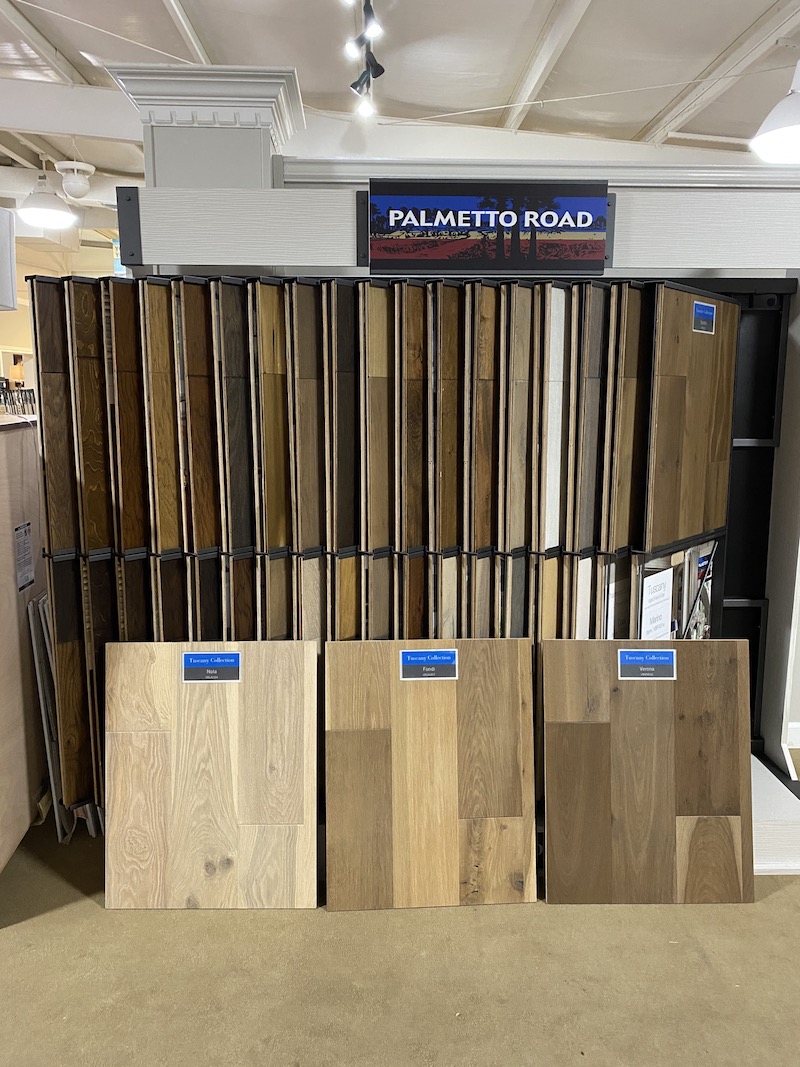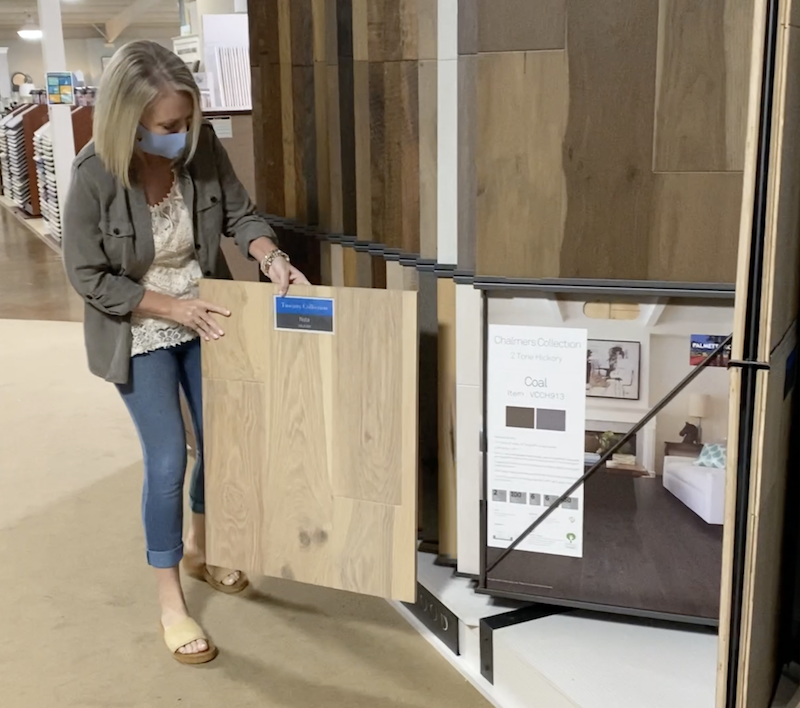 The Nola flooring arrived so quickly and we allowed it to acclimate for at least 3-5 days before installation. This step is important for any hardwood flooring installation. The reason flooring always needs to acclimate to the indoor, climate controlled temperature before installation is because wood flooring is affected by humidity and temperature. Acclimating to the normal indoor living conditions will help ensure the wood moisture level is within 2% of the subfloor's moisture content. This helps prevent the wood from expanding and contracting too much, thereby reducing the risk of permanently warping, cupping, or gapping.
Oh my goodness, look at all that flooring! As you can see, my fur baby Aspen decided to guard the new piles of flooring boxes and keep them safe and sound.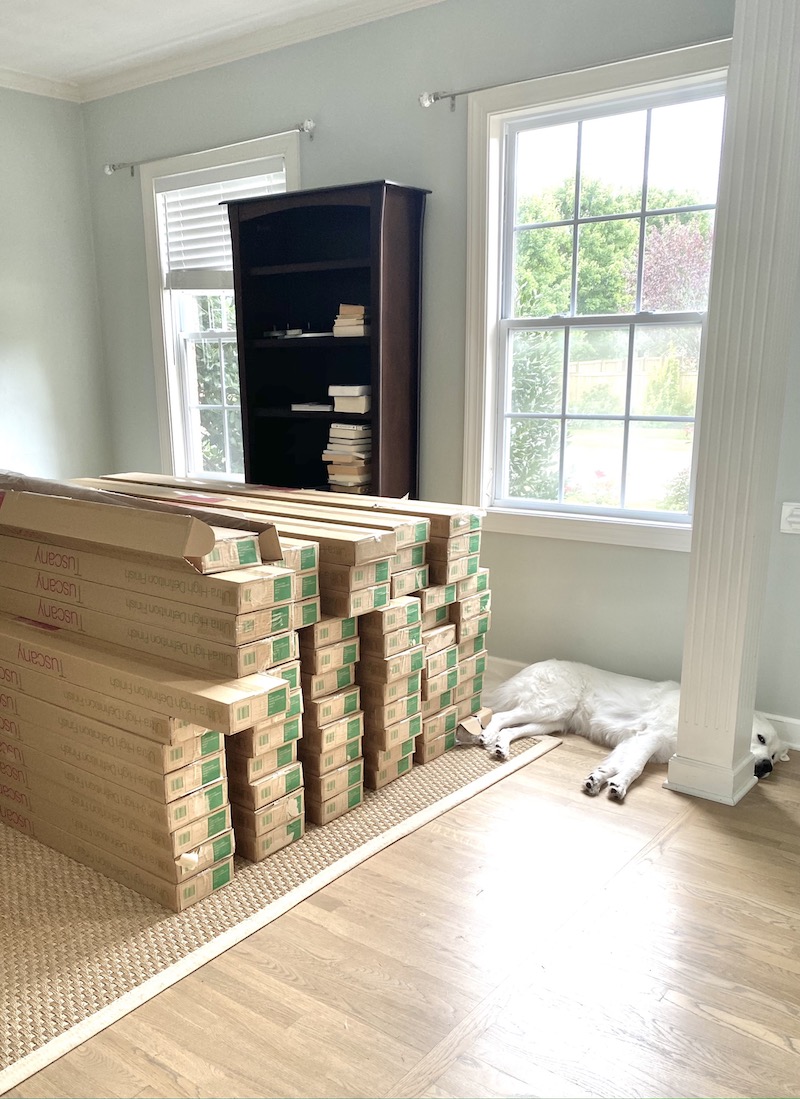 Installing the New Hardwood Floors
Hence begins the installation. We removed all of the previous flooring and carpet and prepped for installation. (Refer to my previous post for key tips on prepping installation) Tim and his crew from Esprit Decor focused on attention to detail, making sure the flooring would be installed correctly. They took the time to prep the subfloors and made sure that they would be level and ready for installation.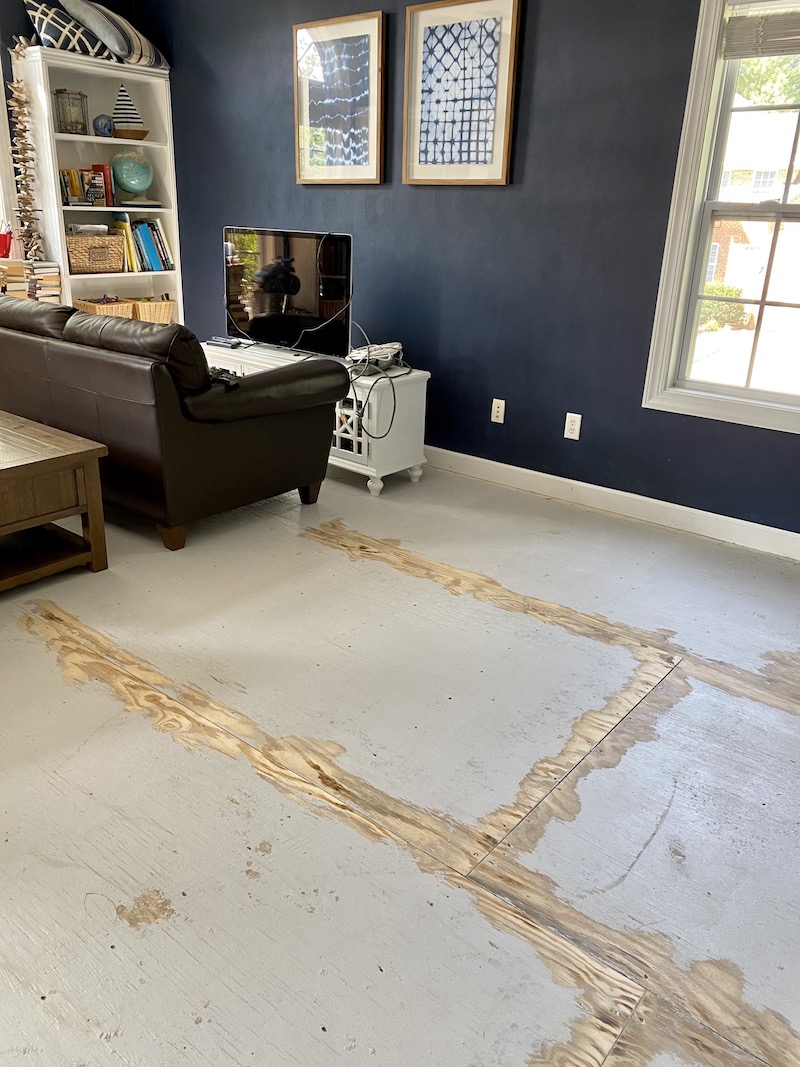 I hate sneaking up on the guys to take photos because they are never comfortable, but I did! These guys were so great though and simply laughed at the weird "blogger lady" filming them while they were doing their work. This young man Steven was so excellent and such a hard worker. Having tradesmen in your house who take pride in their work and are trustworthy is a blessing! That is another reason why you need to research and find the right flooring retailers and installers in your area. Twenty & Oak only partners with the most reputable and trusted retailers and installers.
Here we go! The hallway is done. Excuse the yellow hall lighting going on. I know it distorts the actual color of the floors, but this was my first glimpse at the new floors and I couldn't resist!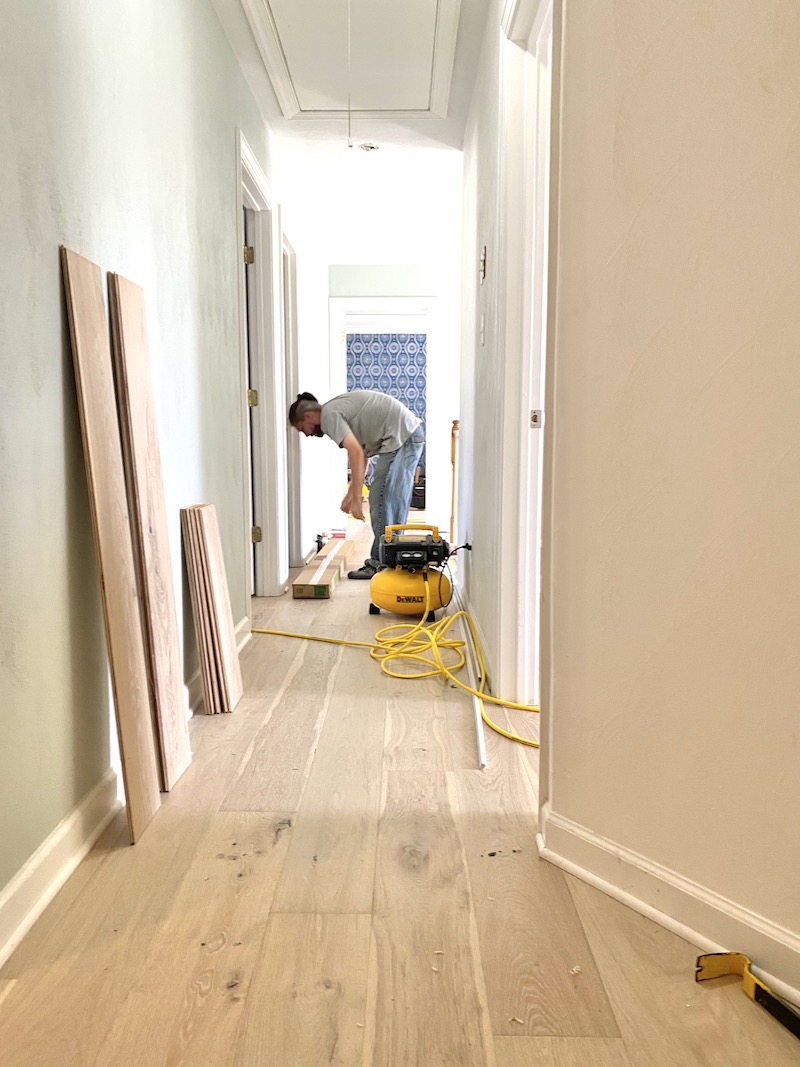 I really tried to stay out of the way while these guys did their job. Here is a sneak peek of my master bedroom. Oh my goodness, can you hear my squeals of pure joy? The Nola flooring looks gorgeous!
PRESS PLAY TO WATCH MY FLOORING VIDEO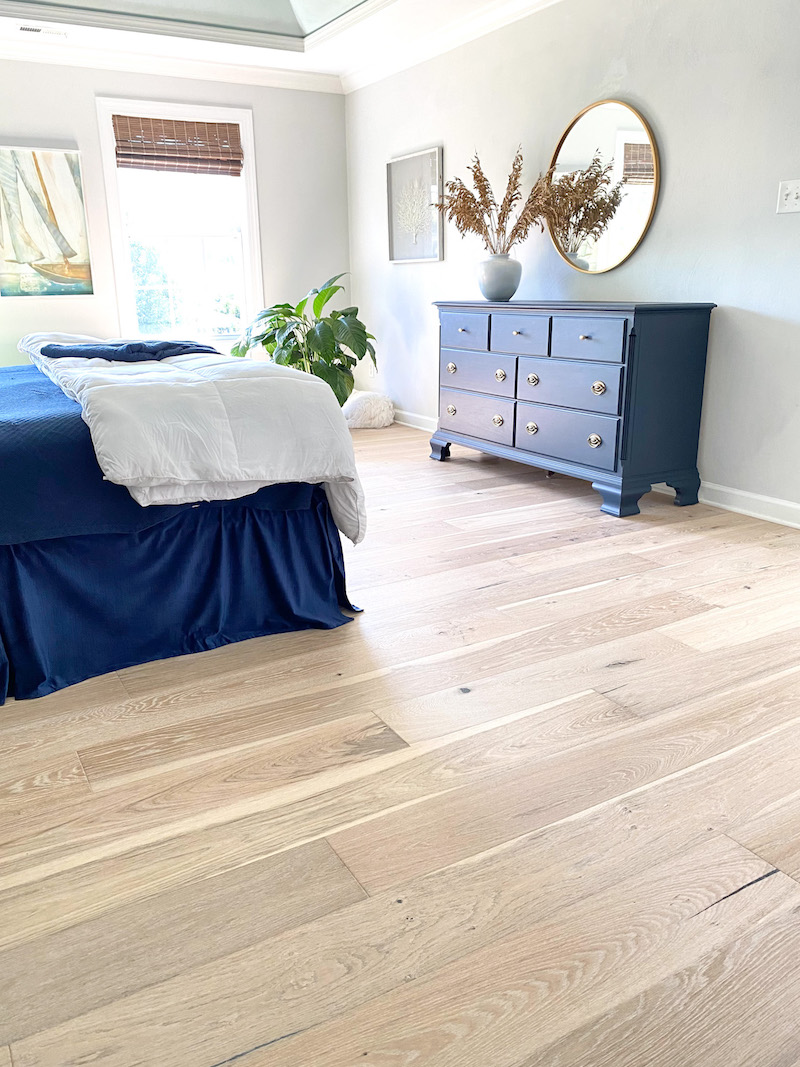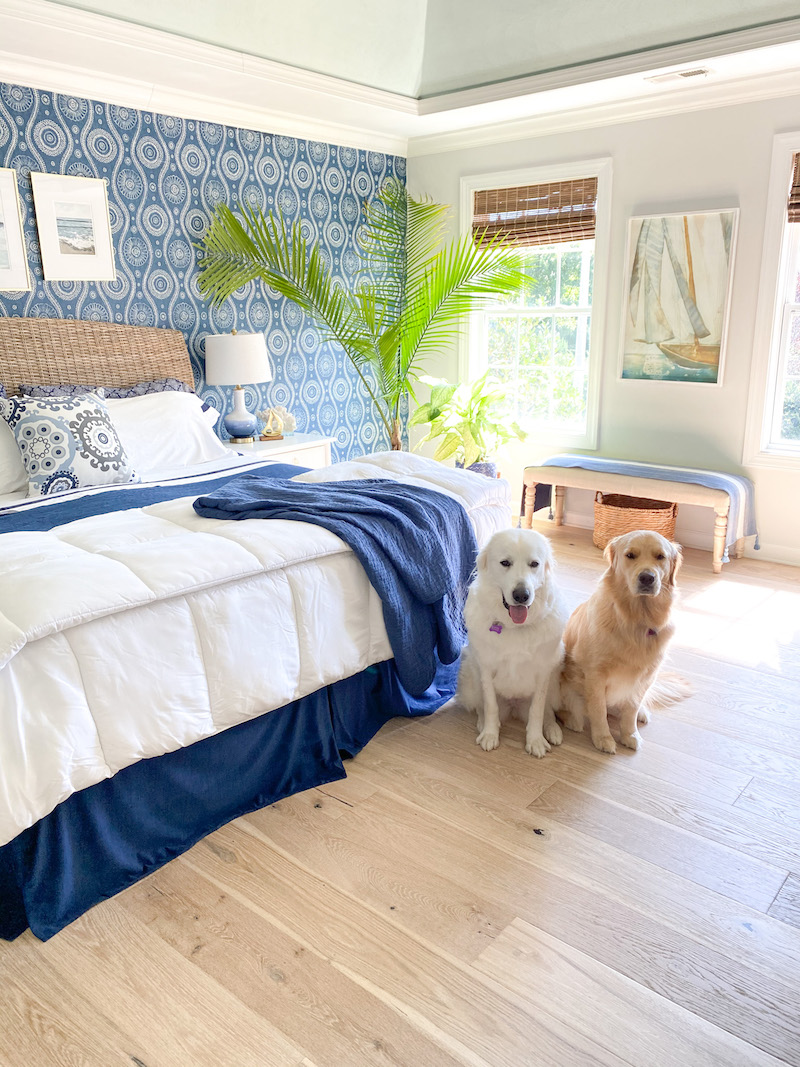 Aspen and Willow approve too! Give me a few days to get the rest of the rooms upstairs cleaned, styled and photographed and I will share the big reveal of the floors next week. I know you all will love it.
If you are interested in flooring for your home then don't forget to check out Twenty & Oak and get your 6 FREE FLOORING SAMPLES!