How to Select the Right Flooring Retailer and Prepare for Installation
This blog post is sponsored by Twenty & Oak. All opinions are my own.
Last week I shared how we were choosing hardwood flooring for the upstairs level of our home. We ordered free flooring samples from Twenty & Oak and started narrowing down our choices. Thank you for helping weigh in with your recommendations in the comments and on my Facebook and Instagram pages! I appreciate the advice! I promised I'd bring you along with me to my local Twenty & Oak retailer to look at the showroom and pick up some larger sample boards. Be sure to check out a little video of my visit below. Today I'm going to share my visit and tips on how to select the right flooring retailer and prepare for installation day.

How to Select the Right Flooring Retailer
As I mentioned in my last post, Twenty & Oak emailed me a few local retailers I could visit. I was thrilled to find out that one of my favorite furniture, flooring and design centers, Esprit Decor, was at the top of the list! They have been in business for over 40 years and have the most impeccable reputation for quality, craftsmanship, customer service and selection. Definitely look for those attributes when selecting the right flooring retailer.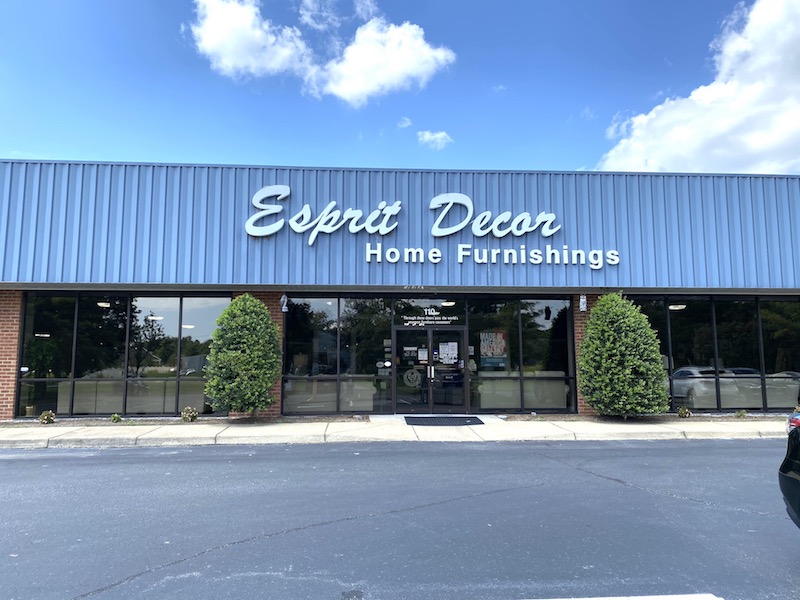 Keep in mind the way flooring might appear online does not always represent the way it looks in person. Computers and cell phones can distort colors and display them differently. Small sample boards are only a sliver of what the overall appearance of your flooring will look like. It is important to go and visit a flooring retailer to see and touch large flooring boards and get expertise insight and help from a knowledgable flooring specialist. Kris was my helpful and friendly go-to flooring guru at Esprit Decor. I couldn't have asked for a more attentive sales associate.
Kris guided me through the Tuscany collection board samples and encouraged me to bring as many home as I desired. I chose 3 boards to bring home: Nola, Fondi, and Verona. I brought Verona home simply to satisfy my husband's preference for darker floors. If you all have followed me for any length of time, then you know that my design decisions ultimately always win out, but it is wise after nearly 28 years of marriage to allow the hubs to have an opinion in the matter.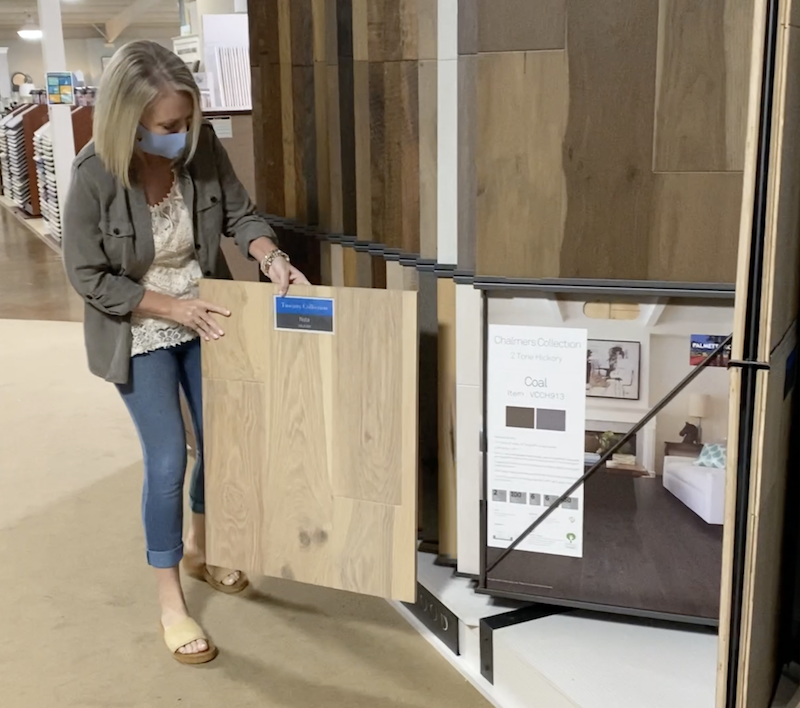 Seeing the samples in person both in store and at home is eye opening. I was actually surprised to see the differences in the larger boards. Bringing all 3 large sample boards home and placing them in each room and observing how they look in different lighting was key.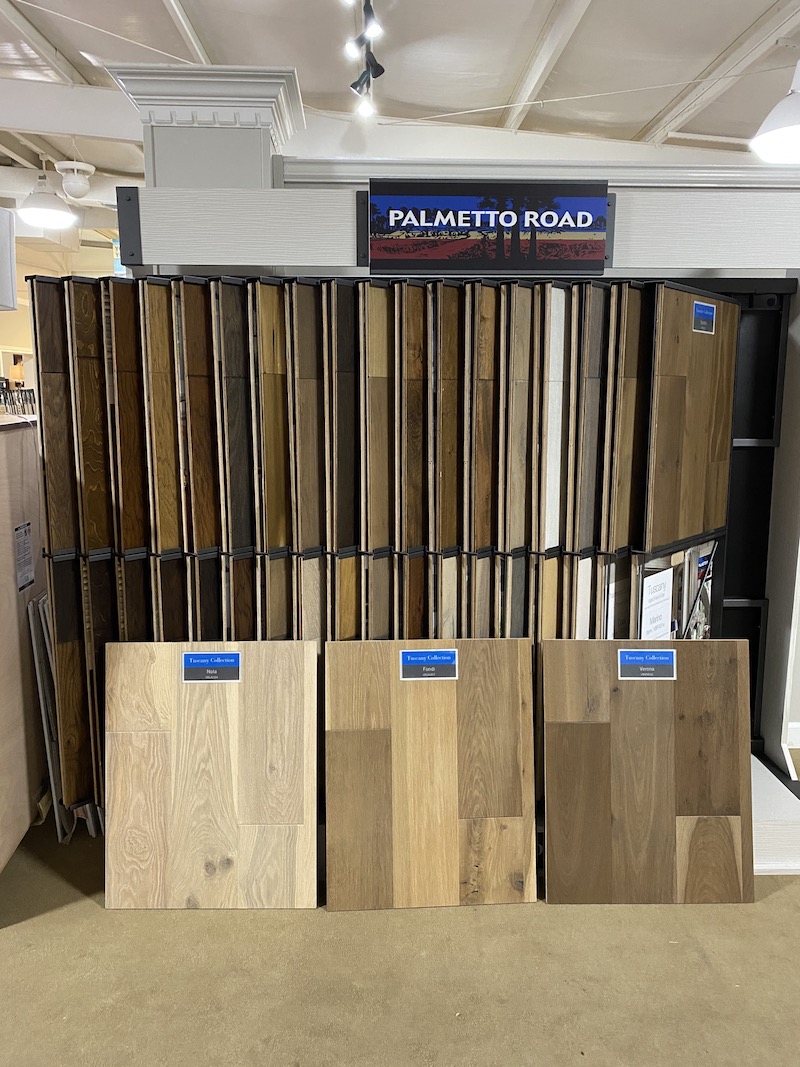 As a designer and former Realtor, I'm aware it is wise, especially for resale value, to choose a hardwood flooring color that matches, coordinates and compliments our existing weathered oak hardwood floors downstairs.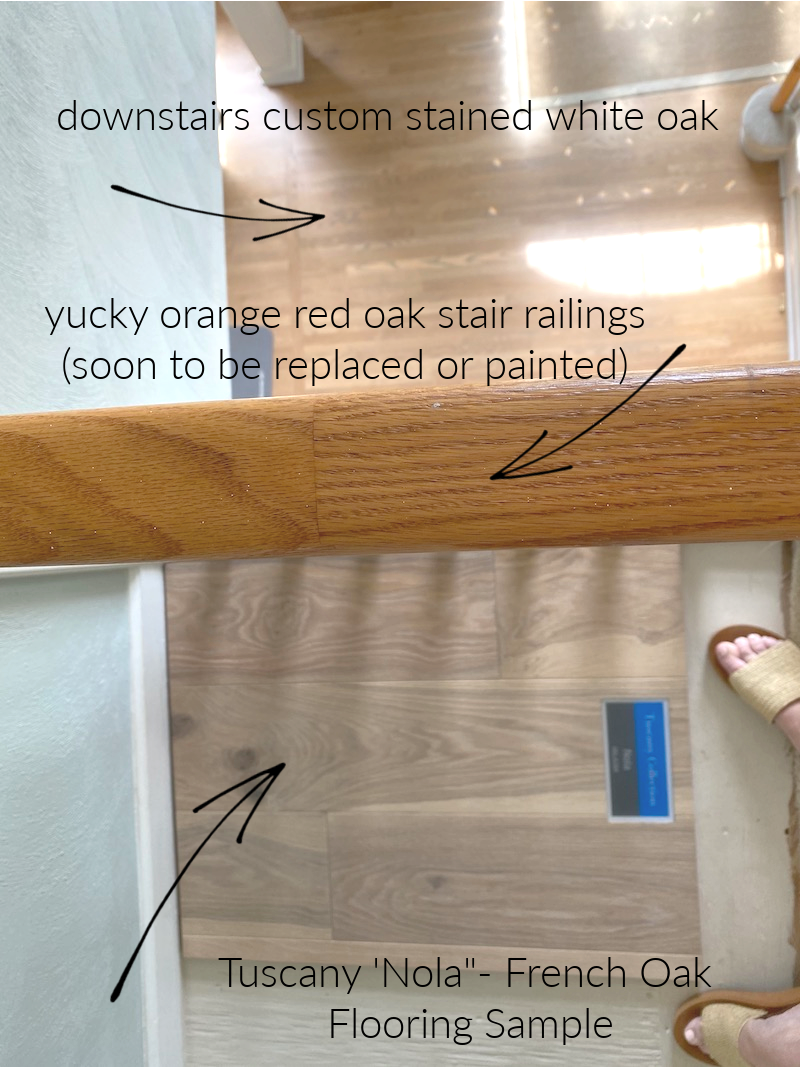 I moved the sample board into my bedroom and was pleasantly surprised to see how well Nola coordinated with my master bedroom headboard!
Let's see how it looks in our son's coastal modern bedroom. It looks like it's going to match beautifully! See how well it coordinates with his grasscloth dresser even? I think we found a winner! Even hubs immediately looked at it and said Nola was the one!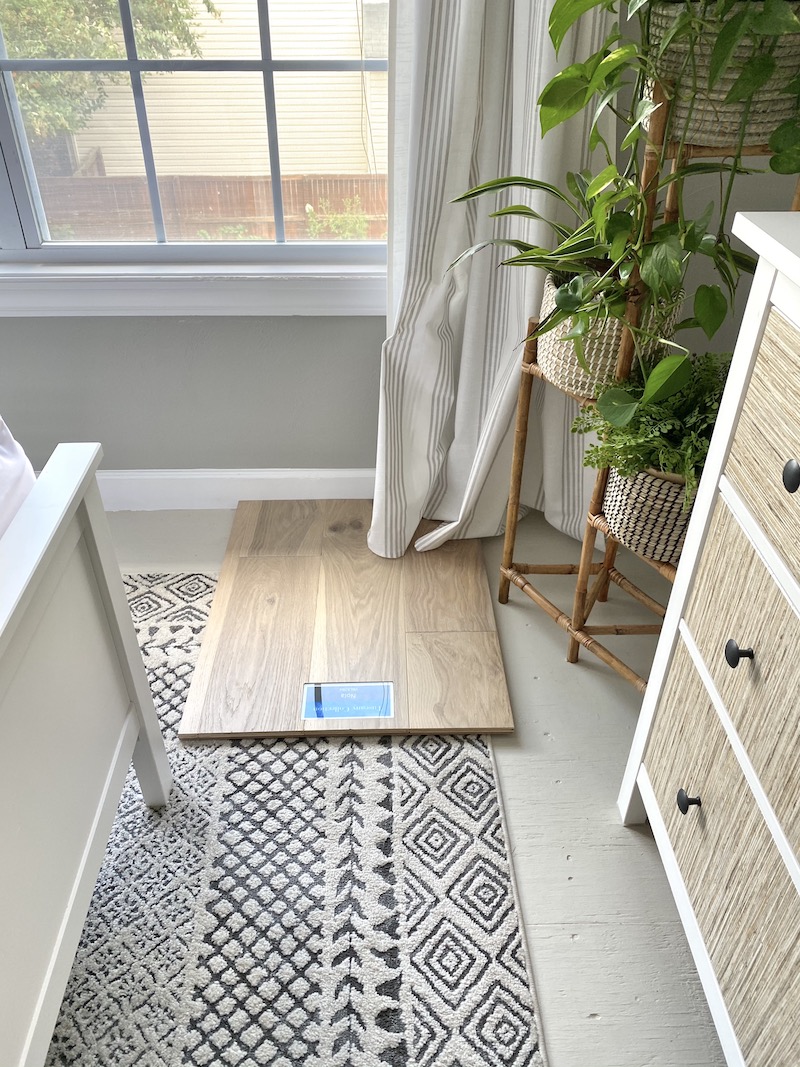 After making a final decision on which flooring we wanted, we contacted Kris at Esprit Decor and she scheduled a time for us to meet with her chief installation foreman, Tim. He came out to the house and looked over our space, took measurements and answered any questions we had. Tim informed us of the condition of our subfloors and any repairs that needed to be done and how the process of installation would go. Tim and his father have worked with Esprit and have been installing flooring since Esprit was founded over 40 years ago. Having a top notch professional like that installing my floors put my mind at total ease! Rest assured that Twenty & Oak partners with the best retailers and installers in the southeast. Click HERE to find a retailer near you.
Tip: Have a list of questions ready before your installer arrives for measurements.
Twenty & Oak has a very informative learning center on their website and an article about selecting the right flooring retailer too! You can read it HERE.
CLICK PLAY ON THE VIDEO BELOW TO SEE MY STORE TOUR AND IN-HOME DECISIONS
How to Prepare for Installation
Installing flooring in a new or empty home is very different from a home that is already lived in. When preparing your home for new flooring there are a few important steps you will want to take before installation day.
Remove all breakables and decor items. Remove all items from moveable shelves, dressers, nightstands, floors, etc. Also remove curtain panels, and clothing from closets.
Try to move as much furniture out of the rooms as possible. We moved most of our furniture items to our bathrooms and garage. If a whole house is receiving new flooring, then you might want to consider renting a portable storage unit.
Most installers will be able to slide the beds and dressers to one side of the room for installation. So be sure to strip the beds of all linens and try to remove items from drawers to lighten the weight.
Rip out all existing flooring like carpeting, padding nail tack strips and shoe molding. This demolition step can usually be negotiated in the fee for installation or you can do it yourself beforehand. We chose to do all the demo and disposal ourselves.
Vacuum the bare subfloors well.
Prepare a climate controlled room for the new flooring to be stored for a few days. It is imperative to allow the new flooring to acclimate indoors before installation.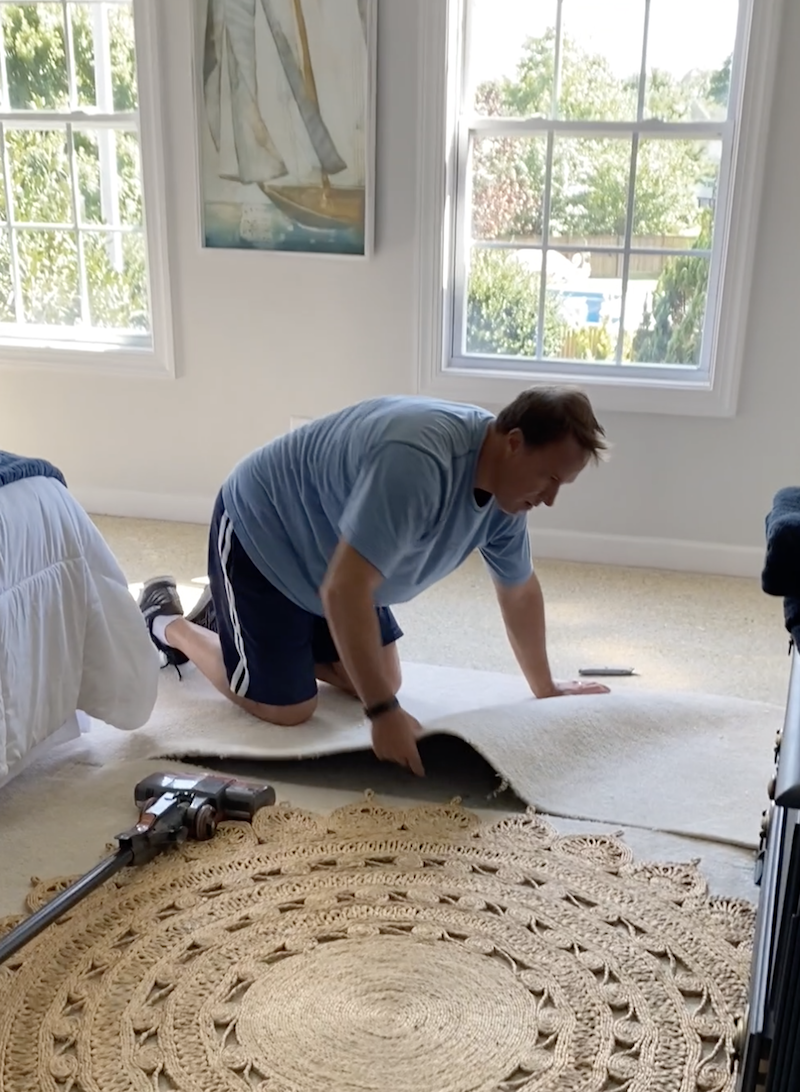 DON'T FORGET TO PIN IT!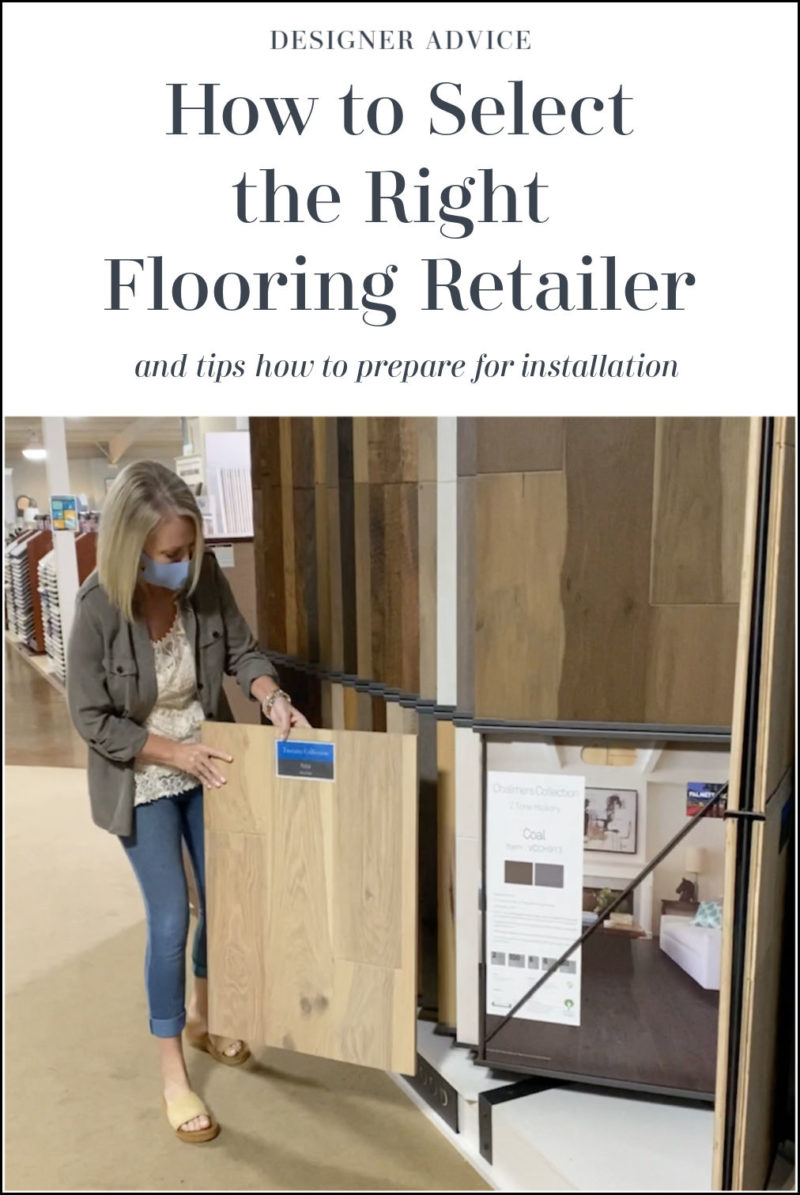 We sure have a busy week ahead of us preparing for the flooring to arrive! I hope you found this post helpful on learning how to select the right flooring retailer and prepare for installation! Don't forget to check out Twenty & Oak and get your 6 FREE FLOORING SAMPLES!