This post is sponsored by Twenty & Oak. All opinions and expressions are my own.
Exciting big changes are happening in our home! This week we are ripping out all the carpet and choosing hardwood flooring for the upstairs! I have been wanting to do this for years now. When COVID hit and we were all under mandatory quarantine we obviously had a heightened focus and awareness of our family's health and definitely had plenty of time on our hands. My husband and kids have pretty severe allergies and the 15 year old carpeting on the bedroom level of our house isn't contributing to their health. After removing and replacing the carpeting on the first level with hardwood flooring, we instantly noticed the difference in our home's air filters. The upstair's filters still remain significantly dirtier, even though we are very diligent with changing the filters out every 3 months. The amount of dirt is pretty eye opening.
We decided now is the time to rip out all the carpeting in the bedrooms and start shopping for hardwood flooring.
Twenty & Oak
is exclusive to the southeast and I explored their website to get inspiration and begin the process of choosing hardwood flooring. Their online showroom features high quality flooring brands, has hundreds of flooring options to choose from and they are connected to the best flooring retailers in the southeast. Twenty & Oak carries laminate, luxury vinyl, waterproof flooring, engineered flooring, solid hardwood flooring, and even rubber fitness flooring. No matter your budget, they carry something for everyone!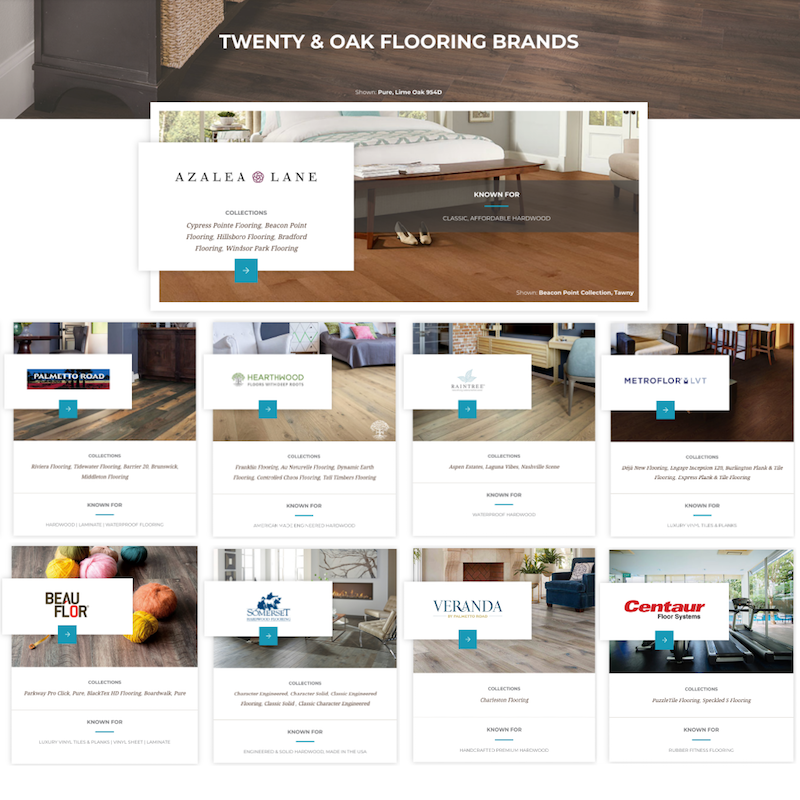 Choosing Hardwood Flooring
SMOKED FRENCH OAK

The Tuscany collection offers elegantly wire brushed French oak hardwood in a gorgeous modern color palette. The depth and richness of color is pronounced and made possible by a smoking and antiquing process. An unprecedented clarity to the natural wood grain is achieved through an 8 coats of super low gloss finish which also seals and protects. The Tuscany collection features longer and wider planks to accentuate the colors and natural beauty of wood.
Why am I choosing French Oak? French oak has a smaller grain pattern. It is stronger than American red or white oak. It is less likely to expand and contract noticeably which is a nice trait for flooring to have, especially living in humid, coastal Virginia. The boards in the Tuscany collection come in 7.5″ x 75″ lengths. They are 1/2″ thick, with rolled edges and ends, are wire brushed, smoked and antiqued. To top it off, they have a 50 year residential warranty! The flooring is ideal for high traffic, kids and pets, all of which we certainly have.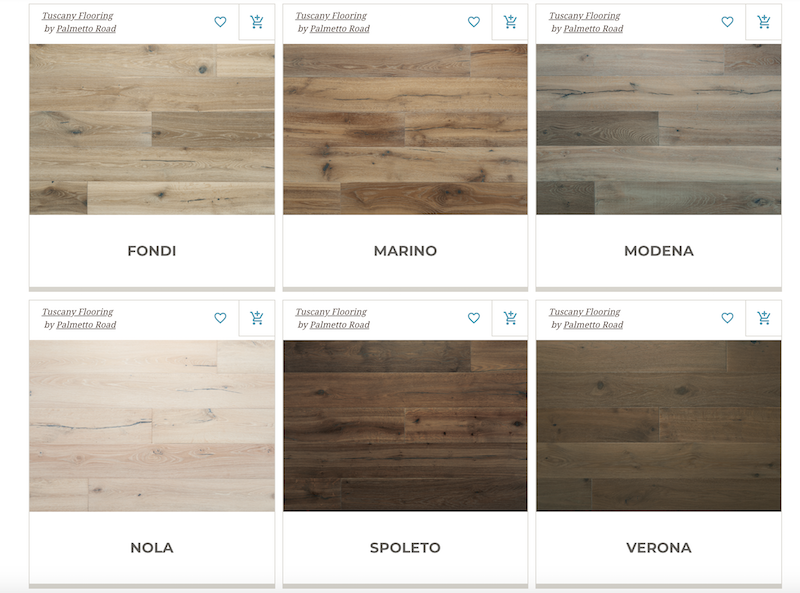 Two colors that immediately catch my eye are Nola and Fondi. It is important to find a flooring option that will compliment and blend beautifully with our existing weathered oak stained hardwood flooring on our first floor. The stain colors have a lighter, coastal style that is reminiscent of bleached driftwood and sandy shorelines.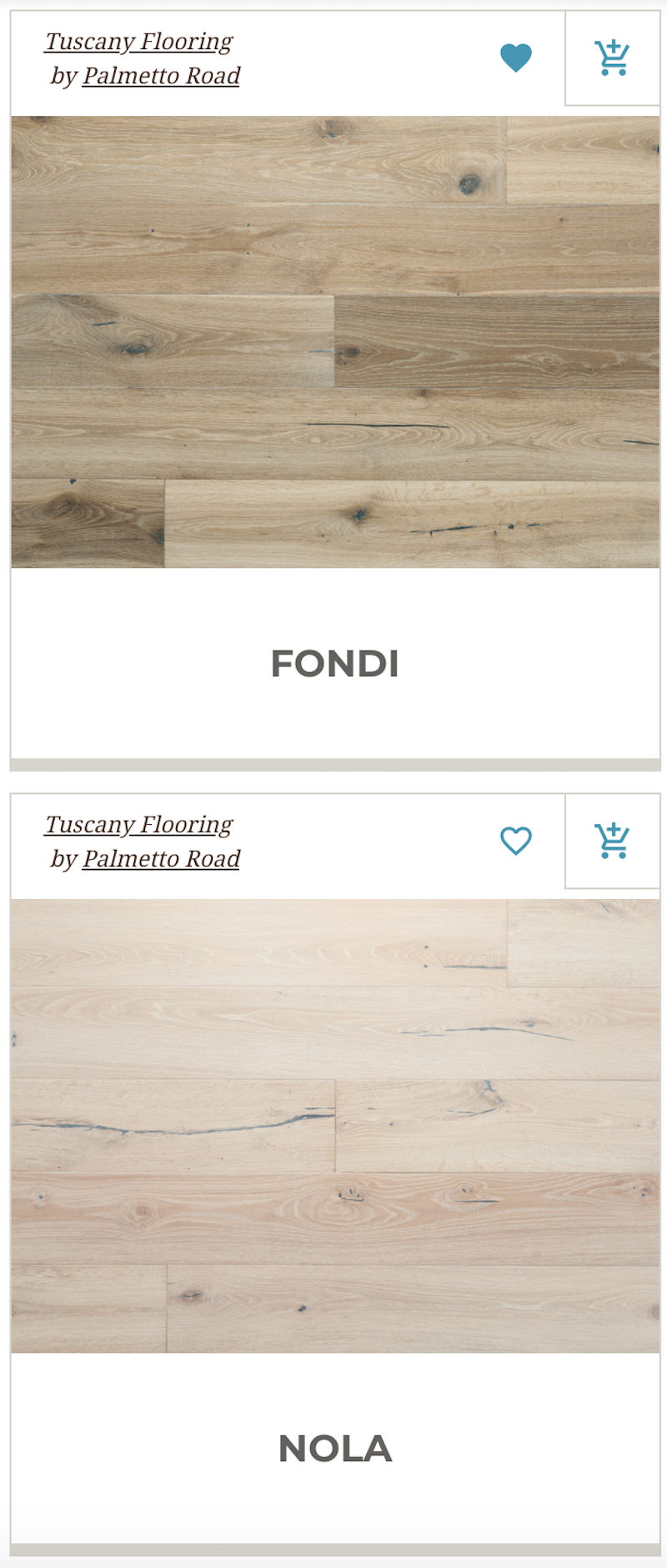 Free Hardwood Flooring Samples
I ordered some free samples and they arrived so quickly! My little furry helpers have their own opinions on which samples they like! The 3 on the left are from the Tuscany by Palmetto Road collection (French oak) and the 2 on the far right are from the Windsor Park by Azalea Lane collection (hickory).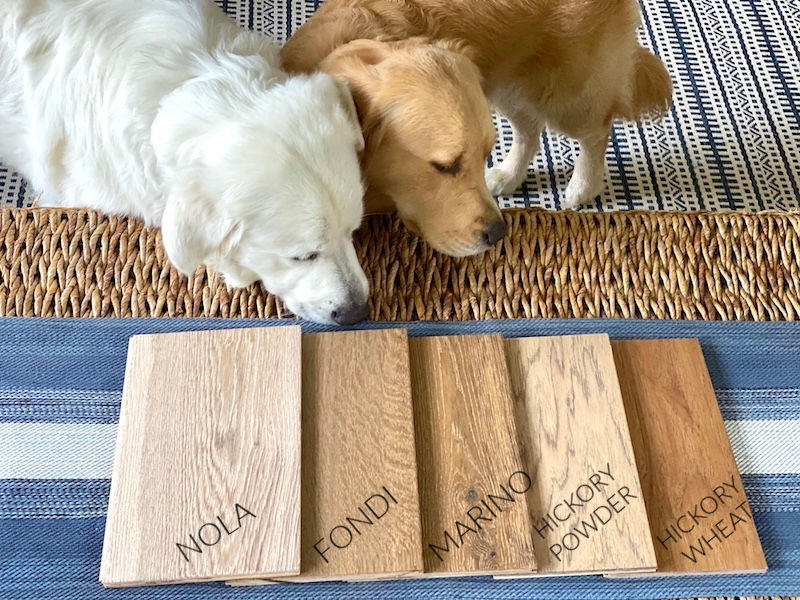 Willow says she prefers the lighter Nola flooring and Aspen prefers the Fondi.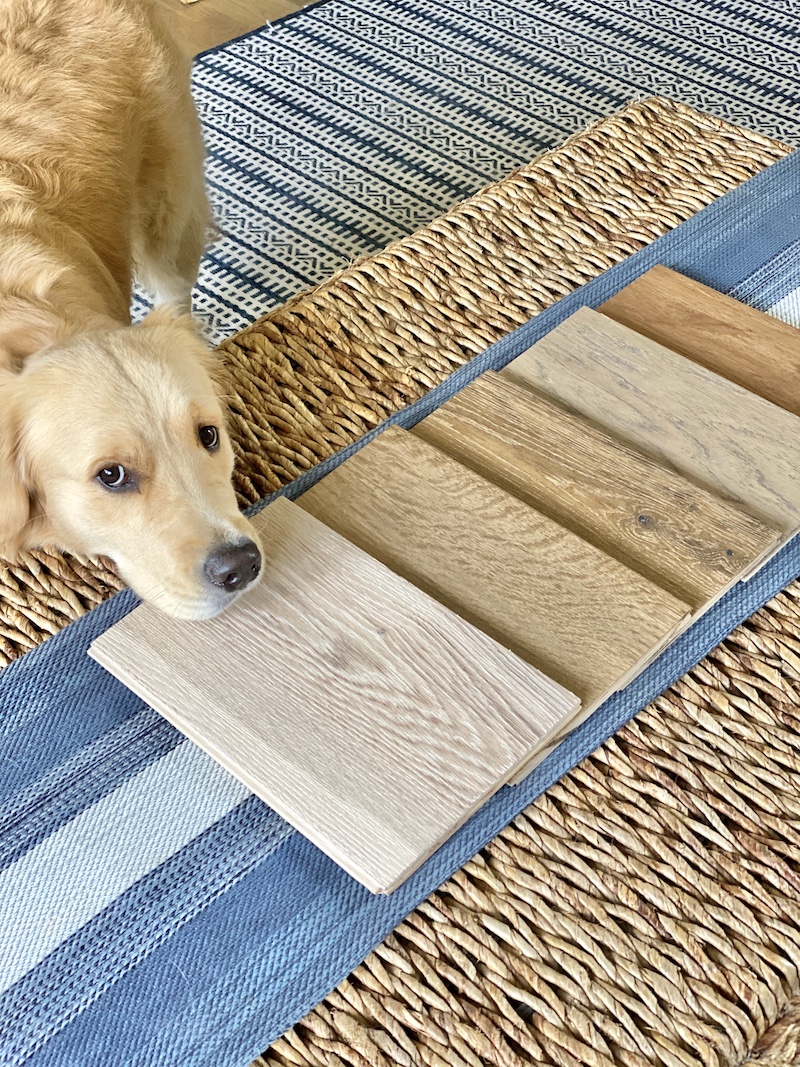 WATCH MY VIDEO BELOW TO SEE THE DESIGN PROCESS!

Now commences the process of deciding upon a color. Welcome to the battle of the sexes! It's no surprise that I am drawn to the lighter, airy, and more natural wood tones, whereas my husband gravitates toward darker, richer, more classic wood tones. Decisions, decisions! Thankfully, Twenty & Oak makes the decision process easier with an awesome feature where you can easily order 3 flooring samples for FREE with the code "THREEFORFREE".
But what if you need more than 3 samples? I have you covered! Twenty & Oak is offering all Sand & Sisal friends a SPECIAL OFFER! You can receive up to 6 FREE FLOORING SAMPLES from any collection you choose!
Click the link above or the photo below to get yours now!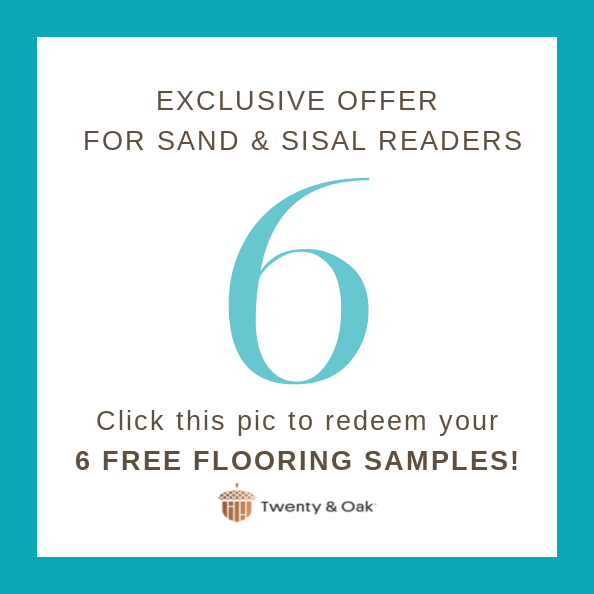 Visualizing the Space with Design Boards
I am a visual person, and creating room mood boards help me solidify design decisions. We will be replacing flooring in 6 bedrooms overall. Below are two mock-ups of my master bedroom and my son's room showing how the flooring choices might look in the rooms. The master bedroom design board below features the Tuscany Fondi flooring by Palmetto Road.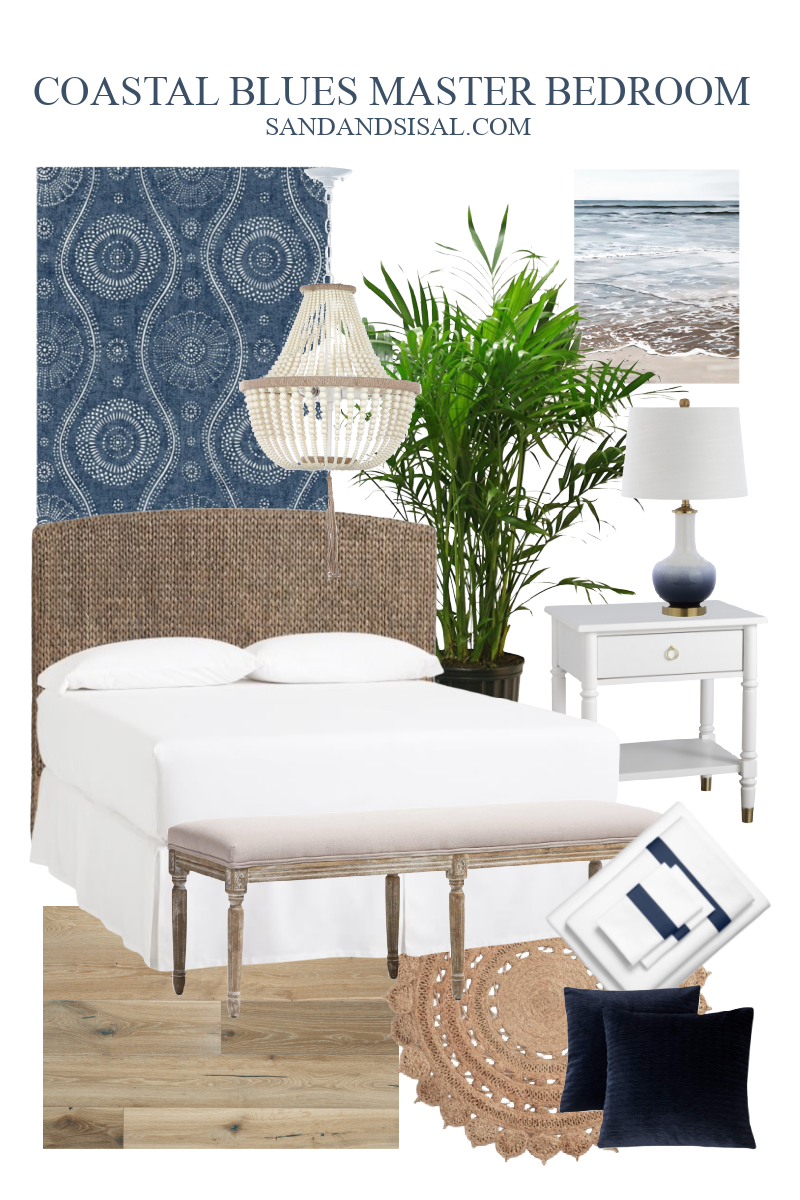 In addition, my son's modern coastal bedroom design board features the Tuscany Nola flooring by Palmetto Road.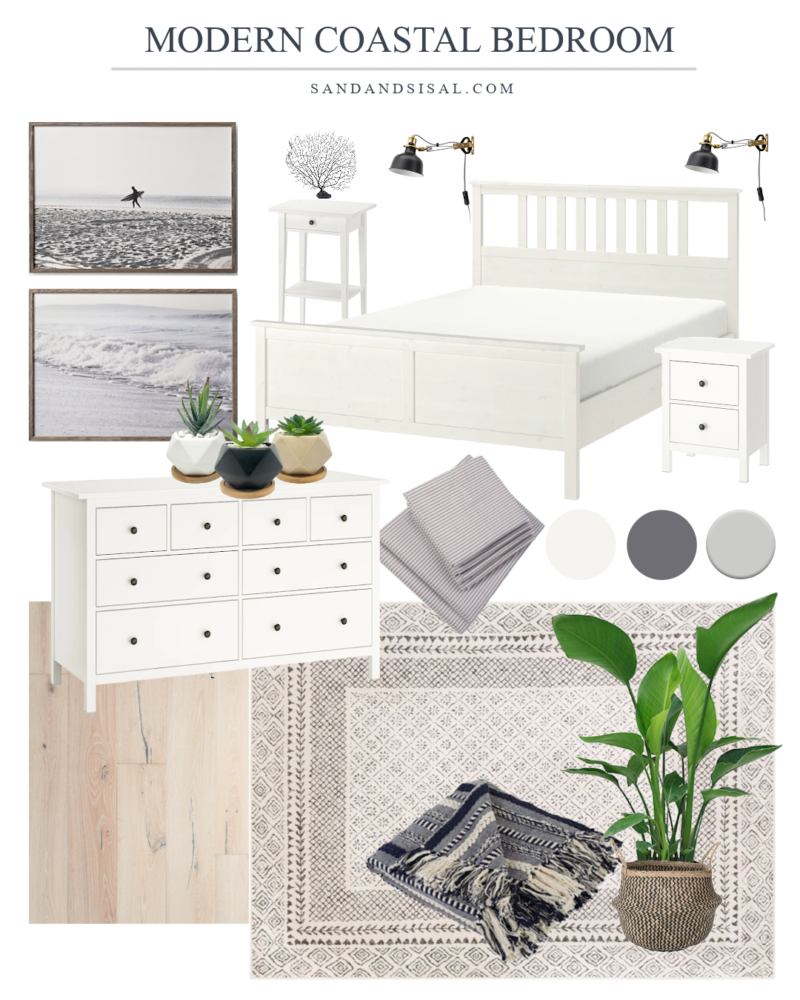 I love both but it's always best to see the flooring on a larger sample board before making such an important decision.
My next step is to visit one of the local Twenty & Oak retailers. Twenty & Oak's customer service department is amazing! They will email you local retailer information of where you can see and purchase the flooring. They also follow up with a helpful and friendly phone call to answer any questions. The level of communication and service they offer is impressive.
You can do the same! Click HERE to find a Twenty & Oak retailer near you.
Next week come along with me to the store and help me decide which flooring to choose! Sound like fun?
Which flooring sample do you like so far? Let me know in the comments below! Also don't forget to get your 6 free flooring samples!