I can't believe this Coastal Blues Master Bedroom Makeover is just about done! Thank you for all the help and input you gave me on choosing a wallpaper! The winning wallpaper was Painterly Indigo, a Sarah Richardson design. I love it and have all sources linked at the bottom of the post. This makeover was a risky labor of love because I was completely changing the look and feel of our master bedroom and had to convince the hubs that a room refresh was needed (after 20+ years with the same furniture). After 25 years of marriage he is finally learning and accepting the "yes dear" protocol!
Coastal Blues Master Bedroom Makeover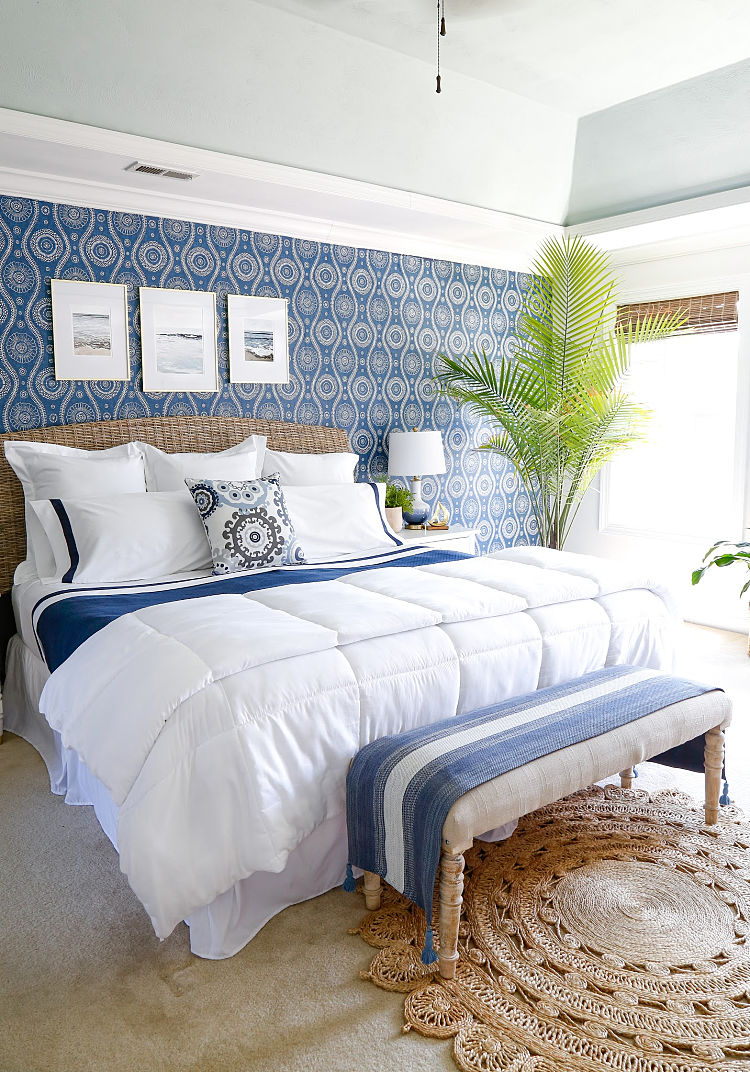 Let's take a peek at what the room looked like before…. this shot is straight out of my phone with zero editing.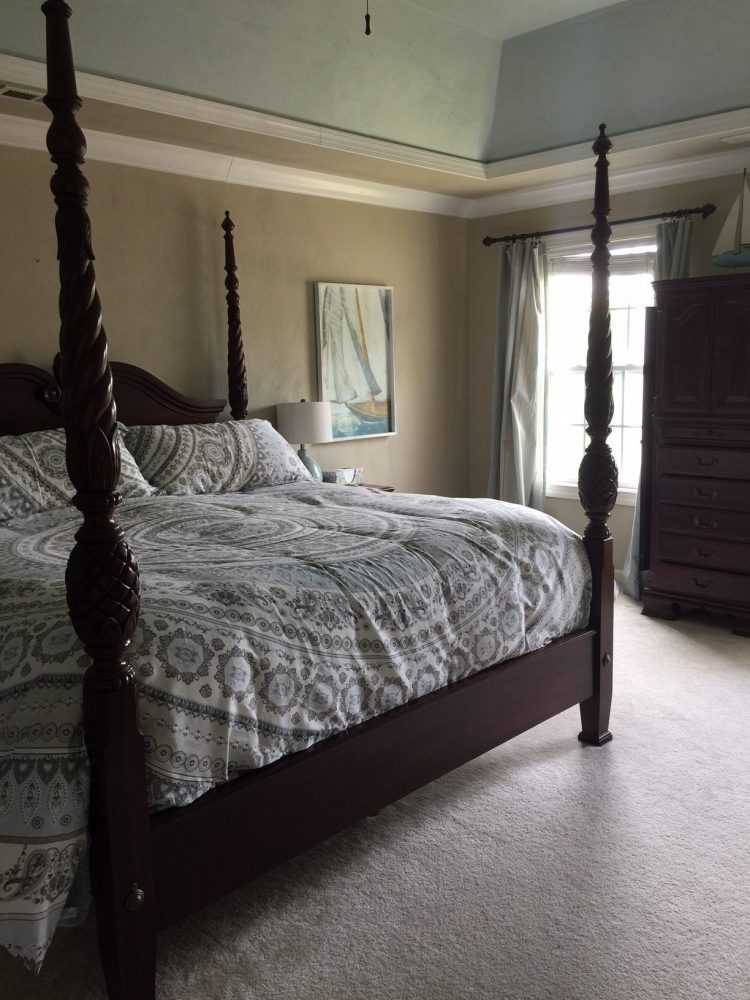 Ta-da! I wanted to re-create the feeling of a tropical resort bedroom. The room had to be relaxing, yet with a touch of chic sophistication, organic products, full of luxurious bedding, and always lots and lots of air purifying tropical plants. I think I pulled it off! My original plan was to have the tray ceiling planked with shiplap like we did around the living room fireplace, and painted white but that isn't in the budget at the moment. I will be painting it white though soon.
Wallpapering this accent wall was a nightmare, I must confess. If you follow me on Instagram then you probably saw my stories bemoaning the process of wallpapering a VERY TEXTURED WALL! Let's just say it was not fun and some things should be left to the professionals, but I made it work.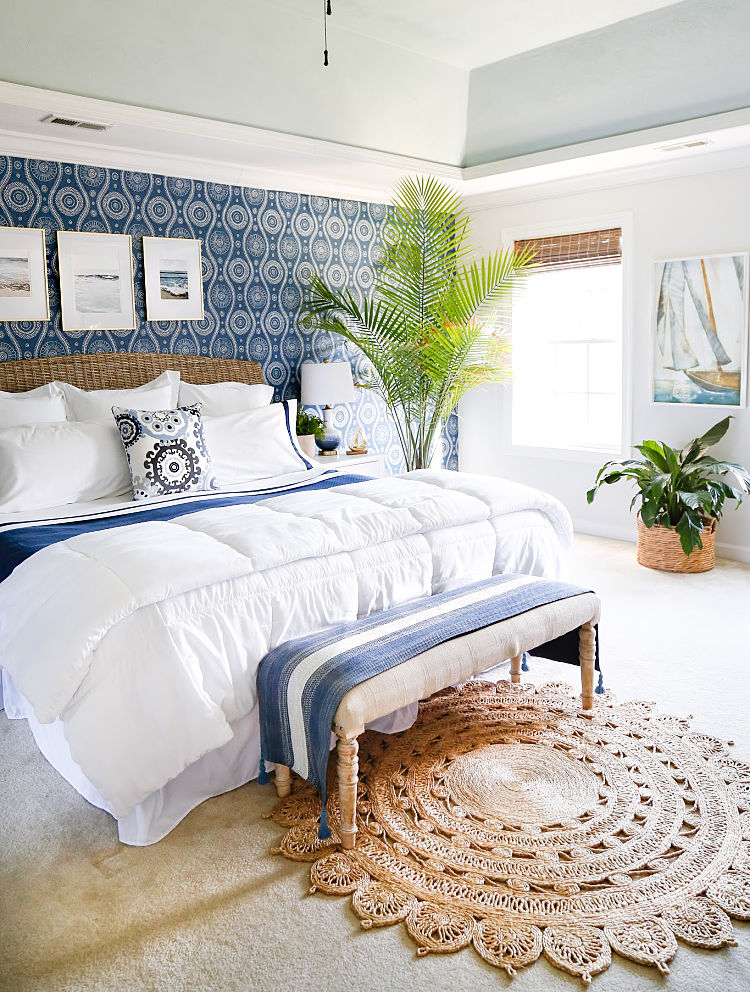 I fell in love with this medallion rug last year and had it in our foyer, but once the master bedroom was complete I realized that it coordinated beautifully with the wallpaper and should be in here instead! (Always shop your home first!)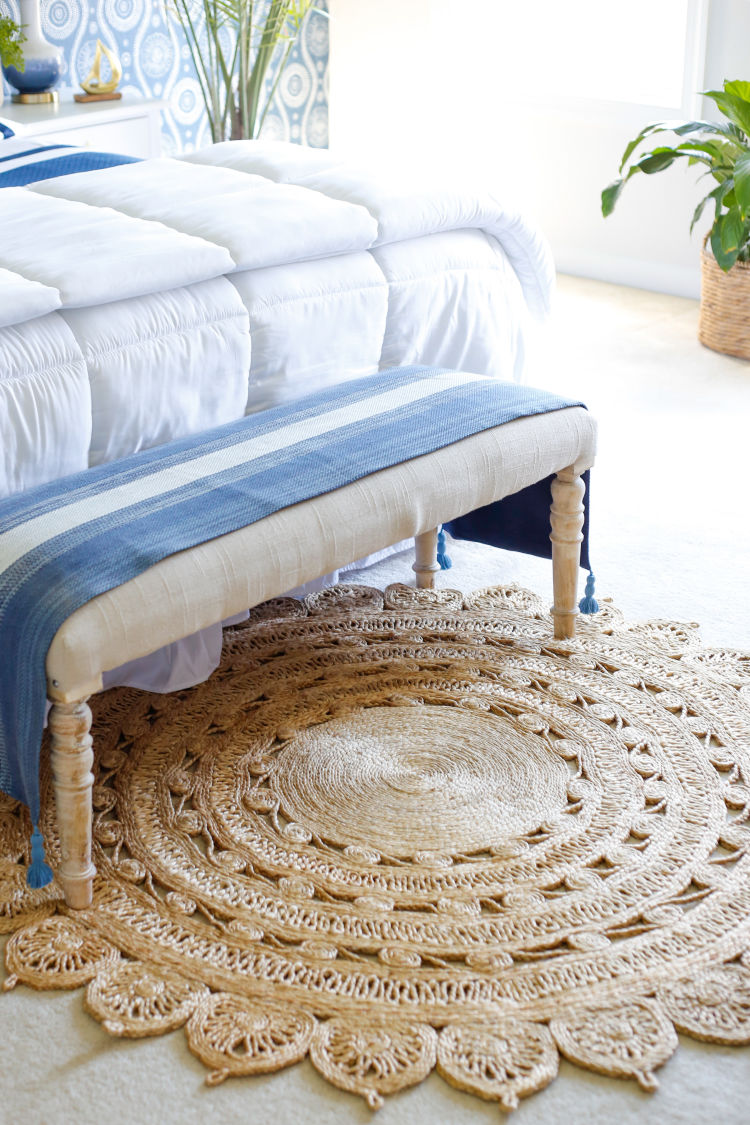 We switched out the mahogany beside tables with these white ones. I love how the gold feet and ring hardware repeat the circular medallion pattern in the wall paper.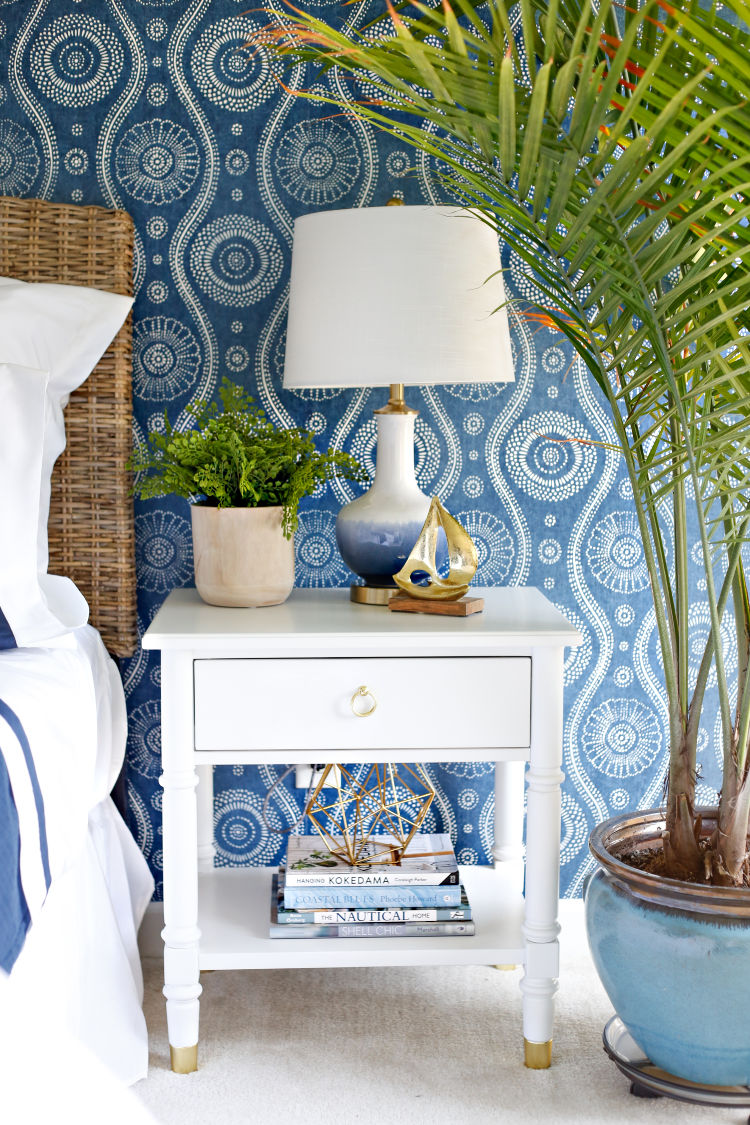 Comfortable, soft bedding is essential to a good night's sleep and I have learned over the years to invest in quality sheets that improve with every wash. These navy blue banded sheets add just the right amount of color and feel amazing (I have them linked below with a special coupon code if you're interested).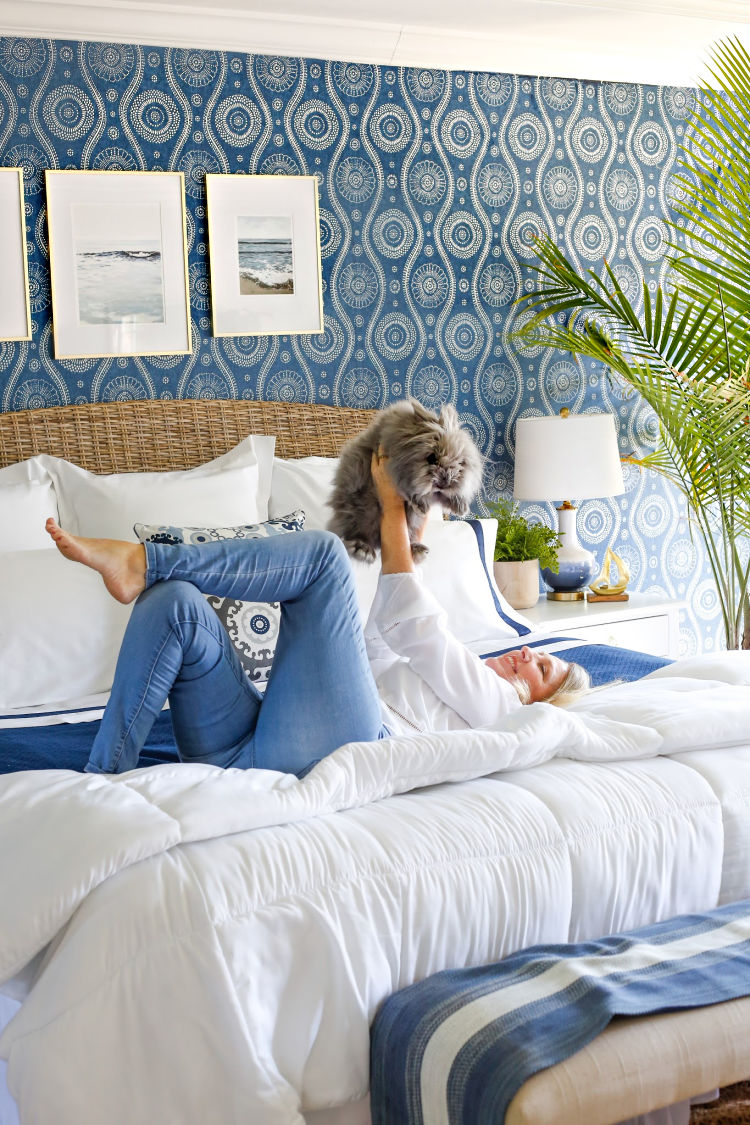 Nothing is as soft as fluffy Mr. Bun Bun but he completely approves!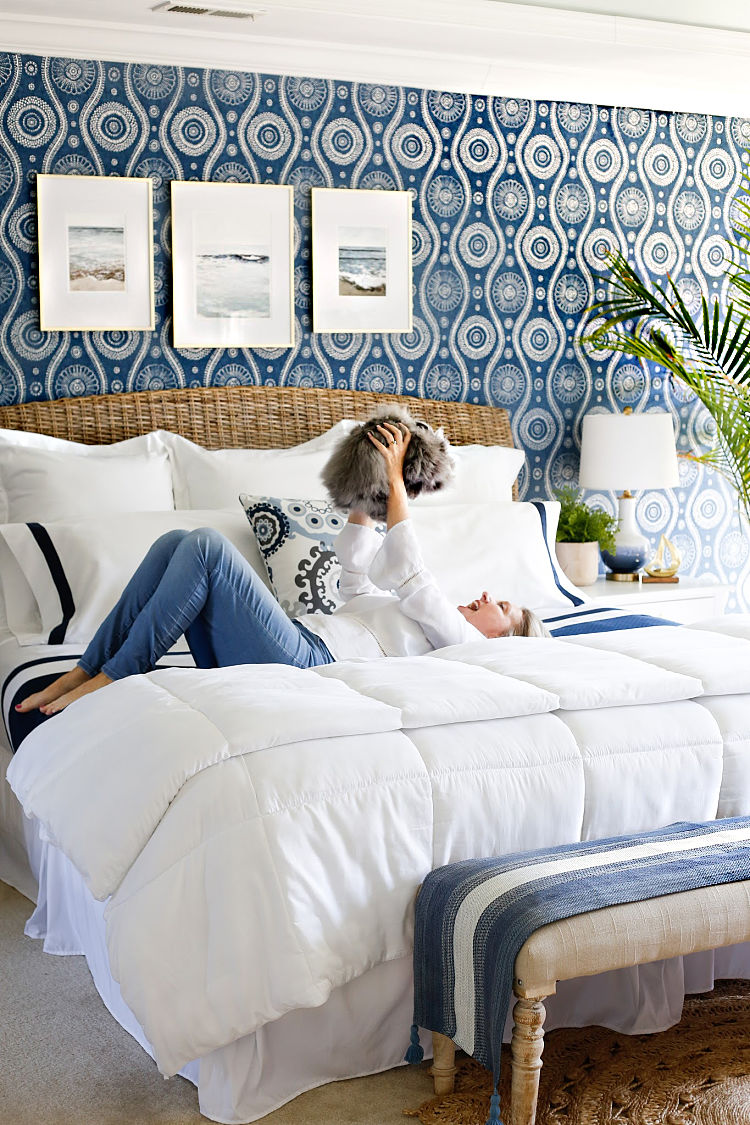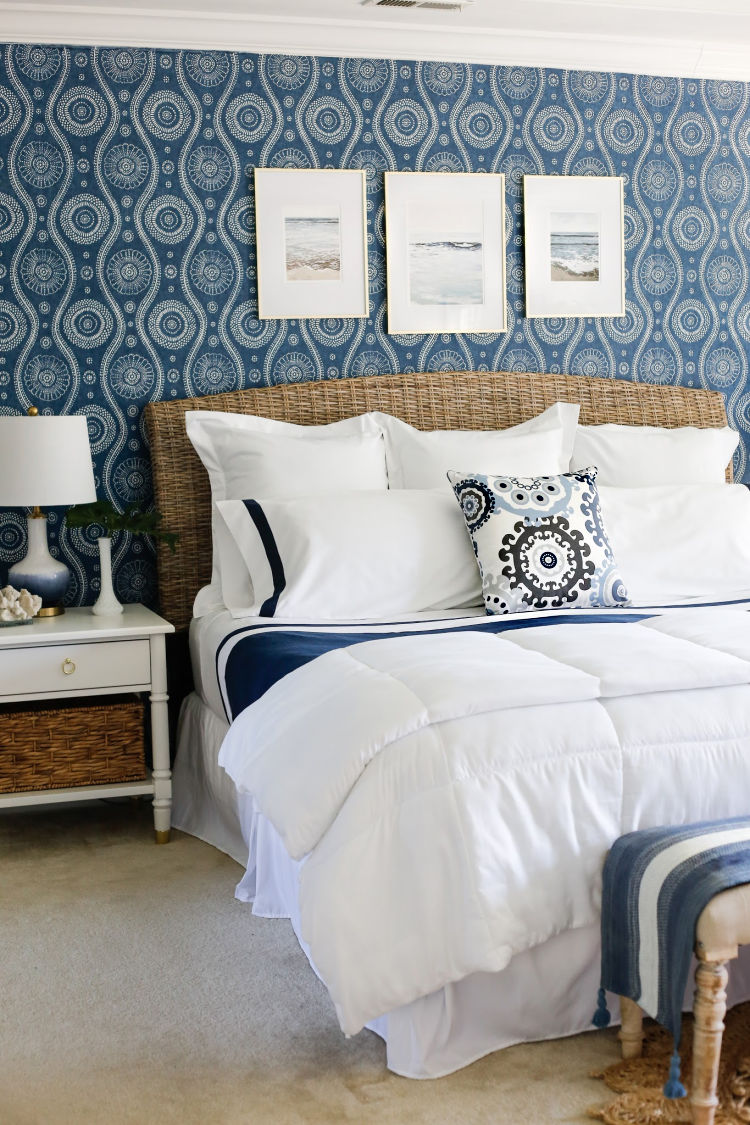 I think besides the wallpaper, my favorite part of the room are the gorgeous ocean prints from Alison Junda!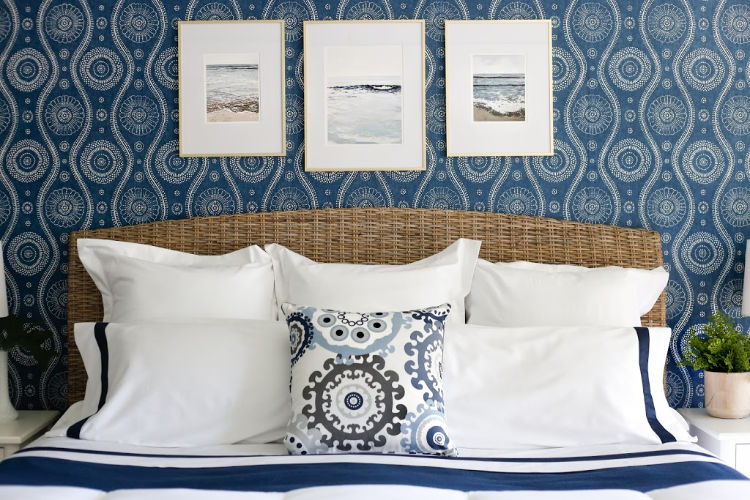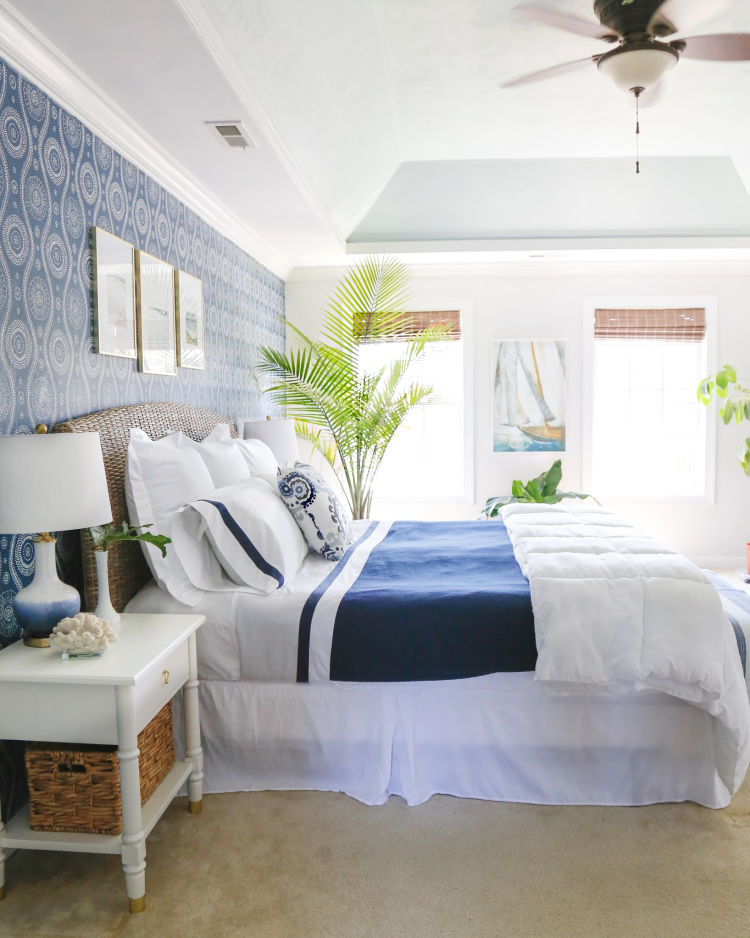 The only wall we wallpapered is the wall behind the bed. Otherwise the room would have been very dark, so an accent wall was ideal and more affordable. It is also the first thing you see when you enter the room.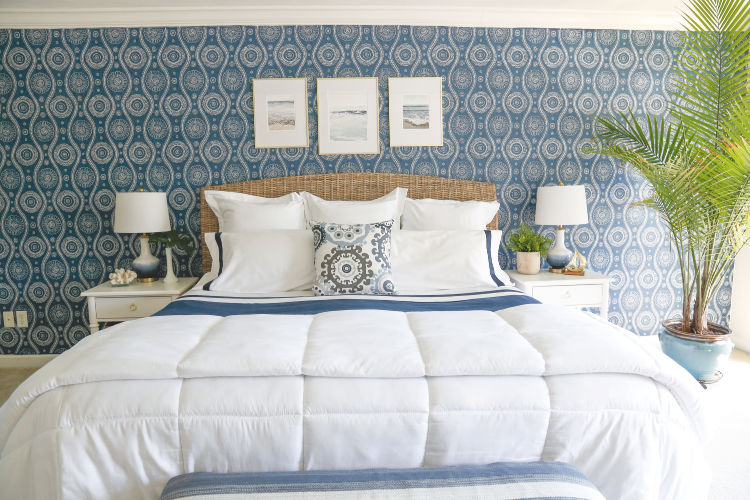 I still need to add some white linen curtain panels to the windows and tackle either refinishing or painting our cherry wood dresser. So I guess the room is half done… but half done is HUGE progress!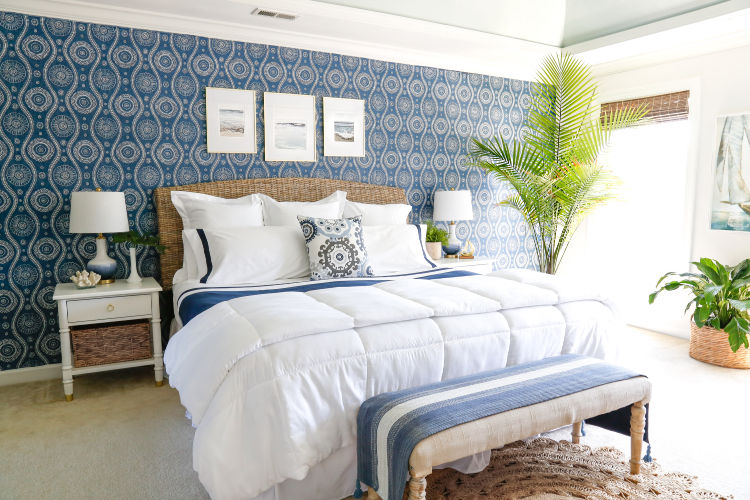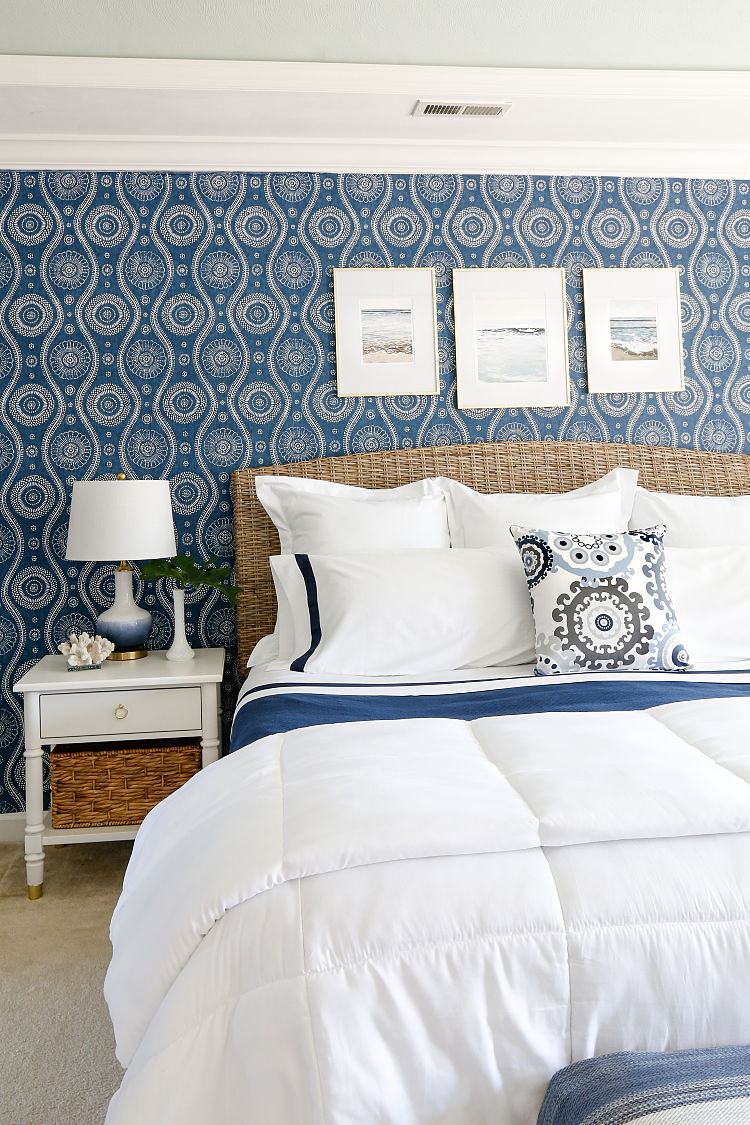 So tell me what you think of myCoastal Blues Master Bedroom Makeover! We are enjoying it so far!
Shop this Room!
(affiliate links included for your shopping convenience)


Upholstered Bench – HomeGoods
Happy Decorating!
KIM