MIDNIGHT BLUE FUSION MINERAL PAINT DRESSER MAKEOVER
Oh my the controversy! To paint good wood furniture or not is the question that draws DIY enthusiasts into their separate corners. I have stripped and refinished furniture and also painted furniture and frankly, all my choices have turned out fabulous in my humble opinion. My husband is in the "never paint wood furniture" camp so every project is potentially an internal family battle. Giving our master bedroom dresser a makeover was no exception.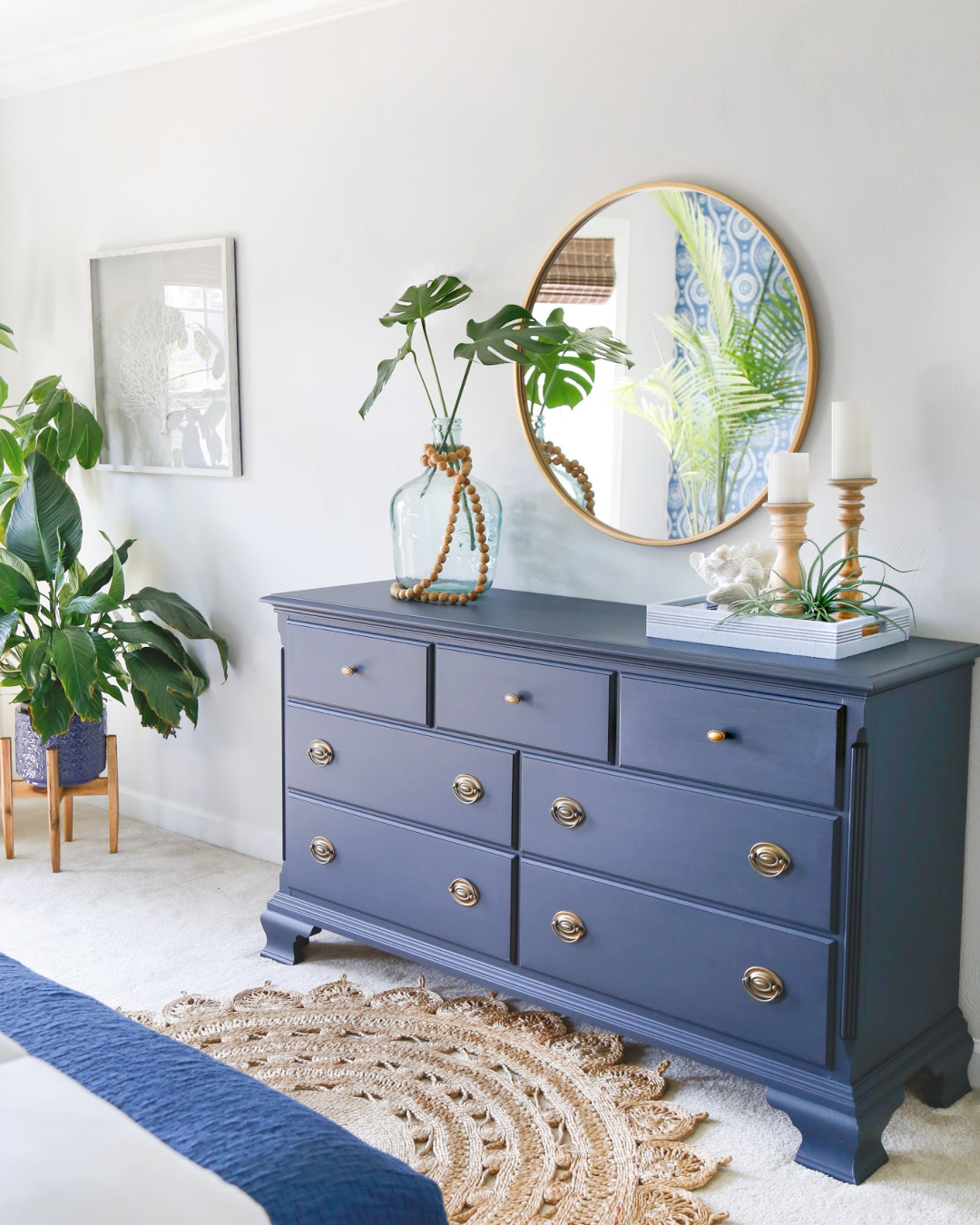 Our 20 year old cherry dresser had seen better days. The finish on the top of the dresser was scratched and marred in several areas. It is a quality piece of furniture that coordinated with the rest of our traditional red mahogany bedroom suite. Our bedroom was probably the one room in our home that didn't reflect the coastal design of the rest of the house. As I've slowly been updating the bedroom, deciding what to do with the dresser was a problem. We couldn't afford a new dresser so selling it was an option. I considered stripping it bare, but that task seemed daunting and I simply didn't have the energy. Being the very impatient person I am, this makeover had to be fast and easy!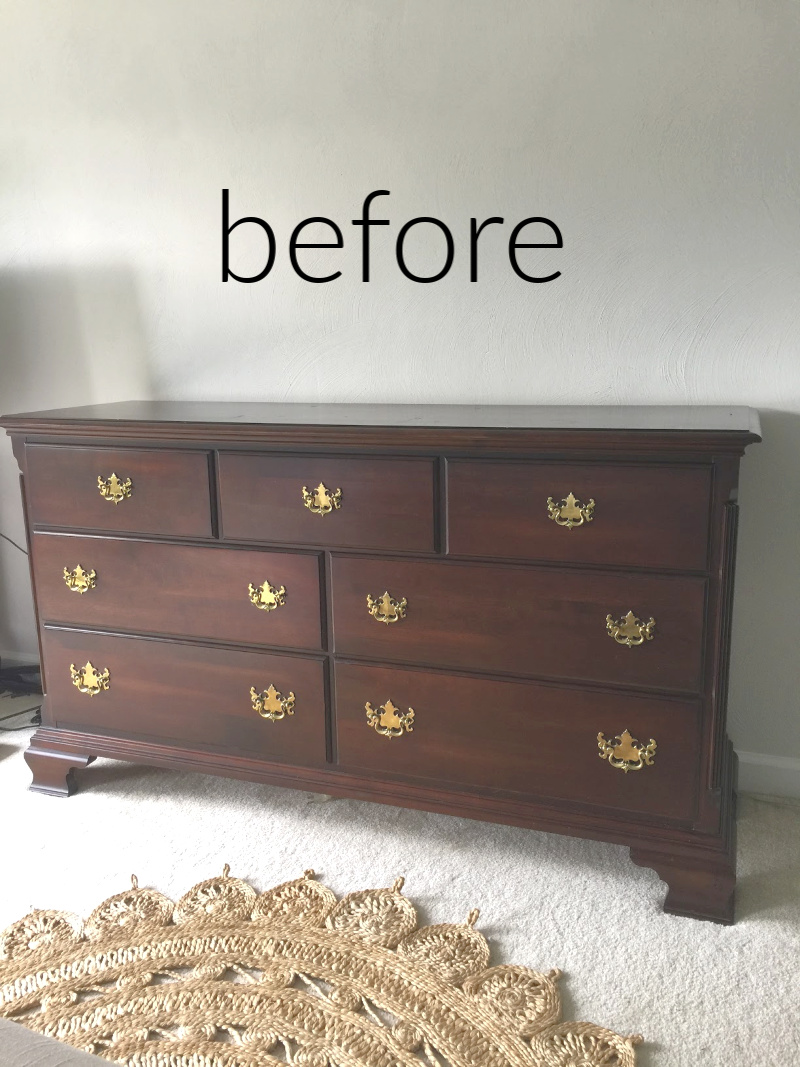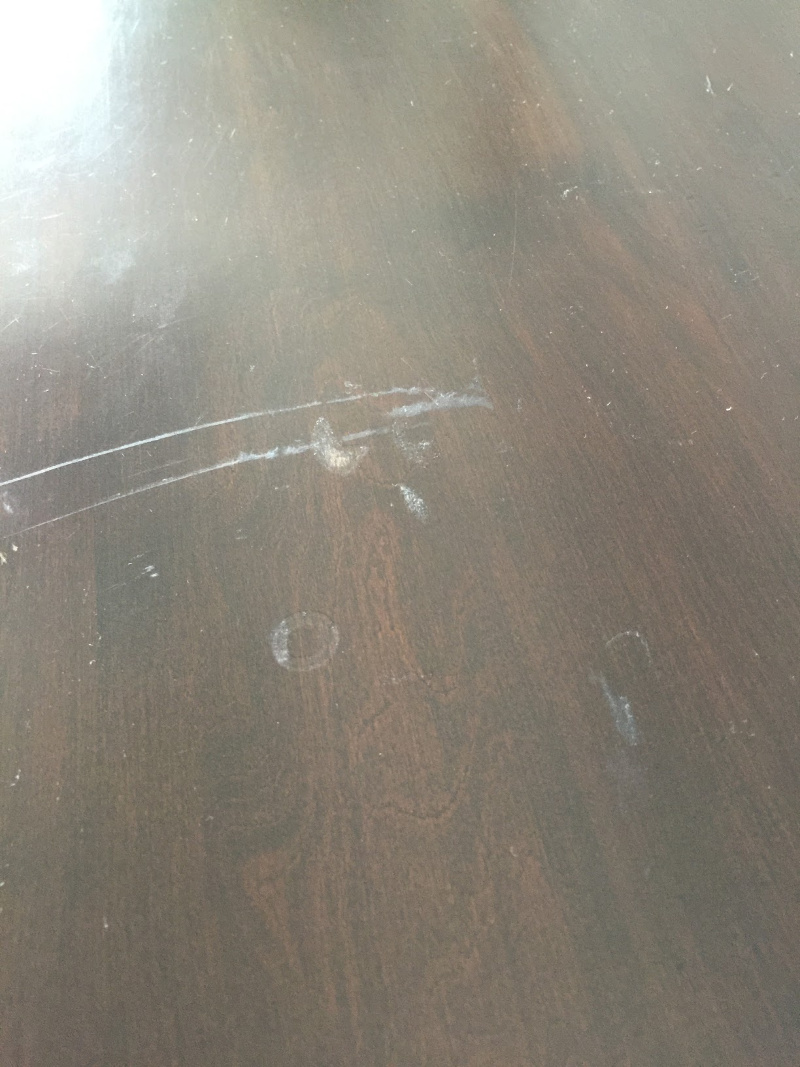 Painting was the next option. I have used so many different brands of chalk type paints over the years and I thought I knew my favorites. My sister suggested trying out Fusion Mineral Paint this time. Many DIY bloggers give Fusion high reviews so I figured why not try it. Oh… my…. goodness, I see what all the raving was about! (PS- this is not a sponsored post, I just am so happy with this paint and wanted to share my first experience with it).
Why I like Fusion Mineral Paint:
Non-toxic, 100% acrylic, odorless, zero VOC's
Minimal prep work needed in most cases
Wonderful leveling qualities
Very nice coverage (a little goes a very long way)
Smooth, silky matte finish
No top coat or waxing needed
Waterproof, can be used outdoors even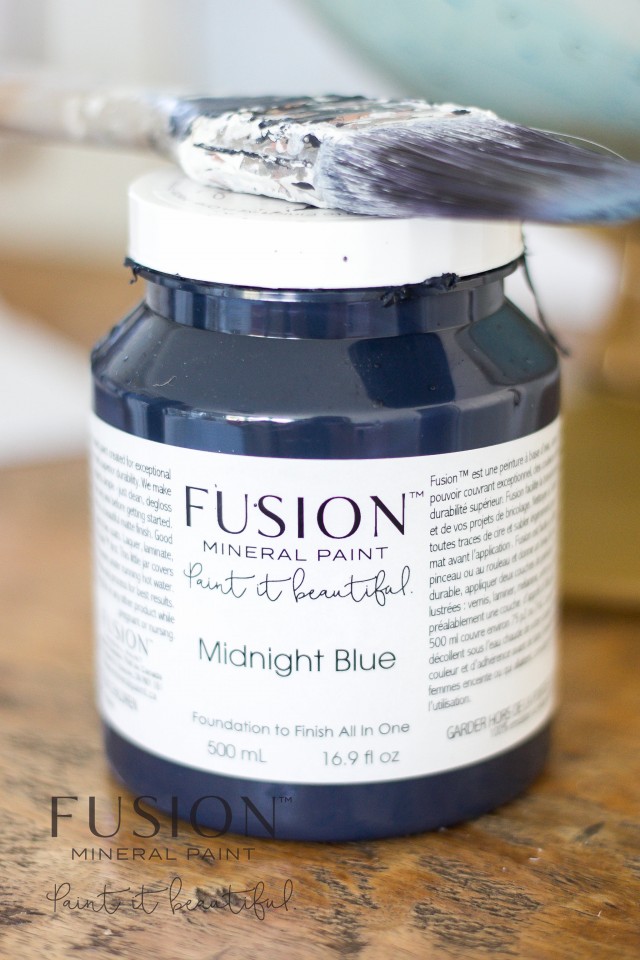 Navy Blue Dresser Makeover Tutorial
This tutorial almost seems silly because the whole project was so easy and fast! But I'll walk you through the steps I took to refinish the cherry dresser. Every piece of furniture is different so if you are unsure as to how much prep you will need for your piece then check out this handy prep guide for Fusion paint as seen below.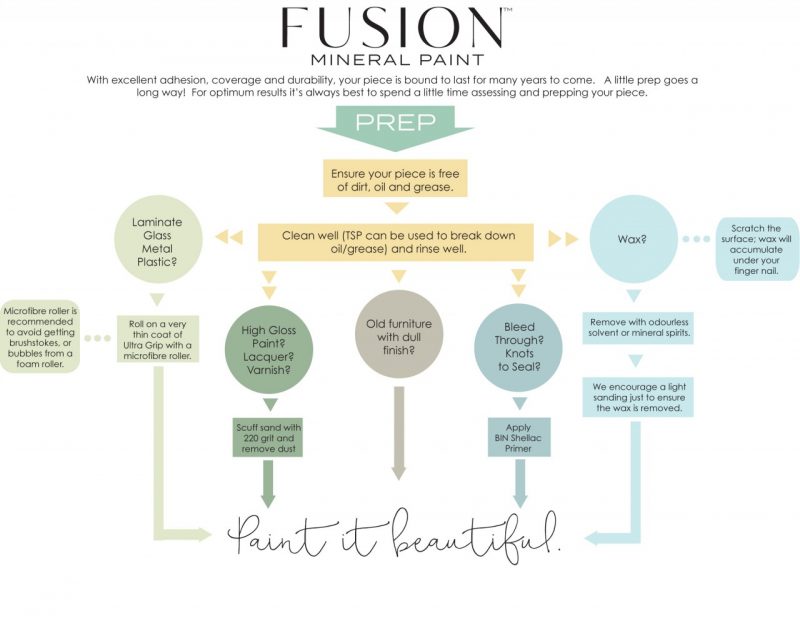 I used the following items- (affiliate links provided for your shopping convenience):
TSP cleaner and a lint free rag
sanding sponge (120 or 180 grit)
screw driver to remove hardware
wood filler (if moving hardware placement)
Step 1: Clean the entire dresser well to remove all dirt, oil and dust. TSP cleaner can be used to remove any residue of grease or oil and dirt. Rinse well with a wet cloth and dry completely.
Step 2: Remove hardware.
Step 3: Lightly sand the surface with a sanding sponge. The top of my piece had several blemishes and needed a bit more sanding than the rest of the dresser. This sanding is very light and shouldn't take you more than a few minutes. The object is to dull out any shiny surfaces and smooth out scratches or damaged areas.
Step 4: Wipe off any trace of sanding dust with a damp cloth and dry well with a lint free cloth. And old cotton t-shirt works well.
Step 5: (Optional) -The existing holes in the drawer fronts would not accommodate the new hardware I had chosen, so filling some holes was necessary. Fill any screw holes with wood filler and and after it drys, sand lightly to a smooth finish. Because wood filler has a tendency to shrink as it dries, I prefer to over fill the holes just slightly and then sand to a flat surface. The object is to make those filled holes disappear completely!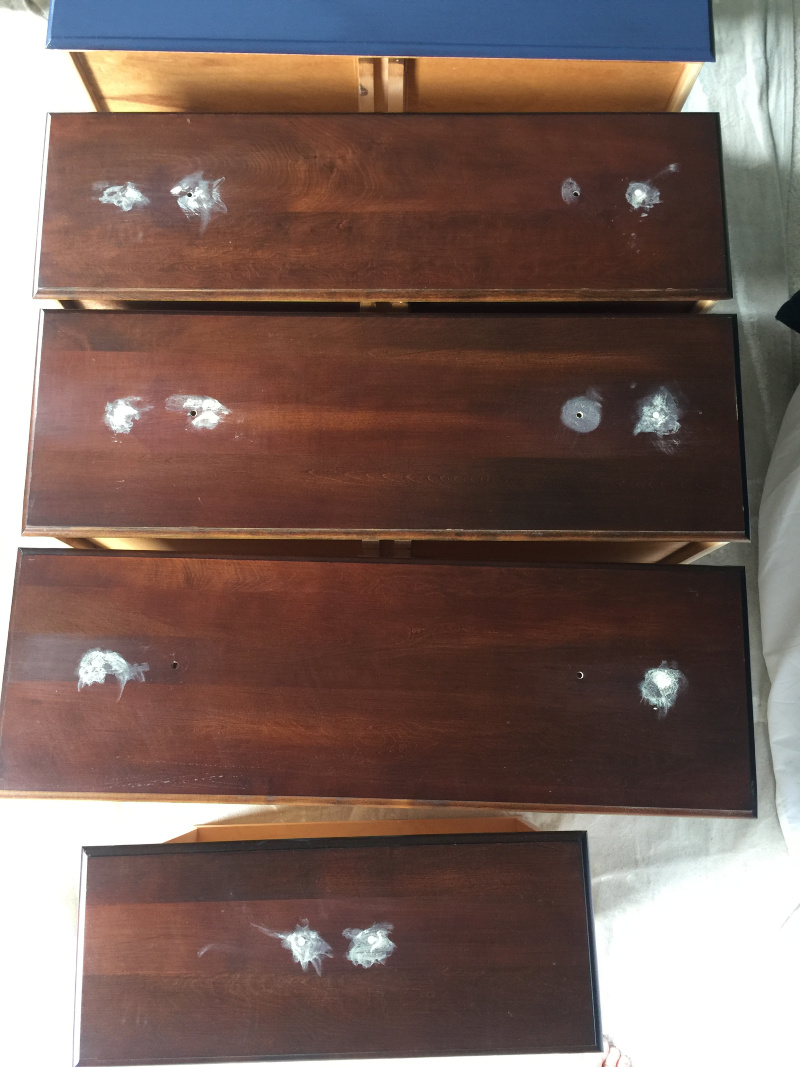 Step 6: Start painting! I wish I had taken more photos of this process but once you start it is hard to stop. Stir your pot of Fusion Mineral paint well. Dip your brush tip into the pot of paint. Understand that a little goes a very long way. The first coat should be a thin, light coat of paint. Do NOT over dip! You want a small amount of paint on your brush. Paint shouldn't be dripping off your brush all over the place.
With any piece I personally like to start with the top first. It gives me the most satisfaction. Holding the brush at a 45 degree angle, apply the paint to the top of the dresser starting at one and use long sweeping strokes that go with the grain of the wood from one end to the other. Work quickly and do not over work the paint. Over working the paint simply means brushing back in forth in the same area too long which results in "drag" or pulling up of the paint layer, creating differences in sheen and visual brush strokes.
Allow the first coat to dry approximately 30+ minutes and then start on your second coat. If you later discover any drips you can smooth them out with a super fine sanding sponge (300 grit). The paint will dry to a matte finish but not a chalky looking matte. It is a very silky looking matte, almost like an eggshell finish, which is gorgeous. No top coat is needed. You can put items on it after 24-48 hours but the total cure time for any acrylic is actually 21 days. I have found that waiting a few days to a week is best if you plan on putting anything really heavy on the piece like a TV.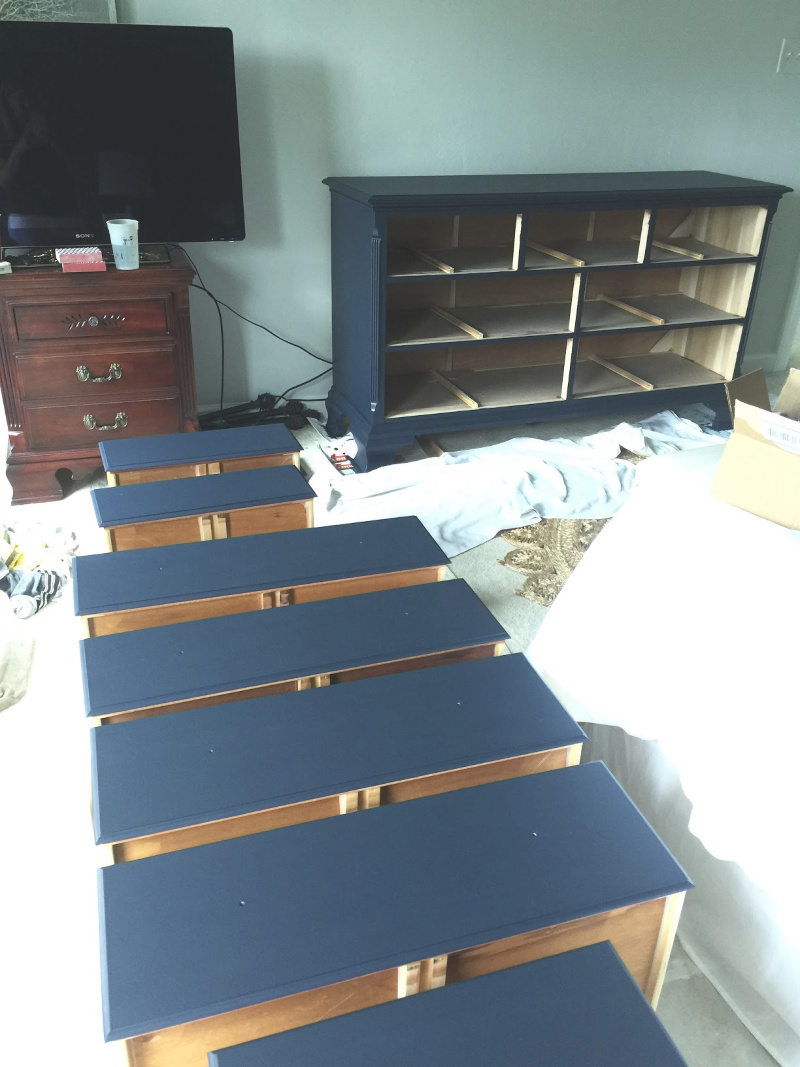 Step 7: Install hardware. Hardware can completely change the look of a piece. I absolutely love the hardware I chose. These brushed bronze knobs and Hepplewhite drawer pulls give the dresser and updated yet classic appearance.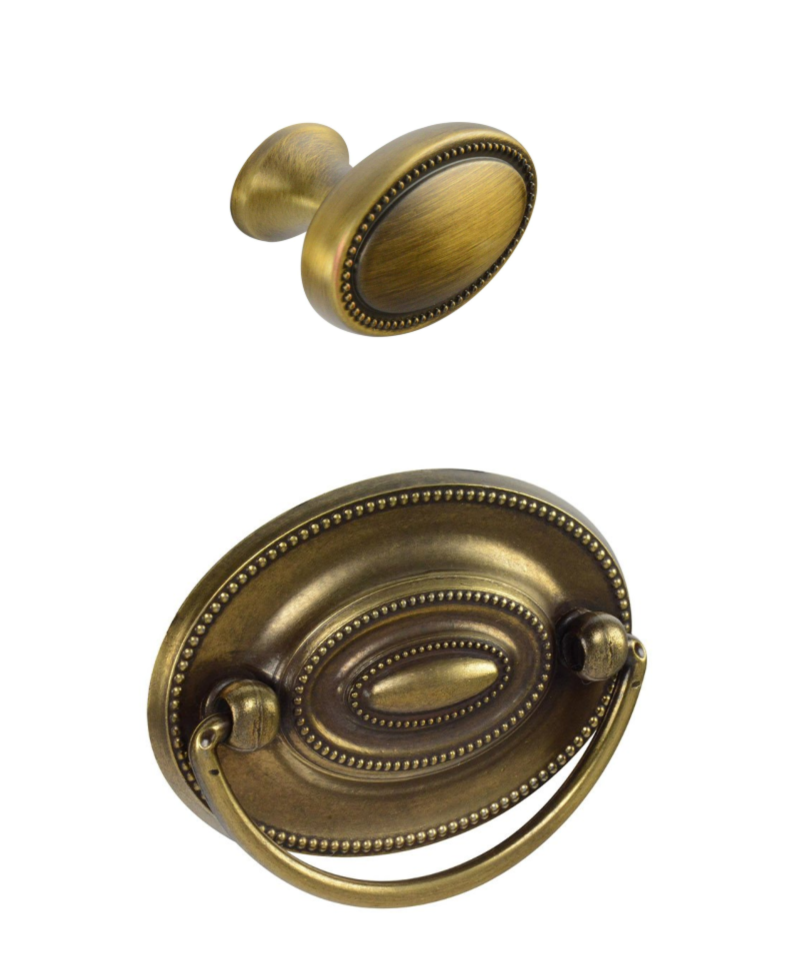 That is all there is to it! Painting with the Fusion mineral paint was such a breeze. We all love how the dresser turned out and even hubby approves!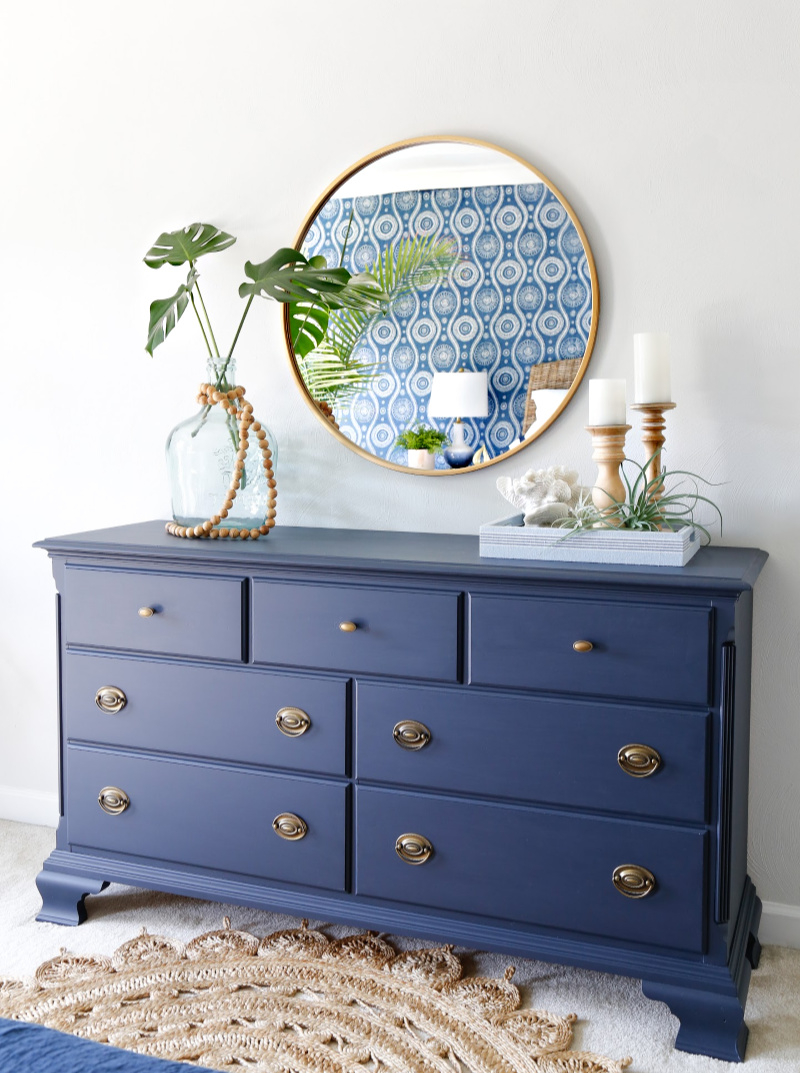 The fun part was getting to style the dresser after it was finished.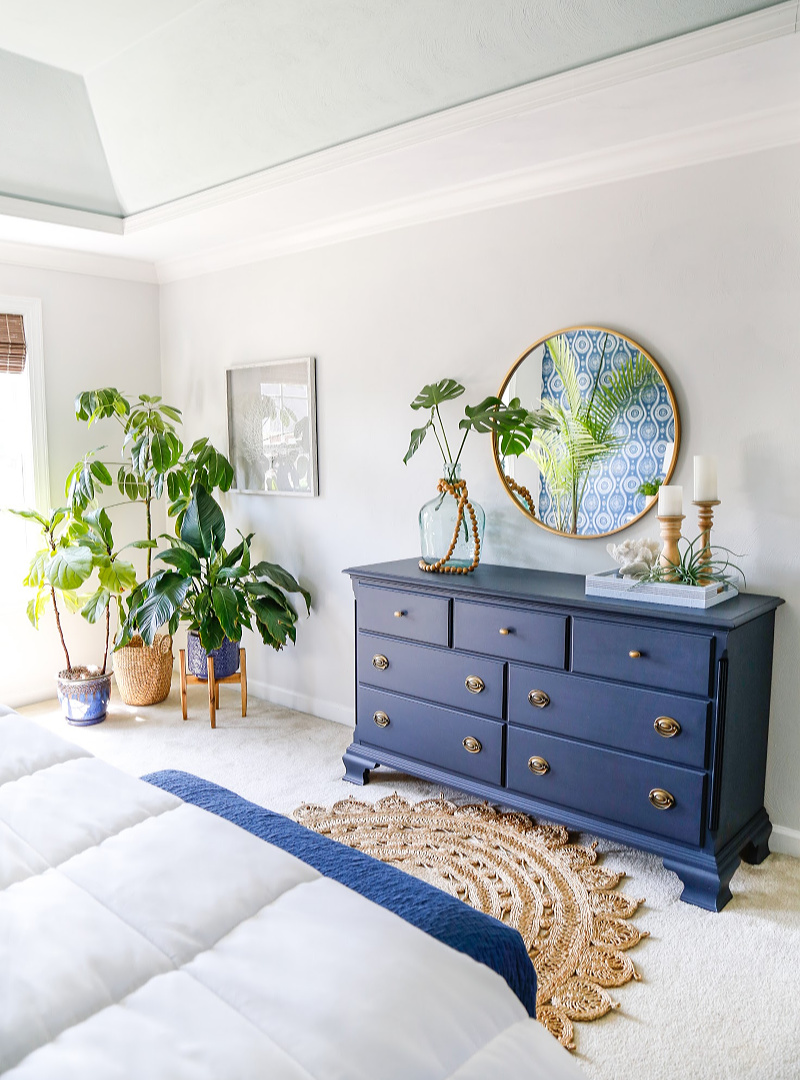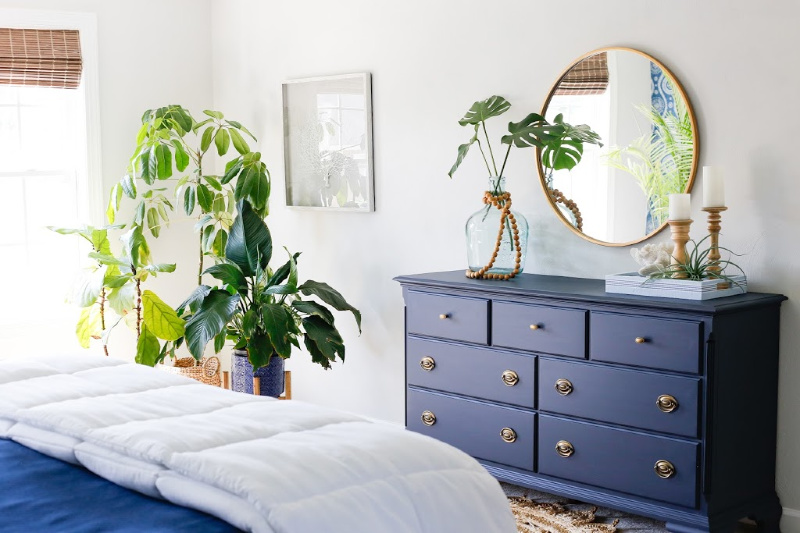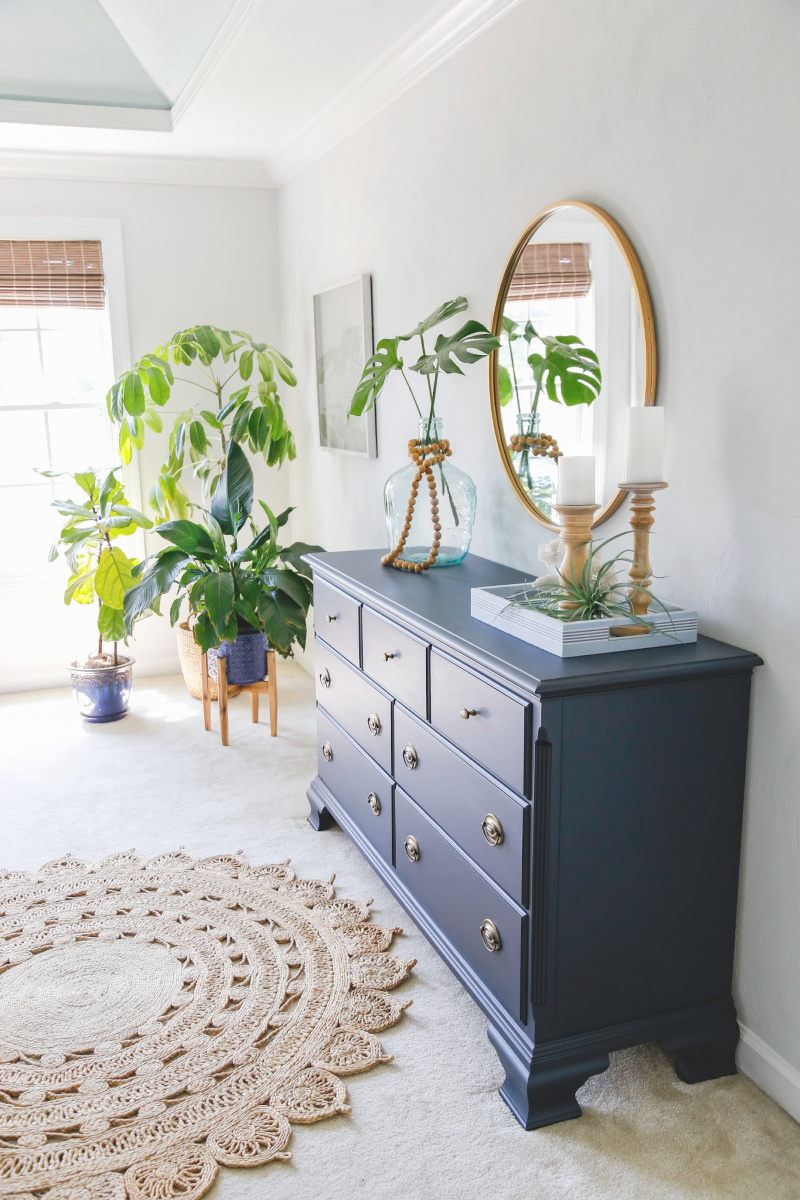 The whole room is starting to come together finally! There is still one wall that I have not show you all…. because it is a wreck. But that will have to wait for another day. I brought up some more tropical plants from downstairs into our bedroom. The kids think our room is turning into a greenhouse! Ha! Well, the plants are wonderful for air purification, especially if you have carpeted floors.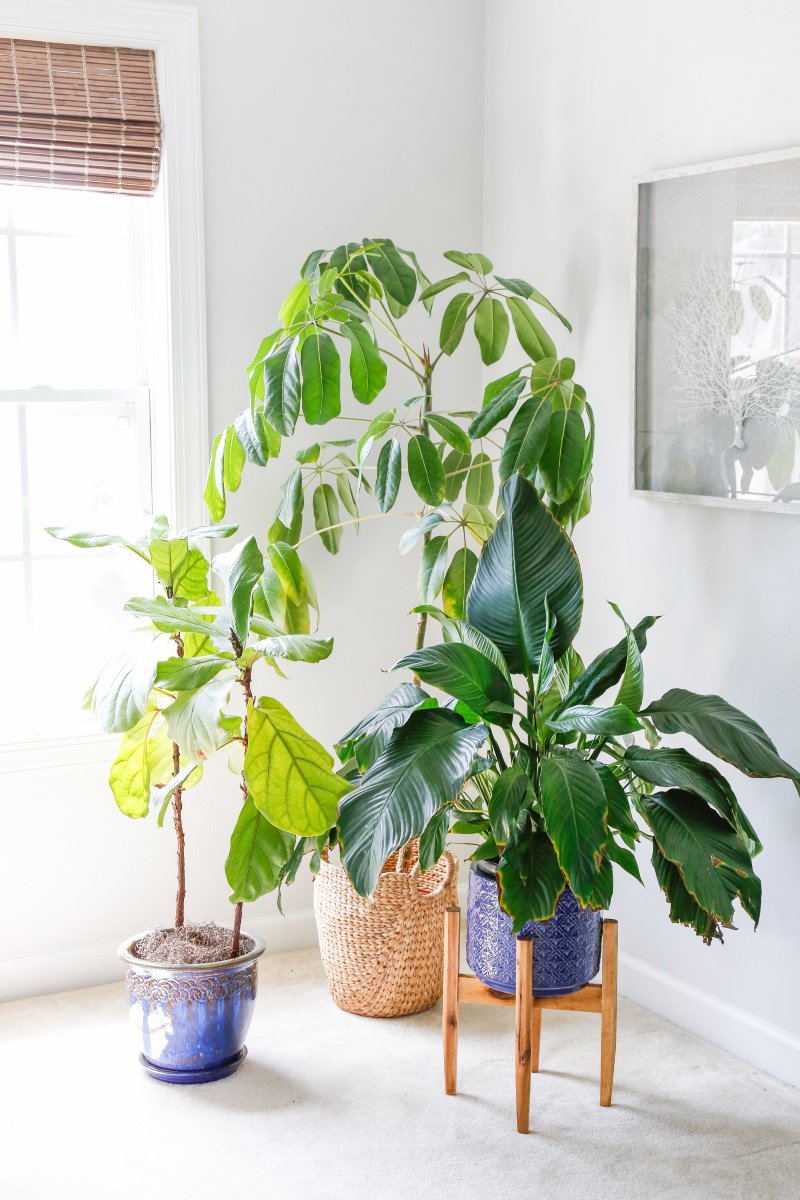 Here is the other side of the coastal bedroom that received its makeover recently. Click HERE to see the entire makeover and the BEFORE pics.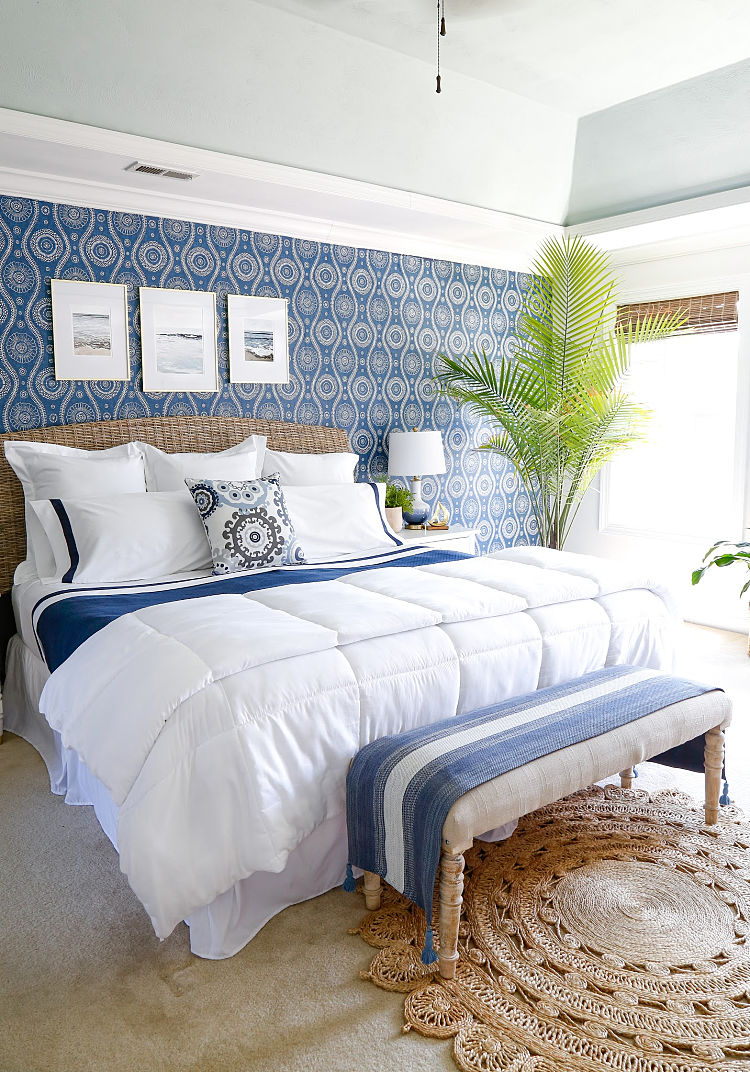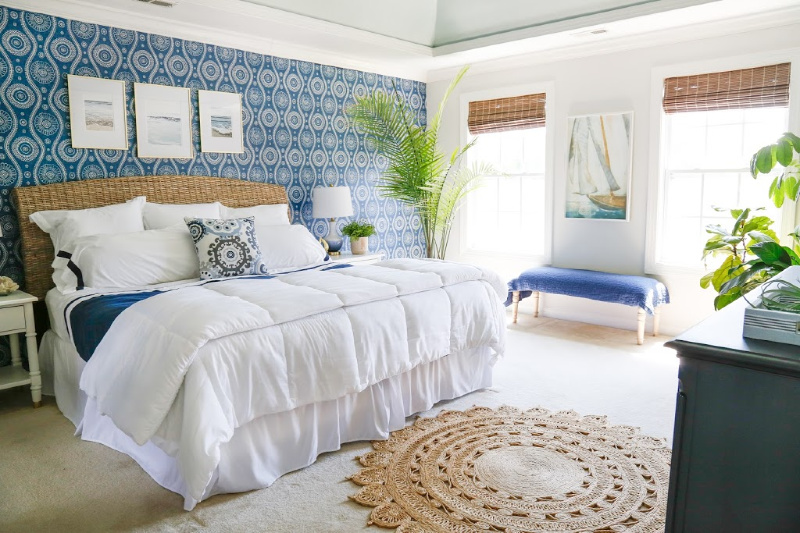 LOVE IT? DON'T FORGET TO PIN IT!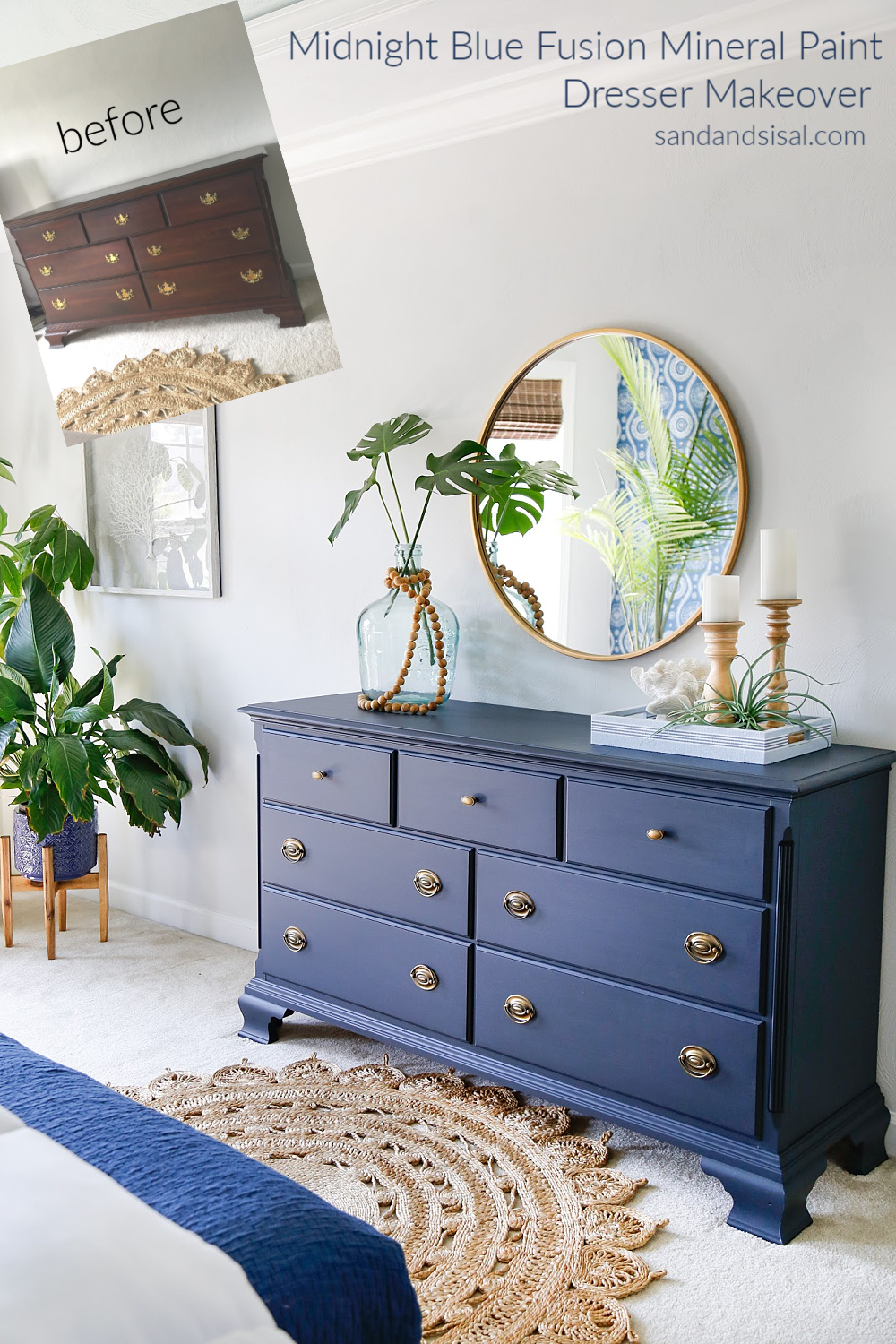 So let me know what you think! Have you ever worked with Fusion Mineral Paint? I'd love to hear your experiences!
Happy Painting!
KIM
You might also like these related posts:
Chalk Paint & Dark Wax Buffet Makeover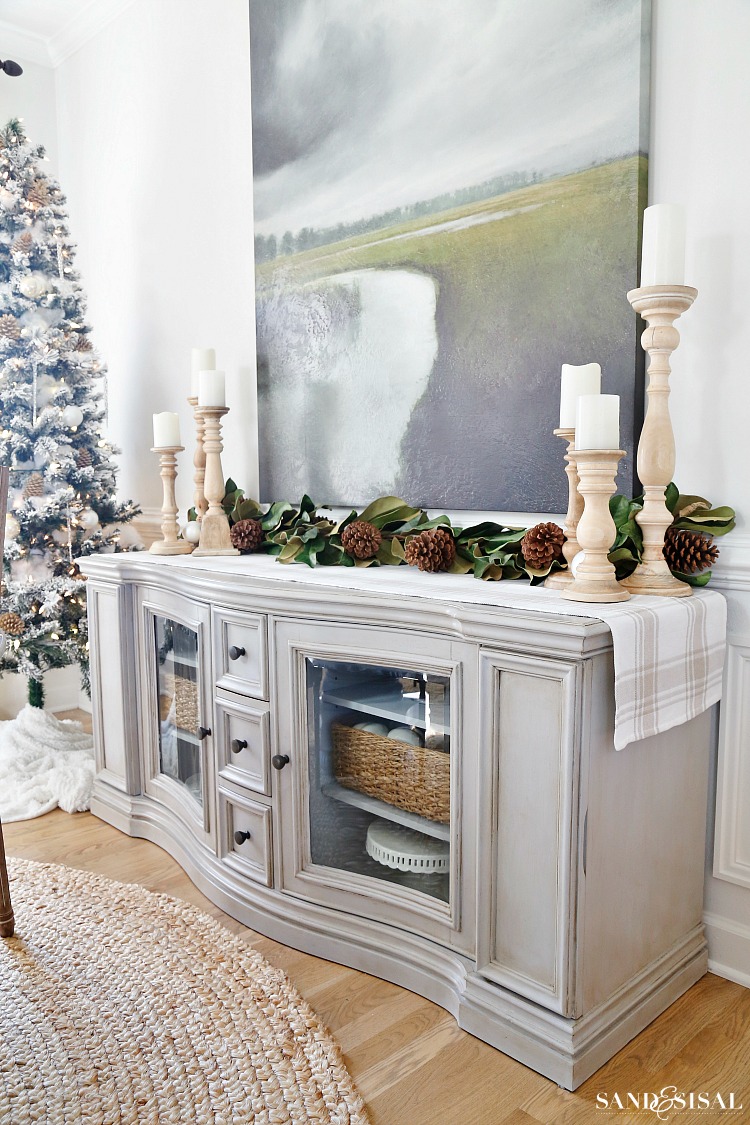 How to Paint Laminate Furniture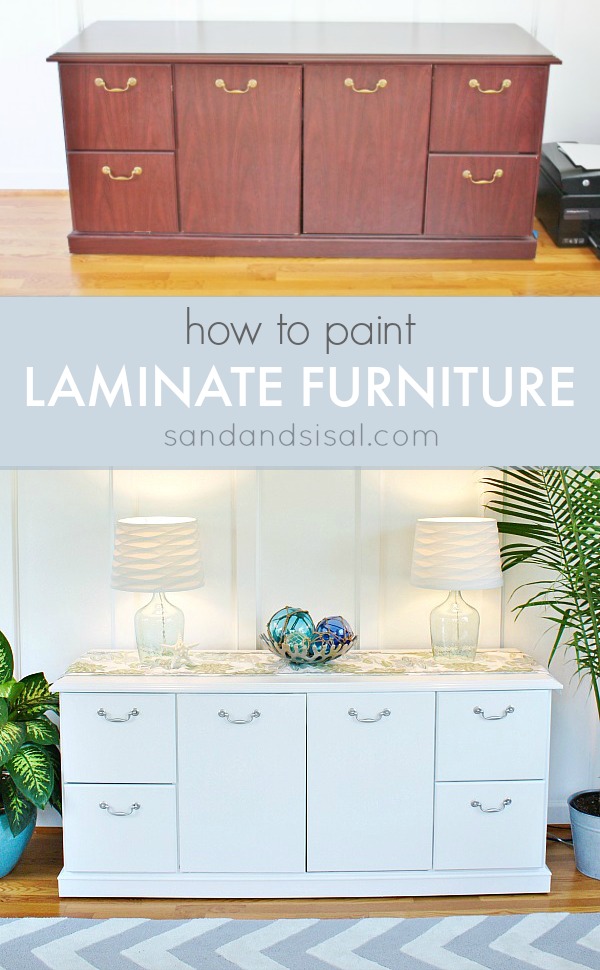 Chalk Paint Dresser Makeover – How to Use Clear & Dark Wax