We all have 1 or 2, or 7…seriously, nope, make that 8 (Oh geez… shhh!) of those inexpensive laminate furniture pieces that we bought (because we couldn't afford anything else), received as a hand-me-down, or ones that we simply just loathe. In my case I am guilty of all 3!
Hubs brought home this bohemouth, reddish fake wood, laminate credenza from an old office they were demolishing. It must weigh a gazillion pounds and has several chips and scrapes. But hey, I really can't complain, we were in serious need of storage and filing for my home office, and it was FREE! I am a firm believer in up-cycling, and breathing new life into old items if possible. Hey, our landfills are full enough, don't you agree? But…… after living with Mr. Chipped, reddish, fake wood wannabe credenza for a year, I no longer could take it. The credenza needed a makeover! Today I'm going to show you How to Paint Laminate Furniture and free yourself (and myself) from the ugly!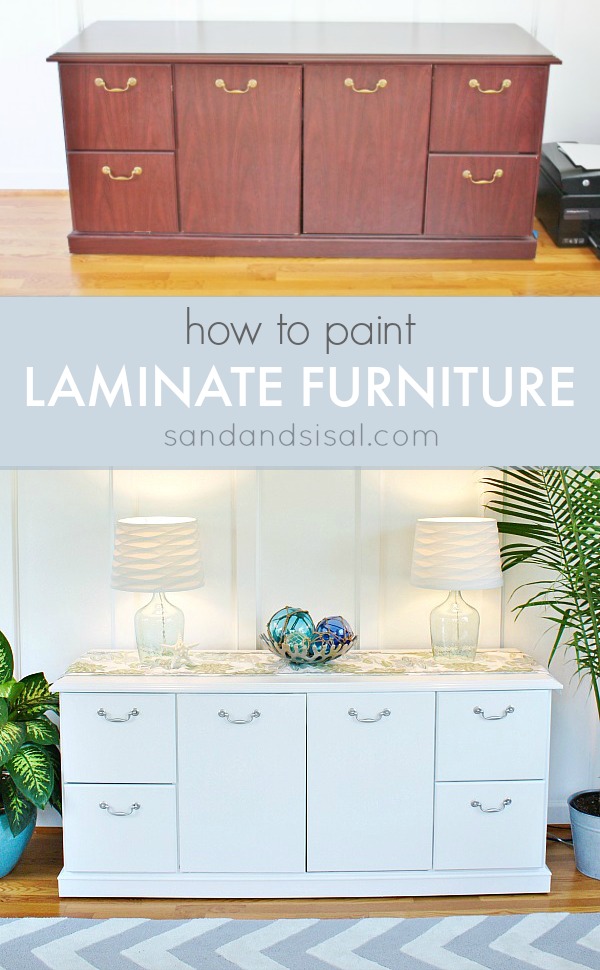 To Paint Laminate Furniture you will need the following supplies:
Step 1) Gather your supplies. Now like I said before, this credenza weighs a ton and I could not easily move it, so I decided to paint it right there, inside my house. I made sure to tuck a canvas drop cloth under the edges to catch any drips from primer or paint.
Step 2) Remove all hardware. My hardware was a not-so-attractive- faux brass.
Step 3) Prime. I bet you thought I would say SAND! Nope! Everyone has a different opinion on whether you need to sand or not. Now, lightly sanding with a fine grit sand paper will not hurt, but I haven't found it necessarily imperative either. Laminate is not wood. It is a plastic coating, or a plastic-type coated paper. The KEY to having the paint stick is to use the proper primer. I recommend using Zinsser Oil Based Primer. This stuff sticks like glue! I love their water based primer too, but when painting laminate, just go for the oil based, I feel it adheres better.
Apply 2 coats of your Zinsser Oil Based Primer with a smooth foam roller. Allowing for proper drying time between coats.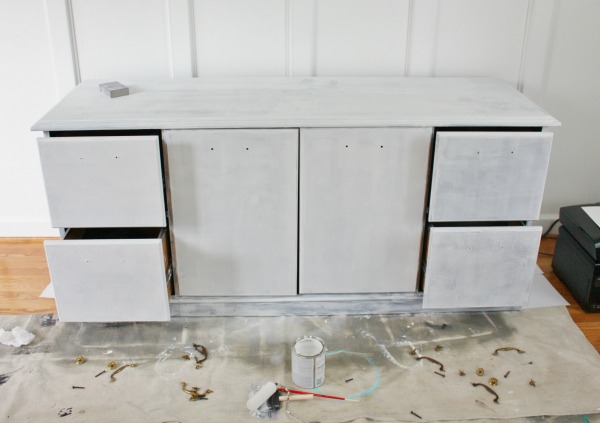 Step 4) Lightly sand, in small circular motions, with a super-fine grit sanding sponge. This is the same sponge and method I've used when sanding between layers of chalk painted furniture. Don't skip this step (unless you like a slightly bump texture)! The super-fine sanding sponge is made to lightly sand between layers of primer or paint. This process smooths out the "orange peel" texture left behind from the sponge roller and gives the primed surface a polished and soft, buttery finish.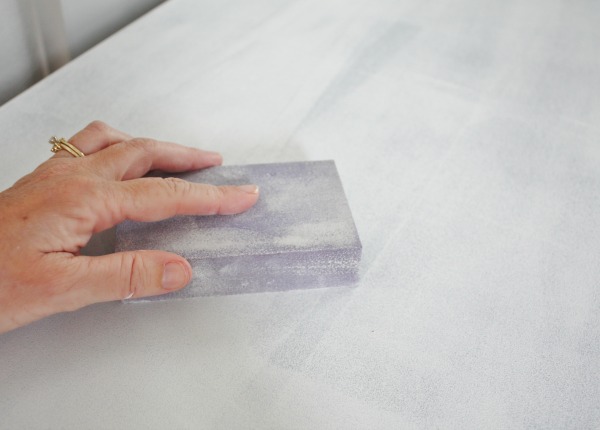 Wipe the paint dust off with a lightly damp cloth. The primer is paintable within an hour or two, but I prefer waiting until the next day before you paint and sanding right before you paint.
Step 5) Paint! Apply a good quality, latex semi-gloss paint with a beveled edge, paint brush. Brush the paint on in long and smooth strokes, going in the direction of the grain of the wood. (Ok, it's a fake grain, on fake wood, but you know what I mean). Allow to dry several hours and then add a 2nd coat of paint.
Step 6) Re-attach hardware. Now, this hardware was (of course) a very odd width and I could not find replacements easily. So for now, a simple remedy was to spray paint the drawer and cabinet pulls with a silver metallic spray paint. This is super easy fix and will last!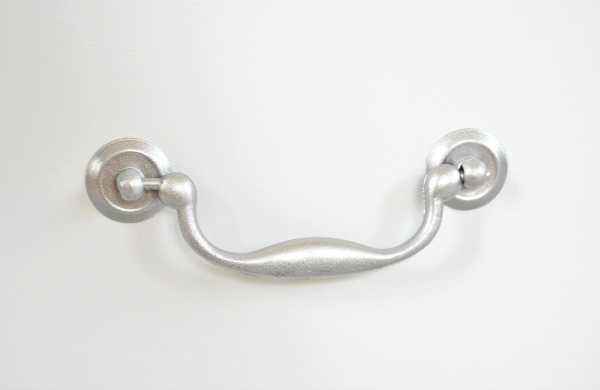 Step 7) Step away from the furniture! Allow your freshly painted piece of furniture to dry and cure before you place any type of heavy items on it. This might take a few days up to a week.
I am so very happy with how it turned out! I wish I had done it earlier! Good bye ugly ol' laminate, hello beautiful!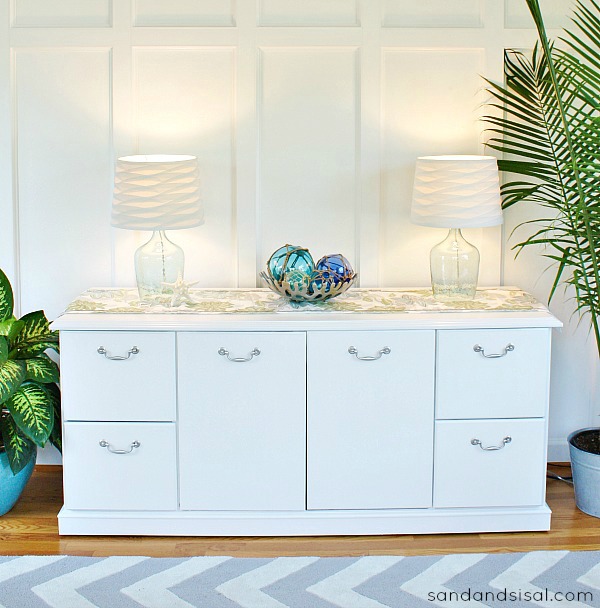 Stay tuned for the rest of my home office makeover coming up next week!
If you liked this post, then you might enjoy:
Chalk Paint Dresser Makeover (part 1)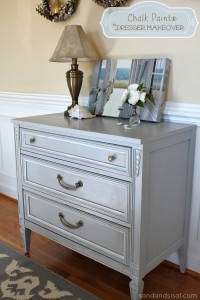 Painting with Chalk Paint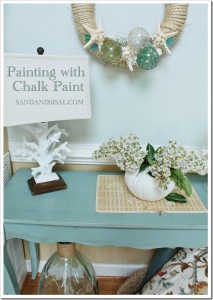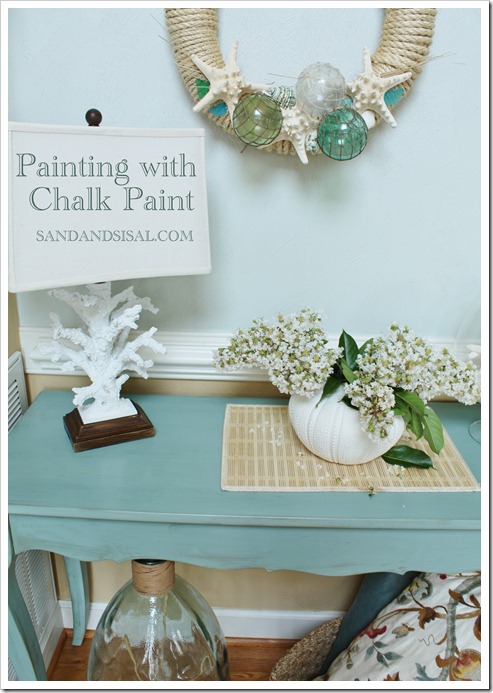 Chalk Paint Dresser Makeover (part 2- How to Use Soft Wax)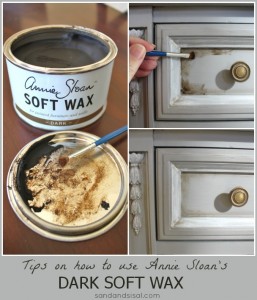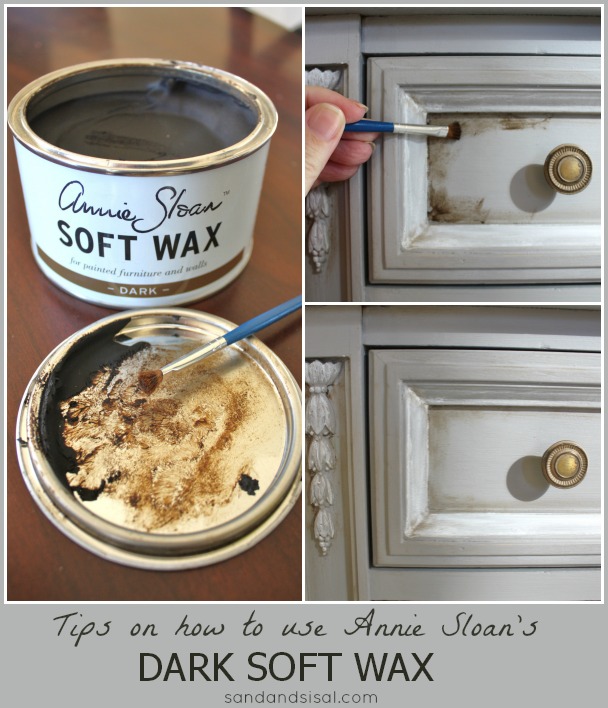 KIM