Yesterday we talked about how I used Chalk Paint® decorative Paint by Annie Sloan to give my childhood 1970's dresser a makeover (Chalk Paint® Dresser Makeover Part 1). Today I want to explain what brings the Chalk Paint® alive! We are going to discuss how to use Soft Wax both clear and dark. I've heard many people complain that they don't like how chalk paint looks BUT in every case, they never used the wax! The soft wax is key to Chalk Paint®. I hope y'all follow along with Sand & Sisal on Facebook, because yesterday we were having a wonderful question and answer time with the experts at Annie Sloan Unfolded.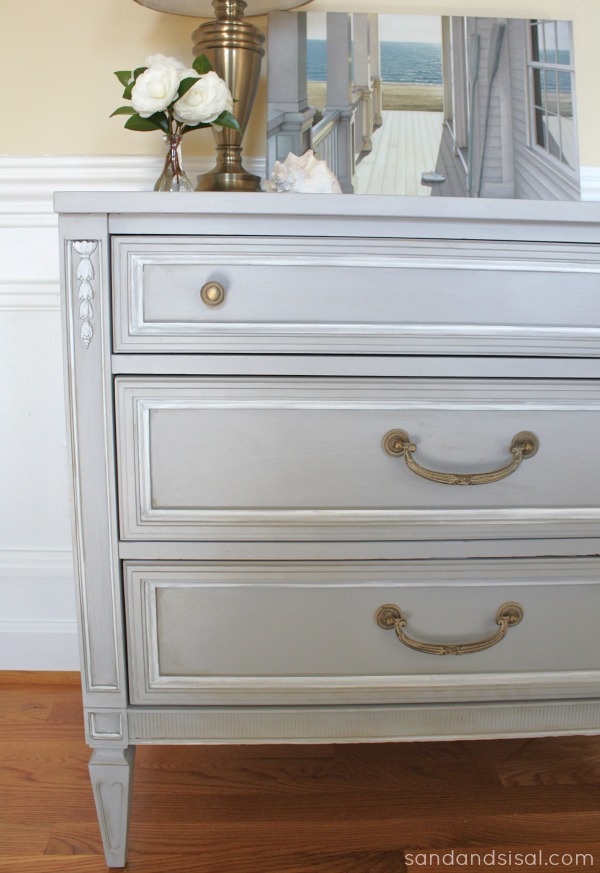 How to Use Soft Wax
Below is a picture of my clear soft wax by Annie Sloan. The wax has the consistency of Crisco, just not greasy. It smooths on beautifully with cheesecloth or a brush and then you wipe it off in a circular buffing motion and wow-o-wow! After several projects I have switched from using cheese cloth to using an old paint brush. I do not own a waxing brush, but this old brush has been working pretty good so far.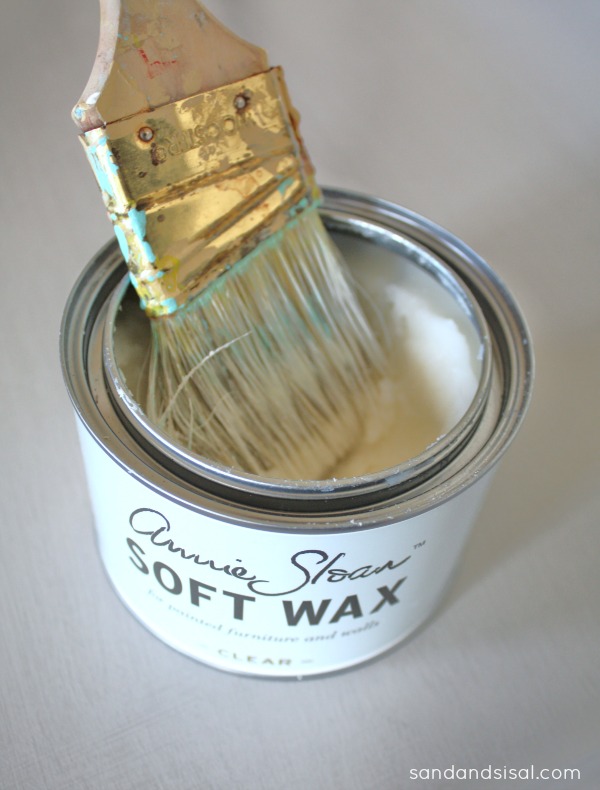 Tips for waxing:
When you are ready to wax, swirl your brush into the creamy clear wax and apply to your surface in a swirling manner. Chalk Paint® is very porous, so you need to work or massage the wax into the paint. You will instantly see how the wax brings out the gorgeous depth of color in your Chalk Paint®. You should apply an even, yet thin layer to your surface. I usually only wax an area of about 1 square foot at a time. Then you need to IMMEDIATELY buff off the wax with either cheese cloth or an old rag, like a t-shirt. Do NOT let the wax sit for any more than 5 minutes before you buff it off. Trust me, this is where most people make their mistake. They wax an entire piece and only THEN begin to buff it off. You are asking for too much work and a sticky mess. Waxing is easy. Keep it simple and small. Wax on and wax off, then move on to the next section.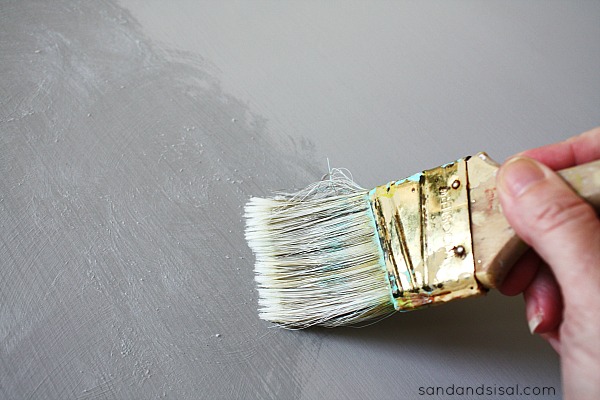 In the words of Mr Miyagi, "WAX ON… WAX OFF."
Feel free to add as many THIN coats of wax as you like, just be sure to buff to a shine each with a soft cloth each time. You will be absolutely amazed at the glass like shine you achieve! Just look at the pic below! That is with just ONE COAT OF WAX! My photography doesn't do it justice, but I promise you, it looks and feels like glass! That is the one thing that everyone raves about, the feel of the surface. It is buttery soft and smooth. This is also the time that if you would like to do any distressing, you can go right ahead. The wax will help cut down on a multitude of chalk paint dust. So distress away if desired, just be sure to give the piece an additional coat of wax after distressing.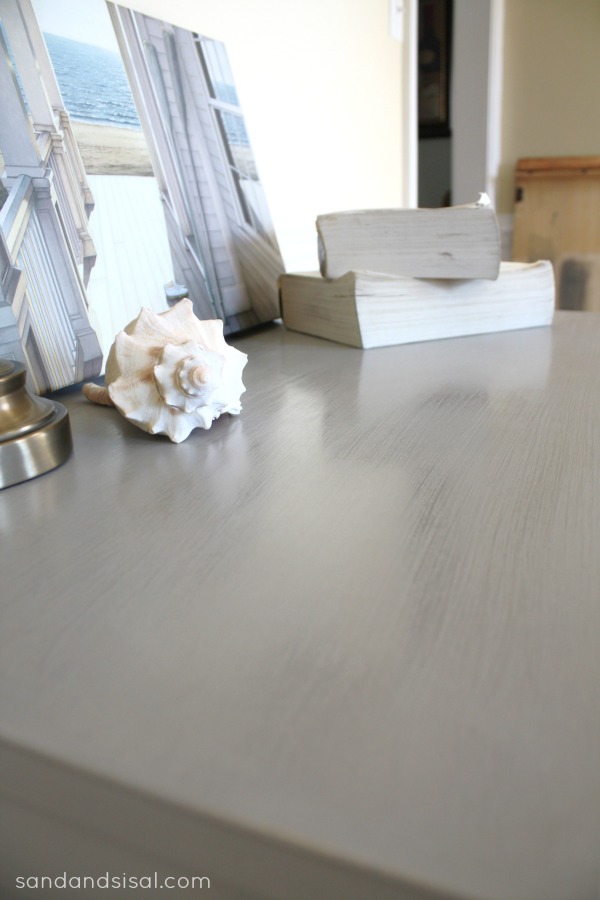 What I love too about Chalk Paint® and the wax is that if my kiddos (all 4 of them) mar up the surface in any way, then it can easily be fixed in just a few minutes without any clue that it was touched up! All you have to do is paint on a thin layer of the Chalk Paint®, lightly sand if needed, and then wipe on some clear wax and voila! Perfection again! Latex does not allow you to do this without visible marks.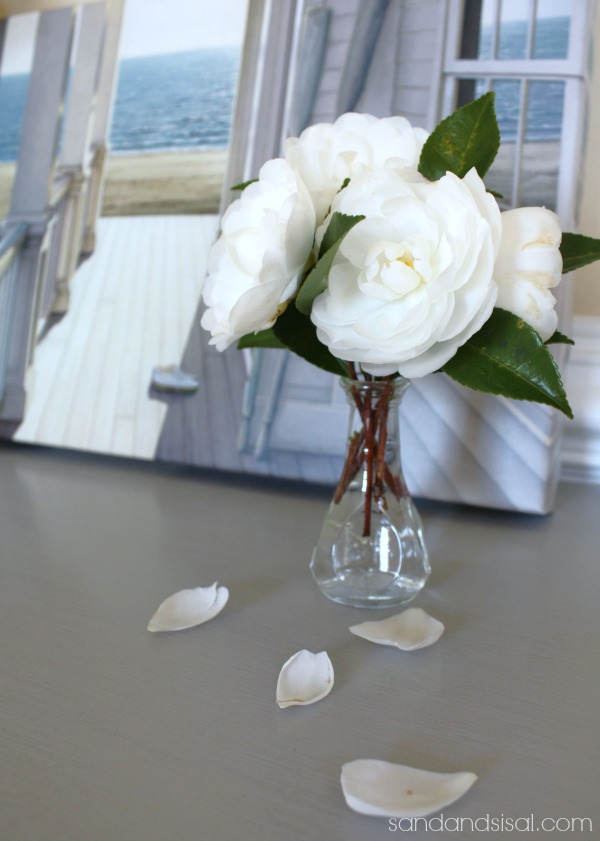 The wax is very water resistant and great for kitchen cabinets or table tops even! Look at how the water beads up. Like water on a duck's back.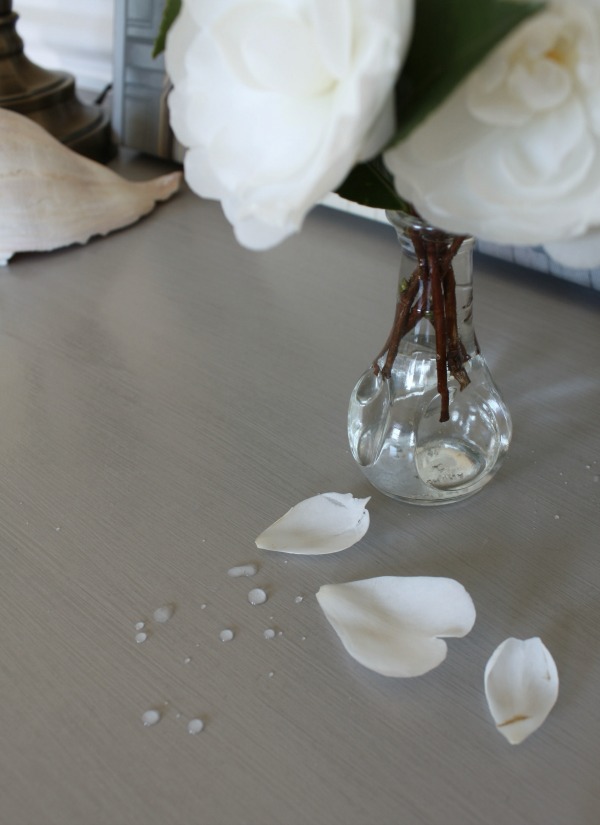 How to Use Dark Wax
What about the DARK WAX? There are a few very important things you must follow when working with dark wax. First, you always need to coat your entire piece in at least one coat of clear wax. Remember the Chalk Paint® is very porous, so if you apply dark wax to raw Chalk Paint® then the paint will suck in the dark pigment and you, most likely, will not be a happy camper.
To get a bit of an aged look on this dresser I used the dark wax with a stubby paint brush. It doesn't take much wax at all to create an aged effect. There was a lump of dark wax on my lid and that is what I used. I dabbed my brush into the wax and then worked the wax into the brush by dabbing it more on the lid. I applied the wax by rubbing the brush into the corners and edges. Then I IMMEDIATELY (and I mean IMMEDIATELY, like within 30 seconds) wiped off the wax with a paper napkin. I'd let it sit for awhile and come back and repeat the process if I felt an area needed it.
You can use that same wax wiped napkin or cloth to rub any of the raised areas or edges of your furniture. This will result in a faux distressed appearance. The process is very fast and easy and seriously, please do NOT over think it. Just wax, wipe, and go.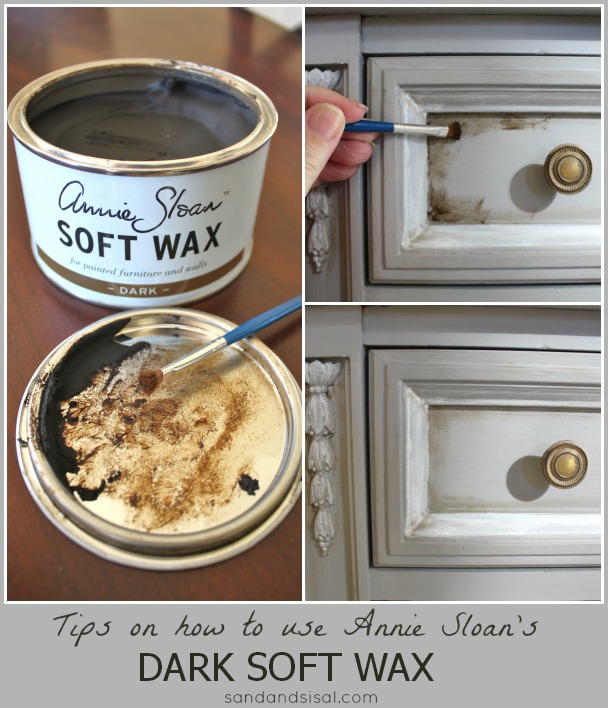 MEGA HELPFUL HINT! But what do I do if I don't like how the dark wax looks?
Guess what? This answer is easy! Shortly after you have applied the dark wax and you think you've gone too far, then rub on some clear wax and buff off. It will help dissolve and remove a bit of the dark, to leave you with the aged appearance you were originally striving for.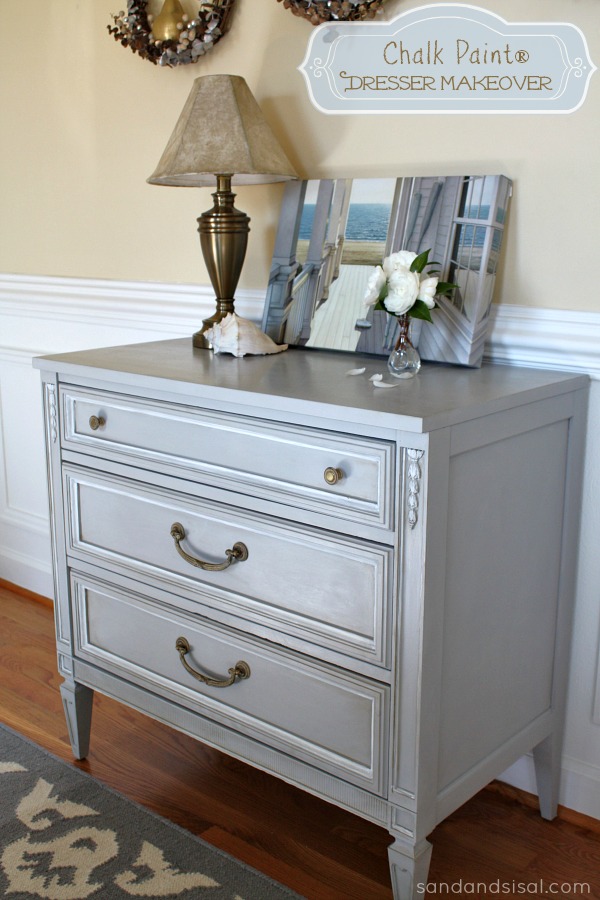 I so hope these tips and tricks helped you feel more comfortable and confident to try Chalk Paint® decorative paint by Annie Sloan, soft wax, and her other products. Please share with me your experiences with chalk paint in the comments or ask any questions. I'll try to answer to the best of my ability or help lead you to the best answer.
Happy painting!
Kim
Linking up to: Tidy Mom