I'm in love… with Chalk Paint®. What other paint can you so easily paint over ANY surface (without priming!) and completely re-invent old furniture into gorgeous, updated pieces to fit your modern lifestyle?  I've demonstrated How to Paint with Chalk Paint® before when I made over a console table, but today I'm going to focus on the painting process and tomorrow we will discuss how to use the wax (dark and clear).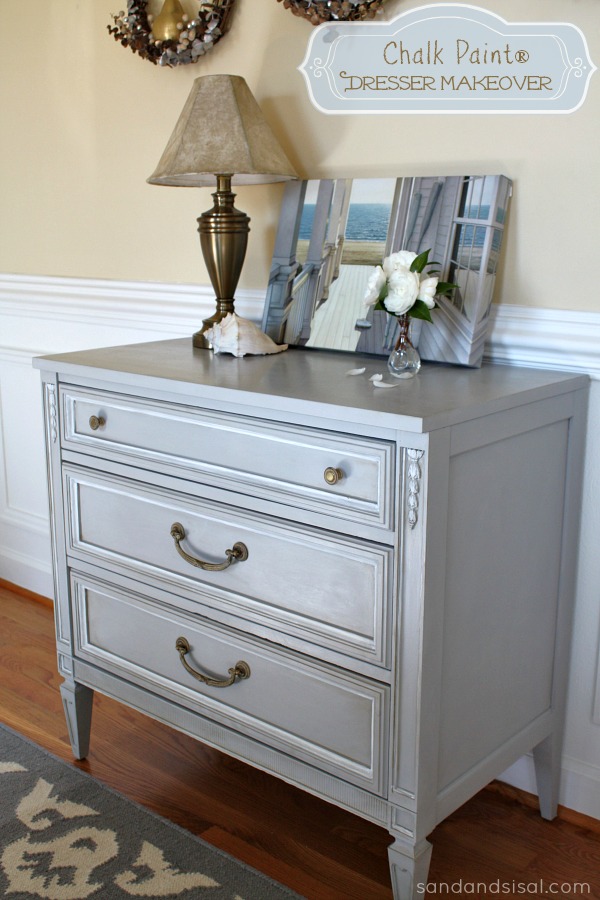 This was my dresser drawer that I had back when I was a child in the 1970's. My parents rarely ever threw anything out and I think that is where I received my love for preserving all things old. One problem… I don't like the "old" look. But beggars can't be choosers right? I didn't have the budget to buy new, even though we always desire new! (What is wrong with us materialistic kids of the 20th century)? One day I rescued 2 of these dressers from my mother's attic. One dresser I painted in a funky, teen chic hue in lime for one daughter's room, but the other is wanting something a bit more sophisticated.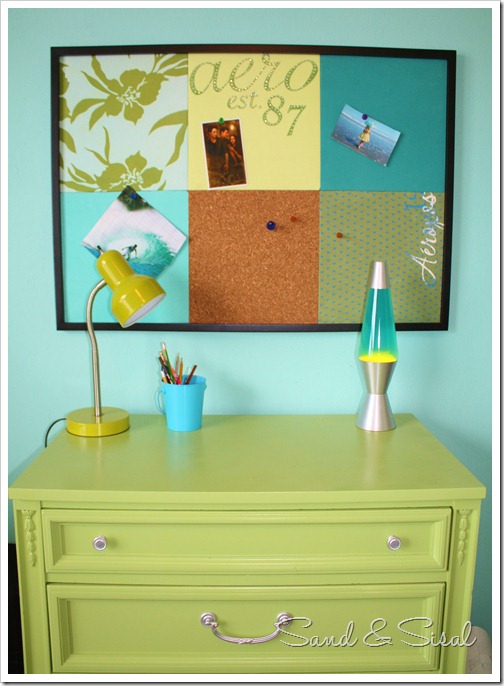 This second dresser has sat in my attic for years and was begging for a makeover. There is just something nostalgic about passing down pieces of furniture and letting the new owner's style and vibe shine through! In my opinion, I think it's a far better option than buying new. If the piece is of sound quality then by all means, try to keep it and update it! Don't you agree? I mean, let's save a tree or two… and reserve that for mommy's play cash!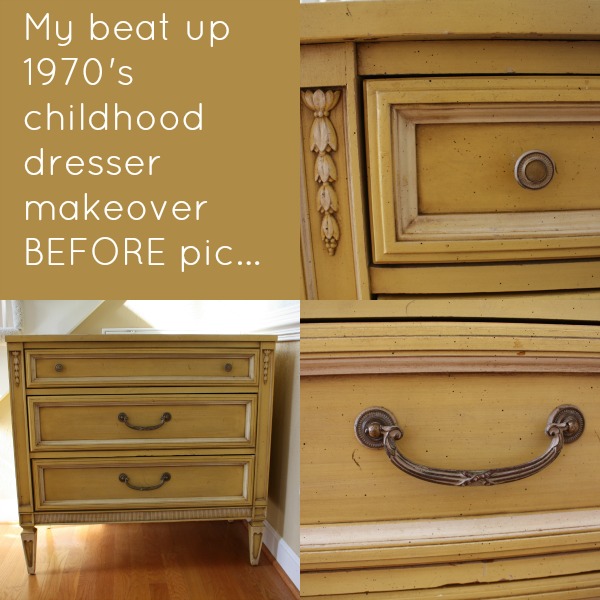 Before starting, be sure to shake and stir the can very well, as you would for any can of paint. The joy of Chalk Paint® decorative paint by Annie Sloan is that you DON'T have to prime your piece beforehand! Woo hoo!  Talk about a total time saver! For this dresser I used Paris Gray with accents in Pure White and both clear and dark soft wax.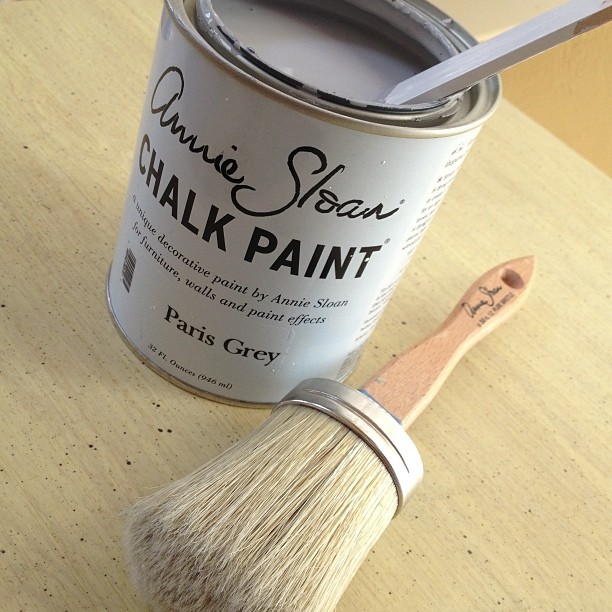 Now I'm very picky about my paint brushes and normally love my Purdy paint brushes, but for this project and paint, I seriously recommend using the Annie Sloan Paint Brush. I don't know why it works so well, but it does! I have found that the brush can give you a smooth surface when using long sweeping strokes or give you nice texture when using short hashtag type strokes.
I removed all the drawers and hardware  first and set out a drop cloth to work on. When you start to paint, you want to just barely dip your brush into the paint. Chalk Paint® covers like no one's business! I love it!  You will be shocked at how little paint you will use to paint an entire piece.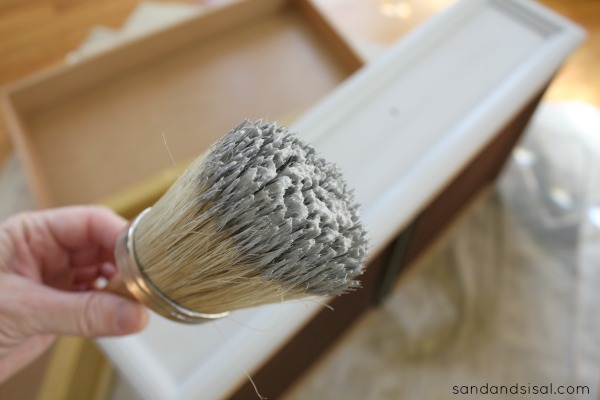 When painting large areas, be sure to use long, sweeping strokes from left to right. Unlike regular latex paint, Chalk Paint® is more workable, and will not create that "drag" that latex will.  This will result in a much smoother finish than most latex paints.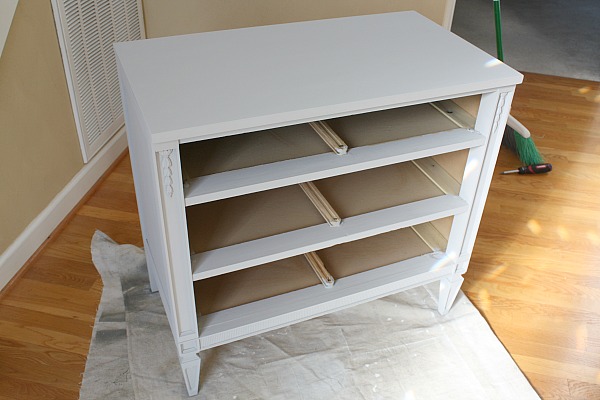 The beauty of the brush is that it works the paint easily into crooks, crannies, and detailed areas. You will need to do two coats of chalk paint. Don't worry about your second layer the way you would with latex, because with chalk paint, a second layer is easy-peasy!  I was able to coat the dresser and drawers with TWO coats in just 45 minutes! It dries very fast. Now you could NEVER say that with normal latex paint. This is the gift that chalk paint gives! Once dry, the paint will look very flat, so don't be alarmed if you've never worked with it before. Waxing will bring out all the gorgeous color and shine.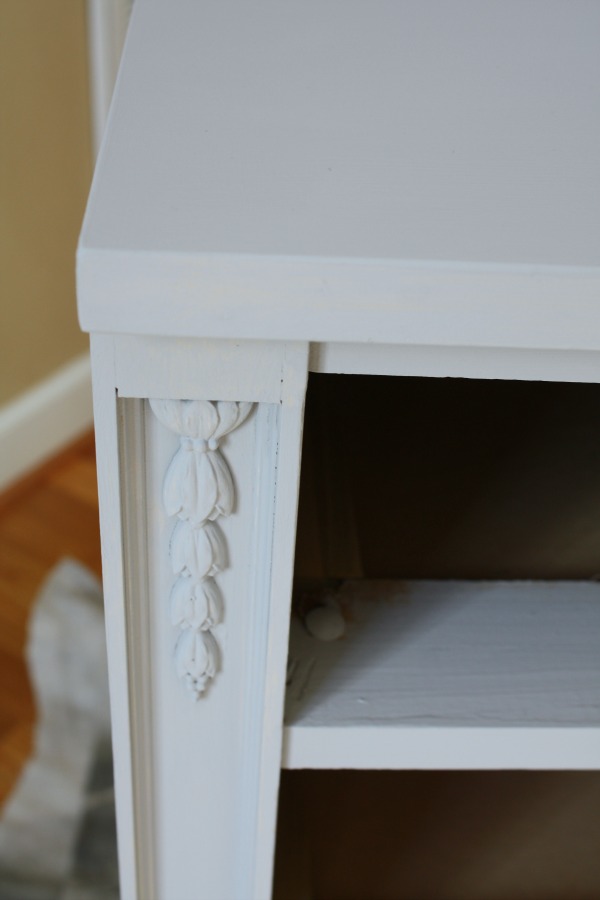 I like to give the top of any surface I'm painting a light sanding with an extra fine grit sanding sponge. Sand in a circular motion. This will create a bit of a buffing shine and is also helpful to remove any drip marks you might have missed. Chalk Paint® is made to be sanded. Wipe the piece down with a lightly damp cloth to remove any chalk paint dust.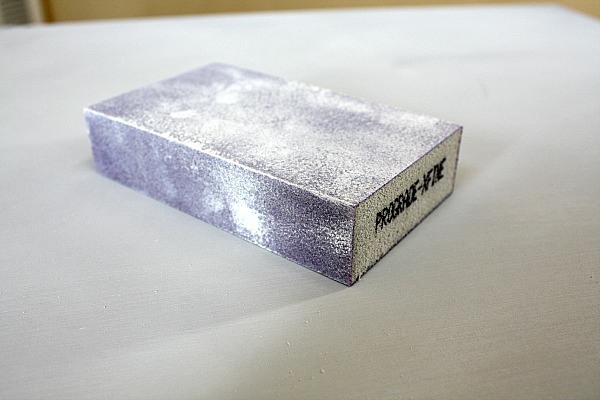 I could have just stopped at this point and given the dresser a coat of clear wax but I wanted to bring out the pretty details, which could be done in a variety of ways. I chose to apply the Pure White with a one inch, flat tipped artist paint brush using a dry brush technique so it would look very subtle. To dry brush, dip a paint brush a tiny bit into the paint and then dab your brush onto a paper plate or napkin. This allows only a small amount of paint to remain on the brush, resulting in a light, feathery effect when painting.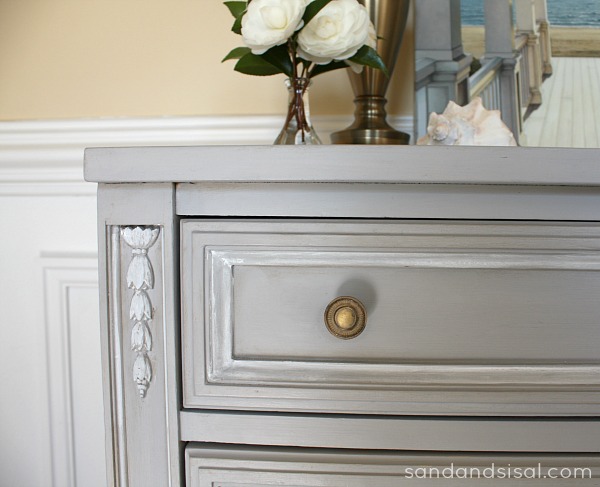 So what are the benefits of using Chalk Paint® decorative paint by Annie Sloan?
No priming needed
it is made to be sanded (distressing is a breeze)
drys very fast
a small amount goes a very long way
amazing coverage, unlike anything you've seen
durable
can be painted on practically any surface (including fabric!)
comes in gorgeous variety of colors
touch ups are simple and leave no marks
no toxic paint fumes
The next step is the waxing, the best part of all!  I used both clear and dark wax. Tomorrow's post will detail how to use the soft wax and a few tips. So be sure to check back in. 
Kim
To find where you can buy Chalk Paint® click here.
You might also like these posts using  Chalk Paint® decorative paint by Annie Sloan:
3 Fun Painting Techniques for Furniture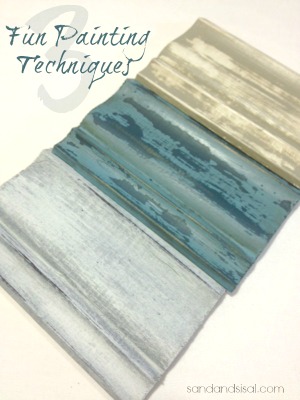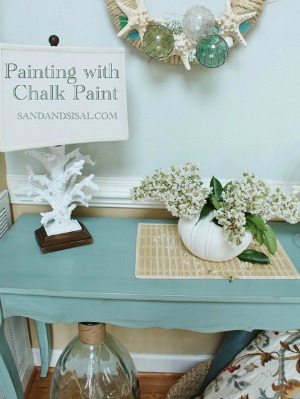 Disclosure: I was provided paint and wax for this project to review. All expressed opinions are my own.