Yesterday I shared my experience at the Haven Conference, and today I wanted to show you a few things I learned at my favorite session: Advanced Painting!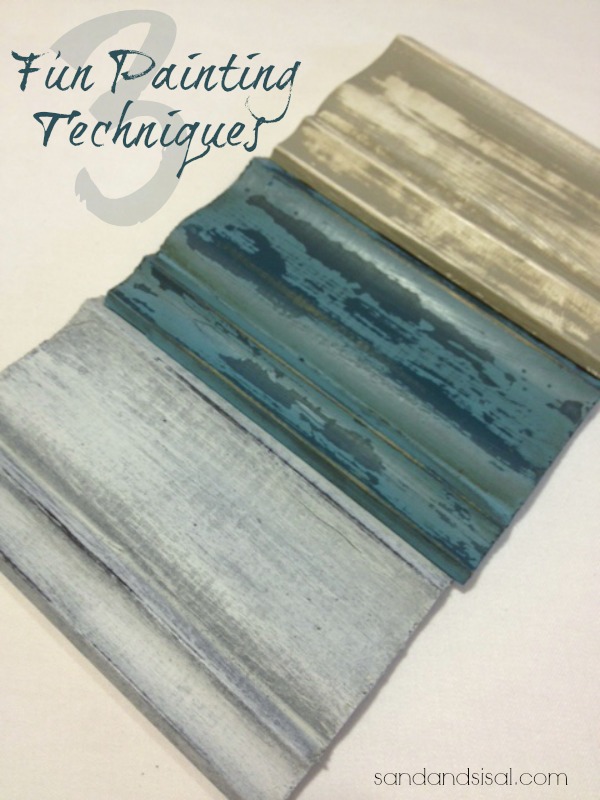 Now, I'm absolutely no expert when it comes to painting furniture but I've dabbled with it a bit, so I was so excited when I found out that my two furniture painting idols, Marian from Miss Mustard Seed and Shauna from Perfectly Imperfect, were teaching. They will probably laugh at that, but I've had the privilege of knowing these two ladies for a few years now and please know not only are they two awesome business women, but they are amazingly kind and bubbly.  Marian sells her own line of paint called Miss Mustard Seed's Milk Paint and Shaunna owns Perfectly Imperfect Shop where she sells Annie Sloan Chalk Paint and carries a variety of products.

I will try to pass along the best I can, 3 fun painting techniques for furniture that the ladies taught us. For further education, feel free to check out their blogs. All I had with me in class, was my iphone, so forgive my less-than-stellar quality pics. The 1st painting technique we tried was called the "Restoration-Hardware-ish" Finish.  It is a somewhat weathered and aged look with lots of streakiness. I'm not quite sure I achieved the correct look but you can get the idea.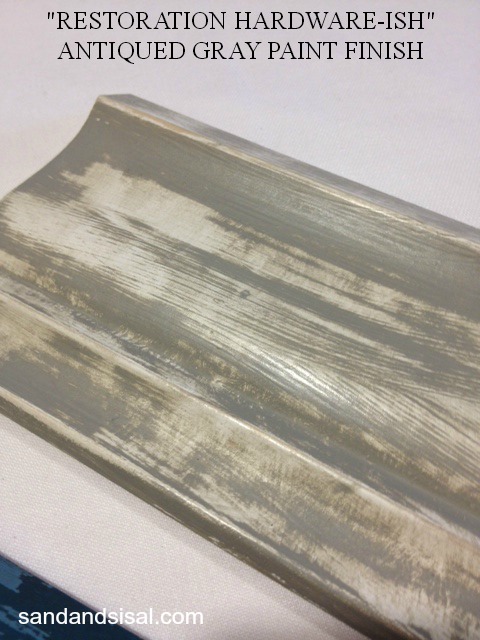 We experimented the painting techniques on pieces raw wood molding.
Step 1) For this technique, we gave the raw wood a nice even coat of ACSP in Pure White and allowed it to dry (it dries fast!).

Step 2) We applied a coat of ASCP in French Linen over the top of the Pure White and allowed it to dry a bit. (sorry, no pic)
Step 3) Next we wiped off the French Linen with a damp rag, going the direction AGAINST the wood grain.  This might take a bit of pressure and patience. Feel free to moisten your rag more if needed. Rubbing the high/raised areas will reveal the white color underneath.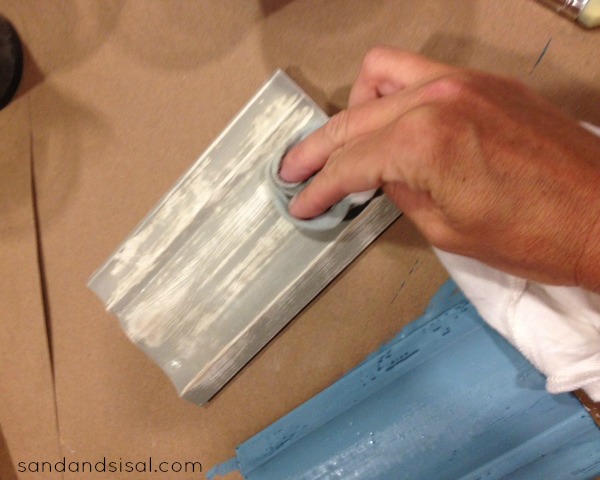 Step 4) Apply a bit of ASCP Clear Wax to the wood and immediately buff to a shine. That's all there is to it!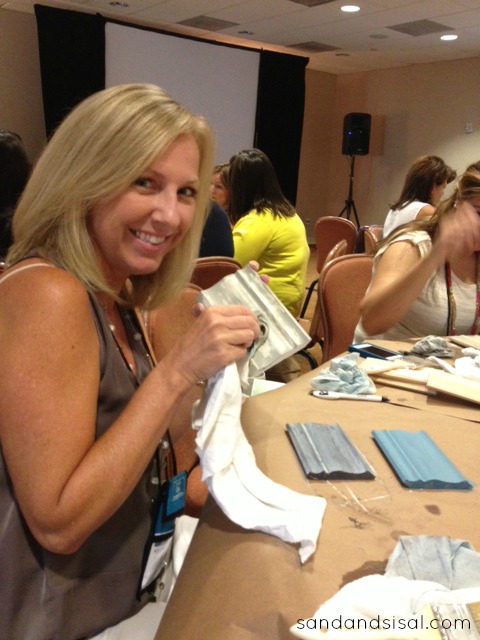 The 2nd painting technique we tried was the layered look. It is rich with color and authentic chippy-goodness! I think this was my favorite!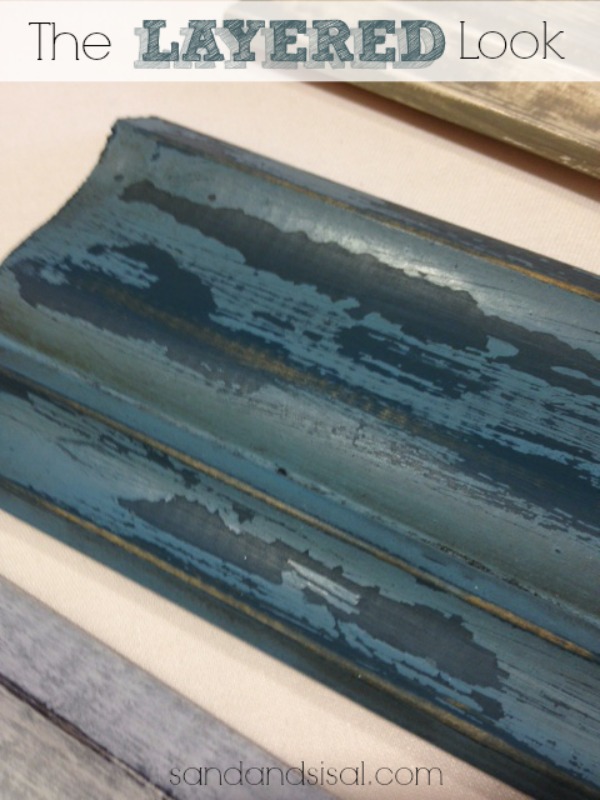 Step 1) Give the raw wood a base coat of ASCP in Aubusson Blue and allow to dry. The pic below was taken while the paint was still wet.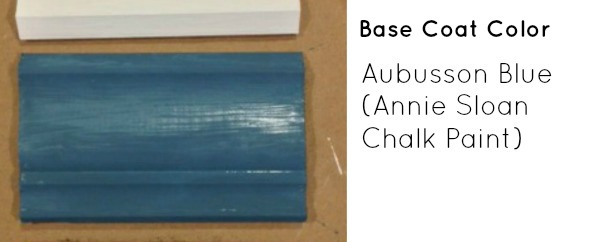 Step 2) Apply one or a variety of resist products like vaseline, wax, or hemp oil in random areas on the wood. Focus on the raised/high areas especially or where ever you want the base color to show through. TIP: Try to think of where the piece of furniture would receive normal wear and tear over the years. These resist products will cause the next layer of paint to not stick to the base coat and each will chip, flake, or resist in different manners. You can use just one type of resist or as many as you like.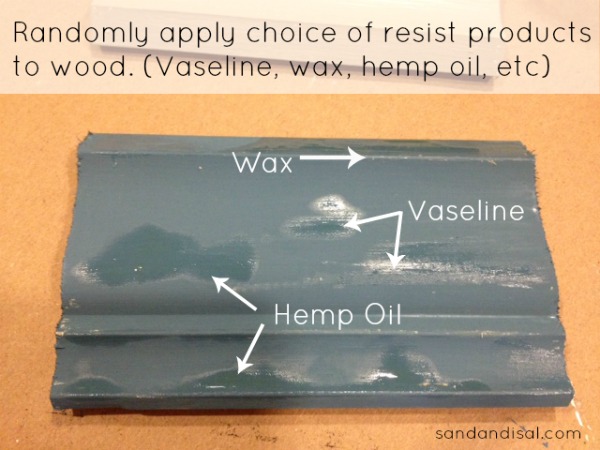 Step 3) Apply the 2nd coat of paint gently over the entire piece. For the 2nd layer we used Miss Mustard Seed's Milk Paint in French Enamel. Allow to dry. You can see in the picture below where the paint is really resisting to stick (see the dark blue areas?).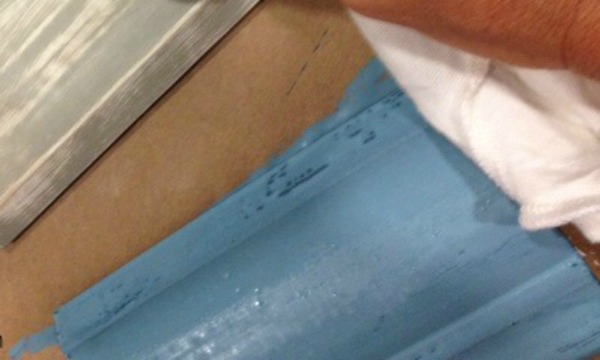 Step 4: Make sure it is totally dry. Then take a bit of sand paper and rub across the wood. It is so cool to see how easily all the areas where you apply the resist, flakes off. Rub the sand paper on it as rough or as gentle as you like. There is no "right way or wrong way" here! Then rub the wood well with a soft, dry cloth.
Step 5: Seal with wax and buff to a shine. I used Miss Mustard Seed's Antique wax.
The last paint technique we tried out was called the weathered look or driftwood look.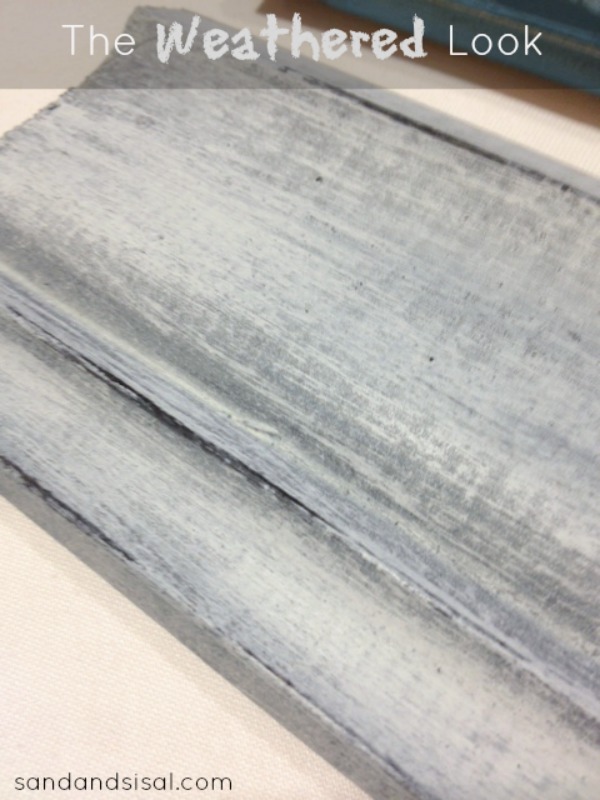 Step 1) Start with a base coat of Miss Mustard Seed's Milk Paint in Typewriter. Allow to dry.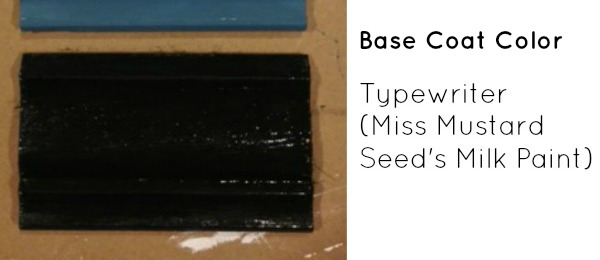 Step 2) We applied a 2nd coat that was a 50/50 solution of Shutter Gray & Grain Sack (both Miss Mustard's Milk Paint).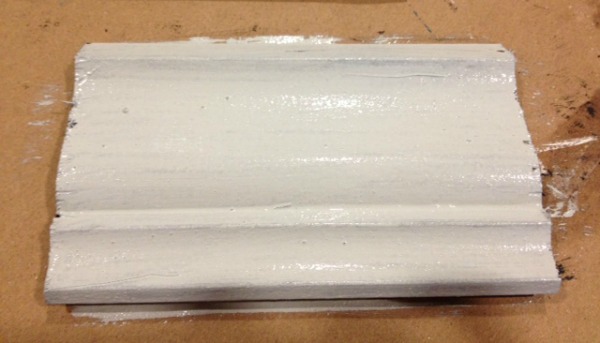 Step 3) Immediately wipe off the 2nd coat with a rag. Wipe off as much as you like, depending on how dark or light you want the piece to look. Again, remember …. no rules.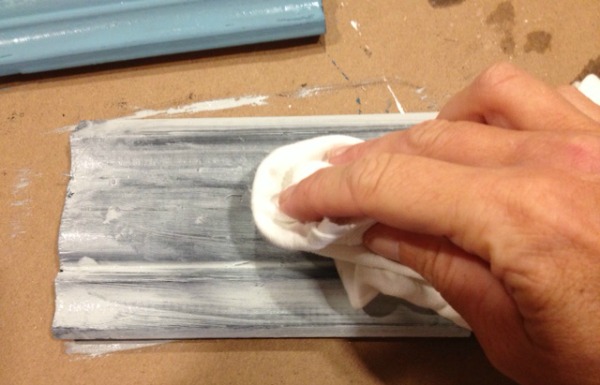 Step 4) Dry Brush on Ironstone Milk Paint to achieve desired lightness, feathery and streaky effect.
Step 5) Seal and buff with white or clear wax.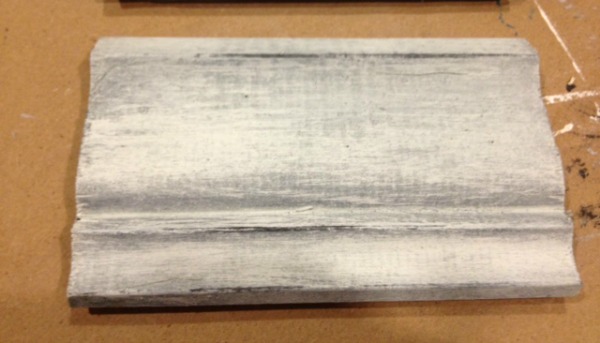 What was amazing was how different everyone's examples turned out! Each was unique and beautiful. Before tackling a project, I recommend trying a few of these techniques out first on some molding like we did, so that you learn what look you like best. Thanks again to Marian and Shaunna and the entire Haven Team for a great, fun, and informative time!
Kim
You might also like these painting project posts:
Painting with Chalk Paint: A Beginner's Guide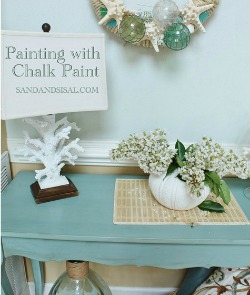 How to Paint and Distress Cabinets