The deck was always a mess. It rains here almost every day and I would have to grab the cushions off the chairs and lean them against the overhang so they wouldn't get wet. Cushions and pillows were everywhere. This was not working. I shopped around trying to find an affordable and stylish outdoor storage box and was aghast at the prices! Ridiculous! It was time to make my own. It was pretty easy and turned out just as I planned. I'm excited today to be partnering with 3MDIY.com as one of their 3MDIY Experts and share my instructions on how to make your own DIY Outdoor Storage Box & Bench!
DIY Outdoor Storage Box / Bench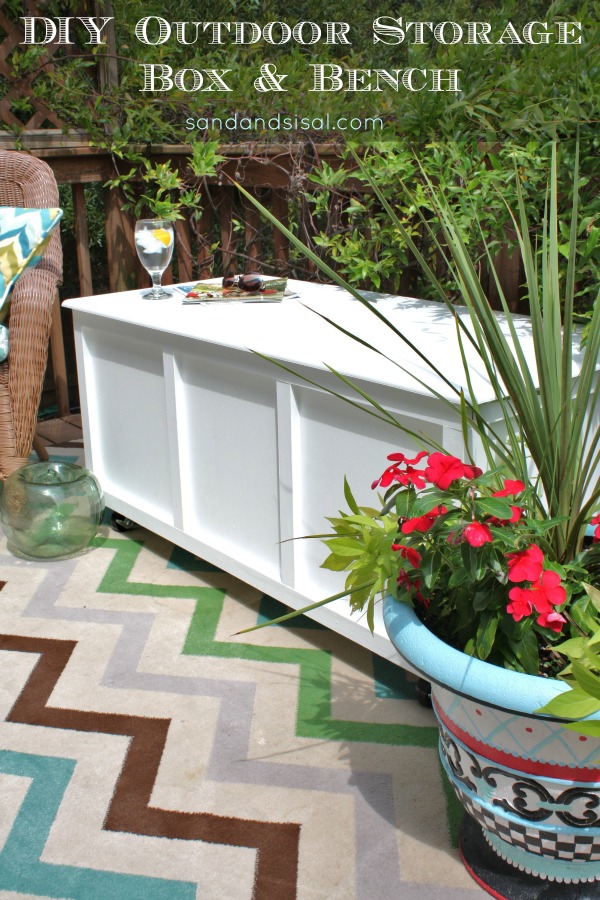 STEP 1: To make the storage box you will need the following items:
(1) 4'x8′ sheet of quality pine plywood 3/4″ thick (use the best quality you can afford)

(6) 2″x1″-8′ pre-primed trim board
(1) 5/8″ x8′ PVC quarter round trim
(2) 3.5″ galvanized utility hinges
(2) 2.5″ rubber wheel swivel casters
(2) 2.5″ rubber wheel swivel casters with locks
Finishing nail gun
Skil saw or table saw
miter box or miter saw
3M Marine adhesive
3M Advanced Abrasives SandBlaster Sand paper with No Slip Grip Backing
3M Wood Filler in White
3M Tekk Protection Work Tunes Hearing Protectors
3M Tekk Protection Holmes Premium Safety Glasses
quality primer
exterior paint
ScotchBlue™™ Painter's Tape & Drop Cloth
Let's get started! To keep the cost of the box down we worked hard on our dimensions so that we would use only one sheet of plywood, yet be able to build a box that would hold all of our cushions. I drew out a diagram for you below. Cut each panel to these measurements and you will have minimal waste left over. (Just don't mess up or you'll be buying more plywood!!!)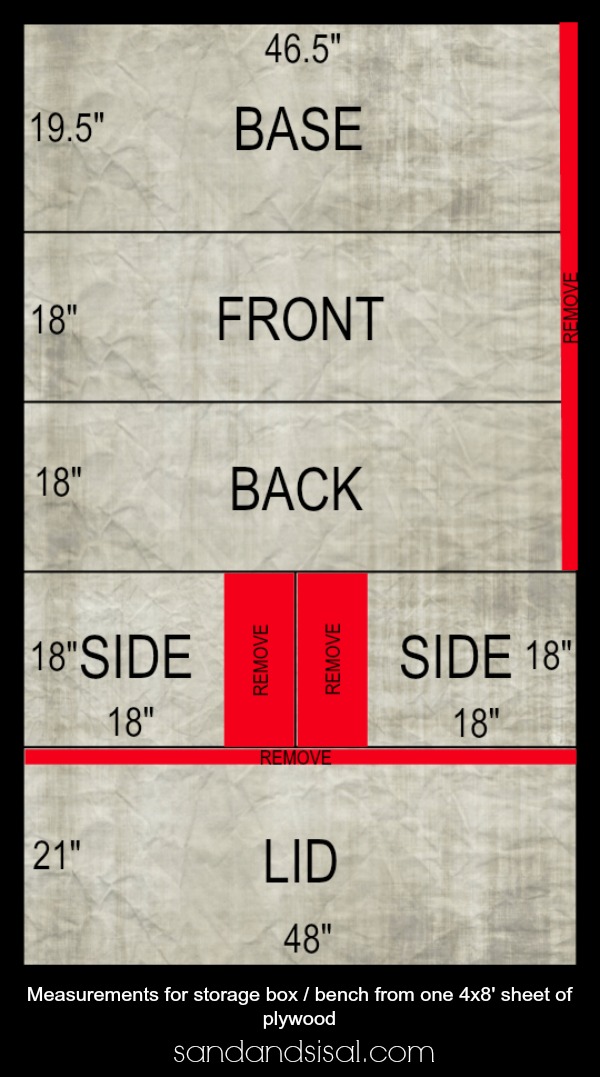 Now I used our table saw but you can easily use a skil saw also. Always have someone else help you when cutting, for safety and accuracy. Wearing proper 3M Tekk Protection eye wear is a must! The sawdust will be flying everywhere. I'm wearing my 3M Tekk Protection Holmes Premium Safety Glasses. We always have several sitting around so we never have the excuse not to protect our eyes. They look good and fit just like sunglasses. I am also wearing the safety ear buds that come with the glasses.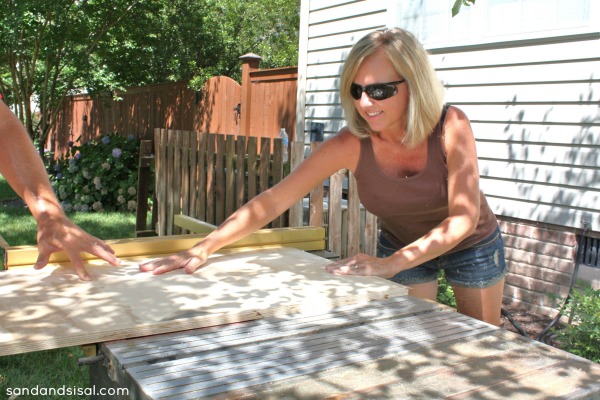 Below are all the panels cut and laid out. Measure twice and cut once. Whew! No cutting mistakes!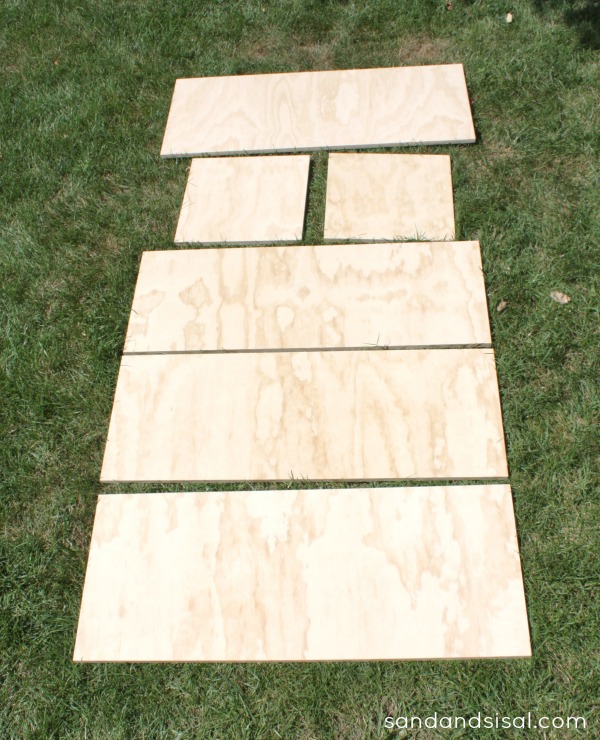 STEP 2 ASSEMBLE: Now because I will be using this storage box/bench outside on my deck, I want it to be as weather resistant as I can make it. We were going to use liquid nails, but decided to use the 3M Marine Adhesive Sealant. We've used it on our boat and know how very effective and strong it is, so why not use for an outdoor storage box?
You will lay your base panel on an elevated surface and be sure to let it hang off the edge a bit. You'll see why in a minute. Run a bead of adhesive near the edge of a long side.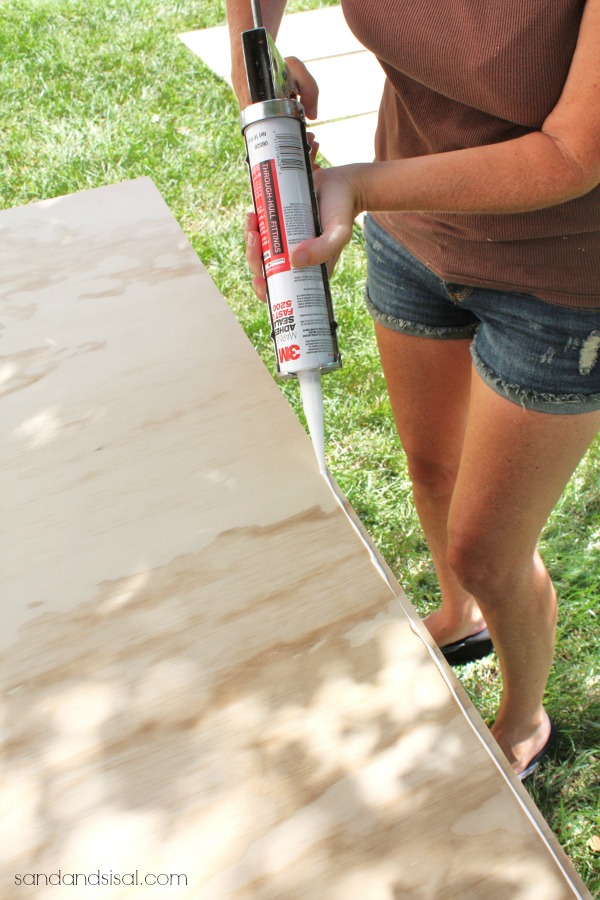 Next, stand the back panel along that edge you just laid the adhesive on. Have someone hold it steady for you and secure with nails every few inches. Use a nail gun with finishing nails for this.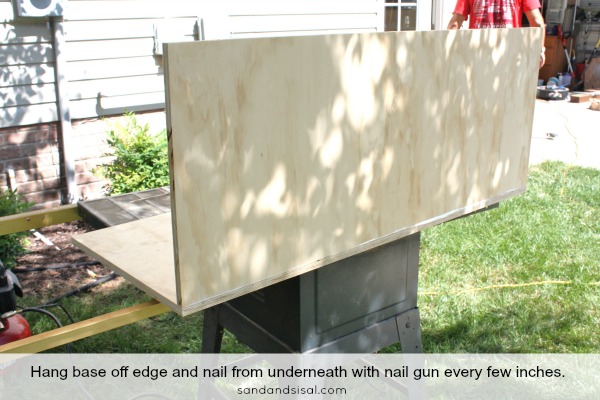 You will be doing a lot of nailing and it gets loud! Protect your ears with ear buds or this awesome 3M Tekk Protection WorkTunes™ Hearing Protectors. I can hook it up to my iPhone or use the radio with over 50 pre-set channels. My kids all fight over the WorkTunes™ when they mow the yard, so we got a second one for them.
Continue around the box, next with the sides, applying sealant to the every edge where the panels meet, and then nailing.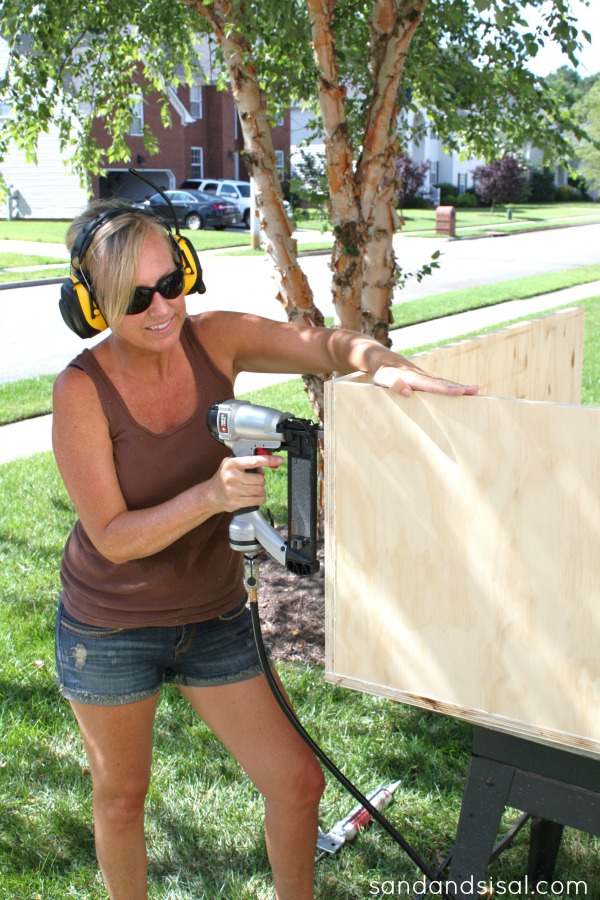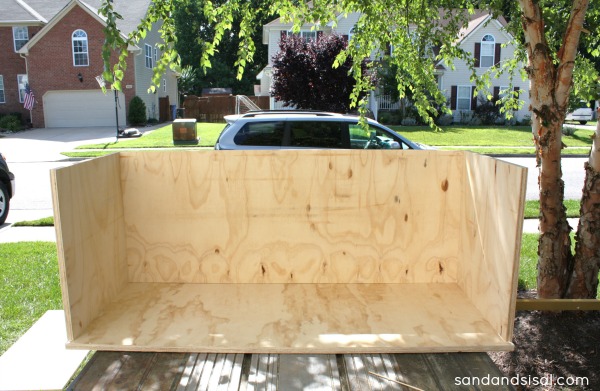 Apply sealant to the side edges and base edge and then nail in the final front panel.
Caulk all the seams, inside and out, with the same sealant. You could always use paintable caulk for this part, but the 3M Marine Sealant takes care of it all. Keeping it nice and dry.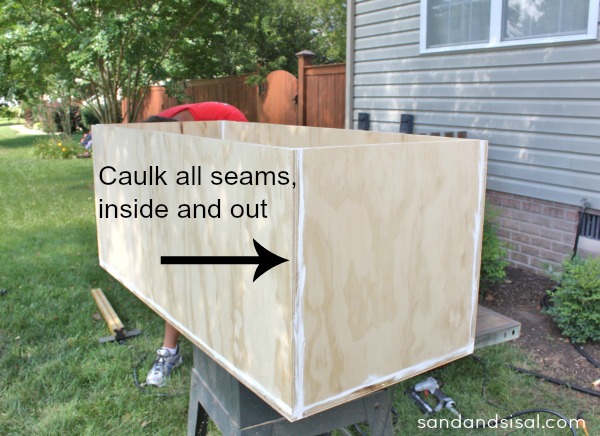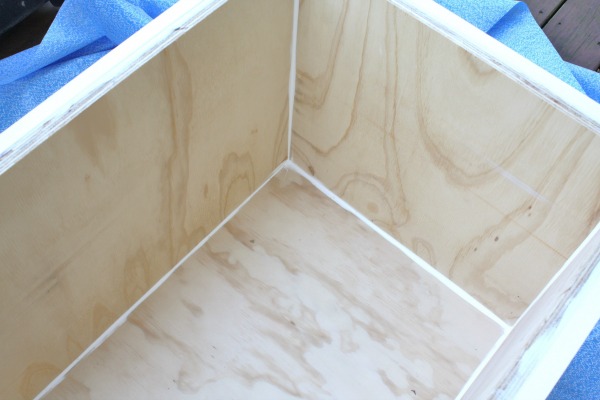 STEP 3 DETAIL & PAINT: Congrats, you just made a box. But a box is boring. Let's add a bit of pizzazz to it with some simple trim. Cut your trim board with straight cuts, gluing and nailing the top and bottom trim boards first, then measure the sides and cut those trim boards to length. TIP: For easy and accurate measuring of the trim, hold the trim board in place and then mark with a pencil where you have to cut. (see the lower left pic below). This method will give you an accurate cut and save you the hassle of pulling out the measuring tape every 2 minutes!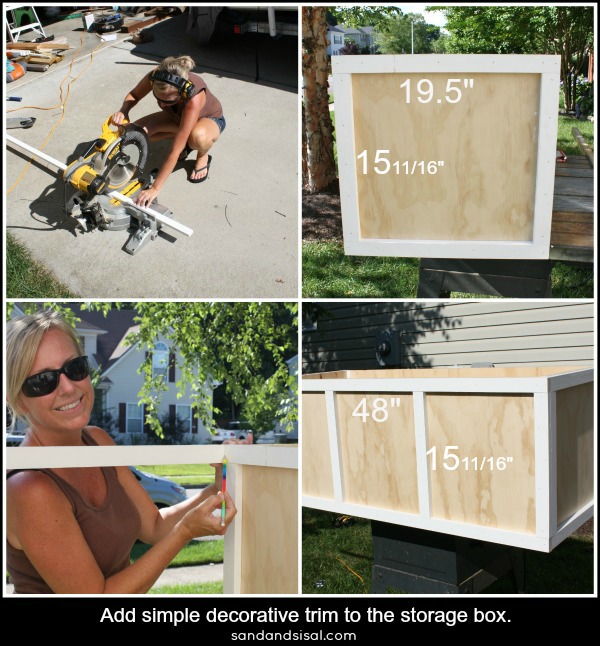 Finish the edge of the lid with PVC quarter round molding. It's lightweight, easy to cut, and yet strong and super smooth. Glue and nail it to the box.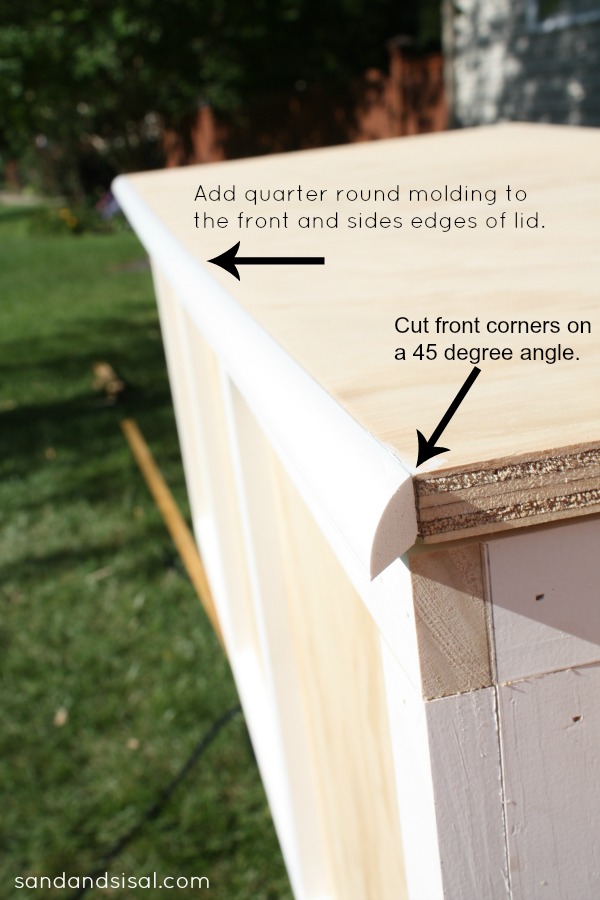 For added strength and rigidity, cut two 1×2″ trim boards and nail to the underside of the lid. (See the knots? This is why you want a really good piece of plywood. These knots were the only one's on the entire sheet, so we purposely chose to hide them on the underside of the lid. They could always be filled with wood filler if you prefer.)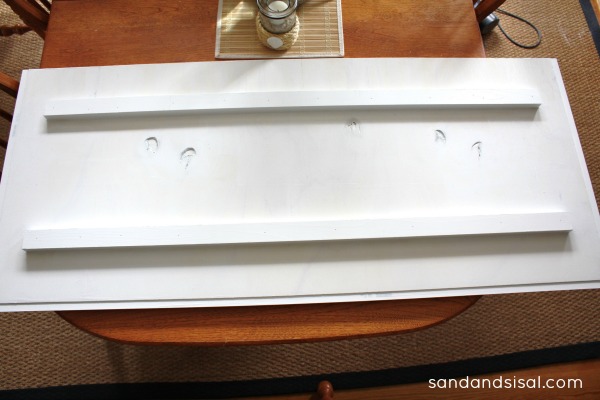 Fill all nail holes on your outdoor storage box with 3M Wood Filler and then lightly sand where you patched with 3M Advanced Abrasives sandpaper.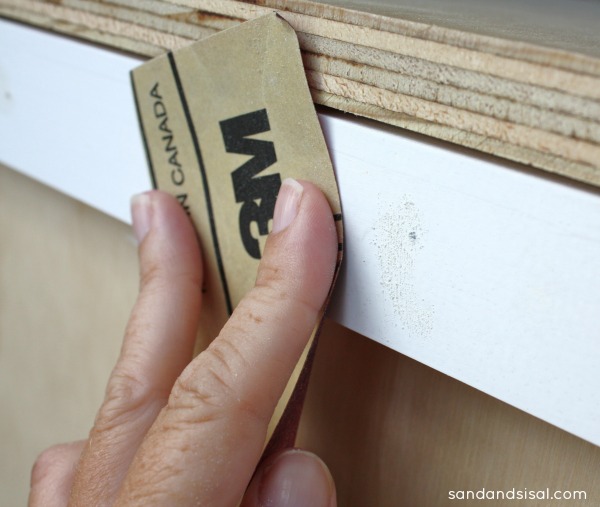 Place the box on a ScotchBlue drop cloth and prime every surface of the box with 2 coats of quality primer, even the underside. Next give your box at least 2 coats of good exterior latex paint.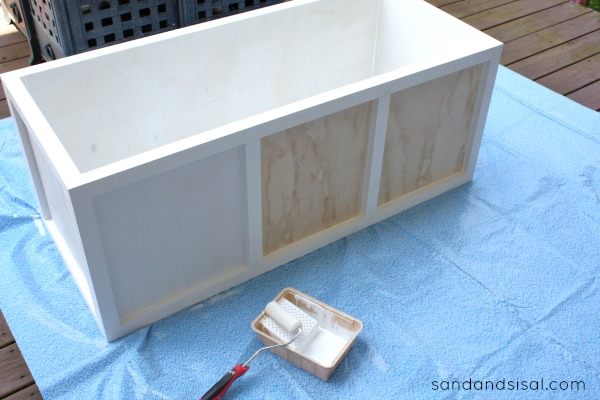 Screw in the 4 casters to the bottom corners of the box and also attach the galvanized hinges to the lid first and then the box.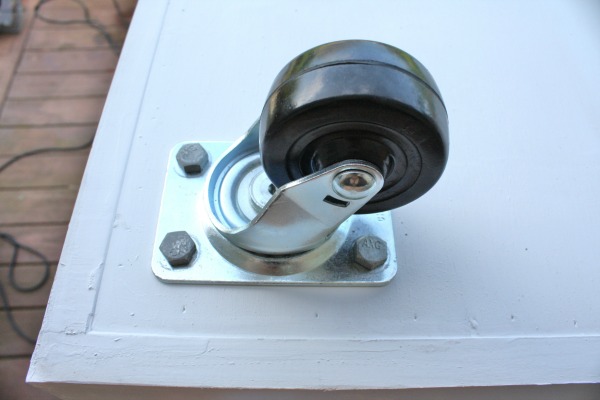 For a fun pop of color I painted the underside of outdoor storage box lid in "Provance" Annie Sloan Chalk Paint. I didn't want to get the turquoise paint on the underside of the quarter round molding trim of the lid, so I taped it off with ScotchBlue™™ Painter's Tape and then painted on the accent color.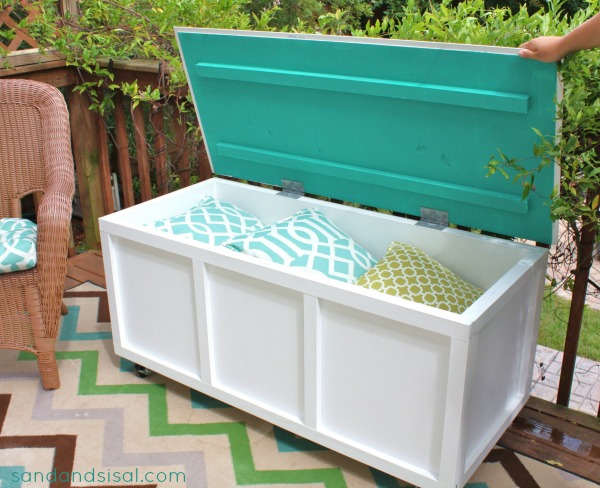 The outdoor storage box fits all of our cushions easily and we have been using it both as a side table and as extra seating. I love it!
UPDATE!
Here is an update on how it looks 5 years later (summer 2018)! It could use another coat of outdoor paint but overall it still is looking fabulous and holding up amazingly well. The outdoor storage box has sat outside in the elements for the past 5 years (several hurricanes and snowstorms!). See the rest of our coastal deck makeover HERE.
LOVE IT? PIN IT!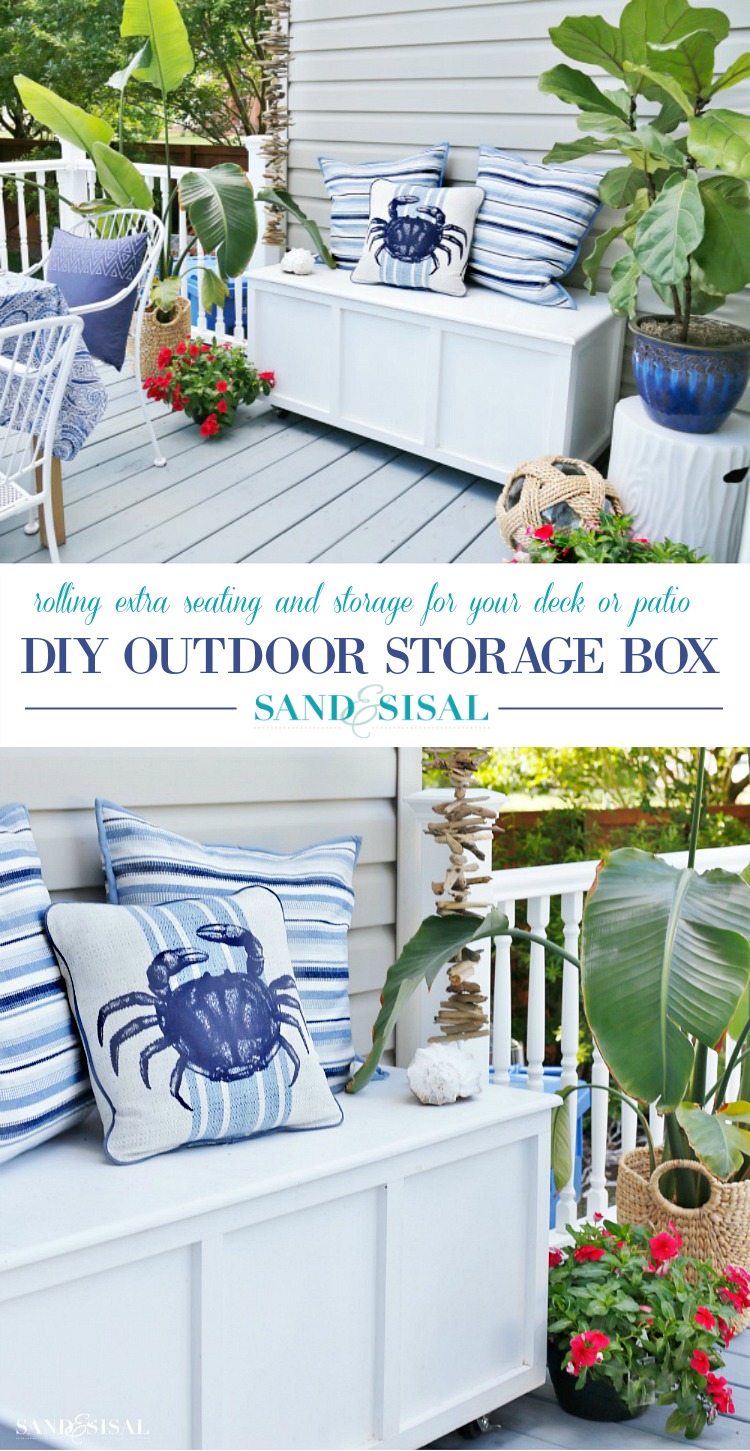 Find out more awesome projects at 3MDIY.com and be sure to visit their "Experts Corner" where you see me featured along with some awesome DIY-ers.
Check out my other 3M DIY projects!
DIY Deck Repair Installing Hardwood Floors Installing Board and Batten
Connect with 3M DIY Twitter Page, 3M DIY Facebook Page, 3M Pinterest Page.
Kim
This post is a collaboration with 3M DIY. To keep up-to-date on projects, products and sampling visit 3MDIY.com.