Who says we have to pay a workman to repair our deck? We woman are just as capable of taking on DIY projects. I want to show you how easy deck repair can be and encourage you to try it for yourself, especially if you are a single woman or have a not-so-handy husband. My deck is not that old, only 6 years, but it's starting to show wear and tear. The kids have tripped a few times already and gotten splinters so it was time to make some repairs.
Come on ladies! Let's get our DIY on!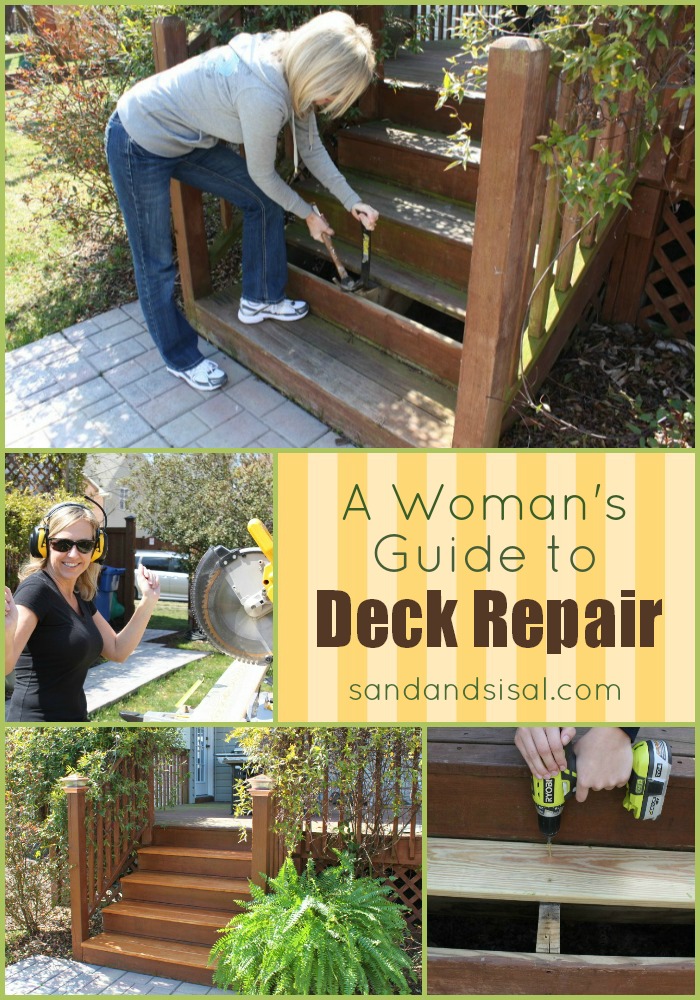 Oh my, yes that is green moss growing all over my poor deck. It doesn't look that bad from here, but let's take a closer look.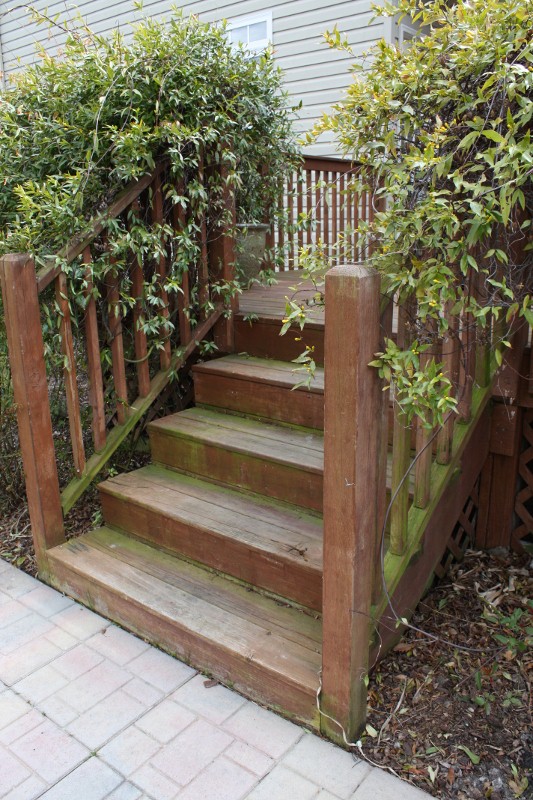 Yikes! Nails are all popped up. Look at those cracks! That board is barely together, just laying there and about to break off. Cracks love to form around knots in the wood. Many builder's tend to use the least expensive decking boards, which are loaded with knots and shorten the life and quality of the deck.
This is not safe at all.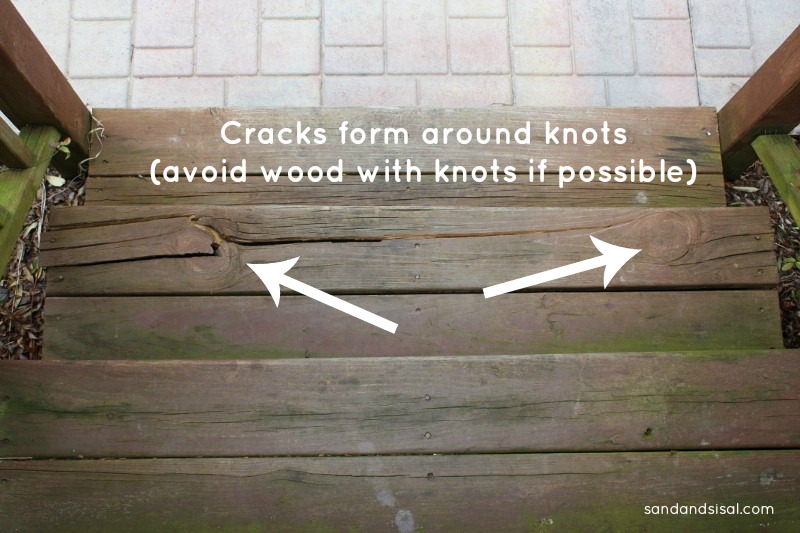 To replace deck boards you will need the following items:
hammer
pry bar
miter saw
pressure treated deck boards
pencil
measuring tape
carpenter's square
drill
2 inch decking screws
3M Advanced Abrasives sanding block
deck stain
The first step is to remove the damaged stair or deck treads with a pry bar and hammer. Pull out any nails that might remain after removing wood.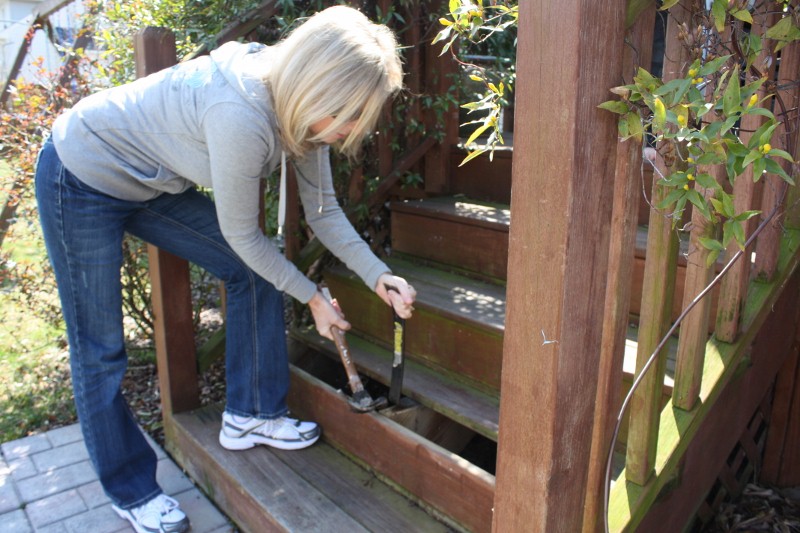 Some of the boards might take a bit of effort to remove and you just might have to put yourself in awkward positions to get the job done. I've found a few guttural grunts help in the process…
if you've given birth, then I'm sure you are quite aware of the power behind the Guttural Grunt! (wink)
Just try not to scare the neighbors, ok?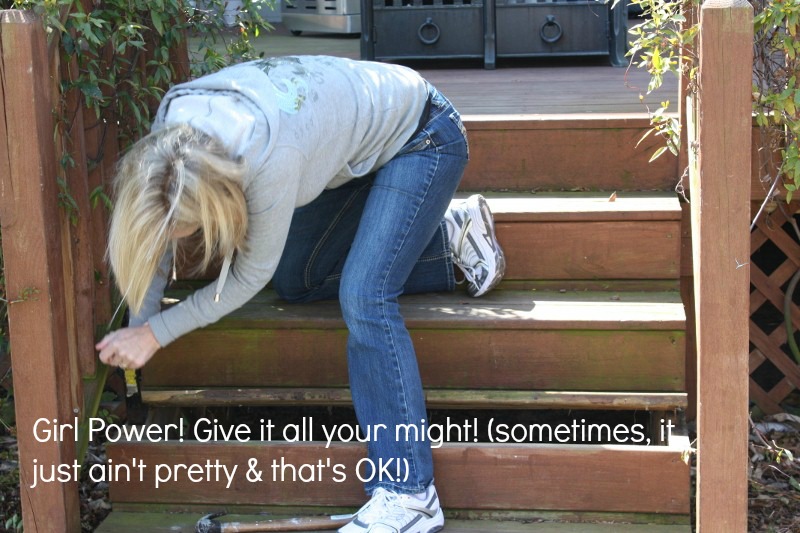 For the decking stair treads, I feel it is important to purchase premium pressure treated deck boards. These usually come without knots, which means they will be less prone to crack and split. It's worth the extra few dollars. Deck boards also have nice rounded edges. Measure the width of your stairs. Mine were 4 feet wide. Measure and mark 4 feet on a deck board. Measure, mark and cut only one step at a time. Like they say, measure twice, cut once.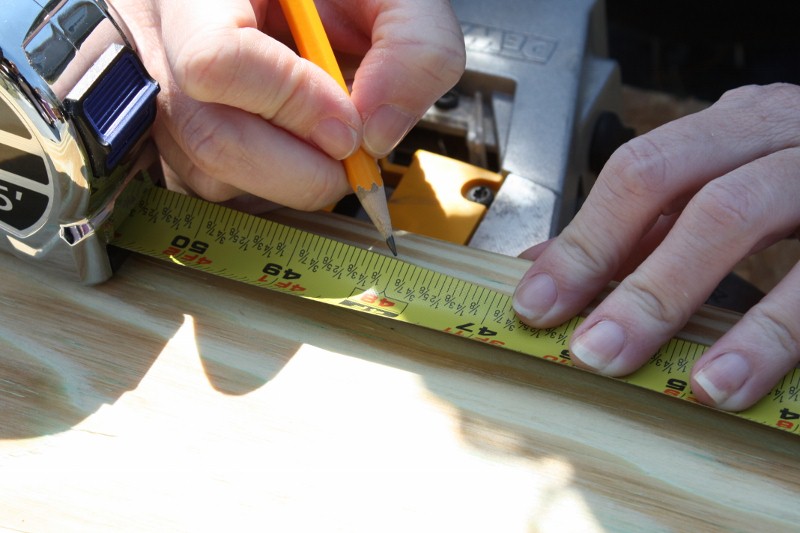 Always be sure to don on your stylish 3M™ TEKK Protection™  eye wear and ear wear. When I'm outside in the sun I love my sun glass style eye wear and when in the garage or house I switch to my clear 3M eye wear. But my favorite new ear protection is my 3M™ TEKK™  Work Tunes Ear phones.
They are awesome!
Not only does it block out all exterior sound but has a built in radio and iPhone connection!
I've found them quite useful around my 4 screaming children also. 😉
Now I can dance, DIY, AND embarrass my kids all in one shot!
It's a mother's DREAM!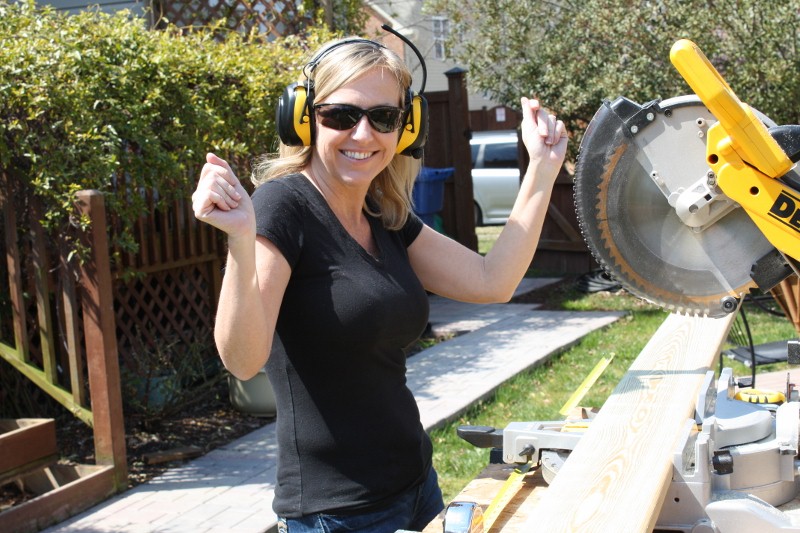 Cut your boards to length and sand any rough edges with a 3M Advanced Abrasives sanding block.
Were you aware there is a proper way to lay deck boards?
Take a look at the end of the board. See the direction of the wood grain?
You want to lay the boards down so that the wood grain on the ends look like a rainbow.
As the boards age they will have a natural tendency to curl just a bit. You do not want the edges to curl up which leads to puddling water.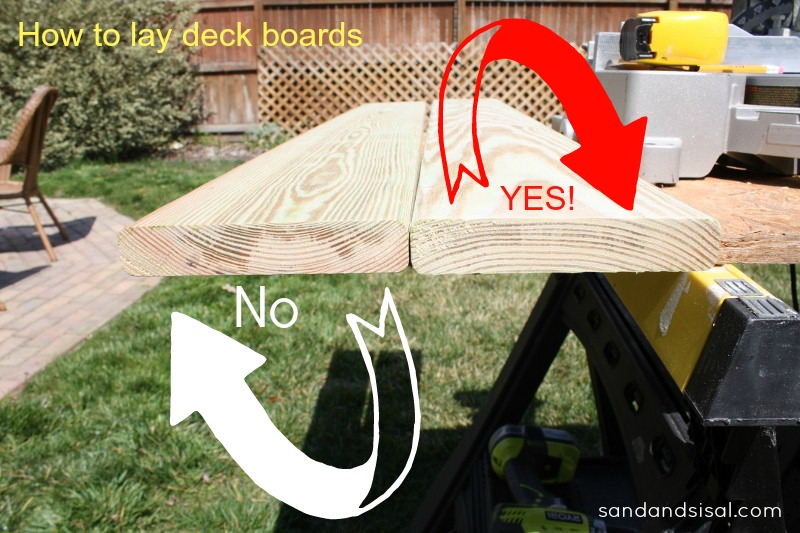 Lay your cut board on your stair treads or deck and with 2 inch decking screws, screw into the support beams below.
Why decking screws vs. nails?
I always like to use decking screws, because not only is any future board replacement easier to remove, but screws also hold the wood in place far better than nails which tend to pop up over time.
Use 2 screws where ever the support beams are. Place the screws at least one inch in from the outsides and ends of the boards. If you are too close to the end or edges, then you might split the board.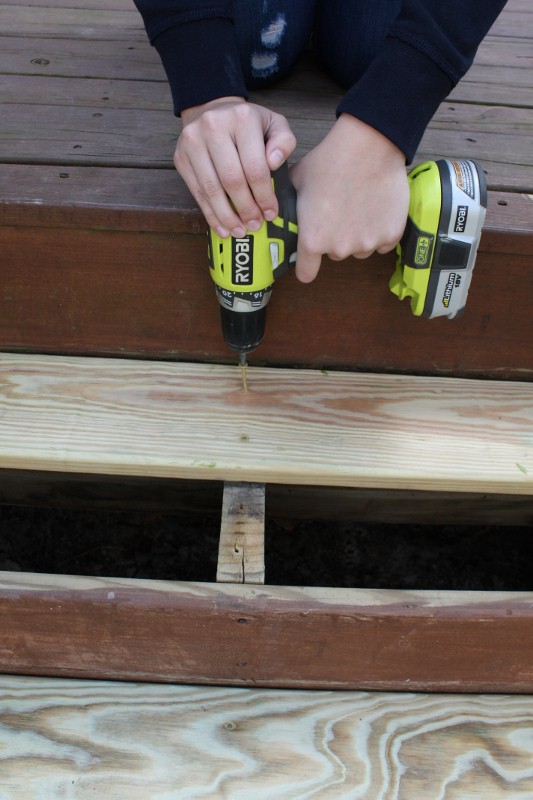 When replacing stair treads, replace the back treads first. This way you can easily see the support beams underneath.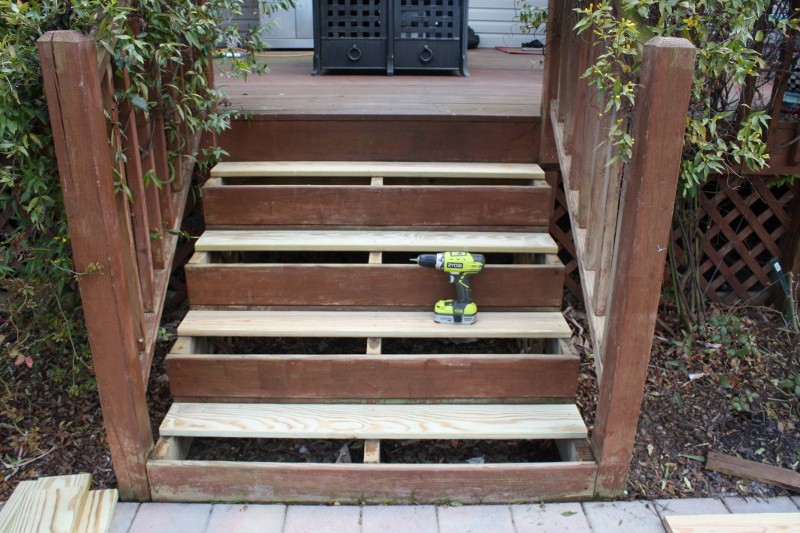 Then repeat the process with the 2nd stair treads. Push the boards as close together as possible and then screw into place. Because we are using pressure treated wood, no spacing between boards is needed. Pressure treated wood comes rather moist and as it dries out over time, the boards will shrink. If you leave a space between your boards now, then later on you will have large gaps that heels can easily get caught in and cause a hazard issue.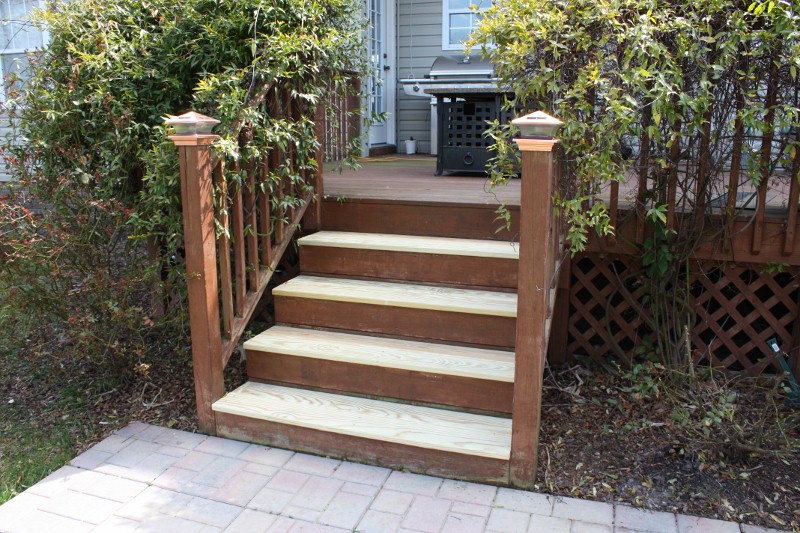 Spruce up your posts with a decorative finial or post cap. I added these beautiful copper solar post cap lights. They easily attached with 2 simple screws.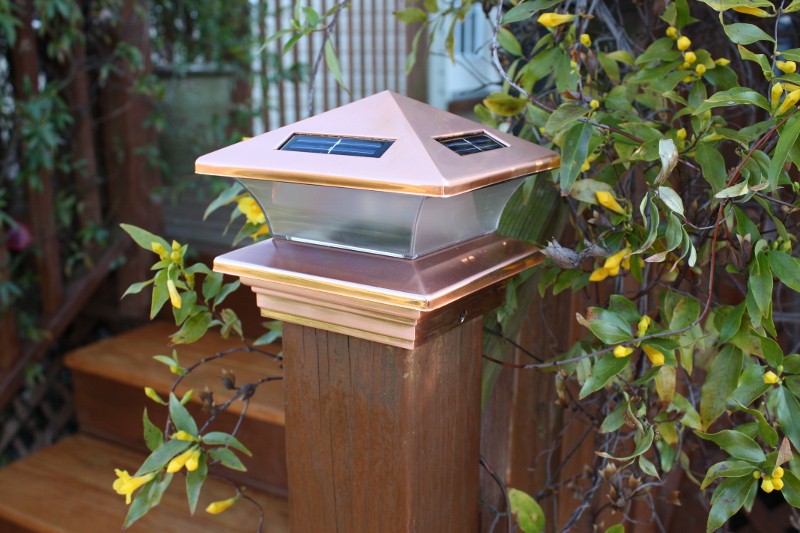 Give the wood a nice coat of deck stain to protect the deck from weather and UV rays and to create a rich color.  The stairs are safe now and look better than the original!
I completed this entire stair tread replacement in just a few hours.
If I can do it ladies, so can you!
Kick that workman to the curb! Girl, You Got Skills!
Kim
You might also like these other DIY projects:
How to Install Board & Batten with Decorative trim
This post is a collaboration with 3M™ TEKK Protection™ Brand, but all words and opinions are my own.