I almost didn't decorate for fall this year. If you haven't noticed, I've been a bit MIA these past couple of months, and I apologize for that. My oldest daughter is getting married in less than a month and my mind and attention has been in full on wedding planning mode! But I can't neglect one of the most lovely seasons, can I? If I was going to decorate at all then I told myself that it had to simple, inexpensive, cozy, calming and neutral! No fuss, no muss was the name of the game this fall. Hence, welcome to my Cozy Neutral Fall Family Room Tour!
Cozy Neutral Fall Family Room Tour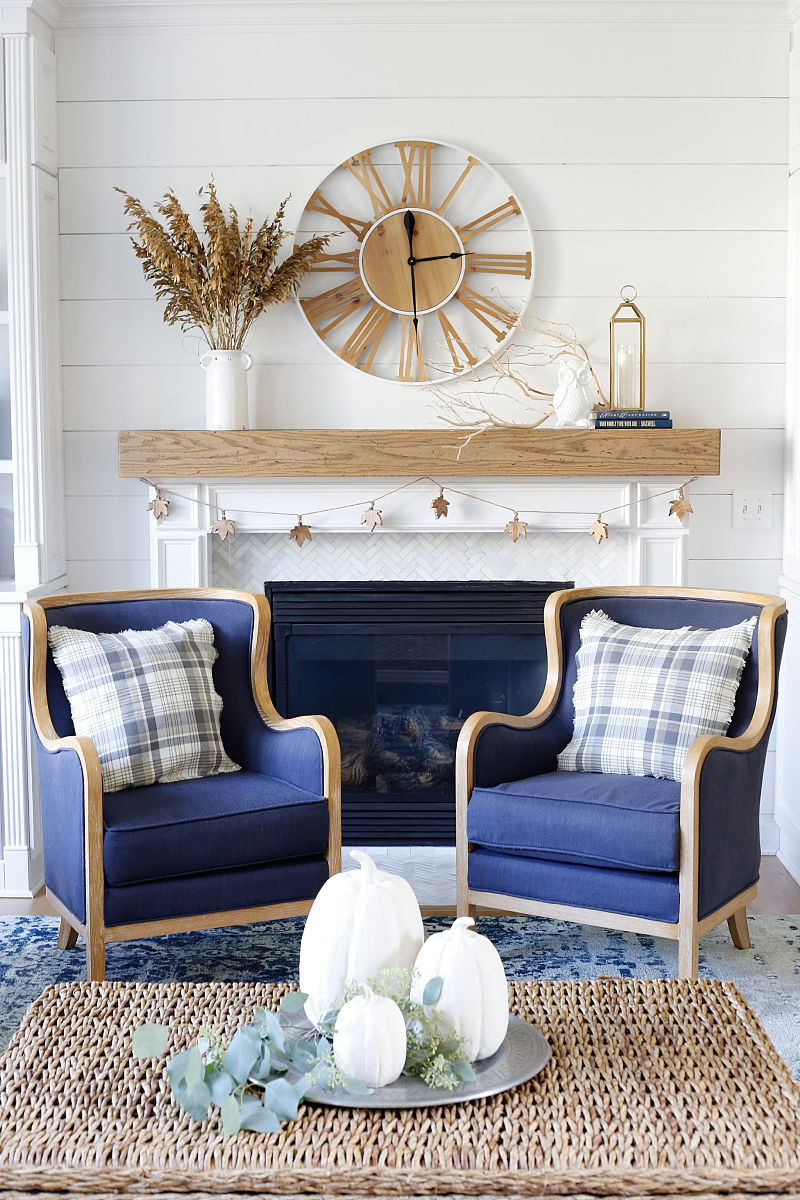 Choosing A Neutral Fall Color Palette
The idea was to keep the color palette simple and neutral not only for my sanity but for practicality and also knowing that decorating for fall doesn't need to be difficult. Shades of creamy whites, grays, greens, tans and of course my signature navy blue comprise the neutral fall colors.
Tans: Think straw, hay, sea oats, dried grasses, weathered oak, unfinished wood furniture and accessories.
Creams: Raw cotton stems, white pumpkins (real or faux), white pottery (sleek or rustic), white candles, cream pillows in a multitude of textures and patterns.
Greens: Focus on fresh greenery (houseplants are always a win!), air plants, succulents, rosemary, fresh eucalyptus (seeded or silver dollar)- silver dollar eucalyptus will dry beautifully vs. other eucalyptus types. Don't forget to pull in fresh fall greenery clippings from the yard! Go and clip maple, oak, birch, hydrangea, etc. Here in the coastal south these green clippings don't turn color until late October or November.
Navy Blue: Now you don't have to use navy blue like I do, but look at this color as your accent color. It could be plum, rust, crimson, or orange. The point is to use this accent color subtly yet as a foundation for your space. PS- Naval Blue is Sherwin Williams 2020 color of the year. You can see more of this color in my kids' media- play room HERE.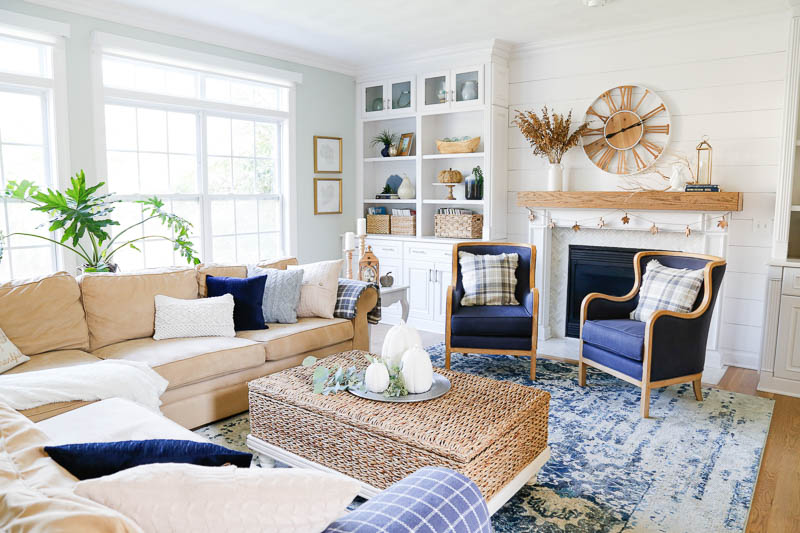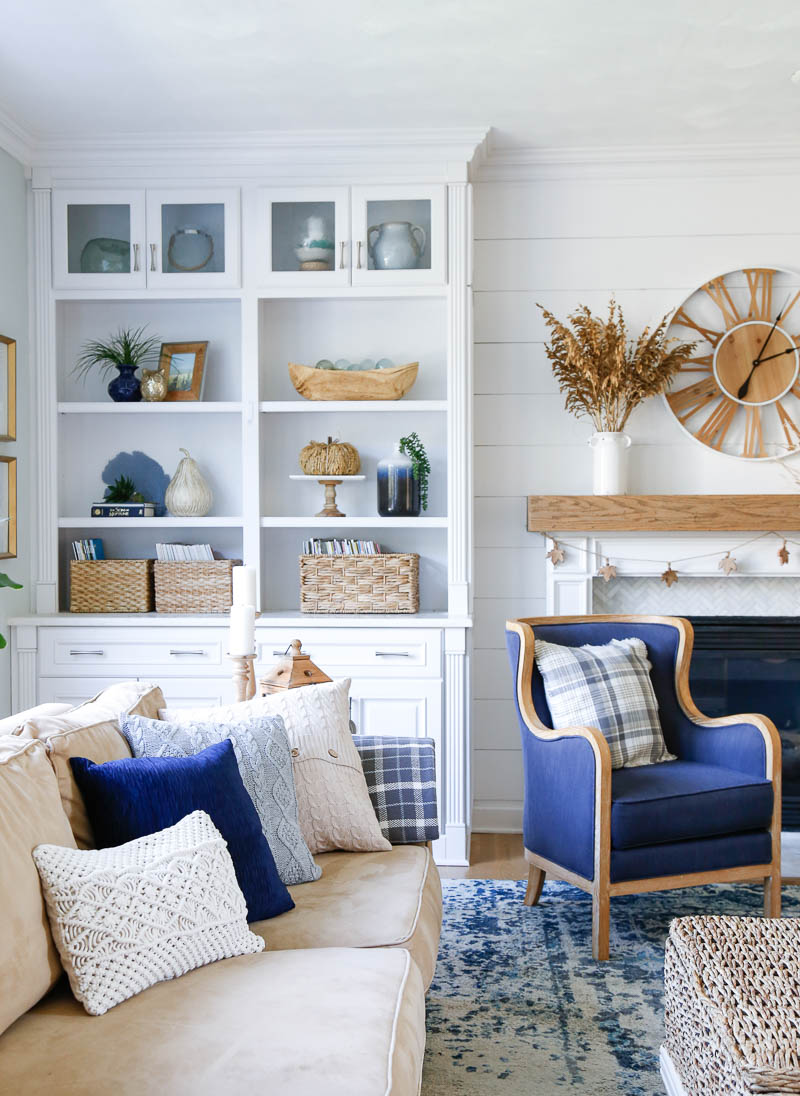 Layer Cozy Textures Upon Textures
When you limit your color palette, which is always a good thing, then you need to add interest to the room by implementing a multitude of textures. Add another layer of cozy softness which is named Willow. She enjoys being somewhat camouflaged with the sofa sectional. People ask what color my sectional is and I say "performance everyday suede in golden retriever" (it's actually "oat" to be exact).
No seriously though, adding on layers of cozy kits and fabrics will add to the sumptuous feeling you are wanting for fall. I chose several pillow covers in velvet, cable knit sweater, and macrame. They add pattern and texture, yet all maintain the same neutral color palette.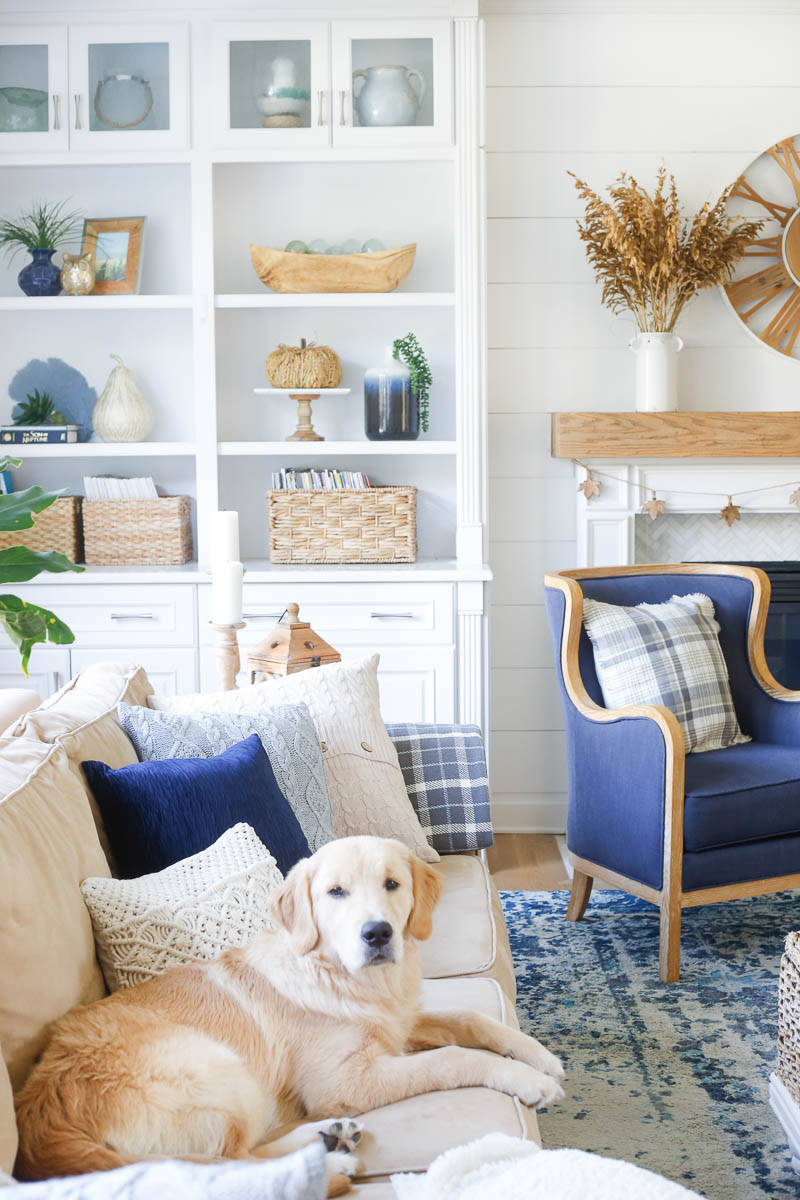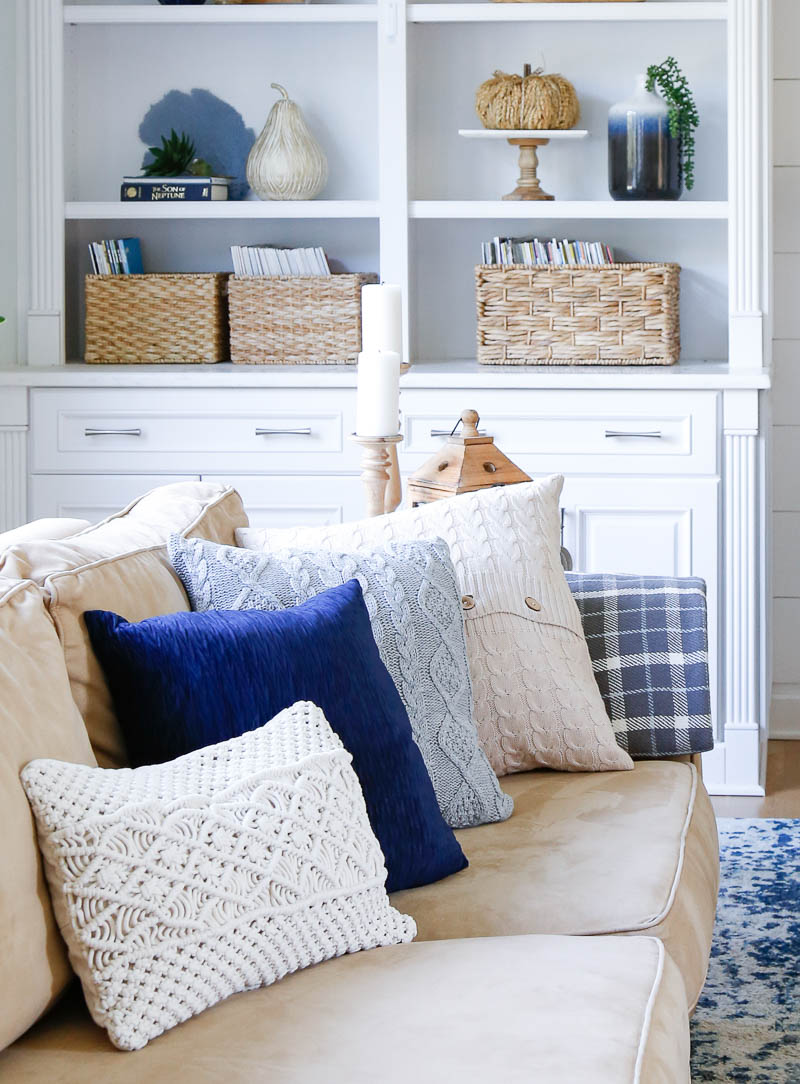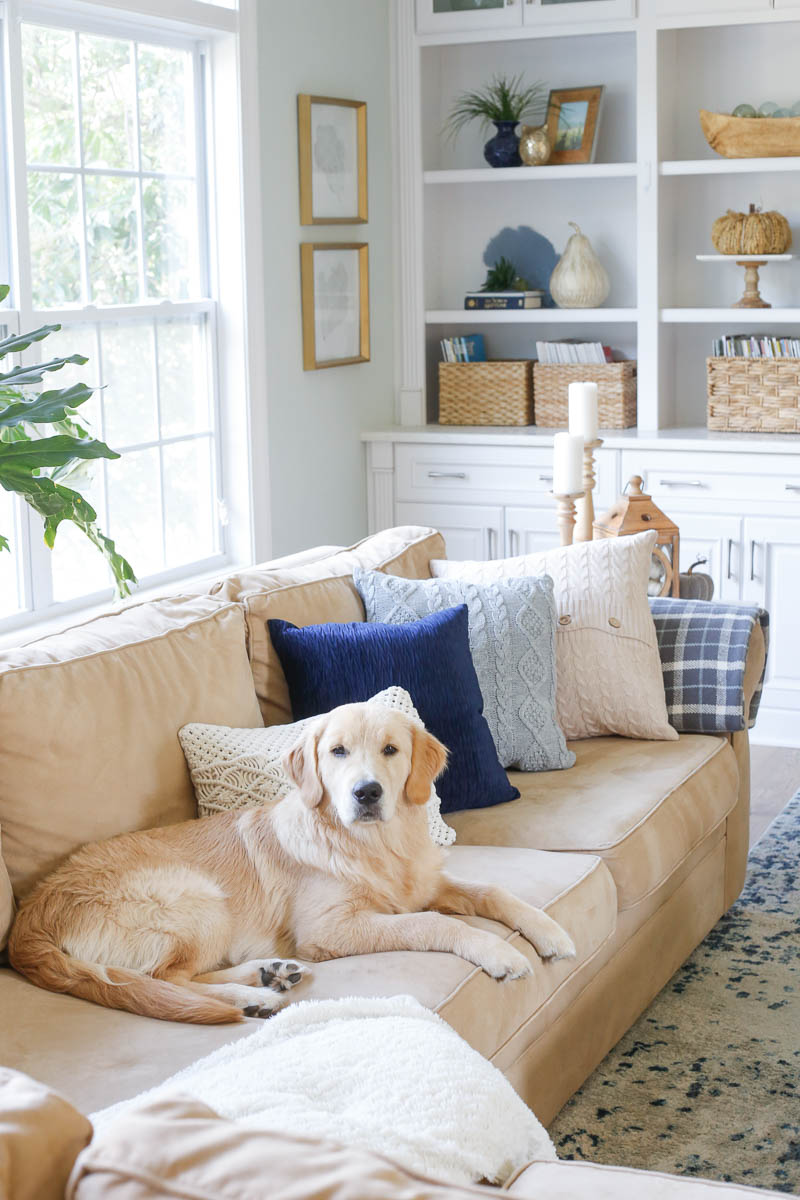 Oh don't let this cute and posing pretty face fool you, because this little girl has her focus on something else…. and she's ready to pounce!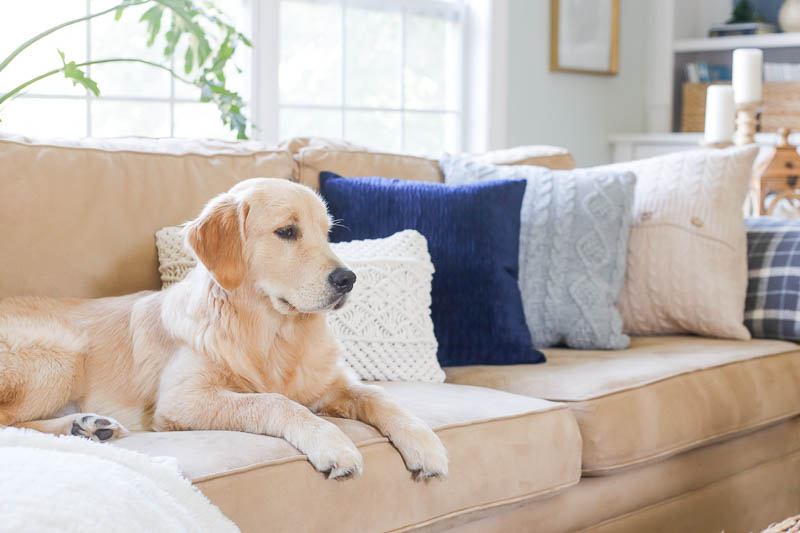 My centerpiece! She has been trying to sneak over and grab a seeded eucalyptus branch all week! Don't ask me why. If she can grab it and chew on it, she will. Willow is almost 7 months old and is still in full on puppy mode.
Recycle Your Fall Decor
Just because a new season has come along doesn't mean you need to go out and buy all new decor! If you have followed me for anytime now then you know my motto is shop your home first! These ceramic pumpkins were actually metallic copper and I've had them hidden away in the attic. Why not get some use out of what I already have? Like I always say, if you don't like it then transform it! Copper just wasn't my vibe this year but that didn't mean I can't use what I have! I decided to give the pumpkins a mini makeover of creamy spray paint in "Antique White". Look, you can always make them copper, or gold, or silver, or black or purple or whatever you want… that is the beauty of paint! Save some cash and TRANSFORM WHAT YOU HAVE!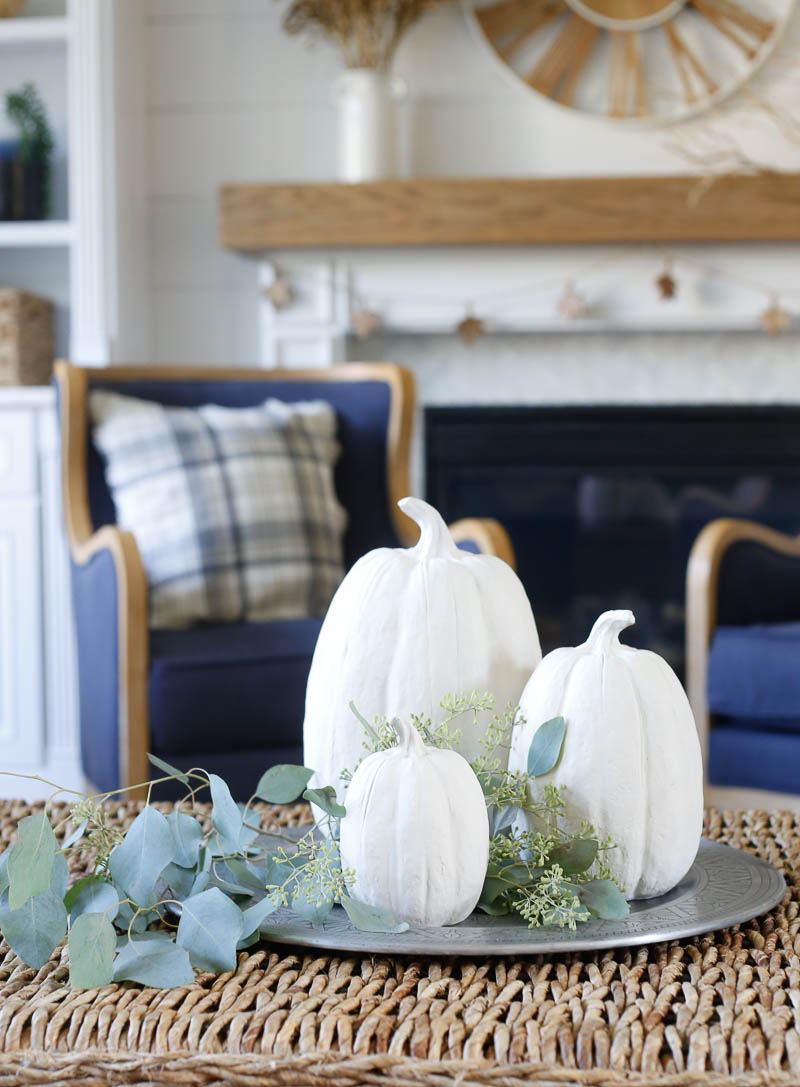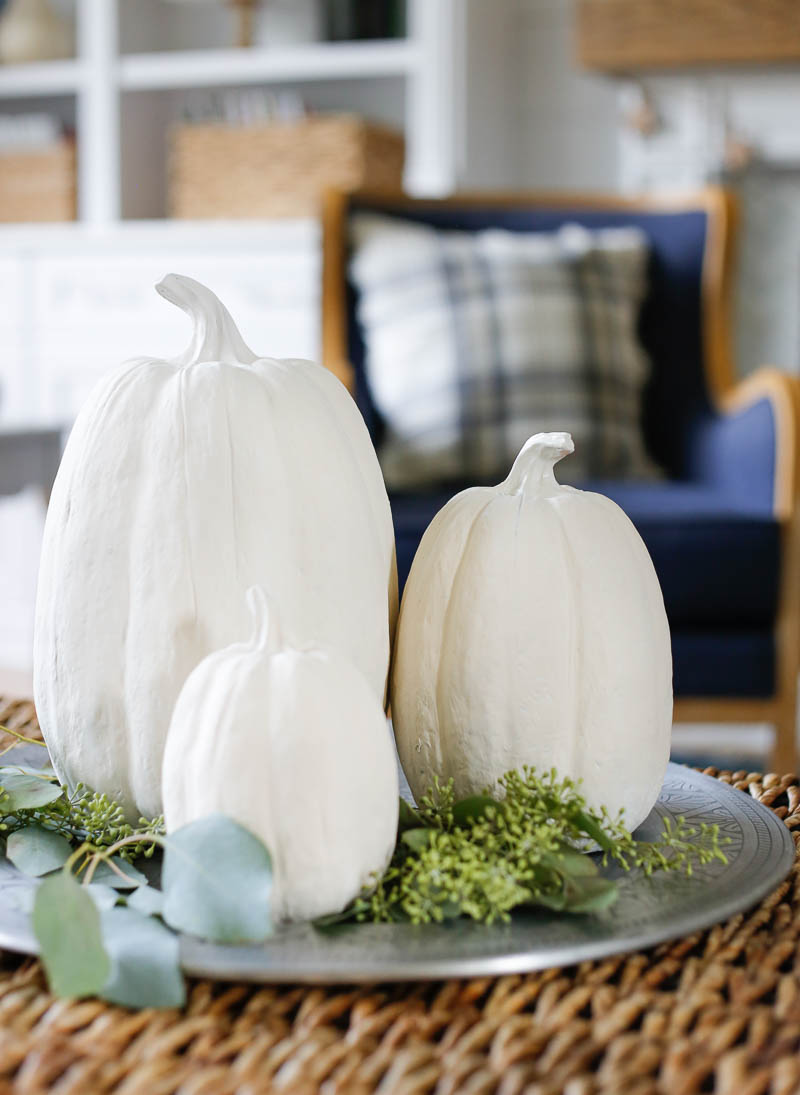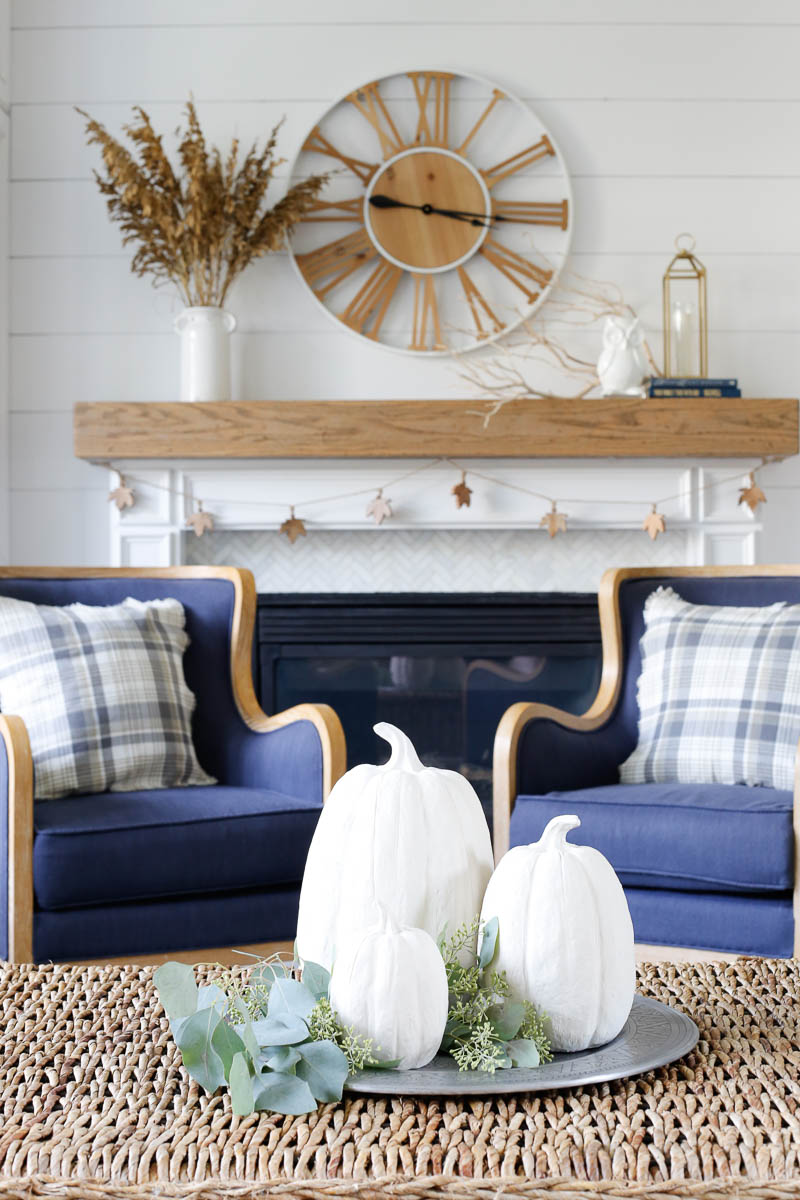 DIY IT!
Another little fun pattern I added to the neutral family room was these plaid pillows. These are actually made from cloth napkins. You simply stitch 2 cloth napkins together and insert a pillow form. I used these napkins in our kitchen dining area also which I will show later this week. You can find more creative DIY napkin pillow covers HERE.
Making your own pillow covers is easy and inexpensive.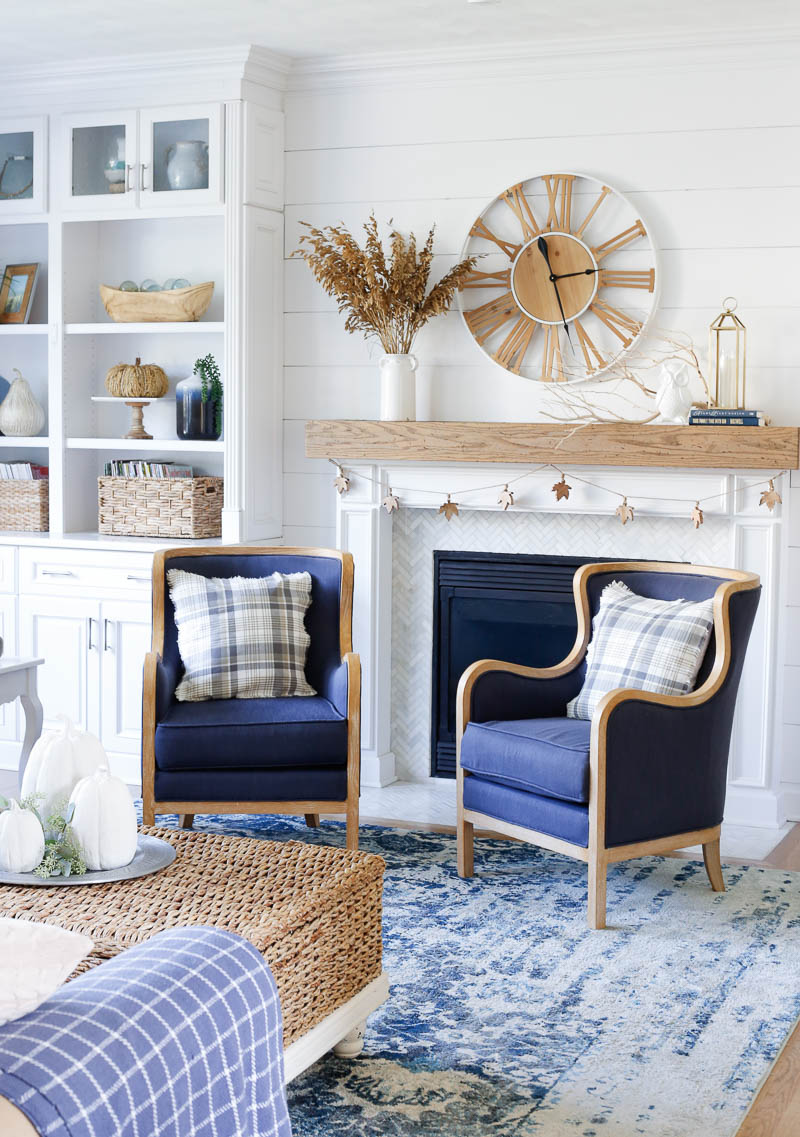 The Roman numeral open face clock was a steal of a find from Kirklands this past summer. They no longer carry it but I did link a similar option in the source list at the bottom of this post. The brach, owl and lantern give the mantel a simple, yet slightly Halloween vibe. The fun wood leaf cut out garland was a Target find from a few years back.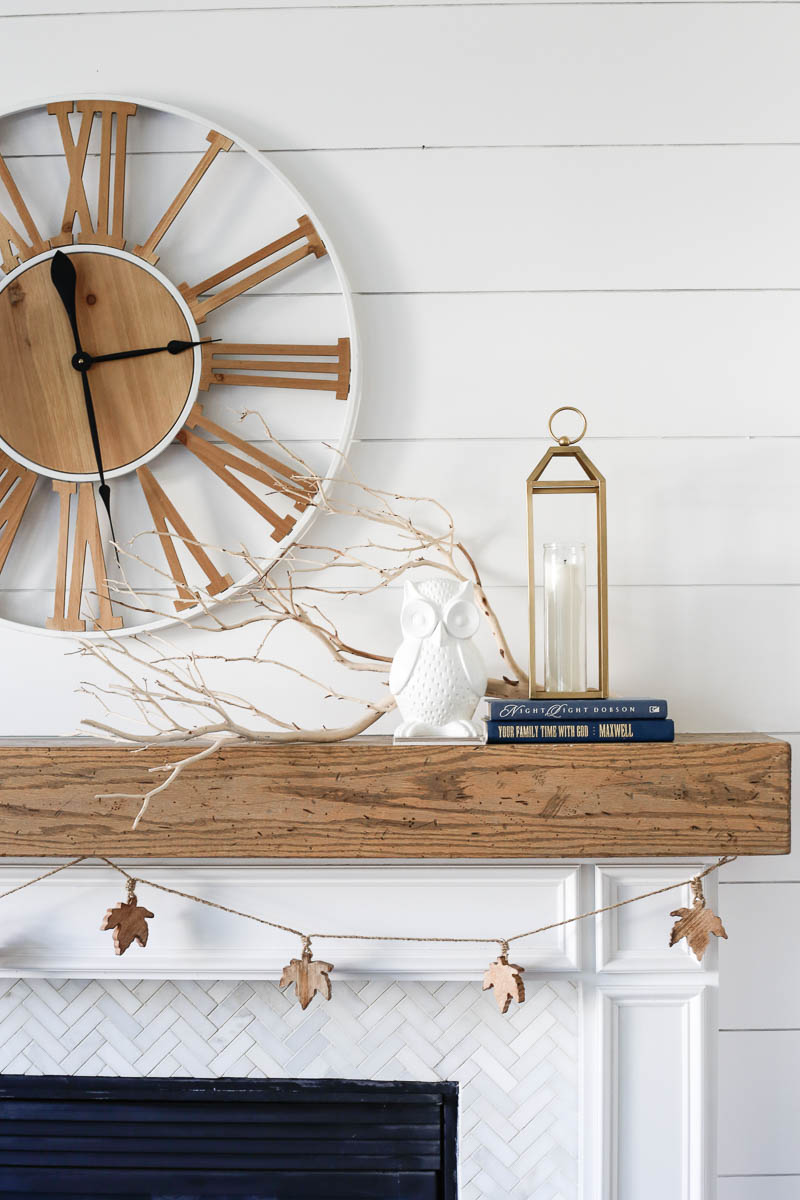 These gold open lanterns are what I will be using for my daughter's wedding next month! They actually come in black but I spray painted them gold. They are available in store at Walmart.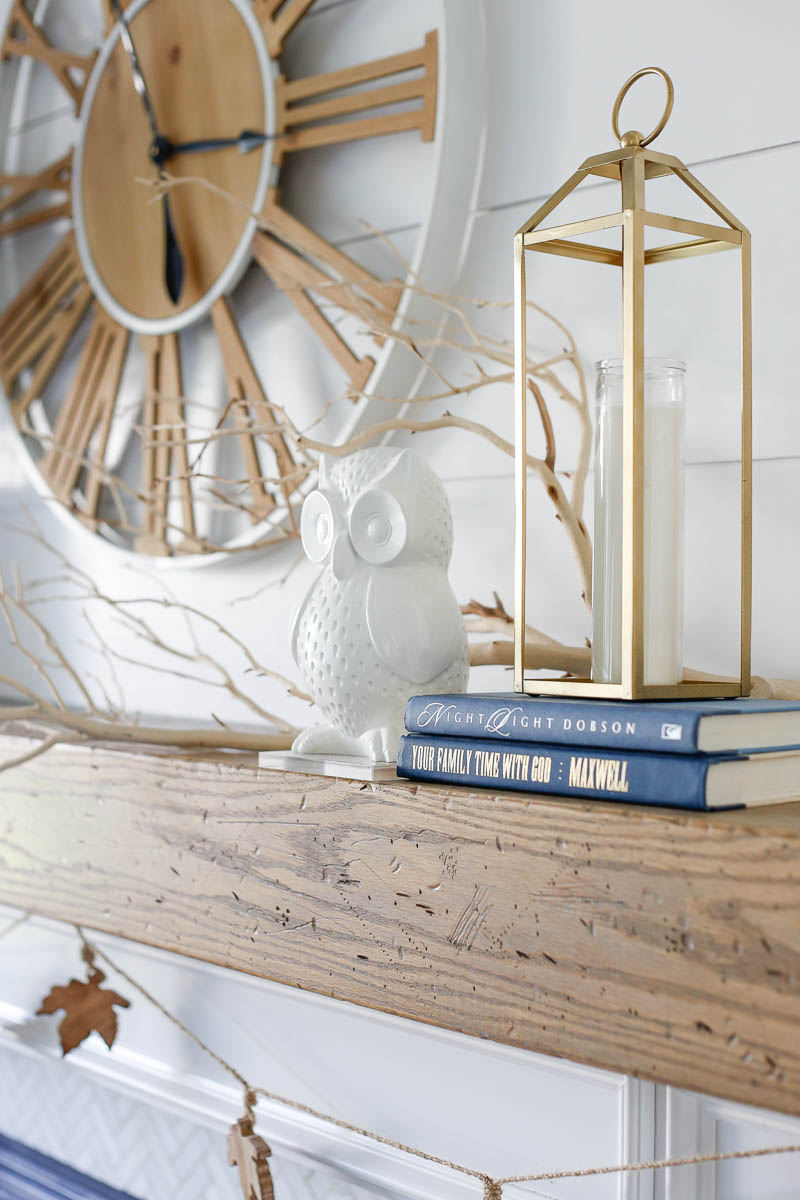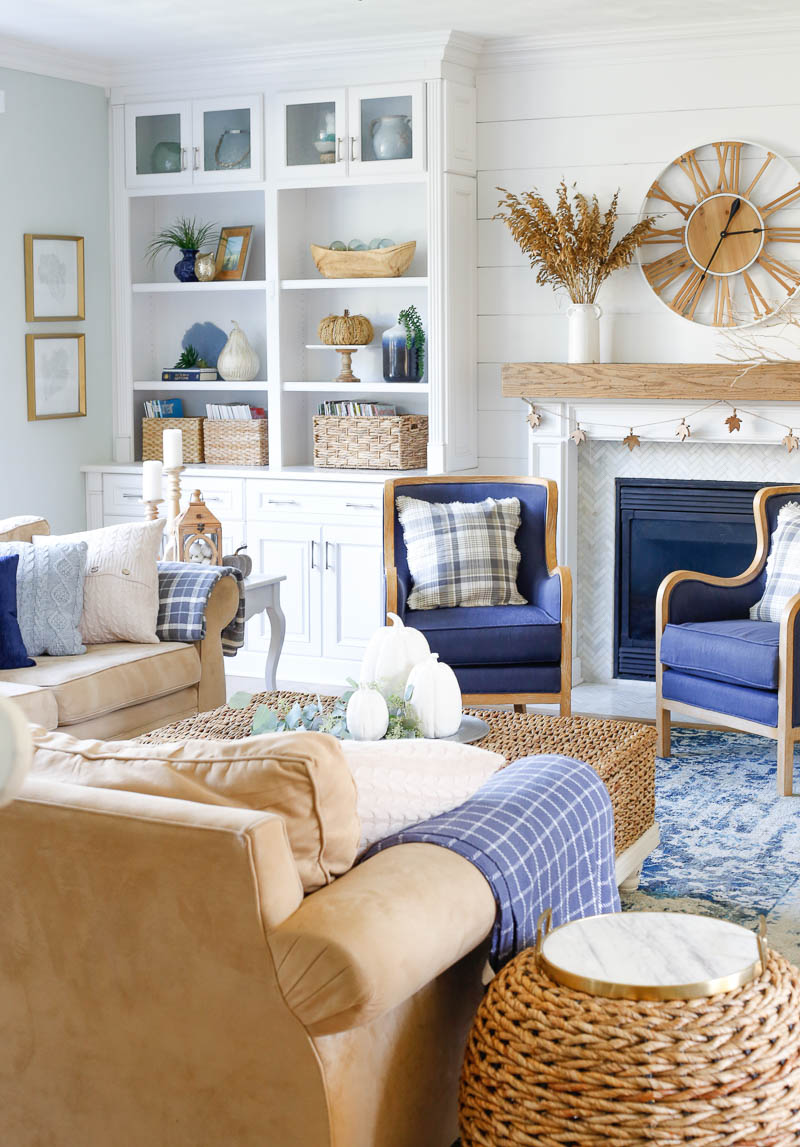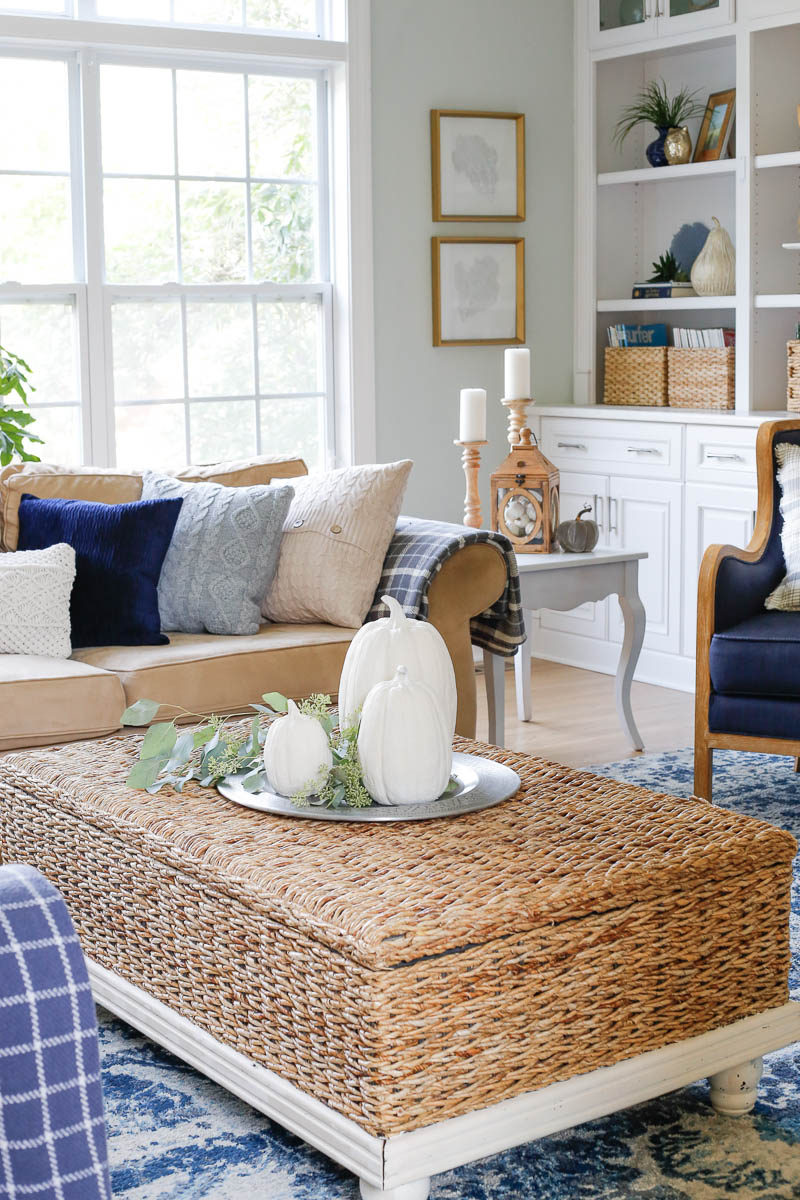 And here is a little view towards the kitchen. I'll share the kitchen decorated for fall next!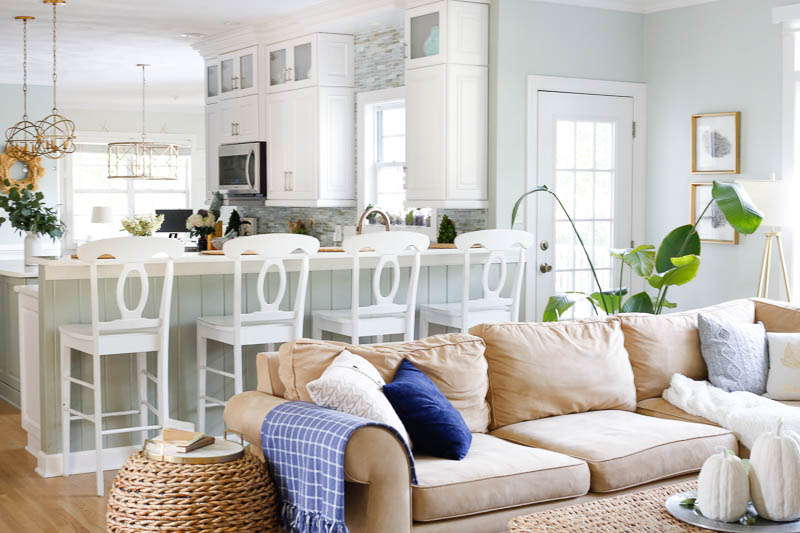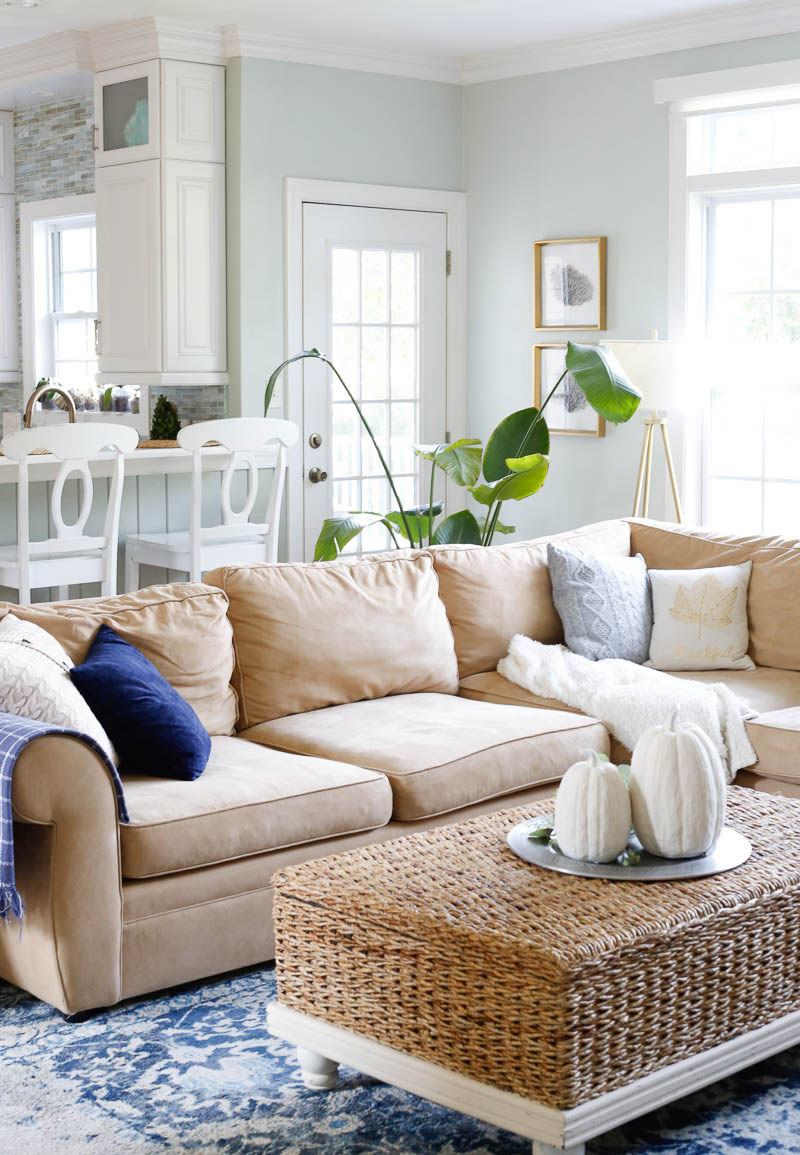 I hope you liked my little cozy neutral fall family room tour and was able to glean some ideas from it for your home!
Get the Look! (affiliate links provided for your shopping convenience)
All other decor items sourced from HomeGoods/Target
Paint Color- Sherwin Williams Sea Salt & Extra White
CLICK ON THE LINKS BELOW TO SEE SOME MORE BEAUTIFUL FALL INSPIRATION BY MY FELLOW BLOG FRIENDS
Sand & Sisal | The Ginger Home | Thrifty and Chic
Honeybear Lane | Fancy Farm Girls | Old Salt Farm