Can you believe my daughter Morgan is now a married woman? This has been such an exciting year and this past month has been a complete whirlwind! I knew planning for a wedding was a lot of work and it certainly lived up to its reputation. My love for flower arranging came from my mother who always makes the most lovely arrangements. She helped with the flowers for mine and my sisters' weddings, so I wasn't too fearful to also take on the challenge of doing all my daughter's wedding flowers. Wedding expenses add up very quickly and we needed to make cuts where possible. I learned so much through this experience and today I want to share my Top 10 DIY Wedding Flowers Tips that will help you save thousands of dollars and give you professional looking results.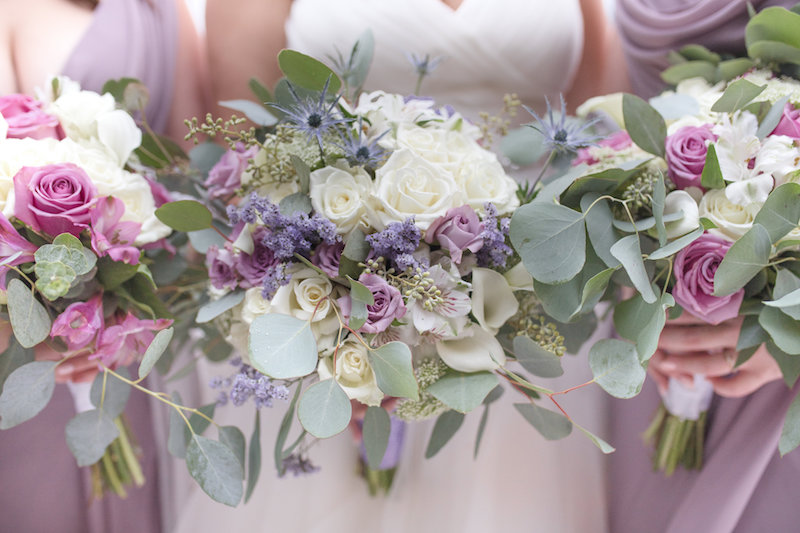 DIY WEDDING FLOWERS TIPS #1: GET ORGANIZED WITH LISTS
Make a list of every possible place where you might need flowers for the wedding party, ceremony and the reception. Include the estimated quantities of what you might need if possible. This will give you a clearer idea of how big your task is going to be and how much you can handle. Don't worry about the type of flowers, greenery, floral supplies quite yet. I recommend using a computer to type out the list, because you will be adding details and subcategories to it later.
Here is an example of the basic flower list I made for Morgan's wedding.
WEDDING PARTY FLOWERS
Bridal Party Flowers:
Bridal bouquet (1)
Bridal toss bouquet (1)
Bridesmaids' bouquets (3)
Flower girl rose petals (1 gallon zip lock bag full)
Boutonnieres:
Groom, groomsmen, ring bearer boutonnieres (5)
Father of bride/ Father of groom (2)
Grandfather of bride/ Grandfather of groom (2)
optional- ushers
Corsages:
Mother of the bride/ Mother of Groom (2)
Grandmothers (3)
CEREMONY
Wedding Arbor flowers/garlands (2)
Chair aisle bouquets (6-8)
RECEPTION
Dinner table centerpieces (9)
Bride/Groom Sweetheart Table Garland (2)
Gift table centerpiece (1)
Gift table garland (1)
Cake flowers
Cake table flowers
Optional- guest book centerpiece
Optional – bar flowers
Optional – food/beverage tables flowers/garlands
Pictured below- My beautiful first born, Morgan. She has a BS in Biology and is a 7th grade science teacher. She has a heart of gold, a passion for children and teaching, and is the epitome of compassion, tenderness, and joy!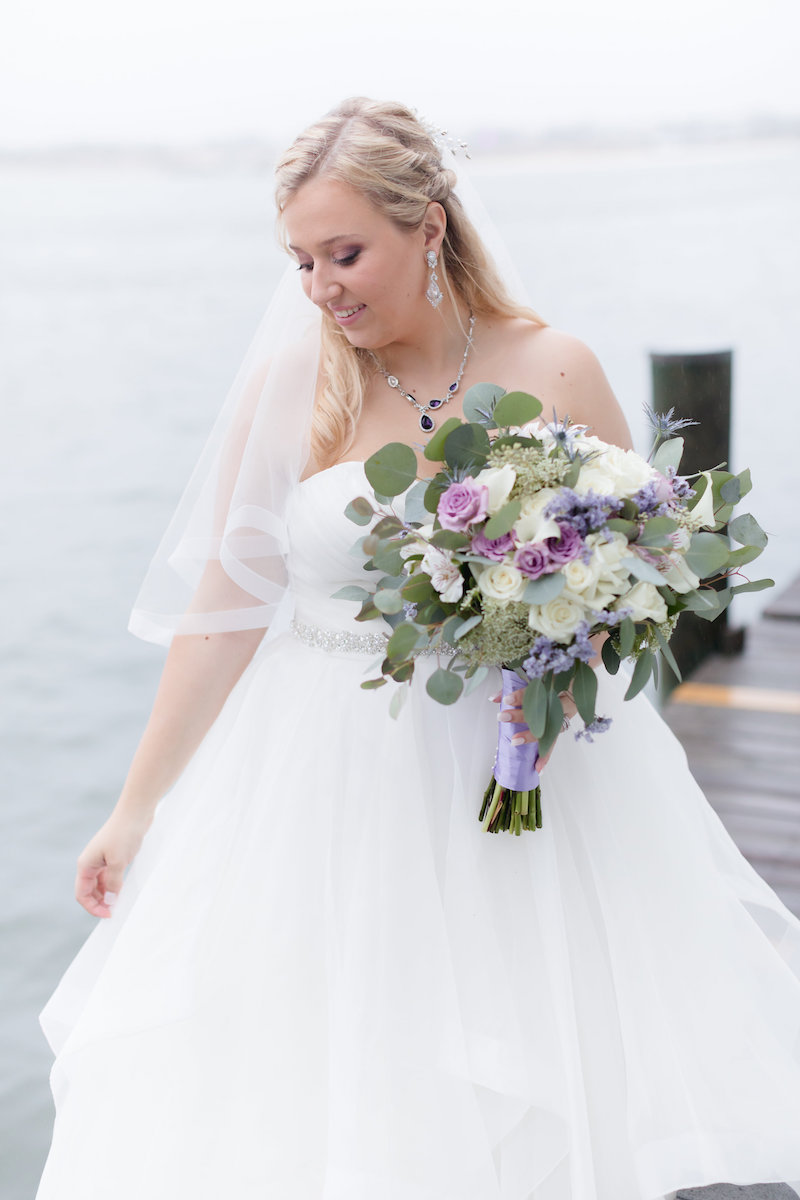 DIY WEDDING FLOWERS TIPS #2: CREATE A PINTEREST BOARD OF WEDDING FLOWER THEMES AND IDEAS
Pinterest is such an amazing tool for collecting and organizing ideas. If you aren't already on Pinterest I highly recommend creating an account! You can also follow my Pinterest account HERE. My daughter's favorite color has always been any shade of purple so of course it was no surprise when she announced she wanted a lavender color themed fall wedding. To help me get an idea of the look she was going for, I asked her to create a Pinterest board of wedding ideas, dresses, bouquets, cakes, and decor that she loved. I also created my own board and we would share pins and ideas with each other. Many of the pins were the inspiration for how we would decorate the wedding.
Here is a screen shot of some of the ideas I collected on my fall wedding board. The wedding was along the water at Lesner Inn in Virginia Beach and fall here is pretty mild (60's – 80's). So this is our coastal version of a fall wedding. Purple, plum and lavender are currently very popular fall color themes.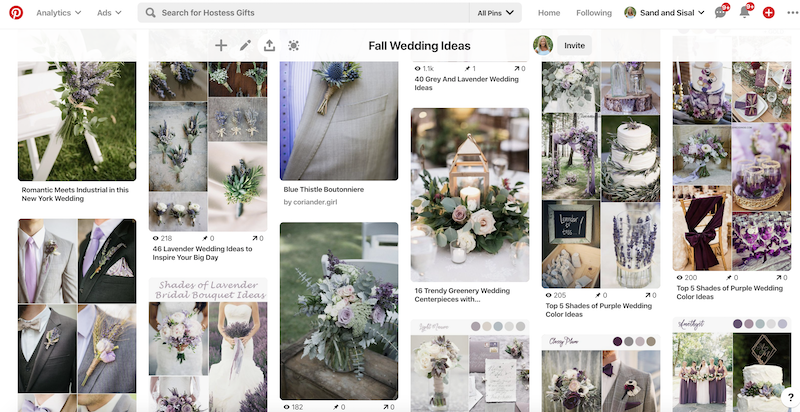 DIY WEDDING FLOWERS TIPS #3: GET DETAILED! ADD THE DESIRED TYPES OF FLOWERS, GREENERY AND SUPPLIES TO YOUR BASIC LIST
This is where having your basic floral list on a computer comes in handy. Start adding the type of flowers and greenery you think you want to use below each item. Put down your first choices but always remember that just because you want a certain type of flower does not always mean you can find it. Add in options and substitutions. Do this for each floral item on your list.
Here is an example of how I broke down a few of the floral items and supplies for the bridal bouquet.
BRIDAL BOUQUET
white roses (12+)
lavender roses (7-9+)
white or lavender spray roses (1 bunch)
white mini calla lily (5-7)
lavender statice or limonium (1 bunch)
purple thistle (1 bunch)
white alstromeria (1 bunch)
queen Anne's lace
seeded eucalyptus
silver dollar eucalyptus
Floral supplies- Lavender satin ribbon, pearl-tipped corsage pins for ribbon, floral tape, hot glue
Pictured below- Morgan and my 2nd born baby girl, Madison. I love how sweet this photo of them is! Madison is a junior in college and is getting her BS in nursing.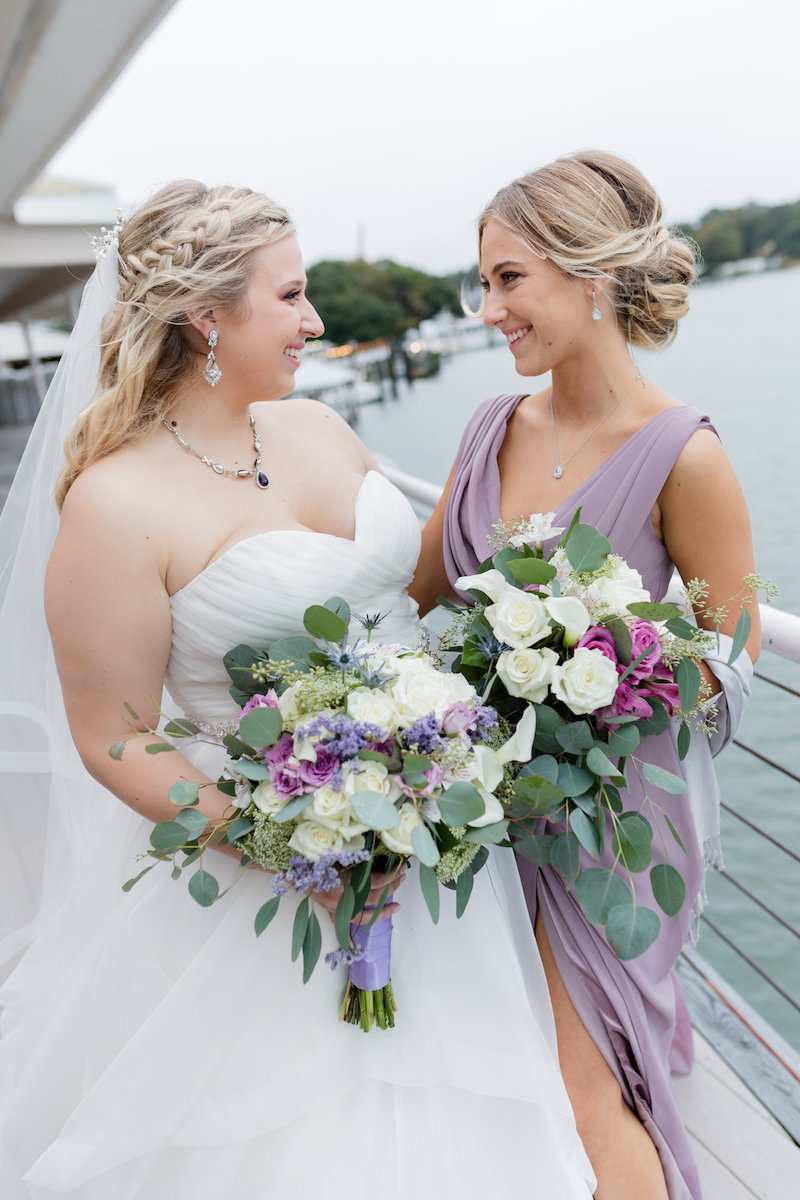 DIY WEDDING FLOWERS TIPS #4: RESEARCH WHOLESALE, BULK AND DISCOUNT FLOWER SUPPLY WEBSITES AND LOCATIONS
Now that your have analyzed your detailed lists and have an idea of the types of flowers you want and the amounts you'll need, it's time to figure out where you are going to get all these amazing flowers, delivered on time, and not break the bank! It sounds like a daunting task doesn't it? Don't fret! There are so many affordable options available to you out there that you probably have not even considered. Don't be afraid to get your flowers from multiple sources. I used 3 different places for our flowers. Here are a few of the sources I used and others I considered.
Trader Joes:
Pros-
They only need a 4 day window to order flowers (I ordered 3 weeks in advance and picked up 3 days before the wedding)
The absolute best prices on eucalyptus varieties I've ever seen (seeded, silver dollar, and normal spiked)
Great value on roses, especially long stem white roses which can be ordered by exact quantity.
Very inexpensive smaller floral bundles.
They will give you buckets with water to take home your flower order.
Cons-
I recommend following up with ordering manager to ensure your order is placed and pulled in time.
If you order eucalyptus, you can not specify the type. You will get whatever happens to get delivered.
Only white roses can be ordered specifically, meaning in quantity and color.
Most flowers can be ordered but you are limited to what they carry in season and exact color selections are not an option.
Local Wholesale Floral Shops:
Research online if any are available in your area. We have 2 that I'm aware of here.
Pros-
Many offer full wedding floral services at discounted prices, but be aware that even their discounted prices could still be quite expensive. Prices of course will significantly vary depending on where you live in the country too. For example, I found that a very simple bridal bouquet of just roses and baby's breath would cost $250+ at our local shop.
Walk-in discounted prices on flowers. You can always simply walk in and grab what you want, but take the time to talk to a floral manager and let them know what you would like ordered and when you need it. Find out which days of the week they receive their shipments too!
Some wholesale floral shops will rent out decorative wedding supplies like arbors, pillars, and many will also rent out full silk flower arrangements.
Cons-
Prices are discounted from retail but may not be the lowest price.
If you don't order ahead then you may not find what you need or the amount you need in time.
Sam's Club or Costco:
So many people had recommended Sam's Club or Costco for wedding flowers. Because I have a Sam's Club membership, I decided to order from them online. Tip- you can search "wedding flowers" in their search bar, but I found that "bulk flowers" gave the full array of choices. You can also work with the in-store floral manager.
Pros-
They have full on wedding packages online to choose from. You can order everything you need with one click!
The prices are amazingly affordable for both the packages and the separate flowers.
You can choose from a vast variety of roses, rose colors, rose species, and amounts. Tip– Do your Google research on the exact species of flower you are ordering. Know the size and shape of the bloom before ordering.
Delivery is fast but there can be issues (see below)
Flower quality is excellent.
Cons-
Flower amounts are limited to larger quantities (50, 100, 200 stems).
Their wedding packages are not customizable.
Delivery times may not be as exact as promised so I suggest ordering a day earlier than suggested on their ordering form. We ran into an issue with a type of white rose we ordered. I received a call on Wednesday before the Sunday wedding from the 3rd party rose vendor they use and they let me know that they didn't have enough in stock to fulfill my order, only half. The roses were supposed to arrive Thursday. I completely panicked! Thankfully the kind woman on the phone reassured me that she was going to do everything in her power to get me replacement roses and told me to please not worry. She suggested a different type of white rose that actually ended up being even more beautiful than I had originally ordered. She overnighted me all the new roses, along with the amounts they had available from my original order, PLUS to make amends, she added in an extra 50 roses! Now that was good customer service!
Local Grocery Stores:
Not many people realize that you can order flowers from your local grocery store. Most higher-end grocery store chains have a floral department and a floral department manager.
PROS:
They have a catalog which they can choose from and can place orders for you.
They can be a good and affordable source for boutonnieres and corsages.
Many offer weekly deals on grab and go bundles of greenery, fillers, and flowers.
CONS:
More expensive than wholesale.
Can have a limited selection.
Need to place orders farther in advance.
OTHER ONLINE BULK FLOWER SITES
DIY WEDDING FLOWERS TIPS #5: SHOP YOUR YARD
When it comes to greenery, and maybe even flowers, your yard (or your neighbor's) just might be the best choice! It's FREE! For our reception centerpieces, we used greenery from bushes in my yard to create wreaths. Look for bushes or trees that won't wilt quickly after cutting. I am constantly taking cutting from my yard for arrangements. Hydrangeas, fresh and dried, are an amazing flower for summer and fall weddings. Garden roses and even knockout rose bushes are prolific from May-August. Does a neighbor have overgrown boxwoods, holly, or privet bushes? I bet they wouldn't mind at all if you asked to have some clippings. We used a ton of wax myrtle and dark green camellia clippings from our yard. Think out of the box and start looking throughout your yard, the neighborhood, local parks or woods for plants you can use and clip for free.
Below is a pic of the centerpieces I made for our daughter's wedding reception. The wreaths are made from wax myrtle, gardenia, eucalyptus, ocean song roses and polar ice roses. The lanterns were from Walmart and came only in black so I spray painted them gold.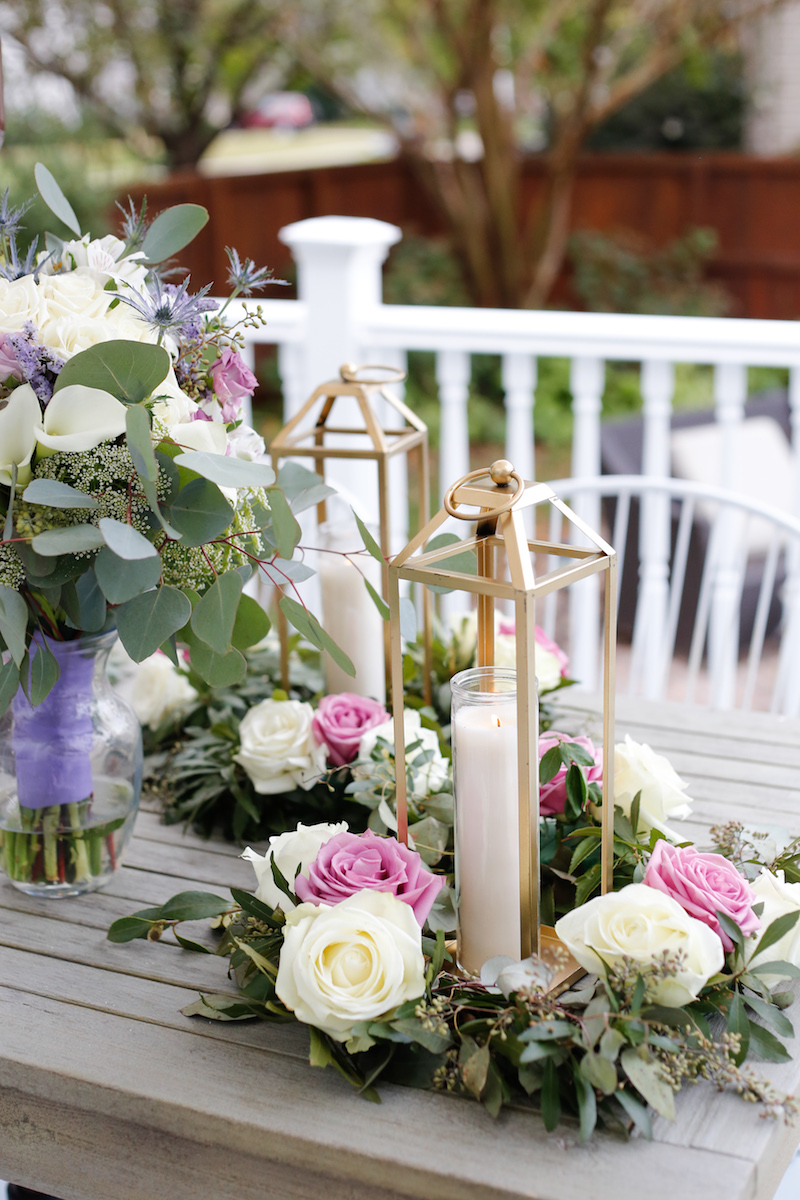 TIP #6: DON'T BE AFRAID TO MIX IN FAUX WITH REAL
Faux florals have come a very long way in the last few years. The quality of some silk flowers today are almost indistinguishable from real. If you can't find the type of flower you want because it isn't in season, then consider mixing in some high quality faux flowers into your bouquets. We used garlands of faux eucalyptus and faux lavender sprigs and garlands in several places at the wedding venue. The arbor seen below was decorated with a faux lavender garland intertwined with faux eucalyptus. The beauty of using faux florals and greenery is that arrangements can be made far in advance and fresh florals can be simply added at the last minute.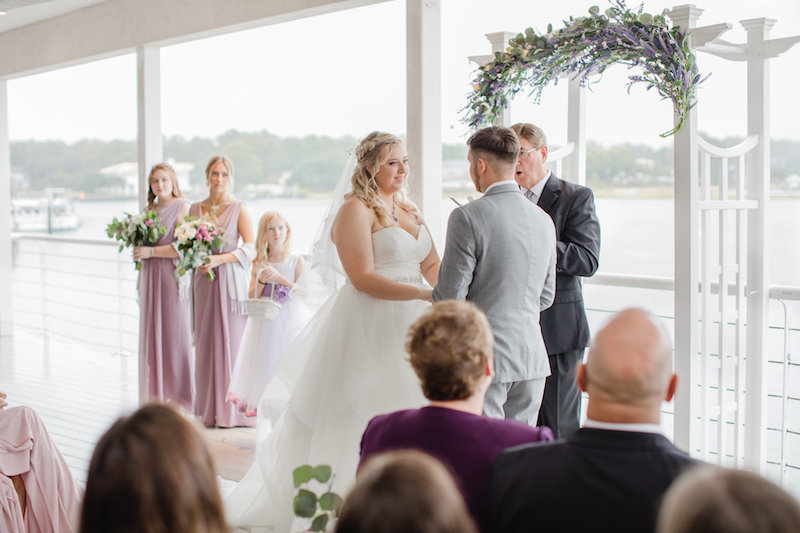 TIP #7: RENT ALL OR A PORTION OF THE WEDDING FLOWERS
Did you know you can RENT all or a portion of your wedding flowers? If you simply have no time to deal with flowers then I suggest you check out this site https://somethingborrowedblooms.com/en/ . They are a full service online site that has incredibly gorgeous, real looking, faux bouquets, centerpieces, corsages, etc. and you simply rent and then return them!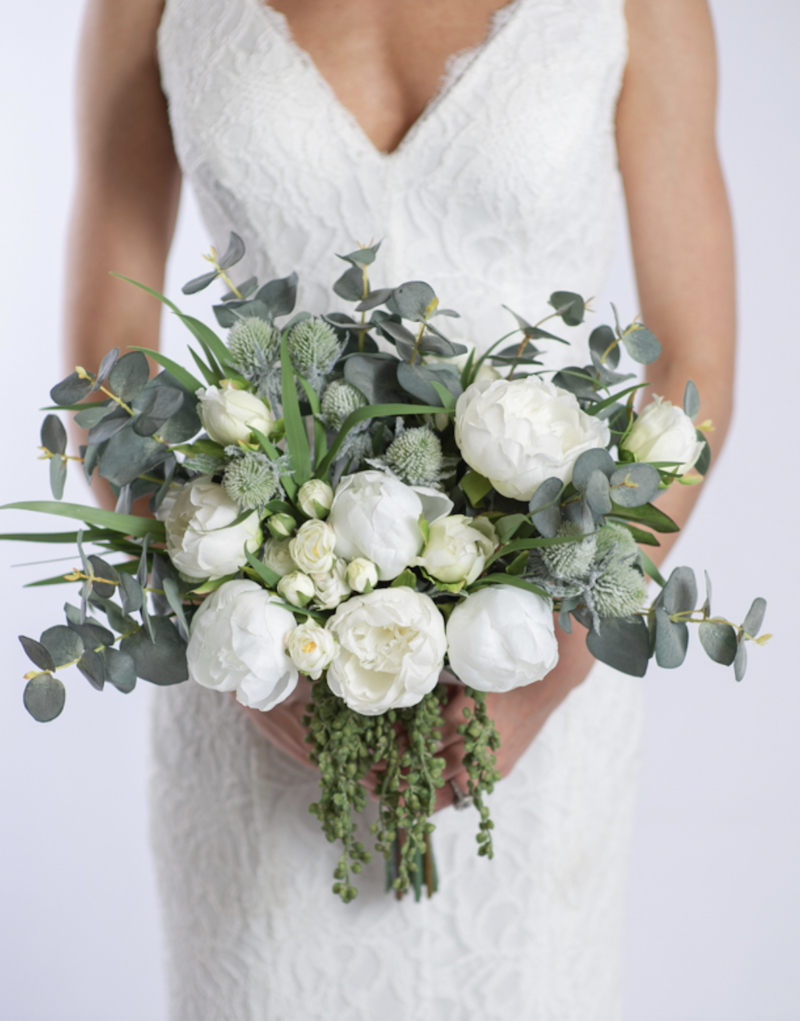 DIY WEDDING FLOWERS TIPS #7: GATHER ALL SUPPLIES BEFORE FLOWERS ARRIVE
I cannot stress how important this is. Gather all your supplies far in advance. I suggest have more supplies on hand than you need, especially when it comes to ribbon and 5 gallon buckets. Always buy more supplies than you need and return it later if it wasn't needed. The 3 days before a wedding are stressful and crazy busy and fun and the last thing you need is to be running out to Walmart or Michaels at the last second! (trust me, I lived and learned)
Here is a list of basic supplies you will most likely need to have on hand BEFORE your flowers arrive. I've provided affiliate links for your shopping convenience.
multiple vases (think of every location where a vase is needed, including the vases needed to transport the bridal party bouquets to the wedding)
decorative ribbon in multiple widths
large plastic storage bins to transport flowers arrangements
DIY WEDDING FLOWERS TIPS #8: HAVE A PLAN FOR FLOWER PREP AND STORAGE
FLOWER PREP-
Most flower orders will be ready for pick up or be delivered 3 days before the wedding. You need to have all your supplies available and ready to go! Once your flowers arrive they will need to be immediately trimmed and put into buckets of water and given at least 12 hours of drinking time before you start making your arrangements. DO NOT SKIP THAT PART! If you don't give all your flowers a fresh cut and allow your flowers proper drinking time then they will be wilted by the wedding day. This of course though cuts down on the amount of time you have to work on your flowers (see step #9).
FLOWER STORAGE-
You will also need to store all the flowers in a cool location away from any direct sunshine. We had a cold spell the week of the wedding and was able to store our flowers outside on the deck. The lowest the temps got were around 40 degrees which is perfect for flowers. Consider storing your flowers in a cool garage or if you have room, place flowers like corsages and boutonnieres in the fridge. Just be sure it isn't colder than 40 degrees F.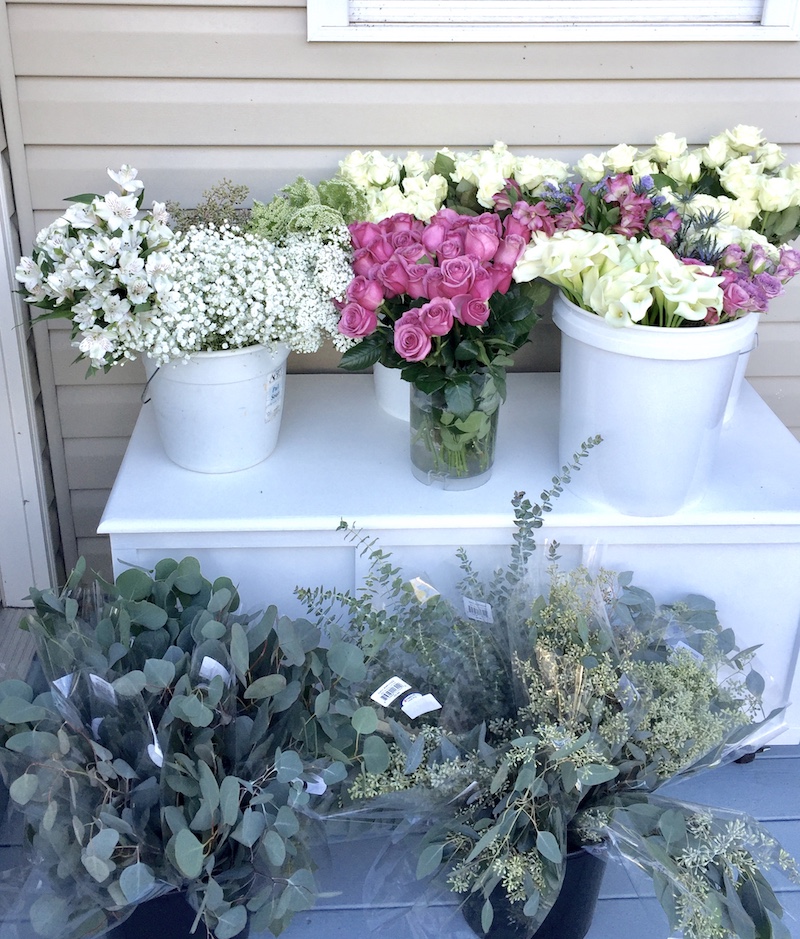 DIY WEDDING FLOWERS TIPS #9: ASK FOR AND RECRUIT HELP
This is my weakness. I am reluctant to ask for help when needed…. why?…. because I'm a control freak. Thankfully I knew to ask for help in this circumstance. I called my mom and baby sister over to help make the centerpieces. They were so amazing and we were able to get a lot done. We made it a luncheon flower making party of sorts! Mom brought over her clippers and some extra supplies and even brought over lunch for us all! I quickly realized that I still could have used even more help. So call up your girlfriends, your sisters, aunts, and mothers and allow them to help you get the job done!
You will also need a team (literally) ready to help for the set up of the wedding and reception. People are needed to help transport, unload and set up all the flowers. Most locations only allow 2 hours beforehand to set up. That doesn't give you personal time to relax and enjoy the few precious hours before you give your daughter away. I don't know what I would have done without our wedding coordinator and my extended family.
Lessons learned: I should have assigned someone to help me make ceremony aisle flower bouquets, card table bouquets, and other easy tasks like boutonnieres ahead of time. I was scrambling the morning of the wedding to do all of those. ASK FOR HELP AND DELEGATE!
Pictured below- These are the calla lily, thistle and seeded eucalyptus boutonnieres I made for all the guys. My youngest Mark was the Jr. ring bearer and is my little model.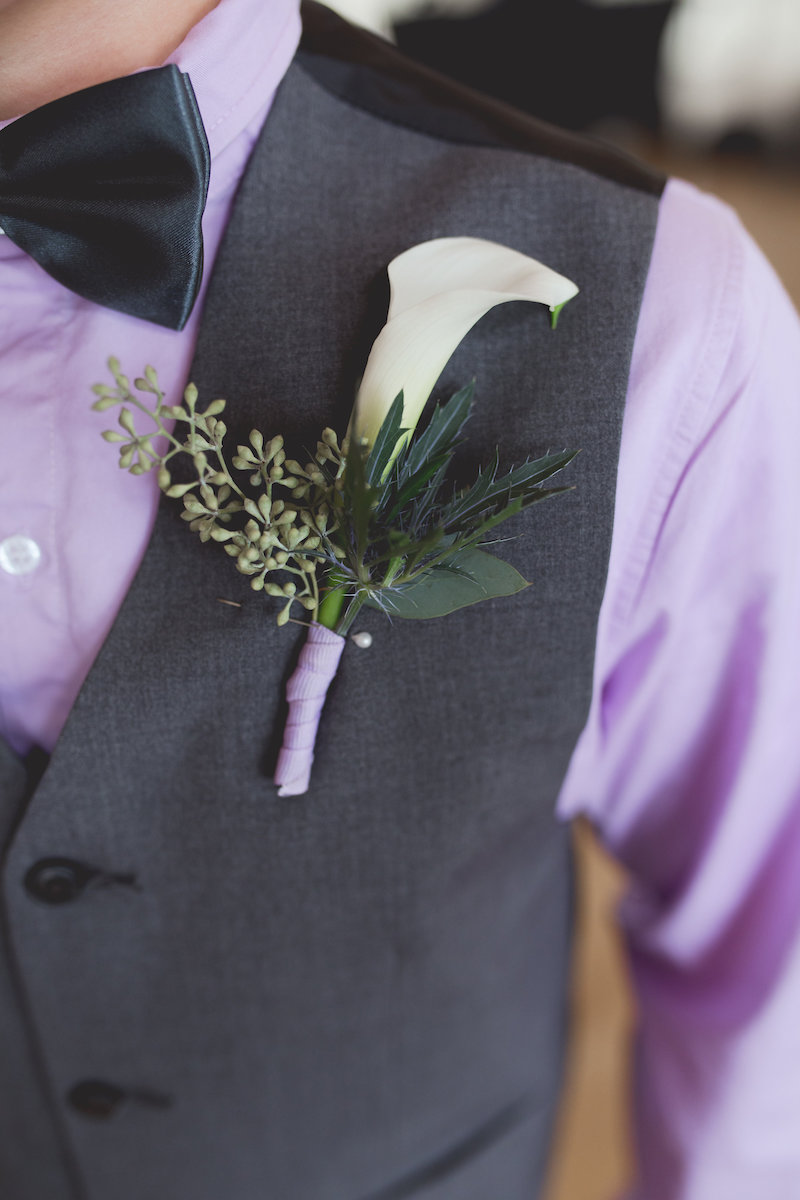 DIY WEDDING FLOWERS TIPS #10: ENJOY, GIVEAWAY, & SHARE
The day has finally arrived and everything is set and looks gorgeous! Take a deep breath and enjoy the fruits of your labor! Consider telling announcing to a few special guests that they are free to take a centerpiece home if they want. You could also donate all your extra wedding flowers and arrangements to a nursing or retirement home, give to a friend who needs a smile, or donate to a church. Whatever you do, be sure to spread the joy of your beautiful flowers!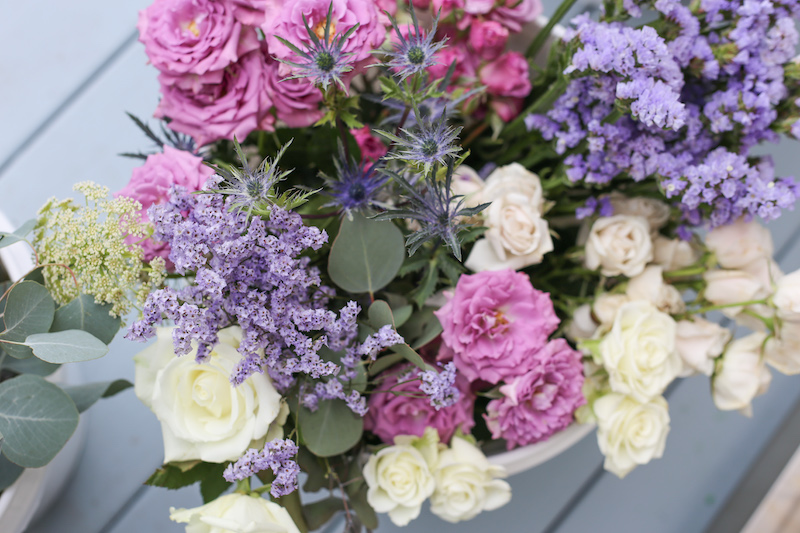 I hope my Top 10 DIY Wedding Flowers Tips help you in any of your wedding planning needs! After adding up all my costs, I spent around $450 for all flowers and decor. After research, the retail price would have been thousands more. Feel free to ask me any questions or share with me your wedding flower experiences in the comments below!
LOVE IT? DON'T FORGET TO PIN IT!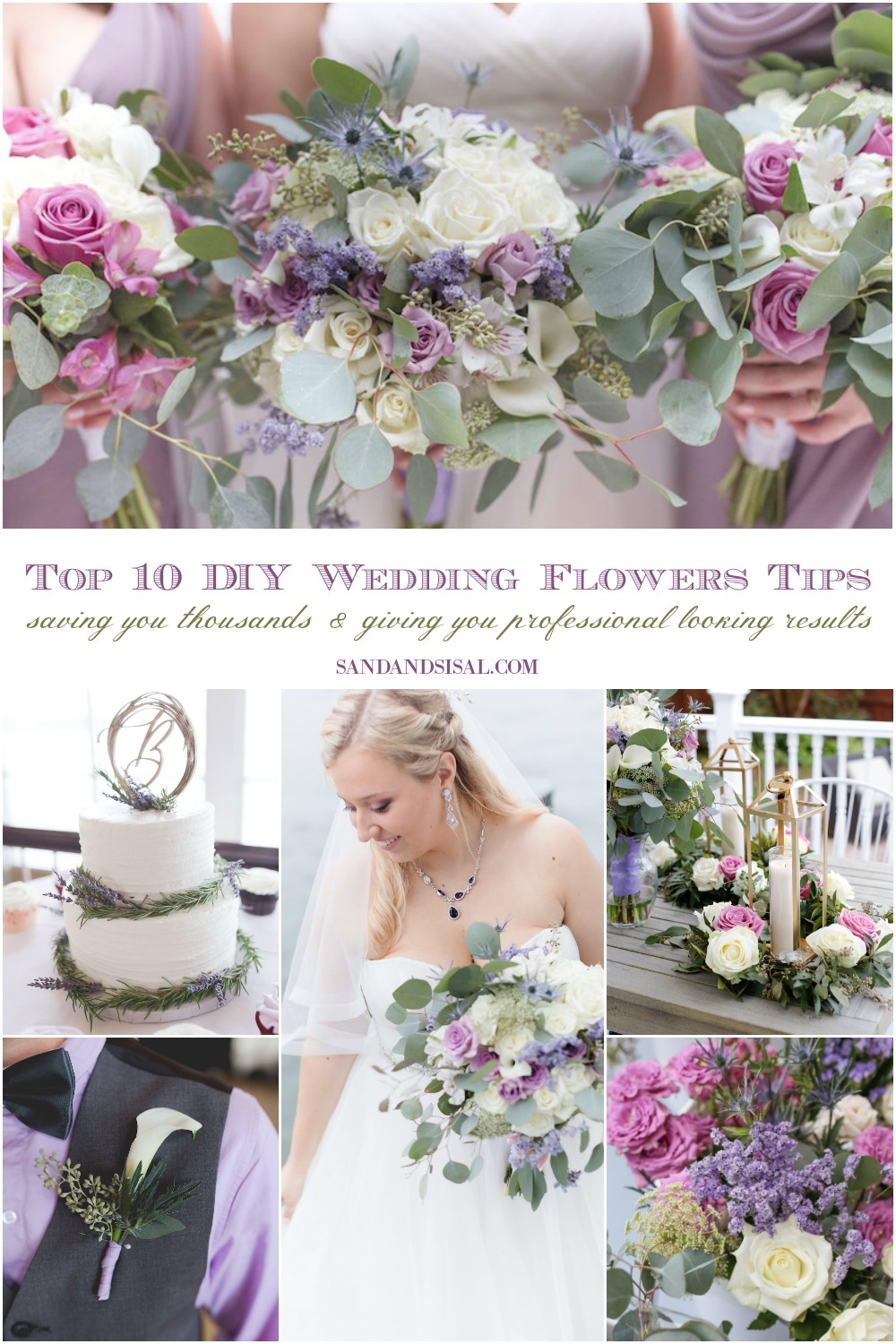 PS- As soon as I get all the photos back from the wedding photographer, I'll be sure to share them with you!
Happy Flower Arranging!
KIM