Welcome to my Blue and Green Plaid Christmas Home Tour 2020! This year, 2020 has pretty much blown all of our minds, and in the midst of all the sorrow and stress, I turn to what gives me joy and inspiration, and that is first of all, my Lord and savior who is the Reason for the Season. He is the source of all peace, comfort and joy, and next is my amazing, hard working husband, my 4 beautiful children and family, and then my passion for design, decorating, and creating beauty.
Each year I choose a color scheme and an overall theme to decorate with and honestly, this year I struggled. The idea of decorating with toilet paper rolls, face masks and empty hand sanitizer bottles did enter my mind for a split second and that once would be amusing, but we are all so tired of it all. Don't you agree? So I sat and said to myself, "Kim, let's try to use what you already have and focus on simplicity, fresh greens, your love of blue and natural, and leave it at that." I listened and well, welcome to my home! I hope you enjoy it!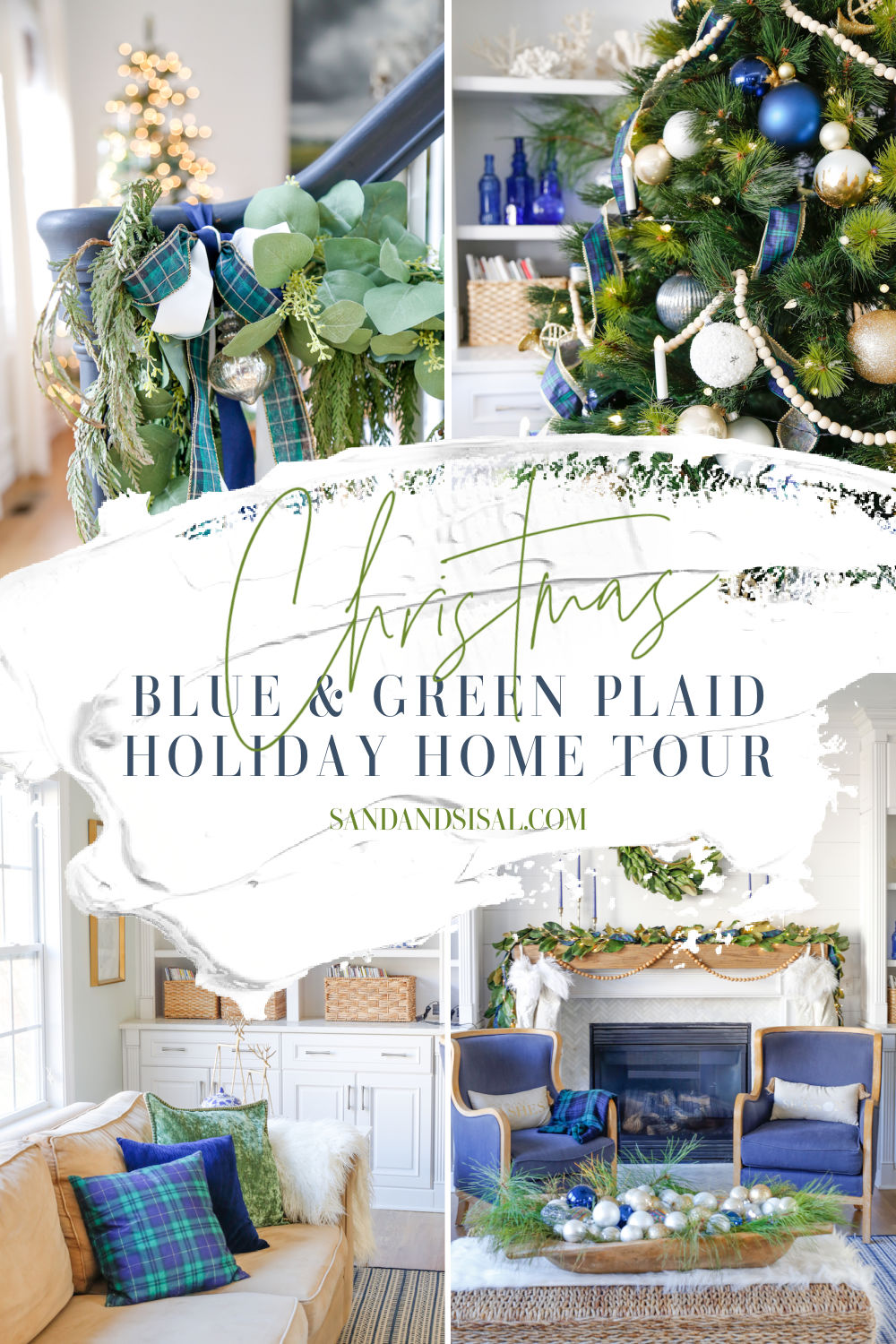 Affiliate links are used in this post (no cost to you). You can see my full disclosure here.
Blackwatch Plaid Christmas Staircase and Entryway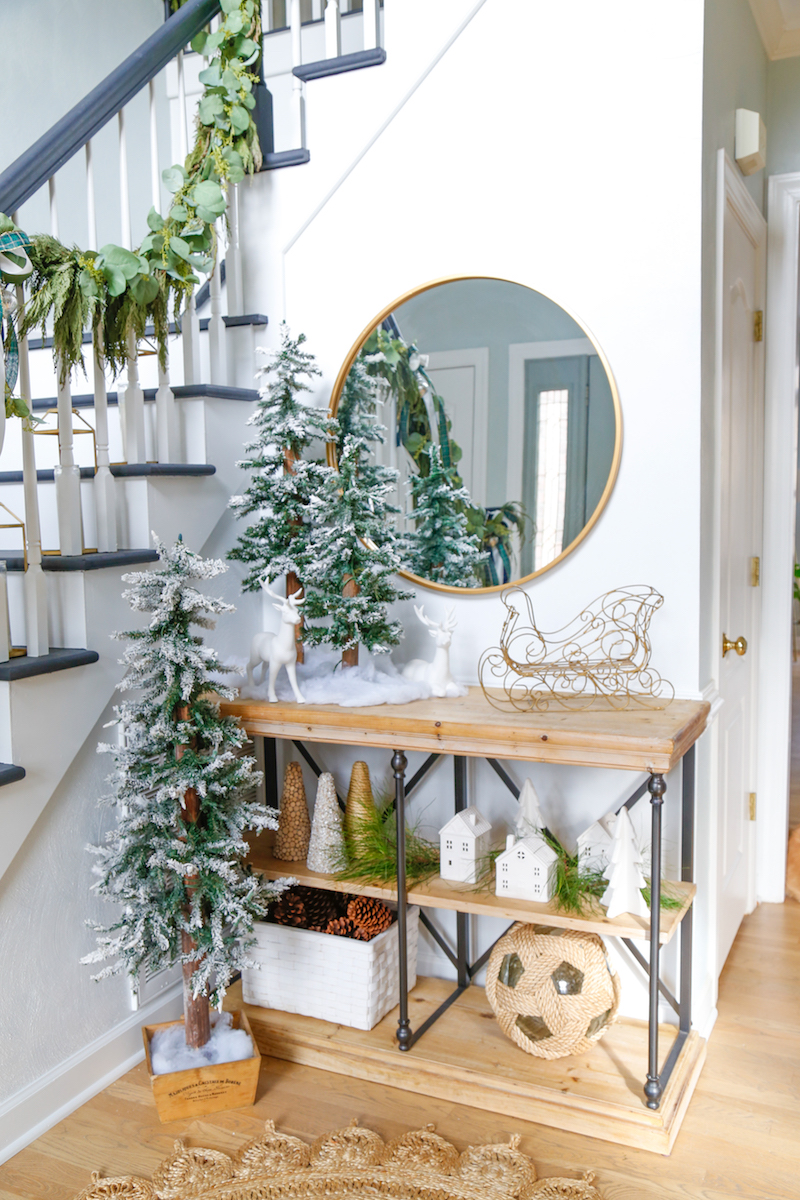 The entryway and staircase just received a mega makeover and I promise to get that staircase tutorial out soon! I am over the moon thrilled with how it all turned out. As you enter our home you are greeted with your reflection in this gorgeous, gold framed mirror and a wood and iron console table with white porcelain deers, flocked alpine trees and sweet little houses. I pulled out my DIY natural textured coastal cone trees too.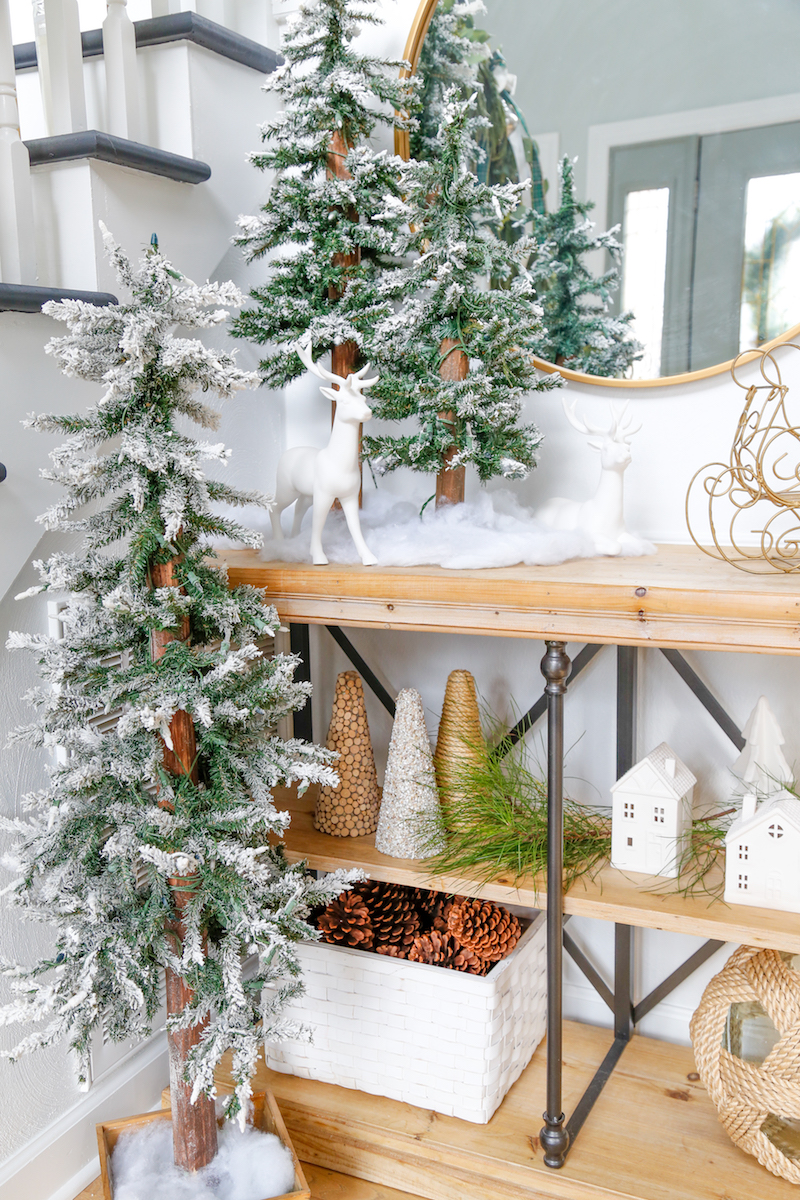 Can we just step back a moment and admire the staircase? If any of you have followed my blog for any amount of time then you KNOW what it used to look like (dingy carpet and orangey oak railings)! Oh what $50 and a lot of sweat equity can deliver! I'm hearing angels singing! It is still not completely done. My vision for this space is way grander, and I will get there one day, but for now, I'm pleased.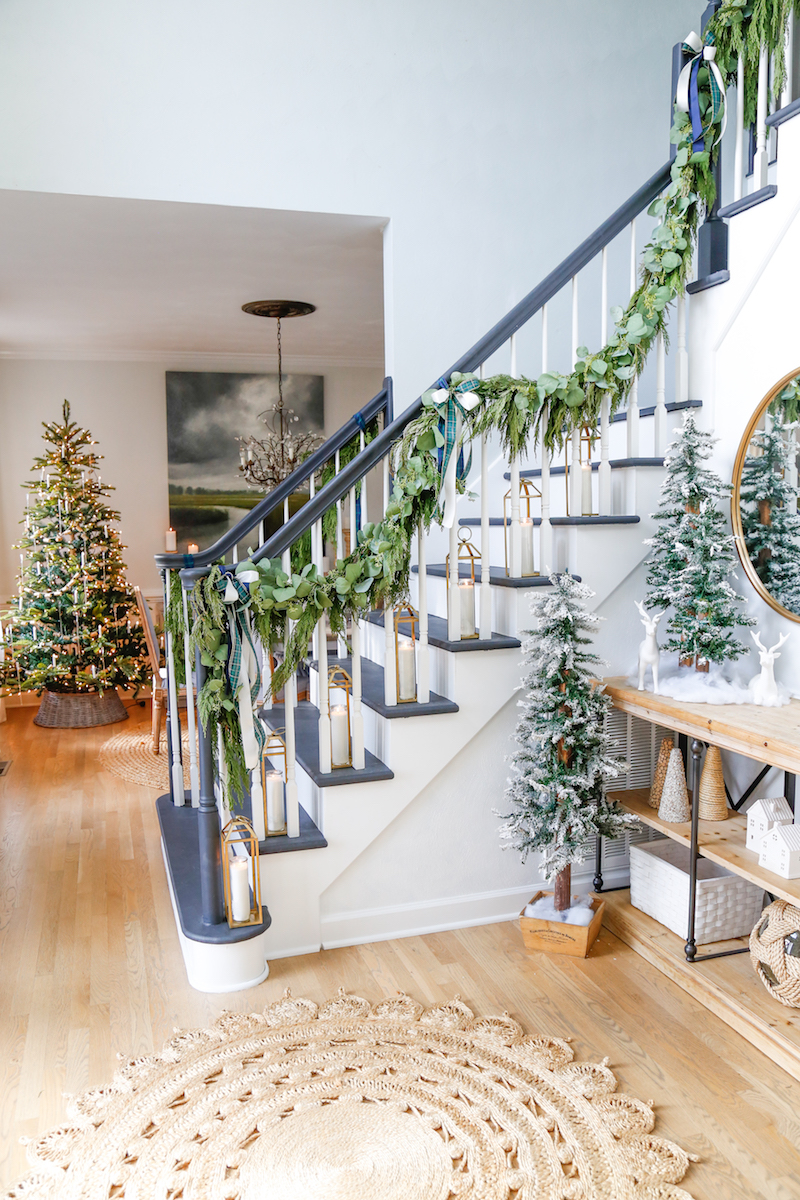 I dreamed of the day that I could dress up my staircase with fresh cedar garland and ribbons and have it look like something I've seen in magazines. Who knew all it took was 2 jars of paint and bit (ok, a lot) of effort? It was a reminder to never underestimate what YOU can do in your own home. This was why I started this blog 10 years ago.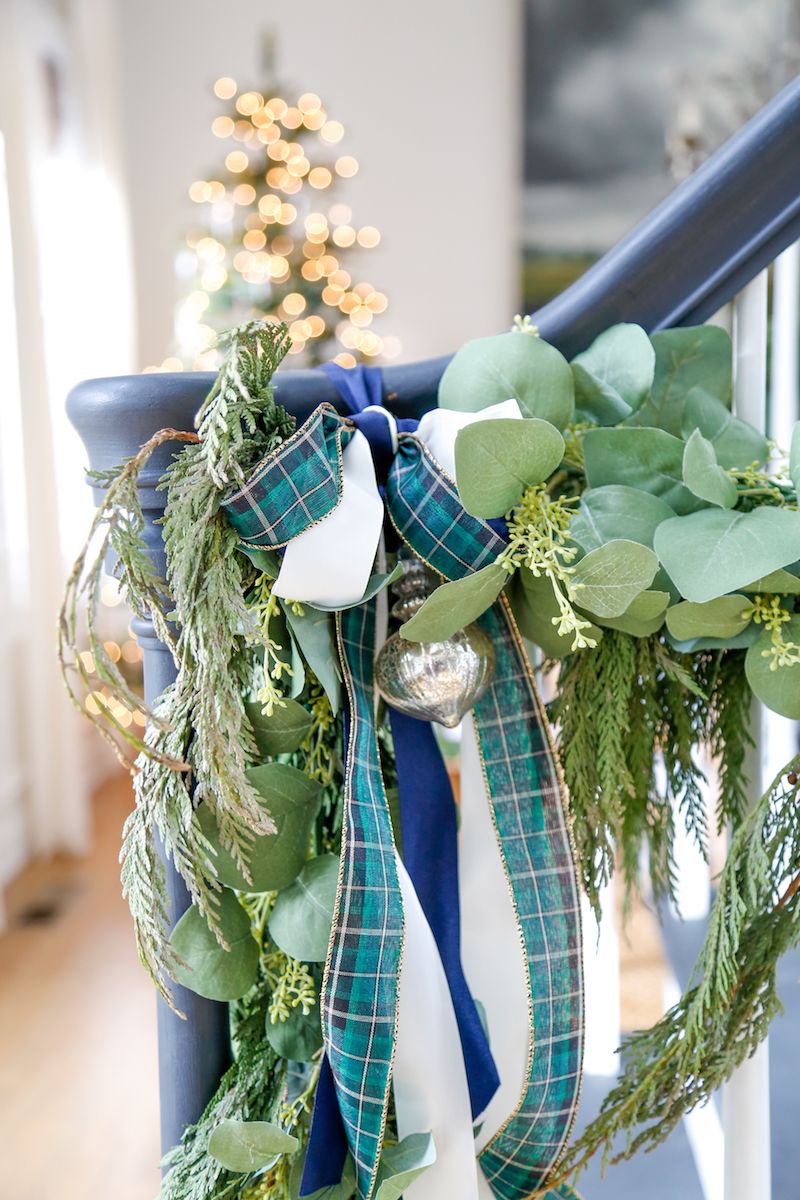 The staircase was illuminated with $10 lanterns from Walmart that I purchased last fall for my daughter's October wedding (which I did all the decor and flowers for) and I spray painted them gold… (they were black for Halloween). The candles are all from the dollar store. The candles last forever and I use them year round. We used faux seeded eucalyptus garlands also for my daughter's wedding, so I added those to my staircase too. Layering fresh and faux together is always works nicely and is a trick I learned from the pro's.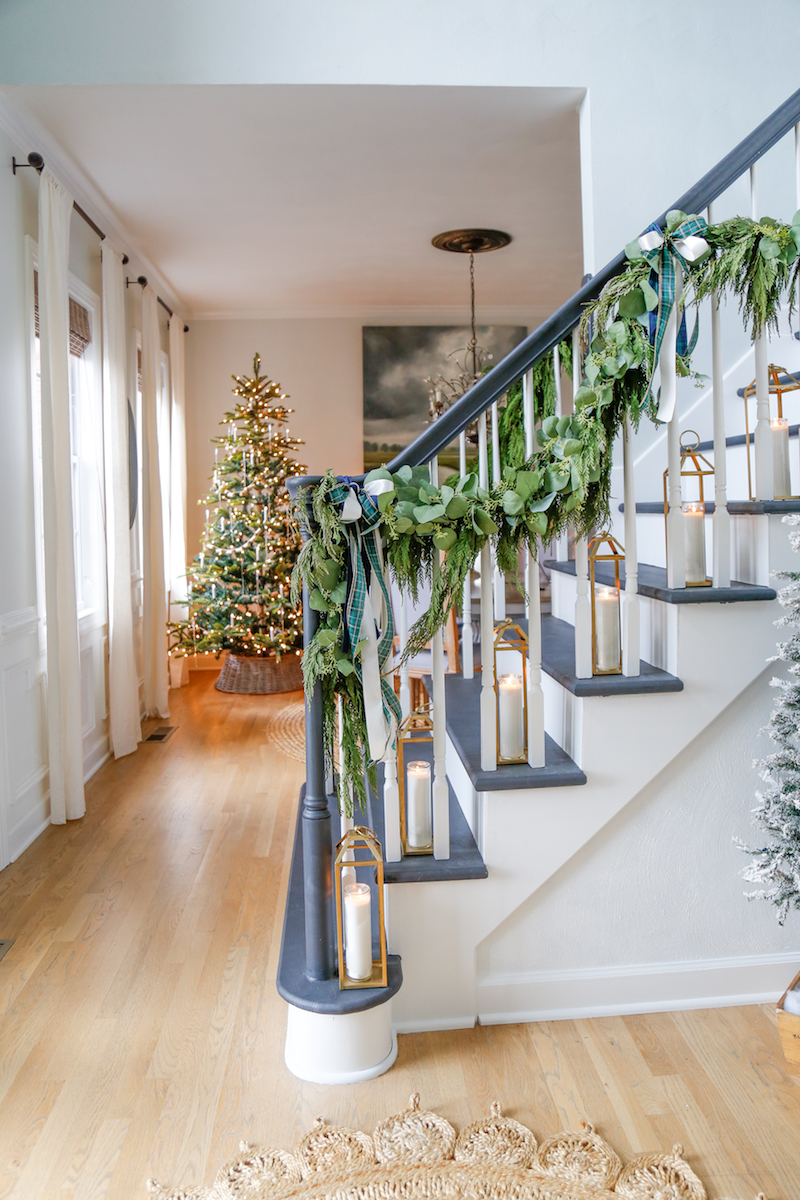 Entryway Sources: Mirror | Console Table | Medallion Jute Rug | Alpine Tree Trio | Dining Room Christmas Tree | Plaid Ribbon – Walmart | Fresh Cedar Garland – Home Depot| Faux Seeded Eucalyptus Garland – Hobby Lobby | Lanterns- Walmart | Candles- Dollar Tree | White Porcelain Reindeer – Target | Gold Sleigh – Thrift Store | Coastal Tree Cones | Christmas Village – Target | Paint colors: Sherwin Williams Sea Salt, Extra White | Staircase Paint Colors: Sherwin Williams Extra White, Fusion Mineral Paint, Ash
Blue and Green Plaid Christmas Living Room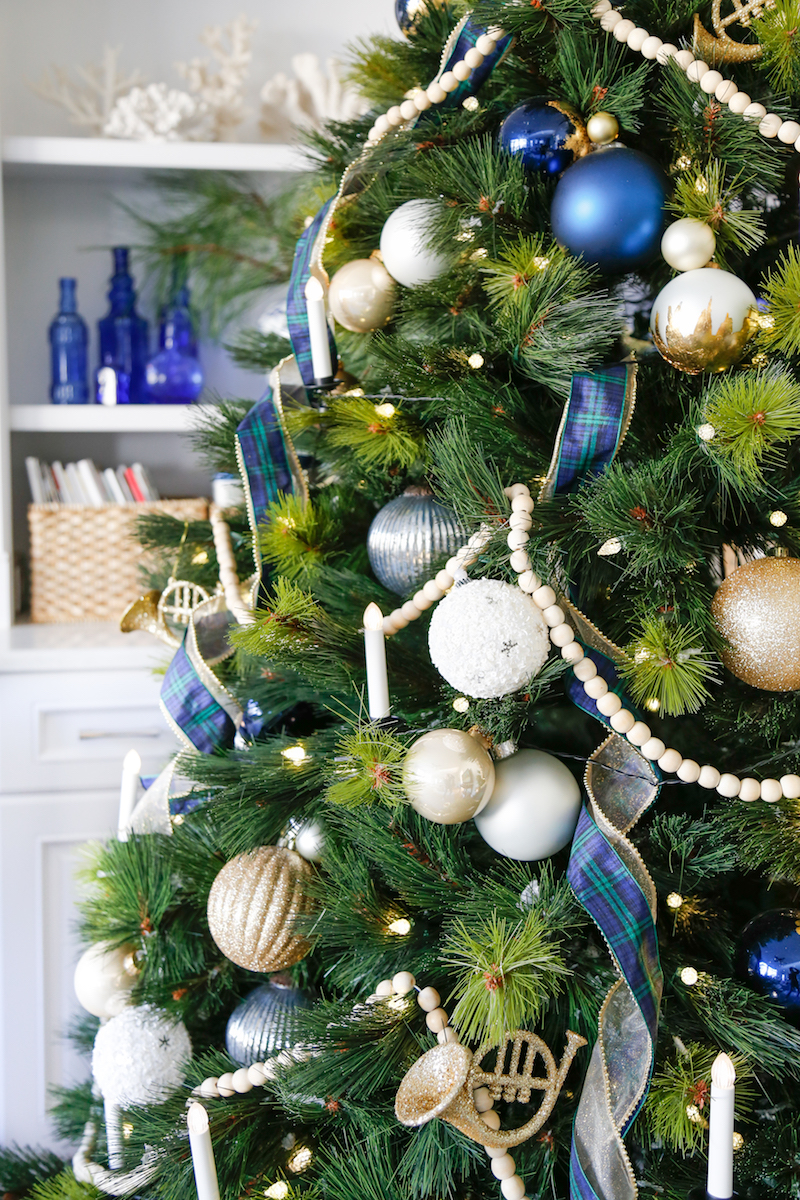 Now let's walk into the living room. This room is the center of our home. We all spend 90% of our time here. The blue and green blackwatch plaid fit effortlessly and naturally into our decor. I pulled out all the Christmas bins that I have labeled gold, blue, or white and started pulling out items I love. Last year's DIY Gold Leaf Ornaments worked perfectly.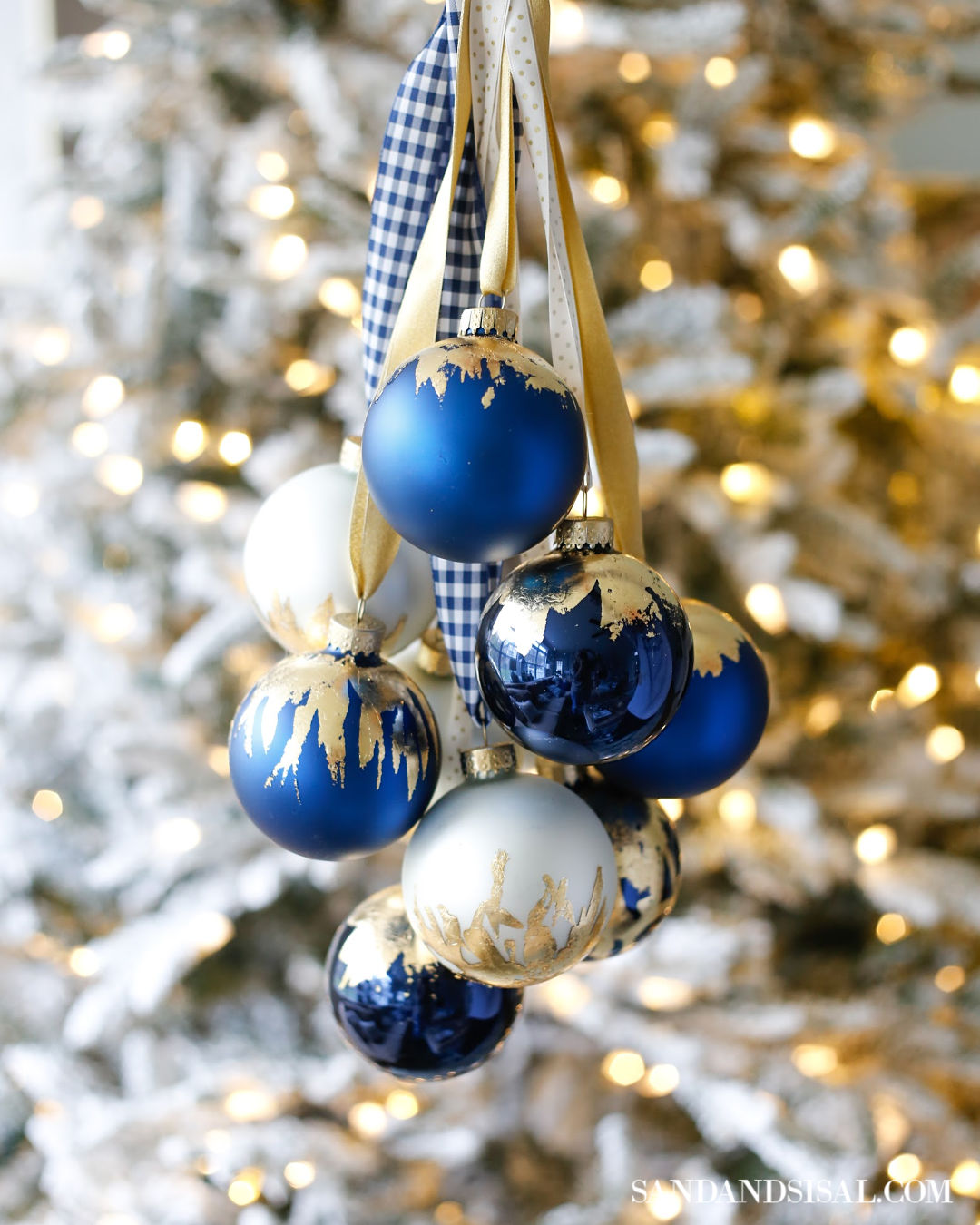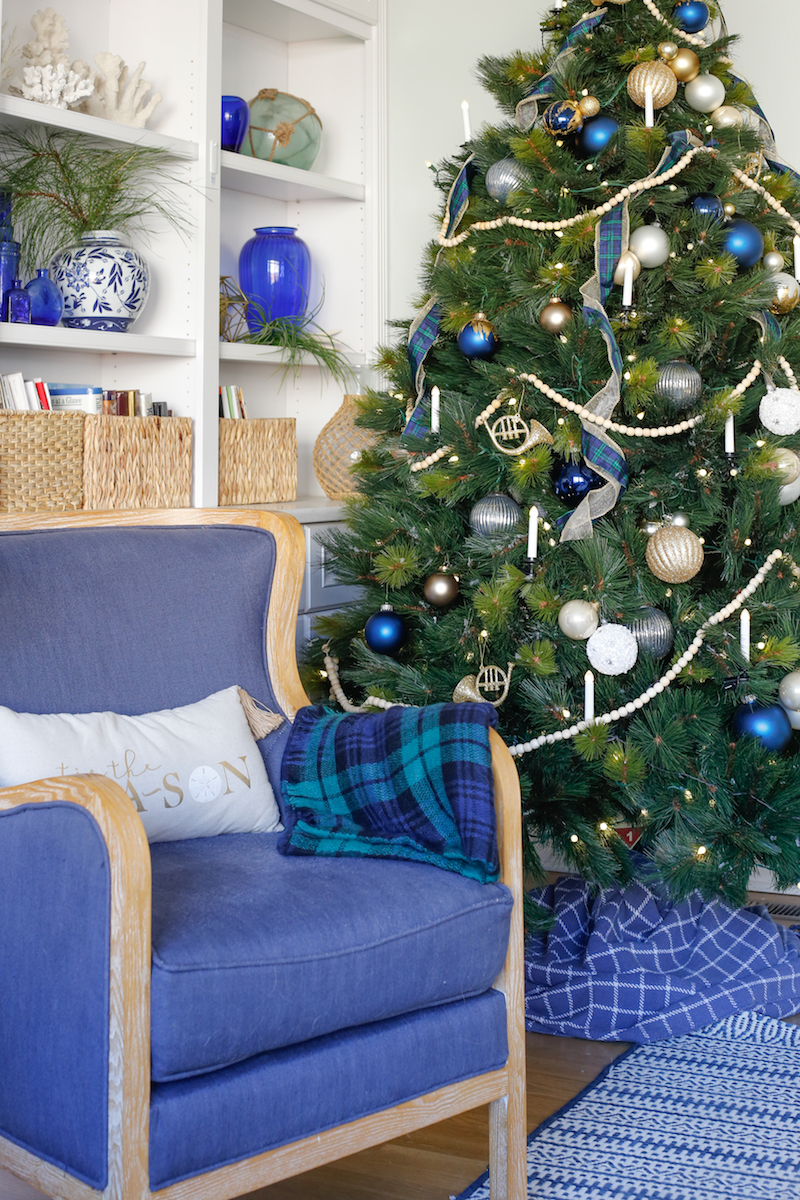 Vibrant greens, spirals of shimmery golds and plaid ribbon, natural wood beads, cobalt blues and a bit of candle bling is all that was needed. Willow pup seems to think it's chill enough to lounge under.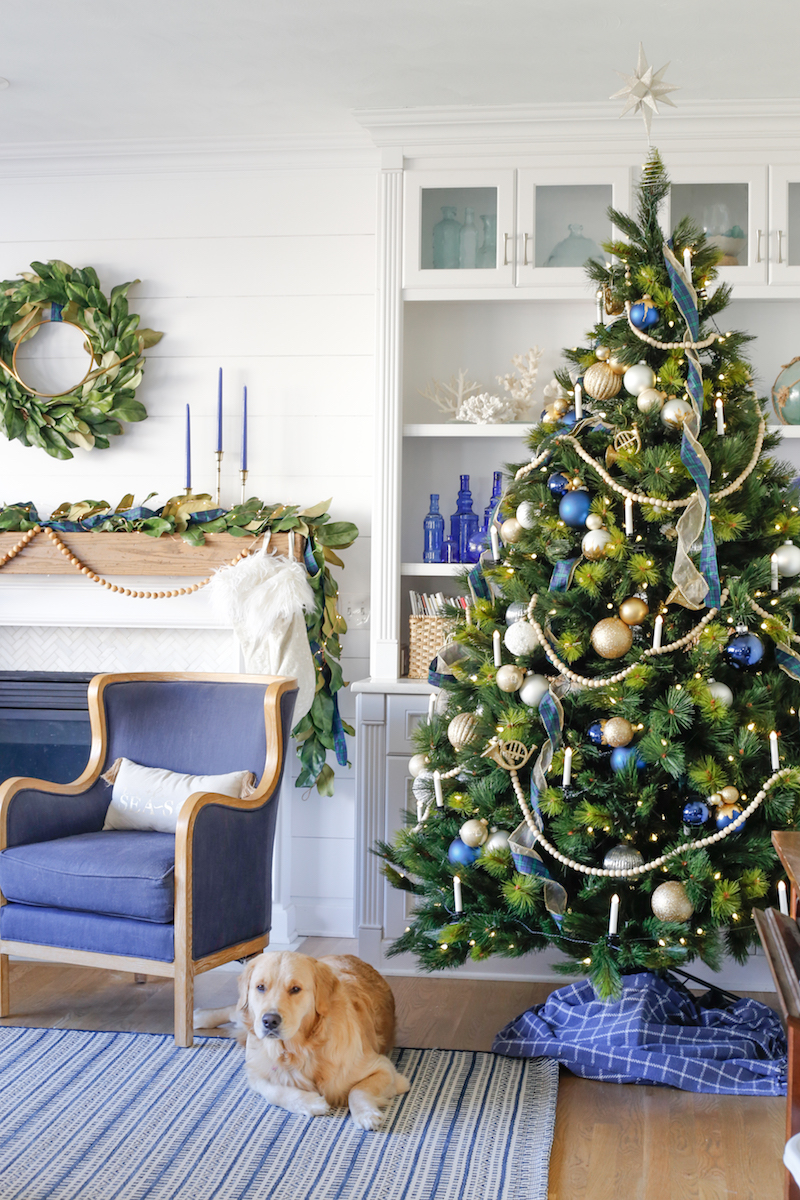 No southern coastal home is complete without magnolia! My favorite Christmas garlands ever are my magnolia ones! My husband wanted us to plant a grand southern magnolia tree in our yard a decade ago. I said no, and now I'm regretting that decision because I'm coveting every neighbor who has one! These beauties from Balsam Hill are so realistic, even my mama was fooled!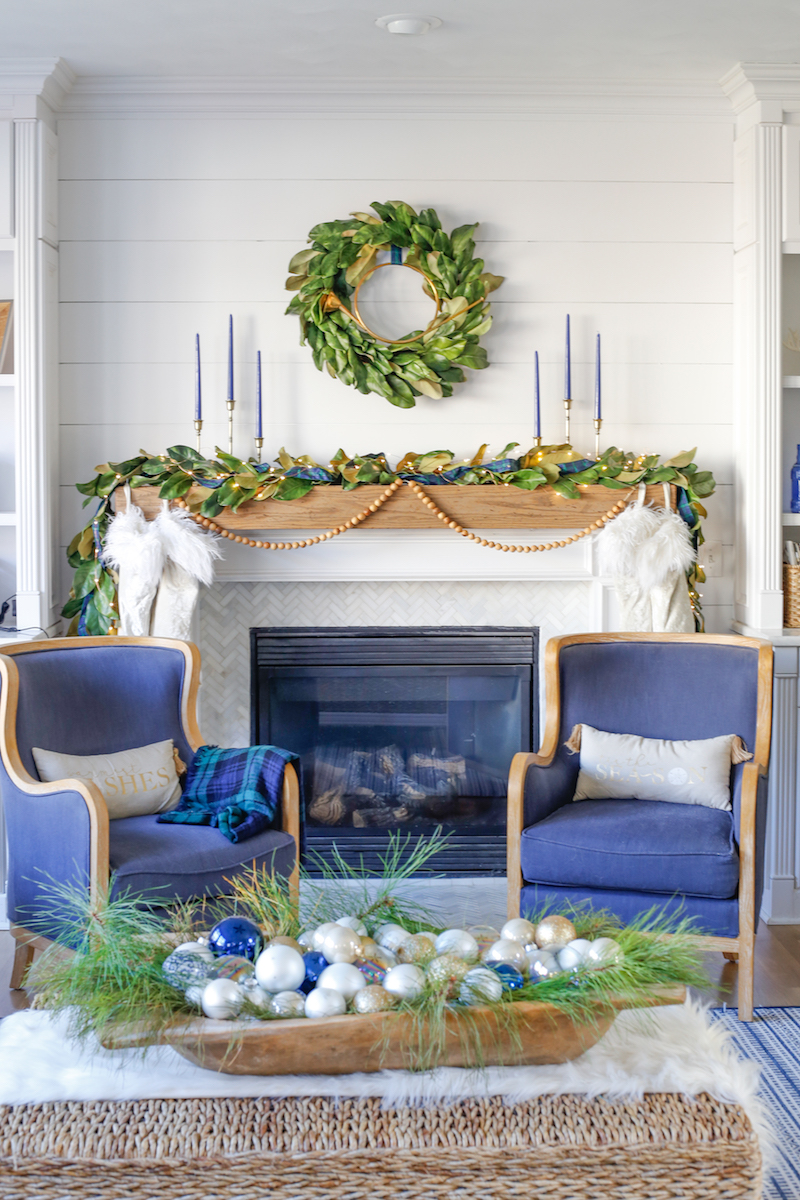 Oh the glories of the dough bowl! Y'all are probably tired of seeing me use it, but it is so versatile! Isn't it gorgeous all loaded up with fresh, fragrant pine boughs and sparkly baubles?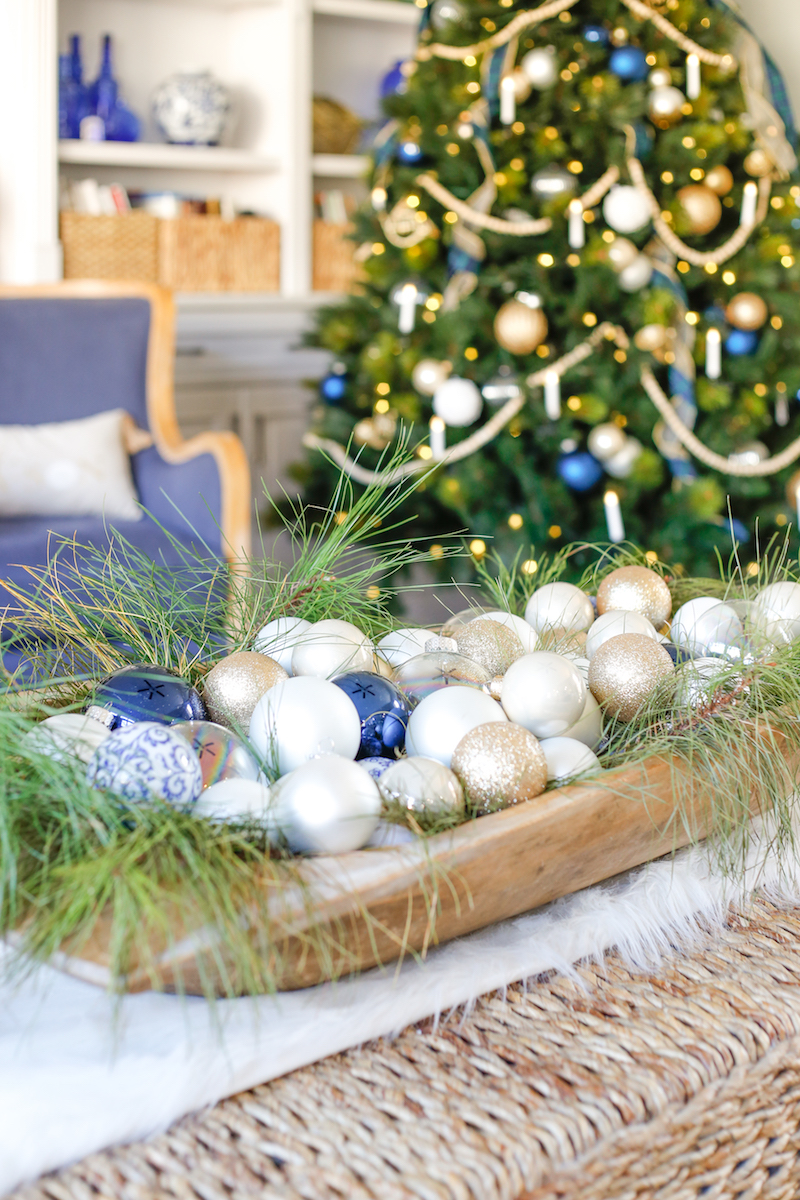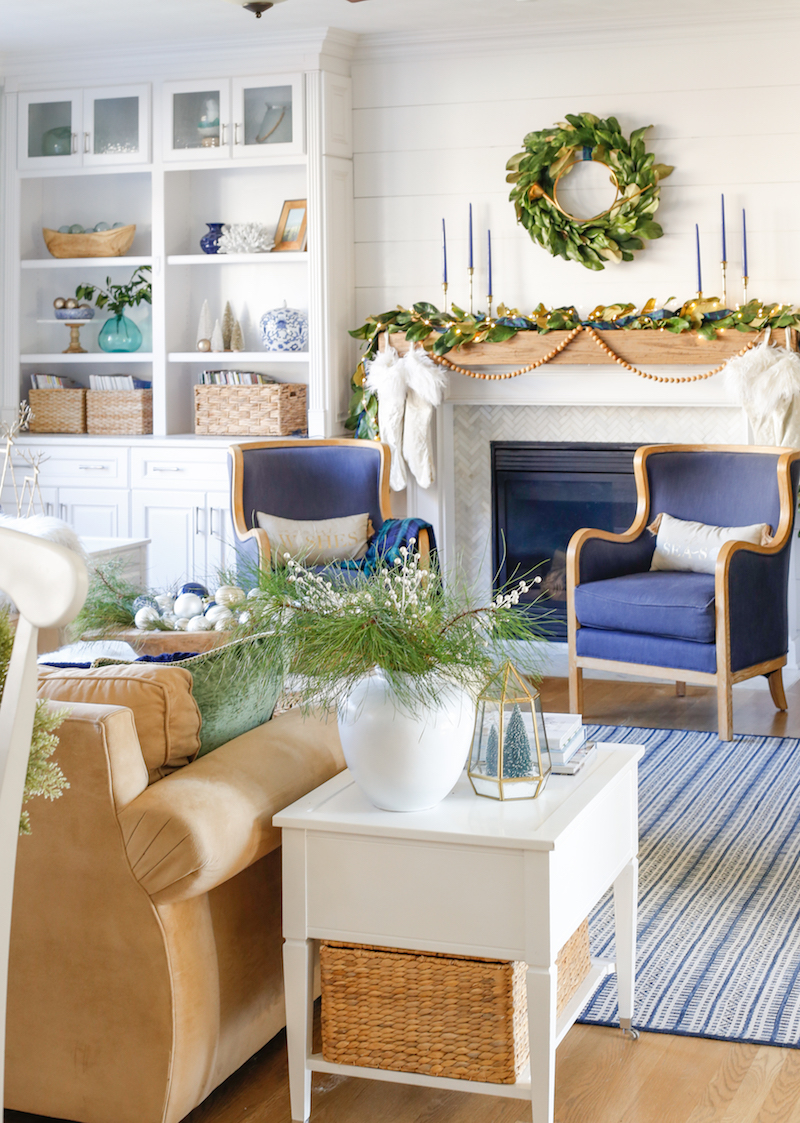 The whole room is coming together but nothing completes the comfort aspect unless you add soft and cozy pillows! Since my hubby has put me on a pillow buying lockdown, I have resorted to mega pillow cover collection! HAHA! These are all affordable, soft and gorgeous! (They are linked below).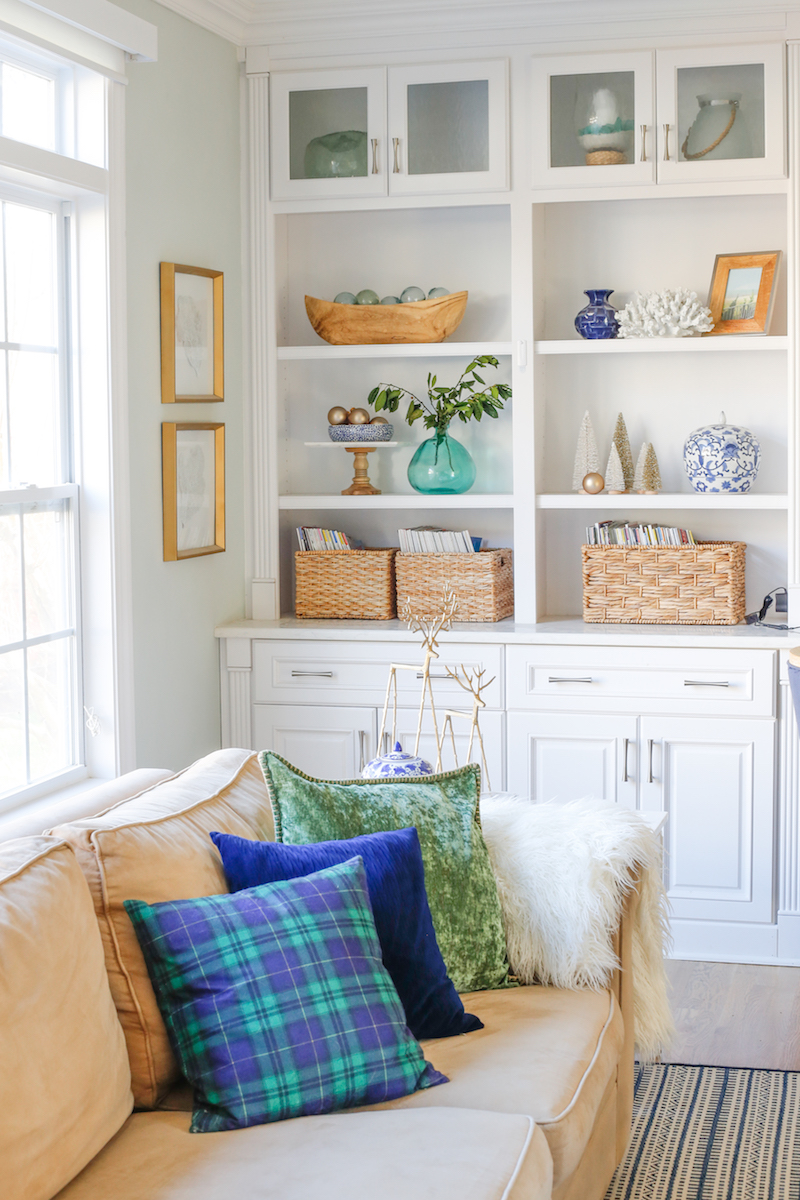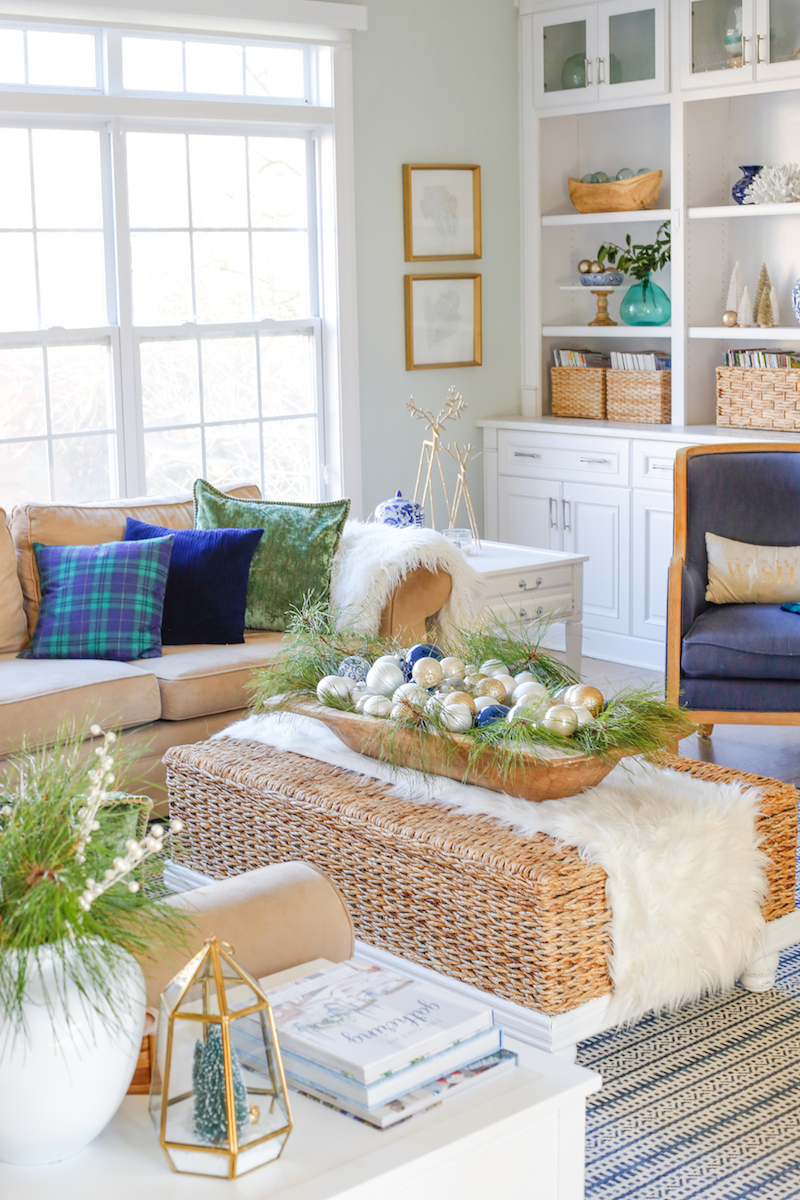 Do you keep garden shears in your car? I do! I went to my neighborhood park woods and clipped a few of these pine saplings. They create an easy and pretty one minute bouquet paired with some beaded floral pics. And I took a little terrarium and filled it with Epsom salts for snow, bottle brush trees and a little jingle bell.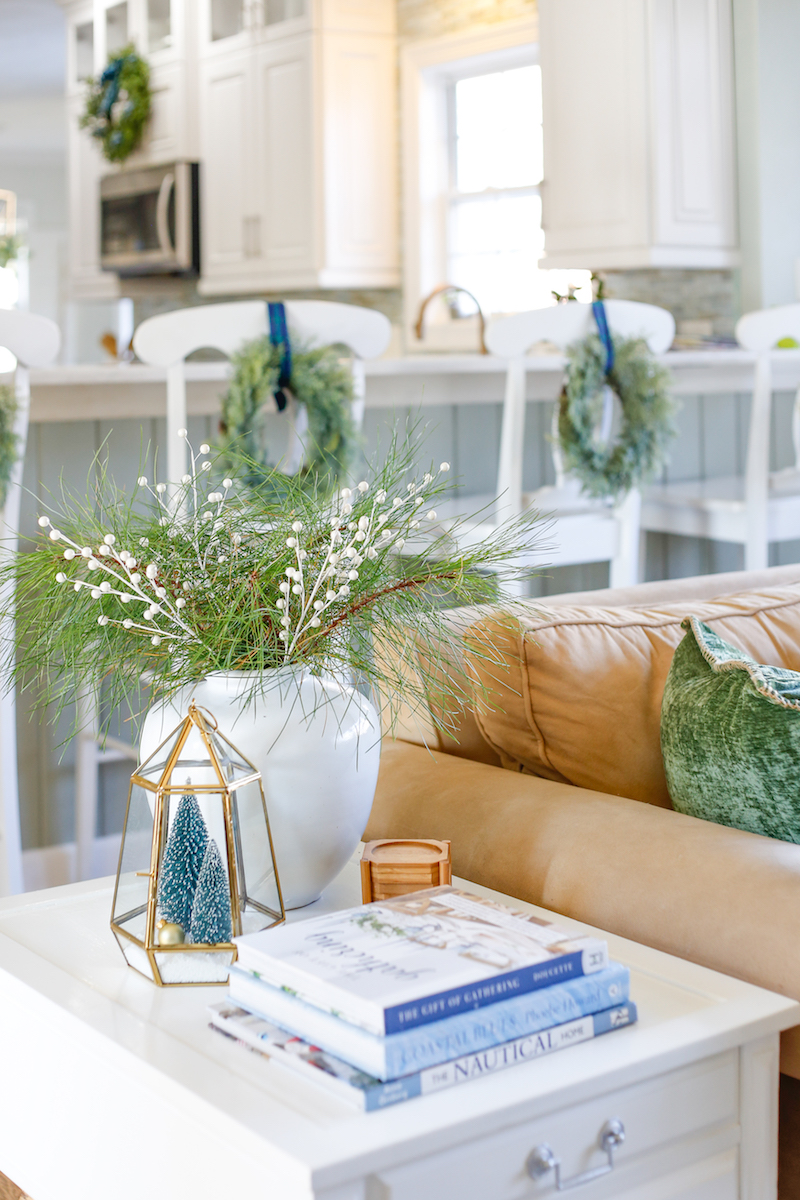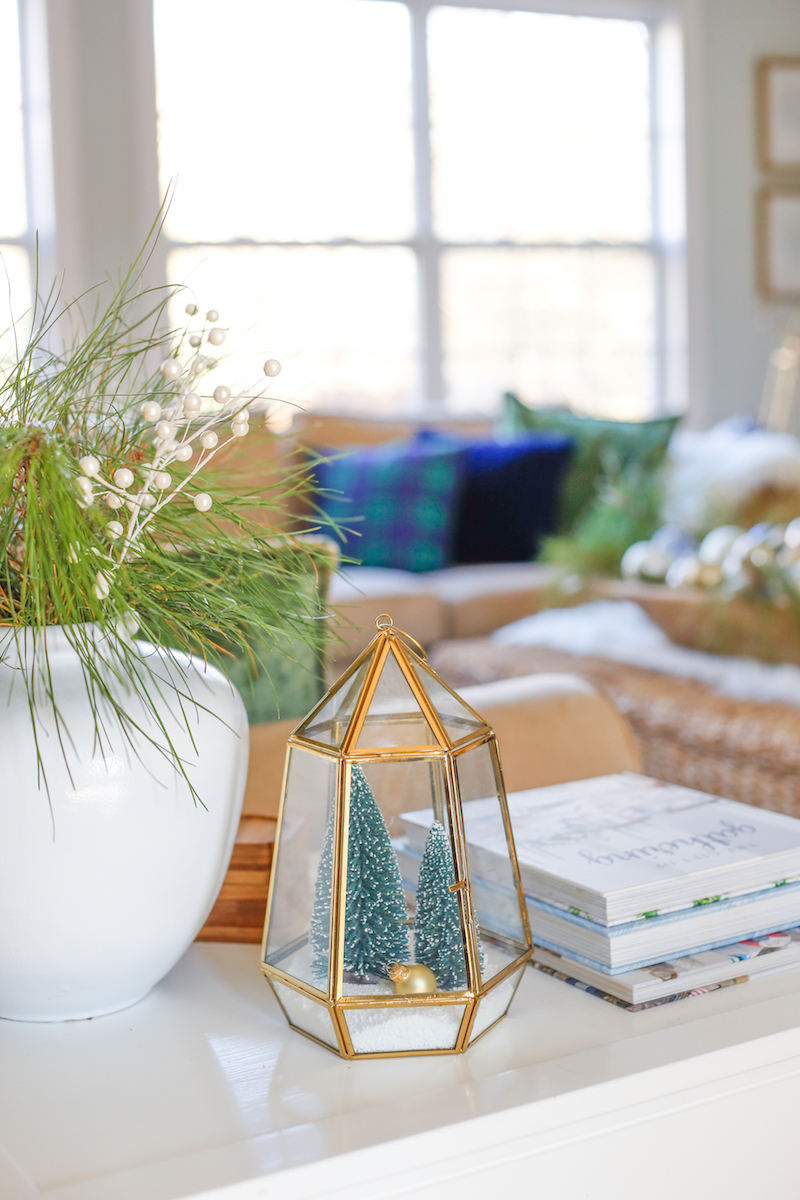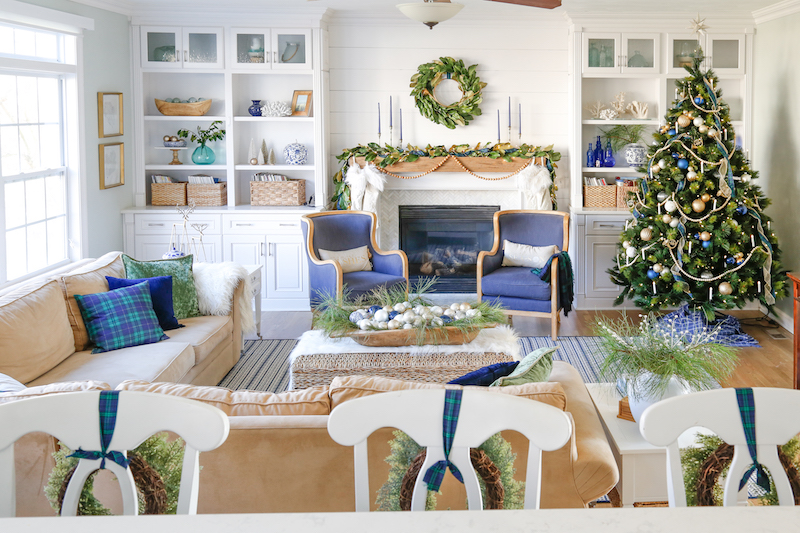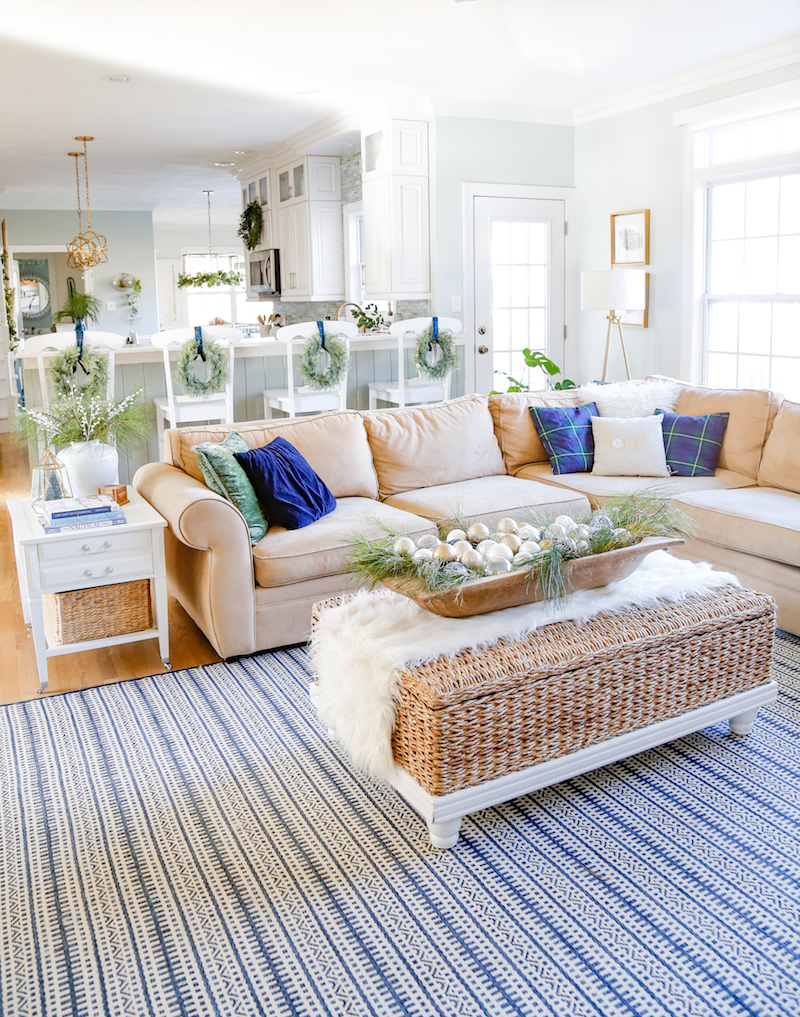 Living Room Sources: Christmas Tree – Balsam Hill, Wood Beam Mantel Fireplace, Navy Chairs- Pier 1, Indoor/Outdoor Rug- Target, Sectional Sofa, Magnolia Wreath and Garland – Balsam Hill, Faux Fur Stockings- HomeGoods | Sea Grass Coffee Table| Faux Fur Table Runner | Faux Fur Throw | Faux Fur Pillow Cover | Dough Bowl | Gold Candle Holders – Target | Blackwatch Plaid Pillow Covers | Navy Velvet Pillow Covers | Green Velvet Pillow Covers| Sea Grass Baskets | Chinoiserie Vase| Beaded Garland | Side Tables | Chinoiserie Porcelain Balls | Green & Blue Plaid Ribbon |Paint Colors: Walls- Sea Salt by Sherwin Williams, Woodwork and Trim- Extra White by Sherwin Williams
Coastal Christmas Kitchen 2020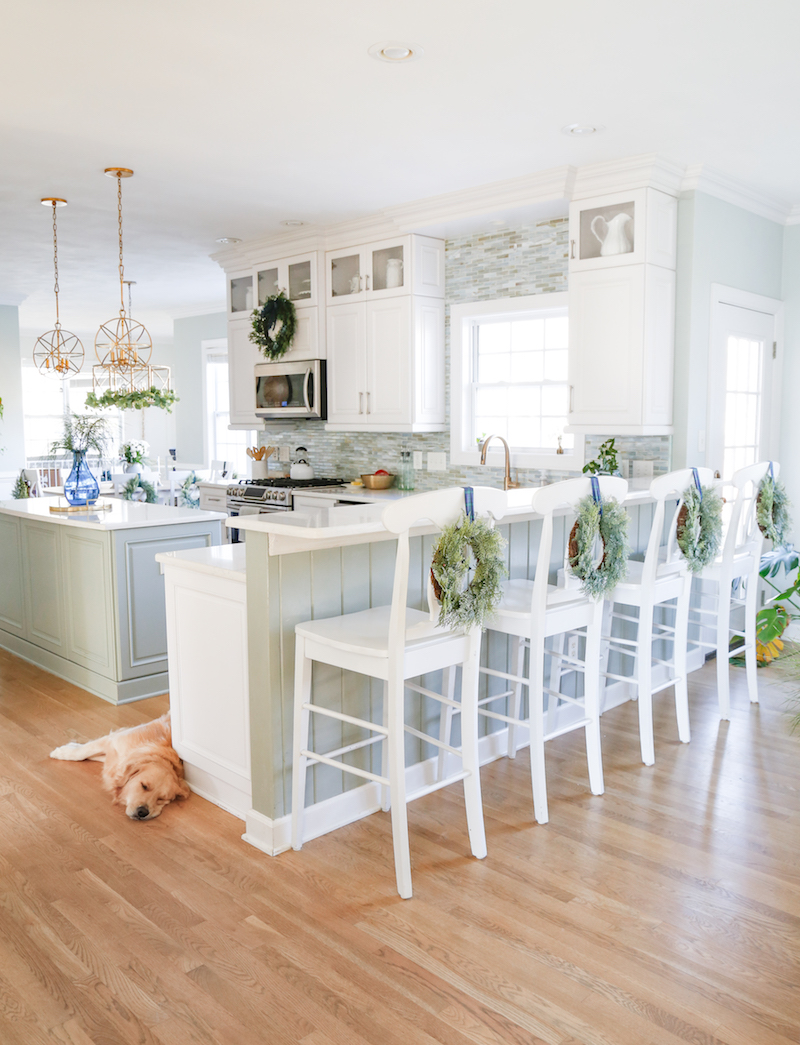 Blue and Green plaid ribbon and greenery was all it took to decorate our coastal kitchen. Simplicity at it's best.
Our kitchen dining area was adorned in the same eucalyptus garland that we used on the staircase. The little cedar wreaths were all from AtHome and were $5 each. I use them every year!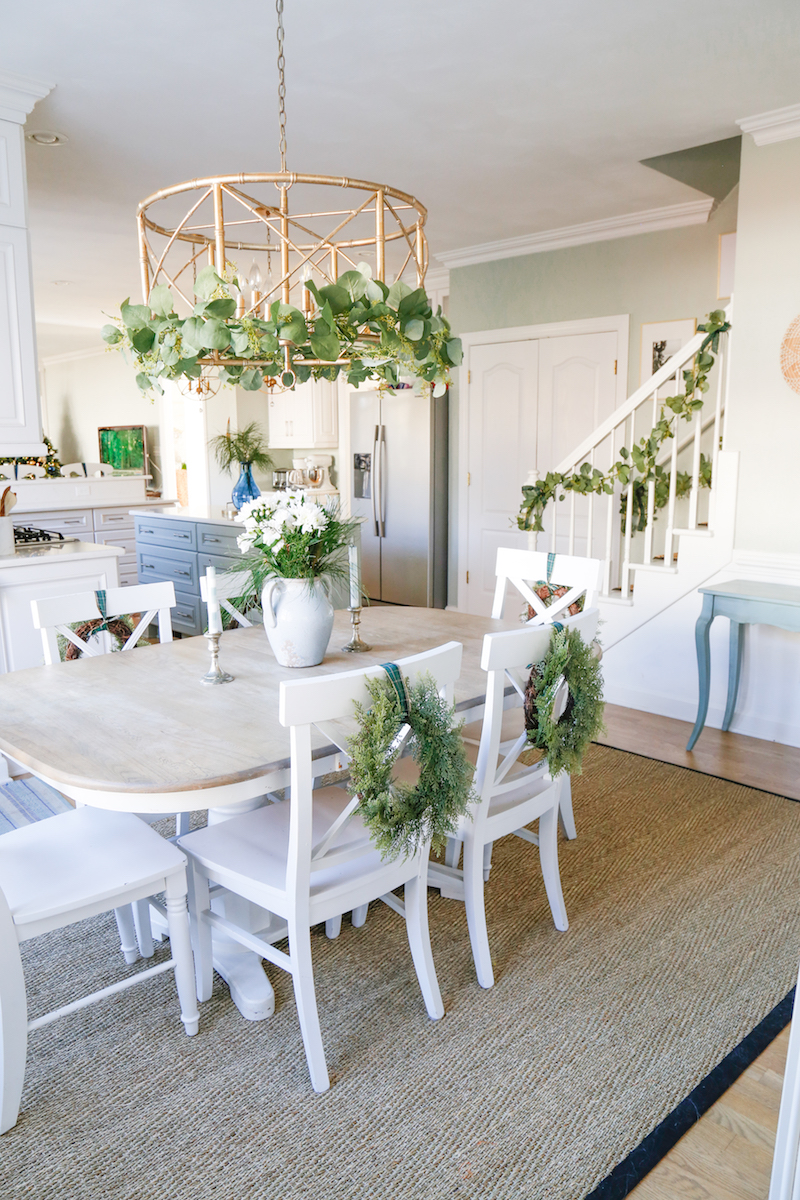 I'm excited to start spending time in our decorated kitchen and my kiddos and I are planning a massive quarantine Christmas baking fest! We will drown our stresses in delicious goodness! I hope you enjoy our downstairs green and blue plaid Christmas home tour! Blessings to you and your family!
KIM