If there is one small piece of personal, artistic expression you might have in your home, it is styling your coffee table! I love decorating my coffee table and today I'm excited to share my tried and true tips on how to style a coffee table using basic geometry! Now don't freak out, no math is required! Basic elementary shapes will be the foundation of multiple and amazing designs that you can easily create. Once you recognize these visual design shape formations and how to style within them, decorating will be easier than you've ever expected!
There are a basic design elements that should be considered and/or included in your styling:
shape
multiple textures
a coordinating color scheme
organic or living items
personal/meaningful items
I've provided a video demonstrating a step-by-step tried and true coffee table styling tips. I hope you check it out below! Click on the FULL SCREEN option for best viewing! (UPDATE: MUSIC IS REMOVED FOR EASIER LISTENING PLEASURE)
How to Style a Coffee Table: Visual Right Triangle Formation
Styling with a right triangle formation is probably one of my favor ways to style. This is the formation I focus on in the video. The look is always visually appealing and works well as a principle for styling bookshelves too. The idea is to start with a tall decor element that is the main focal point and then draw the eye downward on a diagonal to another decor element.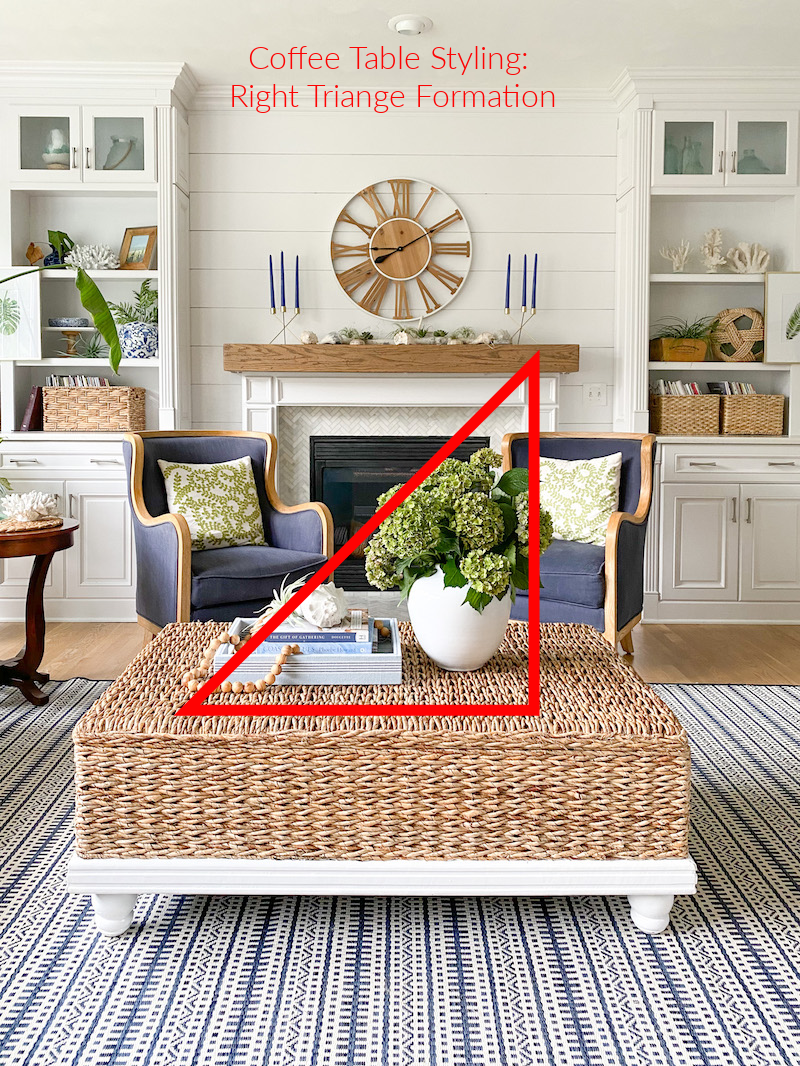 Create a High Focal Point
For the highest point of the triangle I like using a tall flower arrangement, house plant, or even clippings of leafy branches from a tree. You could also use a tall candelabra, a grouping of tall candle pillars with staggering heights, or a tall sculptural piece. These hydrangeas came from my garden and the ceramic vase is one that I pulled out of the attic. The vase was originally red ceramic and I spray painted it white to coordinate with my current decor.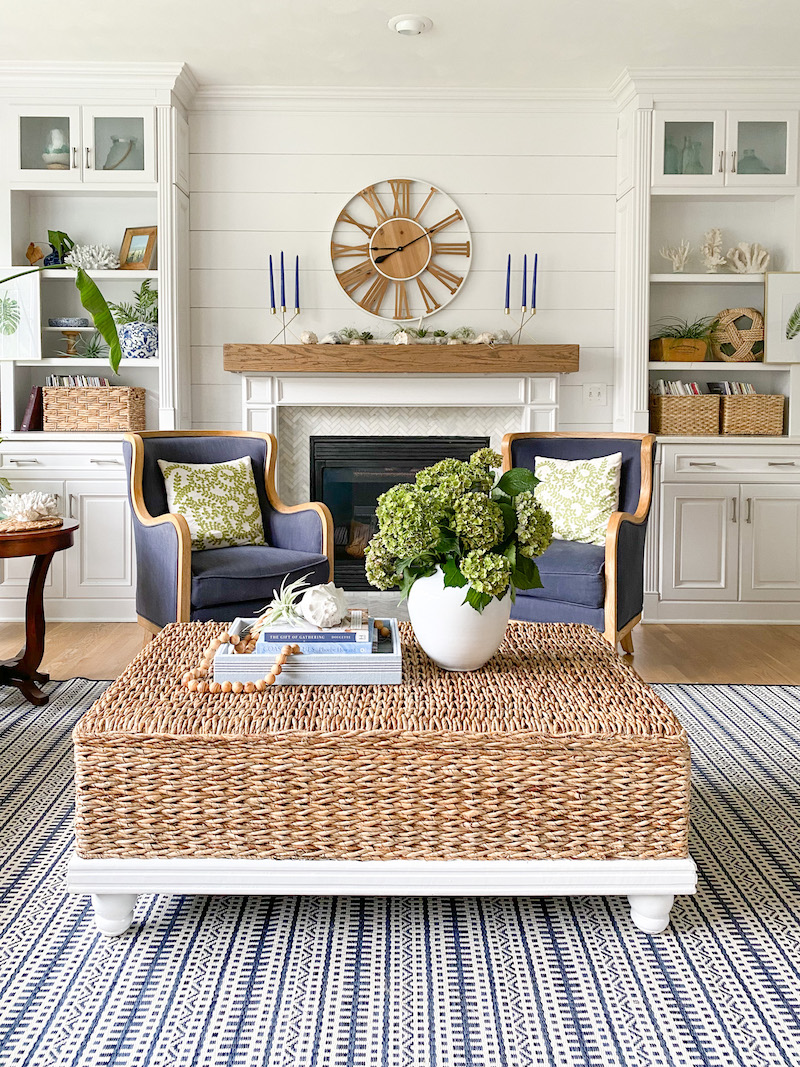 Draw the Eye Diagonally Downward
For this I used a tray filled with books and decor. Trays are wonderful for keeping items nice and tidy and not only are they practical, they are a beautiful decor element. I filled the tray with my favorite coastal coffee table books and topped it with large sea shell my kids found at the ocean and a faux air plant to add another element of "life" and also repeat the green color in the blue, white and green color scheme. The height of the shell on the stack of books helps create that visual slant of the right triangle. The to make sure the vignette wasn't too rigid looking, I casually draped a wood bead strand on the tray and extended it outward to draw the eye to the bottom point of the triangle.
(Affiliate link: To shop for my abaca storage coffee table click HERE)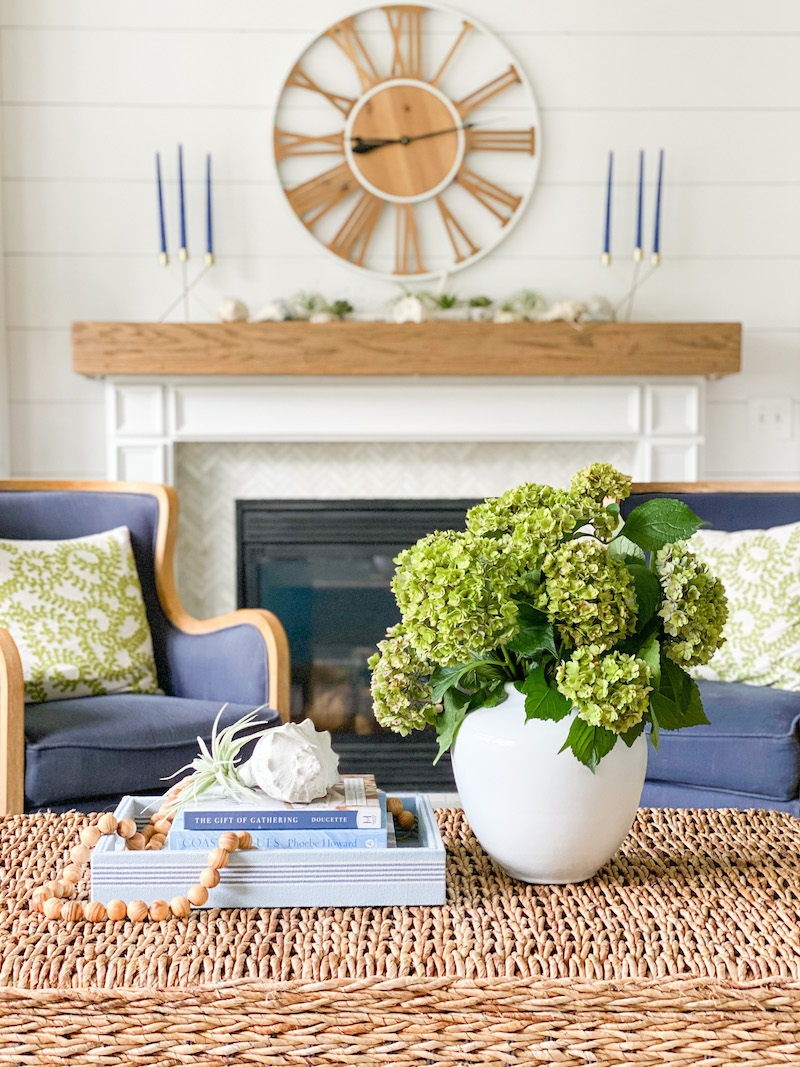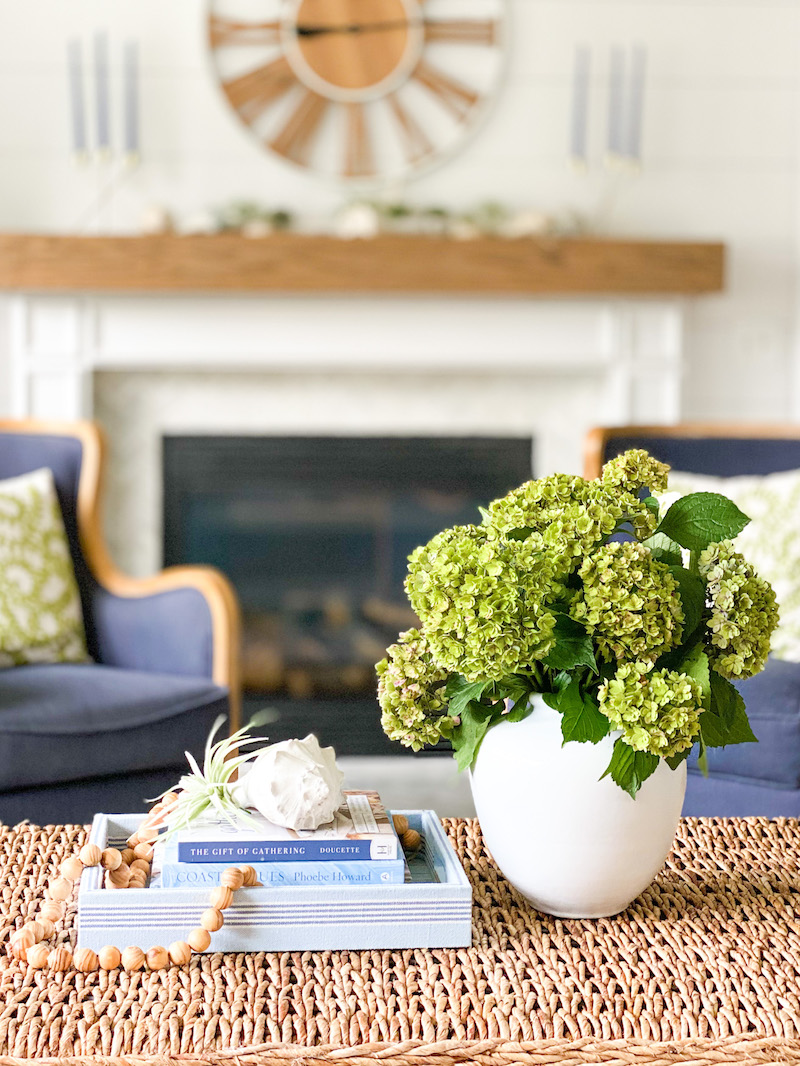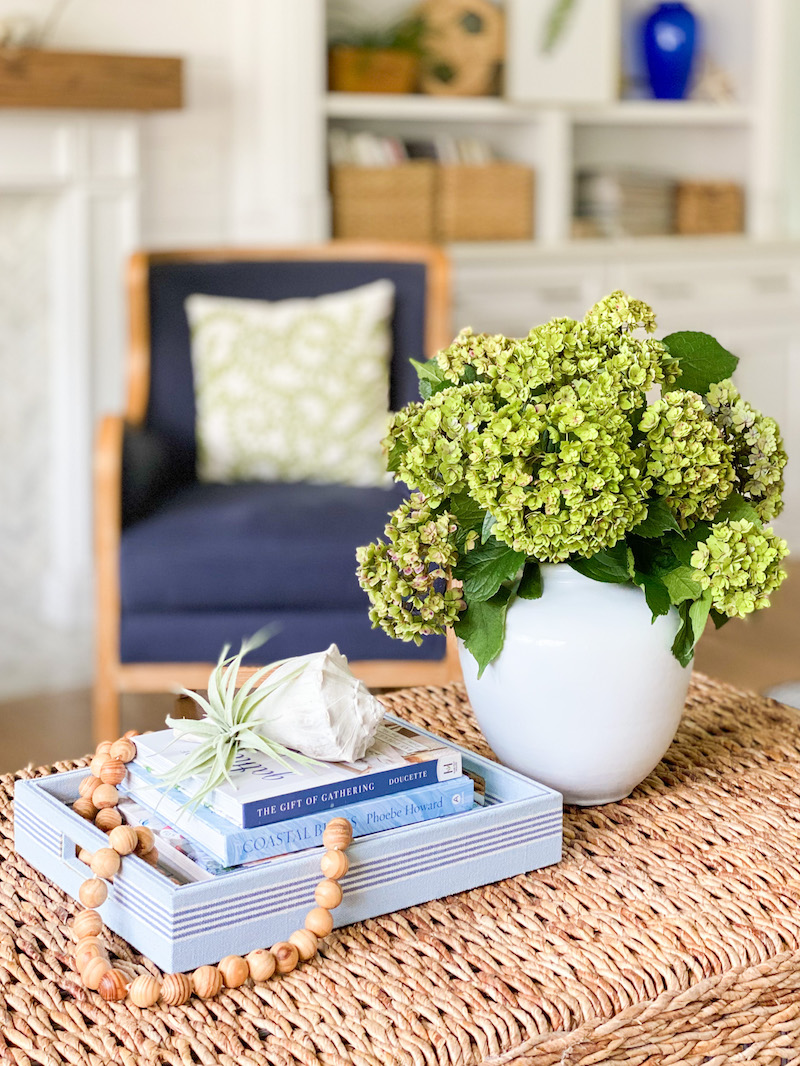 Here is another example of a coffee table styled with triangle formation for Christmas!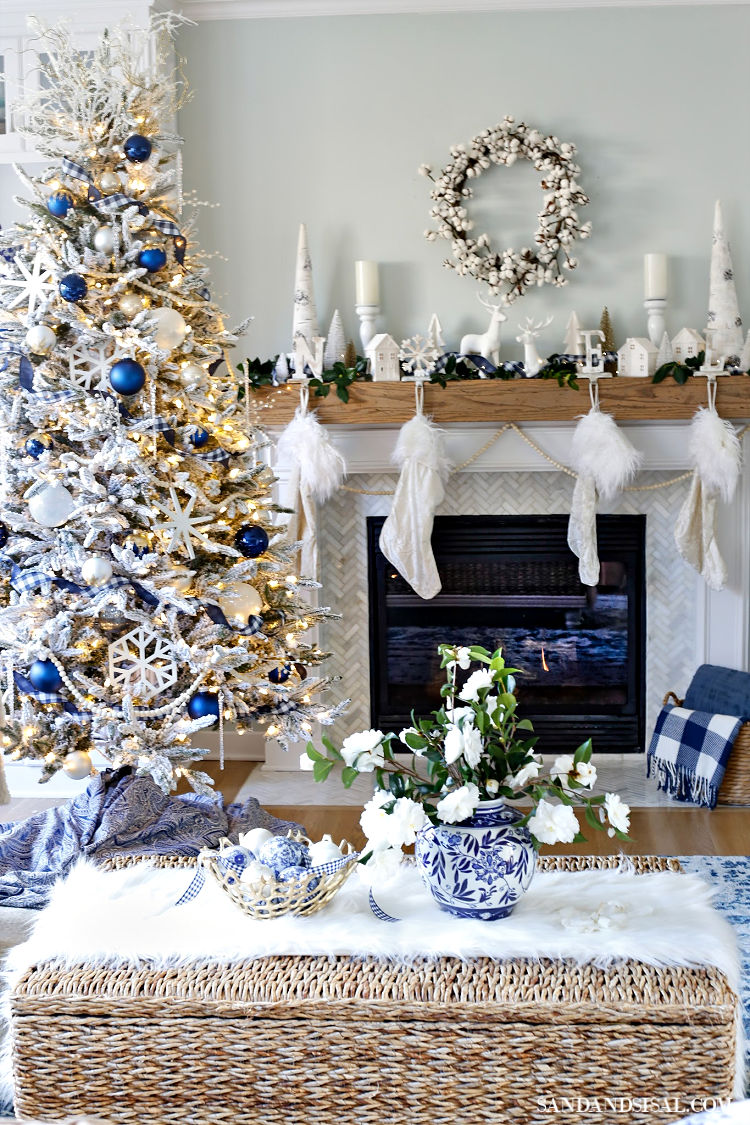 How to Style a Coffee Table – Visual Circle Formation
The circle formation is the easiest and fastest way to style a coffee table. All you need is one, dramatic, center focal point. A tall floral centerpiece always a great choice. Don't make it too tall though! People sitting on the sofas and chairs surrounding the coffee table should be able to see over the centerpiece easily. To make it more interesting and visually grounded, place the centerpiece on a tray, a placemat, or add a table runner to the coffee table. (A cute pup posing nearby doesn't hurt either!)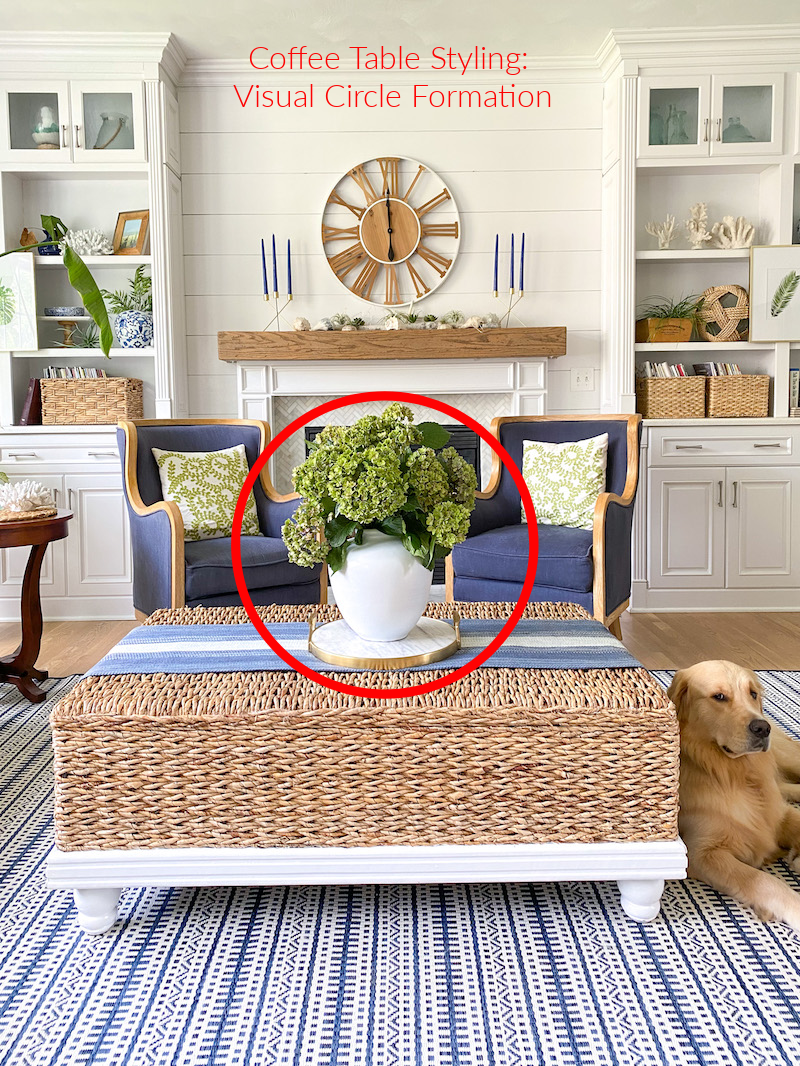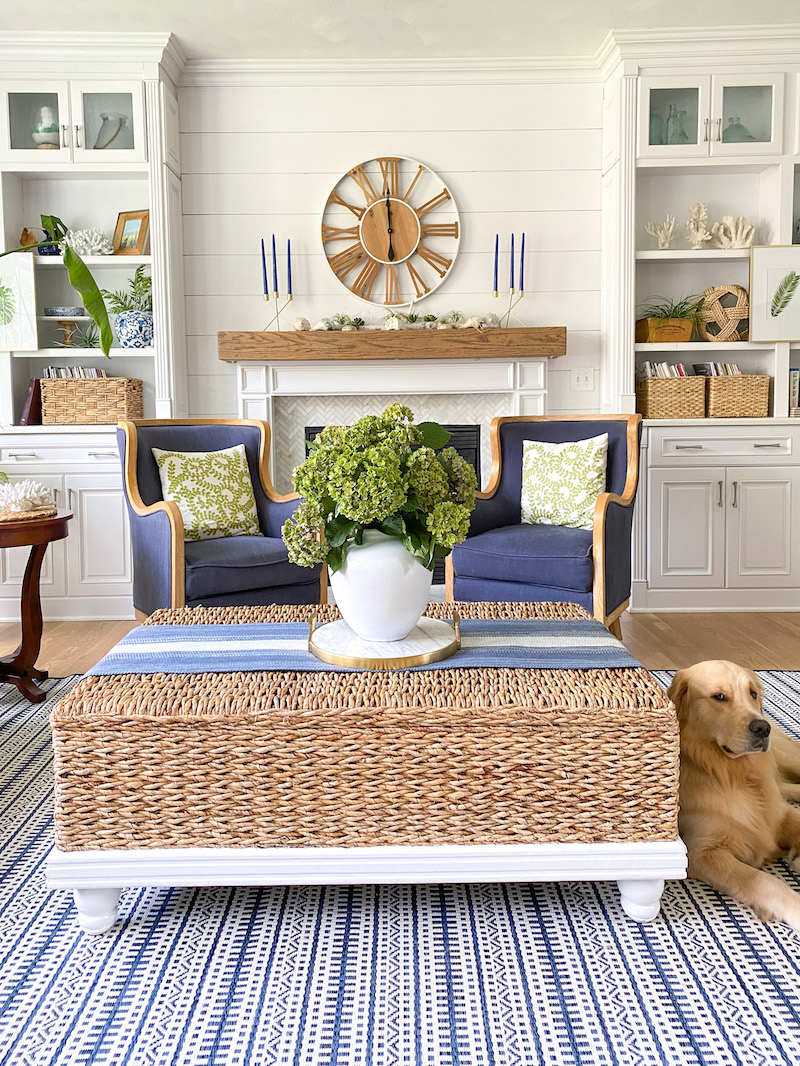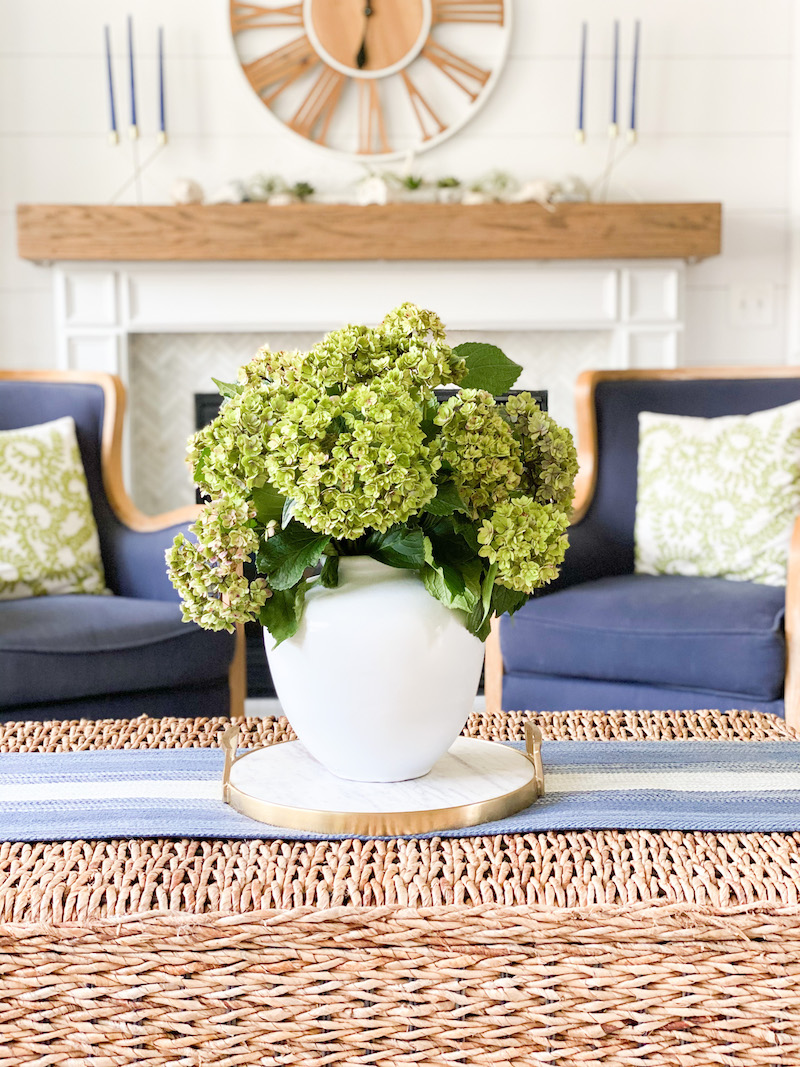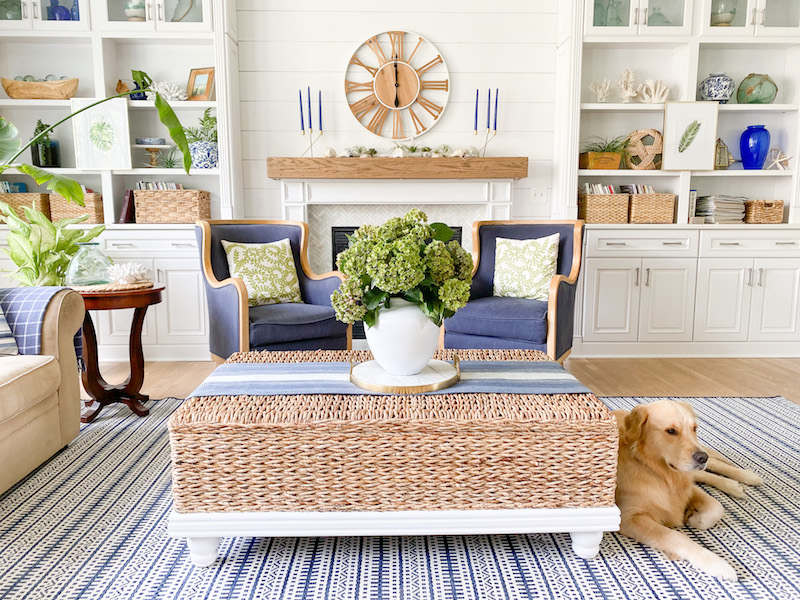 Here are some other past examples of how I've styled my coffee table with a circle formation.
See more of the family room all decked out for fall and how to make that pumpkin centerpiece HERE.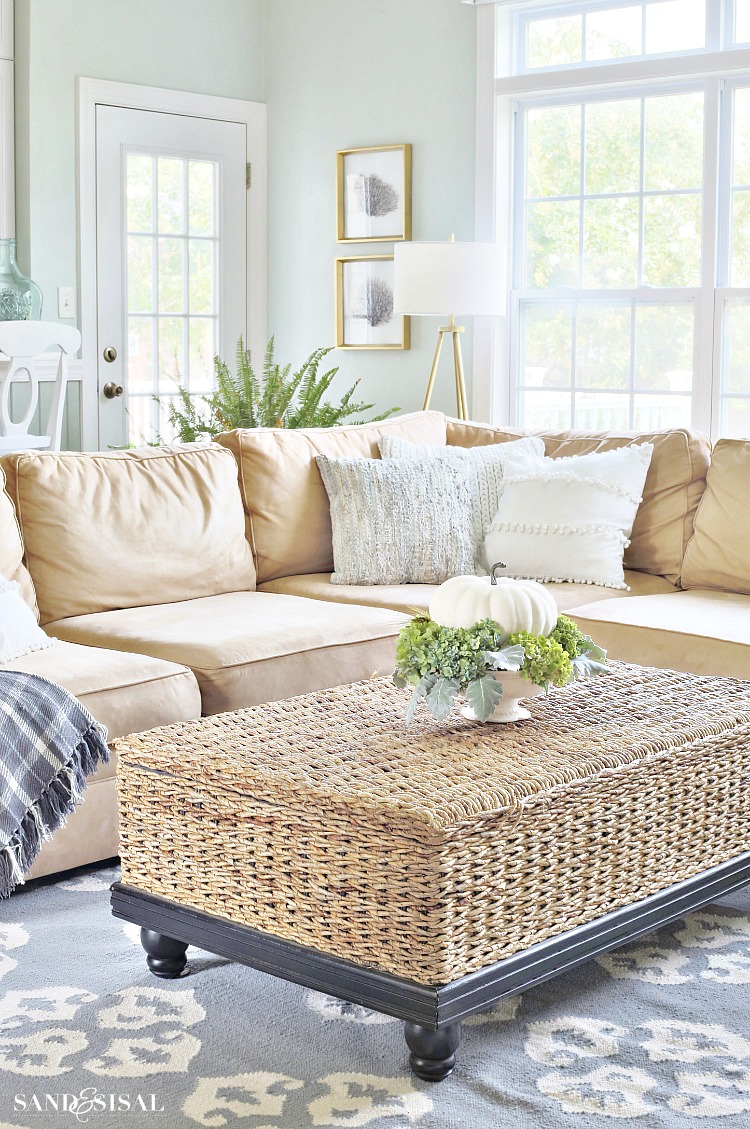 See more of this room below with navy and neutral fall decor HERE.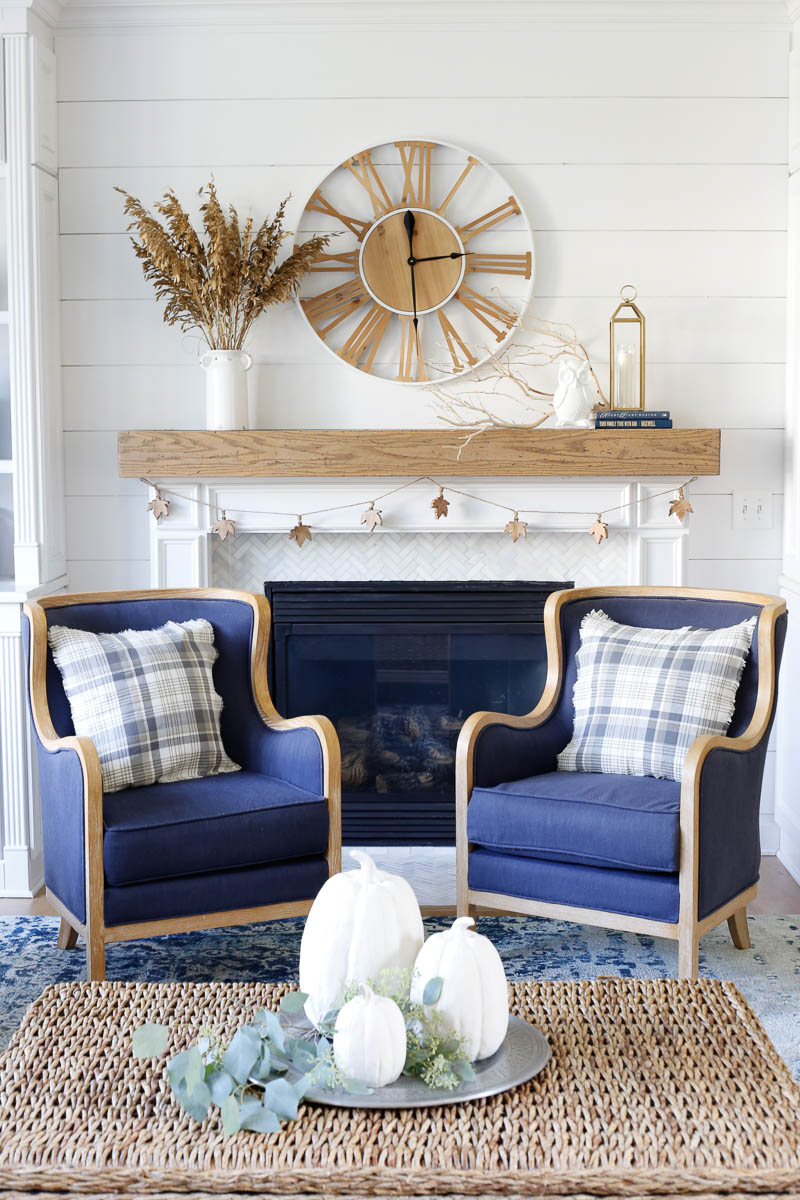 See more of this spring family room decorated in aqua and yellow HERE.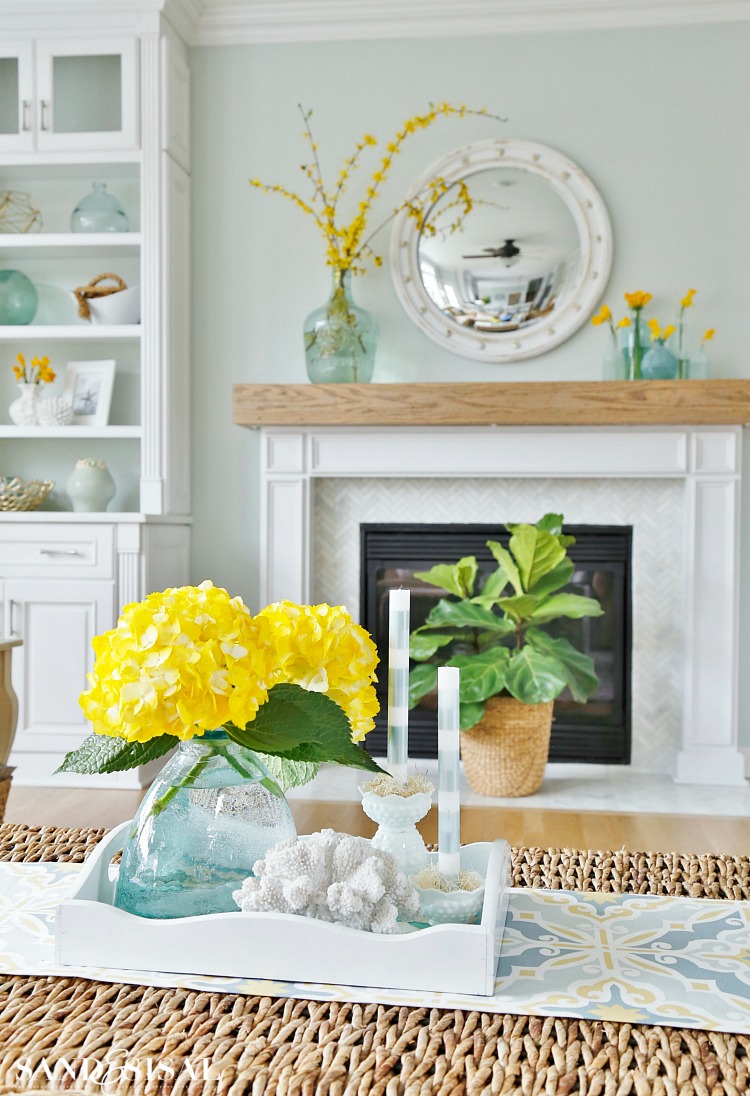 How to Style a Coffee Table: Equilateral Triangle Formation
Styling a coffee table with an equilateral triangle formation is an easy option. The concept is the same as the circle formation, except you add symmetry to each side by adding matching decor items that are shorter than the centerpiece. The vignette is very balanced and lends itself to a more formal appearance. This display is most commonly used on dinner tables but lends itself nicely to coffee tables too.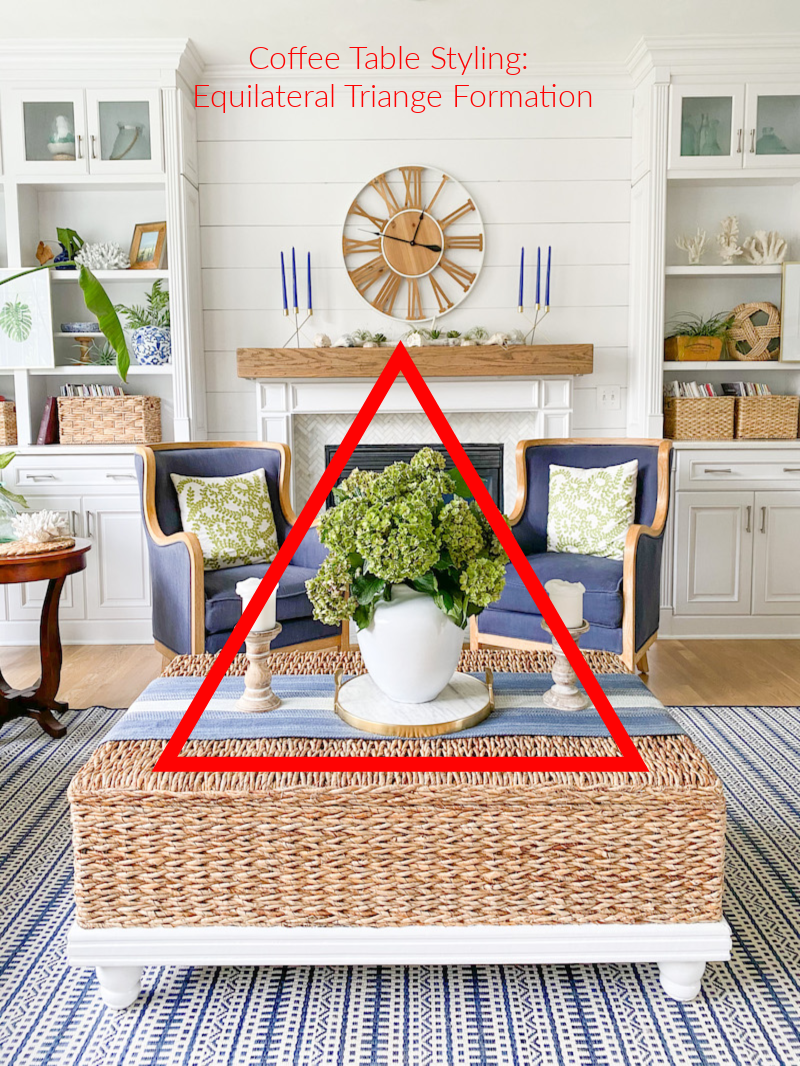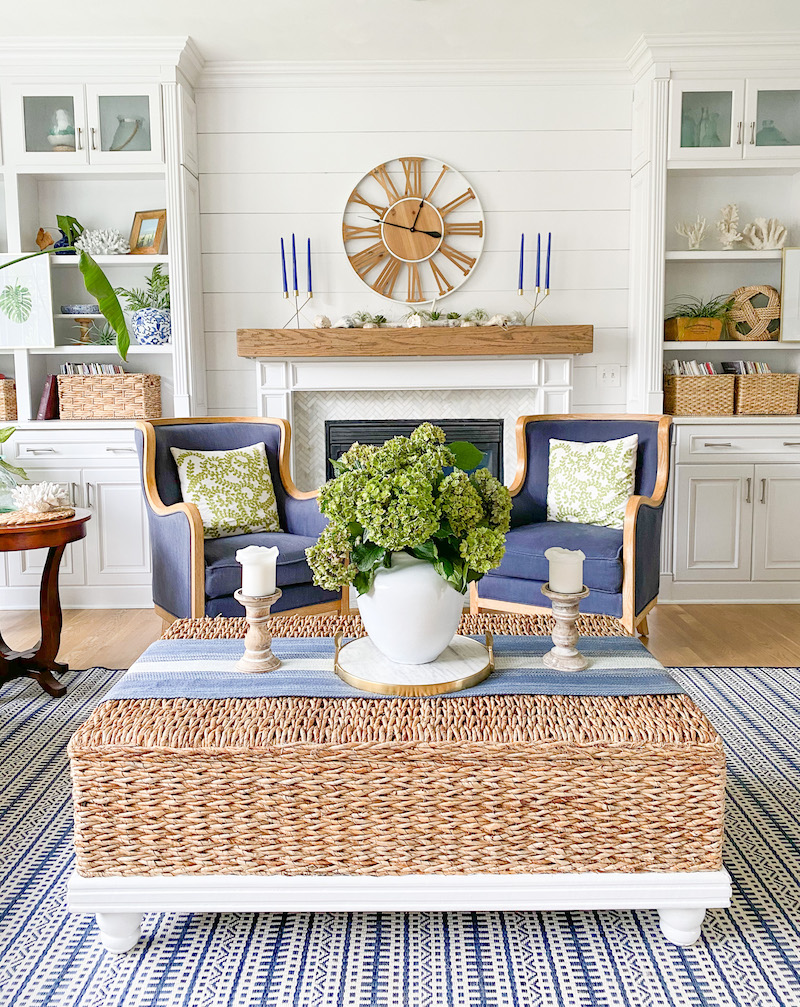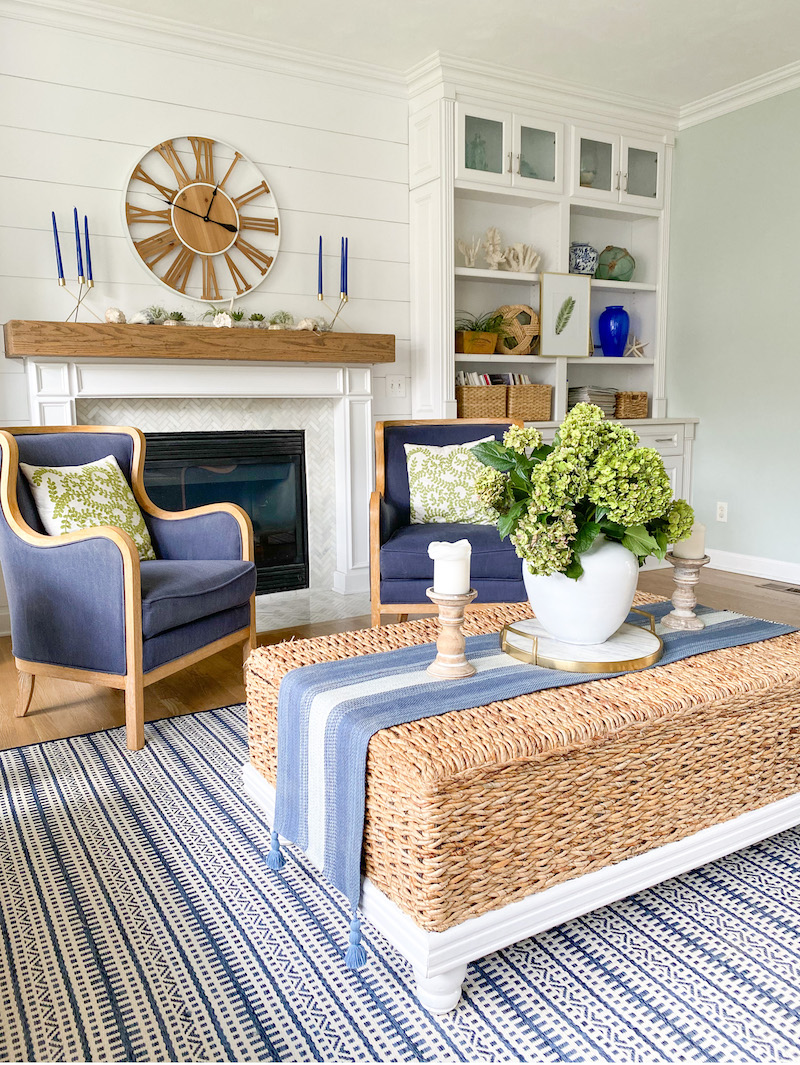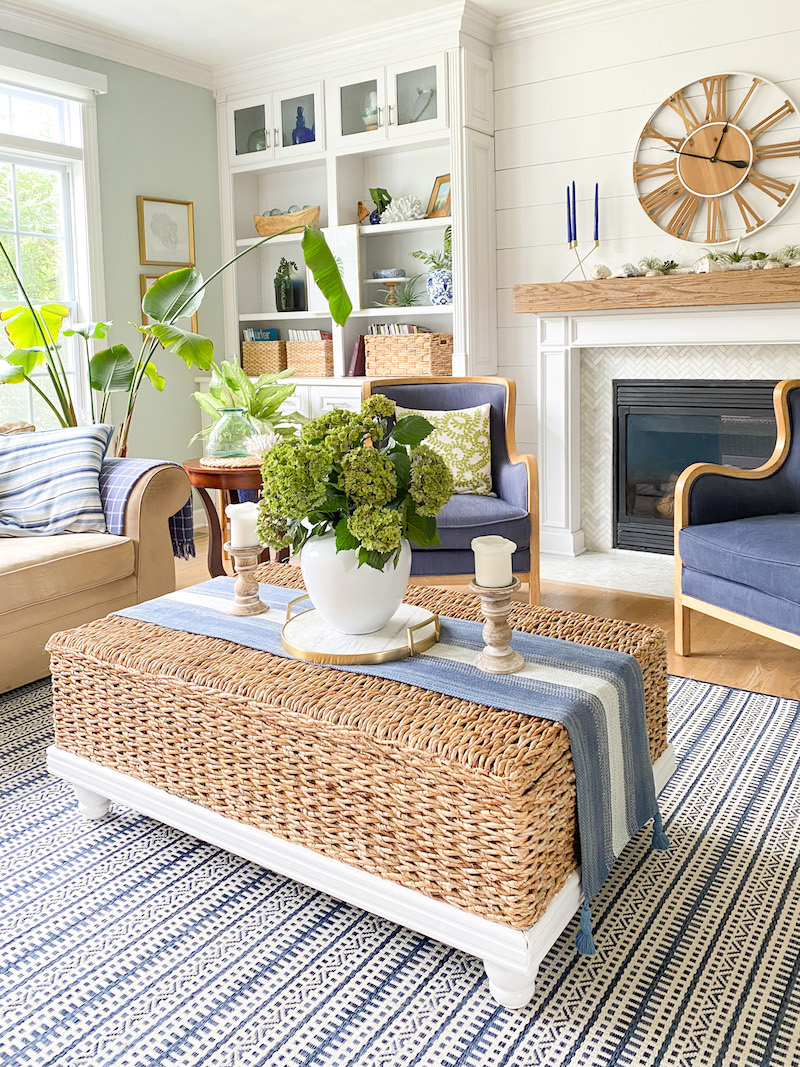 The decor items are not restricted to being identical. In this case, the overall look works because the candle pillars are differing heights and the stack of books and shell add balance to the other side with width, size and color.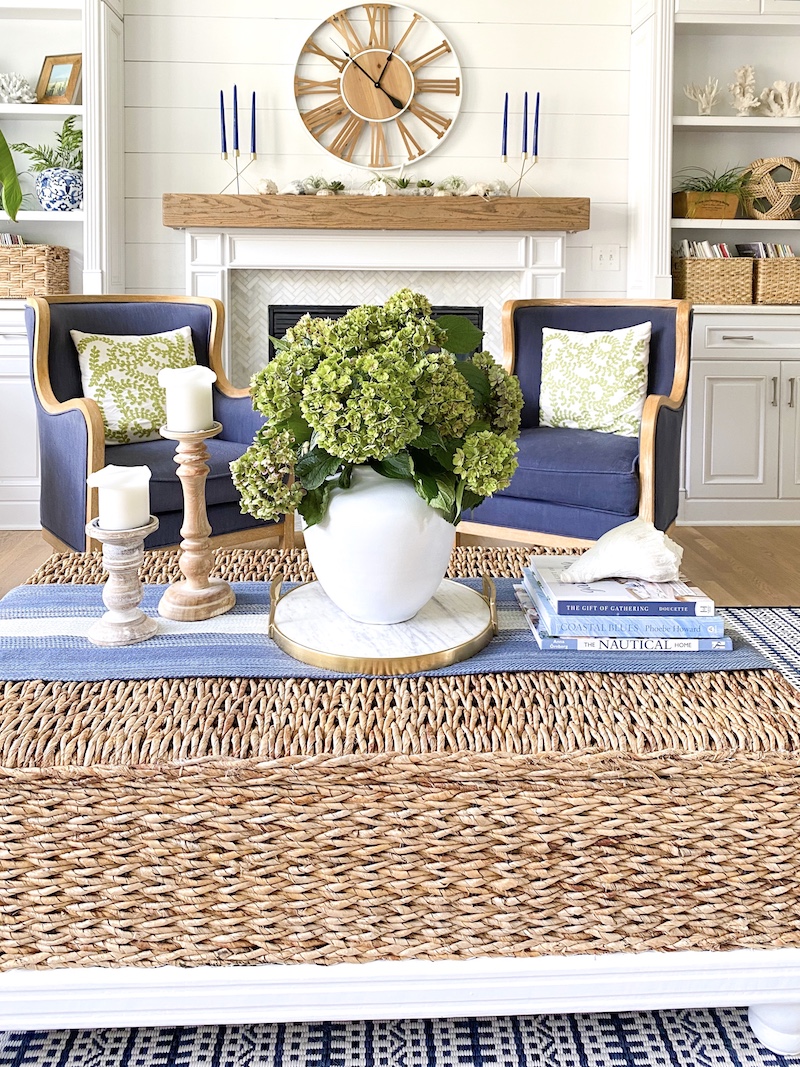 How to Style a Coffee Table: Visual Rectangular Formation
And the last shape we are going to look at is a rectangle. Using a rectangle formation isn't always the most interesting because of the lack of height differences with your items, but it can be interesting depending upon the decor items you choose! The object here is to use fill the table by 2/3 or 3/4 with either a long, singular item, like a wood trough centerpiece or dough bowl filled with natural and organic objects. Or 2 groupings like a pedestal tray and a flower arrangement as seen in photos below. Or you could even do a trio grouping of items like stacks of coffee table books on top of a fabric runner.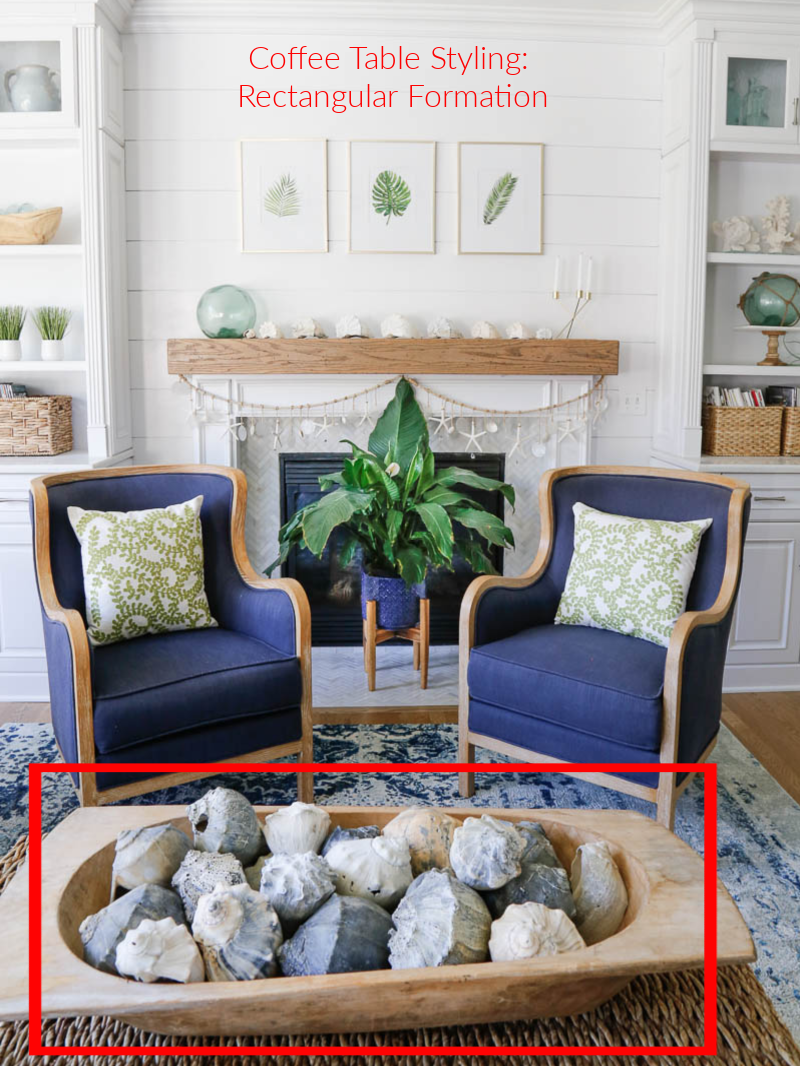 See more of this room below HERE
See more of this room below HERE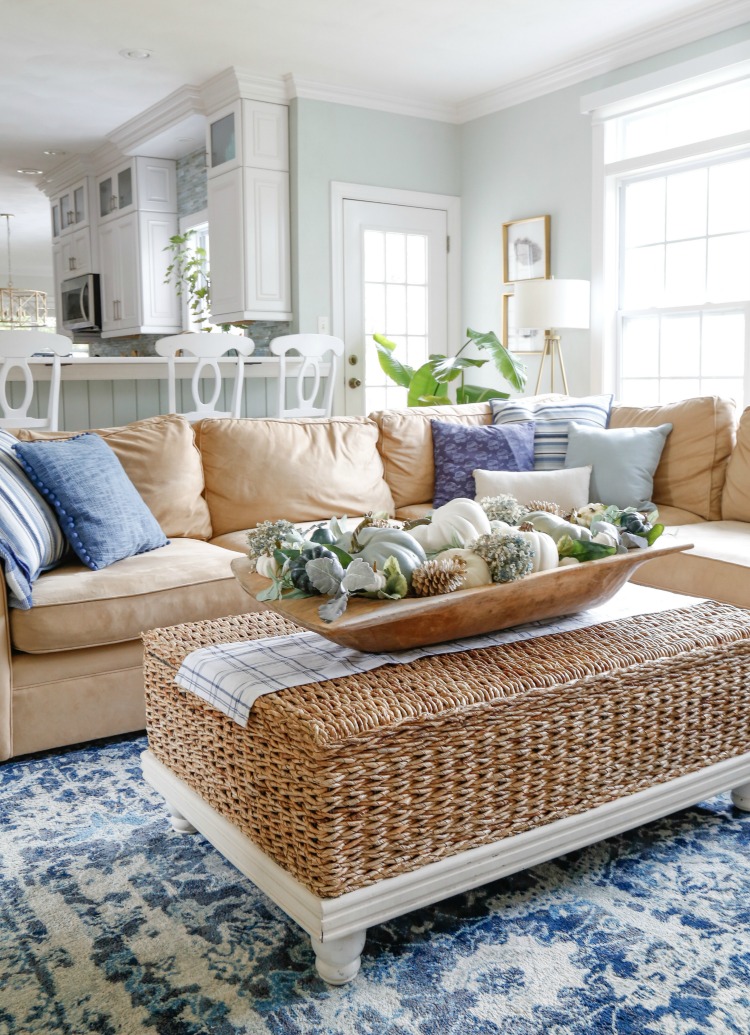 See more of this room below HERE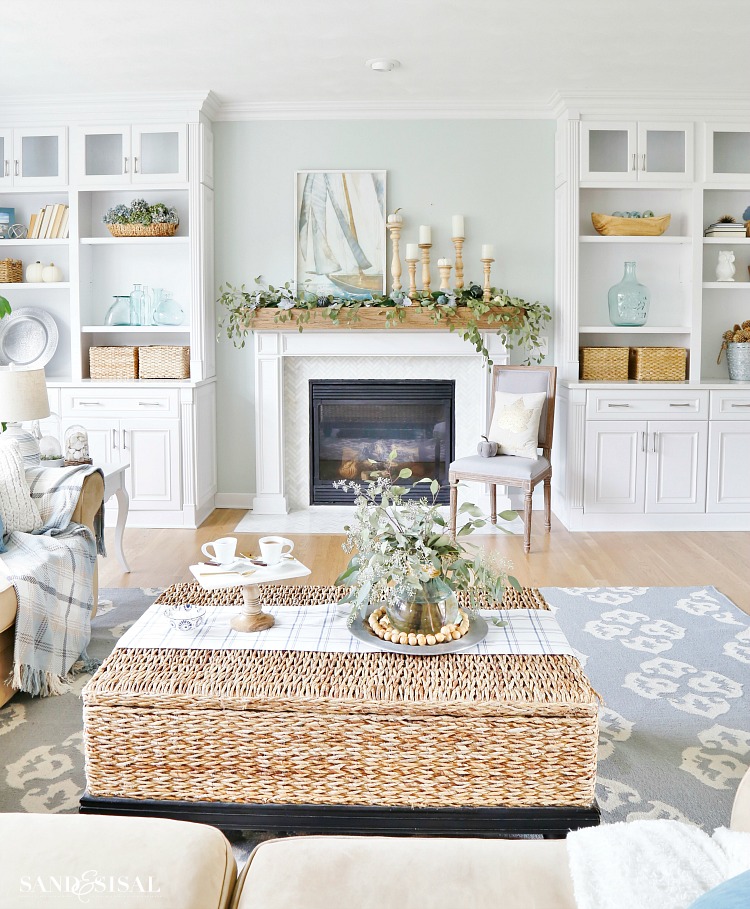 I hope you were able to glean some of these tried and true tips for styling a coffee table! Which is your favorite way to style your coffee table?
(Affiliate link: To shop for my abaca storage coffee table click HERE and PS- I painted the base from black to white after 5 years! I love the coffee table and it has held up for a decade so far! It is 4 ft across but there are many smaller options available).
Happy Decorating!
KIM