Summer is in full swing outdoors so why not make the inside of your home feel like a summer vacation too? We had to postpone our annual trip to Hatteras Island, NC this year again because of college and upcoming wedding expenses for our daughters. Regardless, this mama has to have her summer beach vacay vibe though! I've added a few simple decor touches to help bring that beachside living feeling indoors, but without looking kitschy (as always). Today we're going to talk about How to Create a Summer Beach House Retreat in Your Living Room!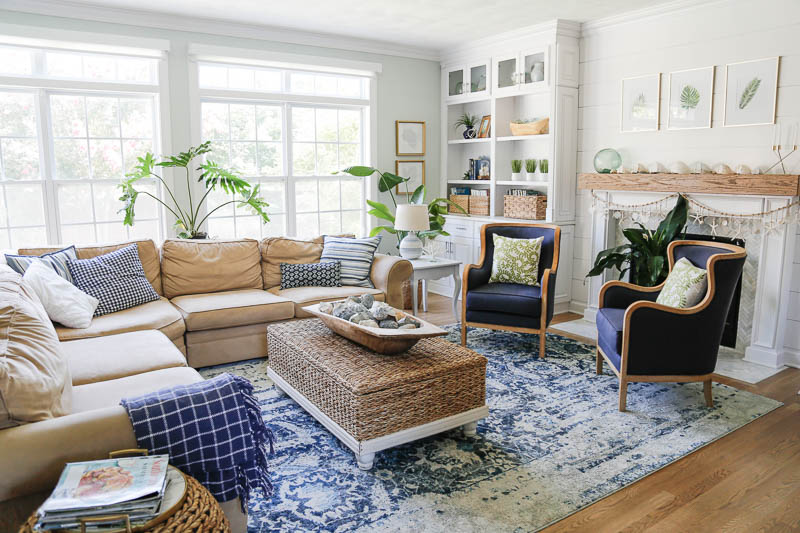 Create a Sea Inspired Color Palette
The colors of the sea and beach have always been an inspiration in my home. Depending on the mood and purpose of the room, I choose a color palette ranging from bright fluffy cloud white, to dark deep sea navy blue, to shades of sea foam bluish gray greens, watery blue skies, and then accents of dusty beach grass and lush tropical greens to bring in life, and grounded with a base comprised of sandy or weathered driftwood tones.
Layer Up on Natural Textures
How we created a summer beach house retreat in the living room was to bring in a multitude of natural textures, furnishings, fabrics and accessories. We focused on furnishings upholstered in fabrics like linen or high performance "suede". These are all durable and have interesting weaves and textures that add interest to the space. Fabric weaves are the base but then it's time to look at the accessories. Bring in rope, sisal, woven abaca side tables and coffee tables, antique sea glass floats, nubby white faux coral, shells, plants, etc. The key to success in decorating with natural textures is to add patterns and texture but maintaining them in the same concise color palette.
The textures that are repeated here on this bookshelf are coral, sea glass, woven rope accessories and a variety of succulent greenery. All are staggered to create a balance of color, pattern and texture and to keep the eye visually moving across the space.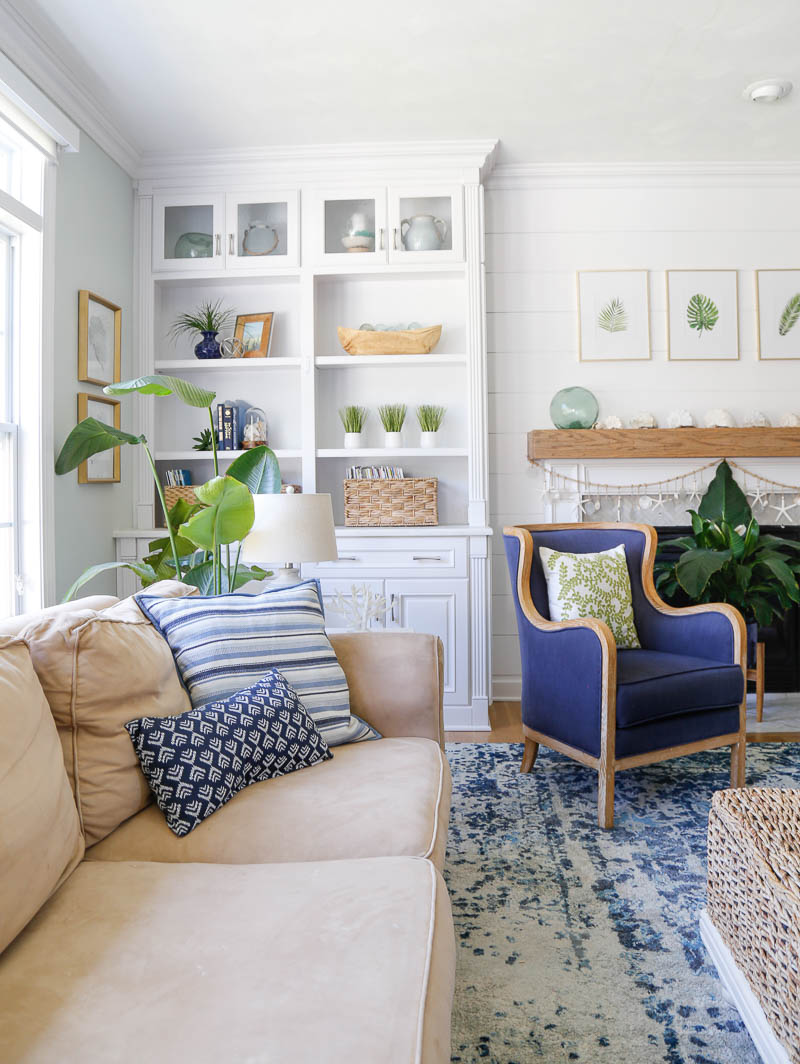 Choosing coffee and side tables made of natural elements like woven abaca also help repeat the pattern an texture without adding visual chaos to the space. Every furnishing piece looks like it belongs and no one element competes against each other.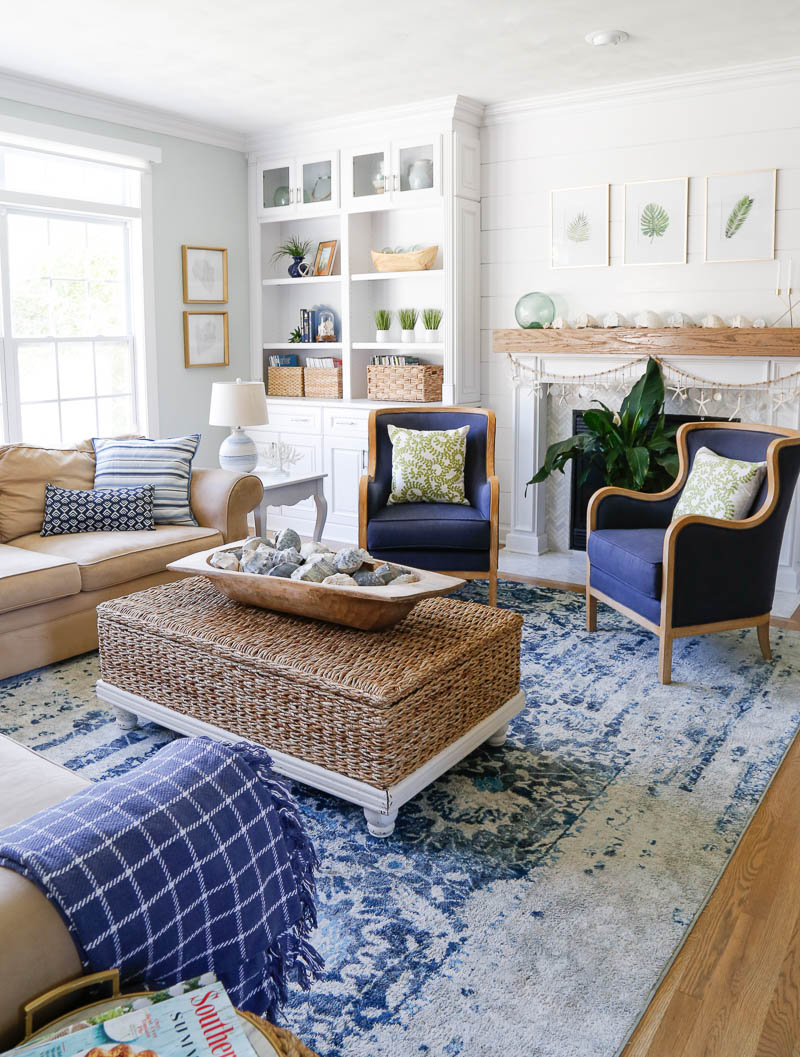 Display Beach Combing Treasures in Collective Groupings
(shells, coral, glass floats)
We all have our beach combing treasures that we have collected over the years. These little nuggets of memories can collect quickly and get buried in closets with no purpose. I challenge you to pull them out and sort them according to type, size and color. We do this as a family during each beach vacation and store them in clear gallon bags or containers which later makes it easy for decorating.
This summer I took all the amazing whelk shells my kids collected on the infamous "Shelly Island" on Hatters Island (OBX) that provided a beautiful yet brief season of amazing surf and shell collecting that blew everyone's minds. We were blessed to venture upon the birth of Shelly Island just 3 months into her creation after a big storm. It was seriously amazing. My kids could not carry all the shells we found! I pulled out all the beautiful white whelk shells and lined them up on the wood beam mantel. A portion of the rest we piled up in a massive antique wood dough bowl.
I also used the clam shells collected and starfish along with capiz shells to make a shimmery sea shell garland, of course I had to add a few crystal drops for extra bling. The click and ding of the shells make for lovely wind sea chimes. You can find my tutorial for it HERE.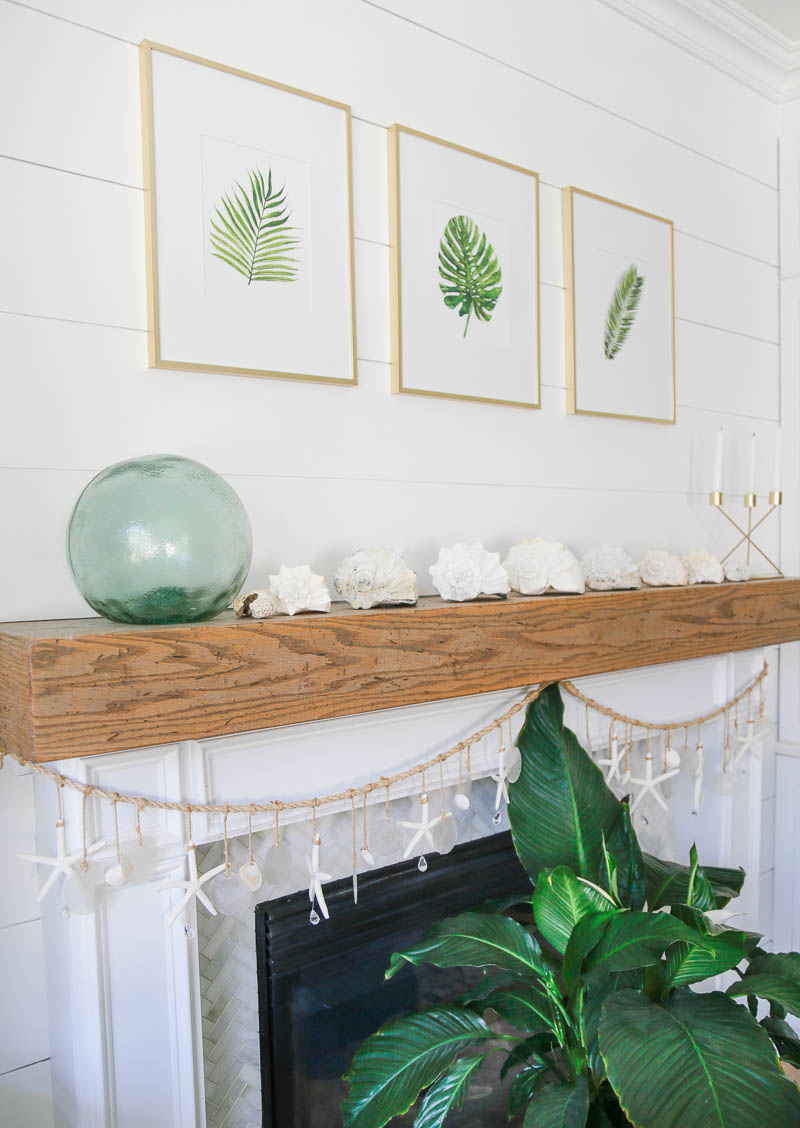 The sea chimes/garland looks so festive hanging from the DIY wood beam mantel.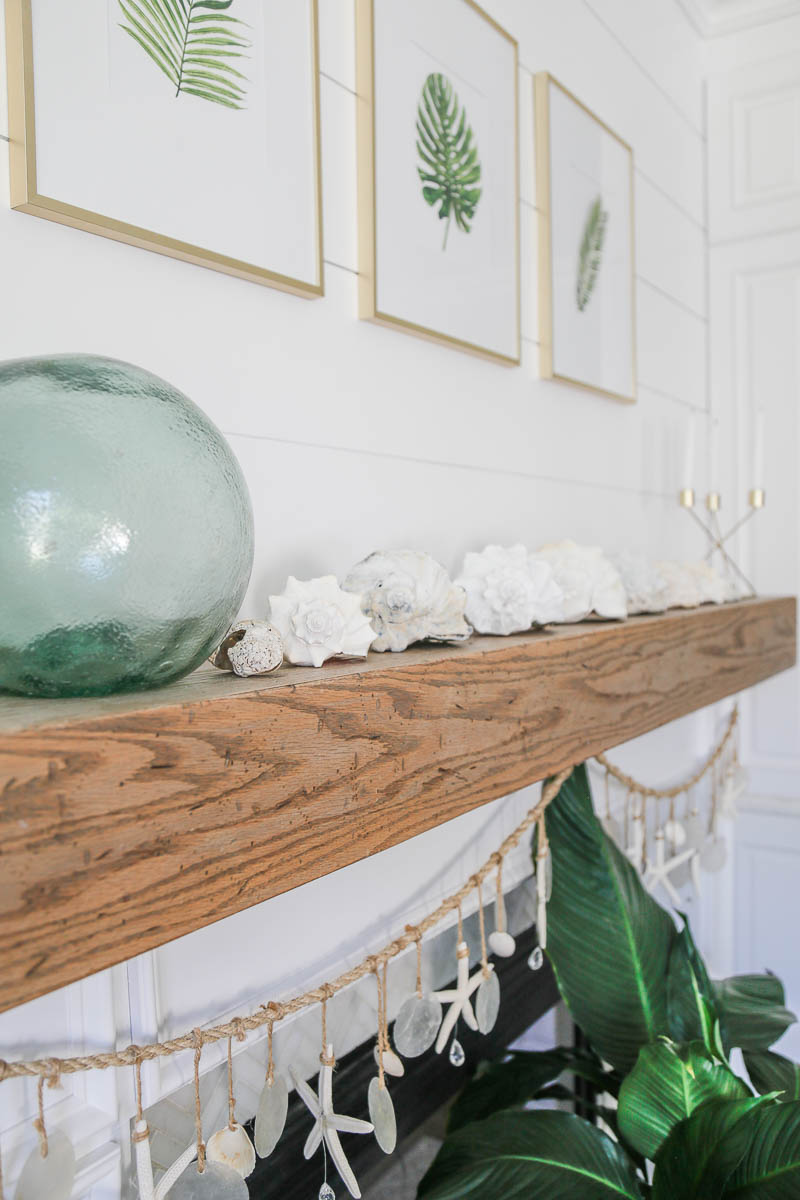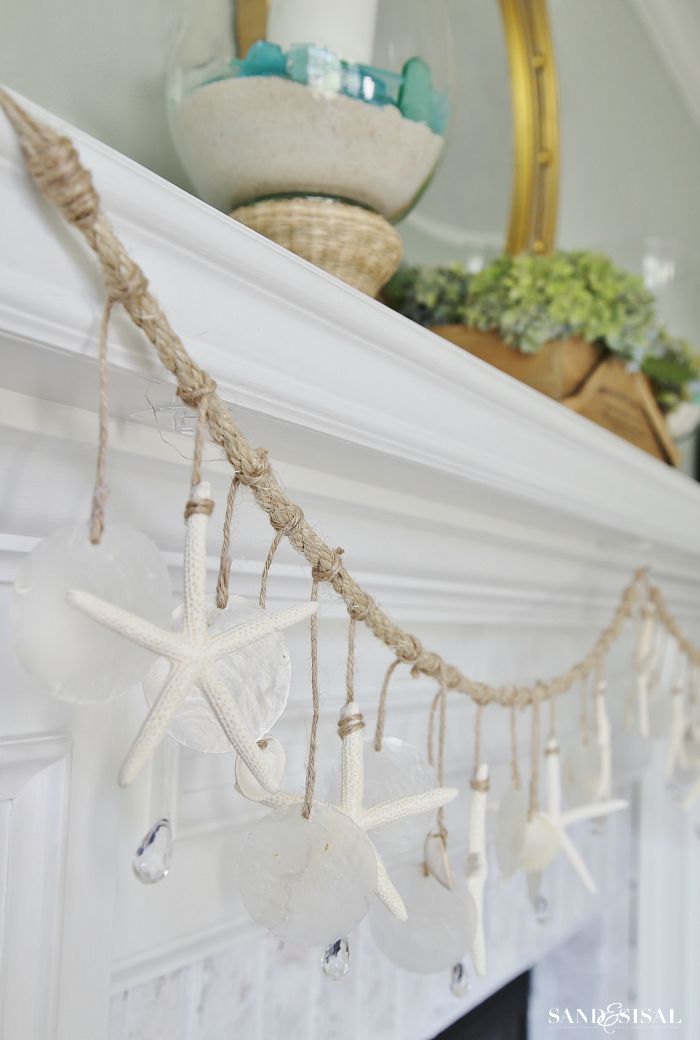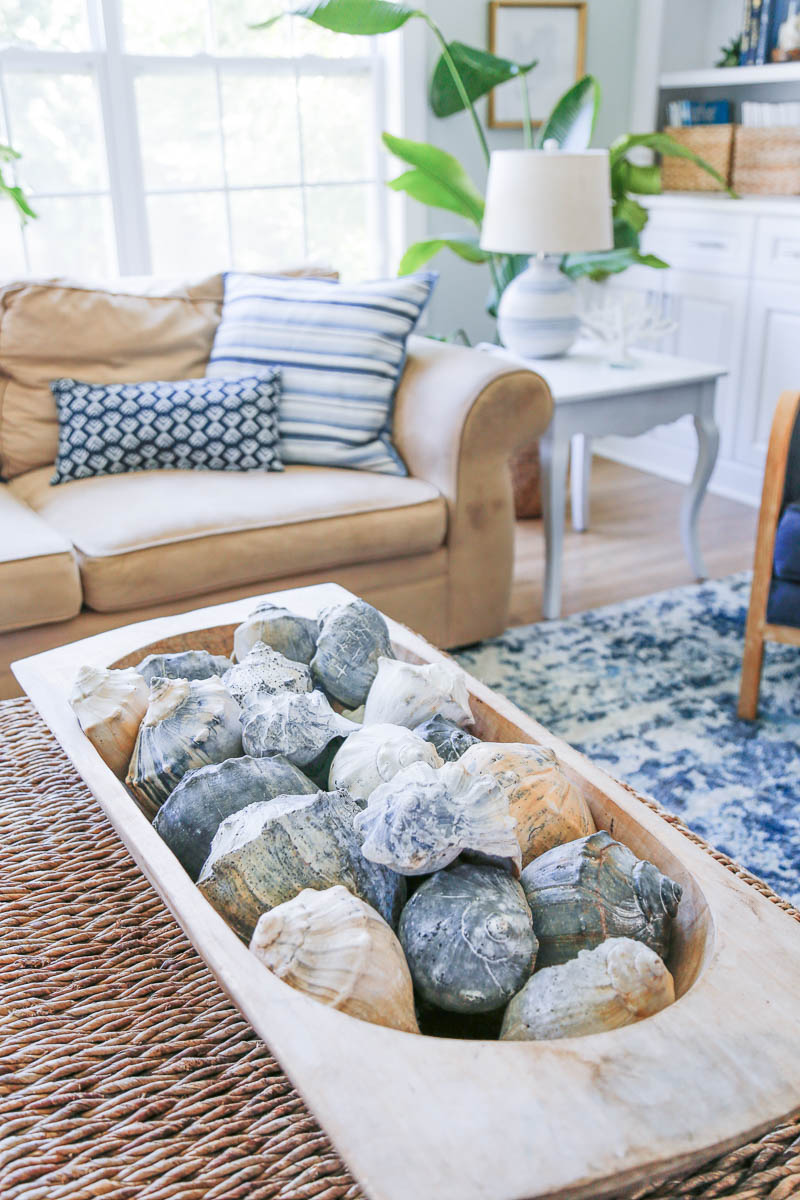 Bring in Lush Tropical Greenery
The beauty of lush tropical greenery is that it can be fresh or quality faux and the visual results will be the same! Tropical plants will instantly transform you room into an oasis. Not only will they add that beachside feeling, but the real plants also help purify the air in your home! If you want to know the Top 10 Houseplants That Clean the Air please click on that blue link. I share my absolute favorite houseplants and also break down for you the exact pollutants and emissions each plant helps eliminate.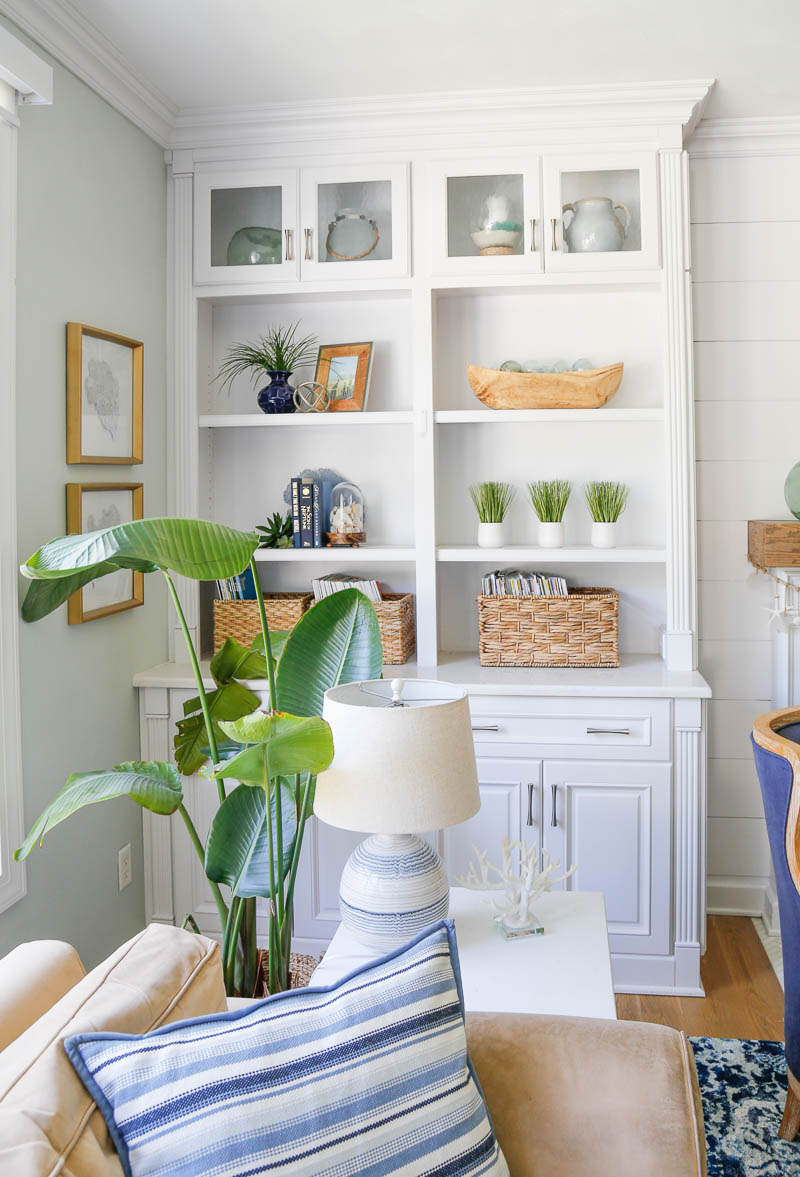 If you have pets, like we do (a puppy and a rabbit and a fish), then you will want to research the plant varieties even more. Several are poisonous to pets but we are diligent in teaching our pets to not eat "mama's plants". Just like a raising a child (which I have 4), discipline and guidance is paramount. Our past dog of 16 years could care less about plants, yet this new puppy thinks shredding mama's plants is hilarious.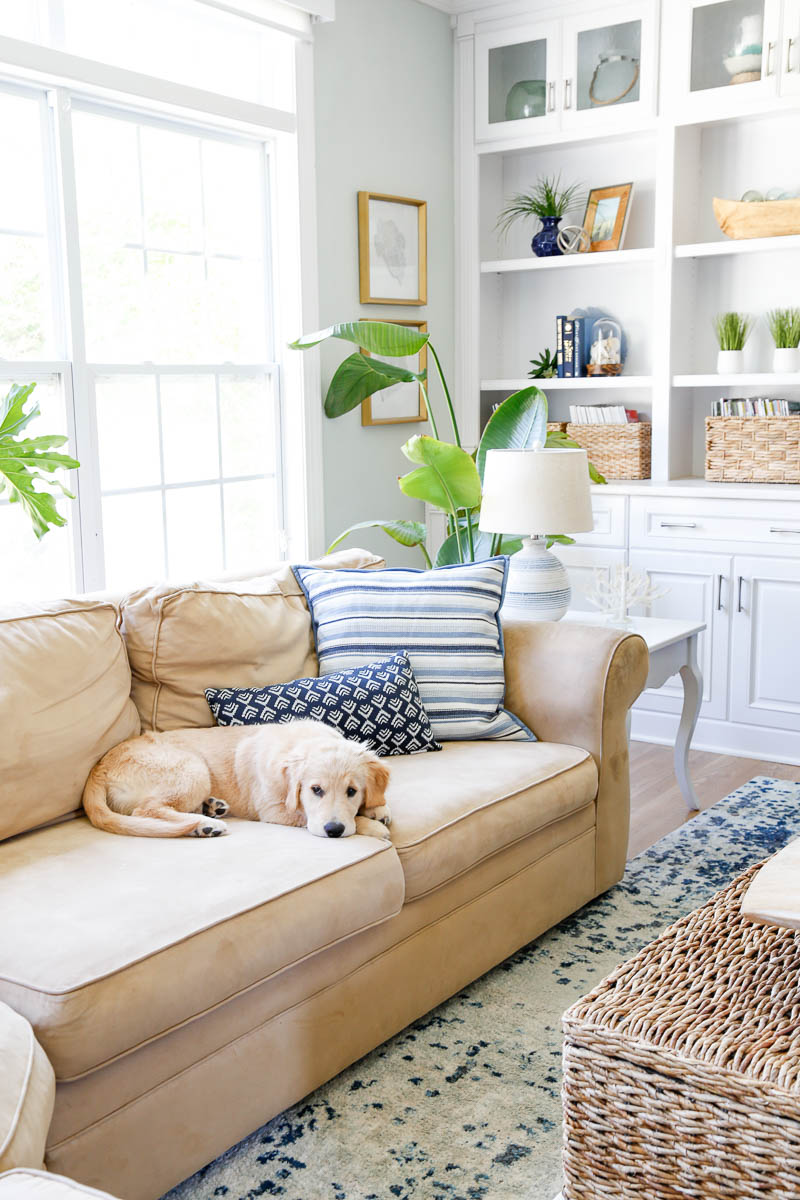 Before any of you start sending me emails about the dangers of tropical plants… please refrain, I have researched every plant in my home. Puppy Willow won't eat the plants, she just shreds them, but we are working on that big time and I have FINALLY been able to put the plants back down on the floor to her level this week. She is behaving and wow, isn't she a cutie? Willow is a 50% English Cream Retriever & 50% Golden Retriever, with a very pretty pedigree.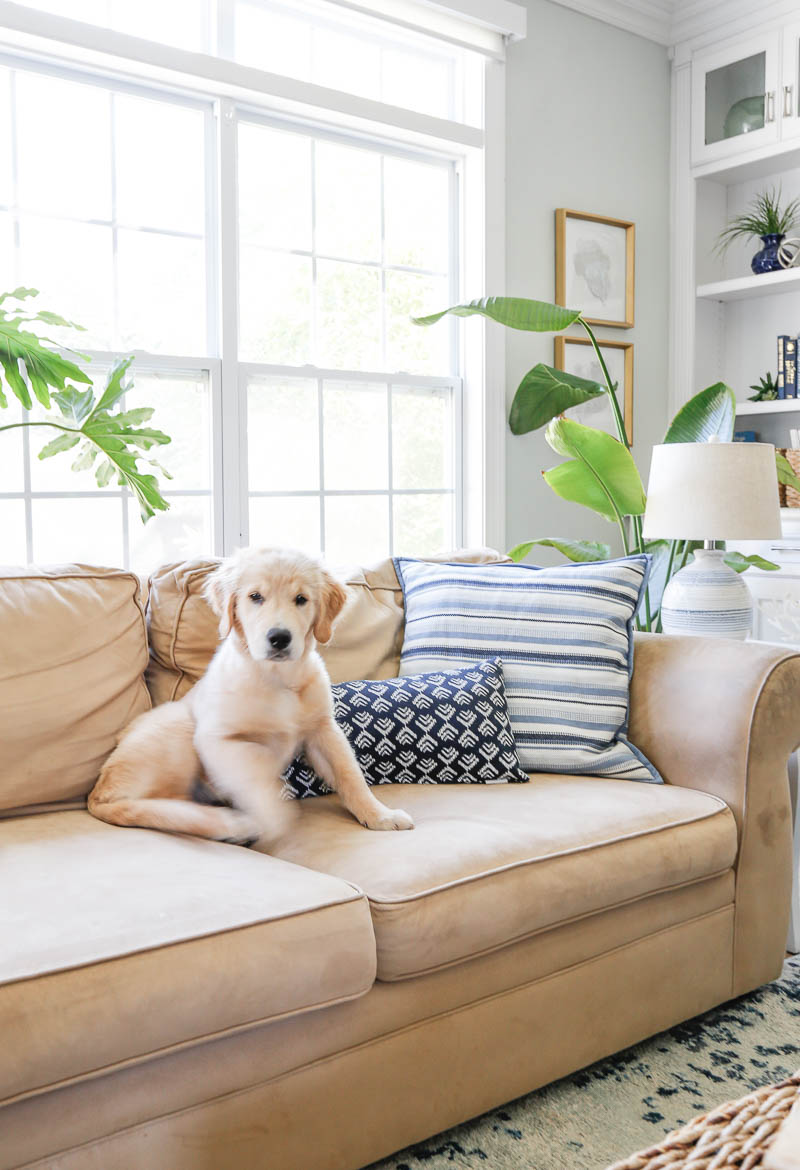 If you just can't trust your pets then bring in faux plants (not like eating plastic faux plants is any healthier though…ahem…). I love my faux plants! Today's faux greenery has such beautiful quality. I use faux greenery in locations that have zero to low sunlight. I'll add in real succulents too but will be sure to rotate them out to get a dose of sun every few weeks. The addition of pretty lush palm artwork like THESE contribute to the tropical beach house feel.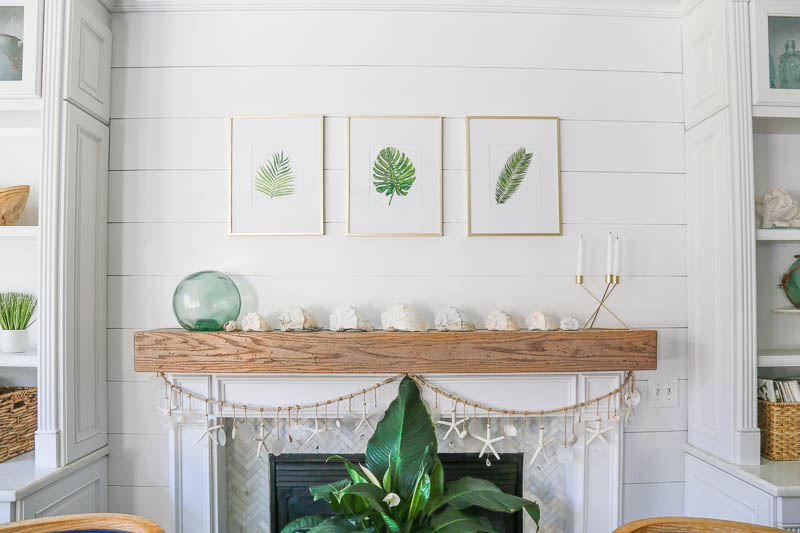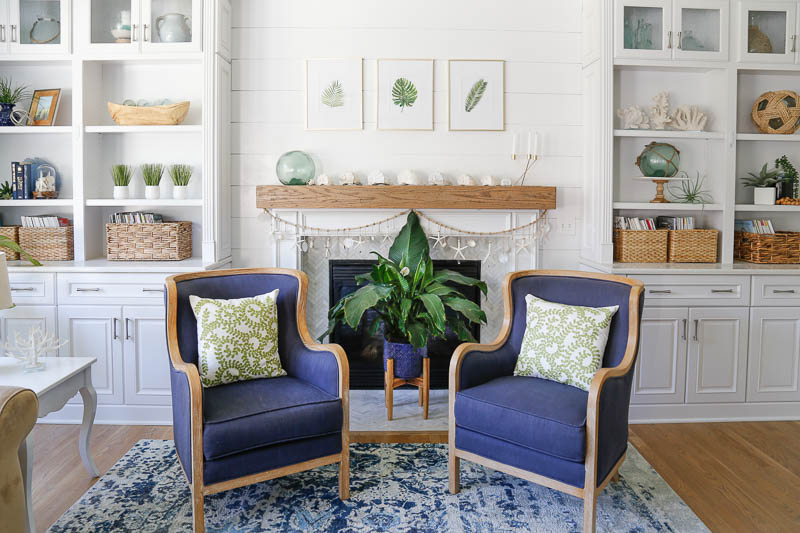 I hope these tips help you create a summer beach house retreat in your living room!
Happy Decorating!
KIM
Get this look!
Affiliate links are provided below for your shopping convenience!
Navy Linen Chairs – Pier 1 (no longer available)
Woven Storage Coffee Table (I painted the base cream).
Blue Ceramic Planter – TJMaxx
Wall Color – SW Sea Salt
Plank Wall and bookcase color- SW Extra White