Who doesn't want to make their back yard into the most inviting, romantic, entertaining space imaginable?  I adore spending sunset evenings sipping drinks with my hubby by candlelite on the deck and watching our children play in the yard. A key to these magical moments is creating an outdoor room, not just a deck or patio space, but a room. Today, Mohawk Home  is going to help one Sand & Sisal reader create an outdoor oasis of their own.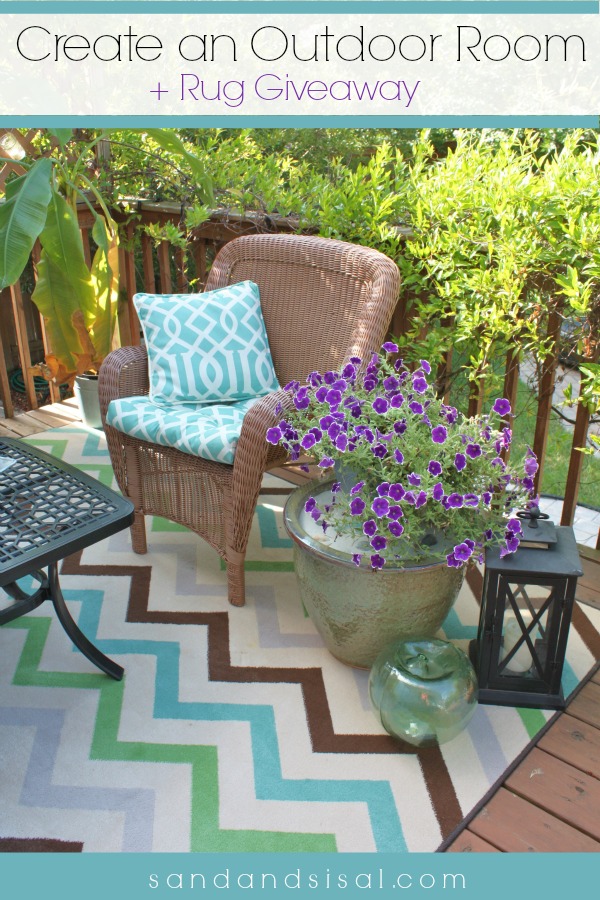 The 1st step in creating an outdoor room is to provide comfortable seating. I grouped together an all weather wicker loveseat and 2 chairs I've had for a few years and piled them with comfy discount outdoor pillows from Steinmart.
The 2nd step is to keep the conversation area cozy by pulling the chairs away from the walls and encircling them in a cozy converational area.
The 3rd step is to ground the conversation space with a gorgeous, easy to care for,  indoor/outdoor Mohawk Rug.  My chevron rug is called Herringbone Ginko.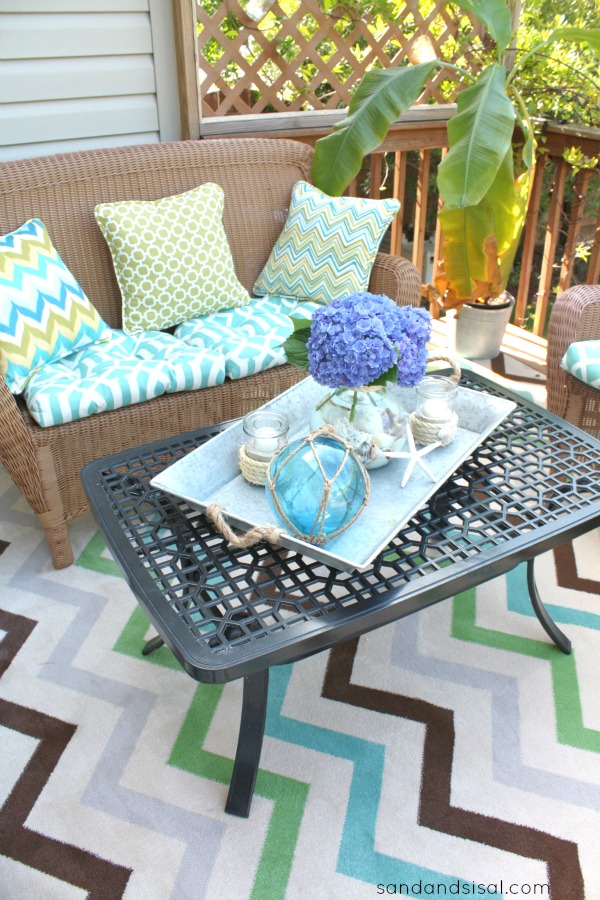 The 4th step is to add enough table space to set drinks and acessories on and surround the area with color and fresh greenery and potted plants.  (Upcycle what you have and try making your own Summer Centerpiece & Ceramic Planter Side Table)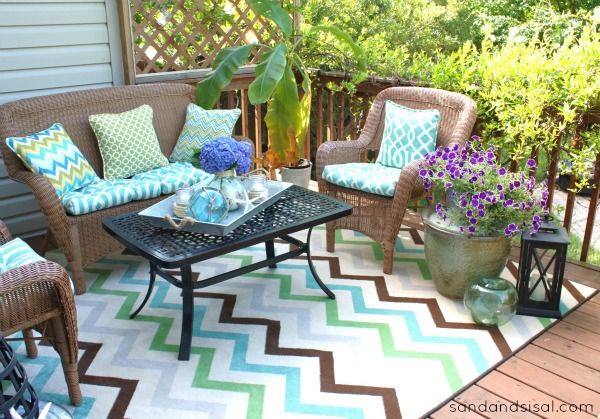 The  modern and funky vibe of the chevron rug lended itself well to a seating area on our deck… but I had other plans for it also! How about changing that space into a dining area?  I'm constantly moving furniture and rearranging everything. Hubs doesn't even bat an eye anymore when he comes home to a newly shifted homestead.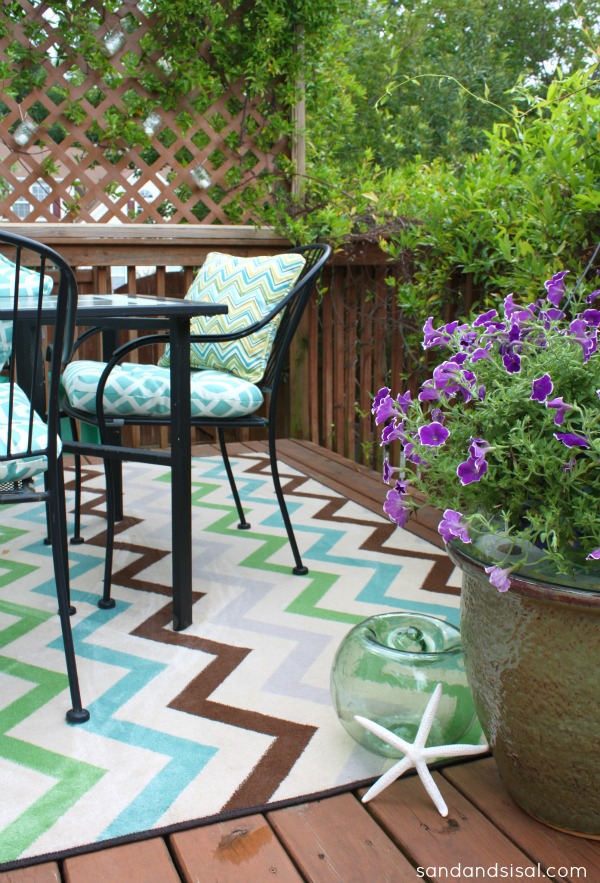 The indoor/outdoor carpet's plush pile is oh-so-soft to the touch and uber chic. Our climate is very humid and wet and I do recommend that if you live in southern, wet climate like mine, then you'll love this rug for a screened in porch or covered porch.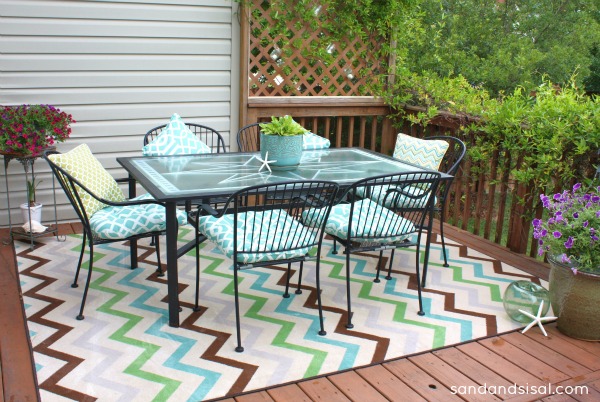 Fill any open areas with flowering pots that spill over and shiny accessories like glass floats or lanterns. Bring the indoors outside.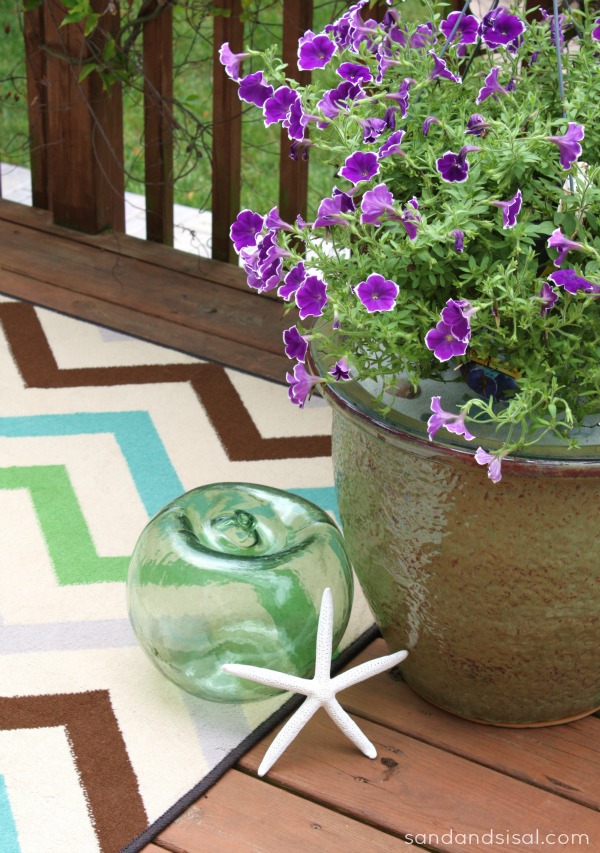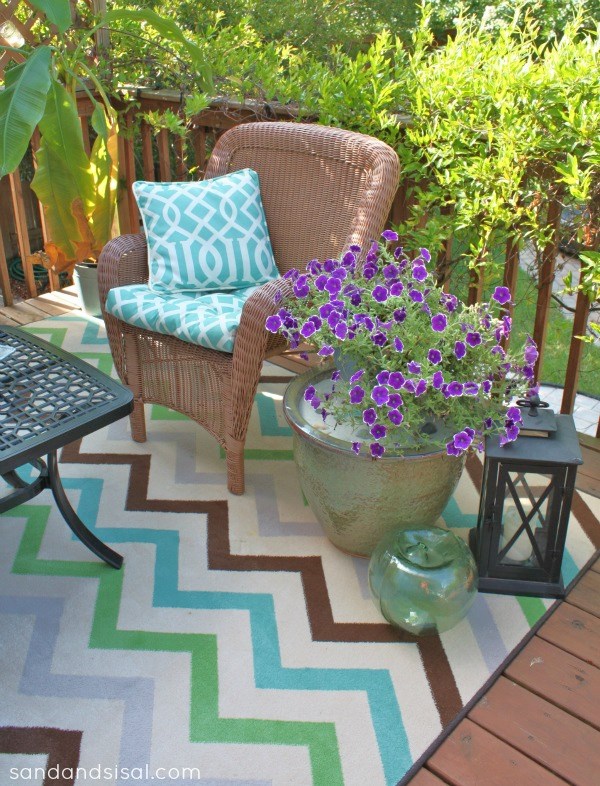 Look at how cheerful and bright this Mohawk rug  is on my friend Cindy's deck! This Mohawk pattern called Penny Loafer, reminds me of gerbera daisies. Mohawk rugs are treated to withstand over 1000 hours of bright sunlight without fading. This is 3 times over any company standard. I love the splash of vibrant color it adds to her deck,
One of my girlfriends, Jessica of Four Generations One Roof recently made over her pool area and added a few of these blue Maze Wildaster indoor/outdoor rugs. Adding an indoor/outdoor rug instantly grounds the area and creates a space that is inviting, vibrant and warm.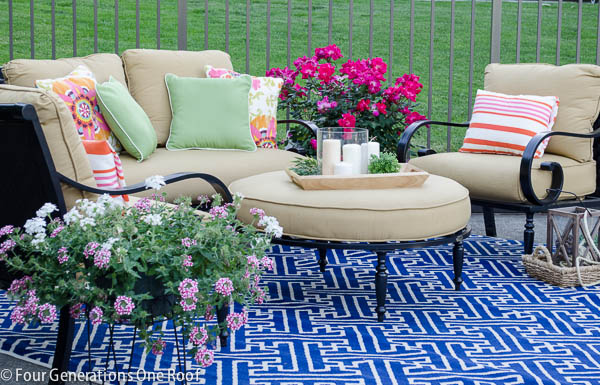 Did you know that Mohawk Rugs are all made in America? This YouTube video tells more about it.
Best of all, Mohawk has generously offered to give away a 5'X8′ Mohawk rug of your choice, indoor or out, (up to a $150 value) to one Sand & Sisal reader, so that you can create the most inviting space ever!
Please enter the rafflecopter entry below for your chance to win!
Best of luck!
Kim
This post has been provided in partnership with Mohawk Home. All expressed opinions are my own.