This post brought to you by Honeywell International Inc.. All opinions are 100% mine.
Baby it's cold outside, but inside I'm staying warm with my new Wi-Fi thermostat that listens, learns, saves, and talks! It's the new Honeywell Wi-Fi Smart Thermostat with Voice Control and I'm giving one away to a Sand & Sisal reader!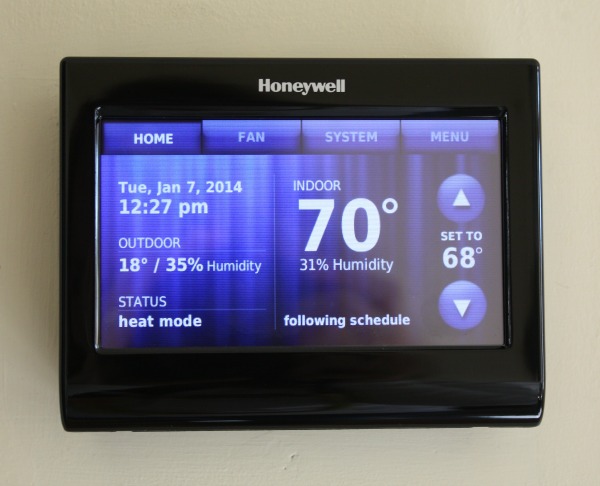 I recently shared a few 3 simple tips for maintaining a warm home and you can see from the pic (above) of my new thermostat, that we are having very cold weather here! Doesn't the thermostat look nice?
The The Honeywell Wi-Fi Smart Thermostat with Voice Control was named Best New Product of 2013.
Here are a few nice features of the Honeywell Wi-Fi Smart Thermostat:
1) Simple set up ~ We were able to install it ourselves! The thermostat comes with very clear, step by step instructions and better yet… links to several YouTube installation videos that we found very helpful.
2) Voice Control ~ Pre-programmed voice commands allow you to tell the thermostat to make it temperature warmer or cooler. I was in my kitchen preparing dinner, spoke a command to the thermostat (which was in the dining room 20 feet way) and thermostat spoke back to me in acknowledgement of my request and boosted the temp! I didn't have to stop what I was doing to change the temp in the house. How neat is that?
3) Smart Response ~ this allows the thermostat to learn your heating and cooling cycle times to deliver the right temperature, right when you want it.
4) Easy to Read, Color Touch Screen ~ The touch screen has complete color customization. My daughters love this feature. They are always changing the background colors and font colors. You can even customize it to match your wall color!
5) Mobile App ~ Control your home's temperature no matter where you are with the  highly rated and free Honeywell mobile app for iOS and Android phones.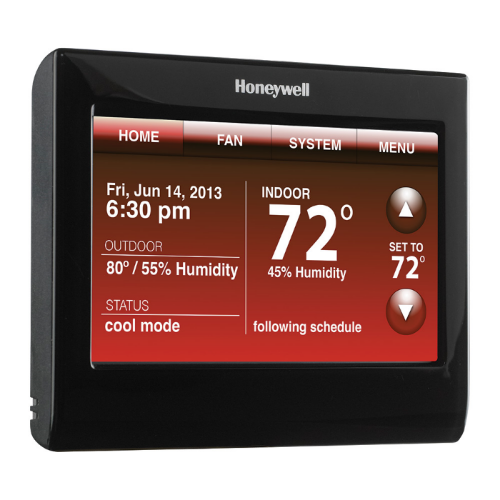 You can purchase this thermostat on Amazon, or at Lowe's or Home Depot…. or… win one from me! 
I introduced you to this awesome thermostat back in October and Honeywell gave away a 100 dollar Amazon gift card, but today's giveaway is even BETTER! This free thermostat is a 250 dollar value! 
Would you like to win a Honeywell Wi-Fi Smart Thermostat for your home? All you have to do is visit the sponsor's site below (click on the red button below) and then come back and leave me a comment in the comment section! (Giveaway is open to US Residents only & you must be 18 or older. Giveaway ends 1/20/2014 at 6 am EST and winner will be chosen at random).
Stay warm my friends!
Kim
NOTE: GIVEAWAY IS OVER. CONGRATULATIONS TABATHIA B.!!!!