Perk up those planters and add a little pizzazz to your patio or deck this summer!  I've been painting fiberglass planters for years, but did you know that you can also paint on inexpensive terracotta clay pots? Decorative glazed pots can be pricey, but you can get the same look for so much less. Today I want to show you How to Paint Terracotta Pots that will end up looking like they were custom glazed!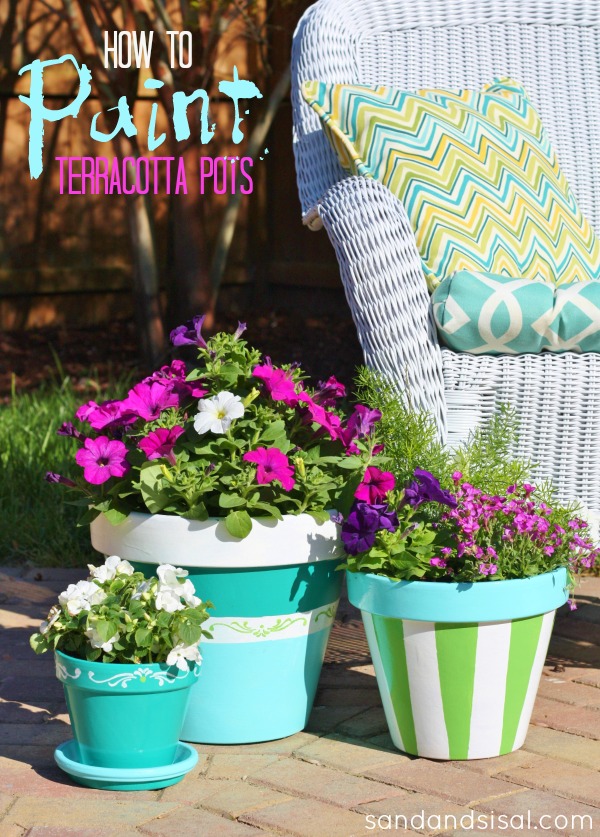 Gather the following supplies:
Terracotta pots
All-purpose aerosol waterproof sealer
ScotchBlue™ Painter's Tape for Exterior Surfaces #2097 and ScotchBlue™ Painter's Tape Original Multi-Use #2090
Drop cloth
Interior/exterior primer for all surfaces (water or oil based)
Latex paint (interior, exterior, chalky finish, or craft paint)
Flat edged paint brush
High gloss clear sealer

The first thing you want to do is to make sure your terracotta pots and clean and free from dust, dirt, and debris. Wash with water and allow to dry completely in the sun. Next you need to seal the inside and outside of the pot with a waterproof spray sealer. Don't forget the bottom! Follow manufacture's directions. I recommend applying 2 coats at least. Allow to dry 24 hours. There are several waterproof sealants available that you can use. Look for one that seals concrete, cement, brick, etc. You can usually find them in the paint and stain departments of home improvement stores.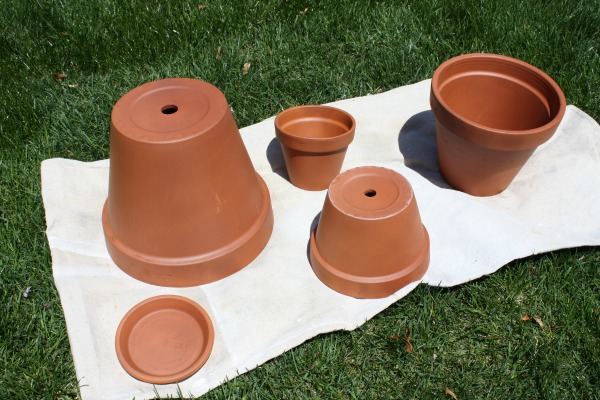 The second step is to prime the outside of the pots with a good quality all surface primer. Follow manufacturer's recommendations for drying times. **Note** If you will be using a chalky finish type of paint to decorate your pots, then you can skip this priming step. Chalky finish paints do not require priming to adhere to surfaces.
Are you ready to create a design? Pull out your ScotchBlue™ Painter's Tape .


I used the ScotchBlue™ Exterior tape and their original tape. The ScotchBlue™ Exterior tape has amazing sticking power! It is a heavy duty adhesive with a waterproof backing that adheres to metal, painted wood, vinyl, and glass, and terracotta pots! Use the tape to create stripes, zig-zags, checkers, or bands of color. To create bands of color, simply wrap the tape around the pot and smooth the edges. The exterior tape snaps off cleanly, leaving your with a super straight tear line.
Time to paint! You can use left over interior or exterior paint, acrylic craft paint, or chalky finish paint. I happened to use all three for my pots. I used what I had in my garage and craft supplies. Paint on bands of your desired color and then slowly remove the tape before the paint drys. Look at that crisp line! Allow your freshly painted color band to dry completely. If your design requires placing tape over newly painted areas, then switch over to the original ScotchBlue™ Painter's tape. It has a lighter adhesion.
When painting the top rim of the pot, be sure to extend the paint color a few inches down inside the pot to where the soil level will be. Feel free to use stencils, stamps, or free hand painting to embellish your painted terracotta pots even further.

The last step is to glaze and seal all the painted areas of your pots. Be sure your paint is completely dry. I recommend waiting 24 hours before sealing. Use a clear, high gloss sealer, such as spray shellac, clear lacquer,  clear acrylic spray sealer, or polycrylic gloss sealer. All can be found in the paint section of your home improvement stores. For my pots, I used a super high gloss spray sealer and applied 2-3 coats. It left the pots with a glass like shine! They look like beautiful glazed pots now!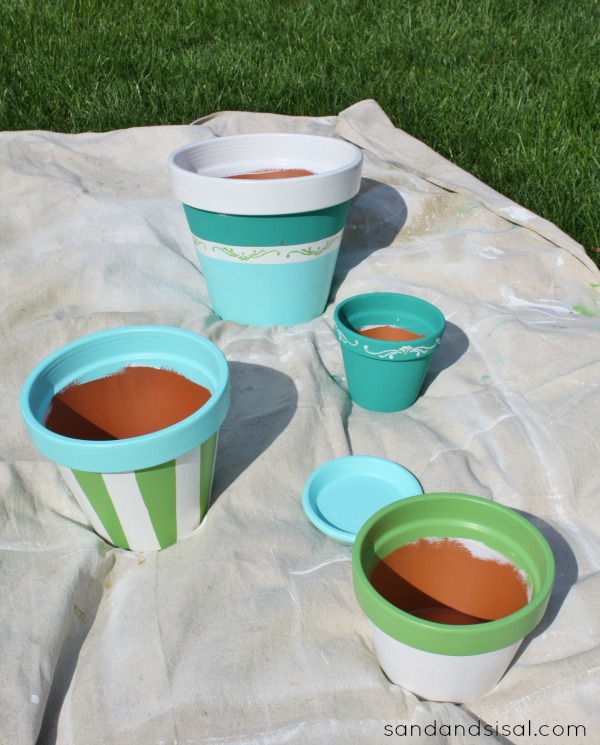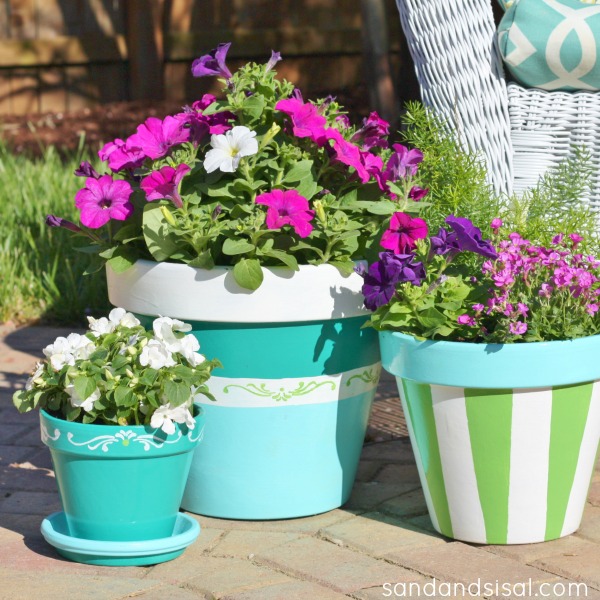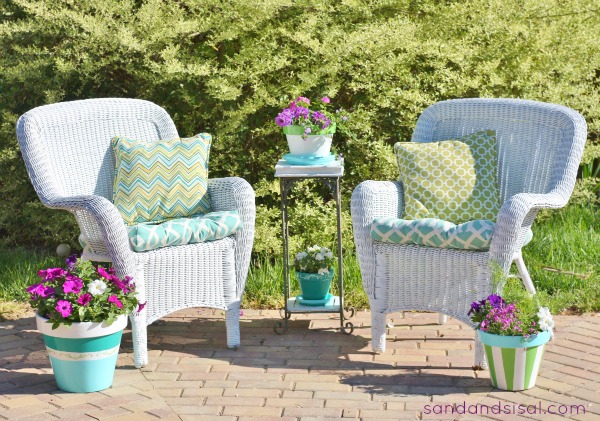 Once you paint a few pots, you will find yourself wanting to paint more! It is so fun to paint, and not only are they crazy affordable, but they turn out so pretty and will boost your curb appeal!

Enter the Home of ScotchBlue™ Painter's Tape Contest at www.scotchblue.com/homecontest now through July 15, 2014 and you could win $5,000 to put towards a home makeover! The first 500 to submit an eligible entry will receive one (1) roll of the new ScotchBlue™ Painter's Tape with Advanced Edge-Lock™ Paint Line Protector!
Check out this project as a featured project example in the contest!
Contest open to legal residents of the U.S. and D.C. (excluding AZ, MD, NJ, ND, TN and VT), who are 18+ (19+ in AL & NE and 21+ in MS) at the time of entry. Void where prohibited. Enter from June 2, 2014 at 12:00:01 a.m. CT through 11:59:59 p.m. CT on July 15 2014. All contest communications, entry/judging criteria and details subject to the full Official Rules. Sponsor: 3M Construction and Home Improvement Markets Division, St. Paul, MN.
Check out more amazing ideas and tips and connect with ScotchBlue™ here:
ScotchBlue™ Painter's Tape Twitter page
ScotchBlue™ Painter's Tape Facebook page
ScotchBlue™ Painter's Tape Pinterest page
Happy painting!
KIM
I am proud to be a 3M sponsored blogger, and, as part of my responsibilities, I get the opportunity to evaluate new products from ScotchBlue™ Painter's Tape. Opinions are my own and additional product used in the project were selected by me.